Travel ban to anti-LGBTQ states: Well-intentioned but ineffective
While the travel ban was meant to combat discrimination against the LGBTQ community, it failed to address the root cause of the issue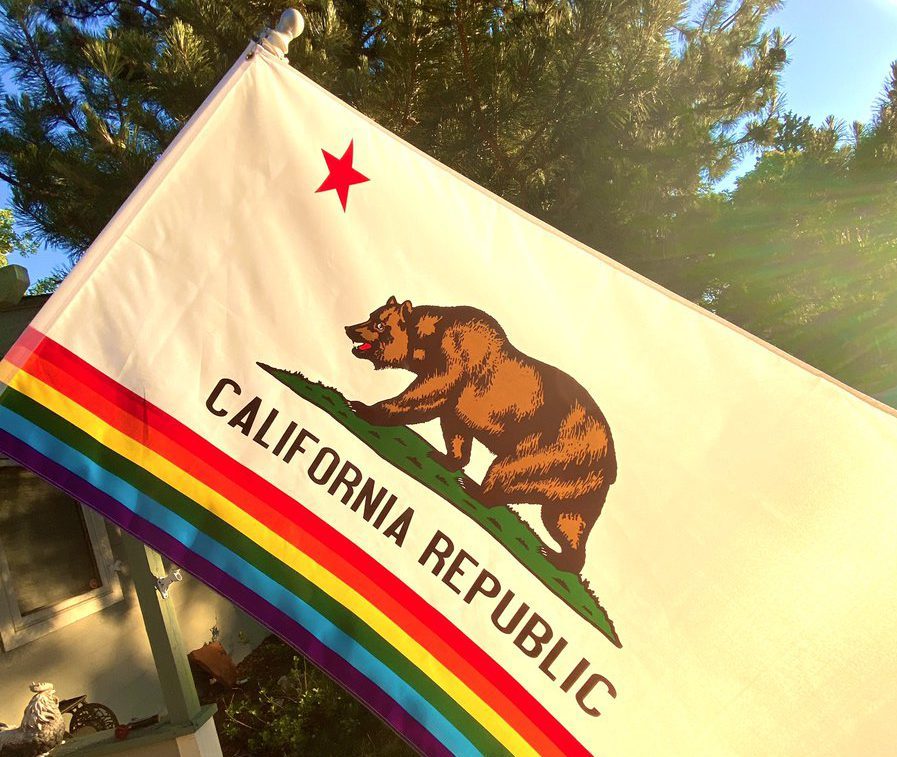 By Serena Sonoma | SACRAMENTO – It was in 2016 when California established a travel ban, preventing state-funded travel to states that have passed laws discriminating against LGBTQ individuals.
The political landscape was a tinderbox of tension and division as Donald Trump emerged victorious in the 2016 presidential election, sparking a firestorm of controversy that would ignite a fierce battle over transgender rights. In 2017, upon taking office, he quickly dismantled protections for transgender students, igniting a spark that would set the nation ablaze.
North Carolina became the epicenter of this explosive conflict, as a controversial bill known as HB2 mandated individuals to use restrooms corresponding to their gender assigned at birth, sending shockwaves of discrimination through the transgender community. The air was thick with the scent of unrest and uncertainty as protests erupted and citizens stood up to fight for their rights and dignity, casting a beacon of hope in the midst of a dark and turbulent time.
As the nation grappled with the complexities of discrimination and the need for deeper systemic change, California's travel ban served as a symbolic gesture of solidarity with the LGBTQ community. However, the ban's implementation was fraught with controversy and complications, leaving many wondering if it was the right approach to address the root cause of discrimination.
While the travel ban was meant to combat discrimination against the LGBTQ community, it failed to address the root cause of the issue and created a false sense of progress. More effective measures are needed to create a just and equitable society for all residents.
Even Governor Gavin Newsom, who championed California's travel ban, faced criticism for taking a family vacation to Montana, a state that is on the travel ban list due to its anti-LGBTQ laws. Newsom argued that the trip was privately funded and did not violate the travel ban, but the controversy raised questions about the effectiveness of such measures. Critics argue that travel bans offer only a surface-level solution to discrimination and may even hinder progress by creating a false sense of accomplishment.
According to a report by the Human Rights Campaign, there are currently 340 anti-LGBTQ bills being considered at the state level across the country, with 150 of them targeting transgender people, the highest number on record. These bills range from prohibiting transgender students from participating in sports to denying them medical treatment. The LGBTQ community faces significant discrimination, and the travel ban, though well-intentioned, failed to address the root cause of discrimination against the LGBTQ community.
Instead of tackling the underlying societal issues that lead to discrimination, the ban simply punished states that had passed discriminatory laws.
Gay Assemblymember Evan Low (D-Cupertino), who authored the legislation, remains convinced that the state travel ban is an effective policy. 'We don't have any intentions of backing down and changing our position on the state-funded travel ban,' stated Low. 'Unfortunately, right-wing politicians across the country are working to pass hundreds of laws that are harmful to LGBTQ people, and we're going to stand firm in our decision.'
Low believes that now is the time to show that California isn't going backward. 'In 2016, when we passed this law, we didn't tolerate discrimination in our state and beyond our borders. Seven years later, we still don't, and won't.'
However, the implementation of the ban was flawed. The ban relied on individual state agencies to self-report their travel plans, making it difficult to enforce. In a report by the California State Auditor, several state agencies were found to have violated the ban by traveling to banned states.
The lack of enforcement and oversight made it clear that the ban was never going to work effectively. Despite this, Low and other supporters of the ban remain committed to the policy and believe that it sends a strong message of solidarity with the LGBTQ community.
Instead of relying on ineffective measures such as travel bans, California needs to take a more proactive approach towards combating discrimination against the LGBTQ community. Examples of these could include:
Safe Schools Program: We need to make sure our schools are a safe place for everyone, including LGBTQ students. That's why we should invest in a safe school program that provides training and resources for teachers and administrators, as well as support for LGBTQ students and their families.
Transgender Health Initiative: Transgender folks often face unique challenges when it comes to healthcare. That's why we should set up a program that provides training and support for healthcare providers, as well as resources for transgender individuals seeking medical care.
LGBTQ Family Acceptance Program: We all know how important family support is, especially for LGBTQ youth. That's why we need to invest in a program that helps families understand and accept their LGBTQ family members. This could include counseling services and resources for LGBTQ youth seeking support from their families.
Investing in programs like these would be a much more effective way for California to promote acceptance and understanding of the LGBTQ community. By providing targeted support and resources, the state could help to create a more inclusive and accepting environment for LGBTQ individuals in California. Additionally, by passing laws that protect the rights of LGBTQ individuals, the state could help to ensure that all Californians are treated fairly and equally.
In San Francisco, the Board of Supervisors recently voted to lift a ban on contracting with companies in anti-LGBTQ states. The ban had been in place since 2015 and prevented the city from doing business with companies based in states that had passed laws discriminating against the LGBTQ community. However, the ban was difficult to enforce and was not addressing the root cause of discrimination.
In addition, California recently became a refuge for transgender individuals seeking healthcare. The state passed a law that requires health insurance plans to cover transgender healthcare, including gender-affirming surgeries and hormone therapy. This law provides crucial support for transgender individuals who face significant barriers to receiving healthcare.
Last week state Senate leader Toni Atkins announced new legislation that would replace the current ban with an advertising campaign that promotes acceptance and inclusion for the LGBTQ+ community in the states that were previously banned.
The campaign would be funded by a special fund that would accept private donations and state funding. Overturning the ban might be difficult in the California Legislature, where 10% of lawmakers identify as LGBT. Low supports the advertising campaign but said that alternative action is required to combat discrimination before ending the state-funded travel ban. The ban currently includes 23 states, and it has complicated some of the Democrats' policy goals in surprising ways. The new legislation will be formally introduced on Thursday and must be vetted by lawmakers in both the state Senate and state Assembly before it can become law, a process that could take several months.
Whether the advertising campaign would have the same impact as the current travel ban is an area of contention. The ban sends a strong message that California will not support states with discriminatory policies, whereas an advertising campaign may not have the same level of impact or be taken as seriously. Additionally, the effectiveness of the campaign may be limited if it is not well-funded or if it is not targeted to the right audiences.
However, by investing in education and outreach programs and passing laws that promote equality, California can create a more just and equitable society for all of its residents.
In a room of supporters, Senate leader Toni Atkins acknowledged the negative impact the current ban has had. She noted that it has hindered academic research and athletic opportunities for college students, and it has also isolated LGBTQ individuals in states that were previously banned. Furthermore, Atkins believes that the ban has made it difficult for California lawmakers to share their progressive agenda with policymakers across the nation.
As she stated, "We should, as legislators who have put forward the most LGBTQ-friendly, reproductive rights, racial justice bills, we should be in all of those states to be able to share our experience."
Editor's note: On Monday, a day after publication of the above piece, the Office of Assemblymember Evan Low responded with the following statement:
"Asm. Low's statement included in this story no longer reflects his position on the issue. His office said he understands the need for the travel ban to be changed due to it no longer being effective and is working on an alternative proposal.
Low said when the travel ban was introduced, it was effective and put economic pressure on states which caused outside state legislators to pull discriminatory bills. Low's office also noted that he is working with Sen. Atkins on the repeal effort but has not decided whether he will support her proposed legislation as it stands."
Related:
***************************************************************************************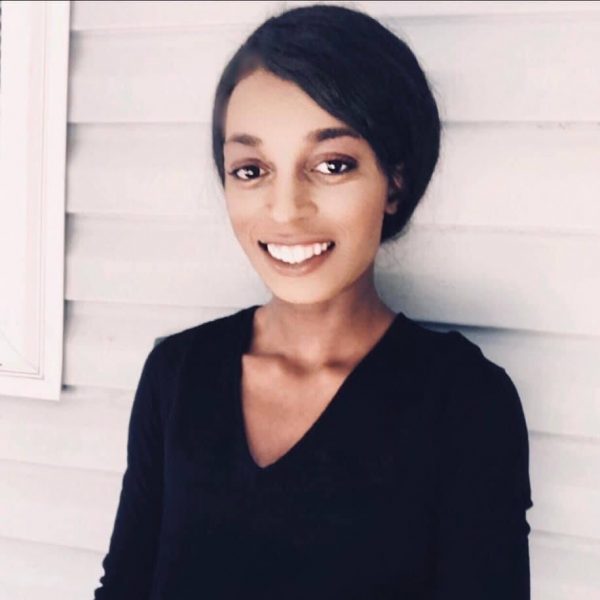 Serena Sonoma is a transgender writer who focuses on intersectional feminism from an LGBTQ+ lens. Her work has appeared in Vox, Out, Teen Vogue, The Advocate, Harper's Bazaar, and various other national and local newspapers.
Since Florida banned most adult trans care: People are suffering
Today marks 15 days since Florida's legislature banned most adult trans care. People are unable to obtain their meds. People are suffering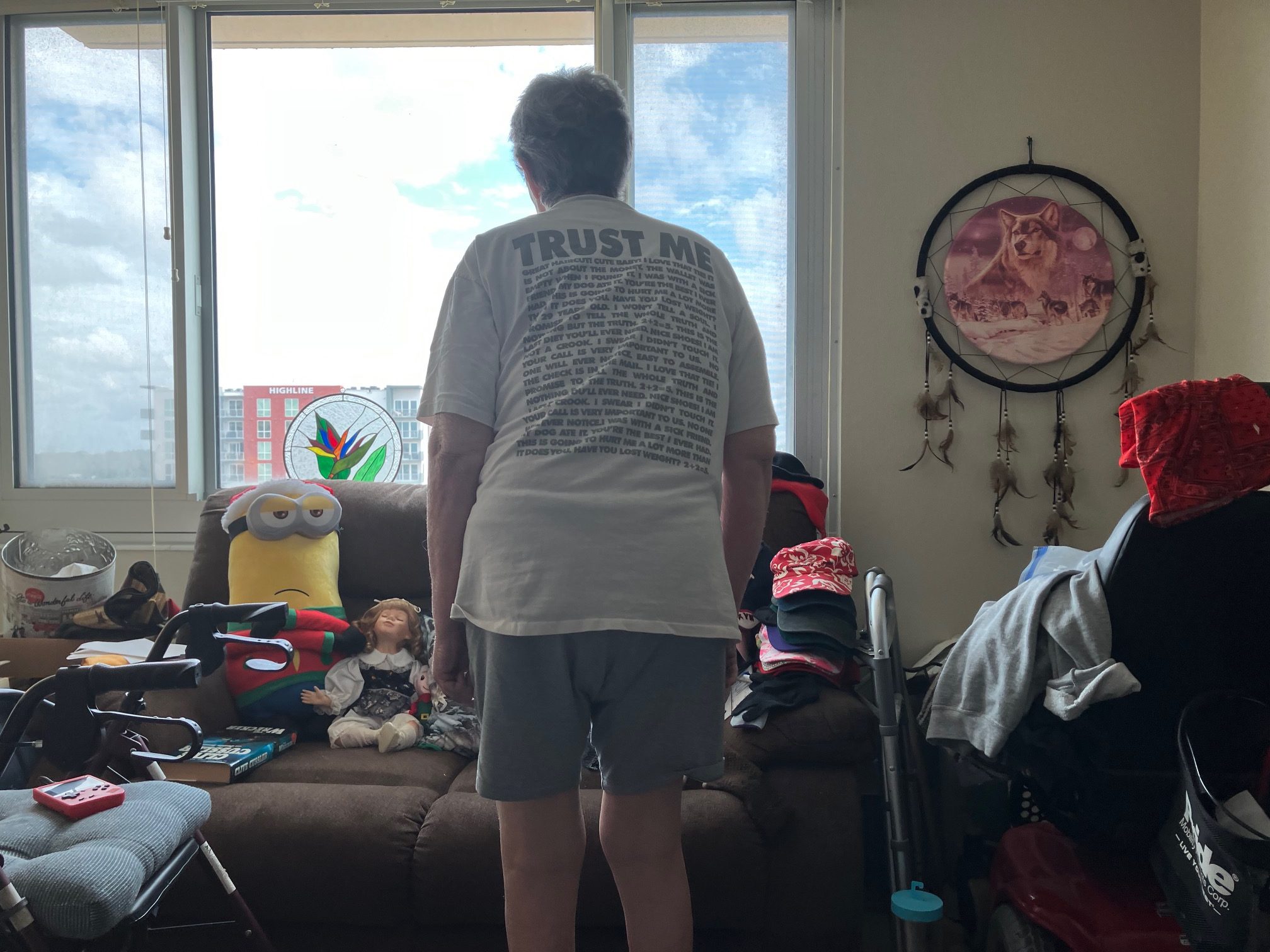 By Erin Reed | WASHINGTON – It's been 15 days since Florida Gov. Ron DeSantis put his signature on Senate Bill 254, putting a halt to 80% of trans adult care while leaving the remaining 20% stuck in limbo.
The repercussions are profound, with many transgender individuals throughout the state losing access to their medications, pushing a multitude into medical detransition. The situation grows ever more critical for transgender residents, with the majority unable to secure prescription refills or make new appointments.
A fortunate few, who either stockpiled their medication or found willing pharmacies, are living on a borrowed time. For the rest, Florida, bearing the second-largest population of adult transgender individuals, is experiencing a chilling experiment: a rapid and extensive removal of lifesaving medication, and people are suffering.
Up until this point, gender affirming care bans have mostly focused on transgender youth. Though there were murmurings of bans that could go up to 26 years old, these were quickly quashed in state legislatures. A few bills, such as a bill in Oklahoma, were amended to bans on gender affirming care under 18 years of age – these bills are extreme enough and represent a major step backwards in transgender rights.
The landscape shifted significantly in recent months, beginning in Missouri. Attorney General Andrew Bailey signed a decree prohibiting the majority of gender-affirming care for transgender adults. The instituted regulations echoed Targeted Regulation of Abortion Providers (TRAP) laws, which impose almost insurmountable requirements on abortion clinics. The policy advanced to a court hearing where it seemed to significantly falter under scrutiny. In a pre-emptive move, the Attorney General withdrew the policy before the judge could render a final verdict.
Several weeks later, DeSantis enacted Senate Bill 254, a law that uniquely targets the transgender community in Florida. Initial news reports characterized it as a ban on transgender youth, but its provisions concerning transgender adults have incited severe distress among this group within the state. The law blocks 80% of gender-affirming care for transgender adults by barring nurse practitioners from offering this care. Organizations like Planned Parenthood, one of the largest providers of this care, rely on nurse practitioners heavily.
For the remaining 20% who receive their care from MDs or DOs, they face significant challenges refilling prescriptions at pharmacies that are currently trying to interpret the implications of these regulations on their risk. Additionally, the bill stipulates that transgender adults, even those who have previously received care, must be given a medical disinformation and informed consent form sanctioned by the state's Board of Medicine. The Board, however, has yet to produce such forms, leading to an additional layer of difficulty.
Transgender researcher Zinnia Jones' website, Gender Analysis, has outlined the exact impact of this bill on the community in a flowchart, showing how no matter how you received your care as a transgender adult in Florida before, it is likely you are facing severe disruptions:
Speaking with Erin In The Morning, Mia, a 38 year old transgender woman, shared an email from Planned Parenthood stating that gender affirming care services were paused. Though Planned Parenthood sent an emergency refill to Publix that was valid before the law took effect, the pharmacy has refused to fill her prescriptions and she was told to return in 4 months once the impact of the law could be evaluated.
See the email she received:
When asked what would happen if she lost access, she said, "I'm scared to lose access completely, especially since moving isn't really an option right now. Losing access or not being able to refill would be possibly the worst thing. The last 9 months have been the best mental health wise, even with all of the fear from the law changes. I'll find refills through the gray market before being forcibly detransitioned."
She is still trying to find ways to fill her prescription legally.
She has stated that leaving the state may be an option after she finishes her bachelors in legal studies and can work long enough to afford to move, stating that it will take "about 6 months to a year to get out."
However, as Jones points out, "Leaving the state is also not a realistic or scalable option: Florida has the second-largest adult trans population in the country after California. 94,900-100,000 adult trans people are affected by this ban."
You can see the figures here:
Kameron, an 18 year old transgender man in the state, agrees that leaving would not be an easy option, stating that "it would uproot my entire life here."
Kameron also received his refills from Planned Parenthood and was told that he would be unable to refill his prescriptions. Though he has heard that some doctors might be able to prescribe medication, he knows that the informed consent form to receive care mandated by the state has not been developed yet. As a result, he has been forced to rely on his stockpile that he gathered in preparation for laws like this.
Lucina, a trans individual residing in Florida, received a notification from her healthcare provider stating her care would be discontinued due to her provider being a nurse practitioner. The correspondence indicated that the enactment of the bill prohibited the continuation of her care, and she should promptly seek a legally authorized physician. The letter suggested that she contact primary care providers as a desperate measure, even though these providers often lack training in gender-affirming care. Even if they agreed to provide such care, without the necessary informed consent form, which is yet to be produced by the Board of Medicine, these physicians would likely be unable to administer it.
Here is the letter she received: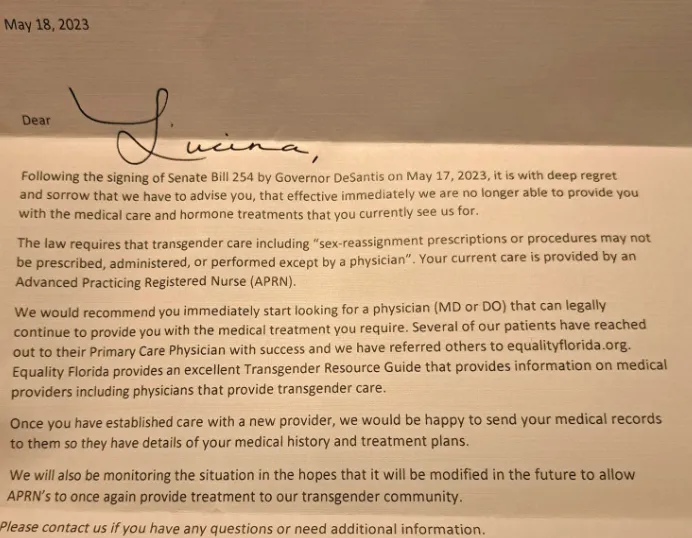 Gender-affirming care is lifesaving. Numerous studies have proven its positive effect on transgender individuals, including research that indicated a 73% reduction in suicidality and another study that reflected a 40% decrease in recent suicide attempts. Over 50 studies underscoring the advantages of gender-affirming care have been collected by the Cornell University Center for the Study of Inequality. Policies such as Senate Bill 254 not only deprive individuals of this essential care but also inflict trauma on transgender people by abruptly discontinuing their treatment.
The future of transgender people in Florida hangs in the balance. The contentious law is currently under legal scrutiny, with an imminent decision expected regarding a motion for a temporary restraining order to halt its enforcement. Concurrently, the Florida Board of Medicine is scheduled to convene on Thursday to deliberate on the law, possibly initiating the process to create state-required informed consent and disinformation forms. As each day passes, the situation becomes more precarious for many transgender individuals in the state who are being forced to discontinue their hormone therapy unsafely or turn to alternate methods.
****************************************************************************
Erin Reed is a transgender woman (she/her pronouns) and researcher who tracks anti-LGBTQ+ legislation around the world and helps people become better advocates for their queer family, friends, colleagues, and community. Reed also is a social media consultant and public speaker.
Follow her on Twitter (Link)
Website here: https://www.erininthemorning.com/
******************************************************************************************
The preceding article was first published at Erin In The Morning and is republished with permission.