The future of queer content at stake in Writers' Guild strike
Changing working conditions in Hollywood are threatening the ability to sustain diverse voices and content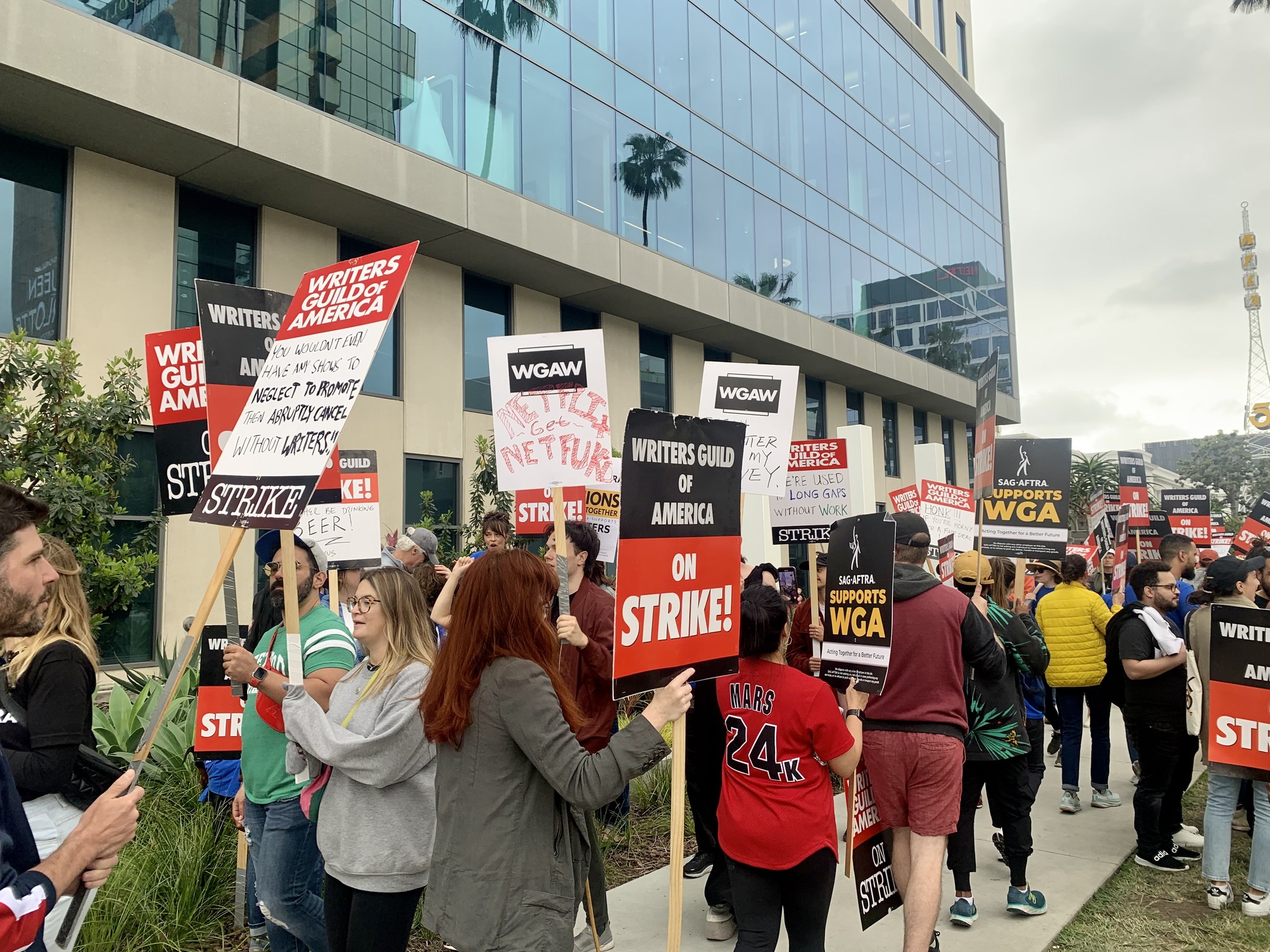 By Rob Salerno | HOLLYWOOD – The future of queer representation in film and television could be at stake in the ongoing negotiations between the Writers Guild of American and the Association of Motion Picture and Television Producers, many people are saying at the WGA strike enters its third week.
The WGA is broadly demanding better pay and better working conditions for film and television writers, alleging that studios are increasingly demanding unpaid labor from writers and reducing writing jobs in television. They're also demanding limitations on the use of artificial intelligence in drafting scripts. The WGA says these developments are making writing in Hollywood unsustainable for the vast majority of writers.
Rob Forman, Co-Chair of the WGA West LGBTQ+ Committee, says the WGA's demands will help support the development and advancement of queer talent in Hollywood.
"I don't necessarily think this WGA action targets queer content so much as it targets the career growth of queer creators. Because with small rooms and short orders and inability to train on set and get experience, we're not training up as many queer showrunners and creators as we could," he says. "Queer writers having that track record and credit sheet is as important to getting that content as the idea itself."
Gay literary manager Garrett Greer says the career track for writers has broken, and that's already causing hiring issues in Hollywood.
"Basically, because the pipeline has been broken so long, there aren't a more diverse array of writers in these upper-level jobs because they haven't gotten the opportunity to grow to that," he says. "So many times I'll get the call looking for an upper-level 'insert demography here,' and I'll say, 'cool, all those people are working,' because there's so few because they haven't had the opportunity to grow into those jobs."
Increasingly, studios have been trending toward smaller "mini-rooms" – writing rooms with fewer staffed writers, hired for shorter periods, often without assistants and without including employment on set or during post-production.
Greer says the WGA's demand for minimum writing staff sizes on television shows could have an important impact on diverse content.
"[With guaranteed staff sizes] there would be a constellation of writers of varying levels and perspectives. When it's a mini-room, the showrunner is like, 'great, I'll hire two of my buddies,' and they'll likely be similar to the showrunner, and statistically, that's a straight cis white man. Hopefully, this will increase opportunities and foster a wider diversity of voices in those rooms, because there would be spots in those rooms," he says.
Often a writer from a diverse background will get hired as a staff writer in a mini-room, and be the only diverse voice in the staff.
"They get a staff writer who has to be the voice of that point of view to a showrunner, and they're the ones with the lowest currency in the room. They can't even be the squeaky wheel," Greer says.
It hasn't been lost on writers that studios' moves to make writing an unsustainable career path is happening right as the push for more diversity in writing rooms and on screen is bringing more queer people and people of color into the industry.
"Whether its coincidence or causal, the fact of the matter is there's a push for diversity and a simultaneous downward pressure on writer salary and opportunity. I would like to think better of our creative partners in studios," Forman says. "We didn't ask for the business model to be broken. We're not asking for the business to go back to the way it was. We deserve a piece of what we create."
Forman says that a lot of people outside of the writing side of the industry don't understand the demands that are placed on writers to do unpaid work.
"In development, there are months and months of work that isn't compensated," he says. "If you were in a writer's room 40 weeks a year for a 22-episode show, no one would be complaining about what we're complaining about now, but again, that model was broken."
These pressures impact feature film writers as well. Often feature writers are pressured to spend months developing or rewriting a script without receiving pay, an practice the WGA is seeking to rein in.
Up-and-coming bisexual screenwriter Lynn Yu says she's experienced this firsthand.
"In what's known as screenwriting bake-offs, a studio will put out an assignment for writers to have a take on this idea, or a job that's up for a rewrite, and in order to get those jobs, sometimes you're turning in ten-page outlines, whipping up pitch documents, all of which is uncompensated. You're taking meetings and feedback and this can go on for weeks at a time, and if you don't get the contract, you spend all of that time for nothing," she says. "It's very possible for a writer to spend a whole year pitching on four or five projects and nothing comes to fruition."
The expectation of free labor limits who can afford to pursue screenwriting as a profession, Yu says.
"It's definitely going to favor people who are privileged enough to be able to sustain living in a city like this with little to no income, whether that's people who come from money, nepo babies," she says.
While the WGA's demands to limit the use of AI for writing has generated headlines about the fear of AI simply limiting job opportunities for writers, Forman says the use of AI may have a more insidious effect on diverse content, particularly queer content.
He says that because AI text generators work by scouring existing content to use as 'inspiration' for its texts, scripts generated by AI will likely be informed by works that have historically underrepresented or poorly represented queer and trans people and other diverse voices.
"Because of how homophobic and transphobic society has been and continues to be in many ways, the texts that this AI is learning from and pulling from when it's trying to create, are never going to be as inclusive of our community as we want it to be," he says. "I don't look forward to AI remixing hoary old tropes that exist out there instead of people growing up and telling the story they never got see."
"For a community that's had to look into the subtext of movies to find itself represented because for so long you couldn't have a gay character, it's up to us to tell our own stories."
*******************************************************************************
Rob Salerno is a writer, journalist and actor based in Los Angeles, California, and Toronto, Canada.
Ipsos Survey: Pride month poll, 9% of adults identify as LGBTQ+
The prevalence of knowing someone who is LGBTQ+ is much higher among younger adults than among older adults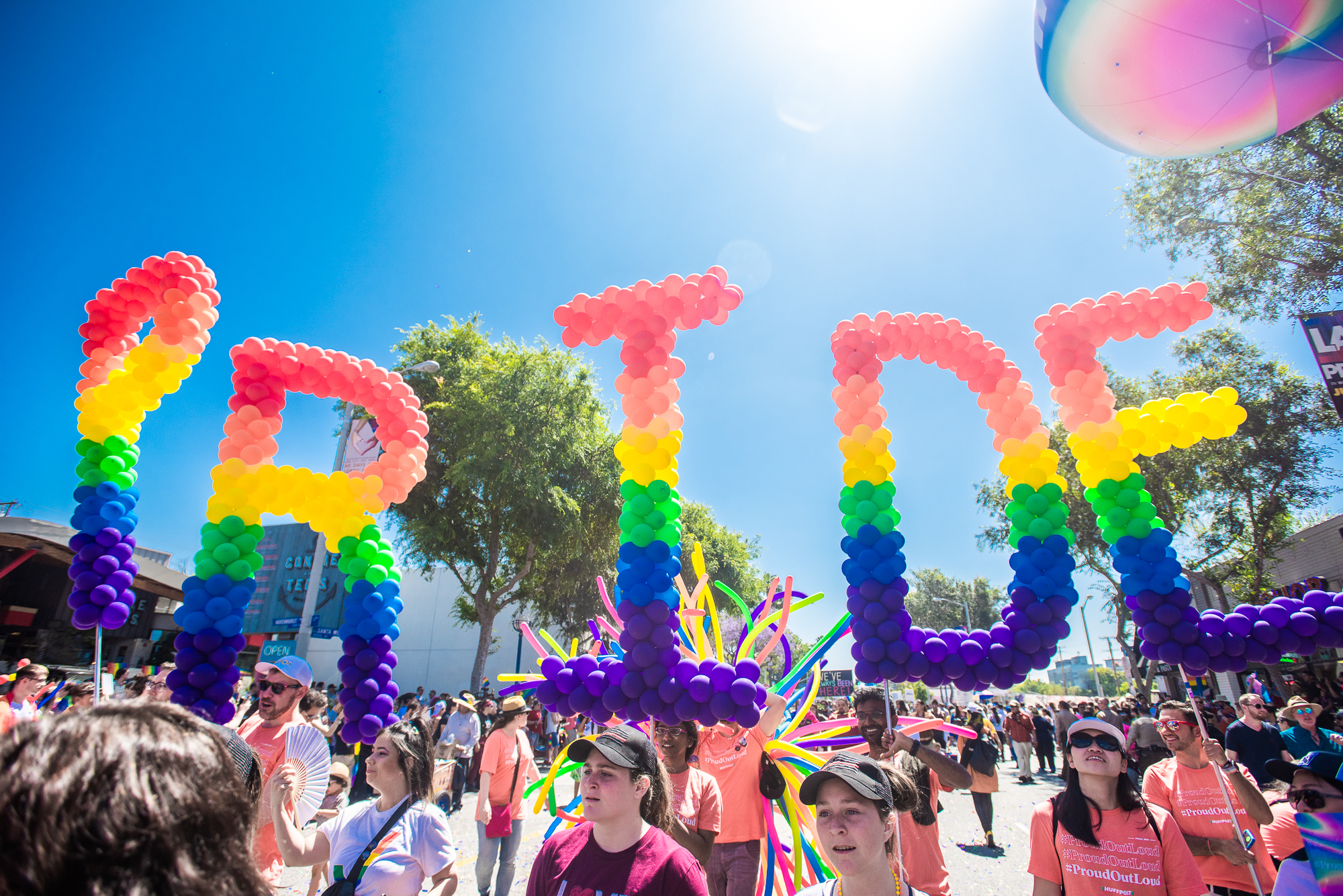 By Nicolas Boyon |PARIS, France – A new global poll released by French international multinational market research and consulting firm, Institut Public de Sondage d'Opinion Secteur, (Ipsos SA) in its LGBTQ+ Pride 2023 survey finds that an average of 9% of adults in 30 countries identify as LGBTQ+, with sharp generational differences. Other findings include:
Increased LGBT+ visibility since the 2021 survey with large geographic variations remaining;
Majority support in most (but not all) countries surveyed for allowing same-sex couples to marry and to adopt children; and
Widespread support for protecting transgender people from employment and housing discrimination, but divided views on other pro-transgender measures.
The survey was conducted by Ipsos on its Global Advisor online platform in February and March 2023 among more than 22,500 adults under the age of 75.
On average, across the 30 countries surveyed, 3% of adults identify as lesbian or gay, 4% as bisexual, 1% as pansexual or omnisexual, and 1% as asexual.
Gen Zers are about twice as likely as Millennials and four times as likely as Gen Xers and Boomers to identify as bisexual, pansexual/ omnisexual, or asexual.
Sexual orientation by gender and generation
Source: Ipsos Global Advisor | LGBTQ+ Pride 2023
Men are more likely than women to identify as gay/lesbian/homosexual (4% vs. 1% on average globally), but both are equally likely to identify as bisexual, pansexual/omnisexual, or asexual.
Spain is where respondents are most likely to say they are gay or lesbian (6%) while Brazil and the Netherlands are where they are most likely to say they are bisexual (both 7%). Japan is the country they are least likely to identify as either gay or lesbian (less than 1%) and as bisexual (1%).
When asked about their gender identity, 1% on average globally describe themselves as transgender, 1% as non-binary, gender non-conforming, or gender fluid, and 1% as neither, but differently from male or female. There are also large differences between younger and older adults when it comes to their propensity to describe themselves as any of these. This is the case of 6% of Gen Zers and 3% of Millennials, compared to 1% of both GenXers and Boomers. And the gap is growing: +2 percentage points since 2021 among both Gen Zers and Millennials vs. +1 point or less among Gen Xers and Boomers.
Overall, the average share of the self-identified LGBT+ population[1] is 9%. The share of self-identified LGBT+ adults varies widely across generations and geographies: from a 30-country average of 18% among Gen Zers to 4% among Baby Boomers, and from 15% of all respondents in Brazil to 4% in Peru.
LGBTQ+ visibility is up, but still differs widely across countries
The visibility of LGBTQ+ people has increased since the previous LGBTQ+ Pride survey, two years ago. On average, across the 30 countries surveyed this year:
47% of all adults say they have a relative, friend, or work colleague who is a lesbian/gay/ homosexual, up 5 points since 2021;
26% say they know someone who is bisexual, up 2 points;
13% say they know someone who is transgender, up 3 points; and
12% say they know someone who is non-binary, gender non-conforming, or gender fluid, up 3 points.
LGBTQ+ visibility varies widely across countries. Having a relative, friend, or work colleague who is lesbian/gay or bisexual is most commonly reported in Latin America, Spain, Australia, New Zealand, and South Africa. Gender diversity is most visible throughout the Anglosphere, in Brazil, and especially in Thailand.
On the other hand, the visibility of different segments of the LGBTQ+ community is lowest in Japan, South Korea, Turkey, Romania, Hungary, and Poland.
Women are more likely than men to report knowing people of different sexual orientations and gender identities. Consistent with self-identification, the prevalence of knowing someone who is LGBTQ+ is much higher among younger adults than among older adults. Generational differences are particularly pronounced when it comes to knowing people who are bisexual and people who are non-binary/ gender non-conforming or fluid: in both cases, Gen Zers are twice as likely as Gen Xers, and three times as likely as Boomers, to say they do.
Majorities support same-sex marriage and parenting in most, but not all countries
On average, across the 30 countries surveyed, 56% say same-sex couples should be allowed to marry legally while 16% say they should be allowed to obtain some legal recognition, but not to marry and just 14% say they should not be allowed to marry or get any kind of legal recognition. Another 14% are not sure.
Support for same-sex marriage ranges from 49% to 80% in all 20 countries surveyed where it is legal. Among the other 10 countries, majorities in Italy and Thailand support same-sex marriage and majorities in all other countries except Turkey support at least some form of legal recognition for same-sex couples. Opponents of any form of legal recognition for same-sex couples make up no more than one-third of all respondents in any of the countries surveyed.
Women are significantly more likely than men to support same-sex marriage with a difference between both of 10 percentage points on average globally.
In 2021, support for same-sex marriage was significantly higher in 13 of the 15 countries where Ipsos began tracking it in 2013. However, it has plateaued or declined in many countries over the past two years. Of the 23 countries Ipsos surveyed both in 2021 and this year, nine show a decline of 4 points or more in the percentage saying same-sex couples should be allowed to marry legally (Canada, Germany, the United States, Mexico, the Netherlands, Sweden, Great Britain, Brazil, and Turkey), while only two show an increase of 4 points or more (France and Peru).
While views on same-sex parenting are warmer than those on same-sex marriage, they show similar patterns. Globally, 65% say same-sex couples are just as likely as other parents to raise children successfully and 64% say they should have the same rights to adopt children as heterosexual couples do. These views are held by majorities in 26 countries, including several where same-sex couples are not allowed to adopt. The only countries where more people disagree than agree with both opinions are Poland, Turkey, Romania, and South Korea.
Again, women are more supportive of same-sex parenting than are men (by an average of about 10 points) as are younger adults vs. older adults.
Over the past two years, support for same-sex adoption has declined significantly in Sweden, the U.S., Canada, the Netherlands, and Turkey, but it has increased significantly in France, Italy, Colombia, and Peru.
Support for protection from employment and housing discrimination is broader than for other pro-transgender measures
Globally, 67% say that transgender people face at least a fair amount of discrimination, compared with 19% who say they face little or no discrimination. Perceptions of discrimination are highest in Spanish- and Portuguese-speaking countries, and lowest in Switzerland, Germany, and Japan.
Majorities in each of the 30 countries surveyed (76% on average) agree that transgender people should be protected from discrimination in employment, housing, and access to businesses such as restaurants and stores.
Other measures receive more lukewarm support: on average, 60% agree that transgender teenagers should be allowed to receive gender-affirming care with parental consent; 55% agree that transgender people should be allowed to use single-sex facilities (e.g., public restrooms that correspond to their gender); 53% agree that government-issued documents such as passports should have options other than "male" and "female" for people who do not identify as either; and 47% agree that health insurance systems should cover the costs of gender transition no differently than the costs of other medical procedures.
Among the 30 countries surveyed, support for various pro-transgender measures is consistently high in Thailand, Italy, Spain, and throughout Latin America; it tends to be lowest in South Korea, throughout Eastern Europe, in Great Britain, and in the United States where transgender rights and protections have become polarizing political issues.
Women and younger adults are more likely than men and older adults, respectively, to say the transgender community faces a lot of discrimination. They also show higher levels of support for all types of measures in favor of transgender people differences of about 6 to 9 points between women and men and between Gen Zers and Boomers. Partly driving this generational gap, Gen Xers and Boomers are more likely than younger adults to have no opinion about specific transgender issues or about the amount of discrimination transgender people face, possibly because they are less likely to know a transgender person.
About the study
These are the results of a 30-country survey conducted by Ipsos on its Global Advisor online survey platform between February 17 and March 3, 2023. For this survey, Ipsos interviewed a total of 22,514 adults aged 18-74 in Canada, South Africa, Turkey, and the United States, 20-74 in Thailand, 21-74 in Singapore, and 16-74 in all other countries
The preceding article was previously published by Institut Public de Sondage d'Opinion Secteur, (Ipsos SA) and is republished with permission.
******************************************************************************************
Related: