White House IDAHOBiT statement acknowledges LGBTQ+ rights advances, setbacks
World Health Organization declassified homosexuality as mental disorder on May 17, 1990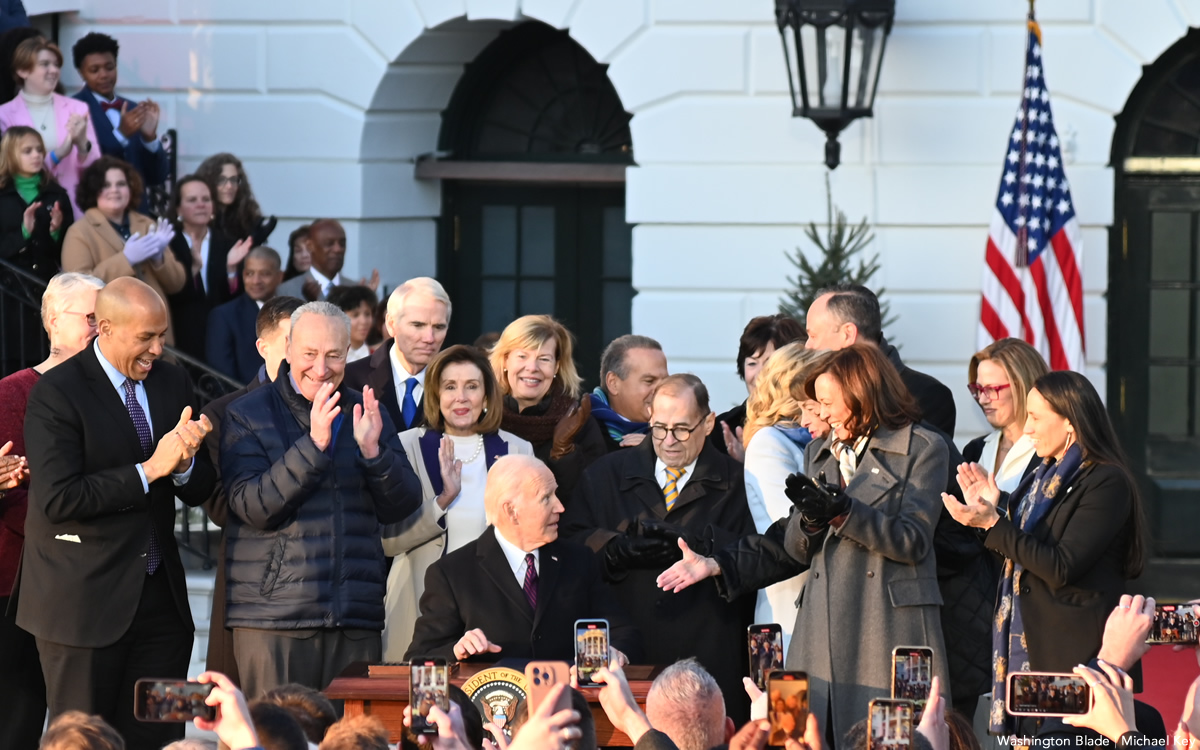 WASHINGTON — The Biden-Harris administration on Wednesday used the International Day Against Homophobia, Biphobia and Transphobia to reiterate its support of LGBTQ+ and intersex rights.
"Everyone is entitled to be treated with dignity and equality — no matter whom they love, or how they identify," said President Joe Biden in a statement the White House released. "On the International Day Against Homophobia, Biphobia, and Transphobia, we reaffirm our commitment to this ongoing work and stand with lesbian, gay, bisexual, Transgender, queer, and intersex (LGBTQI+) people around the world."
IDAHOBiT commemorates the World Health Organization's declassification of homosexuality as a mental disorder on May 17, 1990.
"More than 30 years ago today, thanks to the tireless advocacy of LGBTQI+ activists the World Health Organization took the long overdue step of declassifying 'homosexuality' as a mental health disorder," said Biden. "Since then, we've seen real progress — including a powerful movement for LGBTQI+ liberation, more protections for LGBTQI+ people, and more spaces that recognize and affirm that our diversity is our strength. But sadly, we continue to see reminders of how much work remains."
Biden in his statement notes consensual same-sex sexual relations remain criminalized in more than 60 countries around the world. Biden also points out that some governments still consider LGBTQ+ and intersex people mentally ill and support so-called conversion therapy.
"Right here at home, violent attacks on LGBTQI+ individuals and community spaces have risen dramatically, and more than 600 hateful laws have been introduced this year targeting the LGBTQI+ community, particularly youth," said Biden.
"All of us have a responsibility to speak out and stand up against hate and violence in any form," added Biden. "When the rights of any group or individual are under attack, it endangers our own freedom, and the freedom of people everywhere. So today, let us join together across our country — and around the world — to stand with the LGBTQI+ community. Let us renew our work to combat homophobia, biphobia, and transphobia — and put an end to the harmful violence and discrimination that stems from it."
Secretary of State Antony Blinken echoed Biden in his own IDAHOBiT statement.
"As we mark this year's IDAHOBiT, the United States reaffirms our commitment to exposing the harm conversion therapy practices cause to LGBTQI+ persons," said Blinken. "We reaffirm the importance of ensuring access to evidence-based healthcare without discrimination or stigma regardless of sexual orientation, gender identity or expression, or sex characteristics. We recommit to opposing the criminalization of LGBTQI+ status or conduct, which can drive the pathologizing of LGBTQI+ persons and the practice of so-called conversion therapy. We confirm that conversion therapy practices are inconsistent with U.S. nondiscrimination policies and ineligible for support through taxpayer-funded foreign assistance grants and contracts."
UNAIDS in its IDAHOBiT statement notes criminalization laws "hurt the public health of everyone, costing lives." U.N. Secretary-General António Guterres on Wednesday acknowledged discrimination and violence based on sexual orientation and gender identity remains commonplace around the world.
"In every corner of the world, LGBTQI+ people continue to face violence, persecution, hate speech, injustice and even outright murder," said Guterres. "Each assault on LGBTQI+ people is an assault on human rights and the values we hold dear."
In every corner of the world, LGBTQI+ people continue to face violence, persecution, hate speech, injustice and even outright murder.

Each assault on LGBTQI+ people is an assault on human rights and the values we hold dear.

We cannot and will not move backwards.

— António Guterres (@antonioguterres) May 17, 2023
The U.N. LGBTI Core Group, a group of U.N. countries that have pledged to support LGBTQ+ and intersex rights, on Wednesday held an event in support of Transgender rights. Advocacy groups in the U.S. and around the world also acknowledged IDAHOBiT.
"We stand in solidarity with Afghan LGBTI people; advocating for love, acceptance and equal rights," said the Afghan LGBT Organization on Instagram. "Let's keep fighting together for a more inclusive and tolerant world."
Rightify Ghana in its IDAHOBiT comments noted the Promotion of Proper Human Sexual Rights and Ghanaian Family Values Bill in the country's Parliament that would, among other things, fully criminalize LGBTQ+ and intersex people and anyone who advocates for them.
Reportar sin Miedo, the Washington Blade's media partner in Honduras, reported activists organized an IDAHOBiT march in Tegucigalpa, the country's capital.
🚨Comienza la movilización en #Tegucigalpa, en conmemoración al #DiaContraLaLGTBIfobia 🏳️‍🌈🏳️‍⚧️

🧵Aquí te mostramos la galería: 👇🏼
Cobertura: @KateO_06 pic.twitter.com/ES8oiHV1tU

— Reportar Sin Miedo (@ReportarsinMied) May 17, 2023
Cuba's National Center for Sexual Education on May 13 organized a march with the theme "socialism yes, homophobia no" in which LGBTQ+ and intersex activists who do not work with CENESEX or its director, Mariela Castro, did not participate. Sydney Gay and Lesbian Mardi Gras organizers on Wednesday urged Australians to sign a petition that calls upon lawmakers to enact hate crimes laws.
"There are no national laws and at the state level, SA (South Australia), WA (Western Australia) and VIC (Victoria) have no laws protecting the LGBTIQ+ community from hate speech and vilification," reads the petition. "With attacks on the rise, especially against the trans community, there is urgent need for stronger measures to protect the community."
Human Rights Campaign Director of Global Partnership Jean Freedberg on Tuesday told the Washington Blade during a telephone interview that IDAHOBiT is a day "when we really focus on the situation of LGBTQ+ people around the world and focus on the violence and discrimination that people continue to experience in their daily lives."
"Every year we join with people in the United States and around the world to raise up our voices, to shine light on the issues that we all face and to look at ways that we can, as a global community, work together to keep striving forward, to protect our community for the future from harm, to lift up who we are and to keep moving forward to ensure dignity and respect for all LGBTQ+ people around the world," said Freedberg.
Advocacy groups in Africa condemn Uganda's Anti-Homosexuality Act
South African organizations criticize government's silence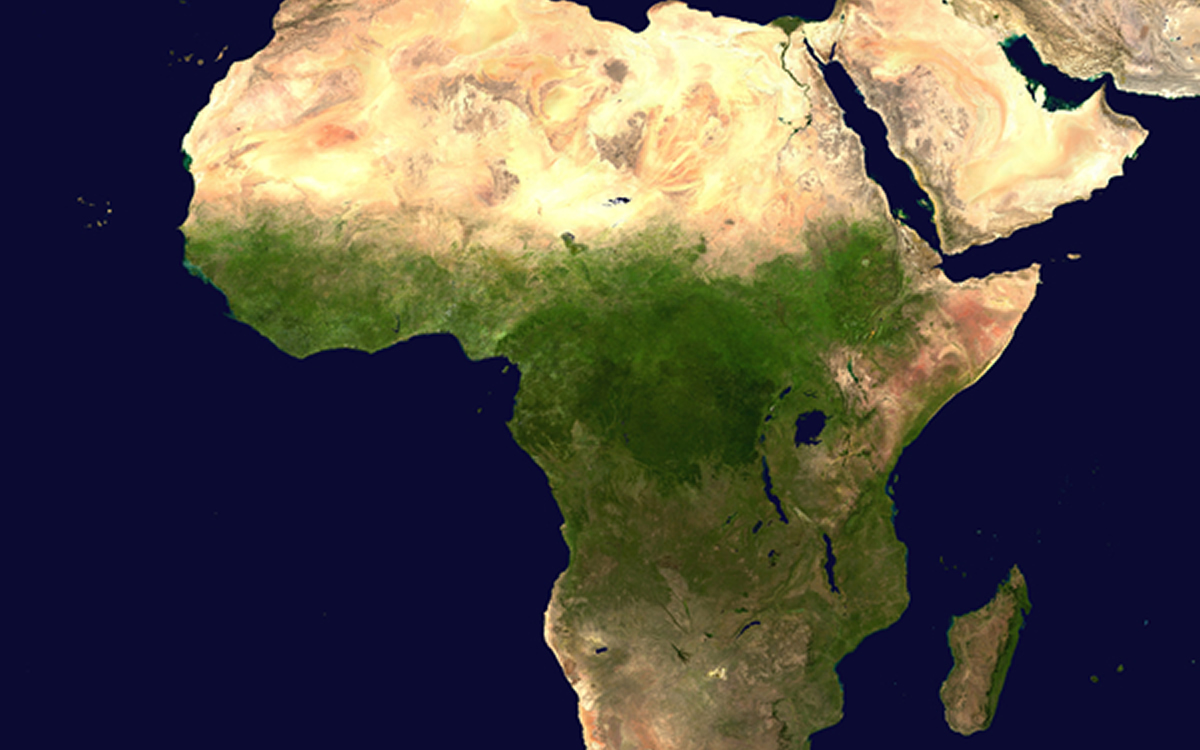 JOHANNESBURG — LGBTQ+ and intersex rights groups across Africa have condemned the signing of Uganda's Anti-Homosexuality Act that calls for the death penalty for "aggravated homosexuality."
Mpho Buntse, a spokesperson for Access Chapter 2, a South African LGBTQ+ and intersex advocacy organization, said it was very worrisome the South African government did not condemn the law, even though the country is the only one on the continent that fully upholds LGBTQ+ and intersex rights.
"It has really been apparent that South Africa would rather protect its diplomatic relations rather than impose on the sovereignty of a country like Uganda. However, we are not dealing with an issue of economic or financial diplomacy, but we are dealing with a human rights crisis. We are dealing with a situation where we could see potential violence being subjected to the LGBTQ+ community in Uganda, but not only to the LGBTQ+ community but the rest of the Ugandan population stands to be affected by this law because even if you don't identify as LGBTQ+ you will be compelled to report to the state those that you know that identify as LGBTQ+," said Buntse. "So we find it really problematic that we choose to be just spectators when we could or potentially have played an active role from the start of this."
Buntse noted Ugandan President Yoweri Museveni, who signed the Anti-Homosexuality Act on Monday, was in South Africa in late February.
"We didn't seize the opportunity to play an active role, so South Africa is always on a missed opportunity where we are now seeing a country to be a spectator instead of being an ally of the LGBTQ+ community," added Buntse.
Bruce Walker of Pretoria Pride, another South African advocacy group, said he was not surprised by the government's stance.
"They are showing their true colors," said Walker. "The governing party is full of homophobes. It's written in the constitution, the rights for the LGBTQI+ community, but they never support the LGBTQI+ community. They flatly ignore it. You either support and respect our constitution or not but as it stands they do not. They are far too scared to take a stand."
Gays And Lesbians of Zimbabwe also condemned the law, saying it violates human rights.
"This law blatantly violates the human rights of LGBTQ individuals in Uganda including the right to privacy, freedom from discrimination and the right to equal protection under the law We stand shoulder to shoulder with the Ugandan LGBTQ community through this difficult time," said GALZ in a statement. "We call on the Ugandan leadership to engage in constructive dialogue, and to work towards solutions that are inclusive and respectful to all individuals."
Lesbians, Gays and Bisexuals of Botswana, like GALZ, also condemned the law and expressed solidarity with LGBTQ+ and intersex Ugandans.
"It's a great disappointed to have the president assent the Anti-Homosexuality Bill," said LEGABIBO. "To all LGBTIQ+ identifying persons in Uganda, we stand in solidarity with you."
East Africa Trans Health and Advocacy Network also castigated the law. EATHAN, like LEGABIBO and GALZ, said it will continue to stand up for LGBTQ+ and intersex rights in Uganda.
"Sad day for LGBTIQ Ugandans. We stand with our trans, intersex and nonbinary Ugandans and the entire LGBTIQ community. We must keep fighting and have the law declared unconstitutional," said EATHAN.
We Are All Ghana, a Ghanaian LGBTQ+ and intersex rights group, in its reaction said the community in Uganda and across Africa should not be silenced.
"As we stand in solidarity with the Ugandan queer community, let us remind ourselves as the Ghanaian LGBTQ+ community and Africans as a whole that we must not allow ourselves to be bullied into silence. our rights are as human as anyone else's," said We Are All Ghana.
Shemerirwe Agnes, executive director of Africa Queer Network, a Uganda-based advocacy group, said there was nothing anyone or any particular organization could have done to dissuade Museveni from signing the bill.
"We are being attacked and killed since that bill was passed because the society and the police thought that just because that bill was passed it was now law so one would think that just because it's now law then it's now going to be implemented," said Agnes. "It was implemented even before it was signed into law there is nothing we can do now because President Museveni doesn't listen to anyone."
U.S. President Joe Biden is among those who have also condemned the Anti-Homosexuality Act.
The White House has announced it will "evaluate" the law's implications and how it may impact U.S. aid to Uganda. Advocacy groups, meanwhile, have challenged the Anti-Homosexuality Act in the Ugandan Constitutional Court.
Daniel Itai is the Washington Blade's Africa Correspondent.