Montana bans drag queen stories in libraries, restricts public shows
Law is likely to face legal challenge, also prohibits 'sexually oriented' performance at any public space where minors are present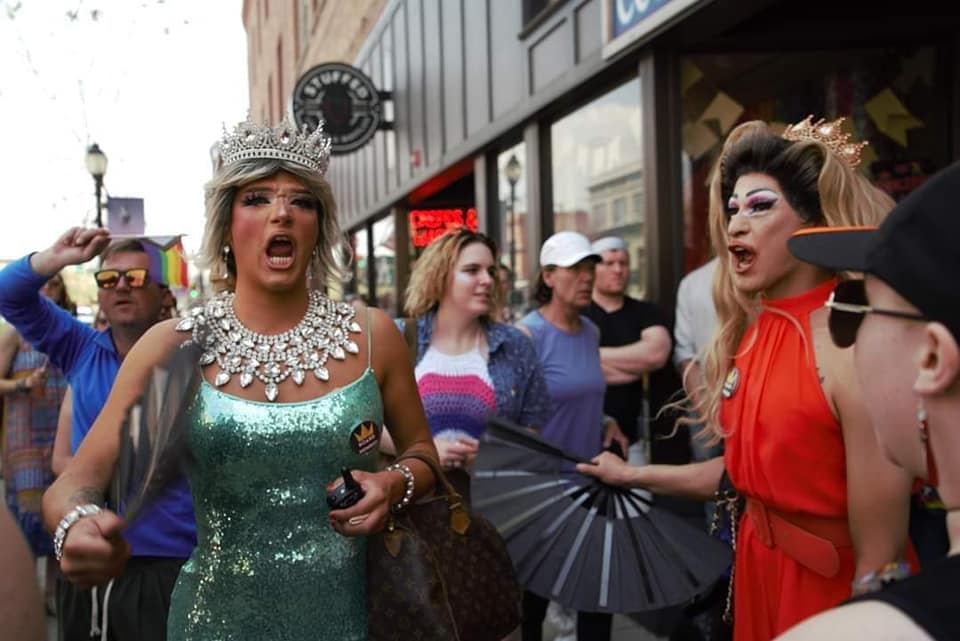 By Arren Kimbel-Sannit | HELENA – Montana Gov. Greg Gianforte signed legislation this week that bans drag story hours in public schools and libraries and restricts "sexually oriented performances" on public property, likely setting the stage for another legal challenge to GOP-backed legislation restricting LGBTQ+ expression. 
House Bill 359, sponsored by Rep. Braxton Mitchell, R-Columbia Falls, became law with Gianforte's signature Monday. 
"The governor believes it's wildly inappropriate for little kids, especially preschoolers and kids in elementary school, to be exposed to highly sexualized content," Kaitlin Price, a spokesperson for Gianforte, told Montana Free Press in an email Tuesday.
That line echoes arguments lawmakers made for the bill and others like it during the recently concluded session — Mitchell suggested that drag story hours and other family-oriented drag performances were part of a "sick agenda" and "damaging to a child's psychology and general welfare." Mitchell could not be reached for comment in time for publication Tuesday.
Drag performers, advocates and other opponents said the bill's backers willfully misunderstand the nature of drag performances at a time when the LGBTQ+ community is already under attack by state legislators. In addition to HB 359, Republicans this session passed Senate Bill 99, which bans gender-affirming care for transgender youth, Senate Bill 458, which inserts binary definitions of sex into state law, and several other similar bills.
"We have white [cisgender] individuals that have zero experience within the drag community providing a legally binding definition of what drag art is, and I think I speak for the community when I say that is hurtful, degrading, and it's a misunderstanding," said Bozeman drag performer Anita Shadow.
"One of the big things is that there seems to be a complete misunderstanding that drag is inherently sexual — and that is not the case," Shadow said.
Upper Seven Law, a non-profit law firm involved in several lawsuits related to new legislation, has pledged to challenge HB 359. 
"This is a really straightforward First Amendment activity," Rylee Sommers-Flanagan, the firm's executive director, told MTFP. "There's nothing obscene about dressing in drag. The First Amendment allows reasonable restrictions on speech, but this isn't it."
Similar drag bills in other states have also faced lawsuits, but supporters of HB 359 maintain that the bill's focus on publicly funded facilities sets it apart from legislation elsewhere.
The version of the law that reached Gianforte's desk is less explicit about the types of expression it's targeting than it was at its introduction. Initially, HB 359 specifically banned drag performances in public schools, libraries and public properties "in any location" when a minor is present, but underwent a series of amendments during the final days of the session that broadened its focus.
These amendments included new language from Sen. Chris Friedel, R-Billings, that removed any reference to drag in favor of the term "adult-oriented."
"I can tell you right now, if that bill goes [in its current form] even the most conservative judge will strike it down for unconstitutionality," Friedel told his colleagues in April. "The reason I brought this amendment today is to make sure that we get this across the aisle, we get this in front of the governor, he signs it, it goes to court and it can be defended by the [Montana attorney general's] office."
Friedel's amendment passed the Senate on bipartisan lines. But the vote to support the amendment in the House came just after protests in support of Rep. Zooey Zephyr, a transgender woman and Missoula Democrat, erupted in the House gallery. Despite relatively broad GOP support for the amendment in the Senate, almost every House Republican voted against the new language. 
A subcommittee of House and Senate lawmakers then met to reconcile the different versions. The language they landed on has a few operative provisions, namely an explicit ban on drag story hours at "a school or library that receives any form of funding from the state" during regular operating hours or at school-sanctioned events. The bill ultimately passed on May 2, the last day of the 68th Legislature, on mostly party lines.
To support those restrictions, the law introduces definitions of drag queen and drag king into state statute. Critics have attacked those definitions as vague and subjective.
A drag queen, under the law, is "a male or female performer who adopts a flamboyant or parodic feminine persona with glamorous or exaggerated costumes and makeup."
The law also says that "a sexually oriented business may not allow a person under 18 years of age to enter the premises of the business during a sexually oriented performance" and further prohibits a "sexually oriented activity" in any public space where someone under the age of 18 is present.
Shadow, the drag performer, described story hours as akin to "taking your kid to meet Cinderella at Disneyland," not an expression of prurience. Performers in Shadow's organization follow strict requirements for dress and language when performing for kids, she said.
"If you have a caterer that is working with an older crowd that has lots of money, they may bring caviar," Shadow said. "If you're working with a youth group for a birthday party, they're probably bringing pizza. They're catering to the crowd they're going to."
Gianforte's signing of the bill comes as Pride Month approaches in June. Kevin Hamm, the president of Montana Pride — and a recently announced Democratic candidate for Montana's eastern U.S. House district — said he doesn't expect the law will hamper the festivities. 
"We have tons of events planned, many featuring drag," Hamm said. "Knowing how resilient and energized this community is in the face of adversity, I suspect that this nonsense will inspire even more people to show up as their authentic selves in drag or genderqueer outfits. Our community refuses to be pushed back into the closet by a small minority of ignorant but very vocal bigots, and this bill does nothing to change that."
Shadow, who helped produce Bozeman's own Pride event last week, said much of the same, but also noted the fear that many in the drag and LGBTQ+ community feel in the context of HB 359 and similar legislation. For example, white supremacist protesters interrupted a Pride event in Bozeman this weekend holding signs that said, among other phrases, "Boycott your local safe space." Events she's involved with often require security, law enforcement and other heightened measures to prevent violence and harassment, Shadow said.
"Nationally speaking but also in Montana, the queer community is under attack," she said.
Disclosure: Kevin Hamm is COO of Treasure State Internet, an in-kind supporter of Montana Free Press.
**************************************************************************************
Arren Kimbel-Sannit
Raised in Arizona, Arren is no stranger to the issues impacting Western states, having a keen interest in the politics of land, transportation and housing. Prior to moving to Montana, Arren was a statehouse reporter for the Arizona Capitol Times and covered agricultural and trade policy for Politico in Washington, D.C. In Montana, he has carved out a niche in shoe-leather heavy muckraking based on public documents and deep sourcing that keeps elected officials uncomfortable and the public better informed. 
**********************
The preceding piece was previously published by Montana Free Press and is republished with permission.
Montana Republican governor's son lobbies against LGBTQ laws
"The governor loves his family & values their perspectives. Our office will not discuss private conversations"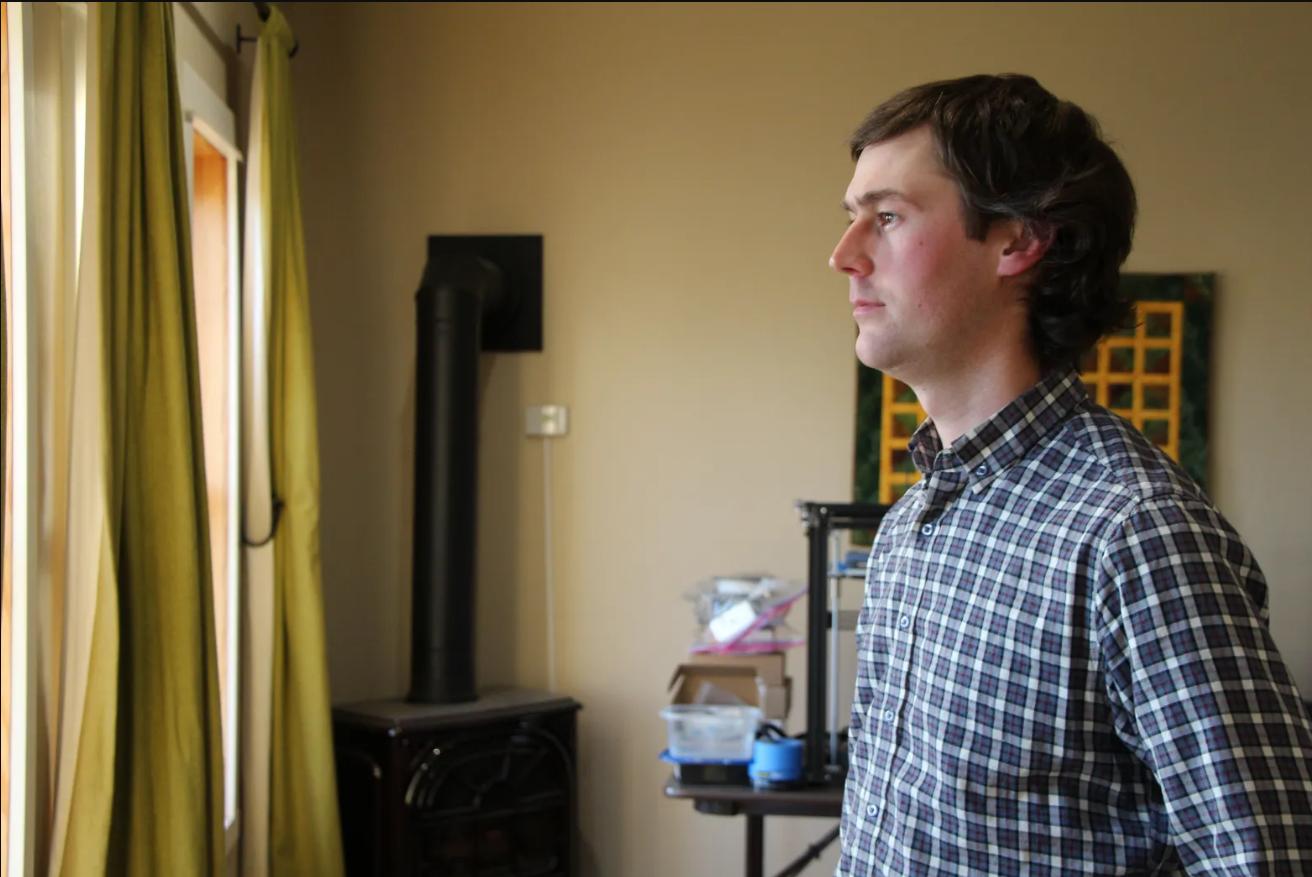 By Mara Silvers | BOZEMAN – In late March, David Gianforte made an appointment to talk about three bills with Montana's Republican governor, Greg Gianforte, who happens to be his father.
David, 32, sat down in the governor's office on March 27 with a prepared statement about legislation affecting transgender Montanans and the LGBTQ+ community generally, to which David says he belongs. He wanted to talk about Senate Bill 99, a ban on gender-affirming health care for minors; Senate Bill 458, a bill to define sex as strictly binary in Montana code; and House Bill 359, a ban on drag performances in many public spaces. Sitting across from his father in the governor's office, with Gianforte's top health adviser present, David said, he read his printed statement out loud.
"Hey Dad. Thanks for setting aside time to meet with me, it means a lot to me," David said. "There are a lot of important issues passing through the legislature right now. For my own sake I've chosen to focus primarily on transgender rights, as that would significantly directly affect a number of my friends … I would like to make the argument that these bills are immoral, unjust, and frankly a violation of human rights."
David, who identifies as nonbinary and uses "he" and "they" pronouns, is the governor's second oldest of four children. In an April 25 interview, he said he didn't know what kind of impact lobbying his father, the governor, might have. But David said they felt strongly about using their connection and access to one of the state's most powerful elected officials to bring more light to issues impacting LGBTQ+ Montanans. He said he initially reached out to his father over email, asking him "as your constituent and your son" to veto the legislation advancing toward his desk.
"I felt somewhat of an obligation to speak with him about it. Otherwise I would regret the missed opportunity," David said.
The elder Gianforte responded hours later, according to an email exchange David provided to Montana Free Press, thanking David for writing about an issue that was important to him.
"I would like to better understand your thoughts and concerns. When can we get together to talk about it?" the governor wrote, signing the email, "Love, Dad."
David Gianforte, a Bozeman resident with a background in computer science, hasn't previously spoken publicly about his gender identity or his relationship with his father, who in 2021 became Montana's first Republican governor in 16 years. He said his family, including siblings who live in other states, doesn't typically discuss politics. David said that after he first told his parents he was gay in 2020, the family never talked about it at length again. Throughout the current legislative session, David said, he closely tracked the bills as they passed through the Republican-held chambers toward his father's desk. They said they weighed whether to broach the topic with their father, and what might be risked in the process.
"I do have a family relationship with my father that I'm trying to preserve," David said, adding that he didn't engage with his father on legislation during the 2021 session. "I felt that the best way to go about this would be to reach out to him in a more formal manner. And he was very willing to meet with me."
The governor's office responded to a request for comment about David's characterizations in a brief statement Tuesday night. 
"The governor loves his family and values their thoughts, ideas, and perspectives. Our office will not discuss private conversations between the governor and members of his family," said press secretary Brooke Stroyke.
Throughout the session, much public and media attention has been focused on the bills David is concerned about. As of Friday, SB 99, the ban on gender-affirming health care for minors,  is the first to land on the governor's desk and is awaiting his signature or veto. 
"It's bizarre to me to read the press release that my father put out. He talks about compassion toward children, the youth of Montana, while simultaneously taking away health care from the youth in Montana. It's basically a contradiction in my mind."
~ David Gianforte
In addition to hours of testimony and lawmaker debates, a legislative tally updated Tuesday morning counted more than 1,500 phone calls and messages to lawmakers in support of Senate Bill 99 and more than 1,800 in opposition. Roughly 1,300 people respectively registered their favor and disfavor for Senate Bill 458, which would define "sex" in state law. The drag show restriction, HB 359, has garnered comments from nearly 246 proponents and 608 opponents and prompted drag performers to gather at the state Capitol in April for a highly visible demonstration and story hour.
The displays of emotion and tension the bills have caused in other parts of the statehouse haven't triggered many public reactions from the governor's wing on the second floor. Gianforte dodged questions at a March press conference about where he stands on SB 99. After being repeatedly pressed, Gianforte eventually told reporters that it is "extremely important we take the input of constituents and hear from all sides," and added that he had met with transgender Montanans and their families about the bills.
Days before those remarks, David was one of the people urging the governor to veto the bill. In emails and in conversation during their meeting, David said, his father was thoughtful and stated a number of reasons for supporting the legislation. Even with their divergent perspectives, David said, he left the office feeling like a weight was off his shoulders. 
Weeks later, David said, his mood shifted. The governor sent SB 99 back to the Legislature with amendments that, in David's view, did not make the legislation better for the state's LGBTQ+ community. The changes included revised definitions of sex to account for children with intersex conditions, Gianforte said, and tightened prohibitions on the use of public funds for minors' gender-affirming medical treatments.
David said they had asked their father to think about transgender Montanans with empathy and compassion, even if the governor didn't share their experiences. In his letter to lawmakers explaining the amendments, Gianforte referenced those same values — empathy and compassion — while also expressing support for the bill. To David, the letter didn't make sense.
"It's bizarre to me to read the press release that my father put out," David said. "He talks about compassion toward children, the youth of Montana, while simultaneously taking away health care from the youth in Montana. It's basically a contradiction in my mind."
David said he knows transgender people who have benefitted from the medical services SB 99 would restrict, such as hormone therapy, including some who started taking those medications as teenagers. The other bills, he said, amount to invasions of privacy and attempts to curb the right of self-expression.
In committee hearings and floor debates, supporters of SB 99, the bill banning gender-affirming health care for minors, have focused on the government's obligation to protect minors from making consequential medical choices before they turn 18. Backers of SB 458, which would define "sex" in state code, have placed a high value on defining sex as exclusively male or female based on reproductive characteristics. Some lawmakers who have spoken in favor of the bill banning drag performances in certain spaces have cast such shows as inherently sexual and inappropriate for minors.
All three bills have largely passed along party lines, with Republicans supporting the legislation and Democrats opposing. SB 458 awaits a final vote in the Senate before it can head to Gianforte's desk; HB 359 is scheduled for further deliberation by lawmakers from both chambers in a conference committee.
Having grown up in a devout Christian household, raised on values his parents continue to publicly endorse, David said he attributes some Republican legislative support for the bills to lawmakers' strongly held beliefs about how God created humans. He also said he sees the political party system as unaccommodating to diverse perspectives, and thinks that pressure to conform might be a factor influencing his father, too.
"He is concerned about his career. He has particular issues that he focuses on, such as jobs and the economy. And he's aware that being able to stay in the position of governor is dependent on him staying in favor of the Republican Party," David said. "And I believe that that affects his decisions on some of these bills."
In recent days, David began publicly sharing their political sentiments. On Twitter last week, they shared a post from Rep. Zooey Zephyr, D-Missoula, the transgender lawmaker whose attempts to speak on the House floor have been continuously refused by Republican leadership because of comments she made criticizing Gianforte's changes to SB 99, and any lawmaker who supported the amended bill. David also shared their own perspective.
"I stand in support of @ZoAndBehold and the entire LGBTQ+ community of Montana, which includes myself and many of my friends," David wrote. "I have worked to oppose bills in the current MT Legislative session including SB 99 and SB 458."
David said he doesn't expect that his public remarks, or his conversation with his father, will change the outcome of any bill. But, David said, he doesn't want to take part in sweeping issues under the rug. Only by speaking candidly and openly can people move forward, he said, in their own families or in the public sphere.
"I feel like I have a voice and I can be heard. And I feel, not only in communicating with my father, that's not necessarily the main point, but also just showing support for the transgender community in Montana," David said. "I think that could be meaningful, especially at this time."
******************************************************************************************
Mara Silvers
Mara writes about health and human services stories happening in local communities, the Montana statehouse and the court system. She also produces the Shared State podcast in collaboration with MTPR and YPR. Before joining Montana Free Press, Mara worked in podcast and radio production at Slate and WNYC. She was born and raised in Helena, MT and graduated from Seattle University in 2016. More by Mara Silvers
**********************
The preceding piece was previously published by Montana Free Press and is republished with permission.
SUPPORT A FREE AND INDEPENDENT PRESS
Unbiased, unflinching journalism is critical to our democracy. When you donate to Montana Free Press, you are helping build a newsroom that serves the people of Montana, not advertisers or special interests. (Link)