Turkish activists fear Erdoğan will further restrict LGBTQ+, intersex rights
Long-time president won re-election on Sunday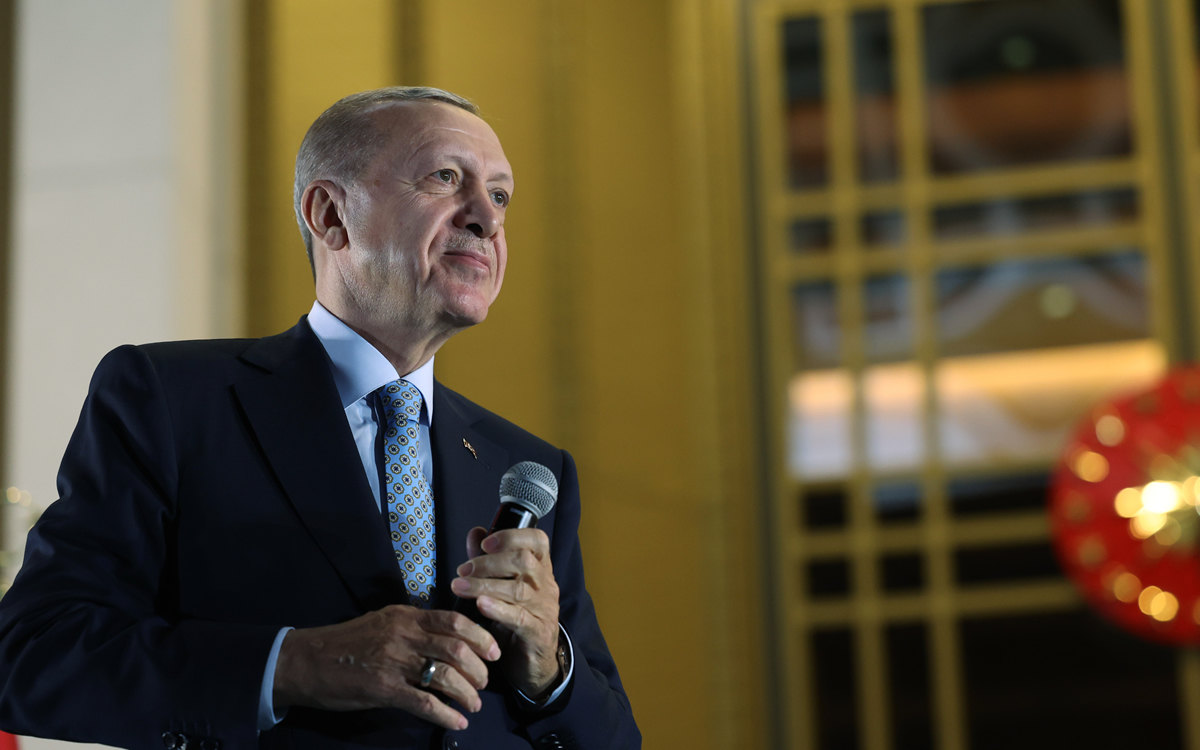 ISTANBUL — Turkish President Recep Tayyip Erdoğan on Sunday won re-election.
Erdoğan, a former Istanbul mayor who has governed Turkey since 2003, defeated Kemal Kılıçdaroğlu in the presidential election's second round by a 52-48 percent margin. The Associated Press notes Erdoğan will remain in office until at least 2028.
Turkish authorities over the last decade have increasingly cracked down on LGBTQ+ and intersex activists in the country.
Police in 2015 used tear gas and water cannons against people who were about to participate in an Istanbul Pride march. Authorities in 2017 arrested nearly two dozen people who defied a ban on Pride events in the city.
Police in Ankara, the Turkish capital, on May 10, 2019, arrested 18 students and an academic who participated in a Pride march at the Middle East Technical University. They faced up to three years in prison, but a court in 2021 acquitted them. Police in 2022 violently broke up a Pride parade at the same Ankara university.
The State Department in 2021 criticized Turkey after police once again used tear gas to disperse Istanbul Pride march participants near the city's Istiklal Avenue. Security forces last June arrested more than 370 people who tried to participate in another Istanbul Pride march.
Fourteen Turkish LGBTQ+ and intersex rights organizations in a joint statement they issued ahead of Sunday's election noted both Erdoğan and Kılıçdaroğlu "resorted to hate speech during the election process."
"The election period is long and painful for all of us," reads the joint statement the May 17 Association, SPoD (Social Policy, Gender Identity and Sexual Orientation Studies Association), Ankara Rainbow Families Association (GALADER), the Young Lesbian Gay Bisexual Trans Intersex Youth Studies and Solidarity Association, the HEVI LGBTI+ Solidarity Association, Kaos GL, the Red Umbrella Association, Lambda Istanbul, LGBTI+ Families and Relatives Association, Mersin 7 Colors LGBT, Muamma, the Free Colors LGBTI+ Solidarity Association, the Pink Life LGBTI+ Solidarity Association and ÜniKuir issued. "The bitter pills we swallowed during the election are now overflowing the cup. Before the elections and during the first round of the elections, LGBTI+ people were often targeted and the focus of hate speech, while racism and refugee hostility also dominated in the second round."
The statement also described the presidential election as a "referendum."
"This election is a referendum on whether the 12th president's rule will continue or not, whether the one-man regime in the country will come to an end or not," it reads. "Yes, we will continue to be in the opposition regardless of the outcome. But this election is also the election of under which conditions and against whom we will oppose from now on."
Media reports indicate Erdoğan in his victory speech criticized the Turkish opposition "for being pro-LGBT."
Erdogan rallies against the Turkish opposition for being pro-LGBT in his victory speech

"CHP, HDP and all others are pro-LGBT. But LGBT cannot infiltrate among us. We will be reborn. The family is sacred. The violence against women is forbidden"

— Ragıp Soylu (@ragipsoylu) May 28, 2023
One activist with whom the Washington Blade spoke on Monday said Erdoğan "unfortunately" won re-election.
"LGBTI activism in Turkey will be even more threatened," said the activist.
A provocative ad, a divided nation: The battle over LGBTQ+ rights in Lebanon
PSA has sparked hope, controversy in Arab world
BEIRUT, Lebanon — A new PSA in Lebanon advocating for the decriminalization of homosexuality in the country is stirring up controversy in the Arab world.
The ad first appeared on MTV Lebanon, a network owned by Lebanese politician and businessman Michel Gabriel El Murr, and was later shared on the network's social media page. The campaign pushes for the repeal of Article 534 in the Lebanese Penal Code, a law first adopted in 1943 that is used to criminalize consensual same-sex sexual relations with up to one year of imprisonment.
In the clip, two men are seen standing side-by-side in an elevator when a third man joins them and pulls a gun from his jacket. The tension is palpable until he leaves. When he does, the first two men grasp each other's hands when words flash across the screen: "There's crime and there's love."
Screams and gunshots are heard from a distance as the scene fades.
"Based on the words of Pope Francis, 'Homosexuality is not a crime,'" the network's X (formerly known as Twitter) caption says, "Yes to the abolition of Article 534 of the Penal Code, which criminalizes homosexuality."
Since premiering on Sept. 2, the powerful ad has generated an array of attacks from anti-gay figures, including from Culture Minister Mohammad Mouratda, who lambasted the network and accused it of incitement and division. He even went so far as to suggest that airing the ad itself was a criminal act.
Meanwhile, a collective called the Muyul Project premiered a PSA of their own that spoofed the original ad with an alternate ending in which a little girl is seen crying and holding her family as opposing words appear on the screen: "There is a crime that kills a human being, and there is a crime that kills society. Yes to maintaining Article 534 and protecting societal and family values."
Despite the outcry, LGBTQ+ Arabs and allies insist the campaign is sparking much-needed dialogue about the law — which they say is long overdue.
"This campaign does a lot to start conversations and challenge the status quo, especially within the context of Lebanese society," Joe Kawly, the first openly gay Arab news anchor, told the Washington Blade. "While the backlash was predictable, the visibility and support that this campaign provides to the LGBTQ+ community are invaluable."
Bertho Makso, the founder and executive director of Proud Lebanon, an LGBTQ+ and intersex rights organization, told the Blade the ad reinforces the work he and his team have been doing "since 2018" to engage various political parties and draft bills that would decriminalize homosexuality.
Nine MPs in July co-sponsored legislation that would have decriminalized homosexuality, but backlash was swift. One MP withdrew their name altogether because of harassment and threats.
While the ad campaign is a bold move, it is not exactly an isolated incident. The country was once considered an oasis of relative tolerance for LGBTQ+ and intersex rights in the Arab World, but has undergone an anti-LGBTQ+ tidal wave in recent years.
Members of the far-right Christian group Soldiers of God on Aug. 23 brutally attacked Madame Om, a popular gay-friendly bar in Beirut's Mar Mikhael neighborhood, during a drag show. Reports indicate the police looked on as patrons were assaulted. This attack comes as Education Minister Abbas Al Halabi opened an investigation into rumors of pro-LGBTQ+ messaging in materials used in schools. And Hezbollah leader Hassan Nasrallah in July declared consensual same-sex sexual relations should be punishable by death. 
To further complicate matters, Article 534 doesn't explicitly address homosexuality. Rather, it only points to sexual acts that are "contrary to the order of nature."
Even though several courts have tried to affirm consensual same-sex acts don't qualify as being "against nature," it hasn't stopped multiple arrests continuing to persist, according to a recent Proud Lebanon report. Mouratda and MP Ashraf Rifi have introduced more stringent bills.
Mourtada's measure proposes up to three years' imprisonment and hefty fines for promoting or engaging in "deviant sexual relations" and Rifi's bill sought the explicit criminalization of homosexuality with heightened penalties.
As Lebanon continues its attacks against LGBTQ+ and intersex people, some suggest it's all a ploy to distract from the country's crumbling economy. Even more notably: Lebanon has lacked a president since October 2022, a clear reflection of its turbulent political landscape.
Helem, the first LGBTQ+ and intersex organization in the Arab world established in 2001, said in a recent statement "the decision to suddenly and systematically target LGBTQ individuals is a very old tactic used by multiple failing autocratic regimes around the world."
As Kawly explains, MTV Lebanon's campaign may herald a turning point for the nation, asserting LGBTQ+ and intersex people's inherent role in Lebanon's value as a whole.
"Social change is often slow and painful, but the very fact that we're seeing more visibility and conversation on LGBTQ+ issues signal a potential shift," he said. "With every campaign, every story told, every law repealed, we're inching closer to a more inclusive and accepting society."
"When it comes to Lebanon, for sure there is a bright future because we are working for it," added Makso. "We believe in it, and we are fighting for it."