Study: Awareness condoms cannot be used as evidence for arrest 
Researchers interviewed 25 adults about their experiences in sex work, including interactions with law enforcement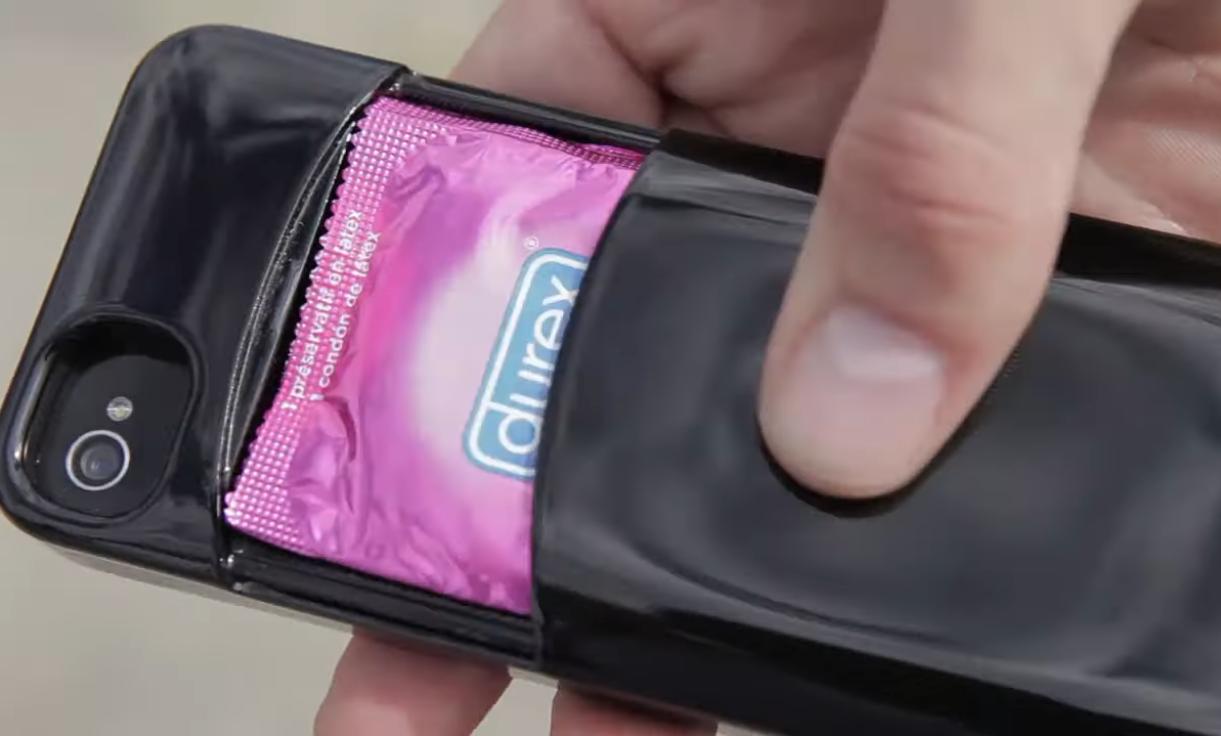 LOS ANGELES – California Senate Bill 233, which went into effect in January 2020, ensures that the possession of condoms or HIV prophylactics cannot be used as evidence to arrest or prosecute a person for sex work.
 
However, a new study of people engaged in sex work in Los Angeles County from the Southern California HIV/AIDS Policy Research Center and the Williams Institute at UCLA School of Law finds that 80% of respondents were unaware of the law. In addition, about 80% carried condoms while working despite the perceived risk of criminalization.
 
Researchers interviewed 25 adults about their experiences in sex work, including interactions with law enforcement, sexual risk behaviors, and condom-carrying practices. Respondents reported learning about the risk of carrying condoms from their own interactions with law enforcement and from their peers engaged in sex work.
 
While a few respondents said they avoided carrying condoms due to their concerns about police interactions, the majority still carried condoms as a way to resist police control and to protect their health, the health of their clients, community, and colleagues in sex work.
 
"Most of the people surveyed were aware of being targeted for sex work by law enforcement if they carried condoms at a time when condoms could no longer be used as evidence," said lead author Ayako Miyashita Ochoa, Co-Director of the Southern California HIV/AIDS Policy Research Center at UCLA Luskin School of Public Affairs. "This study highlights the need for interventions that raise awareness of the legal rights of people engaged in sex work and oversight of SB233 implementation among California police officers."
 
"People engaged in sex work report that much of the knowledge they have about the risks of carrying condoms came from members of their community," said study author Bianca D.M. Wilson, Senior Scholar of Public Policy at the Williams Institute. "It is important that people engaged in sex work lead interventions, advocacy, and outreach efforts to ensure that accurate and current information is disseminated."
 
This project was made possible by support from Sex Workers Outreach Project Los Angeles (SWOPLA) and East LA Women's Center. Support was also provided by the Los Angeles County Department of Public Health's Office of Women's Health and Unique Woman's Coalition.
New on the LA County Channel
You can watch on Channel 92 or 94 on most cable systems, or anytime here. Catch up on LA County Close-Up here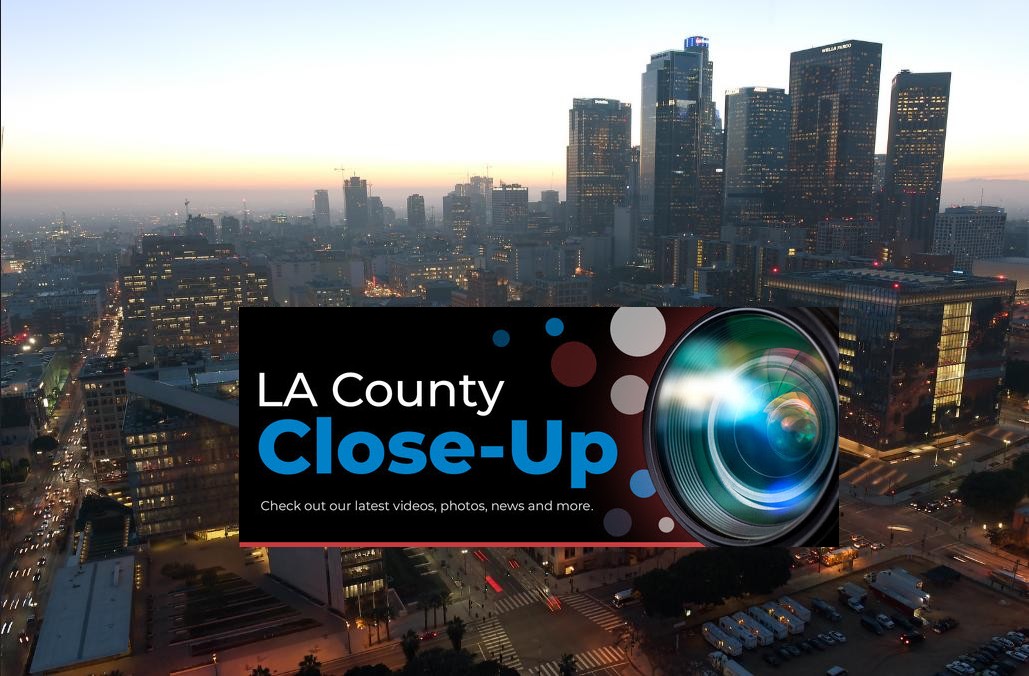 New on the County Channel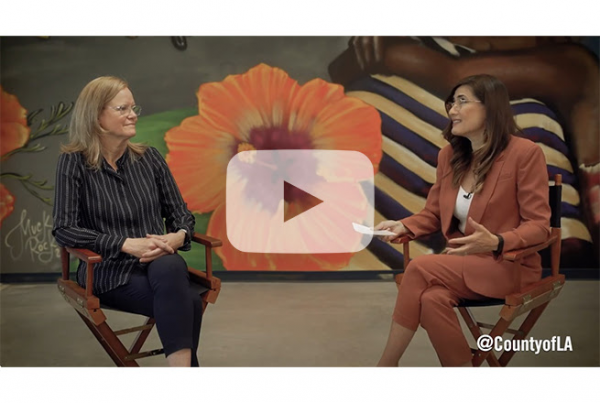 In this first episode of the County's new show "One on One," we delve deeper into the issue of homelessness and talk with Cheri Todoroff, director of the Homeless Initiative. From encampment resolutions to new housing, she breaks down what's driving the crisis and what County leaders are doing to address it.
You can watch more stories like this on Channel 92 or 94 on most cable systems, or anytime here. Catch up on LA County Close-Up here.
In Case You Missed It
Register to Vote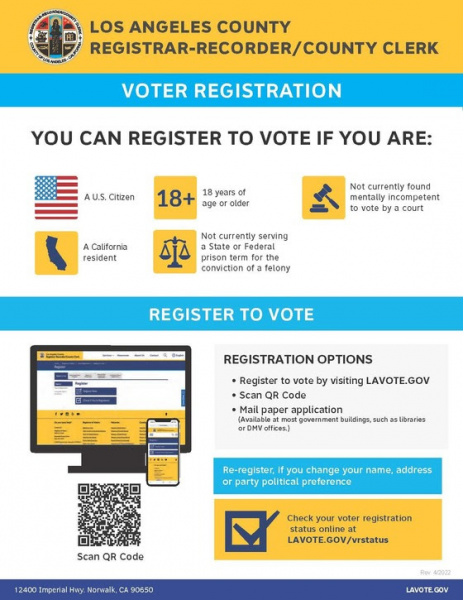 Los Angeles County Registrar-Recorder reminds you to register to vote by visiting LAVOTE.GOV.
Be sure to re-register if you change your name, address, or political preference. Check your voter registration online at LAVOTE.GOV/VRSTATUS.
For additional information:
Voter registration for people experiencing homelessness
Voters with a criminal history
Pre-registration for voters under 18
At Your Service
Hiring Fair for Youth!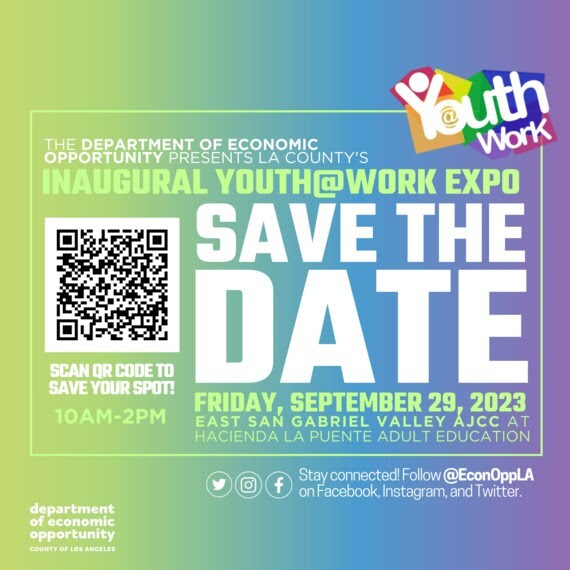 Looking for a job? Interested in exploring career options? Come to the first-ever Youth Expo for youth and learn about different careers and job opportunities that are available. Companies will be on-site to offer resources, discuss job opportunities, and provide feedback and valuable information on how to get hired! Don't forget to bring several copies of your resume and right to work documents.
Date: Friday, September 29, 2023
Time: 10 am – 2 pm
Location: East San Gabriel Valley AJCC at Hacienda La Puente Adult School, 14101 E. Nelson Ave. La Puente, CA 91746
Out and About
Beach Clean Up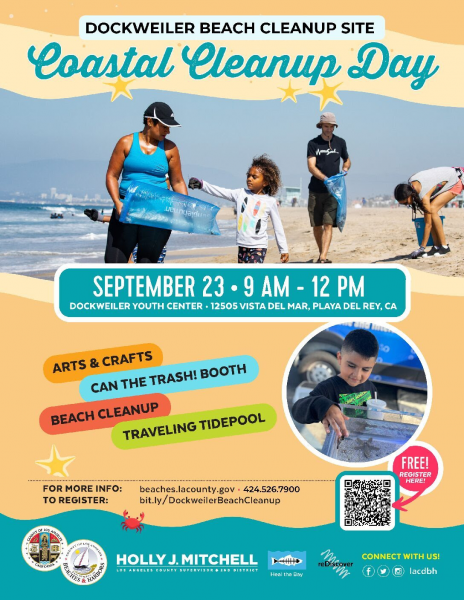 In celebration of Coastal Cleanup Day, LA County Beaches and Harbors is partnering with Supervisor Holly J. Mitchell and Heal the Bay to host a Beach Cleanup event at Dockweiler Beach. Our goal is to inspire and educate a new generation on how to create a more sustainable future!
Coastal Cleanup Day will also feature the following activities:
Can the Trash! booth
Traveling tidepool
Arts & crafts station with reDiscover Center featuring crafts made with recycled materials
EVENT DETAILS:
Date: Saturday, September 23, 2023
Time: 9 AM – 12 PM
Location: Dockweiler Youth Center, 12505 Vista del Mar, Playa del Rey, CA 90293
Parking: Free during event hours
RSVP: Click here to register
SAFETY: Be safe! Be sure to bring a hat, sunscreen, water, & refillable water bottle.
Beach Cleanup Rules/Guidelines:
All cleanup volunteers must print, complete, and submit a signed beach cleanup waiver form in order to join the cleanup.
Volunteers under 18 years old must have a waiver signed by parent or guardian.
Volunteers ages 12 & younger must be accompanied by an adult.
Gloves, buckets and trash pickers will be provided (while supplies last), but we encourage you to bring your own reusable cleanup supplies so we can reduce our environmental footprint.
Photo Finish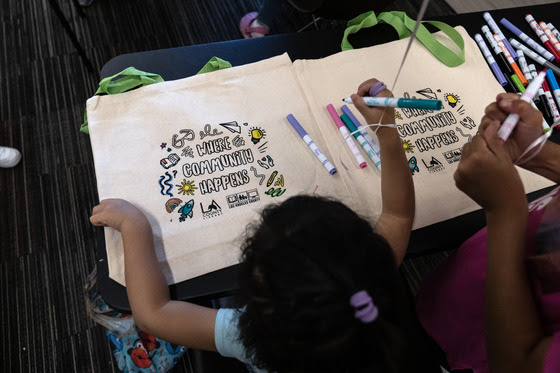 Library Fest at the Rowland Heights Library. There's so much more to do at Library Fest! Check out all our events, locations, and info on this page.

Click here to access more photos of LA County in action.