A queer Hollywood homage takes the stage for Pride month in 'Back Porch'
If you are a fan of theatre, & you also happen to be a fan of classic movies, & you also happen to be queer, then Pride Month in LA holds a special treat for you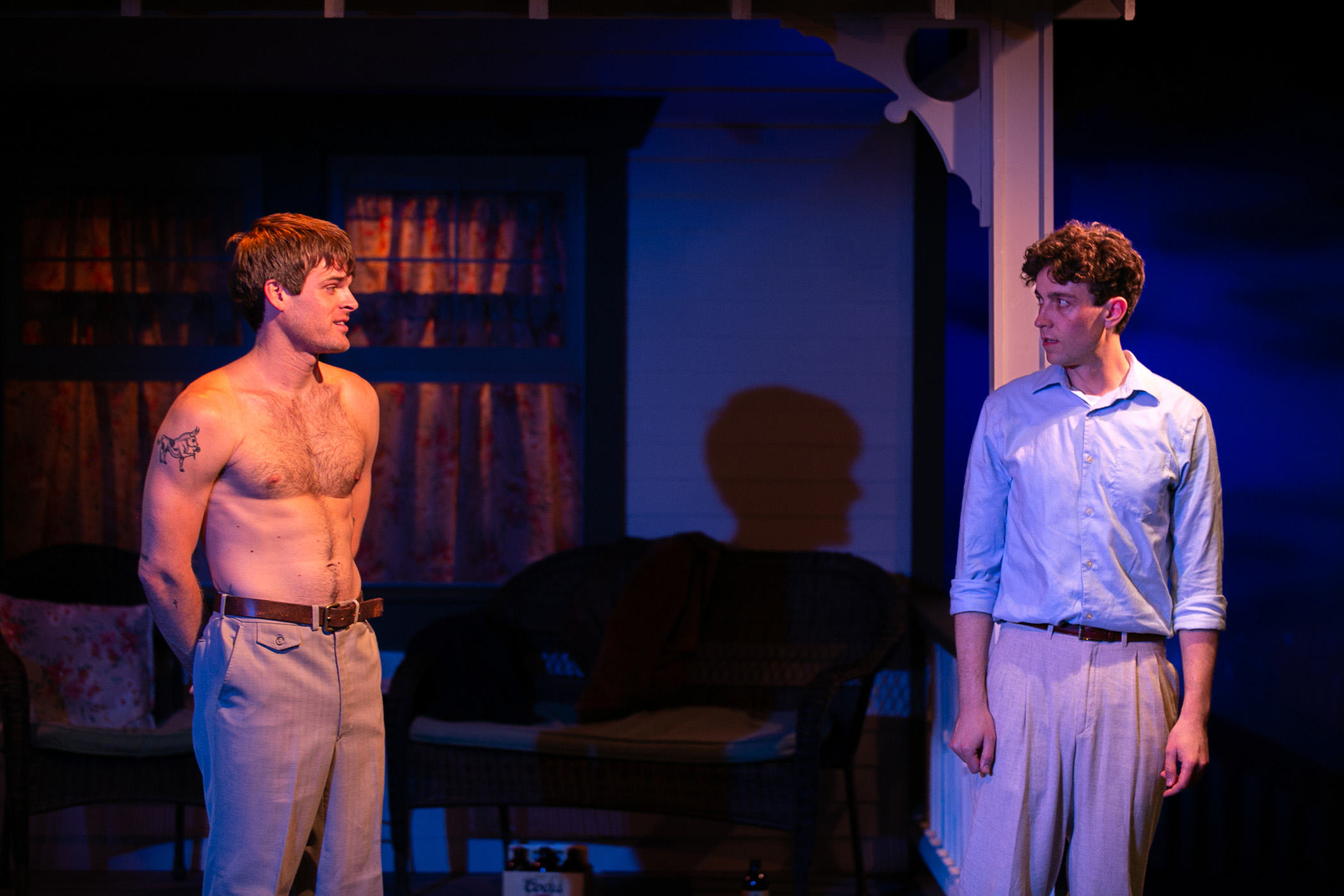 BURBANK, Calif. – If you are a fan of theatre, and you also happen to be a fan of classic movies, and you also happen to be queer, then Pride Month in LA holds a special treat for you.
From June 2 – July 9, Burbank's Victory Theatre Center will be the venue for the world premiere of "Back Porch," a new play by Eric Anderson that uses an imaginary scenario within a real-life slice of moviemaking history to tell a very queer story – one that pays delightful homage to a beloved Hollywood classic as well as the playwright behind the work that inspired it.

The setting is a small Kansas town and the year 1955, when a Hollywood movie crew descends upon the community to shoot scenes for the classic film, "Picnic."
According to the synopsis:
Barney Opat (Karl Maschek) is the widowed father of two boys: 18-year-old Gary (Isaac W. Jay), who yearns to escape small-town Kansas life for a more glamorous existence, and energetic 13-year-old Del Wayne (Cody Lemmon). The family's life is upended when a handsome stranger working as William Holden's stunt double (Jordan Morgan) blows into town alongside the all-star cast. Other characters include the Opats' bachelor boarder, singing teacher Myron Uhrig (Eric Zak), and their neighbor, Millard Goff (Jonathan Fishman).
Needless to say, sparks start flying (in more ways than one) almost immediately.
Playwright Anderson – who was himself born and bred in Kansas – says he remembers being 4 years old when portions of "Picnic" were filmed near his home.

"My family drove to the location one evening to take part in the 'Neewollah' scene on the river. I've been crazy about movies — and theater — ever since. With "Back Porch," I wanted to pay tribute to a significant American playwright who was also significantly closeted. I hoped to write the kind of play that he himself might have written had he lived in another time and place."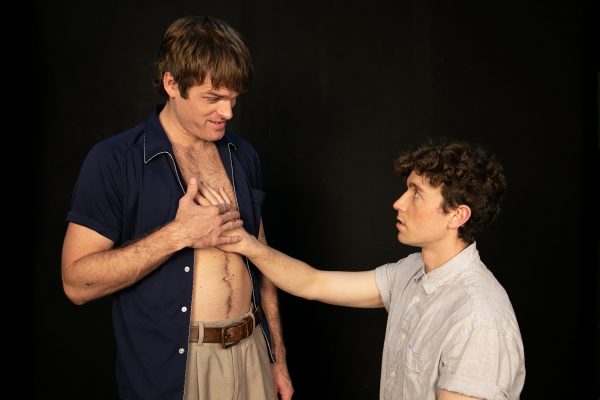 The play is directed by Kelie McIver, another Kansas native, who goes as far as to call it a "love letter to William Inge." She also calls it "a terrific ensemble piece in which each character has an interesting and beautiful arc. I love them all and want to hang out with them."
"Back Porch" is presented by Bluestem Productions. In addition to Anderson and McIver, the creative team includes set designer Kenny Klimak, lighting designer Carol Doehring, sound designer Cinthia Nava, costume designer Molly Martin, stunt/fight choreographer Brett Elliott and intimacy director Amanda Rose Villarreal. The stage manager is Margaret Magula. David Willis and Kelie McIver produce for Bluestem.
For information and to purchase tickets, call (818) 533-1611 or go to the production's website.
The spirit of Sondheim enchants sparkling 'Into the Woods'
For those who love that kind of thing there is no joy quite like watching or for that matter, merely listening to a Sondheim musical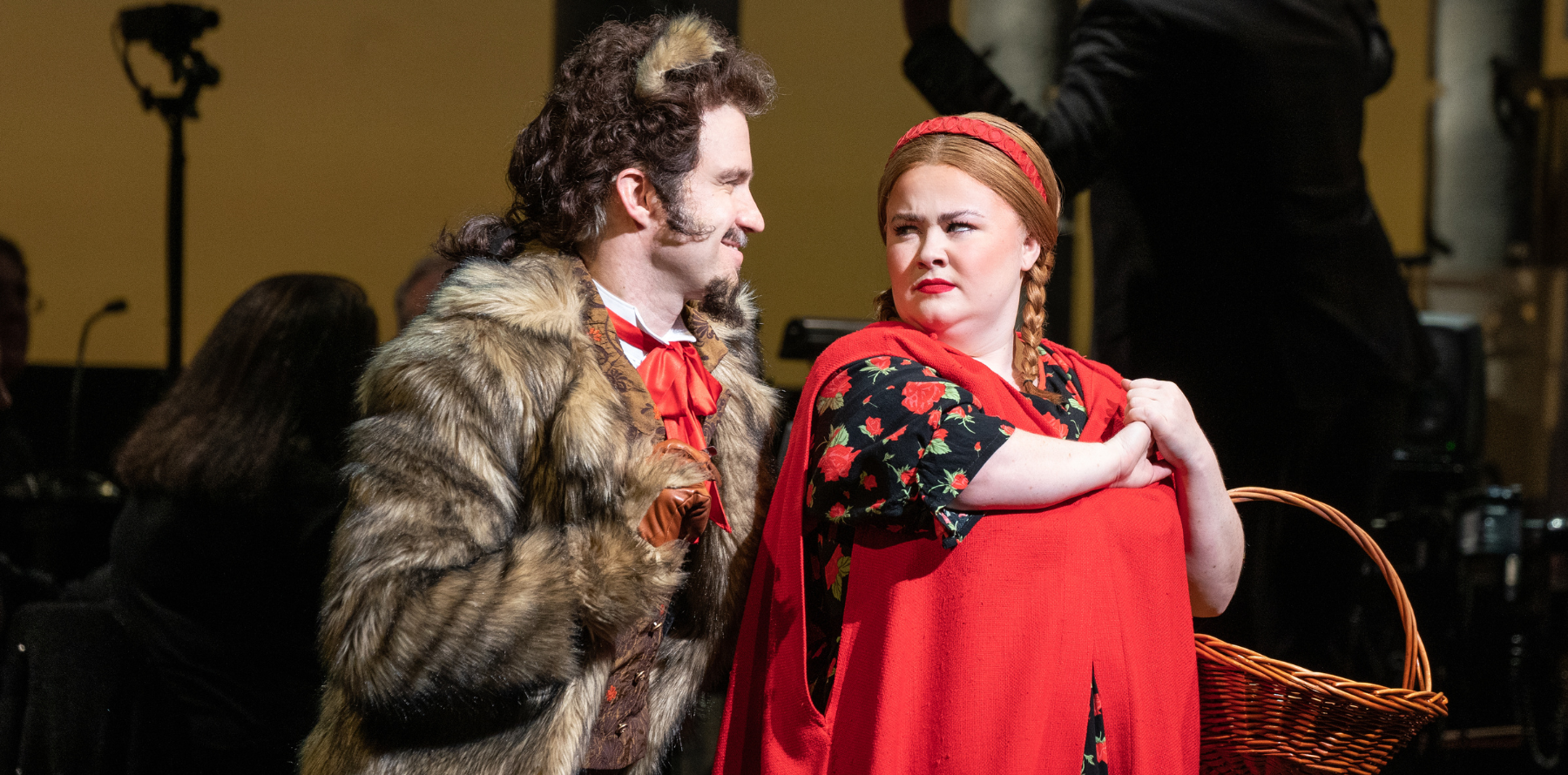 Though the late Stephen Sondheim is now regarded as part of the highest pantheon of Broadway Musical icons, he had a surprisingly small number of hits. His longest running show was his first as both lyricist and composer, "A Funny Thing Happened on the Way to the Forum," which closed in 1964 after 964 performances, and even his most successful shows across the next five decades had comparatively short runs.
The reason, of course, is that Sondheim simply isn't for everyone; his musicals were edgy, challenging, looking to push the boundaries of storytelling in musical theatre; his songs were as dense with layers of meaning as they were with his precocious wit, and not a word or note was wasted. For those who love that kind of thing, there is no joy quite like that to be found watching – or for that matter, merely listening to – a Sondheim musical; for those who don't, it can feel a little too much like doing homework instead of spending an evening at the theatre.
Even if that sounds like you, "Into the Woods" – the late composer's classic musical now playing in a revival production at the Ahmanson – might stand a chance of winning you over. The show itself, which originated in a 1986 production showcasing Bernadette Peters, reimagines a handful of (mostly) well-known fairy tales to explore what happens "after the happily ever after"; it also features some of Sondheim's most "audience friendly" music, framing the cleverness and insight of his lyrics with the kind of "hummable melodies" he was often accused of omitting from his work, and that, coupled with the easy familiarity of the subject matter, makes it arguably the most accessible show in his canon.
The aesthetically stripped-down staging now at the Ahmanson was  first mounted as part of the New York City Center's "Encores" series before transferring for a Broadway run in June of 2022 – where it earned not only enthusiastic critical acclaim but six Tony nominations, to boot. Judging from what we saw at the Ahmanson, it's easy to understand why.
Forsaking an elaborate scenic design in favor of a highly stylized, fairy-tale-suggestive setting in which the orchestra occupies most of the upstage area, songs and scenes are played out with almost as much left to the imagination as if the show were one of the "staged concert" renderings of Broadway musicals that have become popular within the last decade or so; yet in spite (or perhaps, because) of its emphasis on what is to be gained from the material rather than on the Grimm-Brothers-gone-camp trappings of story's deceptively cute, gimmicky concept, it manages to deliver all the stealthy resonance of Sondheim's words and music while still preserving the tongue-in-cheek charm of its reimagined fairy tales with crystal clarity.
We won't spoil the fun for those unfamiliar with the show (and who haven't seen the lukewarm movie version); suffice to say that it merges together some tales you know – Cinderella (Diane Phelan), Little Red Ridinghood (Katy Geraghty), Jack (Cole Thompson) and the Beanstalk, and others – and intertwines them with one you don't, in which a childless baker (Sebastian Arcelus) and his wife (Stephanie J. Block) make a deal with the witch next door (Montego Glover) to gather ingredients for a mysterious potion in exchange for her granting their wish for a baby.  In James Lapine's astute, sharply honed script, these old tales are infused with adult perspective, diving deeper than their simplistic cautionary messages to explore a few of the more nuanced and subtle dangers that await us "in the woods," even as these somewhat fractured fables wind their way toward the happy endings we expect.

It doesn't stop there, though. Act Two picks up where things left off, as the consequences of all the characters' choices come back not only to disrupt their newfound happiness, but to turn their whole magic kingdom into a disaster zone. It's here where Sondheim and Lapine hit us closest to the heart, sweeping aside the generational "wisdom" of the original tales to reveal a moral more suited to a modern age, in which the traditional bonds of kinship are often forged with the families we choose rather than the ones we were born with – and in which the stories we tell, to our children and to ourselves, may well matter more than they ever have.
Along the way, there is lots of comedy – of course, how can one resist poking fun at the conventions of fairy tales? – and even more music, including now-classic songs like "Children Will Listen" and "No One Is Alone", the latter of which became an anthem of hope and comfort during the AIDS era that was in full bloom when the show originally debuted.
Thanks to concise staging and guidance from director Lear deBessonet, a uniformly superb cast (many of whom are continuing in their Broadway roles), and a perfectly balanced sound mix that brings out all the detail of the scoring while keeping every word spoken or sung onstage completely audible, it provides the "brainy" fun we associate with Sondheim – but it's also gleefully entertaining. It captures all the cheeky humor of the show's absurdist conceit, even enhancing it with surreal design touches – most notably the use of onstage puppeteers to bestow life upon (among other things) a flock of friendly birds and "Milky White," the decrepit cow who becomes an audience favorite from her first appearance – yet remains grounded enough to ensure that the emotional punch of the second half feels not only sincere, but earned.

Standout moments are plentiful, but some of the high points include "I Know Things Now," as sung by Geraghty, whose steamroller interpretation of Little Red overall garners plenty of audience chuckles; "Giants in the Sky," delivered by Thompson's endearingly daft Jack; "It Takes Two," which warms the mood though the easy chemistry of real-life-married-couple Arcelus and Block; "Last Midnight," in which Glover gives the Witch she's made completely her own a showstopping final exit from the stage. Mention must inevitably made of Gavin Creel, whose double turn as both the Wolf and Cinderella's Prince gives him a scene-stealing chance to show off his multiple talents, as well as Phelan's down-to-earth Cinderella, whose every-girl approach brings a refreshingly contemporary perspective into the forefront. A final nod should go to veteran actor David Patrick Kelly, a delight as the narrator with more of a connection to the story than it seems.
These are just the most prominent players among a cast with no weak links; the complete ensemble as a whole is more than enough reason to recommend "Into the Woods," on the strength of combined talent alone.
There's so much more to be appreciated, though – there aren't many musicals that can deliver giddy hilarity, heartbreaking tragedy, and unexpected epiphanies that jolt us into recognition, all without losing their warm and friendly charm – so don't miss your chance to see this one while it's still here.
Even if you're not a Sondheim fan, it will be one of the highlights of your summer.