Support for same-sex marriage still steady at 71% high
Same-sex marriage has received majority support in the U.S. for over a decade, & support has been on an upward trajectory for Gallup's polling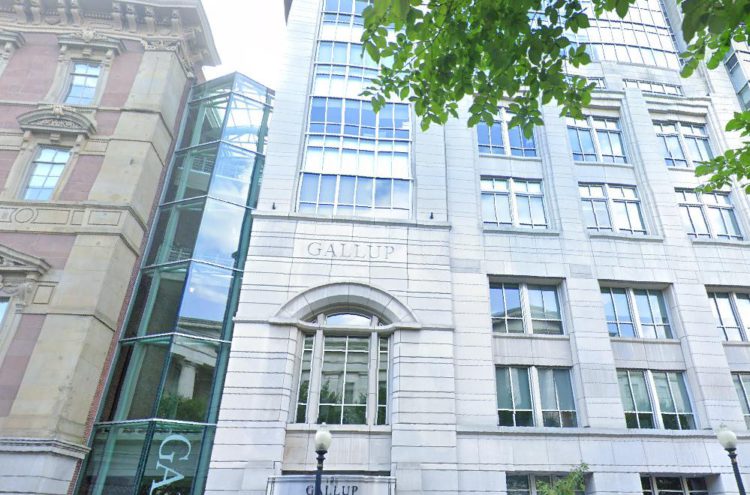 WASHINGTON – A Gallup Poll released Monday showed that support for same-sex marriage is maintaining a position of Seventy-one percent of Americans who think it should be legal, matching the previous year's percentage.
Gallup noted that public support for legally recognizing gay marriages has been consistently above 50% since the early 2010s.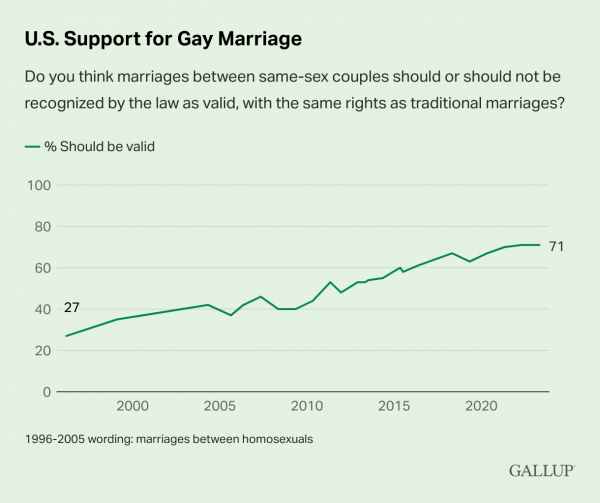 The latest figures are from Gallup's annual Values and Beliefs poll, conducted May 1-24.
When Gallup first polled about same-sex marriage in 1996, barely a quarter of the public (27%) supported legalizing such unions. It would take another 15 years, until 2011, for support to reach the majority level. Then in 2015, just one month before the U.S. Supreme Court's Obergefell v. Hodges decision, public support for legalizing gay marriage cracked the 60% level. In 2021, it reached the 70% mark for the first time and has been there each of the past three years.
Support Relatively Low Among Republicans, Weekly Churchgoers
Gallup has recorded increases in support for same-sex marriage across all major subgroups over time. Today, majorities of all but two key subgroups — Republicans (49%) and weekly churchgoers (41%) — say gay marriages should be legally recognized.
Republican support for gay marriage has hovered around the 50% mark since 2020, with slight majorities backing it in 2021 and 2022. The latest 49% recorded for this group is statistically similar to the level of support Gallup has recorded in recent years.
Like all other subgroups, weekly churchgoers (41%) are more supportive of gay marriage now than they were in the previous two decades. However, their level of support has been steady since 2018 — ranging between 40% and 44%.
Bottom Line
Same-sex marriage has received majority support in the U.S. for over a decade, and support has been on an upward trajectory for most of Gallup's polling since 1996.
Gay marriage became the law of the land after the Supreme Court's 2015 Obergefell decision, and President Joe Biden signed bipartisan legislation to ward off future judicial attempts at undoing its legality late last year.
Among many groups — including older adults, Protestants and residents of the South — perspectives on gay marriage have gone from majority opposition to majority support over the course of Gallup's trend spanning more than a quarter of a century. But two groups remain holdouts on the issue, with Republicans evenly divided on the legality of same-sex unions and weekly churchgoers maintaining their position against it.
Intrusive legislation intimidates & drives self-censorship in schools
Between January 2021 and June 2023, 392 educational intimidation bills have been introduced in state legislatures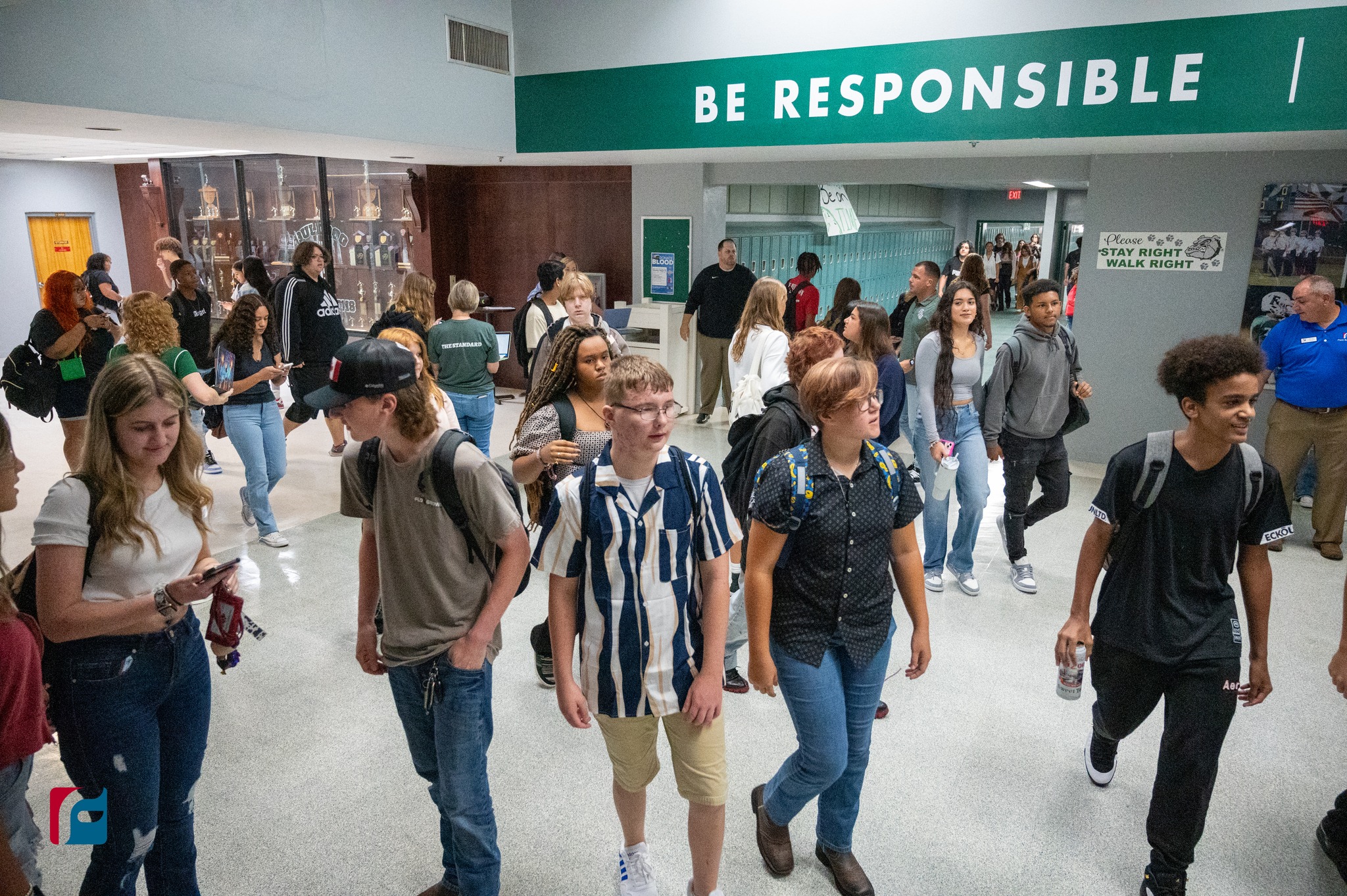 By Suzanne Trimel | WASHINGTON – A wave of state legislation sweeping the nation is creating the conditions to intimidate educators into self-censorship in schools, according to a new PEN America report released this past month.
"Educational Intimidation: How 'Parental Rights' Legislation Undermines the Freedom to Learn" examines the rise of what PEN America has dubbed "educational intimidation bills," a category of legislation that has the effect of prompting self-censorship in schools through indirect mechanisms, rather than direct edicts. Under the guise of advancing "parental rights," nearly 400 of these bills have been introduced that risk empowering ideologues to intervene in the curricular and extracurricular decisions of teachers, librarians, and school administrators, overriding the judgment of educators and the views of the majority.
These intimidation bills are distinct from "educational gag orders," a class of bills previously documented by PEN America that directly ban what can be taught in classrooms, targeting discussions of race, racism, gender, aspects of American history and other "prohibited" or "divisive" concepts. Intimidation bills compound the crisis in public education, casting a chilling effect through new tools that radically expand the avenues for lone parents, government officials, and citizens to monitor and exert control over pedagogical decisions.
"This rising tide of educational intimidation exposes the movement that cloaks itself in the language of 'parental rights' for what it really is: a smoke screen for efforts to suppress teaching and learning and hijack public education in America," said Jonathan Friedman, director of Free Expression and Education programs at PEN America. "The opportunity for parents to inspect and object to school curricula is already commonly granted in public school systems, as it should be. But this spate of provisions dramatically expands these powers in ways that are designed to spur schools and educators to self-censor. These bills risk turning every classroom into an ideological battleground, forcing teachers out of the profession, and jeopardizing the future of millions of students."
In its Index of Educational Intimidation Bills that accompanies the report, PEN America has identified 392 educational intimidation bills introduced in state legislatures between January 2021 and June 2023, 39 of which have passed into law in 19 states. The organization catalogs 12 types of educational intimidation provisions, including those that:
would require teachers to post all instructional or professional development materials on public websites, making it easy for any citizen to object;
would restrict students' library access or make it easier for individual parents to get books banned for all students;
invite parents to opt students into or out of certain content, creating unwieldy "a la carte" curricula that risk defeating the unifying purpose of public schools;
expand the concept of "obscenity" beyond its well-established legal definition, opening educators and librarians up to criminal penalties;
would deputize teachers with requirements to police students' gender expression.
The report documents how many of these laws and policies are already responsible for educational censorship across the country. An art teacher in Tennessee no longer teaches about Mexican artist Frida Kahlo or artist and AIDS activist Keith Haring because of the state's HB 529, which requires teachers to alert parents to any LGBTQ+ content so they can withdraw their children from the lesson. Fear of discipline or criminal liability under some of these new state laws has driven school districts to ban books with sexual or LGBTQ+ content, from Missouri, to Virginia, to Florida, to, most recently, Iowa.
Laws and policies in Florida, Indiana, and at least seven other states require that parents be notified of any significant changes to their child's gender expression or sexual orientation, turning teachers into what North Dakota Gov. Doug Burgum called in a veto message, "the pronoun police." One school district in Florida even banned 'Safe Space' stickers, because the presence of a student in such a space could "trigger a duty" for the school staff to notify a parent of their child's "well-being." Such measures, argue the report's authors, compromise the role of educators and schools in supporting students and exercising professional judgment to engage families constructively in issues affecting their children.
Among the key findings from the report include:
Between January 2021 and June 2023, 392 educational intimidation bills have been introduced in state legislatures, 39 of which have passed into law. An additional nine policies have been adopted via executive order or enacted as part of state regulatory policy.
At least 19 states have passed educational intimidation bills or adopted them via state policy.
These bills overwhelmingly emanate from conservative legislators: 377 of the 392 have been introduced by Republicans.
Over 80 bills would force teachers to monitor students' gender expression, forcibly outing students to their parents regardless whether educators believe that such a disclosure is warranted, or how it will be received. Outing provisions are in effect, by law or by executive order, in Florida, Idaho, Indiana, Iowa, Utah, Kentucky, Alabama, Oklahoma, and Virginia.
Of the intimidation bills introduced in 2023, 45 percent have an anti-LGBTQ+ provision, including the forced outing of students.
Missouri (31) has introduced the most educational intimidation bills in the nation, followed by Texas (21), Oklahoma (20), South Carolina (18), Indiana (17) and Mississippi (16).
The ideological motivation behind the bills is another key focus. As the authors explain, the bills are based on model legislation produced by a small group of conservative think tanks and activist groups, with the vast majority sponsored by Republican legislators, sometimes in concert with, or following other legislation that includes more direct censorious prohibitions. One bill proposed in Kansas was described by a supportive lawmaker as a "slick little way" of preventing critical race theory from being taught in classrooms.
The report authors express grave concern about increasing "experimentation and copycatting" across state lines to introduce these laws. Bills that fail during one legislative session are often reintroduced or recycled in the next, and in the current political climate, even provisions that are less extreme in their wording can be interpreted or applied in ways that advance censorship. Similar policies are also being adopted at the district level, making the true impact difficult to quantify.
"These bills are not what they seem," Friedman continued. "They are the next phase in a years-long campaign to incite panic and impose ideological strictures on schools. Education in a democracy must be characterized by openness and curiosity, by the freedom to read, learn, and think. These bills strike at that foundation, in novel, sometimes subtle, yet potentially irrevocable ways. Their spread should not be taken lightly."
*************************************************************************************
The preceding article was previously published by PEN America and is republished with permission.