Glendale school district meeting about LGBTQ studies gets violent
All materials are vetted and are in full compliance with curriculum that deals with LGBTQ+ history, mandated under Calif.'s FAIR Education Act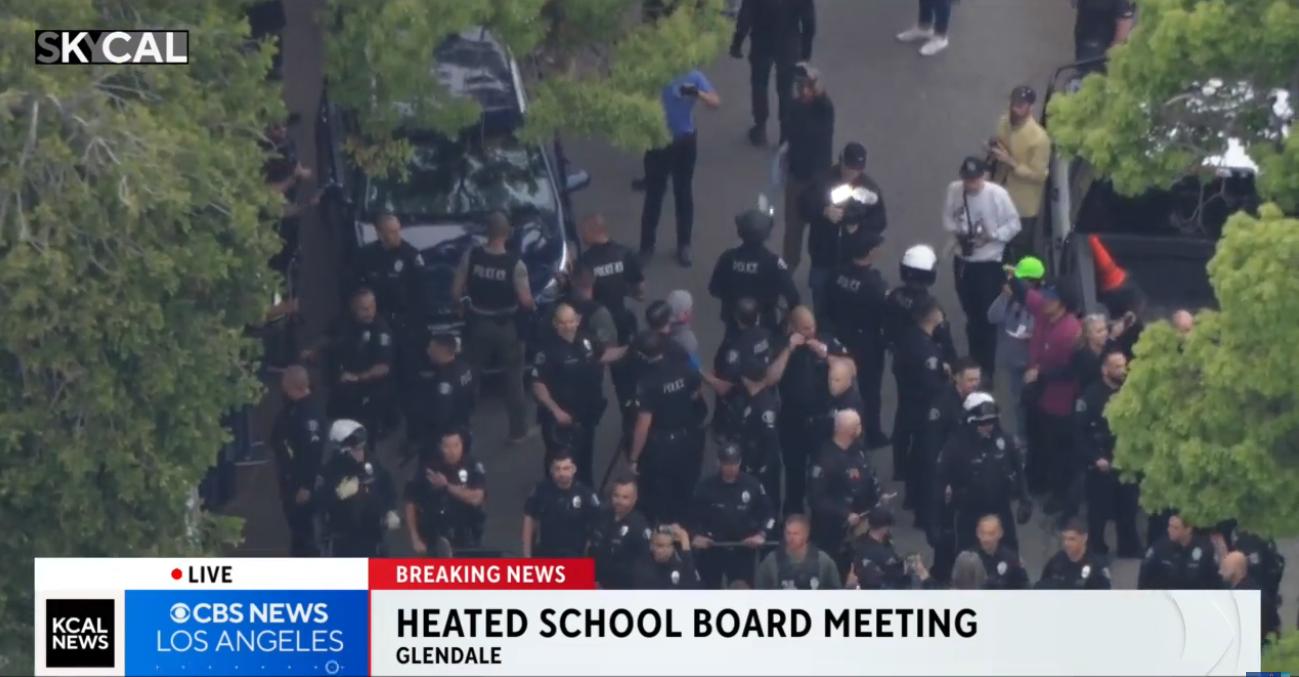 GLENDALE, Calif. – Police officers and protestors clashed outside a meeting of the Glendale Unified School Board over LGBTQ+ studies and the GUSD polices on addressing LGBTQ+ related issues.
News footage from CBS Los Angeles KCAL showed approximately fifty Glendale police officers attempting to keep the two groups separated and then fists were thrown as both sides engaged in physical assaults. A Glendale police spokesperson confirmed that some arrests had been made but wouldn't comment further.
Witnesses and news crews noted that many of those protesting against the LGBTQ+ community were from the same group that had protested at Saticoy Elementary School in North Hollywood, angered over a Pride Month assembly. Officers from the LAPD's North Hollywood Community Station responded and there were physical assaults as well.
The situation in Glendale has become increasingly acrimonious. Last year during Pride Month, a third grade teacher at Thomas Jefferson Elementary, Tammy Tiber, had enraged some parents after speaking to her students about LGBTQ+ topics on Zoom. The GUSD officials later transferred her because Tiber had told them she no longer felt safe.
A spokesperson for the district said that all materials are vetted by the GUSD, and are in full compliance with curriculum that deals with LGBTQ+ history, mandated under California's FAIR Education Act, which was signed into law on July 14, 2011, and went into effect on January 1, 2012.
It amends the California Education Code to include the Fair, Accurate, Inclusive and Respectful reference to contributions by people with disabilities and members of the LGBTQ community in history and social studies curriculum.
Last month on May 18th, a man who is not the parent of a child in the district, accused GUSD school board vice president Jennifer Freemon of concealing consistent attempts to "indoctrinate" students on LGBTQ+ issues.
"They are saying boys can be girls and girls can be boys," Henry said during the board meeting. "If you believe in that, that is your opinion, and if that is your official policy, Jennifer, that is indoctrination because it offends a lot of people's actual doctrine."
As an example of instructing students to "behave inappropriately," Henry referenced an alleged recent incident involving a student with special needs. GUSD student Thelma Gonzalez, who spoke later in the meeting, was allegedly asked to provide the definition of "scissoring" during a health lesson, despite her mother requesting that she be excused.
"A violation of their doctrine, their Christian doctrine," Henry said, referring to Gonzalez and her mother. "Regardless of what you think, what I think, what the community thinks about any faith, you violated that. And if you don't condemn that today, Jennifer, you are a hypocrite and a liar."
He then mounted an attack on district polices regarding its trans students.
"If you think they value your children, you're more than entitled to think that," Henry said. "They will not lie to you about your child, they will lie to these parents. They will conceal that private information from parents. You have enshrined that into doctrine, into policy, which is a misinterpretation of the law."
It is not immediately clear what policy Henry was referring to. However, GUSD's anti-discrimination policy states the district will only disclose a student's "transgender or gender-nonconforming status" with their consent. It also mandates that a district official may discuss with that same student "any need" to confide in their parents or guardians.
#BREAKING: The protest outside the Glendale Unified School Board meeting has turned violent, with protesters clashing. @GlendalePD trying to regain control now. @RoadSageLA overhead in #SKYCAL. @kcalnews pic.twitter.com/g0YWp1KVWI

— Mike Rogers (@MikeRogersTV) June 7, 2023
Inside the Tuesday GUSD board meeting, pro-and anti-LGBTQ+ protesters faced off over how schools teach gender and sexuality, attendees were suddenly told to shelter in place as the violence outside escalated.  The interruption came after about an hour of public comments, most of them in defense of the LGBTQ+ community and the district's handling of materials and policies.
A mob of anti-LGBTQ bigots in Glendale engaged in violence outside a school board meeting while protesting against teaching about LGBTQ people

This violence flows from the anti-LGBTQ rhetoric sweeping the U.S. It's why @HRC declared a national state of emergency for LGBTQ people https://t.co/2jrMBCx2pJ

— Senator Scott Wiener (@Scott_Wiener) June 7, 2023
New video from last night in Glendale shows far right extremists pepper spraying a religious clergy member who was there in support of LGBTQ families. pic.twitter.com/9DtSvcZztu

— Alejandra Caraballo (@Esqueer_) June 7, 2023
Protesters fight outside Glendale school district meeting about LGBTQ studies:
Related:
New on the LA County Channel
You can watch on Channel 92 or 94 on most cable systems, or anytime here. Catch up on LA County Close-Up here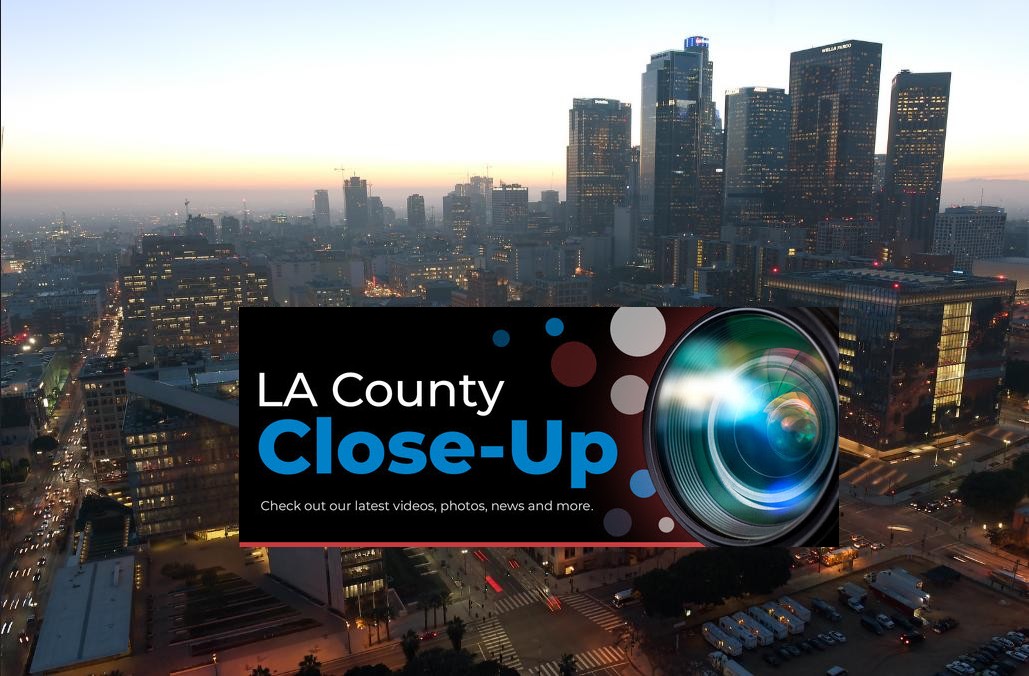 New on the County Channel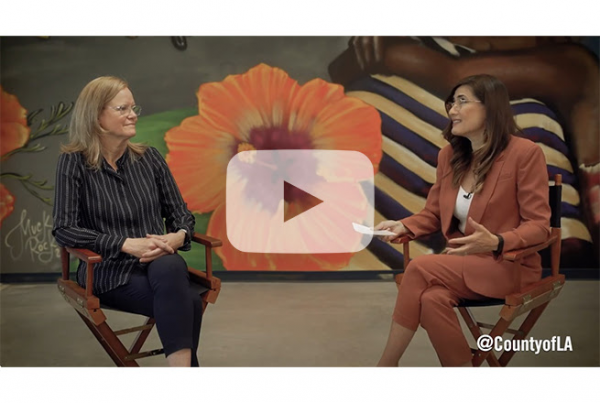 In this first episode of the County's new show "One on One," we delve deeper into the issue of homelessness and talk with Cheri Todoroff, director of the Homeless Initiative. From encampment resolutions to new housing, she breaks down what's driving the crisis and what County leaders are doing to address it.
You can watch more stories like this on Channel 92 or 94 on most cable systems, or anytime here. Catch up on LA County Close-Up here.
In Case You Missed It
Register to Vote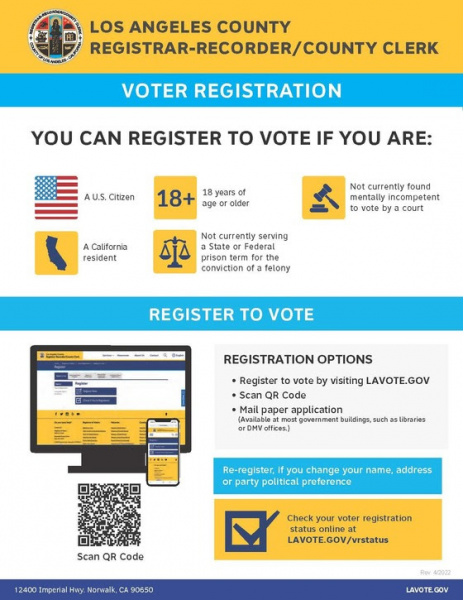 Los Angeles County Registrar-Recorder reminds you to register to vote by visiting LAVOTE.GOV.
Be sure to re-register if you change your name, address, or political preference. Check your voter registration online at LAVOTE.GOV/VRSTATUS.
For additional information:
Voter registration for people experiencing homelessness
Voters with a criminal history
Pre-registration for voters under 18
At Your Service
Hiring Fair for Youth!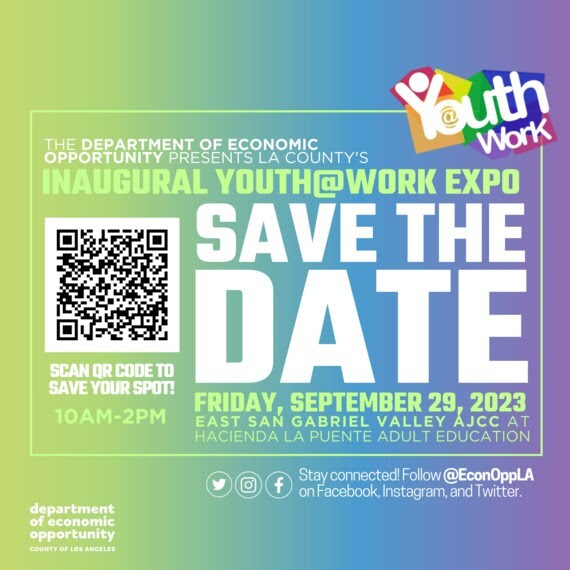 Looking for a job? Interested in exploring career options? Come to the first-ever Youth Expo for youth and learn about different careers and job opportunities that are available. Companies will be on-site to offer resources, discuss job opportunities, and provide feedback and valuable information on how to get hired! Don't forget to bring several copies of your resume and right to work documents.
Date: Friday, September 29, 2023
Time: 10 am – 2 pm
Location: East San Gabriel Valley AJCC at Hacienda La Puente Adult School, 14101 E. Nelson Ave. La Puente, CA 91746
Out and About
Beach Clean Up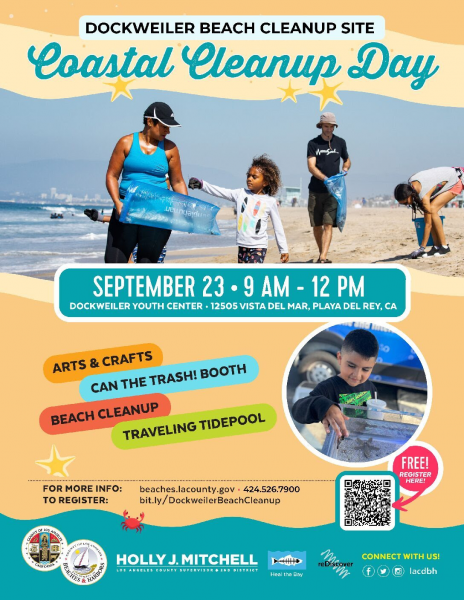 In celebration of Coastal Cleanup Day, LA County Beaches and Harbors is partnering with Supervisor Holly J. Mitchell and Heal the Bay to host a Beach Cleanup event at Dockweiler Beach. Our goal is to inspire and educate a new generation on how to create a more sustainable future!
Coastal Cleanup Day will also feature the following activities:
Can the Trash! booth
Traveling tidepool
Arts & crafts station with reDiscover Center featuring crafts made with recycled materials
EVENT DETAILS:
Date: Saturday, September 23, 2023
Time: 9 AM – 12 PM
Location: Dockweiler Youth Center, 12505 Vista del Mar, Playa del Rey, CA 90293
Parking: Free during event hours
RSVP: Click here to register
SAFETY: Be safe! Be sure to bring a hat, sunscreen, water, & refillable water bottle.
Beach Cleanup Rules/Guidelines:
All cleanup volunteers must print, complete, and submit a signed beach cleanup waiver form in order to join the cleanup.
Volunteers under 18 years old must have a waiver signed by parent or guardian.
Volunteers ages 12 & younger must be accompanied by an adult.
Gloves, buckets and trash pickers will be provided (while supplies last), but we encourage you to bring your own reusable cleanup supplies so we can reduce our environmental footprint.
Photo Finish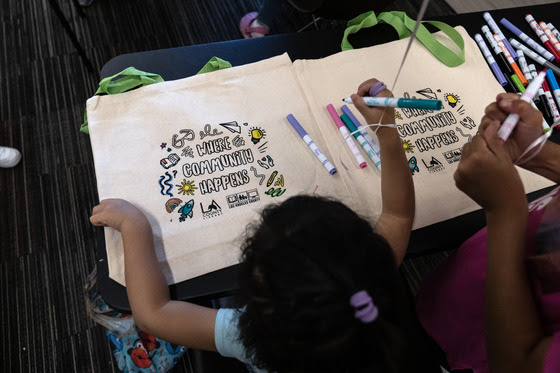 Library Fest at the Rowland Heights Library. There's so much more to do at Library Fest! Check out all our events, locations, and info on this page.

Click here to access more photos of LA County in action.