Rep. Balint on LGBTQ & women's history education bill
"There are good people in the Republican conference," Balint said. "but when it comes to these issues, we have not seen any of them"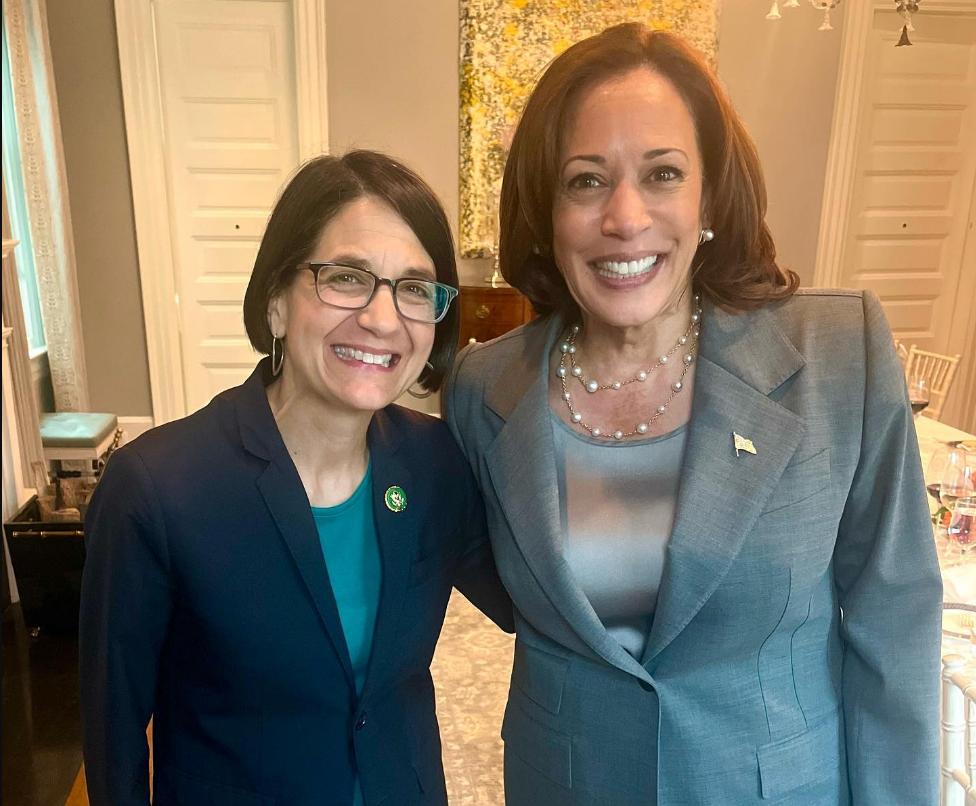 BRATTLEBORO, VT. – U.S. Rep. Becca Balint (D-Vt.) talked with the Washington Blade on Saturday about the LGBTQ and women's history education bill that she and U.S. Rep. Ritchie Torres (D-N.Y.) reintroduced last week.
The legislation, just like actions recently announced by the White House, responds to book bans and curriculum restrictions that have increasingly cropped up in conservative states and school districts, which disproportionately target educational materials inclusive of LGBTQ subjects and histories.
Balint and Torres's LGBTQI+ and Women's History Education Act of 2023 would authorize the director of the Smithsonian Institution's National Museum of American History to develop and distribute resources for educators to "teach LGBTQI+ and women's history education in a more inclusive and intersectional manner."
On June 8, meanwhile, the White House debuted plans to address attacks on the safety and rights of LGBTQ Americans. Among these were instructions to the U.S. Department of Education to appoint a coordinator who will "address the growing threat that book bans pose for the civil rights of students," such as by providing "new trainings for schools nationwide on how book bans that target specific communities and create a hostile school environment may violate federal civil rights laws."
Balint told the Blade the education bill and these moves by the White House "complement each other," but her efforts with Torres were "not coordinated as much" with the Biden-Harris administration as they were a product of the lawmakers' shared understanding of "this moment that we're in — as we're both queer Americans trying to live our lives and not have our histories erased."
"And I also come to this," Balint said, "as a longtime social studies teacher in junior high" who also taught history as the community college level. "This push from the GOP to erase us from not just society but from history," she said, is "so dangerous."
"It's important for us to make sure that our histories and our stories are preserved, not just for posterity sake, but also because students across this country need to be able to see themselves in their history that we're taught," Balint said.
Battles over the inclusion of Black, LGBTQ, and women's history have roiled school districts across the country, leading to legislative restrictions that were passed in conservative states and even flaring up in areas traditionally known as liberal strongholds, like Southern California.
Last week saw protests over the inclusion of curricula that included the late gay rights activist and politician Harvey Milk in Temecula, part of the greater Los Angeles area.
"We can't write off any area of the country," Balint said. "There are movements from from the right coming in more traditionally blue states, as well, and they're trying to make parents and community members feel afraid of their neighbors."
As the right has sought to deliberately scapegoat queer and trans kids, fear mongering to rile up the conservative base, the congresswoman said "it's really important that those of us in a position to shore up those those teachers in those schools who are trying to do the right thing, [because] they need help, they're under siege right now."
Balint said that her wife is from Wyoming, a solidly conservative state where she also has experience teaching. "I understand the struggles that teachers have in those schools, when they want to bring in a more inclusive history, a more true history, of the complexity of life in this country," she said.
"So, I think it's a really important message for us to send, both from the White House and from Congress, and in this case, also, from the Smithsonian Institution, to say this is real history. It's important that you expose your students to it. And I think that gives those teachers more courage to be able to teach a curriculum that is more inclusive and true. "
The LGBTQI+ and Women's History Education Act of 2023, Balint said, can also help educators in a more direct sense. "Whether you're trying to teach the history of people of color in this country, or of women, or of queer and trans people," she said, it is a "huge undertaking to try to do that research on your own."
Unfortunately, however, the congresswoman acknowledged the political roadblocks to its passage with the U.S. House's Republican control.
Just before flying home to her district, Balint said she had to sit through a speech on the House floor in which a GOP member railed against "how disgusting it was that there any kind of federal building or State Department building would fly, you know, a pride flag," telling his colleagues "that's not the kind of thing that we in this country want to be known for."
The congresswoman characterized the language this member used as hurtful and cruel, intended to demonize LGBTQ people.
"There are good people in the Republican conference," Balint said. "but when it comes to these issues, we have not seen any of them. In this congressional session, they are all falling in line. I welcome any partners across the aisle. To stand up to this kind of scapegoating."
For this reason, when it comes to her and Torres's legislation, she said, "I am not hopeful in this Congress. But we have to lay the groundwork for what will come when we hopefully are able to recapture the majority and really make movement on these things."
Balint told the Blade some of her Republican colleagues have assured her and other Democrats "well, you know I don't believe this stuff that the extremists are pushing."
GOP members will admit that they have to take extreme anti-LGBTQ positions that they do not actually believe in for fear of losing a primary race to someone further to the right, she said.
"And one of the things that I've been talking about with my friends within my caucus is if, in the end, you're gonna vote just like your extremist colleagues, then frankly, you're not better! If you're not gonna use your position to stand up when you know [your colleagues in the GOP caucus] are shamelessly and cruelly scapegoating a group of people, then what will it take?"
Balint said she nevertheless remains optimistic that the tides will eventually turn, but in the meantime "we have to hold them accountable. And we have to stand with them when they are courageous, which is why I always try to point out that you've got a few bright spots — one being the [Republican] Governor of Utah, Governor [Spencer] Cox, who made a very powerful statement about these anti trans bills."
When legislation that would have prohibited trans students from playing on girls' sports teams reached his desk in March, Cox vetoed it. "When in doubt," he wrote, "I always try to err on the side of kindness, mercy and compassion."
"I can't overstate what it has meant for young queer and trans kids in Vermont and across the country, to be able to come and talk with me," Balint said, or any of her colleagues who are openly gay. "We also are working so hard right now to make sure that we will be able to elect our first trans American to Congress," she said, "we are so committed to that — we have to have true representation."
New Speaker on his anti-LGBTQ extremism: 'Go pick up a Bible'
Johnson was a co-sponsor of U.S. Rep. Marjorie Taylor Greene's bill that aims to ban gender affirming healthcare for trans youth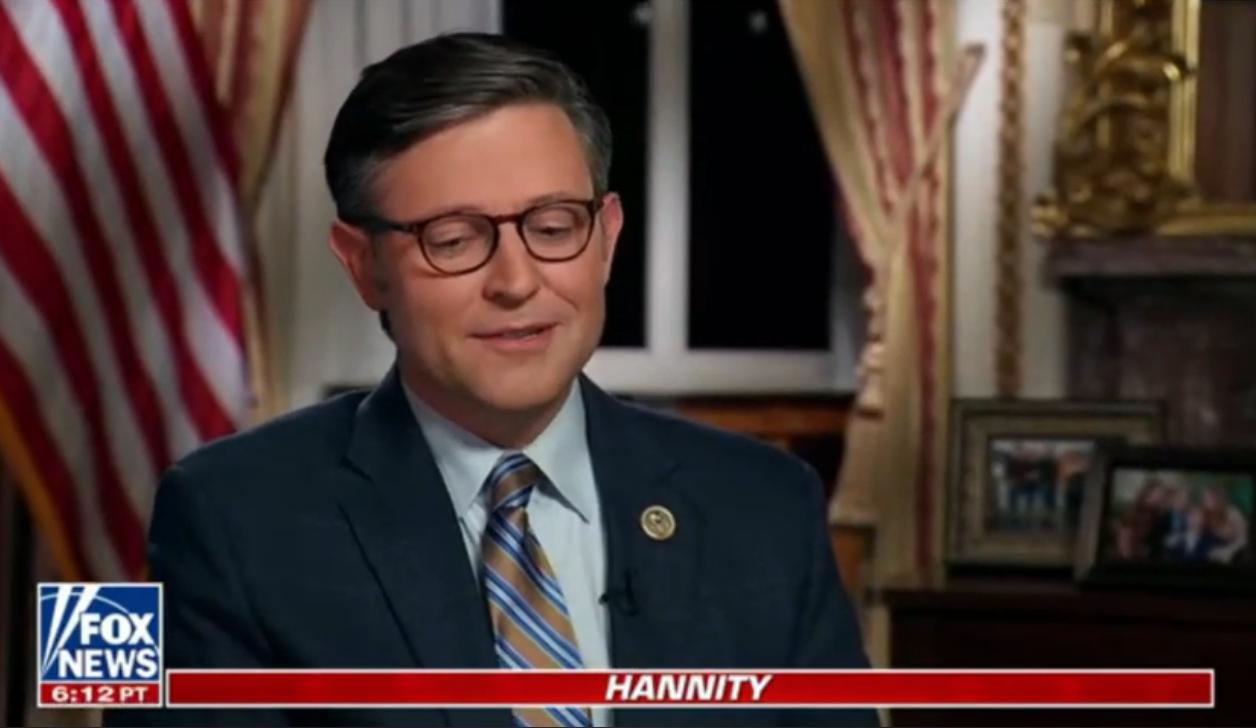 WASHINGTON – Newly elected Republican House Speaker Mike Johnson (La.) defended his extremist anti-LGBTQ views on Thursday, telling Fox News, 'I am a Bible believing Christian," adding, "go pick up a Bible off your shelf and read it – that's my worldview."
The Washington Post, in an article published on Thursday that chronicles the congressman's "campaign against gay rights" throughout his career, reported that one of his aides directed the paper to a Facebook post written by Johnson last year in which he "argued that 'biblical beliefs' were inseparable from 'public affairs.'"
After the little-known evangelical Southern Baptist Republican politician was elevated on Wednesday to become his party's highest-ranking elected official, second in line to the presidency, details about his far-right, socially conservative views began to emerge.
CNN uncovered editorials written by Johnson from 2003 to 2005 in which he argued for the criminalization of gay sex, called homosexuality an "inherently unnatural" and "dangerous lifestyle," and said marriage equality poses a threat to "our entire democratic system" — warning that "polyg-amists, polyamorists, pedophiles, and others will be next in line to claim equal protection."
At the time, and until 2010, Johnson was an attorney for the Alliance Defending Freedom, an anti-LGBTQ hate legal group according to The Southern Poverty Law Center, and "arguably the most extreme anti-LGBTQ legal organization in the United States" according to Lambda Legal.
When asked about the op-eds by Fox News personality Sean Hannity, the Speaker said, "I don't even remember some of them" and defended his work fighting against same-sex marriage on behalf of the right-wing group during the early 2000s.
The Post reports that during this time Johnson was "at the leading edge of litigating high-profile cases contesting protections for abortion, contraception coverage and gay and transgender rights."
Many Louisianans were first introduced to Johnson in the 1990s, when he appeared on television with his wife to promote "covenant marriage," which is available in Louisiana, Arizona, and Arkansas and carries legally binding provisions that make divorce more difficult. Critics say these unions can make harmful and abusive relationships worse.
Before serving in the state legislature from 2015 to 2017, and then in the U.S. House beginning in 2017, Johnson had sought tax subsidies, with a federal lawsuit on behalf of the Christian creationist group Answers in Genesis, to fund the Noah's Ark amusement park in Kentucky whose exhibits contradict the scientific consensus on matters like the age of the Earth, such as by showing dinosaurs coexisting with humans.
Johnson's term in the Louisiana legislature was defined by his introduction of legislation called the Marriage and Conscience Act, which critics argued was intended to protect the right to discriminate against same-sex couples. Most Republican members of the statehouse joined with the Democrats to defeat the bill.
In Congress, Johnson did not become more not become more moderate
Earlier this week, a group of House Republicans sank U.S. Rep. Tom Emmer's (R-Minn.) bid for the speakership, reportedly in part because of the congressman's support for marriage equality.
A day before he was elected, Johnson told Jake Sherman of Punchbowl News he had made an issue of Emmer's vote for the Respect for Marriage Act, which codified legal protections for married LGBTQ couples and was backed by 38 other Republican members of the House.
Last year, he cosponsored the Stop the Sexualization of Children Act, which would prohibit public schools, libraries, and all federally funded institutions from offering "sexually explicit" programs, events, and literature for children under 10.
Dubbed the "federal 'Don't Say Gay' law," the bill defines "any topic involving gender identity, gender dysphoria, transgenderism, sexual orientation, or related subjects" as per-se sexually explicit, which critics including activist and civil rights attorney Alejandra Caraballo have called "dehumanizing" to LGBTQ people.
Johnson was also a co-sponsor of U.S. Rep. Marjorie Taylor Greene's bill that aims to ban guideline directed gender affirming healthcare interventions for transgender youth and would impose draconian criminal penalties for providers who do so.
In July, as chairman of the House Judiciary Subcommittee on the Constitution and Limited Government, Johnson led a hearing on the topic where, according to the Human Rights Campaign, "lies and disinformation" were spread "about what that [health] care consists of," to advocate for policies that would put "unqualified lawmakers" between "medical professionals, parents and their children."
In addition to the Respect for Marriage Act, HRC notes the congressman also voted against the Equality Act, the LGBTQI+ Data Inclusion Act, the John Lewis Voting Rights Advancement Act, and the Violence Against Women Act.
As chair of the Republican Study Committee in Congress, Johnson argued against Amazon's decision to stop selling work by conversion therapy advocate Joseph Nicolosi, who died in 2017.
In 2022, the congressman said there is no separation of church and state in America. "If anybody tries to convince you that your biblical beliefs or your religious viewpoint needs to separated from public affairs," he said, "you should politely remind them to review their history and you should not back down."
During his relatively short time in Congress, Johnson co-sponsored three bills attempting to ban abortion nationwide, each imposing criminal penalties for providers who perform abortions: the Pain-Capable Unborn Child Protection Act, the Protecting Pain-Capable Unborn Children From Late-Term Abortions Act, and the Heartbeat Protection Act.
On Wednesday, the New York Times reported that Johnson played "a leading role in recruiting House Republicans to sign a legal brief supporting a lawsuit seeking to overturn the results" of the 2020 election, which was "rooted in baseless claims of widespread election irregularities."
His efforts led 60 percent of the GOP conference to sign on to the amici brief, filed in connection with the case brought by Republican Texas Attorney General Ken Paxton, which was ultimately thrown out by the U.S. Supreme Court.
"You know the allegations about these voting machines, some of them being rigged with this software by Dominion, there's a lot of merit to that," Johnson said, parroting what was one of the most far-fetched conspiracies spread by supporters of former President Donald Trump.