Actors join writers on strike, shutting down Hollywood
The strike has already led to delays or dozens of projects killed, upending the Fall TV schedule & next few years of planned film releases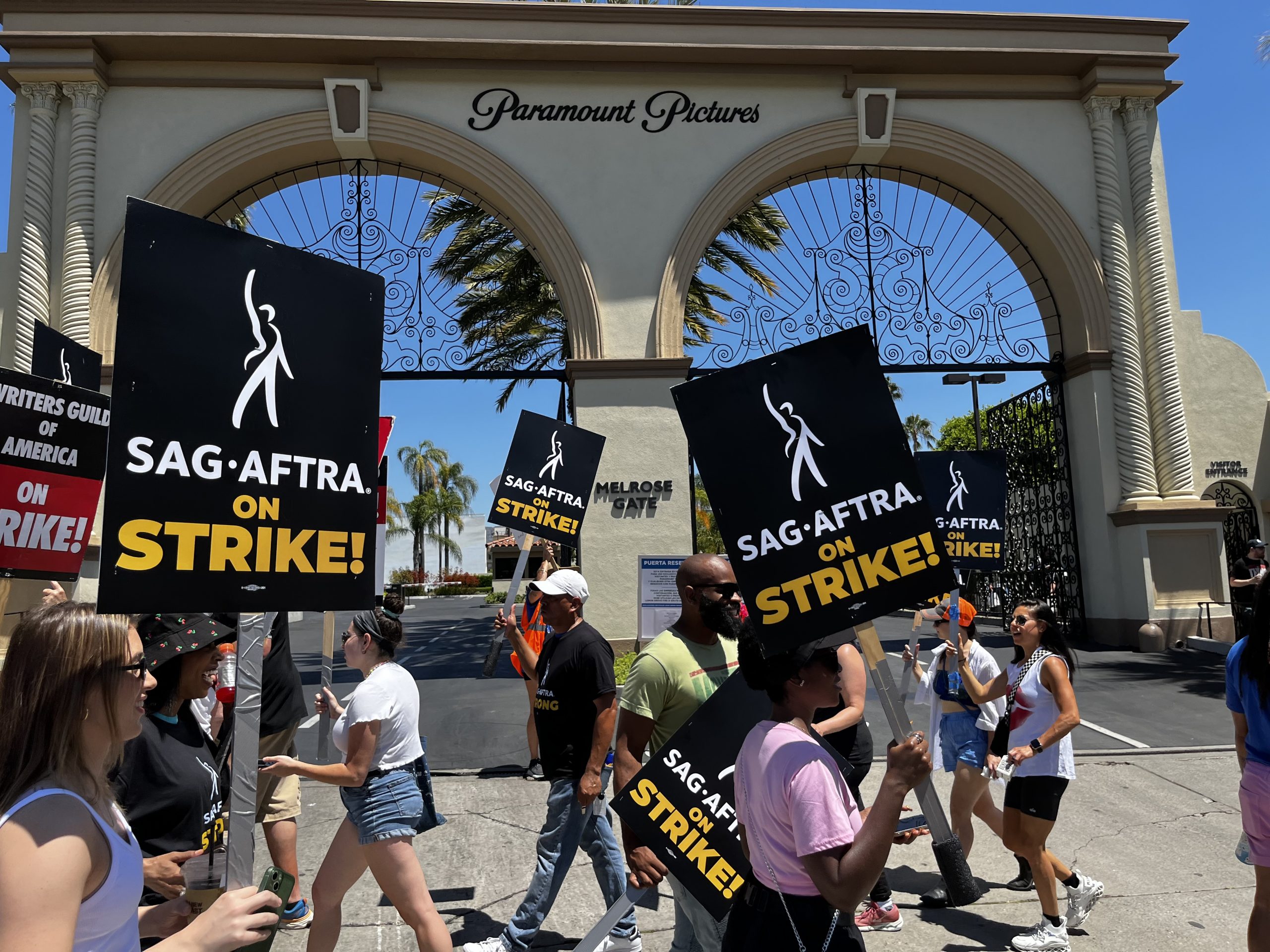 By Rob Salerno | HOLLYWOOD – The Screen Actors Guild called a strike effective Thursday, July 13, joining the Writers Guild on the picket lines and bringing most of Hollywood to a halt. 
SAG represents 160,000 performers who appear in Hollywood film and television productions, including actors, musicians, puppeteers, stunt performers, voiceover artists, and dancers. They're saying the Alliance of Motion Picture and Television Producers – an organization representing the largest producers in Hollywood – has refused to be reasonable as working conditions for actors have deteriorated.
The SAG's demands are similar to the WGA's demands – increased pay, better working conditions, and restrictions on the use of artificial intelligence to replace workers.
In particular, SAG is looking for substantially increased minimum rates for the lowest-paid workers in the union, other minimum rates to keep up with inflation, increased streaming residual payments, and increased limits to contributions to health and pension funds by producers.
SAG actors have said that the pay scales negotiated before streaming services fundamentally altered the industry are no longer sustainable. Streamers like Netflix are currently able to pay substantially less to union writers and actors in both fees and residuals.
Actors also want regulations on self-tape auditions, which have become the industry standard since the beginning of the COVID pandemic. They're looking for minimum turnaround times and limits to the number of pages that need to be prepared.
Both the writers and actors unions want hard limits on the use of AI to replace workers. SAG is particularly concerned that studios may not use an actor's likeness or performance in AI-generated content without the actor's consent and compensation for each use.
SAG President Fran Drescher – yes, the star of The Nanny – who had been criticized early in the contract negotiations for appearing out of touch with the majority of working-class actors, delivered a blistering speech Thursday, in which she laid the blame for the strike squarely at the AMPTP.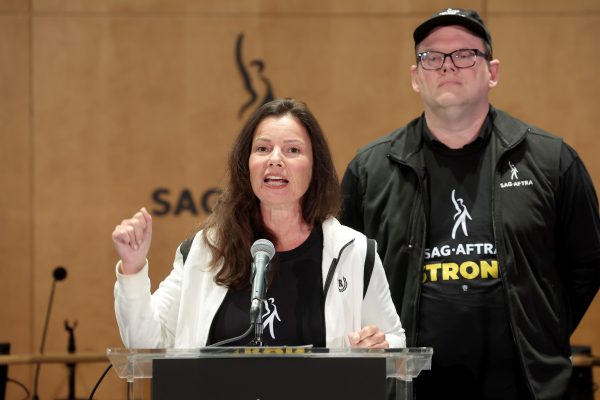 "We had no choice. We are the victims here," Drescher said. "I cannot believe it, how far apart we are on so many things. How they plead poverty when they are giving hundreds of millions of dollars to their CEOs. The jig is up, AMPTP. We stand tall. You have to wake up and smell the coffee."
Disney CEO Bob Iger drew headlines over the weekend for telling CNBC that the unions' demands are "just not realistic." The studios also drew strong rebukes after an unnamed executive was quoted in Deadline saying that their strategy was to allow the strike "to drag on until union members start losing their apartments and losing their houses."
Financial analysis company Moody's released a report Monday that said the annual cost of the WGA and SAG demands, coupled with additional concessions won by the Directors Guild of America in its recent negotiations could cost the studios between $450-600 million annually.
To put that number in perspective, Warner Bros-Discovery CEO David Zaslav was compensated $498 million for the five-year period from 2018-22, according to a report from The Los Angeles Times. Variety has reported that the networks spent approximately $54 billion on creating streaming and linear television content excluding sports in 2022, and that number doesn't include spending on feature films. That means the workers' demands would represent less than a 1 percent increase in spending.
Drescher said she appreciated that the strike is going to be hard on people who are out of work, but cautioned that if SAG didn't fight now, employers were only going to demand more and more concessions.
"Our heart bleeds that we had to make this decision, but we can't not get what these members deserve because it's only going to get worse. This is where we drew the line in the sand," she said.
The vast majority of SAG members are not wealthy or particularly well-known. They are background performers and featured or guest performers who used to be able to count on a decent working-class income from regular performance work but have noticed a marked decline in pay since the industry's move to streaming.
Actors have pointed out that 87% of its membership does not earn the $26,000 minimum that would qualify them for the union's health insurance plan. And, that $26,000 minimum represents income before agent and manager fees and taxes.
Openly gay character actor and dancer Anthony Marciona, who's worked in Hollywood since the 1960s and is known for appearing in shows like Gaslit, B-Positive and Welcome to Chippendales, was picketing in front of Netflix Friday.
"We are striking because we haven't been able to make a sustainable living for many moons. I made more money in my teens and 20s than I do as a senior," Marciona says. "The producers used to be making millions of dollars and we'd be making thousands, but now they're making billions and our wages aren't even keeping up with the cost of living."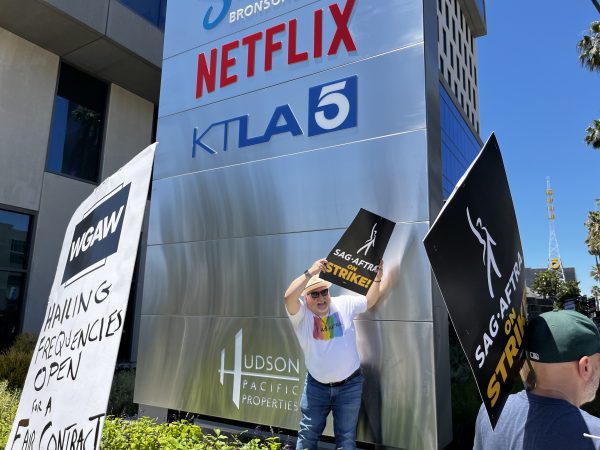 Studios have offered some wage increases for performers in high-budget streaming that appear to be huge – like bumps of 76% for foreign residuals, or 58% for guest stars. But Marciona says these bumps are miniscule given how little actors receive from streaming now.
"Wages need to go up immensely. We're just being gaslit," he says.
Out actor Stephen Guarino, known for memorable turns on broadcast and cable shows like ABC's Happy Endings and HBO's The Sex Lives of College Girls, worries that residuals could disappear as the industry moves increasingly toward streaming.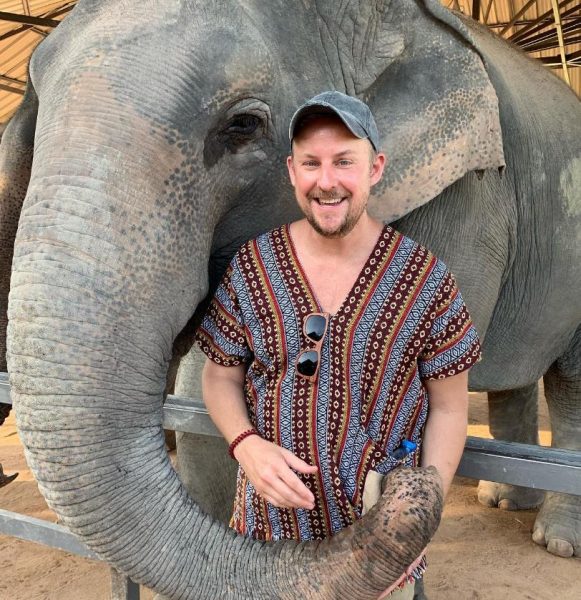 "I still have a pretty good passive income from residuals, so I've never really worried about that, but we're moving toward streaming so that could be going away," he says.
Guarino is also known for playing Quincy on the queer Netflix series EastSiders, a role for which he was nominated for a Daytime Emmy.
"I get no Netflix residuals, so ironically the thing I have my Emmy nomination for I get no residuals," Guarino says.
Genderqueer actor Nicky Endres, who has appeared on shows such as Netflix' One Day at a Time and CBS' NCIS: Los Angeles, says these concerns are compounded by a lack of job security.
"Being a gig worker is hard enough, but all we sacrifice to be an actor, and what, we get covid and lose a job? AI being programmed to steal our voices and faces? It's all too much," they say.
Many Hollywood productions had already been shut down by the ongoing writers' strike, which has been in effect since May 2, but the SAG strike brings to a halt any productions that were still ongoing featuring SAG members. That includes productions overseas where WGA was not picketing, voiceover recordings, and anything being produced from scripts that studios had banked in preparation for the writers strike.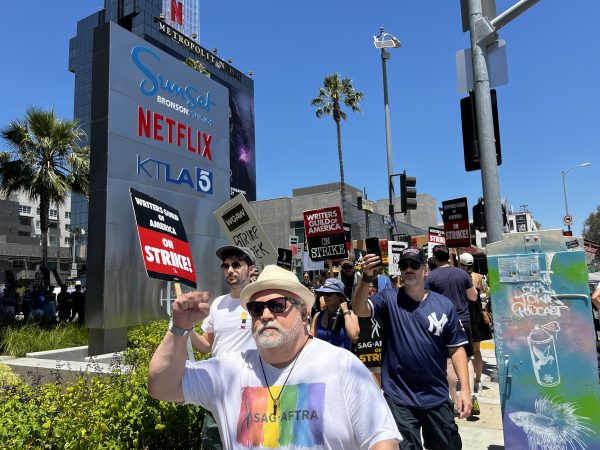 The writers have welcomed the actors joining their job action, which is now in its twelfth week.
"It's going to be great to have more actors officially on strike on the picket lines," says Rob Forman, co-chair of the WGA LGBTQ+ Committee. "The biggest part of SAG going on strike is it is an immediate damage to the bottom line of the companies of the AMPTP. It really impacts what they thought were their strike-proof plans."
"Hopefully it means a faster resolution or a better resolution for the writers and actors and all the unions who negotiate next."
SAG has also advised members that they are not to participate in any promotion of work produced for the studios, including attending red carpets, appearing on talk shows, participating in award campaigns, or even posting about shows on social media. Disney held a red carpet event for its upcoming Haunted Mansion film on Saturday night, using costumed performers from Disneyland in lieu of the film's stars.
Out performer Oscar Montoya, who plays Richie in the cult hit television series Minx, which premieres its second season July 21, skirted the rules with an Instagram post just before the strike began.
"We're officially on strike which ABSOLUTELY HELL YES but being on strike means not posting anything about upcoming projects. So I'm taking the last hour of the day to gush about season 2 of @minxstarz! Every single person worked so hard and it's such a labor of love," he wrote.
The strikes are not only affecting the actors and writers who've walked off the job. The shut down on Hollywood productions has also cut back work for union crews, including the 168,000 members of International Alliance of Theatrical Stage Employees. IATSE represents a variety of trades on sets, including camera and sound operators, electricians, carpenters, prop and costume designers, and hair and makeup artists. IATSE has a contract with the AMPTP in place until May 2024.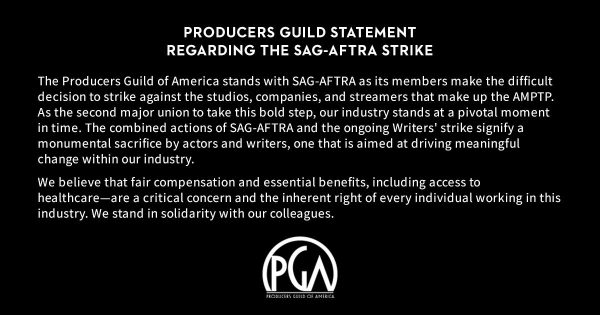 The shutdown also affects film workers not represented by IATSE, such as producers and managers, who typically work on a freelance basis and are not members of a union. The Producers Guild of America issued a statement in support of the striking workers Thursday. 
"We believe that fair compensation and essential benefits, including access to health care—are a critical concern and the inherent right of every individual working in this industry. We stand in solidarity with our colleagues," the statement says.  
Christopher Terrell has been working as an associate producer in both scripted and unscripted television production since he moved to Los Angeles, but he says he hasn't been able to find work in television all year as studios preemptively postponed television shows out of fear they'd be disrupted by the strikes.
While he supports the strikes and adds that workers in less glamorous jobs like production assistants also deserve to be paid more, he says he's had to get work outside the industry to make ends meet.
"Right now, I'm working the front desk at a doggy daycare, and it's cute, looks good on a resume, but you lose heart," Terrell says. "To have to question the livelihood of being in entertainment, it blows. I've been out of the game and so disheartened in this period."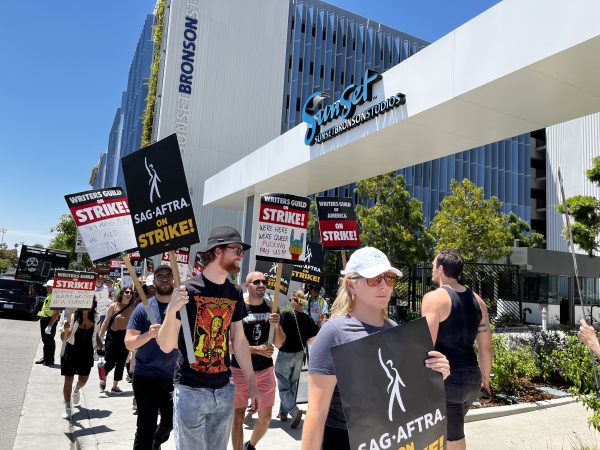 The Directors Guild reached an agreement with AMPTP in June, so while directors are not on strike, they're also not working.
 "We are proud to stand with actors and writers in their fight to win agreements that address their unique and important concerns, just as they supported us in our negotiations. The Directors Guild is extremely disappointed that the AMPTP did not fairly and reasonably address the important issues raised by SAG-AFTRA in negotiations. Together, we are all in a shared fight for a vibrant, sustainable industry that fairly values all of our unique contributions," DGA President Lesli Linka Glatter said in a statement.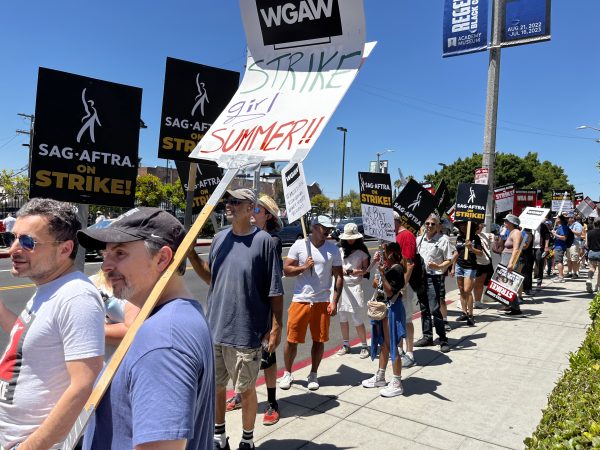 The lack of Hollywood productions also has ripple effects throughout the economy. Many ancillary businesses that service productions, including prop and costume warehouses, caterers, cleaners, camera and truck rental companies, and recording studios have already reported a drop in business. The WGA has estimated that their strike was costing the Southern California economy up to $30 million each day. But with the actors now striking, the slowdown in production will have ripple effects in other regions that have seen growth in film and television production.
Mayor of Burbank Konstantine Anthony, who is also a SAG member joined the picket lines Friday in a show of solidarity with striking workers.
"At the end of the day, I have to remember that studios don't vote. The workers who live here, who are residents of the city of Burbank, they're the constituents," he says. "If the studios aren't showing up to the bargaining table and paying the workers the wages they deserve, that money is not going to stay here in Burbank. It goes to CEO pay, it goes to corporate pay, which leaves the local economy. But if they pay the workers fair wages, you have local mom and pops, dry cleaners, restaurants, the school district, all of these local institutions that thrive off the money in the pockets of the workers."
The strike has already led Hollywood to delay or kill dozens of projects, upending the fall television schedule and the next few years of carefully planned film releases. The Los Angeles Times is reporting that if it's not resolved by October, there may not be any new scripted shows until next year. 
That's already put a freeze on season two of the Nickelodeon series The Really Loud House, in which Guarino plays one half of the network's first live-action gay couple.
"They might come back. They're waiting to see what happens with the actors' strike. I'm hoping it happens not only for the representation, but also for my livelihood," Guarino says. "I haven't auditioned since March or April, and my agents don't think I'll have any auditions until September."
Some production can still go ahead with SAG performers, because these are governed by different agreements than the one SAG has with AMPTP. SAG performers can still work in commercials, video games, reality television, variety shows, talk shows, game shows, soap operas, animation, and audio books. Of course, none of these productions can go ahead if they employ WGA writers.
********************************************************************************
Rob Salerno is a writer, journalist and actor based in Los Angeles, California, and Toronto, Canada.
Lindsey Horvath is the youngest Chair of the Board of Supervisors
Horvath since her election as a Supervisor she has made it clear that she is on a mission to end homelessness in Los Angeles County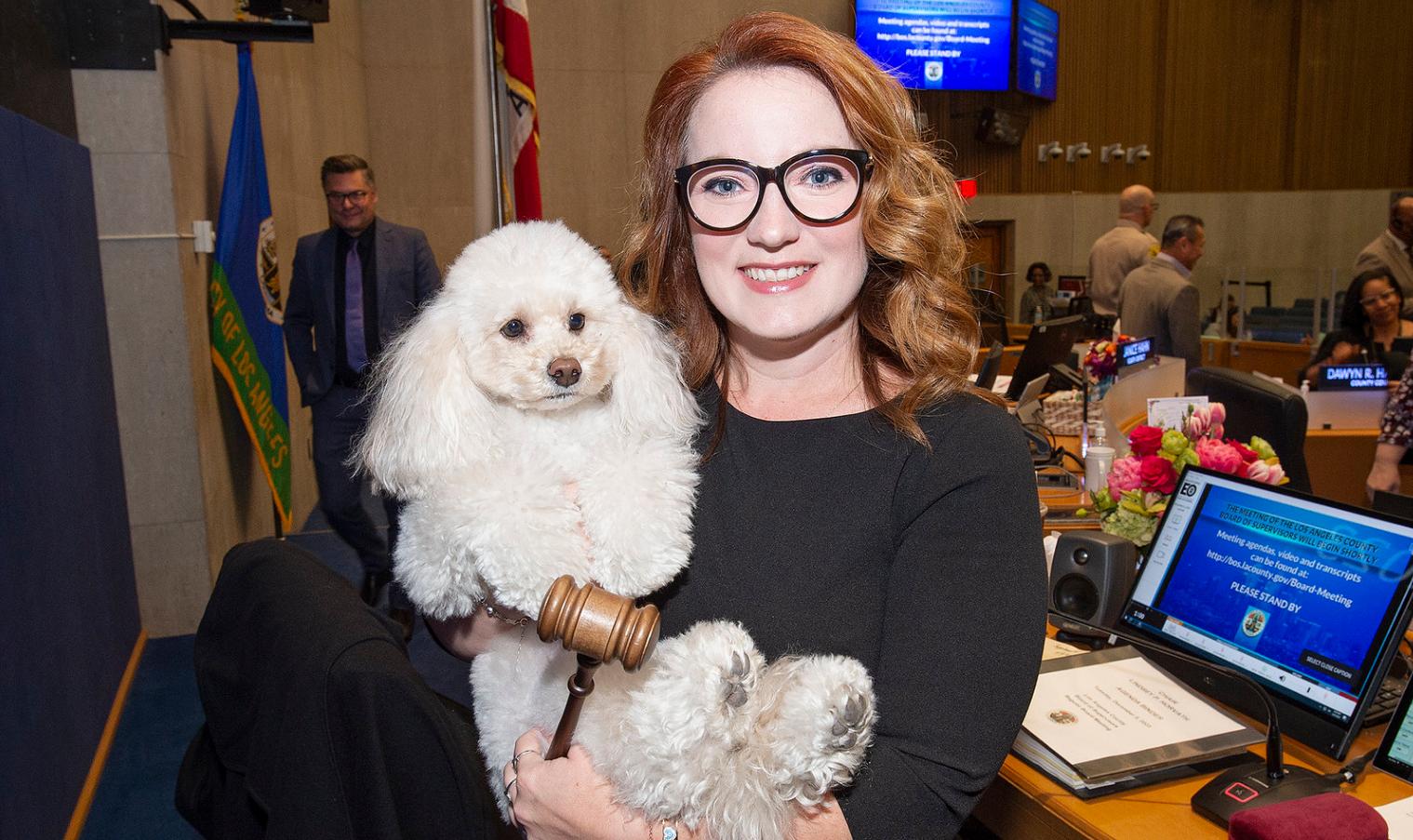 LOS ANGELES – One year after being sworn in to serve as Supervisor for Los Angeles County's Third District, Supervisor Lindsey P. Horvath became the youngest-ever Chair of the Board of Supervisors as she took the gavel Tuesday.
During the Board's reorganization meeting, Supervisor Kathryn Barger was selected as Board Chair Pro Tempore.
In her remarks following her becoming Board Chair, Horvath noted:
"In listening to young people, I am clear that the crisis of the moment is homelessness. From the threat of falling into homelessness because of the rising costs of rent and just living, to the reality of being unhoused while trying to go to school, and never being able to recover from the debt that piles up, the pervasiveness of homelessness in our region is a daily attack on our dream for a better future."

"While homelessness is the crisis of the moment, climate change remains the crisis of our time. No one makes that clearer than our young people, whose commitment to a cleaner, more sustainable future is unwavering."

"But, the most insidious, sinister crisis we face today is the crisis of despair. The rate of suicide is unprecedented, especially among women and girls who face increasingly complicated mental health challenges. Anxiety, depression, and substance use are pervasive."
"This is a moment for urgency. This is a moment for impatience. This is a moment for profound change. We must march forward together and take bold steps to bridge generations and create the change that we so urgently need," she added.
Horvath since her election as a Supervisor she has made it clear that she is on a mission to end homelessness in Los Angeles County. As Third District Supervisor she represents 10 cities and 26 unincorporated communities from West Hollywood to Malibu, Topanga to Chatsworth, and Pacoima to Santa Monica. Her district spans 446.08 square miles and is plagued by homelessness.
There are approximately 69,144 homeless people within the county, and that number is on the rise. 75% of those unhoused individuals do not have any form of permanent housing and are forced to wander from place to place, finding or making shelter wherever they can.
Six out of ten of these unhoused individuals are newly homeless – a reflection of the inequity between rising home prices and stagnant income levels that have left so many in California unable to make ends meet.
This past January, [2023] the Los Angeles County Board of Supervisors declared a state of emergency for the homeless crisis.
"The declaration has allowed us to do two things," Horvath told The Blade. "First, we were able to accelerate hiring. We learned that in the Department of Mental Health, for example, it can take longer than a year for mental health professionals to be hired into the department. That is completely unacceptable. We need to hire people faster to do this work.
"Second, we were also able to expedite contracting. We learned from LAHSA that a contract could be touched up to 140 times before it is finally executed, and funding is able to reach service providers. Obviously, that is unacceptable. We are improving our contracting processes."
Given the new laws attempting to outlaw the existence of the LGBTQ+ community in many Republican-controlled red states across America, young LGBTQ+ people flock to places like Los Angeles with little to no resources to avoid being persecuted for their identities.
When asked how the she intends to deal with the influx of homeless LGBTQ youth pouring into LGBTQ+ safe havens like Los Angeles, Horvath told the Blade that she is prepared to welcome them with open arms.
"We tackled this challenge a lot when I was the Mayor of West Hollywood. We saw a lot of people come to West Hollywood for exactly this reason, and we know that that is not unique to West Hollywood. It's happening throughout Los Angeles County, so we are already providing those services to those who need them. Anyone who comes to our area will be met with support and care."
In a statement released by her office, Horvath detailed her accomplishments over the past year:
Introduced the emergency declaration on homelessness, the foundation for expedited results across the County, and appointed herself to LAHSA where she now sits as Chair.
Introduced protections for renters as essential homelessness prevention, including extending a 4% cap on rent increases for unincorporated Los Angeles County, along with other actions to strengthen the Rent Stabilization and Tenant Protections Ordinance.
Championed environmental action through motions to create a cleaner Santa Monica Bay and to protect our coast from sea level rise and erosion; opened improvements to the Marvin Braude Bike Trail; and today introduced implementation steps for the first comprehensive water plan for the region.
Stood for working Angelenos by authoring motions to strengthen hotel worker protections and created an entertainment business interruption fund. She also supported the WGA and SAG/AFTRA strikes.
Advanced a more inclusive and just LA County by initiating a Jewish Community Safety Plan; rooted out hate and antisemitism in all its forms; and recognized LA County's unofficial "gay beach".
Focused on care for system impacted young people and families by authoring a motion regarding Mandated Supporters, and co-authored a motion to create a Prevention framework for LA County.
As the new Chair of the Board of Supervisors, our message is clear:

This is a moment for urgency. This is a moment for impatience. This is a moment for profound change. pic.twitter.com/9qvgA8YmAe

— Lindsey P. Horvath (@LindseyPHorvath) December 5, 2023