Does being a "shit stirrer" make Matty Healy less of a hero?
Everything came apart quickly after that. 1975  was pulled from the stage, the show was cancelled & the tour was cancelled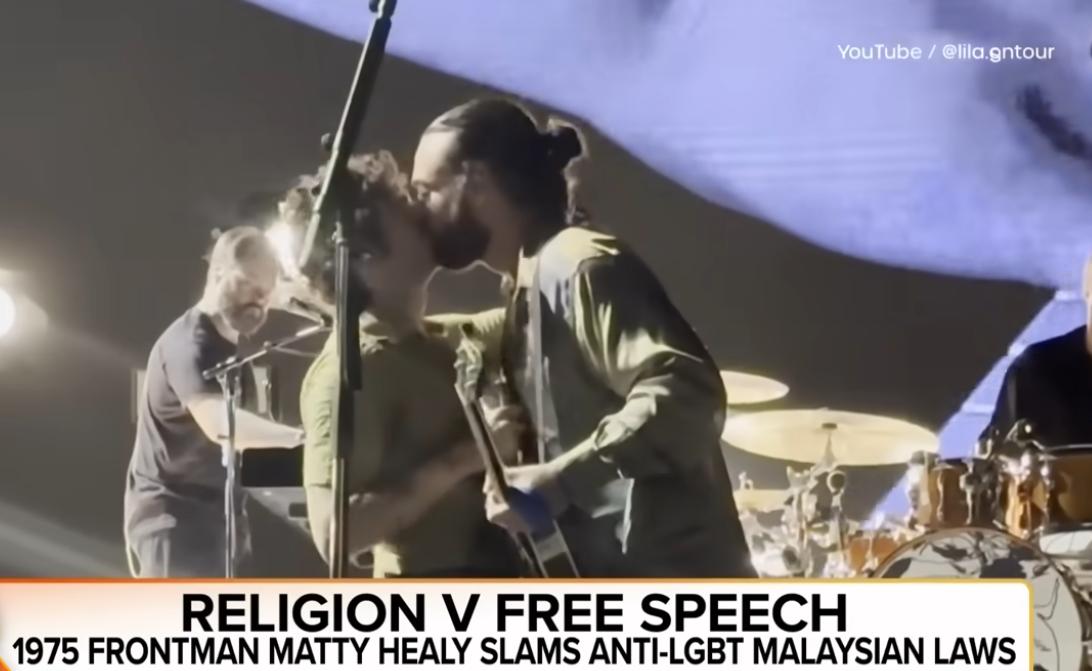 HOLLYWOOD – Of him, columnist Alex Petridis has said, "Matty Healy is a shit stirrer. He knows how to get people talking, and he loves doing it. He's not afraid to say what he thinks, even if it's controversial. Sometimes it's refreshing, and sometimes it's just annoying. But there's no denying that he's a talented musician and a gifted provocateur."
Healy is certainly a commercial and artistic success. His band, 1975 has been praised by critics who embrace its eclectic sound with elements of indie rock, pop and electronica. Their albums have all been in the top 10 on the UK and US music charts, with number 1 singles in the UK.
With that success, and attention, Healy clearly has claimed the privilege to say what he thinks and act how he feels, whenever he thinks or feels it. The bad part of his reputation ranges from being self-serving to being outright racist and misogynistic.
He has apologized and explained himself on numerous occasions, but his detractors feel so strongly that they felt Taylor Swift's clean reputation was in danger of being soiled due to association, and possible romance, with him. He has explained himself saying, "It's very well for me to say, I don't understand how famous I am. I don't like being famous. But reality is reality. And I think that I've said some things or kind of, I make a joke out of everything. That's my thing. And I can take it too far sometimes in front of too many people. And I feel a bit embarrassed. So that's the truth."
While he praised Black Lives Matter, detractors found his comments opportunistic and promotional. He participated in a podcast where he laughed at the hosts who were making racist jokes about Ice Spice, and seemed to encourage them. He publicly apologized. Years earlier, he was accused of raising a Nazi salute during a concert, which he outright denies doing.
He has been accused of "queer bating" but understandably, in an era of sexual fluidity awareness, has claimed the right to not define his sexuality. Those who are not satisfied with that reasoning, are likely also not pleased about his behavior in Malaysia.
They may want to just get in line with all the others who are mad about his behavior there.
Malaysia has very strict laws against homosexuality, and tough "morality" rules for foreign performers. The government delivers a forty page document to prospective foreign acts that includes how the performers may dress on stage, how they may not intermingle with audience members, and more.
Most significantly, the performer may not criticize the government of Malaysia from the stage. Healy's manager signed an agreement stipulating that 1975 would adhere to the stipulations.
Apparently, Healy did not get the memo. When he found out, presumably the day before the concert, he almost pulled the show, but did not want to disappoint the kids because "they're not the government."
Decision made, but the attitude walked with Healy onto the stage the next day. He had, after all, been in a similar situation before in Dubai where homosexuality is illegal as well. There, he defied the authorities and lip locked with a male audience member. He had made his point, with no bad ramifications except for his own speculation that he would not be invited back to Dubai.
Things did not go so well in Malaysia. Healy's anger bubbled over "I'm fucking furious," he declared in his on stage rant against the Malaysian government's stance on homosexuality. In a throwback to his Dubai actions, Healy then passionately kissed bass player Ross MacDonald.
Everything came apart quickly after that. 1975 was pulled from the stage, the show was cancelled, the tour was cancelled, and the festival itself is both in trouble and on the brink of financial ruin. Even some whom he was presumably standing up for, did not appreciate his gesture. Carmen Rose, a Malaysian drag queen is quoted by the BBC criticizing Healy for taking a stand as just part of his act. "If he was doing it for our community," she added, "he would know what consequences we would have to go through."
With all due respect to Ms. Rose and the hardship of being LGBTQ in Malaysia, now, thanks to Healy's actions, the world is more aware of the Malaysian atrocity. Homosexuality there is punishable by 20 years in prison.
Healy has never been quiet on issues, from gun control, to Brexit, to global warming. While his humor, delivery and intentions may be dubious or mis-understood, his lack of filter does not seem to just be tied to enhancing his wild card brand.
It is amazing, given that our progressive narrative in the United States is, rightly, furious over the attacks on drag performances, and the oppression of being able to openly discuss homosexuality, we are expected to conform and placate horrific laws like those in Malaysia. Perform politely and just say nothing?
Could Healy have expressed himself better? Does this action self-serve his ongoing rebel brand? Should he have looked out for unintended consequences and hurting people whose livelihoods are affected? Did he harm fans who are already oppressed by a backwards regime? On all accounts: probably.
The bigger question is, does it matter? As Albert Einstein is quoted as saying, "The world will not be destroyed by those who do evil, but by those who watch them without doing anything."
We should not be asking why Healy kissed his bass player as a gesture of support for the LGBTQ suppression, but why in the world are any artists willing to play in such a venue where that kind of oppression exists? Why are the bands not refusing to be there until the country's human rights and respect for human dignity are in place?
"I don't see the fucking point," stated Healy.
For that, he is a hero.
*****************************************************************************************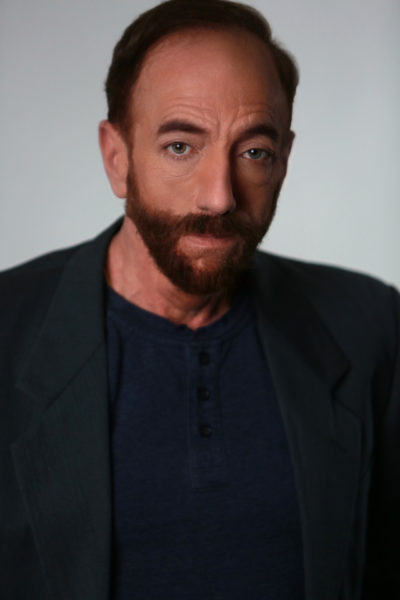 Rob Watson is the host of the popular Hollywood-based radio/podcast show RATED LGBT RADIO.
He is an established LGBTQ columnist and blogger having written for many top online publications including The Los Angeles Blade, The Washington Blade, Parents Magazine, the Huffington Post, LGBTQ Nation, Gay Star News, the New Civil Rights Movement, and more.
He served as Executive Editor for The Good Man Project, has appeared on MSNBC and been quoted in Business Week and Forbes Magazine.
He is CEO of Watson Writes, a marketing communications agency, and can be reached at [email protected] .
Why LGBTQs Must Fight to Save Democracy 
This is essential for LGBTQ folks: We are still considered an "issue," not an intersectional minority that deserves equality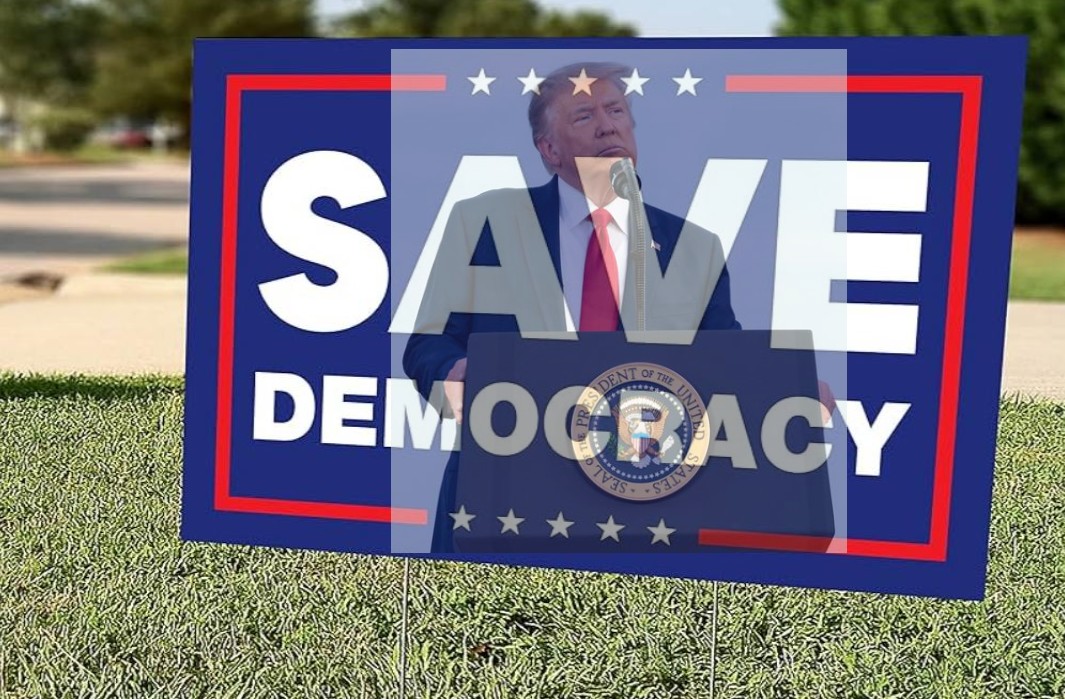 By Karen Ocamb | WEST HOLLYWOOD – The great Maya Angelou once said: "When someone shows you who they are, believe them the first time."
So why do so many people shrug off Donald Trump's dangerous proclamations of near divinity and absolute immunity from the rule of law?
Recently, in response to an avalanche of reports about his "authoritarian bent" and dire warnings of an "increasingly inevitable" Trump dictatorship in a second term, Trump – who's already been convicted of fraud in a New York civil lawsuit and faces up to 91 charges in four significant criminal cases – told Fox's Sean Hannity that he won't be a dictator, except on Day One.
"I love this guy," Trump said. "He says, 'You're not going to be a dictator, are you?' I said: 'No, no, no, other than Day One. We're closing the border and we're drilling, drilling, drilling. After that, I'm not a dictator.'"
After that? Does anyone believe Trump hasn't already developed a taste for dictatorship, having long boasted: "I could stand in the middle of 5th Avenue and shoot somebody and I wouldn't lose voters."
The twice impeached Trump is doubling down on Watergate-disgraced former President Richard Nixon's assertion: "Well, when the president does it, that means that it is not illegal."
And Trump has friends in high places. Democracy Docket's Marc Elias notes that newly elected House Speaker Mike Johnson "was a ringleader" in the coup attempt to overturn the results of the 2020 election. "He used his position as a lawyer and member of Congress to legitimize the fringe legal theory underpinning the 'Big Lie.' Other than former President Donald Trump, he is arguably the most culpable federal elected official in what transpired on Jan. 6, 2021."
The Brennan Center for Justice notes: "Johnson has ties to a movement that incorporates election denial into evangelical Christianity. Members of the movement held prayer sessions in which they asked for divine intervention to reverse the 2020 result….In 2024, Mike Johnson will hold the gavel. That should scare us all."
Johnson is now doctoring footage of the January 6th riot against the Capitol to prevent the Department of Justice from identifying and investigating the insurrectionists. Trump has already promised to pardon "a large portion" of Jan. 6 rioters convicted and jailed on federal offenses. Those rioters include Proud Boy whose members have shown up at drag readings and school board meetings, sometimes prompting anti-LGBTQ violence.
LGBTQ people should be seriously concerned. For nearly a decade, Johnson worked at Alliance Defending Freedom, "the far-right Christian group that has recently sought to ban the abortion medication mifepristone and public drag performances," according to The New Republic.
Additionally, one of Johnson's clients was anti-gay activist and former radical Christian preacher Grant Storms. Johnson "helped convince New Orleans officials to grant Storms a permit for a protest against an annual Pride celebration. Storms's protest ended up getting national attention when an anti-gay protester attempted to murder a man with a steak knife. Storms said the attacker was not part of his organization, but the assailant later told police he went to Storms's event because he wanted to 'kill a gay man.'"
LGBTQ people have long been targets for cruelty and hate. But the Trumpification of America has made it worse.
Last June, the New York Times reported: "There were more than 350 incidents of anti-L.G.B.T.Q. harassment, vandalism or assault in the United States from June 2022 through April 2023, according to a new report [by the Anti-Defamation League and GLAAD], reflecting a climate in which bias against gay and especially transgender people has become widespread."
Another report from the Center for the Study of Hate and Extremism at California State University, San Bernardino "shows a 52 percent increase in anti-L.G.B.T.Q. hate crimes around the country in 2022 and a 28 percent increase in the narrower anti-transgender category," and "a 47 percent increase in hate crimes against gender-nonconforming people, which the report defines as including drag performers."
When out progressive MSNBC host Rachel Maddow interviewed former Rep. Liz Cheney, the staunchly conservative Republican who co-chaired the House Jan. 6 Committee, they both were adamant about setting aside their serious political disagreements to join forces to stop Trump and prevent a Republican House majority in the 2024 election.
Cheney described it as "the cause of our time."
This is essential for LGBTQ folks, especially as we continue to be ignored unless we somehow make news. We are still considered an "issue," not an intersectional minority that deserves equality. Even the Supreme Court ruled against us based on a hypothetical possibility where the key document turned out to be fake.
We need to take a lesson from Stonewall and ACT UP and FIGHT BACK however we can.
And that includes me.
Last year Max Huskins – a straight Millennial friend of mine – and I decided to produce the YouTube series "Race to the Midterms," in partnership with the Los Angeles Blade. This fall, I realized we needed to do another series for the 2024 elections.
But the scope is too large to do as a cause/hobby to my full-time job. So I talked with my friend Steve Ralls (formerly with Servicemembers Legal Defense Network and Immigration Equality) – the VP of External Affairs who recruited me to Public Justice – and we worked out an arrangement where I will step away from my full-time staff position there and instead, be under contract to work exclusively on the Public Justice Emeritus Legacy Project, allowing me to devote the majority of my time to this new initiative.
This is our fight. Parental rights? These are our LGBTQ kids who've already suffered too much trauma, assaults and death by suicide. As Harvey Milk said: "We must give them hope."
We need to not only re-elect Joe Biden and Kamala Harris – but determined candidates for elective and public office who see us as a people deserving of equality, decency and the fundamental right to life, liberty and the pursuit of happiness.
See you in the trenches next year as we Race to Save Democracy!
****************************************************************************************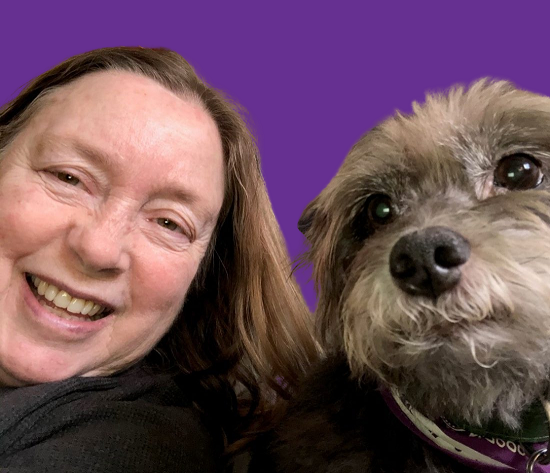 Karen Ocamb is the former news editor of the Los Angeles Blade. She is an award-winning journalist who, upon graduating from Skidmore College, started her professional career at CBS News in New York.
Ocamb started in LGBTQ media in the late 1980s after more than 100 friends died from AIDS. She covered the spectrum of the LGBTQ movement for equality until June 2020, including pressing for LGBTQ data collection during the COVID pandemic.
Since leaving the LA Blade Ocamb continues to advocate for civil rights and social, economic, and racial justice issues.
She lives in West Hollywood, California with her rescue dog Pepper.
******************************