Oscar Stembridge's music reveals his optimism & emotional truth
He sings about mature themes and current events, all while finding music to be a catalyst for urging people to embrace activism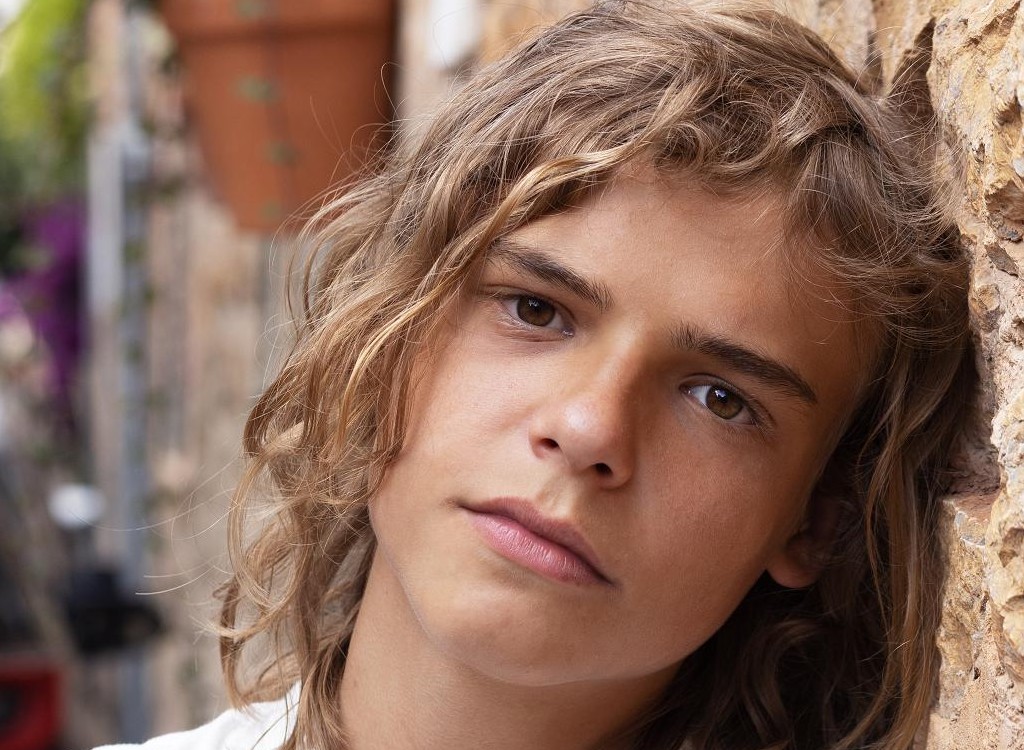 MALMO, Sweden – With the rapid onslaught of new music coursing through our ears, many of us are looking for something authentic in music – something real. And although authentic music exists, it only exists in small doses and quantities. Oscar Stembridge, a 15-year-old singer-songwriter from Sweden, gives his listeners much more than a small dose of authenticity: he gives us what he calls his "emotional truth."
Unlike today's contemporary hyper-consumerist culture of music that follows a strict formula for likes, shares, and retweets, Stembridge's music carries themes of endless possibilities and coming-of-age optimism from his personal experiences. His music is an anthem for Generation Z, a suspended cry of hope and disparity amid a larger global socio-political struggle.
His original music echoes the concerns of his generation facing climate change, destruction of natural habitats both in the oceans and across seven continents, and the crisis brought about by wars and natural disasters.
Stembridge won the Rookie Artist of the Year at the Sweden Pop Awards in 2022 (he was the youngest awardee) for his EP titled 'Thir13en' – an EP that details the teenage anguish of being belittled by the system and the hope that follows. We must ask ourselves, "who is Oscar Stembridge?" (Newsflash: he's more than just a young kid with floppy dirty blonde hair and who speaks with an endearing British-Swedish accent)
The Blade had the privilege recently of interviewing Stembridge, and asked him that very question.
"I write songs, I play music, I sing and I perform" Stembridge replied ever-so-humbly. But he doesn't just play music, he plays four instruments – guitar, piano, drums, bass, and then there's his vocals. Stembridge's music is amazingly eclectic and versatile.  Inspired by artists such as Ed Sheeran, Queen, Guns n Roses, Van Halen, Sam Fender, Dominic Fike, Nirvana, and others, he has built up a strong global following on social media.
From a young age, Stembridge has been a musician, but he was born to perform. Whether he performs for a small, intimate crowd or a large festival, Stembridge feels calm and collected. "I'm never nervous," Stembridge laughs, "I'm just gonna have fun." And he can be seen having fun in every one of his performances – including his rendition of Journey's Don't Stop Believing in front of the Swedish Royal Family. And maybe, Stembridge was a bit nervous that one time. "It's not every day you get to play for the Royal Family," he says laughing.
Then 12-year-old Oscar Stembridge performed his cover of powerhouse American rock group Journey's Don't Stop Believin' in front of Sweden's Royal Family. (Screenshot/SVT1)
To perform without error – and without a sense of nervousness – Stembridge spends a lot of time perfecting his craft; evidenced by one's listening to Stembridge's carefully crafted album Thir13en. "The reason why it's called 13 is because I wrote It when I was 13 years," he tells the Blade adding; "That time period was a rollercoaster for me… I wasn't in the happiest place, but I came out of that. Writing this EP was very therapeutic."
Rather than embarking upon the creation of an EP alone, Stembridge shared his vulnerability with two of his friends in the process. "I wrote [Thir13en] with two of my music buddies and awesome singer-songwriters, Isa Tengblad and Kristofer Greczula." Stembridge described the process of working with Tengblad and Greczula as both positive and innovative with the vocals for the EP being recorded in Tengblad's bedroom. "It was never a static formula, and it never has been – We would bounce around as a team."
Thir13en, in all of its anguish, optimism, and truth raw in its sound, is ultimately true in its emotions and eclectic in its composition. Rather than starting with lyrics first and music second or vice-versa, Stembridge isolates that the album started out as a concept – a sound on the brink of possibility in the wake of being told what to do and how to act.
In fact, the cover of the album would be a good place to start. "[The cover comes from] a notebook that my godfather gave to me…. I wrote out the mind map for the EP – and the cover of the EP is that mind map."
Thir13en EP cover art & design by Oscar Stembridge
As a mind map, Thir13en is incredibly cohesive in how it encapsulates the teenage lament towards a system that seeming refuses to listen. The ep is about teenage angst but not in a punk rock type of way, more of an activism way on subjects and issues that Stembridge and his fellow Gen Zers are confronting in an increasing complicated world.
But Thir13en dares to showcase the optimism that adults seem to lose as they age but when they witness the vitality of kids like Stembridge they are able to regain hope.
From the EP, the song Young Ones is the statement that the youth has made – and has been making – regarding the older generations not listening to them. "It's like we're the enemy // Don't forget we're in the same team" // "All you do is blame it, blame it on me" // "Youth is wasted on the young ones."
In Don't Lie To Me, the chorus sounds like a group of teenagers pleading to not be lied to. "Don't lie to me // I know everything you don't want me to know."
Unlike the type of teenage angst seemingly solely directed at older adults, [read] parents not listening to them or the 'no one understands me' trope, Stembridge sings about mature themes and current events, all while finding music to be a catalyst for urging people to embrace activism.
"What if bombs were confetti," Stembridge sings in his song "What If" which posits a series of questions about how the world could be. But although Stembridge notes that he won't be the one to stop all bombs, he still has hope that he can make the world a better place.
The one cause that Stembridge continues to be a fierce advocate for is the climate movement. "I am a climate activist and am very vocal about that," Stembridge says with certainty in his voice. As Stembridge marches alongside his friend, Greta Thunberg, herself a Gen Zer and longtime Swedish environmental activist, known for challenging world leaders to take immediate action for climate change mitigation- he stays positive about his effort to bring awareness to climate change.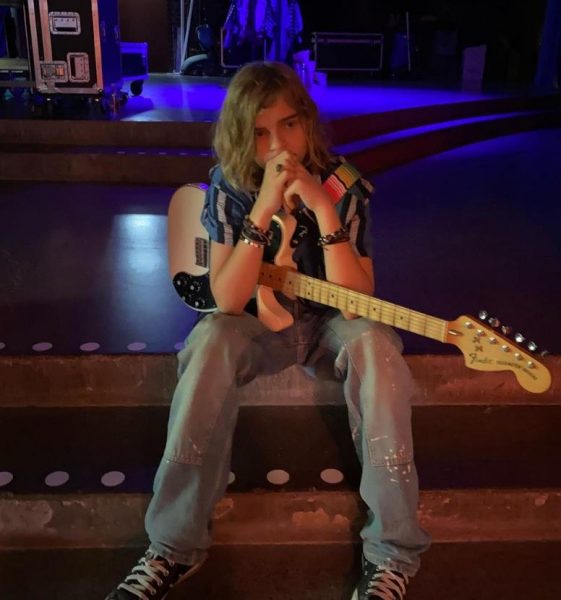 Rather than falling into apathy – which most of us seem prone to do – Stembridge uses his energy to write music. "I had a positive outlook on my song 'We March' – "we can [solve the problem] if we all march together."
Whether Stembridge plays music at the climate protest rallies or marches along with the crowd, he is sincere and passionate about his activism. "Music is the language of emotion – it breaks all norms and boundaries – it reaches a wider range of people," Stembridge stresses ecstatically.
But the climate movement isn't the only thing that Stembridge cares about. The LGBTQ+ movement has been one of Stembridge's advocacies as well. "I am 100% an ally," Stembridge says, "I think people should be able to identify themselves how they want. I don't think that anyone should be restricted to some gender thing."
Rather than adhering to someone else's view of how you should be, Stembridge's song 'Fake Front' advises the listener to be authentic. He states that "a lot of people in the world have their fake façade… you don't have to have a façade in order for people to like you– everyone should be authentic to themselves."
By playing music with an emotional truth, Stembridge believes that "a lot of people can relate to the songs and can use them as a way of helping themselves."
Although Stembridge's critically acclaimed EP Thirt13en was released just last year, Stembridge has music on the way. "I'm creating an official album release… Some of the songs I've written are really really really good" (The Blade took note that there were three "really(s)" excitedly uttered so it must be really good).
Stembridge describes that his new album is going to be a more mature version of Thirt13en; and no, it won't be called Four14en. "This is like, 'okay. I'm going to write an album now,'' Stembridge says happily. Oscar hinted that his new, unreleased music will be performed at an event in Austin, Texas on August 9, as he headlines his first ever U.S. concert.
Ultimately, Stembridge's emotional truth is one that he tells the Blade that everyone should live by. "Be who you are. Just be yourself and be confident with it because it will be great," Stembridge advises. And with a great pause, Stembridge leaves the readers with one final note: "Believe in yourself."
Stembridge is slated to perform in Los Angeles on August 2, at the Hotel Café in Hollywood and then again on August 5 in Santa Monica.
On August 9th, the Austin Film Society will present the world premiere screening of Primitive Planet Director Brian Gregory's film, 'Trust Your Wild Side with Oscar Stembridge,' a captivating documentary that follows the incredible journey so far of Stembridge.
After the screening, he will perform his first headlining concert in the USA, playing to thrill the audience with his catchy melodies and heartfelt lyrics.

LA tickets are available here: (Link)
Austin tickets are available here: (Link)
Julio Salgado: Queer, Latino, & creating a powerful artistic narrative
Openly queer and openly undocumented, one Los Angeles artist uses his platform to destigmatize what many consider taboo
LOS ANGELES – Julio Salgado is the co-creator of The Disruptors Fellowship, a program at The Center for Cultural Power in Oakland, California, for emerging television writers of color who identify as trans/and or non-binary, disabled, undocumented/formerly undocumented immigrants.
His work has been displayed at the Oakland Museum, the San Francisco Museum of Modern Art, and the Smithsonian, but for the 39-year-old artist, it's using his art to destigmatize what many consider taboo that's his passion.
The early years
Growing up in Mexico, Salgado felt pressure from his family and peers to take part in sports, primarily soccer. However, disinterested in the innate masculinity of Mexican sports culture, the young artist chose to spend hours drawing in his room instead.
"Plus, I'm not a competitive person," Salgado humbly told The Blade.
Then, in 1995, when Salgado was twelve, a family trip to Los Angeles took a shocking turn when Salgado's younger sister developed severe symptoms that landed her first in a general hospital and then later in a children's hospital.
"It happened super fast," said Salgado. "She was rushed to the ER, and her kidneys started failing."
Salgado's sister (then 7) was put on dialysis as doctors told the family that she would need a new kidney ASAP.
Both of Salgado's parents were matches for his sister. Within a few weeks, Salgado's mother had an operation to transfer her kidney to her ailing daughter.
"It's your child," said Salgado, reflecting on his mother's sacrifice. "You will do anything for your child."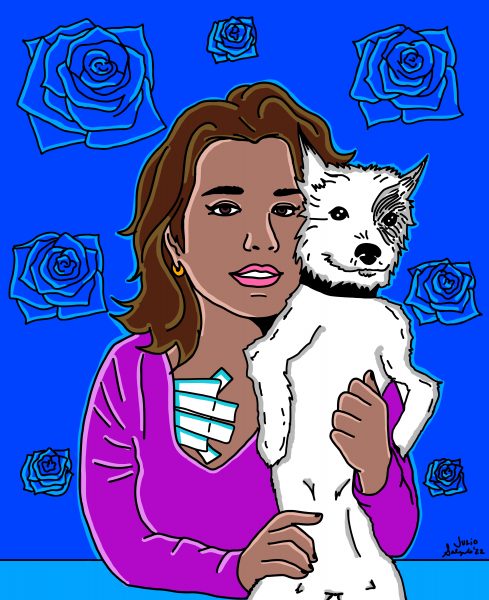 While the surgery was a success, a new complication arose when doctors told the family that it would be dangerous for the sister to be under the care of new doctors in Mexico. Not willing to risk her daughter's life, Salgado's mother decided to stay in America indefinitely.
"My parents were so young," said Salgado. "They were in their early thirties. I can't even imagine what that must have been like for them." 
Not fully prepared to move to the U.S., Salgado's father returned to his job in Mexico. He periodically sent money to his family in Los Angeles.
"It was the opposite of how it usually is," said Salgado. "Usually, Mexicans come to work here and send money back home to Mexico. But we did it in reverse."
For the first couple of months, the family of three couch-surfed their way through different family members' homes. Eventually, they moved into a small studio apartment with Salgado's uncle, Chicho. 
The family lived in the US for about a year before their passports expired.
In 1996, the family moved out of Chicho's apartment toa home in Long Beach, this time with Salgado's father, who had finally agreed to give up his life and job in Mexico.
In school, Salgado bonded with other undocumented kids in his ESL class. Sadly, many of these friends knew they could never attend university due to their lack of papers.
"That was my biggest fear," said Salgado. "I knew a lot of my friends went into the kind of jobs no one really wants to do. I did a few of those jobs myself… I wanted more for my life, but I didn't know what was going to happen to me after high school."
Luckily, California Assembly Bill 540 (AB 540) passed as Salgado graduated high school, allowing undocumented immigrants to attend community college while paying in-state tuition.
"I still had to make money," said Salgado, who independently funded his entire college career. "I got creative. I even took odd jobs caricatures for kids' parties."
Salgado recalled that despite building a life for himself in America, he was always hyper-aware of his illegal status.
"I only drove from work or to school and home," said Salgado. "There was always this feeling of being a kid forever… My friends just knew that if I were going to come out with them, they would have to drive me."
Salgado recalled a run-in with the police that left him shaking with fear.
It was 3:30 AM, and Salgado was driving his 1983 Plymouth for his early morning shift at a large chain store. A young police officer pulled Salgado over and asked for his license and registration. He lied, saying that he had forgotten it at home.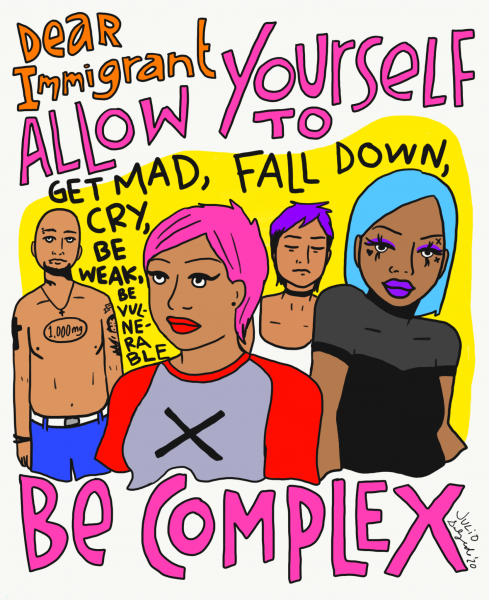 The officer asked him to pull into a nearby McDonald's parking lot so that they could search his car. Feeling he had nothing to hide, Salgado complied.
"Before I knew it, two more police cars showed up," said Salgado. "I was being told not to move. There was a gun to my head. I was going to cry. I had never seen a gun in my life."
The police had found some t-pins, used to pin artwork on cork walls, in his trunk and mistaken them for drug paraphernalia. Once he cleared up the misunderstanding, the police made a tearful Salgado abandon his car and left him on the side of the road.
"I was so scared," said Salgado, who felt the incident served as a reminder that he was constantly at risk of being deported.
While Salgado remains currently undocumented, he said that the Deferred Action for Childhood Arrivals (DACA) has helped him settle more into American life. DACA is administrative relief from deportation that protects eligible immigrant youth from deportation originally established via executive action in June 2012 by the Obama Administration.
"Since 2012, I have been able to do more," said Salgado. "Now I have a social security number and a real ID and driver's license. I can now get permission to leave the country and come back."
Salgado said he feels DACA benefits not only immigrants but also the spirit of America as a whole.
"You are creating citizens who can give back to America. Many who got DACA became doctors and lawyers. Isn't that the American dream?"
Coming Out as Gay
Homosexuality had always been a sensitive subject in Salgado's family. In addition to the stigma homosexuality carried in his religious Catholic household, the AIDS crisis also played a role in the taboo.
Salgado's mother had a young brother who died from AIDS. His uncle, Chicho, who the family lived with when they first moved to Los Angeles, was openly gay and had developed HIV.
"There were always whispers about my uncle Chicho," said Salgado.
"We were just learning about AIDS and seeing people die on the news… I knew if I followed this path, I would die."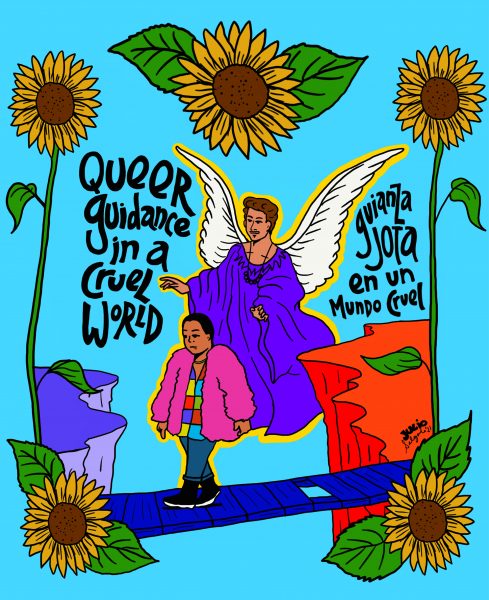 Salgado got his first inkling that he was gay when he was a young boy watching Disney's Aladdin.
"I just really wanted to hug him," said Salgado, laughing. "I knew I was attracted to other men, but growing up Catholic, I also knew that was wrong."
When Salgado was in high school, he started to share suspicions about being gay with his female friends. A couple of those friends propositioned Salgado, saying they were willing to offer him their bodies so that he could discover whether or not he was gay.
"I do think sexuality is fluid," said Salgado, reflecting on how the experience left him thinking that he was bisexual. "At that point, I had never been with a boy. I was glad we were exploring, but I felt guilty, like I was used to them. And I was ditching school. "
Salgado said that he believed his foreignness saved him from the typical bullying commonly accompanying a young queer person's journey to self-discovery.
"I mostly got bullied for not speaking English," said Salgado. "It was actually the other brown kids who would make fun of me and call me 'wet back' and make me feel bad because my parents bought me shoes from Payless. It was immigrant-on-immigrant bullying."
Salgado did not come out to his family until he was an older teenager. He came out to his mother when he was eighteen after she read some experts about being gay in an old sketchbook/diary of his.
"At that moment, I felt I had two options. I could either say, how dare you go through my things, Mother, or I could come clean. I told her that I was bisexual because that is what I thought at the time."
Salgado did not come out to his father until he was about twenty-five and in college.
"I was in love with my first boyfriend," said Salgado. "I thought this was really the person I wanted to spend the rest of my life with…I came out to my dad because I wanted to introduce my boyfriend to my family."
Salgado came out to his father in the car on the way home from work.
"I remember not being able to get the words out," said Salgado. "I said, 'I'm different,' and he knew exactly what I was talking about."
At first, his father said that while he respected "this decision," he "did not want to see that."
While Salgado was glad his father did not react with the physical or emotional violence that was especially prevalent when his father drank, he also realized his hope of introducing his boyfriend to his father was impossible.
Salgado said his father has since come to terms with having a gay son. Their relationship is now better, and they even collaborated on an art piece about homophobia and machismo. Salgado said he realizes that his father's past homophobia was a misguided way of trying to protect his son.
The Art
Salgado's early art is often political, reflecting everything from the queer rights movement to the war in Iraq.
In college, Salgado stopped being an art major because he found it too restrictive. He then became a journalism major instead.
Salgado used political cartoons as a way to feel connected to the world at large. The artist said that is when he caught the bug for political art as a way to connect to others.
Salgado met more undocumented college students at Cal State Long Beach and started a support group for them.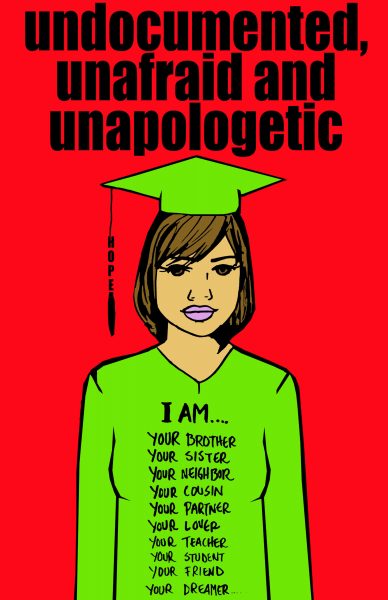 Through the support group, Salgado met other creatives and started a magazine called "The Reflection," which focused on the deep experiences of Latino/Latina students as first-generation students.
Openly queer and openly undocumented, one Los Angeles artist uses his platform to destigmatize what many consider taboo
"All of a sudden, I had a community that was investing in work in our own community," said Salgado. "I realized this was what I wanted to do with the rest of my life. I wanted to make art that mattered to people."
Salgado also used his Facebook and the school newspaper to publish political art about the movement. Wanting to represent his entire journey, he stopped separating his queerness from his 'undocumentedness' and started to combine the two aspects of his journey in his art.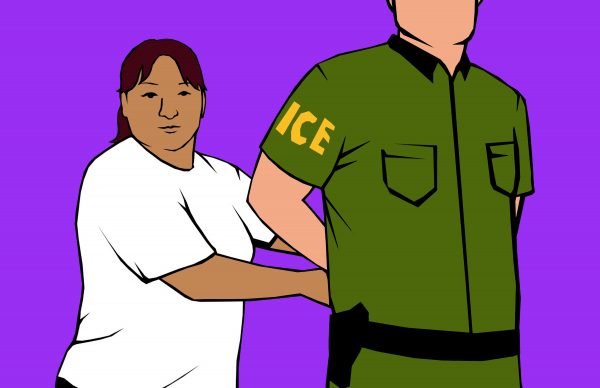 Salgado would also draw cartoons to be submitted for petitions against the deportation of certain young individuals.
"I knew we needed to lend a face to those being deported," said Salgado. "A lot was happening in the shadows."
"I felt like I could add to the movement through my art…I also knew if my family ever fell into a deportation case, my community would stand behind me. I didn't feel alone…. Just like we need to come out as LGBT, we need to come out as undocumented and say we are here. These are our faces."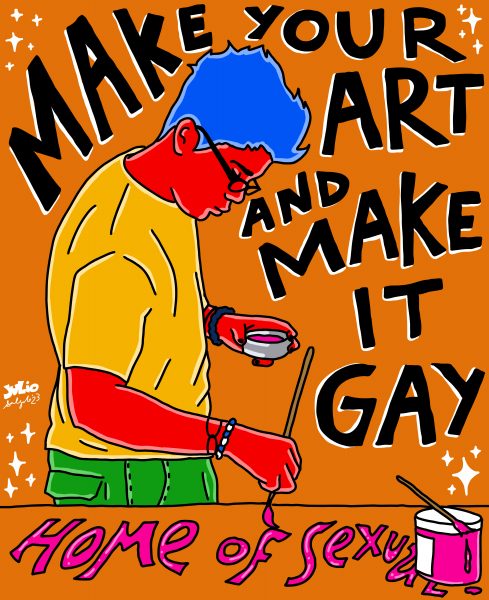 Now, Salgado has moved away from political art and chooses to focus on the more positive aspects of his life.
"I try to make art about the things that bring me joy. For many years. I made art about how fucked up it is to be an undocumented immigrant. Now my focus is on being a gay 40-year-old man who did not think as a teen that he would make it to his 30s. And now here I am."
After his sister's kidneys started failing again, Salgado moved in to a home with his sister and mother to help care for her. He drives her to her tri-weekly dialysis appointments while she awaits another kidney transplant. Salgado's father and mother are now separated but maintain a "beautiful" relationship.
Related:
This past Thursday, September 14, U.S. District Court Judge Andrew Hanen in Houston, Texas ruled that a revised version of a federal policy that prevents the deportation of hundreds of thousands of immigrants brought to the U.S. as children, or DACA, is illegal.
While Hanen agreed with Texas and eight other states suing to stop the Deferred Action for Childhood Arrivals, or DACA, he declined to order an immediate end to the program and the protections it offers to recipients.
The Associated Press reported Hanen's order extended the current injunction that had been in place against DACA, which barred the government from approving any new applications, but left the program intact for existing recipients during the ongoing legal review.
"While sympathetic to the predicament of DACA recipients and their families, this Court has expressed its concerns about the legality of the program for some time," Hanen wrote in his 40-page ruling. "The solution for these deficiencies lies with the legislature, not the executive or judicial branches. Congress, for any number of reasons, has decided not to pass DACA-like legislation … The Executive Branch cannot usurp the power bestowed on Congress by the Constitution — even to fill a void."
His ruling is ultimately expected to be appealed and after lower federal appellate court rulings will ultimately send DACA's fate to the U.S. Supreme Court for a third time.