Three men arrested during gay sauna raid in Venezuela released
Authorities in Valencia took 33 people into custody on July 23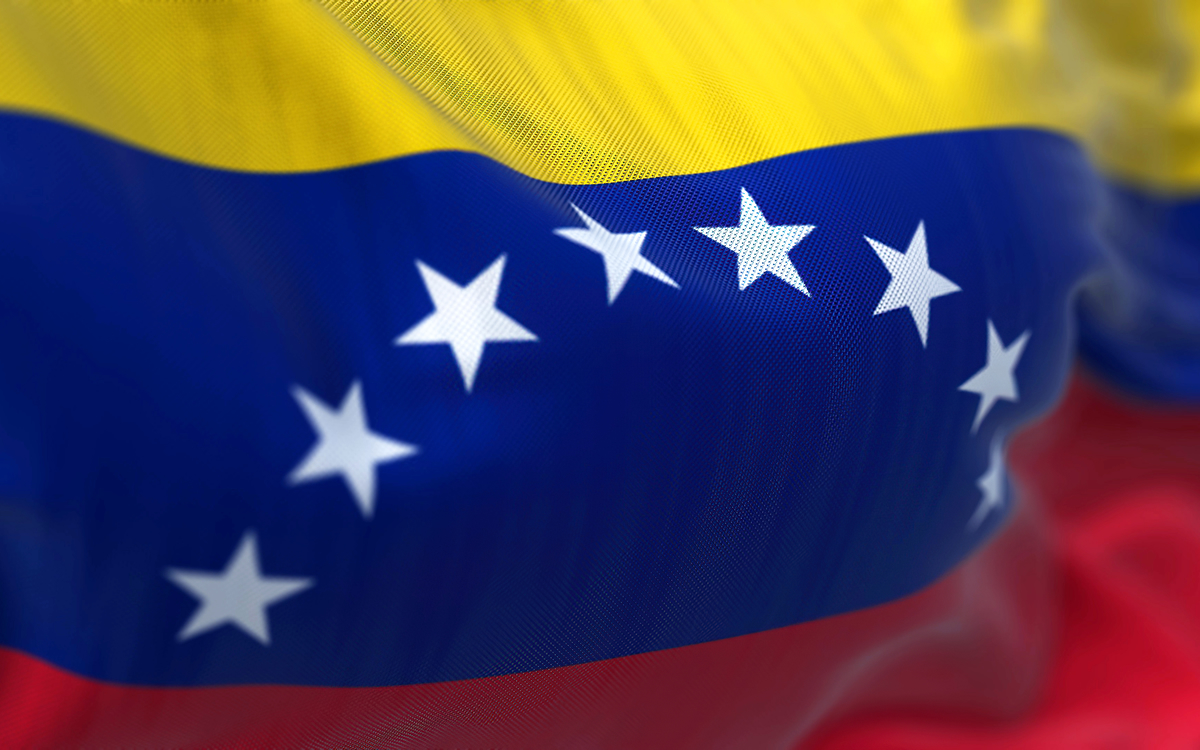 VALENCIA, Venezuela — Three men who police in Venezuela's Carabobo state arrested when they raided a gay sauna on July 23 have been released from jail.
Officers in Valencia, the country's third largest city, arrested 33 people during the July 23 raid.
Ricardo Hung of Alianza Lambda de Venezuela, a Venezuelan LGBTQ+ and intersex rights group, previously told the Washington Blade the arrests took place "without a search warrant, without due process" and violated "the fundamental rights of 33 Venezuelan adults who were in full use of their mental and physical faculties."
A local media report indicated an "orgy" was taking place during a "sex party" at the sauna when the raid took place. Another published account indicates one of the participants who police arrested lives with HIV, and party organizers planned to sell videos of the men having sex they recorded.
Hung said authorities charged the men with committing indecent acts in a public place (the sauna that police raided is a private business), gathering with the intent to commit a crime and violating local noise ordinances. The men under could face up to three years in prison if convicted on the first charge, and up to five years incarceration if found guilty of the second.
A judge last week released 30 of the men who were arrested and ordered them to report to authorities every 30 days until they go to trial. Hung told the Blade the sauna's owner and two masseurs were the three men who had remained in jail.
Alianza Lambda on Wednesday said a judge released the three men after they met bail.
"The fight continues for full freedom and the application of justice for all the aggressors involved," said Alianza Lambda.
Discrimination and violence based on sexual orientation, gender identity and HIV is commonplace in Venezuela, a South American country that remains in the midst of an ongoing political and economic crisis.
Members of Venezuela's General Directorate of Military Counterintelligence in January 2021 raided the offices of Azul Positivo, an HIV/AIDS service organization and arrested the group's president and five other staff members. Police on Feb. 15, 2019, raided the offices of Fundación Mavid, another HIV/AIDS service organization in Valencia, and arrested three staffers after they confiscated donated infant formula and medications for people with HIV/AIDS.
'Las Locas del 73' documents historic LGBTQ+ rights protest in Chile
Demonstration took place months before 1973 coup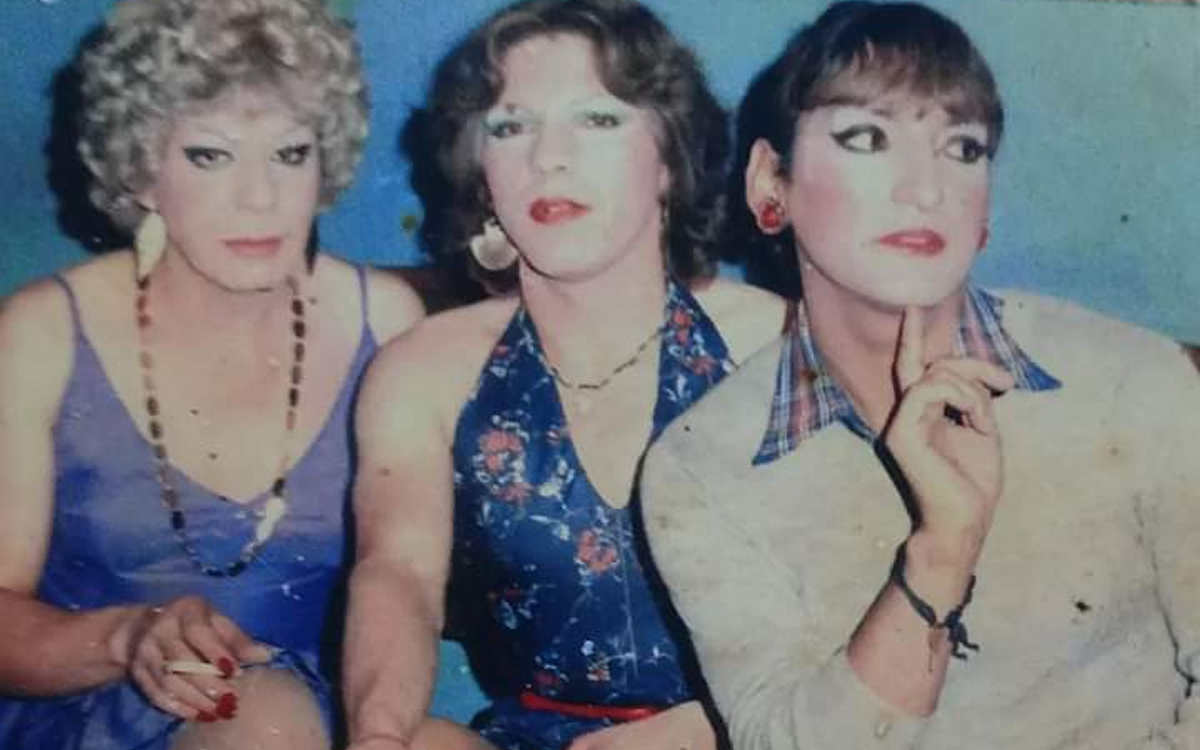 By ESTEBAN RIOSECO | SANTIAGO, Chile — In a year of deep reflection and commemoration of two crucial moments in Chile's history, "Las Locas del 73" documents the 50th anniversary of the country's first gay rights march that took place months before the 1973 coup.
Victor Hugo Robles, who is also known as El Che de los Gays, co-directed the documentary with documentarian Carolina Espinoza that Sociedad Sonora, a production company, helped release in Chile and Spain on April 22, the 50th anniversary of the protest. The documentary has proven to be a resounding success, and film festivals in several countries are planning to screen it in the coming months.
This documentary is a doubly significant tribute.
It not only tells the courageous story of a group of gay and Transgender Chileans who, on April 22, 1973, protested against social discrimination and police repression, but also highlights the intricate connection between this struggle and the traumatic coup that forever changed Chile's destiny.
Raquel, Eva, Larguero, Romané, José Caballo, Vanesa, Fresia Soto, Confort, Natacha, Peggy Cordero and Gitana were the protagonists of what the media at the time described as the scandalous demonstration that took place in Santiago's Plaza de Armas, a commercial area that families frequented on Sundays, on that fall Sunday afternoon. The coup took place less than five months later, on Sept. 11, 1973.
Most LGBTQ+ Chileans at that time were in the closet.
Discrimination was so widespread that nobody dared to publicly disclose their sexual orientation or gender identity. (Consensual same-sex sexual relations were punishable with prison until their decriminalization in the country's penal code in 1999.) Police at that time routinely raided private meetings of LGBTQ+ people and "indecency" arrests were commonplace.
While the media at the time highly publicized the iconic protest, it was something of an urban myth among LGBTQ+ Chileans until the 1990s. It was said a "group of crazy women" had staged a rebellion in the 1970s, but there was no clarity about the exact date. It seemed to be a story without protagonists, a local legend subject to exaggerations and reversions.
It was this ambiguity that aroused Robles' curiosity, and he began to investigate and reconstruct the episode.
"I heard many stories that there had been a gay protest during the time of Salvador Allende, but no one was certain," Robles told the Washington Blade. "I spent a lot of time researching this protest. It took me a long time. I would say it took me more than a year, almost two years to find the exact moment because I had to go to the newspapers of that time. You had to ask for them at the library and go through them newspaper by newspaper, month by month, and it took a long time to fetch the newspapers from the warehouse."
He added that "everything is now digitized, but at that time nothing (was), so I started to check the newspaper because everything was in the newspaper itself."
"Everyone talks about Clarín, which was the most important newspaper of the time, with a huge circulation. It was a popular media outlet; with sarcastic, direct, ironic, humorous language," said Robles. "Then I started to look at Clarín, month by month, in 1970, 1971 and 1972."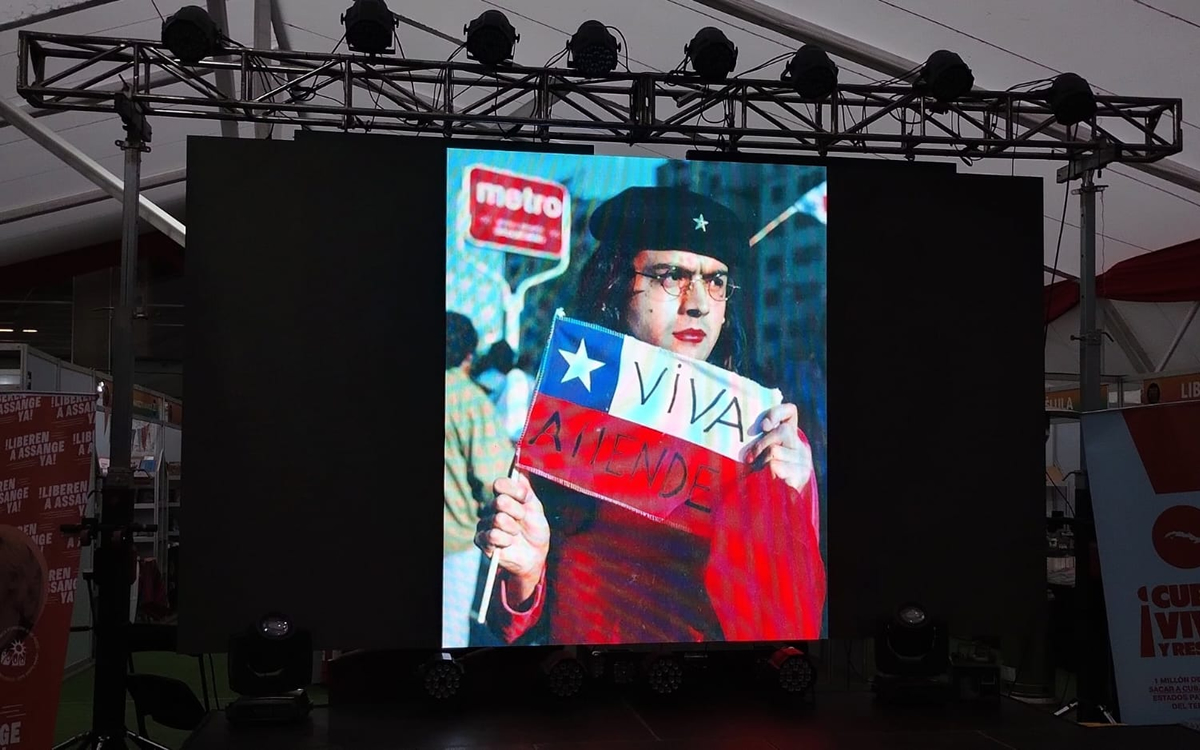 Robles told the Blade he was already giving up in his search when a friend gave him a clue that would end up uncovering valuable information for the reconstruction of the history of the Chilean LGBTQ+ movement.
"I was almost giving up until a friend gave me the tip about Paloma magazine, which was the leftist magazine of the time, a communist magazine, and that's where the protest had come out," said Robles. "He remembered having read it there."
He recalled his expectations increased again after this revelation because he knew that that magazine had fewer editions — one per month, which increased the chances of finding what he was looking for more quickly.
"That's when I came across the news. It said: 'Homosexuals on the offensive.' A very small article and … they pointed out the exact date. That demonstration, that protest, then appeared and it was dated Sunday, April 22, 1973.″
"Immediately, with the date in hand, I went to Clarín newspaper and, indeed, it was there. It was on the front page two days after the protest took place, on April 24, 1973,″ he recalled emotionally.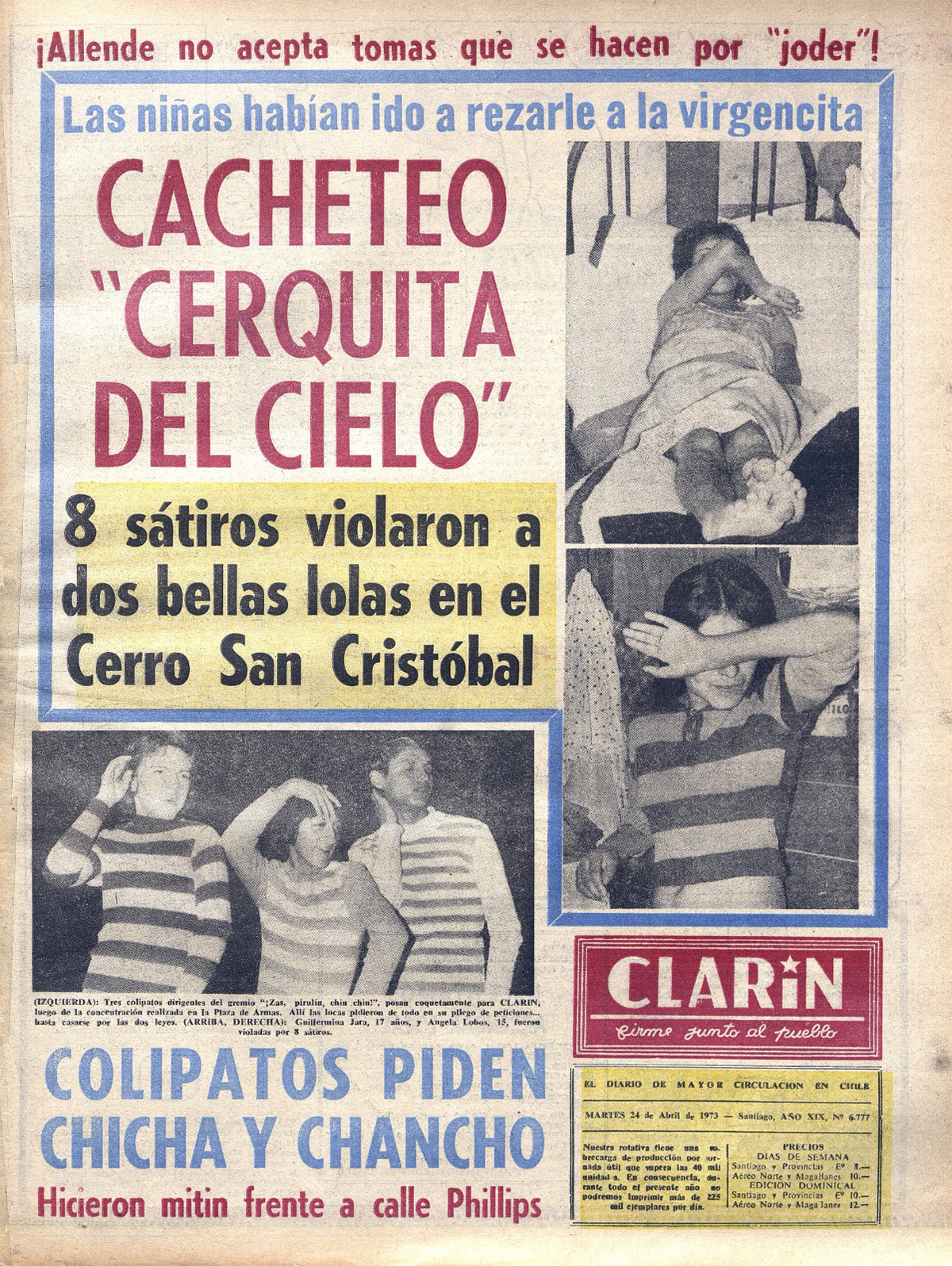 That front page to which the Chilean journalist referred exposed the existing homophobia in society.
"Homosexuals ask for the moon," read Clarín's headline.
Clarín was a progressive, leftist newspaper that supported President Salvador Allende.
The newspaper's slogan proclaimed it was "on the people's side." Pinochet's dictatorship immediately shut down Clarín after the coup.
"The loose mares, lost madwomen, anxious for publicity, launched headlong, met to demand that the authorities give them a chance, a shot and a side for their deviations," read the Clarín article about the protest.
The police did not show up, even though the meeting had been well publicized.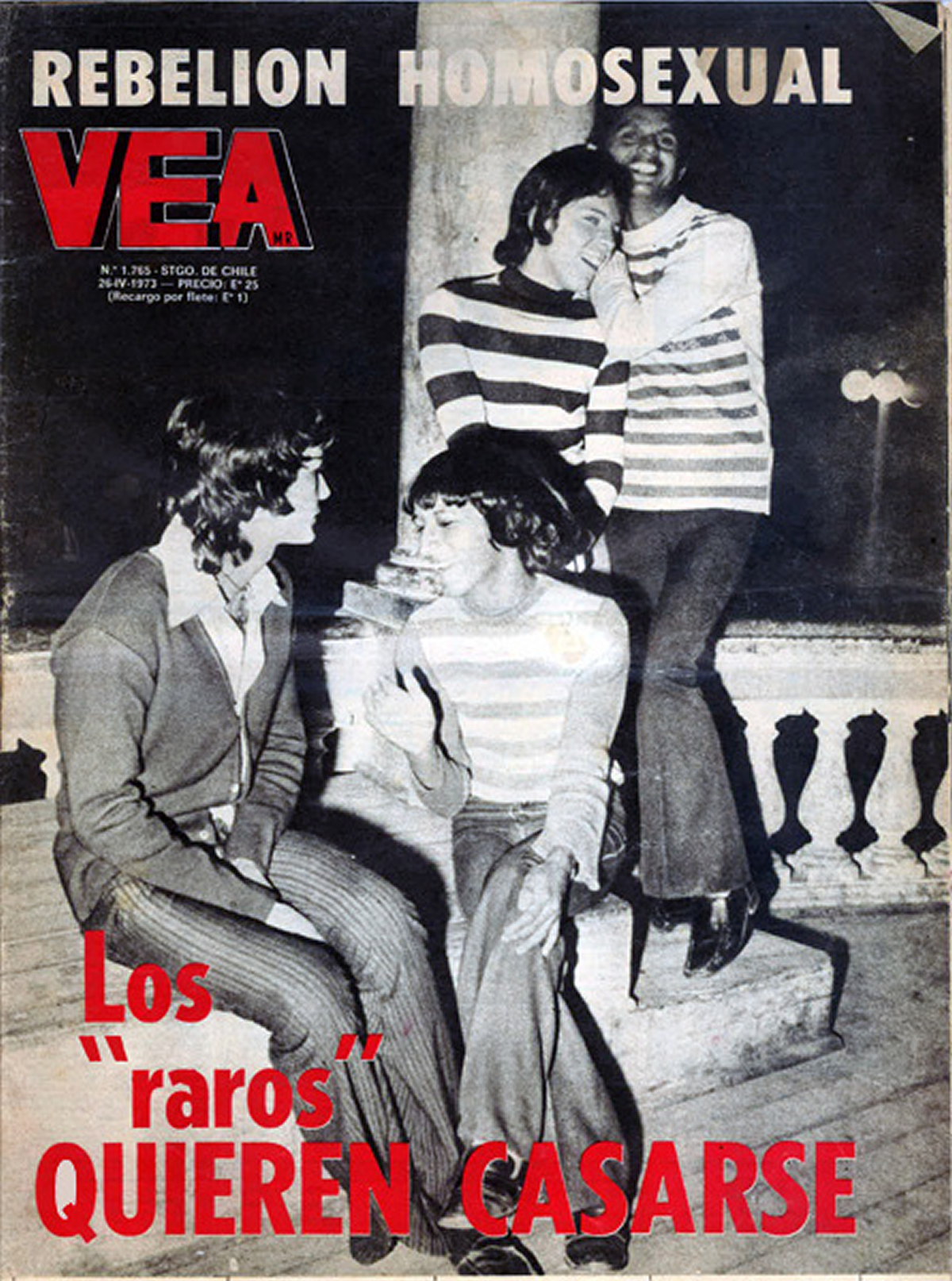 The media reports continued with more insidiousness.
"At first the sodomites, believing that the police contingent would fall on them at every moment, were cautious. But they quickly loosened their braids … and launched themselves, demonstrating that the freedom they demand is nothing more than licentiousness. Homosexuals, among other things, want legislation to allow them to get married and do a thousand and one things without police persecution. What a mess that would be. No wonder an old man proposed spraying them with kerosene and throwing a lit match at them," wrote Clarín.
Newspaper reports said mothers covered their children's eyes so that "they would not witness such a horrendous spectacle."
But it was not only in Clarín.
"I realized that it had been covered by quite a few media outlets, by the Puro Chile newspaper, for example. It also appeared later on the cover of Vea magazine, which was very important at the time," said Robles.
That demonstration marked a turning point in the struggle for the rights of sexual minorities in Chile, a path that remains relevant and valid to this day. The film pays tribute to the brave activists who, for the first time in Chilean history, stood up against social discrimination and social repression.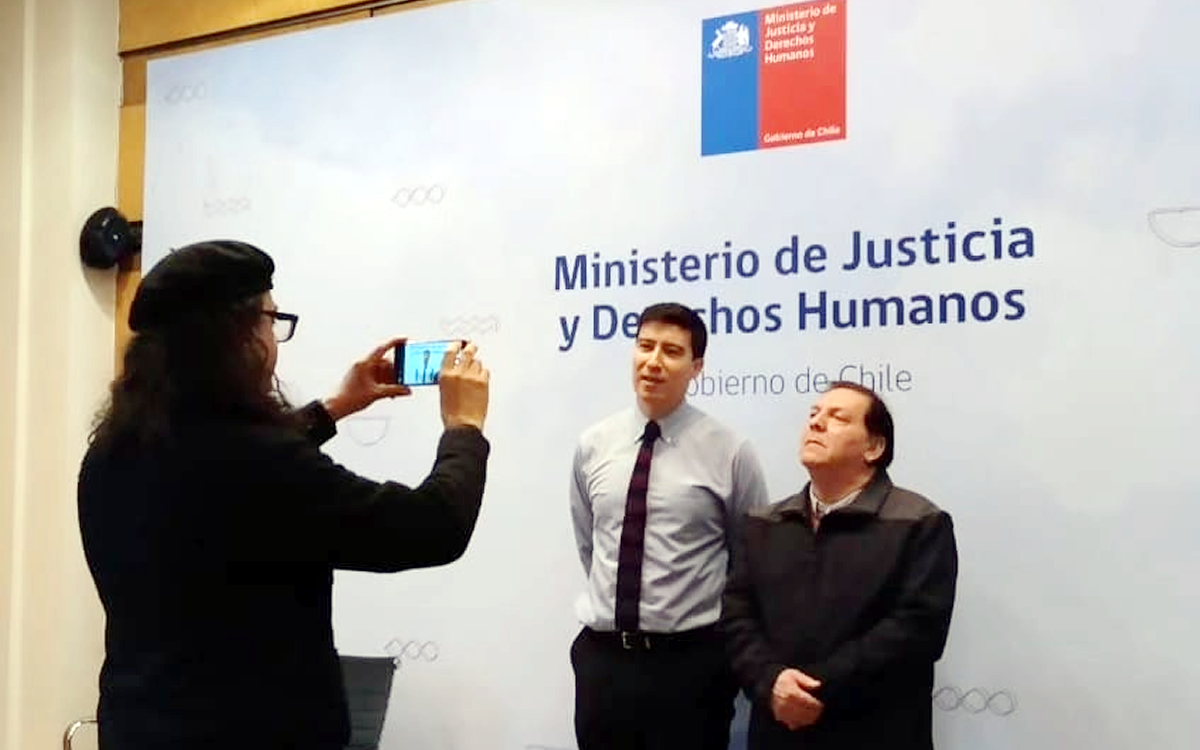 La Medallita, Brenda, Marco Ruiz and Marcela Dimonti are among those who narrate the documentary.
Dimonti, besides being a prominent figure in the struggle for LGBTQ+ rights, was a prisoner inside the National Stadium after the coup.