Trans men, butch dykes & gender-nonconforming heroes in cinema
Masc, presented by the UCLA Archive and The Andrew J. Kuehn Jr. Foundation, will be screening at UCLA's Billy Wilder Theater Aug. 19–25, 2023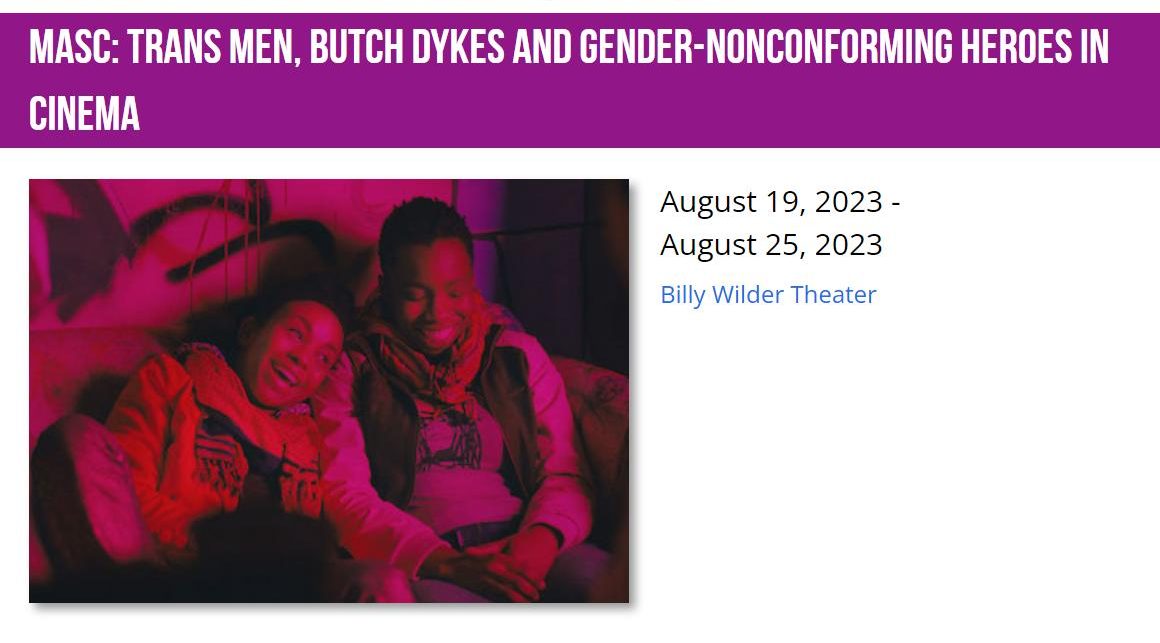 LOS ANGELES – A film series being presented this month, a part of Outfest UCLA Legacy Project Screening Series, Masc spotlights a rich tapestry of stories of the courageous lives of trans men, butch lesbians, gender outlaws, and gender non-conforming rebels.
This program—co-curated by writer-archivist-filmmaker Jenni Olson and film critic Caden Mark Gardner—surveys six decades of cinema history in search of authentic, complex representations of masculine identity that exist outside the realm of cisheteronormative masculinity. Featuring tales of youth and adulthood, of obstacles and allies, this series presents multifaceted narratives of unforgettable subjects and characters. 
Masc, made possible by the UCLA Archive and The Andrew J. Kuehn Jr. Foundation, will be screening at UCLA's Billy Wilder Theater Aug. 19–25, 2023. The event and programs are free.
Billy Wilder Theater  is located at 10899 Wilshire Blvd., Los Angeles, inside the Hammer Museum.
Programs & Events
● Aug. 19, 7:30 p.m.
No Ordinary Man (2020)
Trans jazz musician Billy Tipton lived in stealth for much of his life. After his 1989 death from health complications, his trans identity was revealed and a tabloid media circus against him and his family followed. Filmmakers Chase Joynt, Aisling Chin-Yee and Amos Mac return to Tipton's story, enlisting transmasculine performers as well as trans historians to rehabilitate and reconsider Tipton's life story and critique how the mainstream media often misunderstands trans masculinity.
Chavela (2017)
A tremendous portrait of legendary Costa Rican-Mexican lesbian singer Chavela Vargas. The world-famous performer was a gun-toting, tequila-loving, macho butch rumored to have had dalliances with Frida Kahlo and Ava Gardner. From being the toast of Mexico City in the 1960s and '70s to falling into obscurity in the 1980s, the film follows her return to the world stage as muse to Pedro Almodóvar — culminating in her Lifetime Achievement Award at the Grammys in 2007. Friends, colleagues and ex-lovers discuss her legacy and the film is packed with amazing archival material. A joy to watch from first frame to last.
● Aug. 20, 7:00 p.m.
Southern Comfort (2001)
This acclaimed documentary follows the story of Robert Eads, a trans man dying of ovarian cancer. While indisputably a victim of systemic transphobia and medical malfeasance from the American healthcare system, Eads' status as a trans elder among his chosen family shows him as the beating heart of an incredibly warm and life-affirming community. Southern Comfort, named for the then Atlanta-based national trans conference, presents the common struggles and common understandings among trans men in the 1990s with clear-eyed empathy by filmmaker Kate Davis.
Vera (Brazil, 1986)
Based on the life of Brazilian poet Anderson Bigode Herzer who committed suicide at the age of 20, this intense drama tells the story of Bauer (Ana Beatriz Nogueira), a transman who navigates a difficult life in an orphanage before finding love with a young librarian, Clara (Aida Leiner). A sympathetic professor sees his talent as a poet, but Bauer (the film's title is his deadname) is mostly alone and misunderstood — proclaiming: "I'm not what everyone thinks I am. You hear me? I'm different. I'm something else." One of the earliest portrayals in cinema of a transmasculine character.
● Aug. 21, 7:30 p.m.
Maggots and Men (2009)
A work that conjures the old Soviet film technique and similar pastiche works by Guy Maddin, Cary Cronenwett's spirited revisionist period film places trans masculine bodies at the radical heart of the 1921 Kronstadt Rebellion. Creatively reimagining the uprising, the story contrasts a performative theater troupe that narrates moments of the story with scenes of the rebellion against the autocracy of the Bolshevik Party. Featuring the largest cast of trans actors in a film, Maggots and Men plays with cinema and history to tell a gender defiant story that is both playful and subversive.
Pariah (2011)
Dee Rees' tender feature debut is a rich and vulnerable queer coming of age story about an African-American butch lesbian having to face familial homophobia and the realization that the people she loves can hurt and disappoint her. Alike is a promising poet and good student who is hiding her sexual identity from her parents. When she is forced to make friends with a girl from church, she develops a serious crush that feels like the beginning of her sexual awakening and her first taste of true love. Adapted from her award-winning short, Rees' film deftly and compassionately captures the fraught and transformative experience of a gender non-conforming adolescence.
● Aug. 24, 7:30 p.m.
Masc—The Shorts + The Aggressives
Bookended by the uplifting Pixar-esque children's film Pete, star-studded heart-wrenching drama Vamanosand quirky comedy Monsieur le Butch — this celebration of gender non-conforming heroes also showcases a powerful batch of cinematic rarities starring the butch dykes and transmasc pioneers of the early 1990s who blazed the trail for us today (plus a rare 1960s butch home movie treat!). Followed by an onstage discussion with series co-curator Jenni Olson in conversation with special guests discussing the complex history of butch and transmasc representation on screen.
Pete (2022)
A heartwarming animated short about gender identity, Little League baseball, the people who inspire change by being themselves, and the superheroes who allow that change to happen.
7 mins. Director: Bret Parker
Adventures with Tony (1960s)
A remarkable fragment of home movie footage featuring a young butch dyke on vacation with her father in New Jersey. A rarity from the Jenni Olson Queer Film Collection at the Harvard Film Archive.
1 min. Director: unknown
Stafford's Story (1992)
Stafford's Story tells about an encounter at a sex club. New digital scan by UCLA Film & Television Archive as part of the Outfest UCLA Legacy Project.
3 mins. Director: Susan Muska
Max (U.S/Germany, 1992)
Pioneering transman Max Wolf Valerio talks about his life and the experience of transitioning in this groundbreaking short, one of the first portraits of a trans man on film.
20 mins. Director: Monika Treut
Ifé follows a day in the life of a Black French lesbian in San Francisco.
5 mins. Director: Lenn Keller
Trans (1994)
A playful portrait of trans man Henry. New digital scan by UCLA Film & Television Archive as part of the Outfest UCLA Legacy Project.
10 mins. Director: Sophie Constaninou
Sometimes (1994)
A concise poetic summary of butch identity — an early short by acclaimed essay filmmaker and Masc series co-curator Jenni Olson.
1 min. Director: Jenni Olson
Vámonos (2015)
Vico Ortiz (Our Flag Means Death) and Jessica Camacho (All Rise, The Flash, Watchmen) co-star in this beautiful story about what it looks like to show up as an ally for our gender non-conforming loved ones.
13 mins. Director: Marvin Lemus
When Jude ends up unexpectedly living at home in their 30s, they must deal with a lovingly opinionated Jewish mother who doesn't quite get the whole "trans thing."
12 mins. Director: Jude Dry
The Aggressives (2005)
Shot over the course of 1997-2004, this documentary is an incredible snapshot of a vibrant array of butches, studs, and masc folks of color from the New York City ballroom and nightlife scene who are claiming their own space and identity. The film offers profiles of six 'Aggressives' or 'AGs', including trans actor and activist Marquise Vilson, on them and as they speak about their lives, it becomes clear where language fails to fully capture each individual's lived experience and nuanced gender identity.
● Aug. 25, 7:30 p.m.
Lifetime Guarantee: Phranc's Adventure in Plastic (2001)
Virtually unseen for the past 20 years, this heartwarming documentary about legendary Jewish butch lesbian folk singer Phranc is an irresistible portrait of a gender non-conforming hero navigating a world of Southern California straight lady homemakers while working her way to the top as a Tupperware salesperson. The film earned acclaim and awards on the film festival circuit, including Audience Awards at Outfest and SXSW and a rave review in Variety describing Phranc as a "1950s sitcom-dad-styled androgyne hawking kitchenware to housewives."
Shinjuku Boys ( U.K., 1995)
An amazing mid-1990s snapshot of AFAB (assigned female at birth) gender identity in Japan. Tatsu, Gaish and Kazuki pass as men and work as hosts at Tokyo's New Marilyn Club, a nightspot where straight women spend time with the charming onabe (an expansive term that can encompass both butch lesbians and trans men). Tatsu is a trans man who lives with his girlfriend, Tomoe. Gaish is a tough-talking "in-between" heartbreaker with a string of girlfriends. And Kazuki lives with Kumi, a trans woman nightclub dancer. The suave trio speak frankly to the camera about sex, queerness, trans identity and masculinity.
"Starving for Perfection" & revisiting Karen Carpenter 40 years later
We have to wonder if now, forty years later, how the non-binary, fluidity and being one's authentic self could have saved Karen Carpenter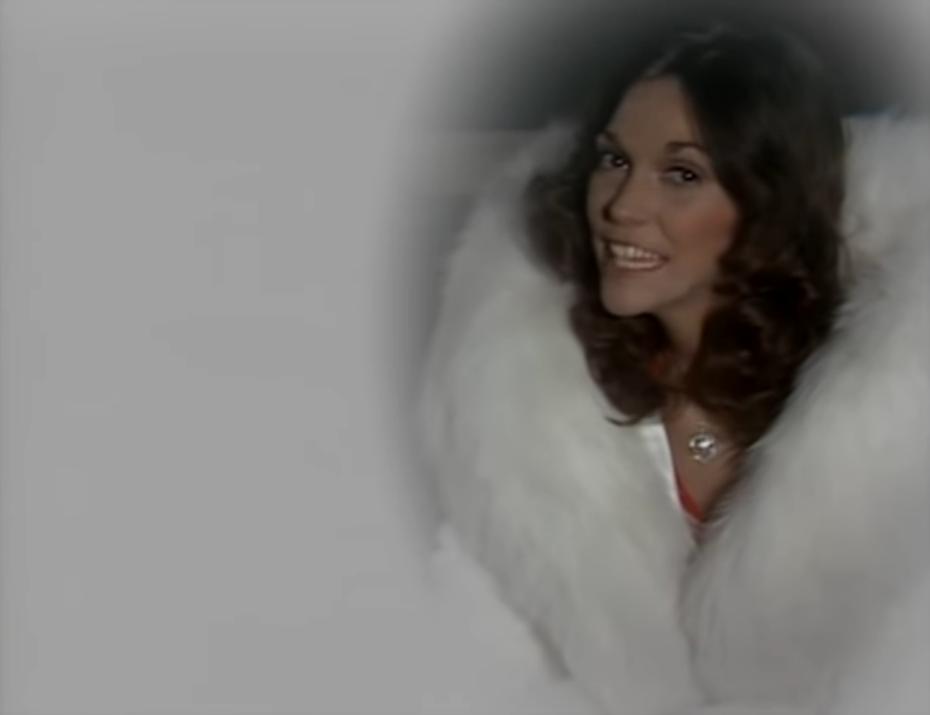 HOLLYWOOD – Tragedies take many forms. There are tragic stories of individuals who deserved a wonderful existence, who were taken obscenely early in lives full of promise. Then there are tragedies where someone with a great contribution to the world is cut down in their prime and we are deprived of a unique talent.
The tragedy of Karen Carpenter embodied both. She was "the voice" of her time, and in many ways has become established as one of the rare classic voices that will extend to all times. Her warm deep melodic tones conveyed beautiful melancholic rainy days and Mondays to top of the world euphoria, to taking us back to connect with yesterday once more. We won't even talk about how it brought us the warmth of a holiday fire and a Merry Christmas, darling.
"Long ago, and so far away, I fell in love with you…" from Superstar, made famous by Karen Carpenter.
Her voice was so perfect that many thought it was not real, that it had been manufactured by her brother Richard's studio magic. Fil Henley of Wings of Pegasus recently did an analysis of Karen's voice from her live singing versus her studio vocals. He declared, "Karen's waveforms are INSANE. When it comes to vocal accuracy and pitch… due to Karen's accuracy, pitchwise and ability to hold a note on pitch, she is dead on. These were not autotune waveforms, in fact this was before autotune was invented… but these are the most dead on that I have seen in my life."
Karen has been dead for exactly forty years from the effects of anorexia nervosa, but her loss still inspires intrigue around the demons that took her and silenced her for good. Speculation has fueled articles and movies ranging from a video version of her life told in Barbie dolls, to a Cynthia Gibb led Movie of the Week. In each re-examination, proverbially, "layers of the onion" get pulled back.
None have pulled as deeply as a new documentary called Karen Carpenter, Starving for Perfection, which premiered this last week at the Santa Barbara Film Festival. The documentary was produced by author Randy L. Schmidt and based on his bestselling book Little Girl Blue. 
Starving takes filmgoers deep into Karen's story in ways her life has not been discussed before. It brings fresh new perspectives and insights about her personal struggle told in her own voice through never-before released recordings and through the voices of those who knew her including Carol Burnett, Olivia Newton-John, Suzanne Somers. There are also interviews with Cynthia Gibb who portrayed her, and with Belinda Carlisle, Kristin Chenoweth, and Carnie Wilson whose own careers were inspired by Karen's music.
The convergence of Randy Schmidt and Cynthia Gibb on the project represents a full circle moment in the documentary's creation. The biopic in which Cynthia starred as "Karen Carpenter" was 13-year old Randy's introduction to the Carpenters. He became obsessed with their records and music from that moment on. "I wanted to know everything because I had been born right in the middle of the Carpenters heyday and missed a lot of it first-hand," he told me when he sat down for an LA Blade exclusive viewing of the film, and an interview on my Rated LGBT Radio podcast. 
Cynthia's insights in Starving were significant. She bore witness to Karen's life more than just as an actress who had played her. Every dress she wore in the TV movie had been Karen's. They filmed in the actual house where Karen died and both Richard and Karen's parents were present during filming. The extras playing the EMTs in the movie were the actual first-responders who had been to the house on the day that Karen died.
Cynthia told of seeing the evidence of Karen's anorexia first-hand. As she went through Karen's closet, she saw the size differential go from garments too big, to Karen's most recent, which were very tiny. Both Cynthia and Mitchell Anderson, who played Richard in the film, described the family dynamic to Randy. Harold and Agnes, Karen's parents, were a constant presence on the set with Richard giving daily script revisions protecting the family's image. Agnes laid the groundwork with the first day of production when she answered the door and spurt out at the film's director,
"I did NOT kill my daughter."
Starving does not let Agnes off as easy as the TV movie rendition did. While it does not accuse Agnes of murder, it paints a complex picture of a mother who promoted and completely worshipped her son. She was a mother, at the same time, who tended to disregard and undervalue her daughter and seemed driven to make Karen fit into the appropriate Richard-supporting role. No one in the family, Agnes, Richard or even Karen herself, seemed to find joy in Karen's success in the spotlight that put Richard in a supporting role.
The film portrays Karen as having two driving desires—to earn the love of her mother, and to carve out some accomplishment and actualization on her own. She never seemed to attain either, and it was the striving for perfection to get them that may have killed her.
The family seems to have been driven by an inherited obsessive compulsive disorder complex. Agnes certainly had it, Richard exhibited it, and it may have exacerbated the weight obsession fueling Karen's anorexia. Randy told me, "Olivia Newton John talked to me in the book about it, not the documentary. She said that when she went to Karen's apartment that she noticed that all of the hangars were exactly a half inch apart, and everything was color coded as far as the clothing and the shoes. Everything was very OCD for Karen. She grew up with a mother who, the neighbor kids told me, would not only polish the locks, the gold brass locks on the windows, with a toothbrush, but then she would go next door and clean the windows of the house, the neighbor's house, that faced hers. So, I mean, this was, this was a woman who dealt in control in just about every possible way. Karen saw that from the time she was born and didn't know that it was unusual."
Karen also seemed to be challenged by the feminine gender expectations thrust upon her. She had been a sports loving "tom-boy." She was masculine in behavior, was a guy's guy drummer hanging out with the band. In the early days, she crossed the stage "like a mack truck." She literally got trained on how to present in a more feminine way. Randy stated, "I get asked this question quite often because I think nowadays people are tuned in: was she gay? … I don't want to out anybody and didn't want anybody to out me when I wasn't ready so I never want to go there. What I feel comfortable talking about based upon my research with the friends of hers, that talked to me about some really intimate things, is that she was, I guess, she struggled with the expectations of femininity." He added, "There was this unmet expectation from Agnes, and maybe the reason she was a little disappointed in her daughter, that Karen was not the ideal 1950s, 1960s girly girl."
We have to wonder if the deeper understanding now, forty years later, about the non-binary, fluidity and being one's authentic self could have saved Karen Carpenter. We will never know. What we still know, and feel, is the shock of losing her. In the documentary, Olivia Newton John, in her last on-screen interview, showed that virtually no one experienced that shock more than she. She had been literally on her way to have lunch with Karen when she heard the news of Karen's death announced on her car radio.
Karen famously sang of asking "perfection of a quite imperfect world." Sadly, it may have been demanding perfection of herself and how others would perceive her that ended her own world.
She sang that all she knew of love was "how to live without it."
Therein lies the biggest tragedy of all. There was so much love for her, and still is, that she seemed unable to accept, from millions of hearts completely willing to love her just the way she was, as a "tom boy", as a full-figured human being and as a cherished talent. So, to Karen, we can only sing her song back to her… and hope she hears us.
"We love you in a place where there's no space or time
We love you for your life, you are a friend of mine
And when your life is over, remember when we were together
We were alone and you were singing this song…"From A Song for You
****************************************************************************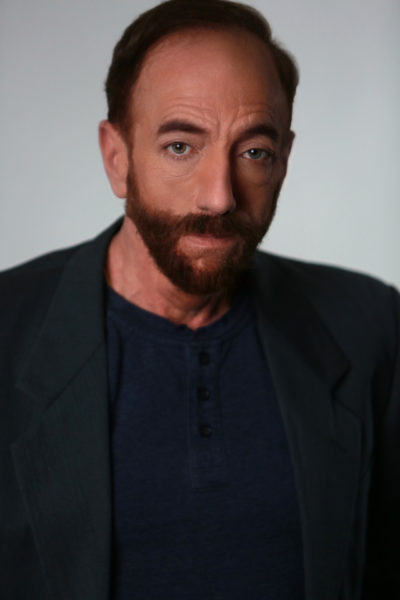 Rob Watson is the host of the popular Hollywood-based radio/podcast show RATED LGBT RADIO.
He is an established LGBTQ columnist and blogger having written for many top online publications including Parents Magazine, the Huffington Post, LGBTQ Nation, Gay Star News, the New Civil Rights Movement, and more.
He served as Executive Editor for The Good Man Project, has appeared on MSNBC and been quoted in Business Week and Forbes Magazine.
He is CEO of Watson Writes, a marketing communications agency, and can be reached at [email protected] .