Charming 'Royal Blue' surpasses rom com tropes with expert delivery
An insightful voice enhanced by artfully cinematic approach to material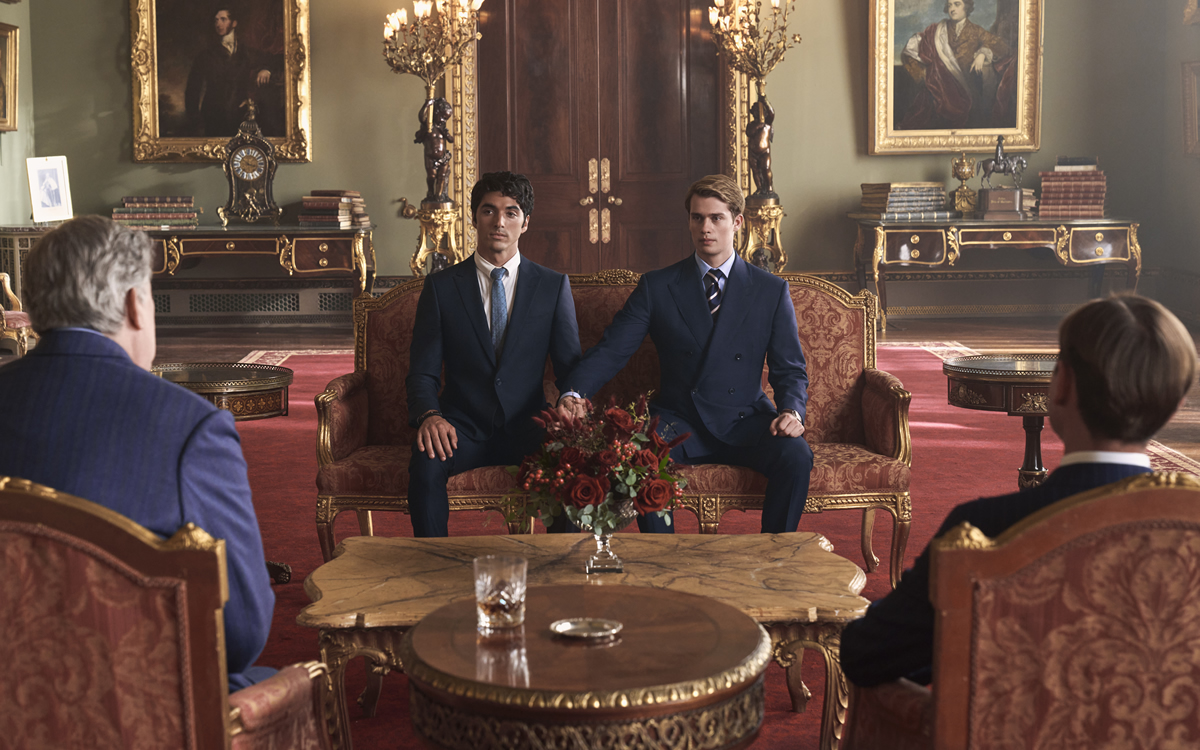 Before nonbinary author Casey McQuiston's 2019 novel "Red, White, and Royal Blue," was even in print, Amazon wanted to buy the movie rights.
It's easy to see why. It's a steamy-but-sweet same-sex romance between a British Royal and the son of the American president that takes place in a world where that president is a woman. Yes, it's all optimistic fantasy – which is, of course, the whole appeal. Isn't that what the romance genre is all about?
The book went on to become a bestseller, winning honors at the 11th Annual Goodreads Choice Awards, and Amazon went on to make its screen adaptation, hiring Tony-winning queer playwright Matthew Lopez ("The Inheritance") not only to co-author the screenplay (with Ted Malaher), but to make his debut as a feature film director. The finished product, which drops on the streaming giant's platform Aug. 11, validates that choice.
Admittedly, the premise evokes one of those much-maligned Hallmark movies; First Son Alex Claremont-Diaz (Taylor Zakhar Perez) is handsome, charismatic, and popular with the American public; across the Atlantic, Britain's Prince Henry (Nicholas Galitzine) — second in line for the British throne — is equally adulated. Naturally, they can't stand each other, but after an encounter at a royal wedding that snowballs into an embarrassing incident, they are both under order to enact "damage control" by pretending to be friends. Forced to spend time together, their animosity soon turns to something else, and they are drawn into a deepening romance that might not only threaten the re-election hopes of Alex's mom (Uma Thurman) but shake the traditions of the British monarchy to their ancient core.
It would be easy enough to dismiss it all as mindless, trope-driven hokum, or to take a perspective from which the whole thing seems like just another iteration of some tried-and-true yet unrealistic "fairy tale," if not for the insightful voice that is preserved and enhanced by Lopez's artfully cinematic approach to the material.
Claiming advantage of the change in medium, Lopez achieves a vision of McQuiston's novel, which captures the essence that has made classics of all the "great" cinematic rom coms. Blending the political idealism and social equity that elevated the screwball classics of the golden age above the melodrama of their predictable plotlines with the elegance and style of the saucier "sex farces" that would come later, he crafts his story by blending the traditional technique-based conceits of old with the form-bending embellishments of the contemporary age; tropes and expectations are turned on their ear by unexpected twists that emphasize modern understanding over social constructs about "normalcy" and the immutability of tradition.
As an aesthetic, Lopez's collaboration with cinematographer Stephen Goldblatt ("The Hunger," "Batman and Robin") creates a cinematic manifestation of the novel that fully embraces both the heart-on-its-sleeve idealism of the golden age "screwball comedies" — which were always as much about challenging societal norms as they were about escapism — and the stylistically elegant romances of the 1950s, both the overwrought socially relevant melodramas of Douglas Sirk and the racy comedies epitomized by the effervescent Doris Day/Rock Hudson gem, "Pillow Talk," in a cinematic presentation awash with both the colorful palette and near-surreal visual nuance that marks all the great absurdist comedies of modern cinema history.
For make no mistake, the film adaptation of "Red, White, and Royal Blue" is a gently absurdist comedy in the classic sense. On one level, it makes its points through the sheer ridiculousness of some of its farcical conceits; on another, it drives them home through a plot which dares to suggest that a mere reframing of our expectations is enough to render most of our objections to change antiquated, if not entirely irrelevant. What could be a more relatable way to get that across than a story about two people who realize that being in love is important enough to swim against an overwhelming tide? Even non-queer people can understand what it's like to be attracted to someone to whom you're not allowed to be attracted.
These themes, however, though they are there for the taking by anyone who connects the dots to find them, never threaten to overpower the movie's sentimental tone. Unabashedly idealistic, shamelessly geared to trigger all our warmest, feel-good-iest emotional reactions and reinforce our notions about the inevitable power of love, it plays whole-heartedly into hope and humanism with its insistence on honoring the imperative of inner experience over the imposed demands of an outside world. In today's atmosphere of scrupulously-managed public persona, such a seemingly-basic but mostly–disregarded outlook on life feels not only refreshing but subversive.
All of this is to drive home the point that while "Red, White, and Royal Blue" might appear to be nothing more than a shallow and simplistic emanation of pop culture, it contains more than enough solid material to make it worthwhile for those who might normally eschew such idealized, borderline-elitist tales of privilege in which a stigma that is unavoidable within most class hierarchies can be overcome thanks to fame, economic advantage, and (yes, let's admit it) attractiveness. Lopez, bringing his own queer experience to the fore, manages to convey the authentic queer perspective of McQuiston's book, and that's what elevates his adaptation of the novel above the level of the typical. None of what we hear, see, or feel is mere "lip service" – it all comes from a genuine perspective in which "why not?" is a valid answer to the question of whether such things are even possible.
From our standpoint, Lopez is the true star of the film, but kudos are definitely deserved by the entire cast, headed by the impossibly beautiful (yet entirely relatable) Perez and Galitzine, whose considerable surface charms are given weight by the emotional truth of their performances and the tangible charge of their onscreen chemistry. Also notable is an awards-worthy supporting turn by Sarah Shahi, as an eyes-on-the-prize deputy chief-of-staff who does her best to manage the political fallout from Alex and Henry's clandestine affair, and a deliciously ironic appearance by Stephen Fry — second perhaps to only Ian McKellen as Britain's foremost vocally "out" queer actor — as a tradition-embracing King of England. Thurman, bringing the weight of her "star presence" to the role, makes for a more-than-sympathetic mother (and president) in a performance that plays against tropes to find a human element that transcends concerns of reputation and decorum.
Of course, even if all that praise arises from a genuine appreciation of the film's artistic prowess, it doesn't mean that "Red, White, and Royal Blue" is for everyone. If you're not a fan of rom coms in general, or films that embed idealized hope into their messaging for the presumed sake of reinforcing populist sentiment, it still might not be your cup of tea.
But if you like movies that imagine the world as it could be, rather that the world as it is, it's a surprisingly welcome treat that may not be as guilty a pleasure as it seems.
Bernal shines as real-life gay wrestler in 'Cassandro'
A polished, engaging film about a real-life figure that carries message of hope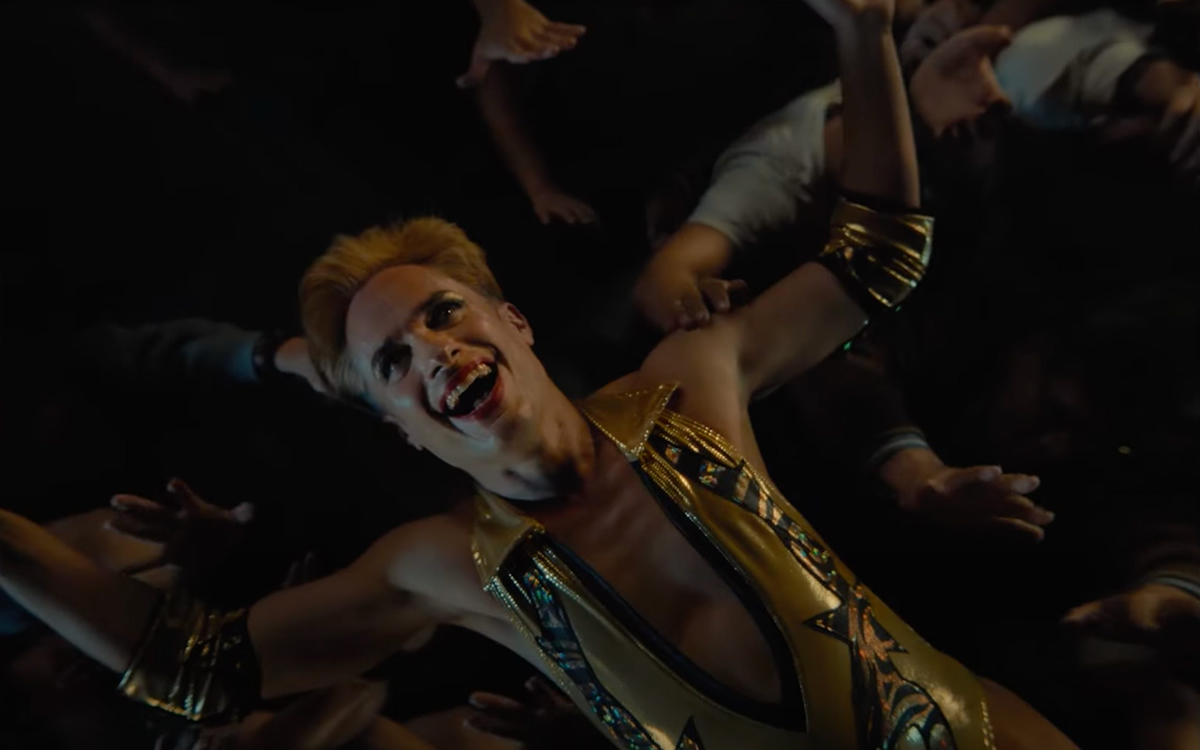 For most Americans, any knowledge of the Mexican wrestling style known as lucha libre is probably limited to what they gleaned from the 2006 Jack Black comedy "Nacho Libre," which (it should go without saying) is not a movie that anyone should consider "factual."
Now another movie about the subject has arrived, and this time it's not an anything-for-a-laugh fantasy but a biopic about a real luchador who rose to international fame in the 1980s and remains one of the most celebrated and popular figures in Mexican professional wrestling to this day.
The luchador in question is Saúl Armendáriz – better known to his fans as "Cassandro" – and the eponymously titled movie about his ascendency begins streaming on Amazon Prime Video Sept. 22 after a limited theatrical release on Sept. 15.
Directed by Roger Ross Williams (who may not be a household name but has the distinction of being the first Black director to receive an Oscar, thanks to the 2009 win of his "Music by Prudence" for Best Documentary Short), "Cassandro" stars Gael García Bernal – a longtime ally who became a queer fan-favorite thanks to his work in films like "Y tu mamá también" and "Bad Education" – as the openly gay Armendáriz and tells the story of his rise to fame in direct defiance of the culturally reinforced homophobia that permeated the professional environment of his field. Set in the 1980s, it follows the future superstar from the early days of his career, tracing his steps as he forges a path to success as an exótico – a wrestler who assumes a flamboyant persona based in queer (and largely homophobic) stereotypes – while simultaneously rising above the stigma of his sexuality and his impoverished upbringing to become a pioneering force in LGBTQ+ acceptance within the deeply traditional Latino culture to which he belonged.
Like most biopics, it also focuses on the personal: much of the film's first half is dominated by the relationship between Armendáriz and his mother, Yocasta (Perla De La Rosa), a professional "good-time girl" whose acceptance of his queer identity is absolute yet tempered by her fear for his well-being. There is also a long-running thread about his desire for approval from his father – a married man with a "legitimate" family in which he is decidedly not included – and the pattern in his personal life of repeating that dynamic in romantic relationships with unavailable lovers like closeted big-name luchador "El Comandante" (Raúl Castillo) and an apparently fluid but firmly "on the DL" associate named Felipe (Benito Antonio Martínez Ocasio, aka Puerto Rican rapper Bad Bunny for those unfamiliar with his "real" name) who clearly meets more than just his need for a reliable supplier of cocaine – it is the '80s, after all – while maintaining a strict-if-not-quite-convincing "no homo" stance.
Ultimately, though, as presented by first-time narrative feature director Williams (who co-wrote the screenplay with David Teague after previously covering Armendáriz' story in the 2016 documentary short "The Man Without a Mask"), "Cassandro" is driven by a narrative about overcoming and reclaiming the pejorative cultural tropes around queer sexuality and turning them on their ear as a means toward fully inhabiting queer identity. Blessed with a relatively supportive mother – a plainly-implied career sex worker who is depicted as much as a kindred spirit as she is a maternal figure – and comfortable enough in his own skin to flaunt his "deviance" in the public eye, the film's version of Armendáriz moves through a clearly defined arc toward self-acceptance on his own terms.
Much of this is mirrored, of course, in the tale of his accelerated rise to stardom, in which he wins the hearts of lucha libre fans enough to subvert the accepted formula that the exótico is always the loser, and reinforced by the ways in which he responds to the various long-term relationships in his life – some nurturing, some toxic – as his career trajectory helps him to recognize his own worth. In this way, "Cassandro" becomes a true-life tale of queer affirmation, the saga of a person who overcomes hardline traditional expectations and deep-rooted social prejudice to use his own queer identity as an avenue to personal empowerment.
That, of course, is exactly what it sets out to be: it's an unabashedly pro-queer narrative that brings the highest level of professional artistry into the mix, using it to convey that subtle blend of aloof observation and emotional engagement that can sometimes win viewers' hearts and minds.
In recognition of that artistry, the foremost acknowledgement must go to Bernal, who turns in a career-highlight performance as both Armendáriz and his over-the-top titular alter-ego, which requires an impressive display of physicality in addition to keen emotional intelligence. The actor is more than capable on both fronts, and while it would frankly be nice to see one of our queer heroes portrayed in a mainstream film by an actual queer actor, it's hard to complain when the actor is someone like Bernal, who finds within his own lived experience the authenticity to make it all ring true. Kudos are also deserved for both De La Rosa, who establishes an emotional core to the story that endures even after she leaves it, and openly-queer actor Roberta Colindrez as the trainer (and friend) that helps "Cassandro" conquer the world of professional lucha libre wrestling by literally flipping the script.
Still, though there is clearly a heartfelt desire to inspire behind the movie's portrayal of its hero's unlikely rise to glory, "Cassandro" doesn't quite deliver the kind of unequivocal "feel-good" validation for which it aims. There's something rote about the story as it's told to us; Armendáriz' success seems a foregone conclusion, and his personal struggles – though impeccably acted and depicted with sincerity – feel somehow manufactured for the sake of a desired emotional response. There's a sense of "Hollywood" about the film's approach, a deliberate framing of the material which makes this real-life success story seem much too easy, its subject's struggles too much like tropes to deliver the kind of authentic satisfaction the movie clearly aims for. Built on familiar formula, it all feels a little too predictable – especially for a saga centered in such a messy, wild-and-wooly environment as professional lucha libre. Yes, it inspires, but much of that is accomplished by playing to sentiment, by what seems a deliberate effort toward building and reaffirming a legend rather than revealing the real human experience behind it, and many details of Armendariz' real story are left out – a suicide attempt, a struggle with substance abuse, even the origin of his iconic stage name as a tribute to a brothel-keeper of whom he was fond – that might have made for a less-sanitized and much more interesting story.
Such quibbles, however, are probably a moot point for most viewers; while "Cassandro" might feel a little too hollow to satisfy completely, it's a polished, entertaining, and engaging film about a real-life figure that should – and does – carry a message of hope and transcendence for queer audiences.
Why would we ever complain about that?