Why Transphobia will destroy Republicans in 2024
Ohio is the latest in a series of states that has shown why anti-trans politics are not politically popular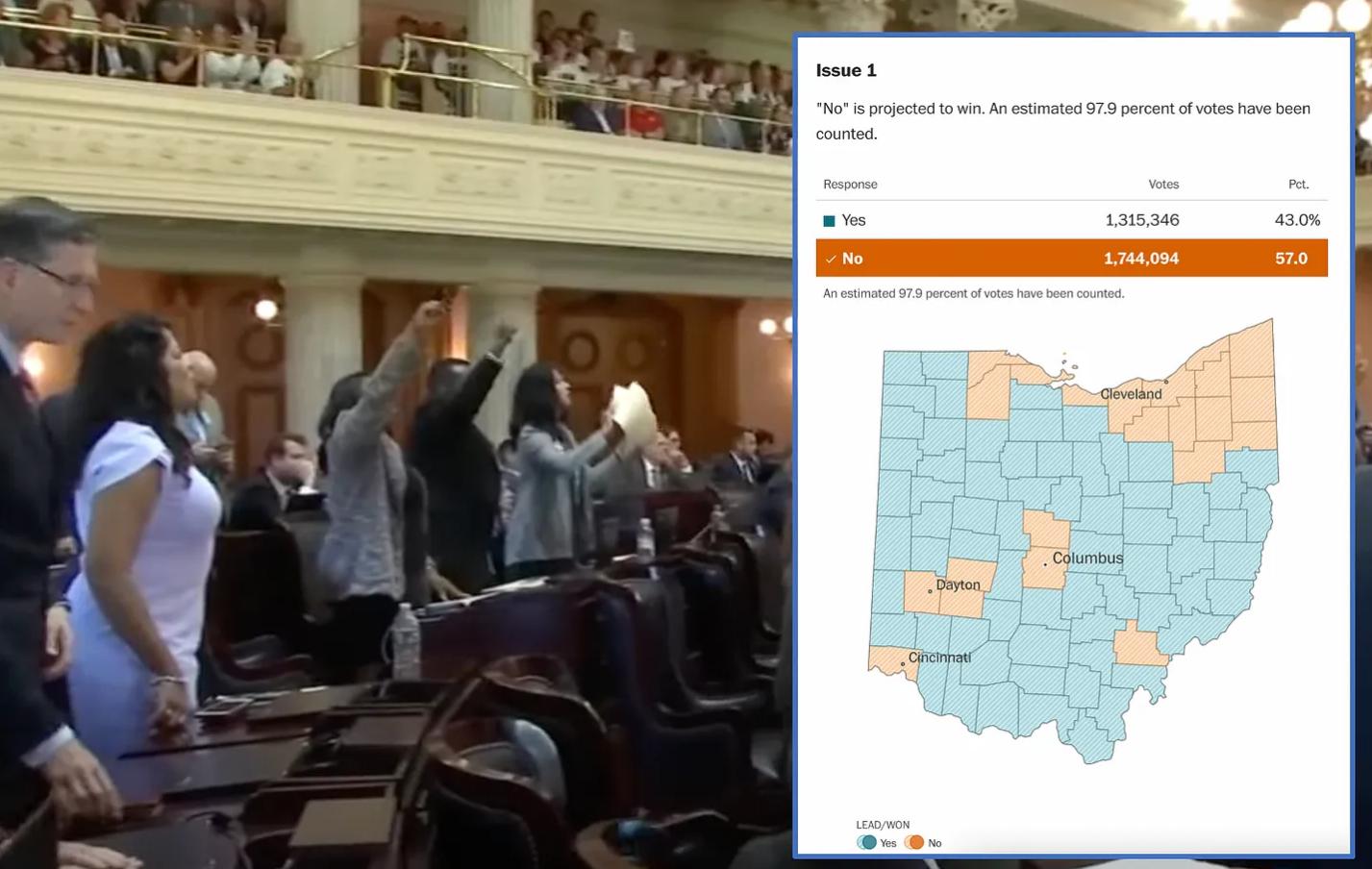 By Erin Reed | WASHINGTON – On Tuesday, Ohio held a special election during an off-year on a ballot provision named Issue 1. The provision would have mandated a 60% vote threshold for all constitutional protections as well as a signature mandate from every county. It was advanced by Republicans specifically to challenge the abortion ballot measure set for November.
Over $2,000,000 in Republican ads in Ohio framed Issue 1 as an effort to incorporate transgender rights into the constitution, misleadingly described as "sex change surgeries for kids." The initiative was resoundingly rejected by a 57-43 margin, positioning Ohio as the most recent state to experience how anti-trans politics can impact Republican electoral outcomes and possibly offering a glimpse into the 2024 election cycle.
During the initial advancement of the bill for issue 1 in the legislature, massive protests erupted in the rotunda, with many voters clearly seeing Issue 1 as a direct attack on reproductive rights and abortion.
Current polls surrounding the upcoming November ballot initiative, which seeks to codify abortion rights in Ohio's state constitution, indicate strong support by a 58-32 margin. Likely anticipating a setback in November, Republicans in the state pivoted towards championing a heightened threshold for ballot initiatives, subtly attempting to shift the conversation from the core issue of abortion to the mechanics of the voting process.
When polls showed that was failing though, they turned to their last ditch effort… shoring up anti-trans sentiment and stating that issue one was REALLY about "sex change surgeries for kids."
See this ad (content warning: intense transphobia):
The ad blitz was sudden and intense. It featured a video entitled "Your Promise," as seen above, that stated "out of state special interests" were "encouraging sex changes for kids" and "inserting trans ideology in classrooms" and were using Issue 1 to do so, despite the fact that issue 1 had absolutely nothing to do with transgender people.
Ohio is the latest in a series of states that has shown why anti-trans politics are not politically popular. Republicans tried to make issue 1 about trans people, and it backfired hard
On top of it, Republicans pushed mailers across the state with drag queens on them to attempt to get people to vote against their ability to amend the state constitution the same way they always have been able to do. Not only did they push these ads, they reportedly spent over $2,000,000 on them.
Additionally, they enlisted prominent anti-trans advocates for state-wide campaigns. Chloe Cole, a political detransitioner who tours the nation similar to the "ex-gays" from the 1990s, addressed an audience at a rally opposing Issue 1 in Ohio. During her speech, she framed Issue 1 as pertaining to "sterilizing procedures on minors" and told her audience that endorsing Issue 1 was part of "their responsibility to see this battle [against transgender rights] through with her."
See Chloe Cole's speech here (again, content warning):
Despite the significant advertising expenditure aimed at framing Issue 1 around transgender individuals, support for the provision plumeted. Initial polls suggested that Ohioans were evenly divided, with multiple polls indicating a near-even split between 'Yes' and 'No' responses, accompanied by a considerable number of undecided voters.
The intense campaign targeting transgender people began in late July, marked by a $2 million investment in the "Your Promise" advertisement. Evidently, this tactic of associating Issue 1 with transgender topics didn't resonate— in fact, it might have jeopardized the Republicans' chances of passing the measure.
There's compelling evidence to support this trend from previous election outcomes. In the final stages of the Herschel Walker versus Ralph Warnock race in Georgia, Herschel Walker spotlighted anti-trans swimmer, Riley Gaines, in an attempt to pivot the election focus to transgender athletes.
This strategy backfired considerably, leading to Senator Warnock's victory. In Arizona, Governor Hobbs faced criticisms because her husband provided therapy for a transgender youth. This line of attack also proved ineffective, as Kari Lake lost the campaign while emphasizing this narrative.
Across the United States, other similar instances where significant anti-trans investments failed to sway elections abound: Michigan's sweeping win for Democrats, Wisconsin's Supreme Court race, and the Pennsylvania legislative elections all showcase the pitfalls of the anti-trans agenda for Republicans in broad electoral contexts.
Polling data further reinforces this. A recent Fox News poll indicates that 86% of respondents perceive political attacks on transgender youth as either "a problem" or "a major problem." The same poll revealed that, among the spectrum of issues of concern, "transgender/woke topics" were ranked the least important.
A more recent survey indicates only 40% of people endorse total bans on gender-affirming care for transgender youth, and a scant 4% consider this a top policy priority. While public opinion on transgender individuals can fluctuate depending on the phrasing of the polling question, there's a clear consensus: the majority don't want excessive political focus or resources dedicated to targeting transgender people.
Yet, in a stark contrast, attacks on trans people seemed to pervade state legislatures nationwide, with Republicans introducing over 500 bills targeting transgender individuals this year – a glaring misalignment with the policy preferences of their constituents.
The attempt to use attacks on transgender people to attack abortion rights is not new, either. The issues have been long-linked by Republican thought leaders as well as progressives looking to protect bodily autonomy. In early 2022, Missouri saw the introduction of a bill aiming to prevent residents from crossing state lines to obtain an abortion. Simultaneously, an Idaho representative introduced a bill that, if passed, would criminalize the act of taking transgender youth out of the state for gender-affirming care, potentially leading to life imprisonment. This bill garnered approval from the Idaho House of Representatives, though it was ultimately defeated.
Representative Julianne Young drew the comparison between the Idaho bill and anti-abortion measures:
"I see this conversation as an extension of the pro-life argument. … We are not talking about the life of the child, but we are talking about the potential to give life to another generation. So in that sense, there is a nexus on this issue. I don't see it as a contradiction."
Similarly, numerous states have enacted "safe state legislation" aimed at protecting both abortion and transgender care providers and their patients. Advocates are increasingly drawing parallels between transgender rights and reproductive health rights. Meanwhile, anti-trans activists continue to try to damage Democrats by highlighting transgender issues around reproductive rights – an approach that has, as mentioned earlier, continued to fail.
Looking ahead, Republicans will need to reckon with the reality that anti-trans stances could be detrimental, or they risk significant defeat in upcoming elections. Despite the losses already experienced, they seem to be doubling down on this approach. Given this trajectory, the GOP might be setting itself up for a disastrous 2024 election cycle, seemingly unable to pivot from making transgender issues the centerpiece of their policy agenda.
****************************************************************************
Erin Reed is a transgender woman (she/her pronouns) and researcher who tracks anti-LGBTQ+ legislation around the world and helps people become better advocates for their queer family, friends, colleagues, and community. Reed also is a social media consultant and public speaker.
Follow her on Twitter (Link)
Website here: https://www.erininthemorning.com/
******************************************************************************************
The preceding article was first published at Erin In The Morning and is republished with permission.
Instagram lets Gays against Groomers spread harmful rhetoric
Many of the group's posts violate Instagram's policies against hate speech, harassment, and misinformation, but has gone largely unchecked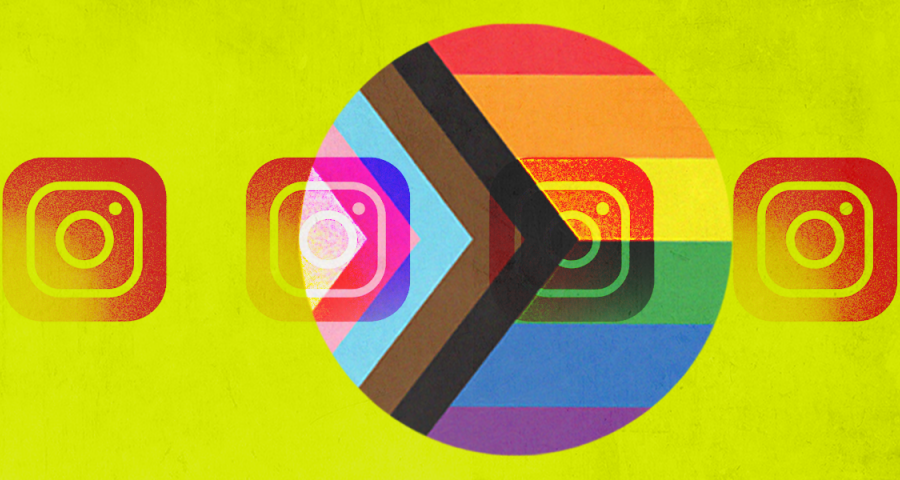 By Camden Carter | WASHINGTON – Meta has allowed anti-LGBTQ group Gays Against Groomers — which falsely frames itself as a grassroots coalition that wants to protect children, but is actually composed of experienced right-wing grifters — to push false narratives about LGBTQ people on its platforms, particularly Instagram. 
Facebook, Instagram, and Threads are some of the few mainstream platforms that have not banned Gays Against Groomers, even though the group seems to have repeatedly violated the platforms' policies, including by repeatedly promoting the anti-LGBTQ "groomer" slur, claiming trans people have mental and moral deficiencies, and spreading misinformation that's been debunked by third-party fact-checkers.
Instagram, in particular, has a history of failing to moderate harmful accounts despite Meta's anti-hate speech and harassment policies. Attacks have often targeted LGBTQ people, whom Meta has repeatedly claimed it is committed to supporting.
Gays Against Groomers maintains Facebook, Instagram, and Threads accounts, but it has been banned or suspended from other platforms:
Meta's policies prohibit users from targeting LGBTQ people with hate speech (including "groomer") and harassment, and it promises to label misinformation:
Meta's policies prohibit users from targeting LGBTQ people with hate speech (including "groomer") and harassment, and it promises to label misinformation:
On Instagram, Gays Against Groomers has repeatedly referred to LGBTQ people as "groomers":
On Instagram, Gays Against Groomers has repeatedly targeted trans people with claims of mental deficiencies:
Gays Against Groomers has repeatedly spread misinformation about gender-affirming care on Instagram, including falsely claiming that it is a form of mutilation or pedophilia:
On Instagram, Gays Against Groomers has repeatedly accused LGBTQ people of having moral deficiencies, including by pushing the right-wing myth that LGBTQ people are embracing pedophilia:
Recycled claims that that LGBTQ people are embracing pedophilia have also been thoroughly debunked, yet Gays Against Groomers has repeatedly pushed this narrative on Instagram:
Gays Against Groomers has also targeted LGBTQ people on Meta's other platforms, Facebook and Threads:
Related:
Grifter Gays: How conspiracy theorists and right-wing operatives created Gays Against Groomers
Instagram is letting accounts promoting hate speech go unchecked
Right-wing LGBTQ influencers switch teams as homophobic video shared by DeSantis campaign draws widespread condemnation
************************************************************************************
The preceding article & research study was previously published by Media Matters for America and is republished with permission.