I support the Trevor Project- But they can't deflect or hide failures
The Trevor Project is doing harm to the community even beyond a failure to execute its mission by gaslighting those reporting on its problems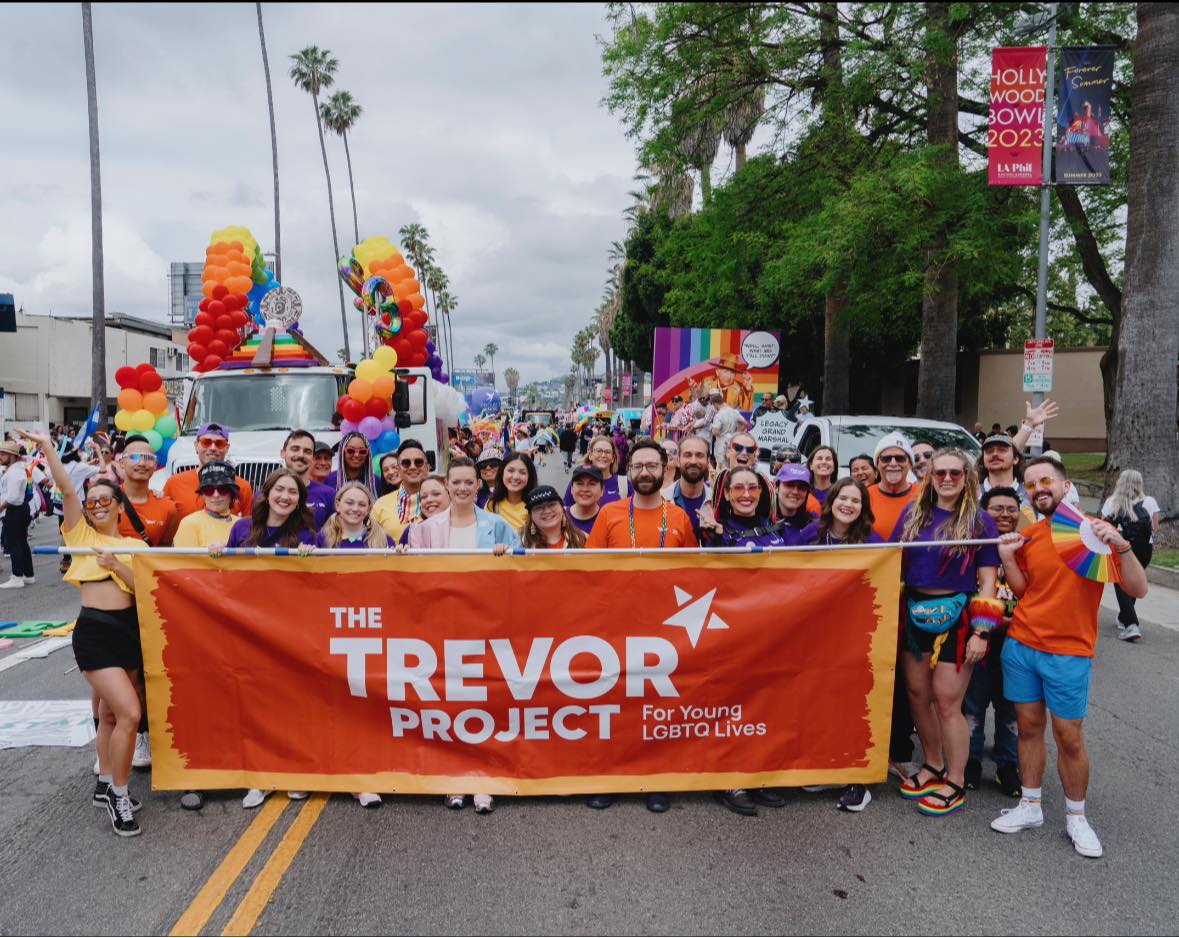 LOS ANGELES – In response to Los Angeles Blade's reporting that Trevor Project had fallen down in adequately performing it's mission – providing services to prevent suicide among lesbian, gay, bisexual, transgender, queer & questioning young people -.the organization is disputing that their primary mission has been compromised by staffing issues and ongoing conflicts within its staff.
Responding in a tweet saying they saw the article as a mischaracterization of the issues it currently is facing, they claim our article attempts to undermine their work, saying there are "many inaccuracies and mischaracterizations about the state of The Trevor Project," but without disputing any of the articles specific assertions.
Instead they claim it's the size of their mission that is the cause of strife. "An audacious mission: to end suicide among LGBT young people. In our decades of service, we've faced numerous challenges as we attempt to meet increasing demand" and state that they are making organizational improvements without offering any specifics.
(Screenshot of Trevor Project tweet, August 11, 2023 at 3:55PM)
Our article was quite specific about the organization's failings and as a LGBTQ+ community journalistic enterprise, we will always be devoted to exploring deficiencies in any program, organization, agencies or service that claims to do work for the LGBTQ+ community. We do so without fear or favor, but we also remain balanced and fair.
We realize not one single organization is perfect, but there are degrees of impropriety that warrant inspection; suicide hotlines where children or their loved ones can not get a response is one of them.
Trevor Project does not deny that. Trevor Project can not deny that it went on a growth spurt that resulted in a $44,000,000 increase in the organization's budget. They increased their staff from a handful to over 700 people.
Trevor says it attempts to "handle an ever-increasing contact volume – without sacrificing our quality of care. It's not a simple task. And we are doing all of this in the midst of a profound transformation of our workplace culture to adapt to The Trevor Project of today"
Well, that's an admission without specificity and it is a poor rebuttal of our reporting, if that is what it is. Shame on the leadership of Trevor Project for calling our reporting shoddy without proving it.
We provided plenty of proof in our reporting and spent more than 4 months investigating the story. We stand behind every word and we are happy to be corrected if we are wrong.
We don't doubt that the staff or the agency is invested in the mission or in supporting the lives of the many people impacted when any youth is in a suicidal spiral.
Trevor Project can not hide behind the gravity of its mission. That's a tired old trope.
"The problems we are trying to solve are big," they say, "and we continue to adapt our systems and processes as the world around us changes."
The Trevor Project walked right up that gaslighting technique by claiming anyone who points out their internal troubles is "attempting to join in on online chatter; remember that there is always more to a story – and that the stakes here are just too high."
The Trevor Project is doing harm to the community even beyond a failure to execute its mission, but to disparage us without specificity is telling.
We offered them many opportunities to address numerous questions directly and there were few responses.
This is not the first time as publisher I have witnessed agency hostility after pointing out failures of LGBTQ institutions that lost their way. With one or two exceptions along the way, the initial response to such reporting has always been defensive anytime important failings were exposed.
Funding issues have cropped up many times. Executive pay that far exceeds the financial bandwidth of non-profits have been reported on within the papers I have been a part of in the past and will do so again. Those papers have reported on staffing issues at many non-profit organizations and reported extensively on other matters that are considered by some as not for public airing.
None of it is to make points or to stir scandal. It is simply the role of a free press and the responsibility of every credible journalistic enterprise. We serve that function. We tell the truth and we even admit our own failings.
It's time for Trevor to do the same and also offer a detailed explanation and accounting of how the organization got to this point without attempting to gaslight those telling the story without bias.
Related:
************************************************************************************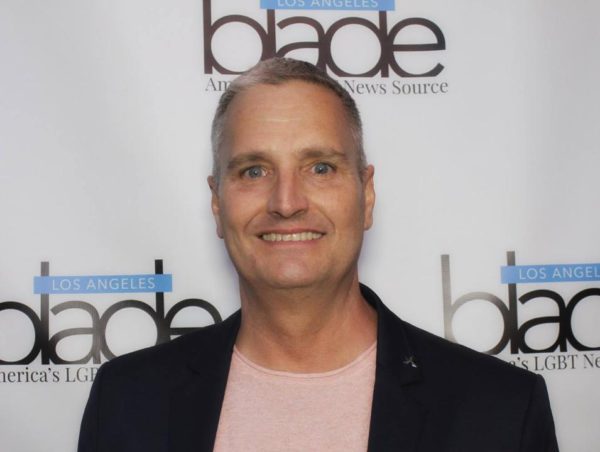 Troy Masters is the publisher of the Los Angeles Blade.
Tennessee's Taliban flips their wig over the gays
What makes these fundamentalist MAGA types so afraid of a man in a dress with make up on his face and a goddamn wig on his head?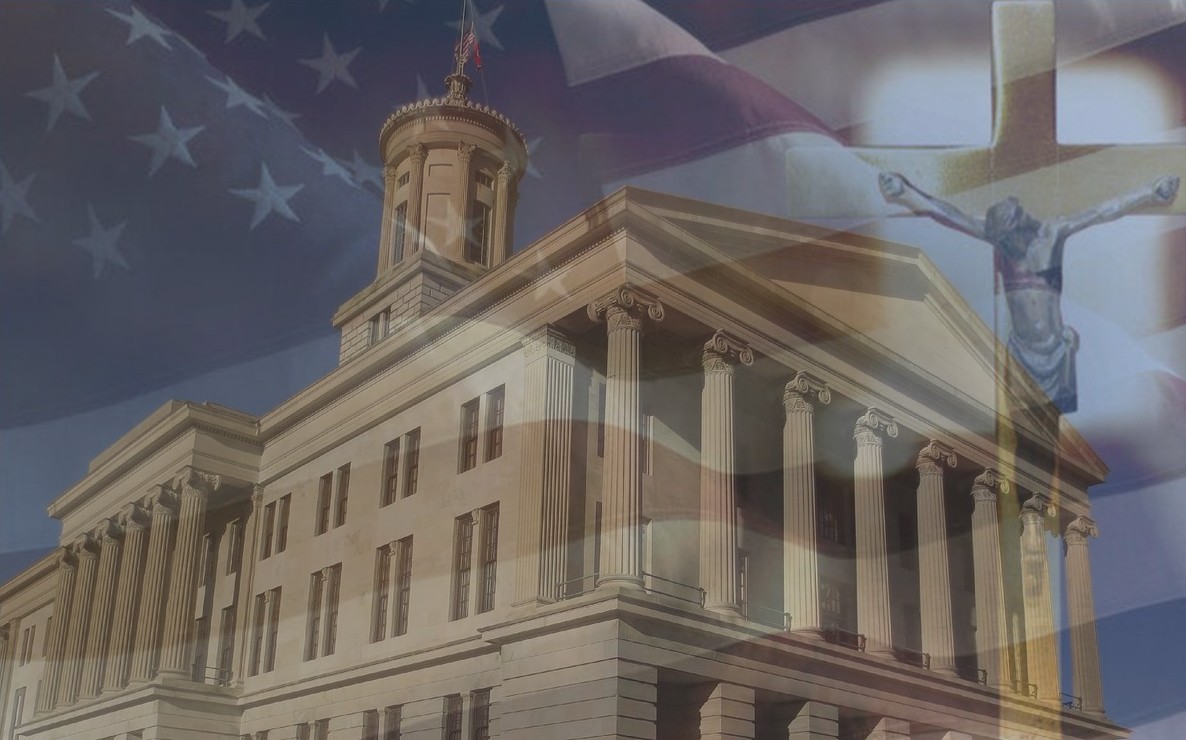 My home state, Tennessee, has just lost its mind over gay folk.
It's far right Republican majority legislature and Republican Governor have become nearly singly purposed in their goal of halting LGBTQ rights in the state, today declaring an all out war that is likely to spread to dozens of other states and ultimately — and perilously — the U.S. Supreme Court.
The state's governor is expected to sign into law Senate Bill 3 and its companion, House Bill 9 banning "adult cabaret performances," including "male or female impersonators," from taking place in public or in any location where the performance could be viewed by a minor. 
A first violation of the law would be a Class A misdemeanor, which carries a sentence of up to 11 months and 29 days in prison and/or a fine of up to $2,500. Subsequent violations would be classified as a Class E felony, punishable by up to six years in prison and a fine of up to $3000.
That's right: actual Prison time for drag show performers, promoters and owners of venues is one odious aspect of this.
But banning drag shows was not all they did.
Transgender youth in Tennessee are now legally barred from receiving gender-affirming care after the Governor signed another bill that prohibits Doctors from providing gender-affirming care to anyone under the age of 18, including prescribing puberty blockers and hormones — and they could also be penalized.
Violations include $25,000 penalties for everyone involved. Parents could lose guardianship. And, borrowing a page from abortion restriction laws, crossing state lines for treatment has been introduced as an amendment to the bill.
Obviously a lengthy legal battle will be waged over the coming months but in the meantime the law is the law and it's likely to be enforced.
"These children do not need these medical procedures to be able to flourish as adults," said House Majority Leader William Lamberth. "They need mental health treatment. They need love and support, and many of them need to be able to grow up to become the individuals that they were intended to be."
Lamberth and his legislators studiously ignore the vast body of research and study that states those with " gender dysphoria" have much better outcomes with puberty blockers and hormone therapy.
They are simply gaslighting the public and sacrificing the health and welfare of the few so they can excite the many misguided Christian conservative voters.
It's also likely that other state's will follow Tennessee's lead in coupling anti-drag laws with banning gender affirming care for youth. As of today, 97 bills are pending in conservative state legislatures hoping to achieve the same thing.
The message is clear, at least to any LGBTQ person who is paying attention to the mushrooming round of grooming arguments.
The argument goes something like this: The existence of Drag queens does not, it is thought, represent innocuous or frivolous fun. They are sinister and their popularity and influence is a serious threat to the agency parents have over their kids and to culture at large; Drag is a force that is marketed to youth with the intention of grooming them into the so-called vice of homosexuality. Gender non-conforming ideas are a threat to society, they posit, and will lead young people to question their identities and seek gender reassignment. I guess they also think this means the world will end in a hail of fire and brimstone.
The bill associates any form of dressing outside one's gender as "adult" entertainment, using the wording "male or female impersonators." It makes it illegal to perform such entertainment in public or in places where it could potentially be seen by children.
The bill is so poorly written that it may now also be a crime in Tennessee to wear clothing in public that is not intended for one's perceived gender.
It's hard to combat that kind of ridiculousness with rational thinking.
But let's digress! I want to get to what makes these fundamentalist MAGA types so afraid of a man in a dress with make up on his face and a goddamn wig on his head?
Maybe drag queens challenge the masculinity of the Republican legislators? Maybe it's just the way of the bully: If you don't pick on the fag then people will think your softness means you are one? Maybe they secretly blush with a beet-red raging hard on everytime they see a drag queen on TV? Maybe women Republicans just know they can't compete with the beauty of the queens (they can't of course) who are out to take their man. Ok!
It was Tammy Wynette who sang "you ain't woman enough to take my man," but I'm pretty sure she'd say these are not men she can stand by.
Sadly, it's THEIR kids who need the most help, these people who are so easily threatened and so thin skinned. Liberal parents who truly want their kids to live their best lives know what's best for their kids. They want parental choice, but not your brand of it.
Conservative parents are determined to keep their children ( and everyone else's) conservative even if miserable and think their need to shield them from unwanted culture means the rest of the world and all of science needs to be shut down.
Tennessee has always been a place of contrast and that, at least when I was a kid, used to be a strength. But now its contrast is also its breaking point. The governor and its legislature, for instance, are out of step with the needs and the culture of the core populations that drive its economy; what works and the ideologies of places like McMinville, TN don't work for Nashville or Memphis or Knoxville or Chattanooga or Murfreesboro or Franklin.
Right now Tennessee, particularly Nashville, is in the middle of one of the greatest economic booms in the nation's history. 3,000 people move to the city every day. They don't come with hate but they do come because the economy is booming and that boom is now most assuredly at risk.
I'm not talking about the loss of revenues from the state 42 drag shows potentially being shut down because they are threatened by these laws. Or because doctors at Vanderbilt may have to cease offering transition care to youth and their supportive family.
Tennessee's economy is at risk because these laws will bring a response from the world that Tennessee depends on. The LGBTQIA family will work to ensure Tennessee pays a steep price for its sad display of ignorance and evil.
There's a roadmap for exacting that price.
Just ask Cracker Barrel what happened when it tried to ban LGBTQ people from employment. The City of New York sold its holdings in the Lebanon, TN headquartered company, a sizable investment held by the City's Teacher's Pension Fund. Other municipalities followed suit and Cracker Barrel was forced to change its policy, but only after a multi-million dollar loss that caused it to struggle for a time.
Some of us remember the power of that lesson.
I'm quite sure California and New York hold billions of dollars in investment into Tennessee. Fortune 500 companies headquartered in Tennessee include FedEx, HCA Healthcare, International Paper Company, Dollar General Corporation, Community Health Systems, Inc., Unum Group, Eastman Chemical Company, AutoZone, Inc., Vanguard Health Systems, Inc., Tractor Supply Company. Tennessee's cultural connection to the world through New York and California based companies is profound. The number one city from which people relocated to booming Nashville is Los Angeles. The distillery world and publishing world are massive beneficiaries of Tennessee's cultural ties to the world and those too can be easily disrupted.
I am NOT calling for a boycott.
I am calling for something far worse, much harsher and way easier to accomplish; divestment of Tennessee based assets by Comptrollers and Secretaries of State in pro-LGBTQ Cities and States around the country.
Tennessee's slogan is "The Volunteer State" and that is intended to imply its a place that follows the golden rule and lends a helping hand and never oppresses.
Also true to Tennessee's character, which always loves a good joke, a little schadenfreude when someone steps in it is always a lot of fun.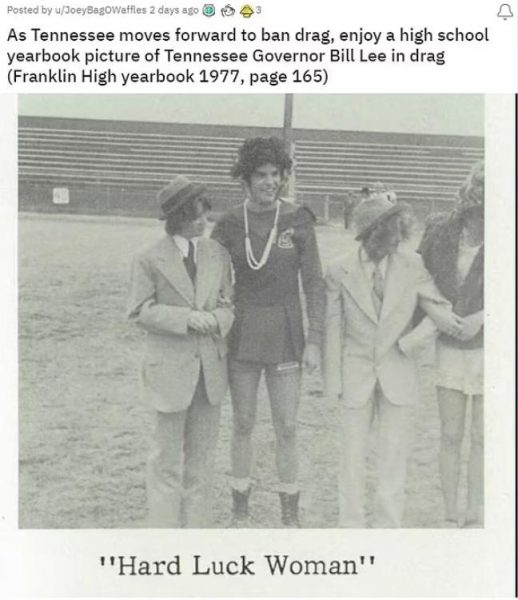 A photo of Governor Bill Lee's 1977 High School drag performance has made the rounds with the caption "Hard Luck Woman." 
"The bill specifically protects children from obscene, sexualized entertainment, and any attempt to conflate this serious issue with lighthearted school traditions is dishonest and disrespectful to Tennessee families," a spokesperson rattled.
When asked during a press conference Monday if he "remembered dressing in drag in 1977," Lee didn't deny the photo was of him—but he said it doesn't change anything.
"What a ridiculous, ridiculous question that is," Lady Lee protested. "Conflating something like that to sexualized entertainment in front of children, which is a very serious subject."
Tennessee loves a good Jr. and High School cheerleading squad and anyway, I'm pretty sure there were children present for your performance, dear.
And that's for starters.
But if you would like to reprise your drag role and abolish this silliness, I know a bar or two in DT Nashville that would love to welcome you to stage for a starring role as Lady Miss Governor.
But by the time you unravel this treachery to your own drag community, the LGBTQIA community will have made sure you and your trans-kid hating cronies lose billions of dollars for Tennessee.
***************************************************************************************
Troy Masters is the publisher of the Los Angeles Blade