Hurricane Hilary now a Category 4, tropical storm watch issued
No tropical storm has made landfall in Southern California since Sept. 25, 1939, according to the National Weather Service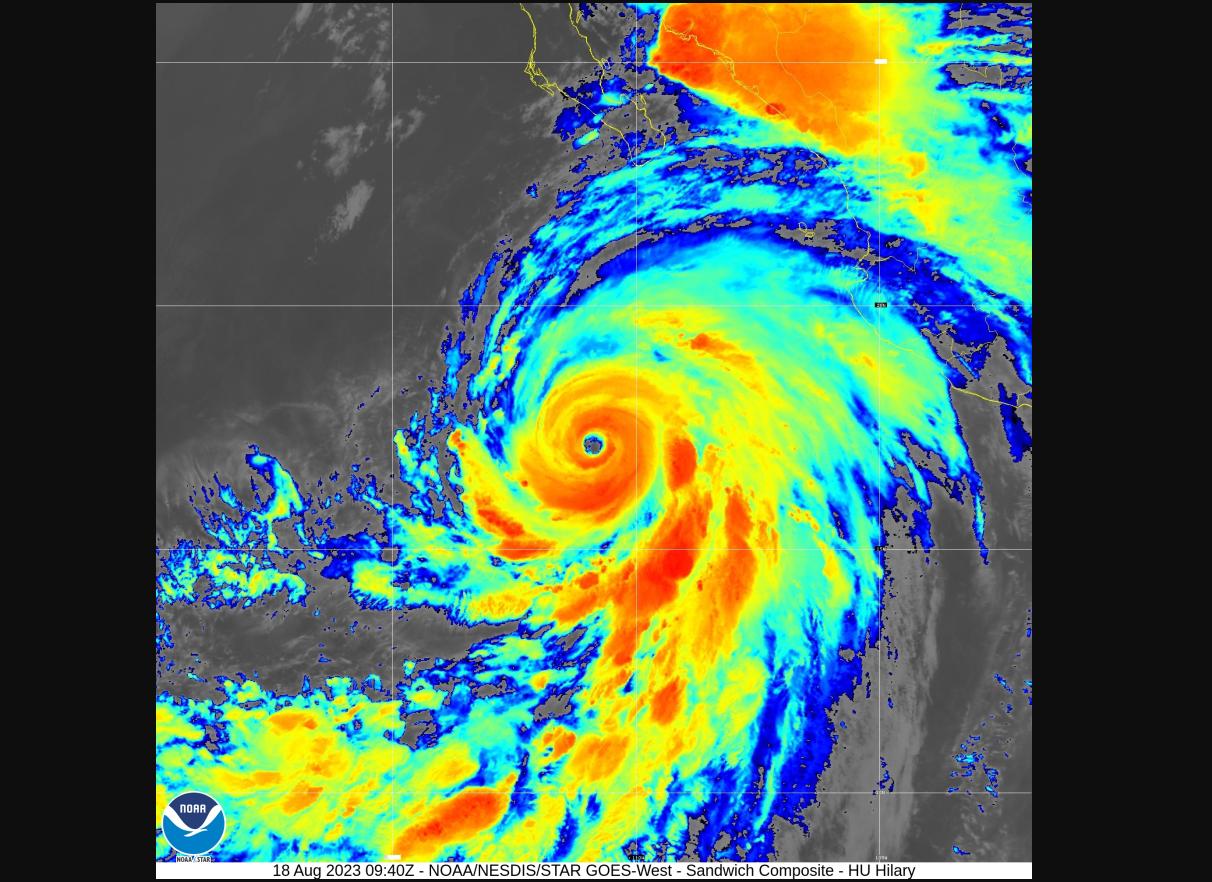 MIAMI-DADE, FL. – The U.S. National Hurricane Center announced that Hurricane Hilary has grown into a Category 4 storm with sustained winds near 140 mph (220 kph) and was expected to continue its rapid intensification through Friday morning.
The Center issued a first-ever tropical storm watch for Southern California, from the California-Mexico border to the Orange County-Los Angeles County line and for Catalina Island.
Tropical storm conditions could begin affecting the Baja California peninsula late Friday. Hilary's projected path threatened landfall in the middle of the peninsula by Sunday, or it may stay just offshore while heading for Southern California.
Hilary was centered about 425 miles (685 kilometers) south of Los Cabos on the southern tip of the Baja peninsula. It was moving west-northwest at 14 mph (22 kph), but was expected to turn gradually north through Saturday.
The hurricane center said that as Hilary moves onto or brushes the Baja peninsula, it could possibly survive briefly as a tropical storm or tropical depression and cross the U.S. border.
No tropical storm has made landfall in Southern California since Sept. 25, 1939, according to the National Weather Service.
"Rainfall impacts from Hilary within the Southwestern United States are expected to peak this weekend into Monday," the hurricane center said. "Flash, urban, and arroyo flooding is possible with the potential for significant impacts."
The area potentially affected by heavy rainfall could stretch from Bakersfield, California, to Yuma, Arizona, as well as some parts of southern Nevada.
In Southern California, an outlook for excessive rainfall stretched from Sunday to Tuesday, according to the Los Angeles weather office.
While the odds are against Hilary making landfall in California as a tropical storm, there is a high chance of major rain and flooding, UCLA climate scientist Daniel Swain said in an online briefing Wednesday.
Additional reporting by KTLA 5 Los Angeles
Newsom meets with local leaders as Tropical Storm Hilary arrives
The Biden administration is urging Californians to take Tropical Storm Hilary seriously ahead of its expected Sunday evening arrival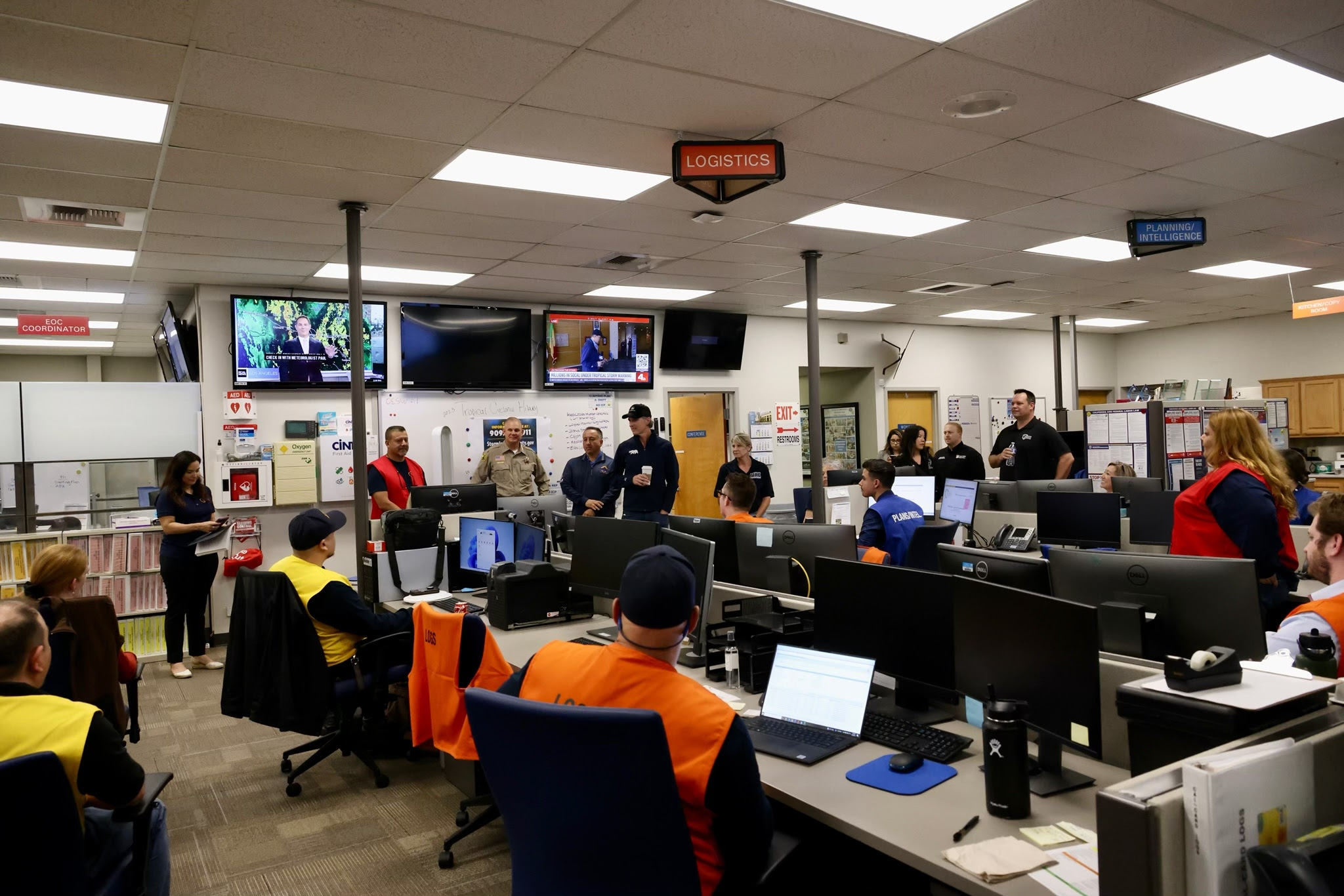 SAN BERNARDINO COUNTY – Governor Gavin Newsom met with communities across Southern California, including the Inland Empire and Desert communities, today as Tropical Storm Hilary made landfall, bringing damaging rain and winds that are likely to last through Monday.
While meeting with local leaders, Governor Newsom expanded the state of emergency to include Mono County, and issued additional emergency orders to give care facilities greater flexibility to ensure that care of residents and patients can continue safely during the storm.
Find the full text of today's proclamation here.
Among his stops today, Governor Newsom met with Chairman Macarro and other tribal leaders of the Pechanga Band of Indians to discuss storm impacts. He also visited a call center in the Inland Empire run by the TODEC Legal Center that connects communities with the support they need, as well as a nonprofit organization distributing protective gear and resources to farmworkers.
Additionally, the Governor met with Mayor Garner, local officials and emergency personnel in Palm Springs, met with Chairman Milanovich and other tribal leaders from the Agua Caliente Band of Cahuilla Indians, and visited the San Bernardino County Emergency Operations Center for an update on the latest forecasts.
While surveying ongoing preparations throughout Southern California, Governor Newsom spoke with President Biden.
Governor Newsom also joined leaders in Los Angeles County, including Mayor Bass, LA County Board of Supervisors Chair Hahn, first responders, and emergency personnel responding to the ongoing impact of Tropical Storm Hilary and the 5.0+ earthquake that struck Sunday afternoon.
Yesterday, at a California National Guard facility in San Diego, Governor Newsom proclaimed a state of emergency for most of southern California ahead of the expected impacts of Tropical Storm Hilary – making additional preparation, response, and recovery efforts available to local, tribal, and state emergency personnel and officials.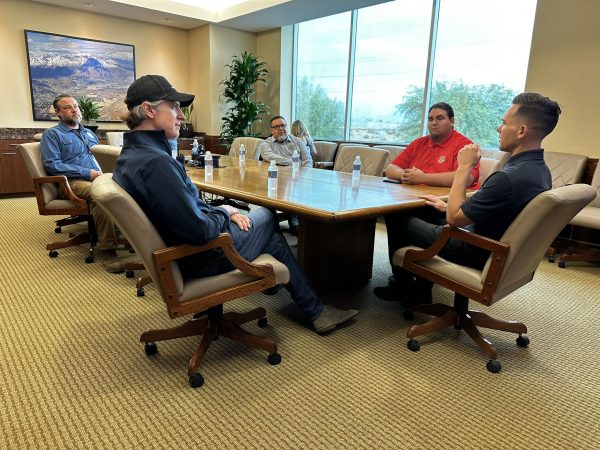 HOW CALIFORNIA IS PREPARING & RESPONDING:
State Operations Center Activated: At the direction of Governor Gavin Newsom, the State Operations Center at the Governor's Office of Emergency Services (Cal OES) is currently activated 24/7 and the state is closely monitoring impacts from rain, wind, flash flooding, and potential power outages, as well as coordinating across state agencies to provide resources in preparation for other potential impacts – including tornadoes, earthquakes and earthquake aftershocks. Additionally, the state has activated its Medical and Health Coordination Center to coordinate and monitor response efforts and has issued an alert to all health facilities in the state.
Prepositioned and On-The-Ground Resources: The state continues to coordinate the prepositioning of emergency resources across Southern California and the Central Valley in anticipation of ongoing impacts from Tropical Storm Hilary:
The Emergency Medical Services Authority (EMSA) has assets on standby, including California Medical Assistance Teams, to augment local capacity, aid in evacuations, and support medical needs in communities impacted by flooding. The EMSA is ready to assist with Ambulance Strike Teams as necessary to support local communities.
The Flood Operations Center is activated and is coordinating the distribution of over 300,000 sandbags for county flood fighting efforts: 100,000 in San Diego County, 84,000 in Riverside County, 50,000 in San Bernardino County, 40,000 in Imperial County, and 20,000 in Orange County.
The California National Guard has strategically prepositioned more than 350 soldiers and two dozen high water vehicles.
CAL FIRE has prepositioned nine swift water rescue teams and urban search and rescue teams along with 290 strategically prepositioned engines.
Cal OES, through the California Fire and Rescue Mutual Aid System, has deployed more than 730 firefighters and support staff in Riverside, San Diego, Kern, Los Angeles, Orange, Ventura, Tulare, Santa Barbara, Imperial, Inyo, and Mono Counties.

Resources on the ground include: 43 fire engines, 15 swift water teams, 11 hand crews, 7 pieces of heavy equipment (dozers/loader/excavator/road grader), 5 helicopters, 1 water tender, 2 urban search and rescue companies, 3 regional urban search and rescue task forces.

The CHP has activated a Tactical Alert, which allows CHP to maximize the number of deployed personnel and resources in addition to prepositioned equipment, activated emergency operations centers, and placed Special Response Teams on alert.
Maintaining Roadway Safety: Approximately 2,000 Caltrans maintenance personnel in the region are on 12 hour shifts, 24 hours a day. They are installing pumps in flood-prone areas, positioning equipment on standby, actively responding to ongoing impacts, and monitoring burn scars for potential mudslides, especially in northern Los Angeles, San Bernardino and Riverside Counties. Caltrans Southern California districts are opening emergency operations centers and are coordinating with city and county emergency operations centers as needed.
Protecting Vulnerable Communities: California is actively monitoring potential impacts to vulnerable communities, including unhoused individuals. The California Department of Social Services (CDSS) has reached out to local partners and licensed facilities caring for some of the most vulnerable — including individuals with disabilities, older individuals, and unsheltered individuals — to help ensure that people have access to services should they need them. Additionally, the state is working with local officials to ensure mobile home communities are taking appropriate steps to prepare.
Coordinating With Private Sector: California continues to coordinate with major retailers, including Target, Wal-Mart, Lowe's, CVS Health, and others, as well as grocers to ensure essential supplies are available and emergency contingency plans are activated. Additionally, the state is coordinating with major fuel suppliers, utility providers, and telecommunications companies to determine any needs of support to maintain essential services.
Free Uber Rides to Shelters: CDSS announced a public-private partnership with Uber. Uber has agreed to provide emergency transportation services from locations within the impacted area to open shelter locations (up to $40). To redeem the discount, riders must apply the promo code "Hilary23" in the Wallet section of their Uber app prior to requesting the ride, which is valid for UberX or UberXL. Please note that this service is only available for transportation to open shelter locations. For additional information, please visit the CDSS homepage, www.cdss.ca.gov.
Closing State Parks and Beaches: The state continues monitoring the storm's impacts on the State Park System and making real-time decisions on closures as needed. Currently, California has 18 partial closures and 23 full closures and has 600 staff on the ground to respond. All state beaches in San Diego and Orange Counties are temporarily closed Sunday and Monday. Additionally, State Parks has proactively canceled reservations at campgrounds in high-risk areas. The public is advised to limit outdoor recreation and stay out of the ocean during the storm.
In an emailed statement the White House noted that this afternoon, President Biden spoke to California Governor Gavin Newsom about the emergency preparedness measures in place and the initial response to Tropical Storm Hilary.
Throughout the weekend, FEMA Administrator Deanne Criswell, FEMA Deputy Assistant Administrator Colt Hagmaier, Marcus Coleman, Director of DHS Center for Faith-Based and Neighborhood Partnerships, and Keith Turi, FEMA Office of Response and Recovery Deputy Assistant Administrator, spoke to national broadcast and local TV stations across California, Nevada and Arizona.
Administration officials outlined steps the Administration has taken to prepare and reiterated the importance of listening to local and state officials.
The Biden administration is urging Californians to take Tropical Storm Hilary seriously ahead of its expected Sunday evening arrival. It will be the first tropical storm to hit southern California since 1939, according to the National Weather Service.

"People really need to take this storm in California serious," Federal Emergency Management Agency Administrator Deanna Criswell said on ABC's "This Week" on Sunday. "The total rain amounts aren't like what we see in some of our Atlantic storms and Gulf storms, but it's going to really be potentially devastating for them in these desert areas."