Spain wins first-ever Women's World Cup title, defeating England
Each team featured four out queer players on its roster in the final contest as Spain takes home the trophy after a record setting World Cup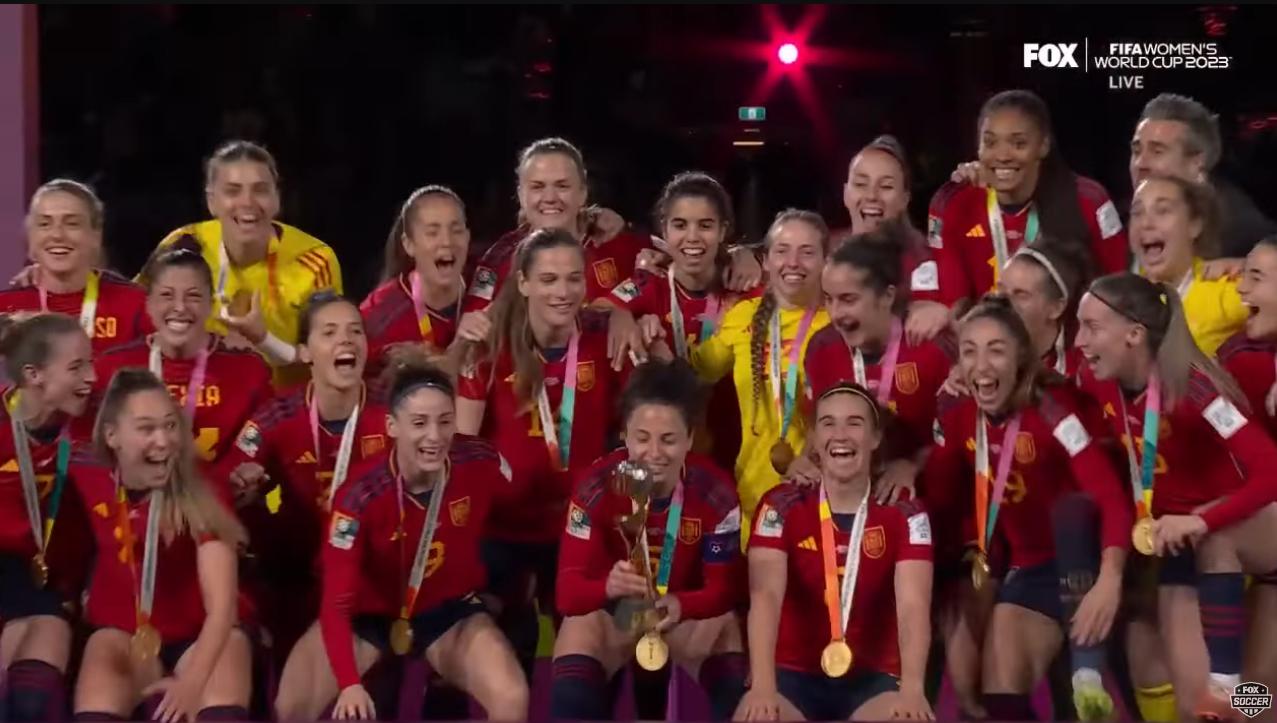 SYDNEY, Australia — A tension-filled final match in the FIFA Women's World Cup was decided by one goal, as Spain shut-out England early Sunday morning in Australia, 1-0.
Each team had four out women playing in the decisive title game, as PinkNews reported: Lauren Hemp, Bethany England, Jess Carter and Rachel Daly for England's Lioness team, and Alba Redondo, Irene Paredes, captain Ivana Andres and Teresa Abelleria for Spain's La Roja team.
The score was tied 0-0 when Hemp had a shot on goal in the 4th minute but it wound up right in the goalkeeper's arms, and that happened again in the 20th minute. But earlier, in the 16th minute, Hemp had yet another shot on goal, this time hitting the crossbar.
Hemp turned 23 during the World Cup tournament. Her partner is Coventry United footballer Ellie Butler, who plays as a forward for Women's Championship club team.
Also in the 16th minute, Spain's Salma Paralluelo found Redondo, who managed to get a shot off on goal, but England's Mary Earps was there to make the save and keep the match scoreless.
Earps had another big save in the 17th minute. But then the tide shifted in the 29th minute, when Mariano Caldentey fed the ball to Olga Carmona. With her left leg, Carmona smashed the ball into the back of the net to give Spain the 1-0 lead.
OLGA CARMONA HAS DONE IT!

SPAIN TAKES THE 1-0 LEAD 🇪🇸 pic.twitter.com/zqJBDRXngJ

— FOX Soccer (@FOXSoccer) August 20, 2023
Spain nearly scored again before the half. As Fox News reported, La Roja had possession 64% of the time through the first half. Both teams had two shots on goal, but Spain had five total shots against England's three. Spain had 14 crosses, five of them successful; England was 1-for-6. Of their 303 passes, Spain finished 85%, while England had just 178 passes, with 73% of them on target.  
In the 54th minute, Hemp blew yet another chance to tie the match when she kicked the ball just wide of the net. Then in the 65th minute, England's hand ball penalty gave Spain a penalty kick opportunity to score again. Earps dove to deny Jenni Hermoso's attempt to give Spain a two-goal lead.
SHE'S BEEN DENIED ❌

Jenni Hermoso's effort has been saved by Earps 🧤 pic.twitter.com/gNwN1RezFH

— FOX Soccer (@FOXSoccer) August 20, 2023
Despite Earps' miraculous save, England was unable to take advantage of the shift in momentum, even with roughly 13 minutes of stoppage time. The Lionesses did a better job possessing the ball in the second half but failed to capitalize on that, even on one final rush in the 104th minute and a corner in the 105th.
After only making it to the Round of 16 in 2019, the women of Spain won their first World Cup title in three tries. At 32, Paredes, a former captain and one of only three senior players on the team who have won more than 100 caps for La Roja, was unsure she'd ever reach this milestone.
But they did.
SPAIN ARE WORLD CHAMPIONS!!! 🇪🇸#BeyondGreatness | #FIFAWWC pic.twitter.com/x4liWtvgpN

— FIFA Women's World Cup (@FIFAWWC) August 20, 2023
Paredes is married to field hockey defender Lucia Ybarra and together the pair welcomed a little boy Mateo, in September 2021.
Spain takes home the trophy after a record setting World Cup, in which the champion USWNT was eliminated earlier than ever before, and a record number of out LGBTQ+ players and coaches took part. 

End of an era: Megan Rapinoe ends her USWNT career
The two-time World Cup winner and Olympian will finish with Seattle's OL Reign- As for Sunday's game, Rapinoe played 54 minutes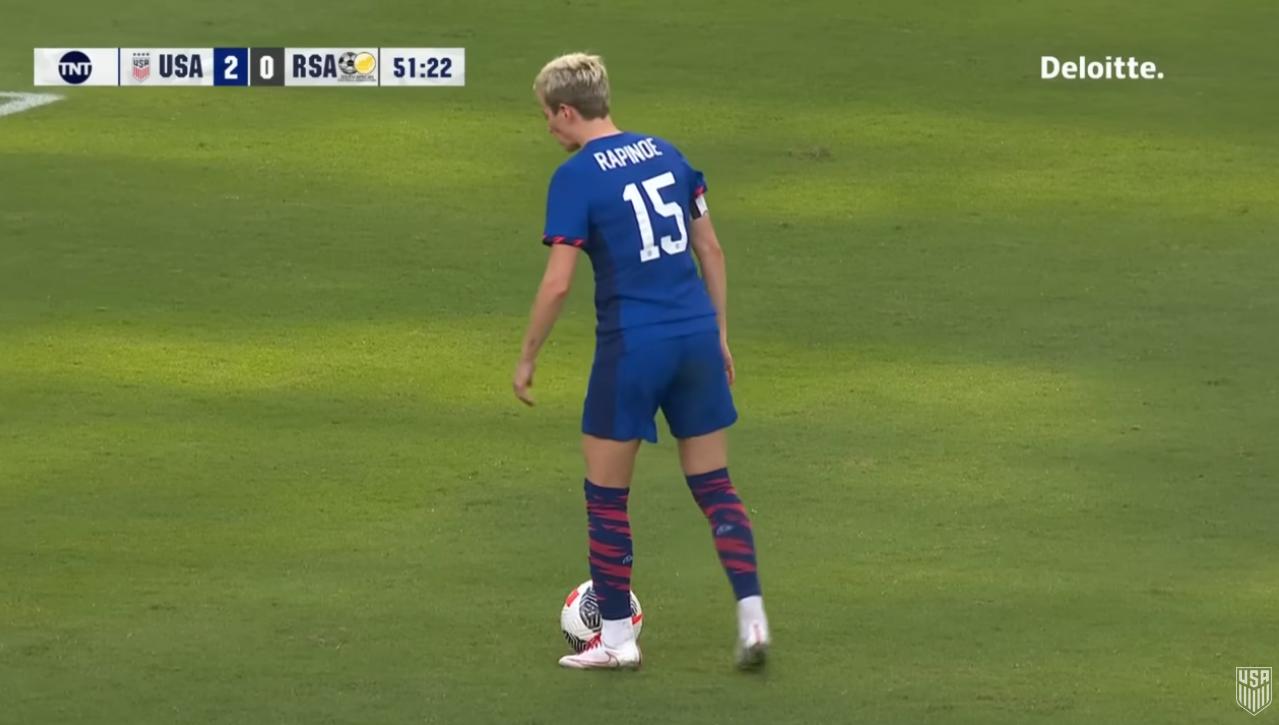 CHICAGO — The final score was United States 2, South Africa 0. But Team USA's victory in Sunday's international friendly was not as significant to the country or to the world as the loss of out gay soccer icon Megan Rapinoe, who played her final match for the U.S. Women's National Team.
"To have this night come and to actually feel it and see it from my teammates and from our staff and certainly from the fans, really, it was very special," Rapinoe told the Washington Post. For this final match, she donned the former captain once again donned the captain's armband.
The legend walks away from the USWNT at age 38, 17 years and 63 days after her Team USA career began. Sunday marked her 203rd appearance, with a total of 63 goals scored, 73 assists, two World Cup trophies, an Olympic gold medal and the Presidential Medal of Freedom, not to mention several hair colors.
And Rapinoe didn't just score on the pitch, but also led a successful fight for pay equity with the U.S. Mens National Team, as well as being an outspoken advocate for human rights and transgender equality.
Following the win at Soldier Field, with her fiancée Sue Bird and family among the 25-thousand fans in attendance, the soccer federation paid tribute to Rapinoe with a video.
"I felt like I was able to grow up in front of you," she said during a tear-filled address to the crowd. "It has been such an honor to wear this shirt and play out my childhood dream."
It seemed fitting that Rapinoe should wrap up her USWNT career in the Windy City, having once played for the Chicago Red Stars, as well as the Philadelphia Independence, MagicJack, Sydney FC, Seattle Sounders Women, Olympique de Lyon, and currently for Seattle's OL Reign. The team will commemorate Rapinoe's incredible career at its final match of the regular season at Lumen Field on Oct. 6 against the Washington Spirit.
As for Sunday's game, Rapinoe played 54 minutes, and although she did not score a goal or an assist, she came mighty close.
Four minutes into the second half, Rapinoe's corner kick was returned by South Africa;s goalkeeper but USA's Emily Sonnett scored with her head. Although Rapinoe set up the goal, she wasn't awarded an assist since the ball had been deflected.
Sonnett leaped into Rapinoe's arms and teammates joined the group hug. They then backed away to allow Rapinoe to strike her famous arms outstretched stance, one last time.
A few minutes later, Rapinoe's 25-yard free kick sailed just inches too high and rode the top of the net, denying the champion one final goal.
"I almost got one," Rapinoe said. "So close. Damn."
But if there was any doubt Rapinoe felt her work on the field mattered more than what she and her teammates had accomplished off of it, she told reporters at a news conference Saturday that is what she remains most proud of.
"By a mile," she said, smiling.
Related:
USWNT vs. South Africa: Highlights – September 24, 2023: