Virginia AG says schools must comply with trans policies
Arlington County, Fairfax County, and Prince William County Public Schools have announced they will not implement the new guidelines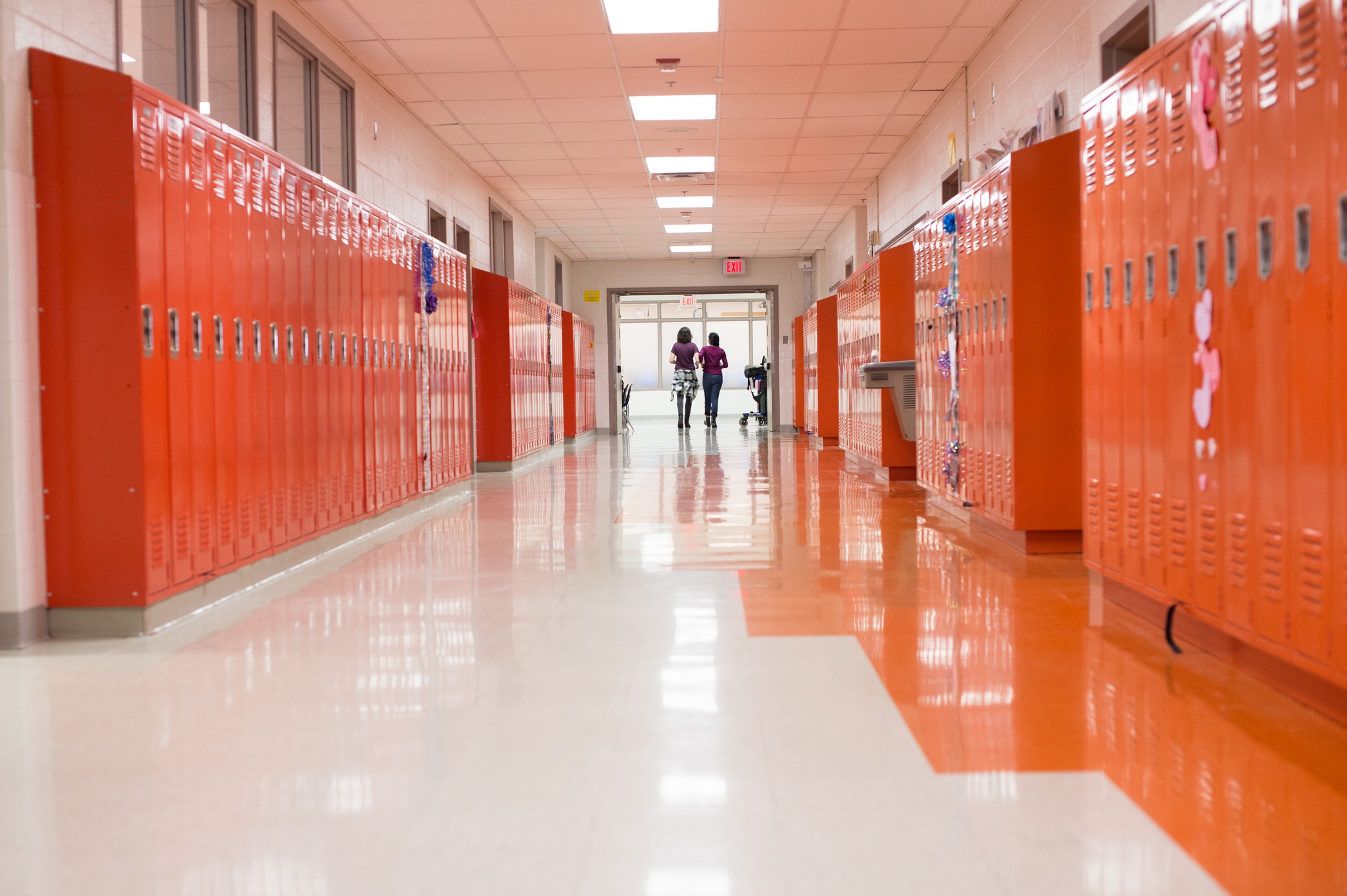 RICHMOND – Virginia Attorney General Jason Miyares on Thursday said school boards must adhere to the state's new guidelines for transgender and nonbinary students.
Miyares in a letter to Republican Gov. Glenn Youngkin said the guidelines "comply with the Equal Protection Clause, Title IX and the VHRA" (the Virginia Human Rights Act) and "local school boards are required to adopt policies that are consistent with them."
The Virginia Department of Education last month released the new guidelines.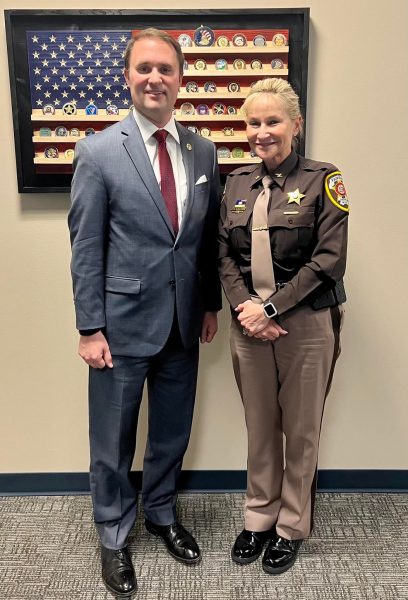 One section states "schools shall defer to parents to make the best decisions with respect to their children."
"Parents are in the best position to work with their children and, where appropriate, their children's health care providers to determine (a) what names, nicknames and/or pronouns, if any, shall be used for their child by teachers and school staff while their child is at school, (b) whether their child engages in any counseling or social transition at school that encourages a gender that differs from their child's sex, or (c) whether their child expresses a gender that differs with their child's sex while at school," it reads.
Another section notes "schools shall keep parents informed about their children's well-being."
"To ensure parents are able to make the best decisions with respect to their child, school personnel shall keep parents fully informed about all matters that may be reasonably expected to be important to a parent, including, and without limitation, matters related to their child's health, and social and psychological development," it reads. "Parents' rights are affirmed by the U.S. Supreme Court that characterized a parent's right to raise his or her child as 'perhaps the oldest of the fundamental liberty interests recognized by this court.' Troxel v. Granville, 530 U.S. 57, 65 (2000). This requirement is, of course, subject to laws that prohibit disclosure of information to parents in certain circumstances including, for example, Code of Virginia § 22.1-272.1(B) (prohibiting parental contact where student is at imminent risk of suicide related to parental abuse or neglect.)"
The guidelines further state "schools shall serve the needs of all students" and the Virginia Department of Education "is committed to working with school divisions to ensure a positive, safe and nurturing learning environment for all students."
"Each student's individual needs should be taken into consideration by his or her school, and divisions should develop policies that encourage schools to account for these individual needs, with due sensitivity to the needs of other students and the practical requirements of the teaching and learning environment," reads the guidelines. "Schools should attempt to accommodate students with distinctive needs, including transgender students. A team of appropriate school staff and other caregivers should collaborate with the student's parents or with an eligible student to identify and implement such reasonable accommodations or modifications (if any), considering the resources and staff available in the school and school divisions, as well as the rights and needs of other students and of school staff."
The guidelines further state "single-user bathrooms and facilities should be made available in accessible areas and provided with appropriate signage, indicating accessibility for all students."
"To ensure that all students have access to a learning environment in which they feel comfortable and safe, where state or federal law requires schools to permit transgender students to share otherwise sex-segregated facilities (such as bathrooms or locker rooms) with students of the opposite sex, parents should be given the right to opt their child out of using such facilities, and the child should be given access to alternative facilities that promote the child's privacy and safety," reads the guidelines. "Eligible students should be given the same right to opt out."
Arlington County Public Schools, Fairfax County Public Schools and Prince William County Schools have announced they will not implement the new guidelines. NBC Washington on Thursday reported Miyares' opinion is "nonbinding."
Fairfax County Virginia schools defy governor over trans students
A group of activists organized by FCPS Pride held a rally and march near Luther Jackson Middle School in Falls Church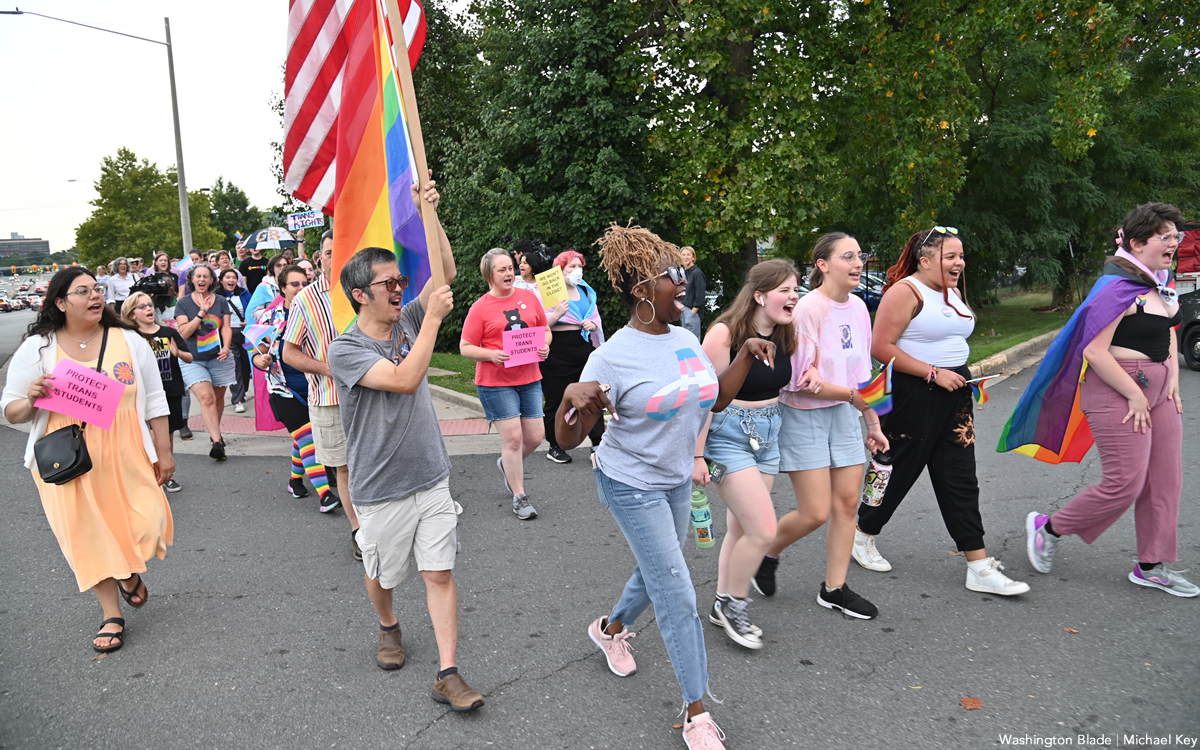 FALLS CHURCH, VA. – A group of activists organized by FCPS Pride held a rally and march near Luther Jackson Middle School in Falls Church, Virginia on Aug. 15 to support transgender, nonbinary and gender expansive youth in Fairfax County Public Schools.
Teachers, students, administrators and activists were joined by elected officials in praising the statement issued earlier in the day by FCPS Superintendent Michelle Reid, which assures constituents that the current Fairfax County policies for trans and nonbinary students will remain unchanged.
The Virginia Department of Education issued a model policy that rolls back protections for trans and gender non-conforming students. Advocates warn that the new state policies directly harm trans, nonbinary and gender expansive students.
In response to the state policy announcement, Reid publicly responded in a letter on Aug. 15. "We have concluded our detailed legal review and determined that our current FCPS policies are consistent with federal and state anti-discrimination laws as required by the new model policies."
"Let me be clear that FCPS remains committed to fostering a safe, supportive, welcoming and inclusive school environment for all students and staff, including our transgender and gender expansive students and staff," the statement continues.
Reid announced in the statement that FCPS would retain current county policies: Including that students continue to be addressed by their chosen names and pronouns; provided with access to facilities, activities and trips consistent with their gender identity; and continue to have their privacy respected regarding gender expansive or trans status, legal name, or sex assigned at birth. These Fairfax County policies are in direct opposition to the policies announced by Republican Gov. Glenn Youngkin's administration.
A group of Fairfax student and teacher activists were joined by Fairfax County School Board members Karl Frisch and Laura Jane Cohen, state Del. Marcus Simon (D-Falls Church), members of faith communities and representatives from the Fairfax County Federation of Teachers union in a rally and march at Luther Jackson Middle School in support of the Fairfax policy announcement.
"This is about making sure that every child can show up in our schools without the weight of the world on their shoulders so they can focus on learning," Karl Frisch, who is the school board's vice chair, told the assembled activists. "Protecting them from the weight of the bigotry out there so that they can focus on getting the education that we are offering them in our school buildings."
The Youngkin administration policies are being debated in districts statewide and have already been adopted by Spotsylvania County Public Schools.
Speaking with the Washington Blade, Frisch elaborated.
"It's important to stand with our transgender and gender expansive students and their families and our staff," he said. "Today the superintendent made it clear that FCPS, Fairfax County Public Schools, will continue to abide by federal and state law that requires us, rightly so, to support and protect and affirm our transgender and gender expansive students and that's what we'll continue to do."
"They are teaching the rest of the commonwealth a lesson on how to handle a bully." said Simon, who praised Reid and FCPS. "Because that's what Glenn Youngkin and his administration are: They are an administration full of bullies who want to take out their frustration and anger and distract us from their own failings by taking on our trans and nonbinary students. The only way to stand up to that is to say, 'no, we're not going to do it. Go away. Leave us alone.' We're doing it the right way here in Fairfax County."
FCFT Treasurer Emily Vanderhoff said she has "heard from these families that the parents and their children have been scared about what school is going to look like for their child when they walk in the door on Monday. I know that teachers and other school staff need to know that they want to affirm these students and that they need to know that their district has their back."
The gathered community activists marched on the sidewalk along Gallows Road carrying signs and chanting support for trans students' rights following the rally.
At a trans+ students' rights rally for Fairfax County Public Schools against Gov. @GlennYoungkin policies. Covering for @WashBlade pic.twitter.com/EDoiIREriB

— Michael Patrick Key (@MichaelKeyWB) August 15, 2023