Birthplace of LGBTQ movement in LA designated for preservation
The 4th Street Morris Kight Residence tells the story of a trailblazing LGBTQ+ civil rights activist who fought for LGBTQ+ civil rights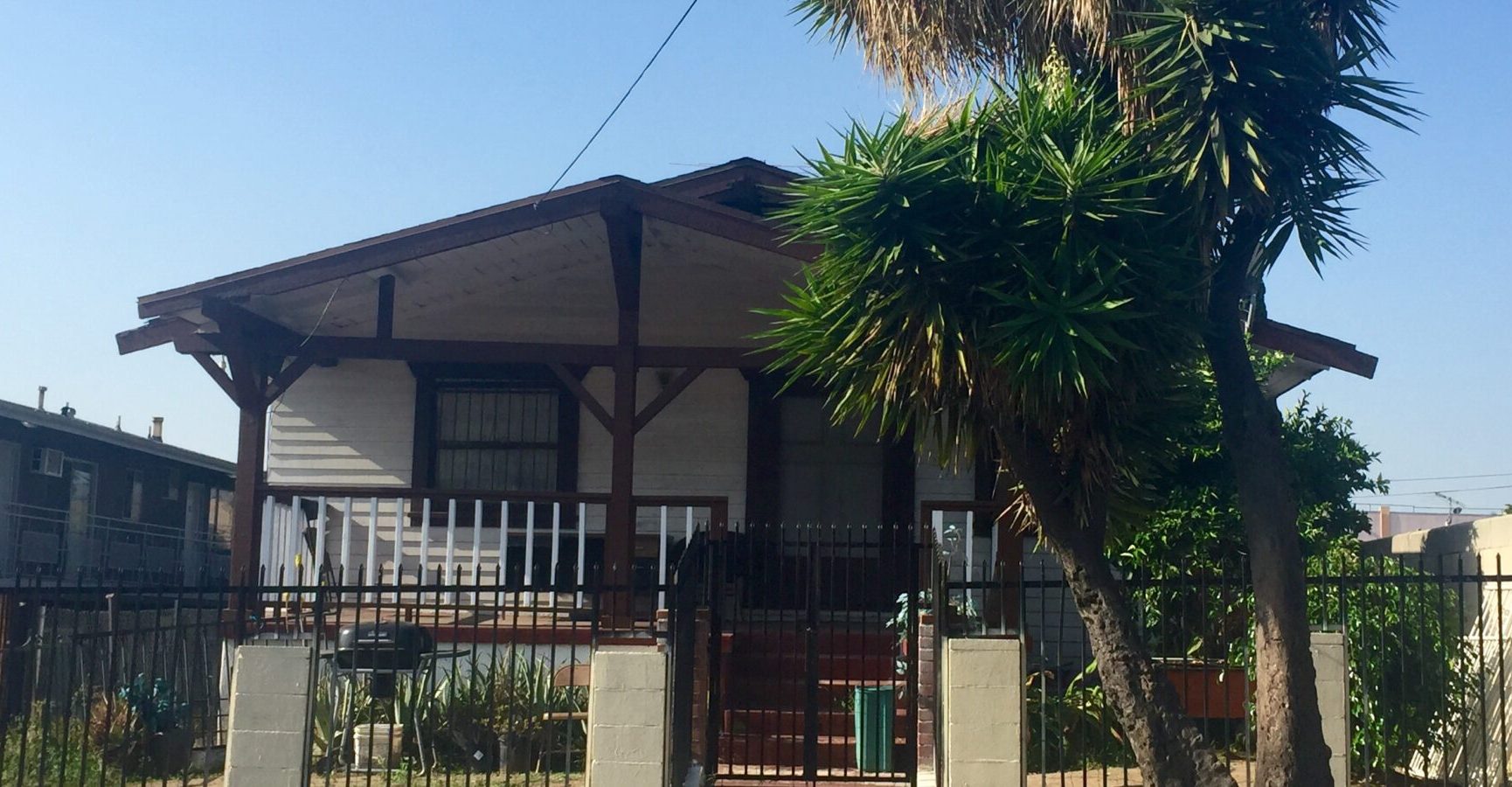 Imagine Los Angeles in the late 1960s. A sharply dressed elderly gentleman with a white combover walks down the corner of Hollywood Boulevard and North McCadden Place. Spotting a homeless, possibly queer youth sitting on the sidewalk, the man hands the youth a card. On it is the man's name, Morris Kight, his home address, and a phone number.
"Call me anytime," Kight tells the youth, "day or night."
**********************************
BURBANK – The two women in Hawaiian print T-shirts greeted the Blade with warm smiles outside a mom-and-pop coffee shop in Burbank this past month, joining the quickly forming queue inside the intimate shop where the patrons seemed just as eager to make small talk with the kind woman at the register as she was to get their artisanal coffee orders just right.
Obtaining the drinks- then claiming one of the two available four-tops situated on the sidewalk under red umbrellas just outside of the shop, Miki Jackson a long-time friend and partner in activism to Kight, and her wife Mary Ann settled in eager to share memories of their late friend.
"That was Morris," said Jackson, Kight's long-time close friend and activist partner relating the story about the youth. "He would be on his phone all day long taking these calls. Anytime you needed him, he was there…He knew that before we could be accepted by others, we had to accept ourselves. He knew we had to heal first."
"He saw there was a need," Jackson reflected. "He was always thinking ten steps ahead."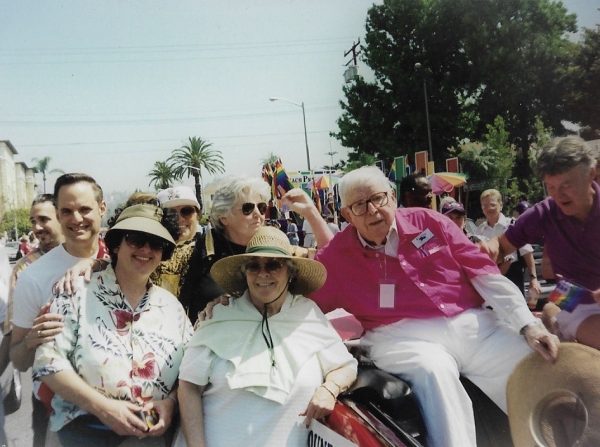 Kight, born in 1919, grew up in Comanche County, Texas where he graduated from Christian Texas University with degrees in public administration and political science. His biographer Mary Ann Cherry noted that he began his long career as a civil rights activist in the 1940s when he became involved in organizing efforts with the Oil, Chemical, and Atomic Workers International Union.
He moved to New Mexico where he married a woman and had two daughters, Carol Kight-Fyfe and Angela Chandler, and several grandchildren before leaving his old life behind to fight for gay rights in Los Angeles. 
Throughout his time as a gay rights activist, Kight rarely discussed his marriage and family life because he believed that it could compromise his credibility within the LGBTQ movement.
In 1958, Kight moved to Los Angeles and chose a house on West 4th Street in Westlake near downtown LA in what was at the time known as the gay ghetto.
From 1967-1974 the modest house was the headquarters to several gay organizations, the most notable of those was the Committee for Homosexual Freedom, and the primary residence of Kight, who is often referred to as the grandfather of LGBTQ+ rights.
Now, Kight's former residence and the birthing place of the LGBTQ+ movement has been declared Los Angeles' newest historic-cultural monument.
On August 8th, 2023, after a three-year fight fraught with delays, petitions, and controversy The Los Angeles City Council voted unanimously to protect 1822 West 4th Street. The declaration will prevent the home from being demolished by developers seeking to build multi unit properties in its place. 
Having grown up on a Texas farm, Kight had developed the habit of waking as early as 4:30 AM. His early waking hours gave him the opportunity to communicate with allies and activists in time zones across America to plan, organize, and execute projects to benefit the gay community, all from his home telephone.
He also used his time to take calls from the thousands of LGBTQ+ people he had handed his card to, all seeking guidance on issues from mental distress, child custody battles, and treating venereal diseases without being persecuted by the authorities. 
Eventually, he began bringing  in volunteers to handle the 200+ calls he was receiving per day. "Every call is priceless," Kight was known to say, "every call is important…[it is] the most urgent call you've ever had in your life."
Volunteers were drawn on from Kight's Gay Liberation Front (GLF) which was also headquartered at the house. The GLF started as a 20-member committee that met on Sundays. GLF quickly grew to an over 200-member organization of activists. 
The GLF led over 175 protests. One notable protest took place over the course of months, as the GLF demonstrated and performed sit-ins to protest a sign that read "Faggots stay out" outside of popular Los Angeles bar, Barney's Beanery. The GLF was successful in having the sign taken down.
Kight's LGBTQ+ call center was the first of its kind and soon developed into the Gay Survival Committee, which was later known as the Gay Community Service Center (GCSC). Kight spearheaded the creation of the Gay Community Services Center, which operated from 1971 to 1975, which today is known as the Los Angeles LGBT Center.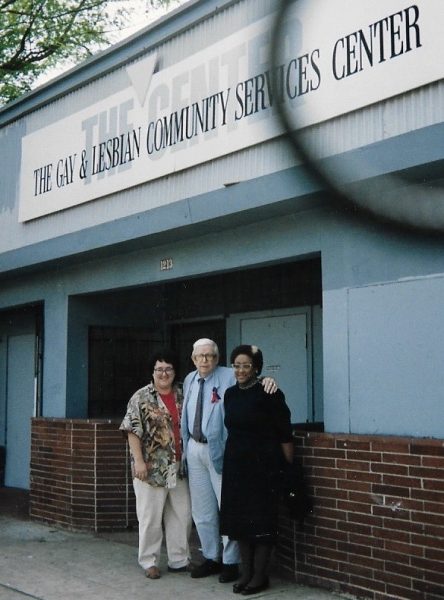 On June 28, 1969, The Stonewall Riots in New York's West Greenwich Village neighborhood, in a response to the NYPD raid of the Stonewall. NYPD officers brutalized patrons, arrested 13 people for illegal gay activity, and also performed humiliating sex checks on men dressed in drag. 
It was a three day event that echoed and resonated with LGBTQ people all across the United States.
1969 was the same year as the murder of nurse Howard Efland by members of the Los Angeles Police Department's Vice Squad at the Dover Hotel, a seedy downtown establishment run as a de-facto gay sex club. It was a frequently targeted location for LAPD vice & morals raids and ensuing police brutality against the LGBTQ+ community.
The police dragged a naked and bleeding Efland from his hotel room, claiming that he had groped an officer. LAPD Vice officers dragged him down a staircase to the sidewalk, then brutally beat him in plain view of nearly 25 witnesses. Taken to Los Angeles General Hospital, Efland was chained to a bed, where he died of massive internal injuries less than an hour later.
Evelle J. Younger, the Los Angeles County District Attorney, refused to bring charges, and the City of Los Angeles along with LAPD Police Chief Edward M. Davis, rejected calls to discipline the officers. The injustice of Efland's death sparked outrage in the gay community in Southern California.
In later years Kight himself recalled to his biographer, "We were horrified and we did the first real organized protest about that in that we asked that a coroner's jury of civilians was put together and they had two days of testimony of police brutality (us mostly), with the police saying he was a dirty faggot and so on. The homicide was called justified. We didn't think it was justifiable."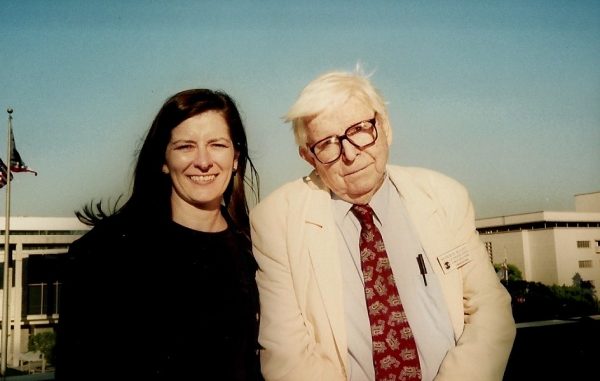 The following year, in honor of these events, the GLF and Kight's friend, the Reverend Troy Perry from the Metropolitan Community Church collaborated to assemble the first gay pride parade down Hollywood Boulevard, known as The Christopher Street West march (CSW).  
"He was revolutionary for the time," said Jackson. "He was asking us to march proudly for being gay when we were being killed for it."
"So marched we did," said Kight told his biographer, "with butterflies in our stomachs, with legitimate doubts and fears, but with enormous courage and devotion."
Christopher Street West was one of the world's first ever pride parades, but achieving CSW was a battle. At a Los Angeles Police Commission Meeting to obtain a permit for the march, Chief of Police Davis was famously quoted, "Well, I want to tell you something. As far as I'm concerned, granting a parade permit to a group of homosexuals to parade down Hollywood Boulevard would be the same as giving a permit to a group of thieves and robbers."
While the Police Commission did grant Kight the permit necessary for CSW, they wanted him to secure a one million dollar bond to cover possible damages and the cost of police. The American Civil Liberties Union (ACLU) was contacted and attorney Herbert Selwyn appealed the commission's demand before the Superior Court of California for Los Angeles County.
The court ordered the issuing of the permit and charged the LAPD with the responsibility to protect parade participants. CSW became the first organization to obtain a parade permit for a pride parade. The permit was granted only two days before the scheduled date for CSW, which also became the very first street-closing gay pride parade in the world.
In 1987, Kight helped organize the Second National March on Washington for Gay Rights that took place on October 11, 1987. Kight along with fellow organizers Steve Ault, Pat Norman and Kay Ostberg met with the steering committee in January 1987 at City Hall in the City of West Hollywood.
The delegates at the West Hollywood convention chose seven primary demands to serve as the platform for the 1987 March. Each of these demands was supplemented with a broader list of demands which extended beyond the scope of single-issue LGBT concerns. In doing so, the organizers wished to underscore their recognition that oppression of one group affects oppression of all groups. The seven primary demands were:
The legal recognition of lesbian and gay relationships.
The repeal of all laws that make sodomy between consenting adults a crime.
A presidential order banning discrimination by the federal government.
Passage of the Congressional lesbian and gay civil rights bill.
An end to discrimination against people with AIDS, AIDS related complex (ARC), AIDS related conditions, HIV-positive status and those perceived to have AIDS.
Massive increases in funding for AIDS education, research, and patient care.
Money for AIDS, not for war.
Reproductive freedom, the right to control our own bodies, and an end to sexist oppression.
An end to racism in this country and apartheid in South Africa.
On November 16, 1998, just before his 79th birthday, the City Council of West Hollywood presented Kight with a Lifetime Achievement Award. 
In 2003, the year of Kight's death, the City of Los Angeles dubbed the corner of Hollywood Boulevard and North McCadden place "Morris Square." Morris Square was also the stepping off point for Christopher Street West, the world's first ever street-closing pride parade.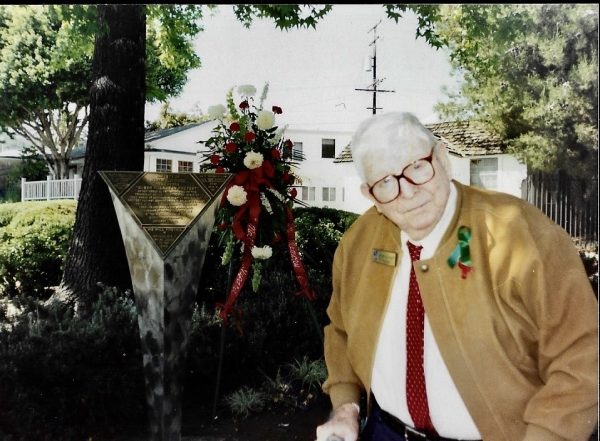 There is a Chinese magnolia tree and a bronze plaque dedicated to him at the Matthew Shepard Triangle in West Hollywood. Kight used to visit this park weekly to tidy up the area, water and plant new flowers. He encouraged others to do the same.
The fight to establish 1822 West 4th Street as a historic-cultural monument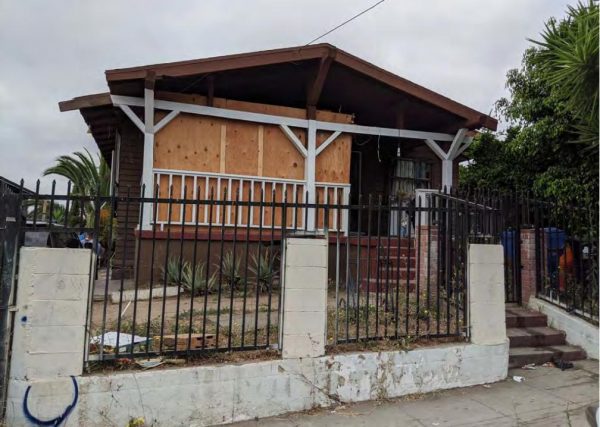 When Kight's home came under threat of being bought and possibly demolished by developers, Jackson with teamed up with writers/historians Kate Eggert and Krisy Gosney to nominate the West 4th street house a historic-cultural monument. Eggert and Gosney are also a married same gender couple. 
In 2020, nominating Kight's home quickly turned into a battle. While the Cultural Heritage Commission, AIDS Healthcare Foundation, and the LA LGBT Center all backed the nomination, it was ultimately held up indeterminately by discussions with the developer and the City Council member representing Westlake.
Eggert and Gosney took to social media and received an outpouring of support from those who had been affected by or who had heard of Kight's contributions to the community. In response to Eggert and Gosney's website, hundreds of supportive emails came in, acknowledging Kight's importance and the significance of preserving his home. 
"People were broken," said Gosney. "The community was sick and broken. First Morris knew he had to make everybody whole. He did that at 4th Street with all the services and all the outreach."
However, in subsequent meetings in 2023, Councilmember Hernandez insisted that no one on her staff had ever heard of Kight, and discounted the importance of protecting the house.
Finally, on June 6th, 2023, after a three-year fight, the nomination went through to the Planning Commission.
On June 7th Councilmember Eunisses Hernandez called the nomination, a "land-use issue." Councilmember Rodriguez and others went toe-to-toe with while Henrandez argued that the architectural changes made to the building and the dilapidated nature of the structure had rendered the home "very much different from what it was like when Morris Kight lived there many years ago."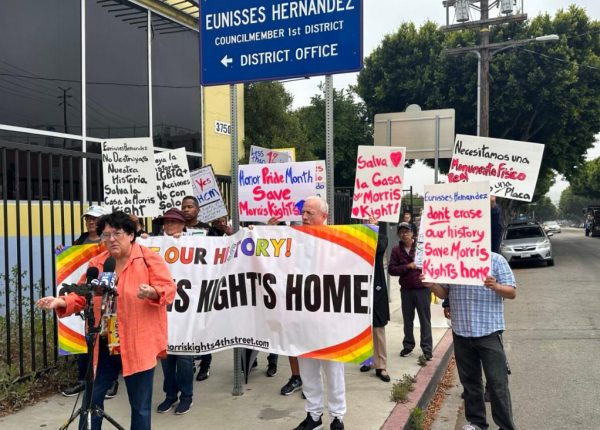 These architectural changes included the addition of a bathroom in the basement, replacement of a rear window, and the construction of a two-car garage in 1937; the repair of the front porch in 1994; the construction of temporary ancillary structures in 2019; and the replacement of the rear entrance door and some windows at unknown dates. In addition, based on interior photos submitted by the property owner at the Cultural Heritage Commission site inspection, other alterations consist of bathroom and kitchen remodels; replacement of some original doors; and the replacement of the original flooring in some locations.
At one point, committed to protecting Kight's former residence, Eggert and Gosney even made a cash offer on the home in a further attempt to save it from developers.
Then the current owner requested a 60-day extension which was granted.
On August 8th, 1822 West 4th Street was unanimously nominated as an HCM. 
"We did it!" wrote Eggert and Gosney. "Morris Kight's 4th Street is Los Angeles' newest Historic-Cultural Monument!! It was a nail-biter. We couldn't have done it without AHF, the Los Angeles Conservancy, the LGBT Center, and the 100s of people who spoke up. We are forever grateful!"
"We'll never know what tipped the scales," said Eggert. "But we are so happy with the outcome." 
A win for the LGBTQ+ community
The Morris Kight Residence meets two of the Historic-Cultural Monument criteria. 
The subject property "exemplifies significant contributions to the broad cultural, economic or social history of the nation, state, city or community." The home is also "associated with the lives of historic personages important to national, state, city, or local history."
Right now, less than 1% of all designated HCMs in Los Angeles represent LGBTQ+ heritage. Other LGBT HCMS include The Black Cat and the Margaret and Harry Hays Residence.
The 4th Street Morris Kight Residence tells the story of the trailblazing LGBTQ+ civil rights activist and the network of organizers who fought for LGBTQ+ civil rights, health, freedom, and joy. In the late 1960s and early 1970s,  Kight's home was where activists gathered and LGBTQ community history was made.
Related:
Los Angeles Department of City Planning
RECOMMENDATION REPORT/CULTURAL HERITAGE COMMISSION (September 3, 2020)
Julio Salgado: Queer, Latino, & creating a powerful artistic narrative
Openly queer and openly undocumented, one Los Angeles artist uses his platform to destigmatize what many consider taboo
LOS ANGELES – Julio Salgado is the co-creator of The Disruptors Fellowship, a program at The Center for Cultural Power in Oakland, California, for emerging television writers of color who identify as trans/and or non-binary, disabled, undocumented/formerly undocumented immigrants.
His work has been displayed at the Oakland Museum, the San Francisco Museum of Modern Art, and the Smithsonian, but for the 39-year-old artist, it's using his art to destigmatize what many consider taboo that's his passion.
The early years
Growing up in Mexico, Salgado felt pressure from his family and peers to take part in sports, primarily soccer. However, disinterested in the innate masculinity of Mexican sports culture, the young artist chose to spend hours drawing in his room instead.
"Plus, I'm not a competitive person," Salgado humbly told The Blade.
Then, in 1995, when Salgado was twelve, a family trip to Los Angeles took a shocking turn when Salgado's younger sister developed severe symptoms that landed her first in a general hospital and then later in a children's hospital.
"It happened super fast," said Salgado. "She was rushed to the ER, and her kidneys started failing."
Salgado's sister (then 7) was put on dialysis as doctors told the family that she would need a new kidney ASAP.
Both of Salgado's parents were matches for his sister. Within a few weeks, Salgado's mother had an operation to transfer her kidney to her ailing daughter.
"It's your child," said Salgado, reflecting on his mother's sacrifice. "You will do anything for your child."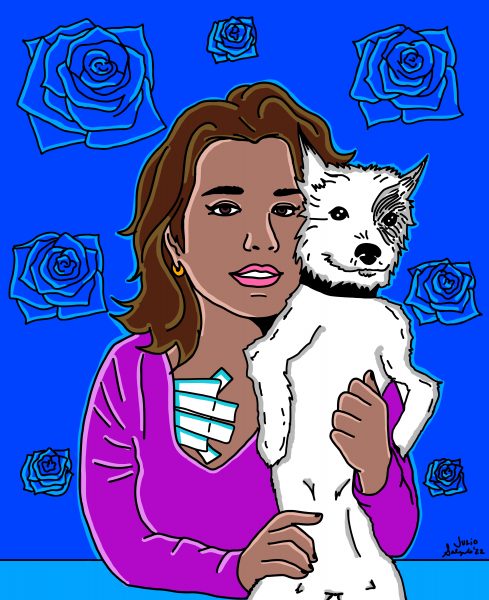 While the surgery was a success, a new complication arose when doctors told the family that it would be dangerous for the sister to be under the care of new doctors in Mexico. Not willing to risk her daughter's life, Salgado's mother decided to stay in America indefinitely.
"My parents were so young," said Salgado. "They were in their early thirties. I can't even imagine what that must have been like for them." 
Not fully prepared to move to the U.S., Salgado's father returned to his job in Mexico. He periodically sent money to his family in Los Angeles.
"It was the opposite of how it usually is," said Salgado. "Usually, Mexicans come to work here and send money back home to Mexico. But we did it in reverse."
For the first couple of months, the family of three couch-surfed their way through different family members' homes. Eventually, they moved into a small studio apartment with Salgado's uncle, Chicho. 
The family lived in the US for about a year before their passports expired.
In 1996, the family moved out of Chicho's apartment toa home in Long Beach, this time with Salgado's father, who had finally agreed to give up his life and job in Mexico.
In school, Salgado bonded with other undocumented kids in his ESL class. Sadly, many of these friends knew they could never attend university due to their lack of papers.
"That was my biggest fear," said Salgado. "I knew a lot of my friends went into the kind of jobs no one really wants to do. I did a few of those jobs myself… I wanted more for my life, but I didn't know what was going to happen to me after high school."
Luckily, California Assembly Bill 540 (AB 540) passed as Salgado graduated high school, allowing undocumented immigrants to attend community college while paying in-state tuition.
"I still had to make money," said Salgado, who independently funded his entire college career. "I got creative. I even took odd jobs caricatures for kids' parties."
Salgado recalled that despite building a life for himself in America, he was always hyper-aware of his illegal status.
"I only drove from work or to school and home," said Salgado. "There was always this feeling of being a kid forever… My friends just knew that if I were going to come out with them, they would have to drive me."
Salgado recalled a run-in with the police that left him shaking with fear.
It was 3:30 AM, and Salgado was driving his 1983 Plymouth for his early morning shift at a large chain store. A young police officer pulled Salgado over and asked for his license and registration. He lied, saying that he had forgotten it at home.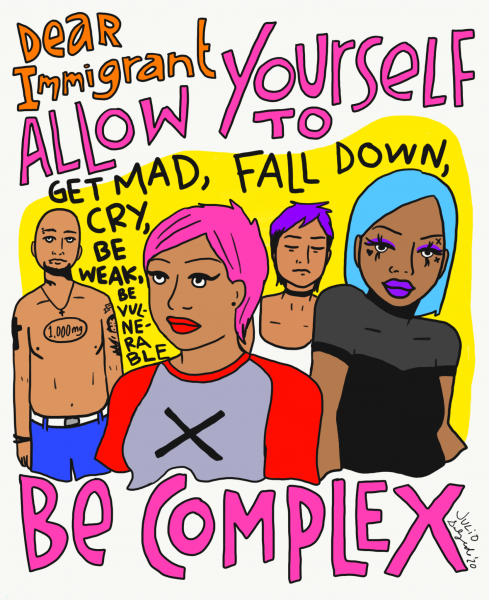 The officer asked him to pull into a nearby McDonald's parking lot so that they could search his car. Feeling he had nothing to hide, Salgado complied.
"Before I knew it, two more police cars showed up," said Salgado. "I was being told not to move. There was a gun to my head. I was going to cry. I had never seen a gun in my life."
The police had found some t-pins, used to pin artwork on cork walls, in his trunk and mistaken them for drug paraphernalia. Once he cleared up the misunderstanding, the police made a tearful Salgado abandon his car and left him on the side of the road.
"I was so scared," said Salgado, who felt the incident served as a reminder that he was constantly at risk of being deported.
While Salgado remains currently undocumented, he said that the Deferred Action for Childhood Arrivals (DACA) has helped him settle more into American life. DACA is administrative relief from deportation that protects eligible immigrant youth from deportation originally established via executive action in June 2012 by the Obama Administration.
"Since 2012, I have been able to do more," said Salgado. "Now I have a social security number and a real ID and driver's license. I can now get permission to leave the country and come back."
Salgado said he feels DACA benefits not only immigrants but also the spirit of America as a whole.
"You are creating citizens who can give back to America. Many who got DACA became doctors and lawyers. Isn't that the American dream?"
Coming Out as Gay
Homosexuality had always been a sensitive subject in Salgado's family. In addition to the stigma homosexuality carried in his religious Catholic household, the AIDS crisis also played a role in the taboo.
Salgado's mother had a young brother who died from AIDS. His uncle, Chicho, who the family lived with when they first moved to Los Angeles, was openly gay and had developed HIV.
"There were always whispers about my uncle Chicho," said Salgado.
"We were just learning about AIDS and seeing people die on the news… I knew if I followed this path, I would die."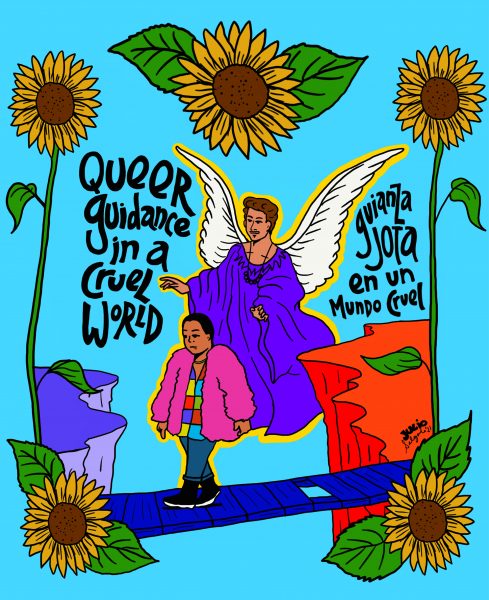 Salgado got his first inkling that he was gay when he was a young boy watching Disney's Aladdin.
"I just really wanted to hug him," said Salgado, laughing. "I knew I was attracted to other men, but growing up Catholic, I also knew that was wrong."
When Salgado was in high school, he started to share suspicions about being gay with his female friends. A couple of those friends propositioned Salgado, saying they were willing to offer him their bodies so that he could discover whether or not he was gay.
"I do think sexuality is fluid," said Salgado, reflecting on how the experience left him thinking that he was bisexual. "At that point, I had never been with a boy. I was glad we were exploring, but I felt guilty, like I was used to them. And I was ditching school. "
Salgado said that he believed his foreignness saved him from the typical bullying commonly accompanying a young queer person's journey to self-discovery.
"I mostly got bullied for not speaking English," said Salgado. "It was actually the other brown kids who would make fun of me and call me 'wet back' and make me feel bad because my parents bought me shoes from Payless. It was immigrant-on-immigrant bullying."
Salgado did not come out to his family until he was an older teenager. He came out to his mother when he was eighteen after she read some experts about being gay in an old sketchbook/diary of his.
"At that moment, I felt I had two options. I could either say, how dare you go through my things, Mother, or I could come clean. I told her that I was bisexual because that is what I thought at the time."
Salgado did not come out to his father until he was about twenty-five and in college.
"I was in love with my first boyfriend," said Salgado. "I thought this was really the person I wanted to spend the rest of my life with…I came out to my dad because I wanted to introduce my boyfriend to my family."
Salgado came out to his father in the car on the way home from work.
"I remember not being able to get the words out," said Salgado. "I said, 'I'm different,' and he knew exactly what I was talking about."
At first, his father said that while he respected "this decision," he "did not want to see that."
While Salgado was glad his father did not react with the physical or emotional violence that was especially prevalent when his father drank, he also realized his hope of introducing his boyfriend to his father was impossible.
Salgado said his father has since come to terms with having a gay son. Their relationship is now better, and they even collaborated on an art piece about homophobia and machismo. Salgado said he realizes that his father's past homophobia was a misguided way of trying to protect his son.
The Art
Salgado's early art is often political, reflecting everything from the queer rights movement to the war in Iraq.
In college, Salgado stopped being an art major because he found it too restrictive. He then became a journalism major instead.
Salgado used political cartoons as a way to feel connected to the world at large. The artist said that is when he caught the bug for political art as a way to connect to others.
Salgado met more undocumented college students at Cal State Long Beach and started a support group for them.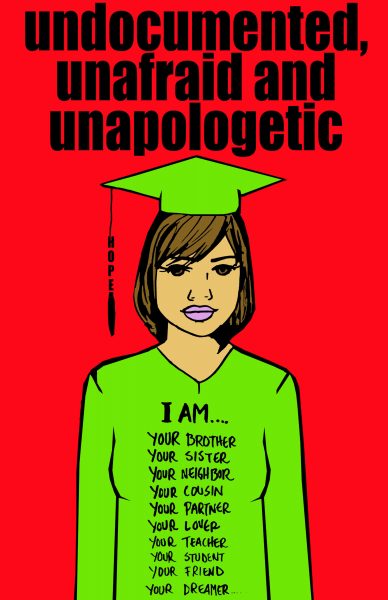 Through the support group, Salgado met other creatives and started a magazine called "The Reflection," which focused on the deep experiences of Latino/Latina students as first-generation students.
Openly queer and openly undocumented, one Los Angeles artist uses his platform to destigmatize what many consider taboo
"All of a sudden, I had a community that was investing in work in our own community," said Salgado. "I realized this was what I wanted to do with the rest of my life. I wanted to make art that mattered to people."
Salgado also used his Facebook and the school newspaper to publish political art about the movement. Wanting to represent his entire journey, he stopped separating his queerness from his 'undocumentedness' and started to combine the two aspects of his journey in his art.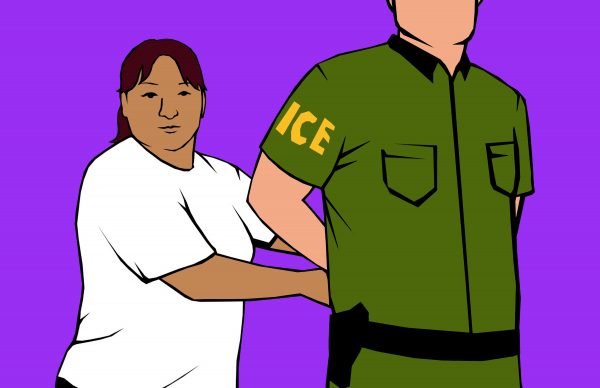 Salgado would also draw cartoons to be submitted for petitions against the deportation of certain young individuals.
"I knew we needed to lend a face to those being deported," said Salgado. "A lot was happening in the shadows."
"I felt like I could add to the movement through my art…I also knew if my family ever fell into a deportation case, my community would stand behind me. I didn't feel alone…. Just like we need to come out as LGBT, we need to come out as undocumented and say we are here. These are our faces."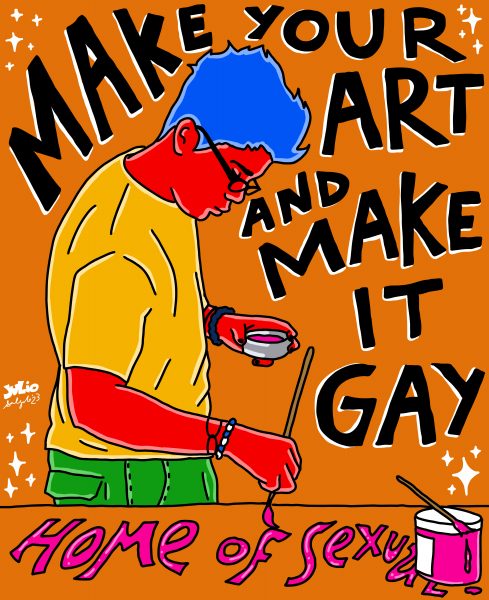 Now, Salgado has moved away from political art and chooses to focus on the more positive aspects of his life.
"I try to make art about the things that bring me joy. For many years. I made art about how fucked up it is to be an undocumented immigrant. Now my focus is on being a gay 40-year-old man who did not think as a teen that he would make it to his 30s. And now here I am."
After his sister's kidneys started failing again, Salgado moved in to a home with his sister and mother to help care for her. He drives her to her tri-weekly dialysis appointments while she awaits another kidney transplant. Salgado's father and mother are now separated but maintain a "beautiful" relationship.
Related:
This past Thursday, September 14, U.S. District Court Judge Andrew Hanen in Houston, Texas ruled that a revised version of a federal policy that prevents the deportation of hundreds of thousands of immigrants brought to the U.S. as children, or DACA, is illegal.
While Hanen agreed with Texas and eight other states suing to stop the Deferred Action for Childhood Arrivals, or DACA, he declined to order an immediate end to the program and the protections it offers to recipients.
The Associated Press reported Hanen's order extended the current injunction that had been in place against DACA, which barred the government from approving any new applications, but left the program intact for existing recipients during the ongoing legal review.
"While sympathetic to the predicament of DACA recipients and their families, this Court has expressed its concerns about the legality of the program for some time," Hanen wrote in his 40-page ruling. "The solution for these deficiencies lies with the legislature, not the executive or judicial branches. Congress, for any number of reasons, has decided not to pass DACA-like legislation … The Executive Branch cannot usurp the power bestowed on Congress by the Constitution — even to fill a void."
His ruling is ultimately expected to be appealed and after lower federal appellate court rulings will ultimately send DACA's fate to the U.S. Supreme Court for a third time.