Queer parenthood: A transparent dive into surrogacy and hope
While it's been around for a while, surrogacy is still riddled with mystery, inaccessibility, and unpredictability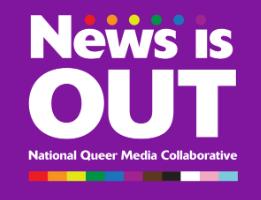 By Matthew Schueller | PORTLAND, Ore. – I feel extraordinarily lucky. As a kid, I never imagined my life could look like this. Growing up in the closet in the mid-Willamette Valley of Oregon, an area many consider to be the conservative Bible Belt of the Pacific Northwest, I didn't think it was possible for me to find love, let alone get married.
It's humbling to see now that I've proved myself wrong. It is truly contrary to what I thought my life would be like 10 years ago, so to be here now in the process of starting a family is absolutely ridiculous to me. It already feels like a miracle, so the fact that we can even attempt to bring life into this world as a gay couple blows my mind.
I've always wanted to have kids, but I didn't start seriously considering the possibility of surrogacy until I met Michael and our relationship became more serious. As I learned more about it and started looking into it more, I realized that it was the best path for us at the time. We started looking for an egg donor and surrogate mother at the beginning of 2021 when we officially made the decision to start the process.
That being said, we know it's still not that easy. While it's been around for a while, surrogacy is still riddled with mystery, inaccessibility, and unpredictability. What we quickly realized when we started to look at our options was that we didn't know the first thing about starting a family as a queer couple, and neither did most of our friends and family!
When we started researching online, we found a ton of different information (often conflicting) from a variety of sources. We didn't even know where to start, so we began calling up IVF clinics and surrogacy agencies.
We spent months researching the process and figuring out what exactly this might look like for us, how much it would cost, and how we should mentally prepare. I think that's what inspired us to start sharing. We saw a lot of couples online sharing their stories after the fact — after the babies had arrived and everything looked fantastic — but we didn't see many couples sharing their stories as it was happening. To us, the process of surrogacy looked like a mysterious black curtain where most of the details were not quite clear.
Our goal is to share the process of having kids as a gay couple as it's happening, the good and the difficult. We believe alternative paths to parenthood should be accessible to all queer couples, and we think that starts with shedding light on how these processes actually work. With knowledge, there's power. And since many of us in the LGBTQ+ community don't know the options available for family planning, we don't know where to start to enact change.
Many paths to parenthood are largely considered to only be attainable by the extremely privileged and wealthy — but we know that gender, sexuality, and income level should not determine whether or not someone can have a family, so why is that not considered true for queer couples?
There are a lot of big questions that have come up, so my husband, Michael, actually encouraged me to start a podcast with him to interview individuals who've experienced alternative paths to parenthood and experts who can provide insight and education. Thus, the birth of the "Who's Your Daddy?" podcast.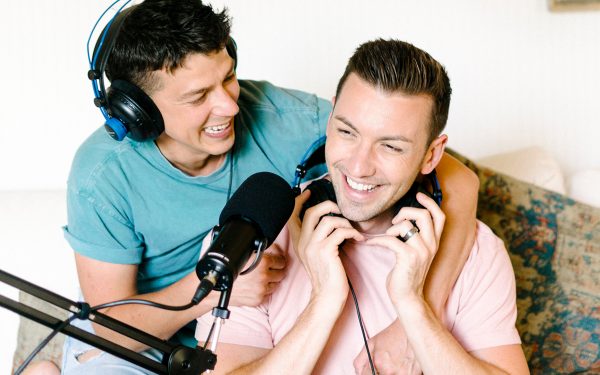 Over the last 19 months, we've found our egg donor, created embryos and actively sought our gestational carrier. While there have been many ups and downs, we are really excited for the next steps in hopefully finding our surrogate soon. The first difficult decision was trying to figure out where we would undergo the process. We interviewed quite a few surrogacy agencies and IVF clinics, and we connected well with a doctor in Texas. We just had a good feeling about it, so we went with our gut.
At the time, we didn't think much of where our egg donor or surrogate could be located: We thought it didn't really matter if they were far away from us. We were under the impression that pursuing surrogacy in Texas might be significantly cheaper than on the West Coast, and perhaps lead to a quicker matching time since there are just way more people in the Dallas area than in the entire state of Oregon.
Our minds changed. As the clinic progressed through egg donation and embryo creation, we started to feel the distance weighing on us. Not only did the importance of being physically close to where our surrogate would be located but also we began reflecting on how the state laws could impact us.
Just over the last year, Texas has taken sweeping action against access to abortion. So what does that mean for all those in the state considering being a surrogate? If pregnancy complications were to occur, how difficult would it be for a surrogate to access the needed medical care? It's unclear. It's understandable that the change in state law could cause concern for many considering becoming a gestational carrier and therefore limit the pool of people willing to carry in the state. 
Legal implications aside, we want to be there for the ultrasounds, doctor's appointments and of course the childbirth. Being far away from where our surrogate lives makes that difficult. Now, we recommend those considering surrogacy to look into your local laws, determine how those might impact you and then consider the closest reputable IVF clinics in your area before searching far away.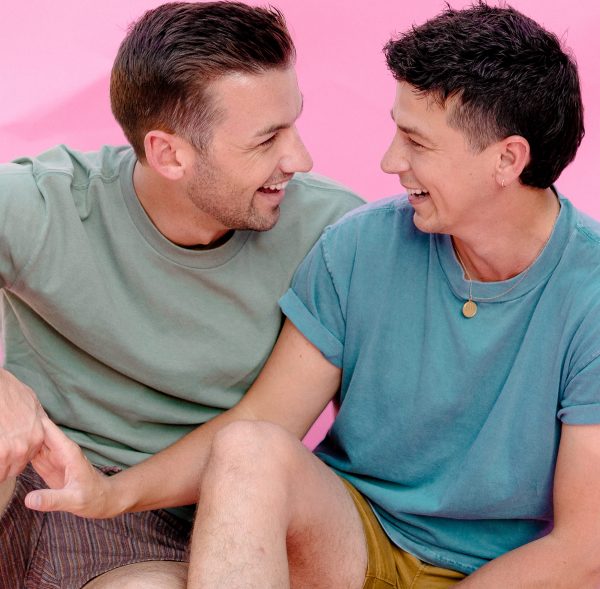 Our embryos were created last December. While 30 eggs were harvested, only five embryos made it to viability. I'm the genetic half of four of the embryos, while Michael is the genetic half to one.
It was a difficult experience. On one hand, we were incredibly happy that we were able to produce five viable embryos. On the other hand, we're extremely nervous.
Our goal starting out was to have twins, each of us the genetic father of one. With only having one embryo on Michael's side, that means there's just one chance at a transfer. If it were to fail, we're just not sure it's financially feasible to repeat the IVF process and try for more embryos.
So, we're hopeful. Optimism can be powerful here, so we look at this as having five embryos–five wonderful chances to have a baby. We might not end up with twins like we first sought to do, but if we've learned one thing from this entire journey, it's that we cannot control what we cannot control. Surrogacy and IVF are seriously unpredictable processes, and we're just hopeful to see what miracle biology will bring.
***************************************************************************************
The preceding commentary was previously published by News Out and is republished with permission.
Matthew Schueller is a content creator and registered nurse. He hosts the "Who's Your Daddy" podcast along with his husband, Dr. Michael Lindsay. You can follow @MichaelandMatt on Instagram, TikTok and YouTube. 
This is what transgender eradication looks like
Teachers fired, inmates detransitioned, adult care banned, allies killed. A new phase of anti-trans politics- eradication is the goal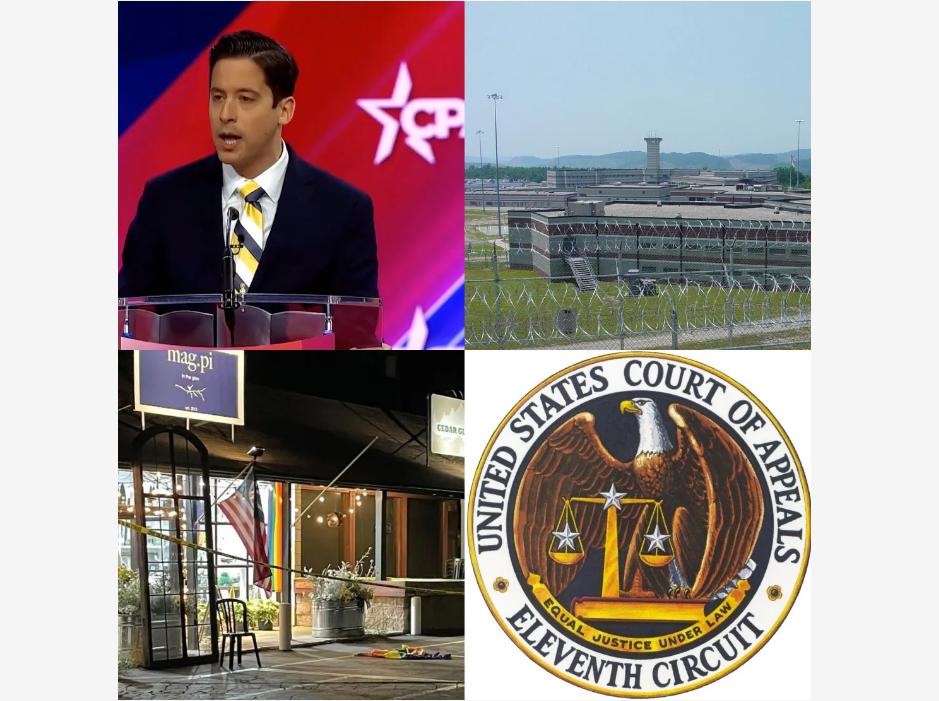 By Erin Reed | WASHINGTON – On Monday morning, we learned of a tragic incident: a woman was fatally attacked outside her store by an individual who had torn down the pride flag displayed there.
The following day, the 11th U.S. Circuit Court of Appeals delivered another blow, determining that transgender youth and adults aren't entitled to their medication, arguing such treatment is not "deeply rooted in this nation's history and traditions," a rationale echoing the Dobbs anti-abortion decision.
Concurrently, new laws are coming into effect, mandating the forced detransition of any incarcerated transgender individual. The once muted alarm signaling potential dangers for the transgender community has escalated into a raging firestorm. Reactionary figures from the right are fueling this blaze, advocating for eradication.
How did we reach this juncture, and what's our path forward? How can we shield ourselves amid one of the most intense reactionary movements ever aimed at the LGBTQ+ community? These questions have weighed heavily on my mind lately. They frequently surface as the final questions posed to me when I discuss these issues with organizations and fellow journalists striving to understand the times we're in.
Just four years ago, our discourse was focused on the role of transgender athletes in top-tier competitive sports. Now, that debate feels like an ember compared to the blazing wildfire we currently face.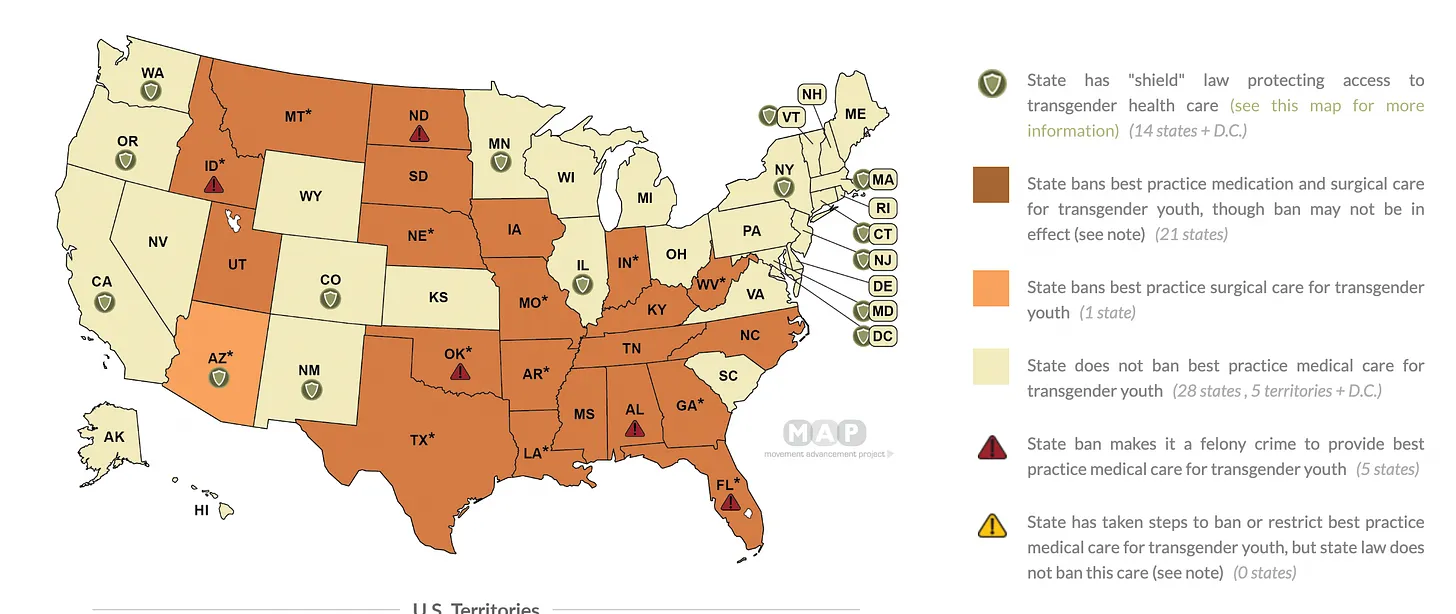 To comprehend our path forward and strategize for safety, we must first recognize where we stand. Presently, care for transgender youth is prohibited in nearly 20 states, and for adults in Florida. Several more states restrict healthcare coverage, making it very hard for trans people to obtain care. In some of these states, penalties loom for those who "aid and abet" these youths in accessing their essential medical care.
Concurrently, a surge of laws target us in restrooms, classrooms, and public spaces. In Florida, violations of bathroom bans lead to arrest, with the incarcerated trans person spending up to a year in prison. In states like Missouri and West Virginia, any arrest can subject an individual to state-mandated detransition.
It's not just our care that's under attack, but our expression too. Contrary to the arguments made by far-right opponents of transgender rights, the freedom of speech and expression for LGBTQ+ individuals is facing unprecedented threats. This year witnessed the introduction of drag bans in multiple states, so broad in scope that they affected anyone wearing clothing not traditionally associated with their assigned gender.
While most of these bans were halted on constitutional grounds, Texas is soon to enforce its drag prohibition. Similarly, book bans are on the rise, leading to theatrical hearings in front of Republican-led school boards that label any LGBTQ-themed book as "unsuitable for children." Case in point: in Georgia, a committee deemed the Scholastic Kids book "My Shadow Is Purple" so inappropriate that a teacher faced termination merely for reading it aloud.
It's patently evident that we're witnessing a determined effort to eradicate a marginalized group from the public sphere. Although these laws and policies have largely been limited to Republican-dominated red states, 2024 looms large.
The upcoming major election year bears the threat of nationwide prohibitions. We're already observing laws that target the transgender community being tactically inserted into must-pass legislation, such as the NDAA military spending bill, the national budget, and funding bills for children's hospitals. Predictions of government shutdowns are increasingly frequent, possibly due to these very issues, as Republicans designate transgender matters as their non-negotiable "red line."
We cannot fully rely on the judiciary for protection. While the Supreme Court's 6-3 decision in Bostock v. Clayton County did strengthen the basis for transgender rights within the constitution – a ruling that many in the trans community have clung to with hope – the subsequent Dobbs decision concerning abortion rights paints an uncertain horizon.
The 14th Amendment is intended to guarantee everyone equal protection and due process under the law. However, post-Dobbs, the Supreme Court stated that the rights shielded are only those "deeply rooted in this nation's history and traditions." The long-standing presence of transgender individuals in America, including amongst indigenous populations before the nation's inception, appears insufficient for such consideration.
The 6th and 11th Circuit Courts, predominantly composed of Trump-appointed judges, have both overturned lower court decisions, allowing bans on transgender rights. Their rationale is authored in such a way to convince the Supreme Court that, in light of the Dobbs verdict, these prohibitions should take precedence over Bostock.
If the Supreme Court, which might consider these cases within the next couple of years, concurs, they've already provided the justification for nationwide bans on adult gender-affirming care.
See this excerpt explicitly calling for it: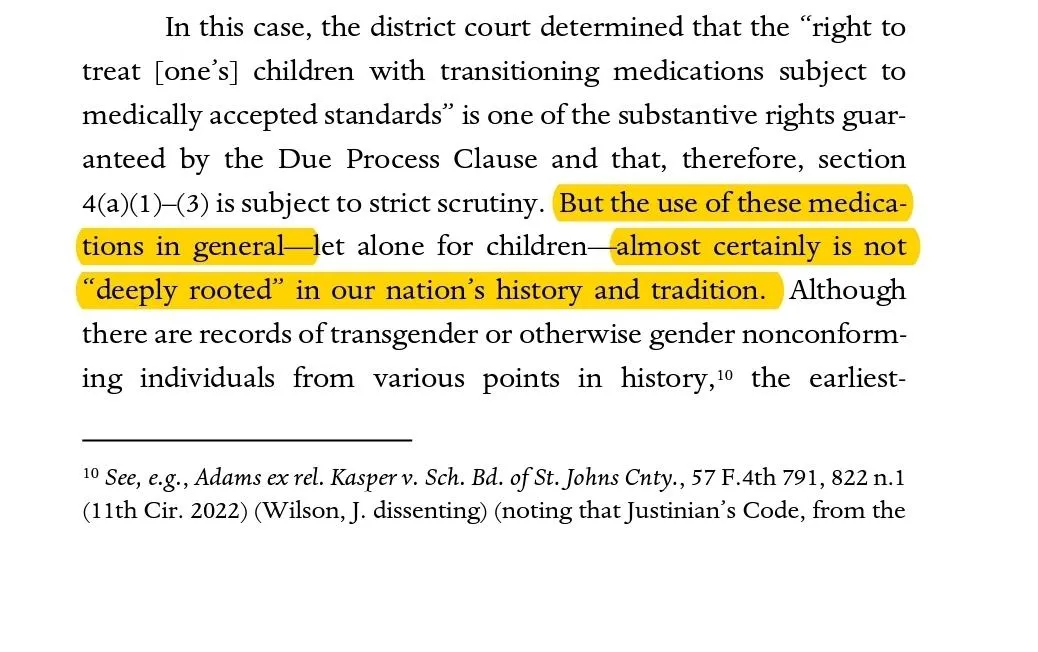 At a recent Conservative Political Action Conference (CPAC), Michael Knowles brazenly advocated for transgender "eradication." Since that declaration, the tide of anti-trans legislation, detransition bills, and vilification of the trans community has risen alarmingly. In Kirbyville, Texas, a teacher's simple act of transitioning has sparked vehement demands for his dismissal. As I pen this article, Florida is unveiling policy proposals designed to penalize those who defy the state's anti-trans bathroom mandate. This is what eradication looks like.
Transgender individuals are acutely aware of this. Many in our community have been cautioning for years about the direction we're headed. Consequently, recent surveys reveal that approximately 260,000 transgender individuals have already relocated to different states — a significant 8% of the entire trans population (estimated to number between 1.5-3 million, or 0.5-1% of the US population). Moreover, an additional 40% are contemplating such a move. When factoring in that these individuals often relocate with their families, this shift becomes comparable to some of the most significant migrations in American history.
Meanwhile, an organized push is being made to "compromise" on transgender people. I reported last month that some Democrats were considering compromising over anti-trans provisions in must-pass legislation. At the same time, the New York Times is filled with "both sides" arguments attempting to make this palatable to the American left.
There is no sign that the left has fallen for the bait yet – polls still show extremely high support for transgender people among Democrats and independents. Every day, though, it seems like a new "radical centrist" pushes this tactic – just yesterday, Matt Yglesias became the latest to offer such a "compromise."
What's the path forward? In my numerous conversations and private discussions with transgender individuals, each person contemplates varied next steps. While it remains essential for us to actively participate in the political process, many have confided in me their decisions to, or already actions of, stockpiling hormone therapy to endure extended periods of disrupted care.
Similarly, many are leaning into local support networks — a testament to the LGBTQ+ community's history of resilience and solidarity, especially when confronted with overwhelming societal pressures. As a result, medication sharing, underground community networks, and acts of civil disobedience are witnessing a resurgence.
Yet, amid these challenges, glimmers of hope persist in the political realm. Several states have distinguished themselves as sanctuary states, vowing not to extradite transgender individuals across state boundaries over criminal anti-trans laws. Some cities nestled within these more conservative states have also staked their ground as protective havens, although the extent of their impact remains to be seen.
Encouragingly, the 4th, 8th, and 9th Circuit Courts have rendered decisions favorable to transgender rights. Bostock remains the prevailing legal standard, and the majority of the justices instrumental in that verdict still hold their seats. There's is some hope that medical discrimination against transgender individuals might be declared unconstitutional at the Supreme Court level. If otherwise, vast swathes of the nation could continue to stand as a sanctuary, offering solace to trans individuals from systematic attempts at marginalization.
While hope is invaluable, it alone won't repel attempts at eradication. Action is imperative. Beyond just legal protections, we must actively support trans individuals who cross state boundaries, aiding them in regaining their financial stability.
Furthermore, we can't abandon those without the resources, ability, or will to relocate from their homes. Many of us hope for a quicker resolution, but this battle might become the kind of generational struggle we'll recount to our children. Though these may be efforts to erase us, one truth stands firm: we are part of what it means to be human, and eradication is a futile pursuit. Even if every last one of us was removed from this Earth, we would still be here, born anew to every generation.
***************************************************************************
Erin Reed is a transgender woman (she/her pronouns) and researcher who tracks anti-LGBTQ+ legislation around the world and helps people become better advocates for their queer family, friends, colleagues, and community. Reed also is a social media consultant and public speaker.
Follow her on Twitter (Link)
Website here: https://www.erininthemorning.com/
******************************************************************************************
The preceding article was first published at Erin In The Morning and is republished with permission.