Florida GOP lawmakers target small town over safe space decals
In May, the Humans Rights Campaign joined other civil rights organizations in issuing a travel advisory for Florida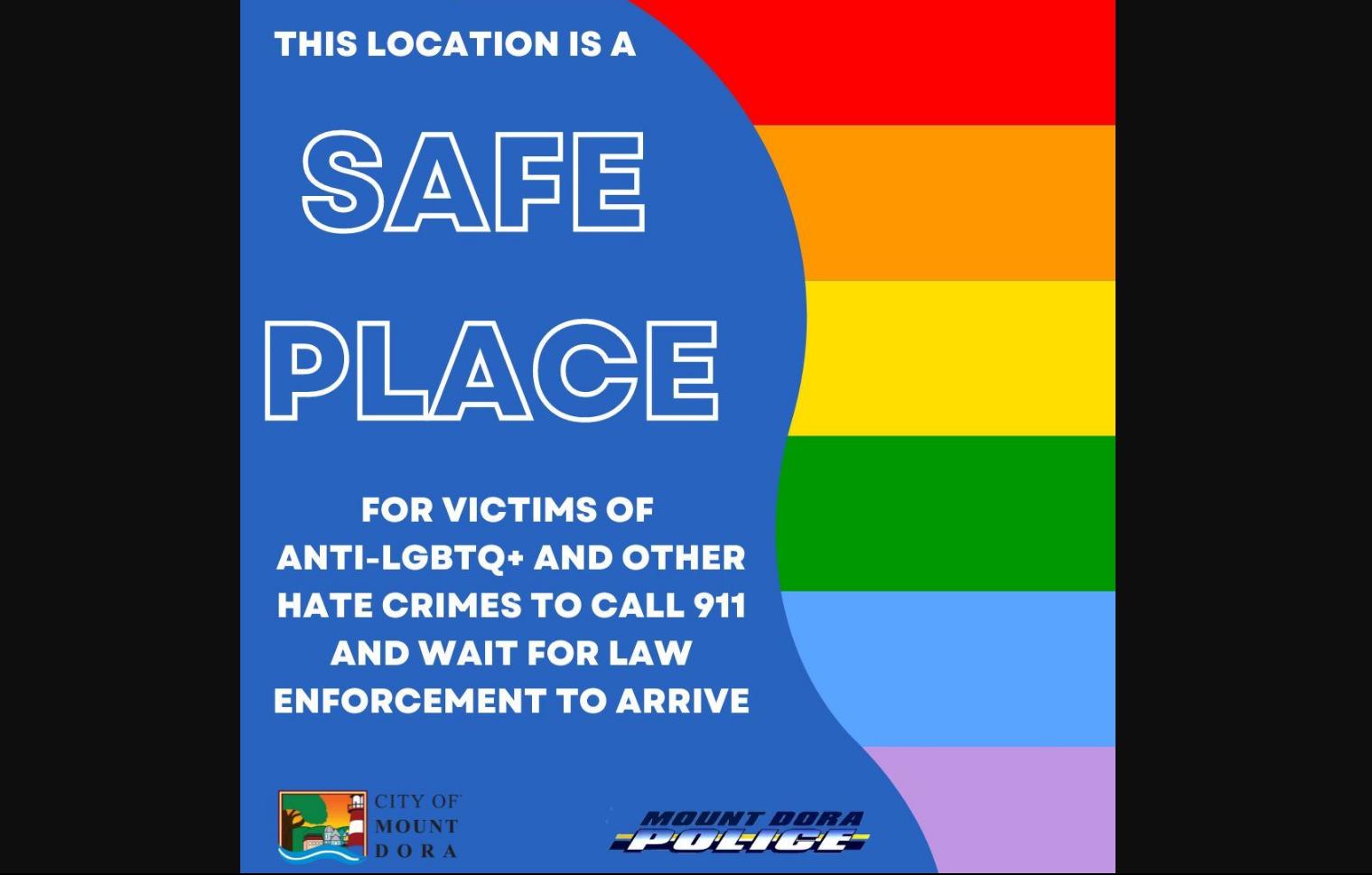 MOUNT DORA, Fla. – Four Republican state lawmakers from Central Florida declared that they would be exploring "all legislative, legal and executive options available" to overturn the actions of this small town's business community, government officials and its police department to mark 'Safe Spaces' for the LGBTQ+ community.
In a August 21st letter to the City of Mt. Dora, state Senator Dennis Baxley, along with state Representatives Keith L. Truenow, Taylor Michael Yarkosky, and Stan McClain expressed outrage at the actions undertaken to protect LGBTQ+ people who may feel threatened.
On the city's website it details the Safe Place program:
The City of Mount Dora and the Mount Dora Police Department (MDPD) are committed to the safety of all residents and visitors including Lesbian, Gay, Bisexual, Transgender, and Queer/ Questioning (LGBTQ+).
The mission of the Safe Place Initiative is to provide the community with easily accessible safety information and safe places throughout the city they can turn to if they are the victims of an anti-LGBTQ+ or other hate crimes. Hate crimes are motivated by the basis of race, color, religion, ancestry, national origin, gender, sexual orientation, gender expression, gender identity, mental, physical, or sensory disabilities, homelessness, marital status, political ideology, age, or parental status.
Through the Safe Place Initiative, the MDPD will provide decals to City facilities, local businesses and other organizations for those entities to post as a symbol of safety for the victims of an anti-LGBTQ+ or other hate crimes.
Anyone who seeks solace in a Safe Place location can be assured that if they are the victim of a crime, police will promptly be called. 
The website then provides guidelines on obtaining and posting the decals that mark the bossiness as 'Safe Spaces' along with FAQ's and instructions.
The four lawmakers in their letter allege that in the previous decade plus there had been no recorded incidents of anti-LGBTQ+ hate crimes or hate motivated attacks. The quartet then stated that the City's actions were divisive and unwarranted. They claimed that the city was picking "winners and losers" and alienating visitors and residents.
Under the administration of Republican Governor Ron DeSantis, passage of new laws that severely limit the civil rights of LGBTQ+ Floridians has increased anti-LGBTQ+ animus in the state.
Two of the state of Florida's largest civil and human rights groups took an unusual extraordinary step of issuing a warning to travelers to avoid traveling to the 'Sunshine State' as a result of the policies of Governor DeSantis.
OK, WE GET IT ALREADY. Florida Republican lawmakers have made it absolutely, and unequivocally clear that they do not want any safe spaces for LGBTQ people in our state.

Yet, we'll keep creating them because we can. https://t.co/s0KVW7zoLM

— Carlos Guillermo Smith (@CarlosGSmith) August 23, 2023
The largest statewide LGBTQ+ civil rights advocacy group Equality Florida and the Florida Immigrant Coalition warned the passage of laws that are hostile to the LGBTQ+ community, restrict access to reproductive health care, repeal gun safety laws, foment racial prejudice, and attack public education by banning books and censoring curriculum, has made Florida a risk to the health, safety, and civil liberties of those considering short or long term travel, or relocation to the state. 
The Associated Press reported that in May, the Humans Rights Campaign, the largest LGBTQ+ rights organization in the U.S., joined other civil rights organizations in issuing a travel advisory for Florida, warning that newly passed laws and policies may pose risks to minorities, immigrants and gay travelers.
'SAFE PLACES': Some central Florida lawmakers said they were considering "all legislative, legal and executive options available" to stop business owners in a small town from voluntarily displaying rainbow decals in their windows. https://t.co/bPrNBoxCfx

— WPLG Local 10 News (@WPLGLocal10) September 2, 2023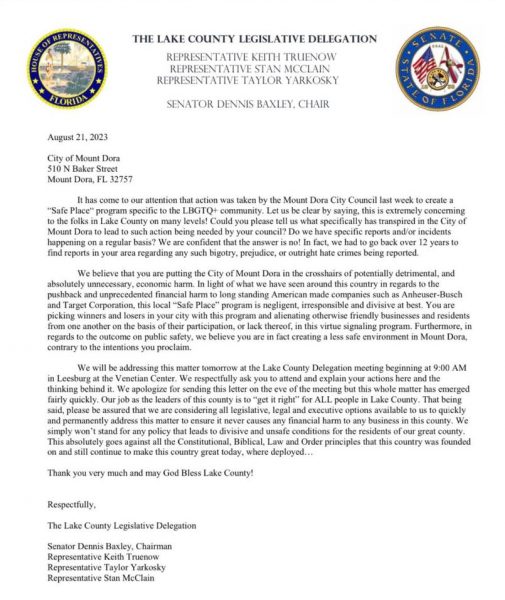 Florida Uni students & professors sue over Stop WOKE law
"The student plaintiffs are adults capable of determining for themselves whether the viewpoints advanced by their instructors have merit"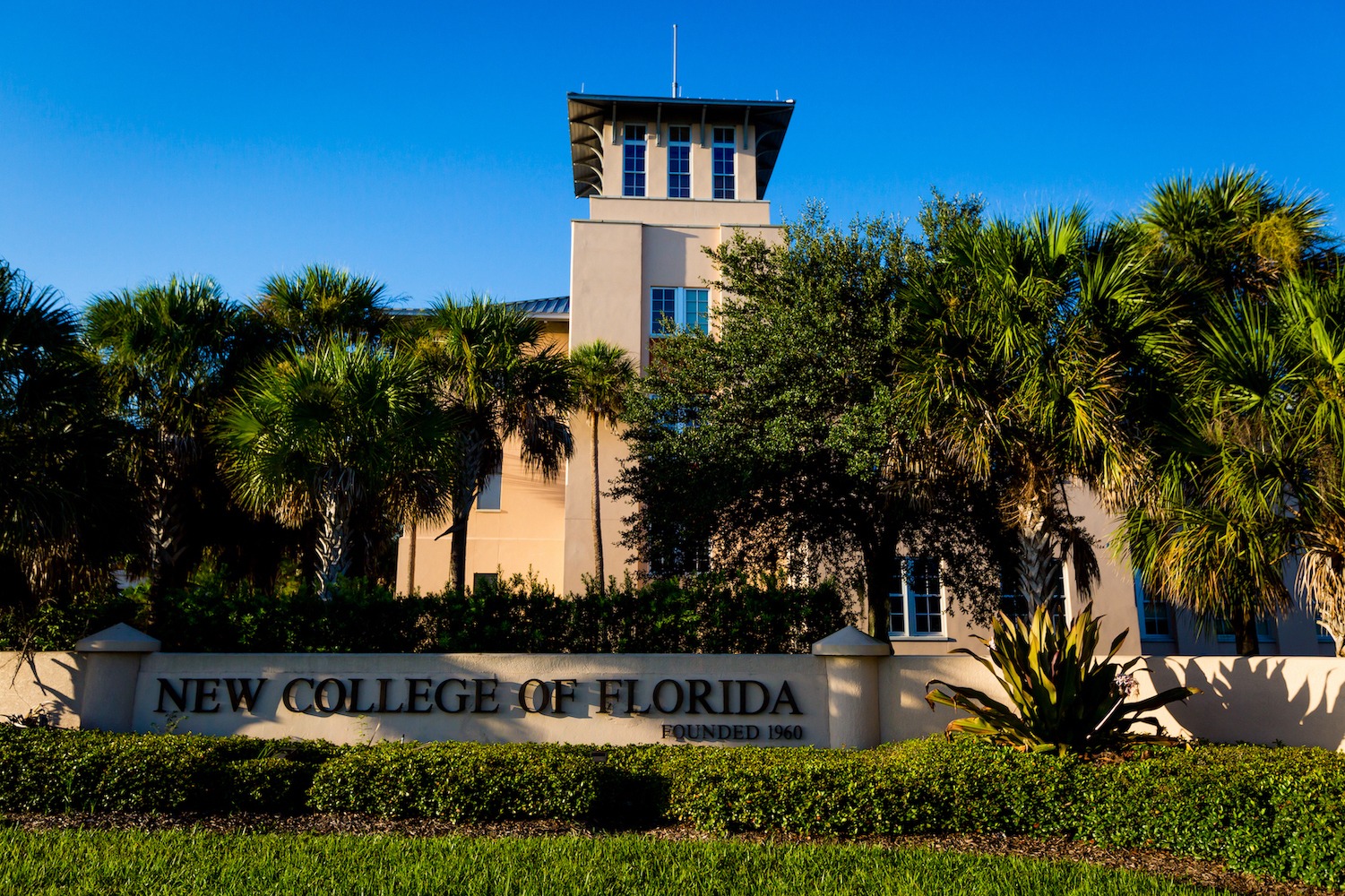 By Michael Moline | SARASOTA, FL. – Sara Engels is a rising junior at the New College of Florida studying political psychology. She wants to take a class called "Health, Culture, and Societies" this fall but it might not be available under the atmosphere of conservative orthodoxy the DeSantis administration is imposing on public university and college campuses.
The class, you see, addresses the different health outcomes people realize based on their race, class, gender, or ethnicity. That seems to be forbidden under a new state law banning instruction touching on identity politics, systemic racism, sexism, oppression, and privilege.
Carlton Leffler is the equivalent of a senior at the public honors academy taking urban studies and Chinese classes. The first field entails many of the same topics as Engels' health class; as for Chinese, the law would appear to limit discussion of pivotal historical material about Mao Tse Tung, his "Little Red Book" and the Chinese Cultural Revolution.
Engles and Leffler both are plaintiffs in a new legal challenge to SB 226, one of the anti-"woke" laws that the Republican-dominated Florida Legislature has approved for Gov. Ron DeSantis. All of the plaintiffs, including a third student and two professors, are affiliated with New College but the law applies to public higher education throughout the state.
"The student plaintiffs are adults capable of determining for themselves whether the viewpoints advanced by their various instructors … have merit," the 81-page brief, filed Monday in U.S. District Court for the Northern District of Florida in Tallahassee, reads.
"In order to know whether the viewpoints advanced by their professors have merit, the student plaintiffs must first have an opportunity to encounter them; that is, they must be permitted to listen to the professors' instruction in class," it says.
"The professor plaintiffs are willing speakers and the student plaintiffs are willing listeners. They desire to engage in academic discussion concerning topics prohibited by SB 266."
Organizing the case is another plaintiff, NCF Freedom, which describes itself as "an independent organization founded to protect and promote the academic mission of New College."
Sweeping changes
SB 266, passed earlier this year, made sweeping changes to higher education governance in Florida, including bans on diversity initiatives or application of critical race theory. The measure also specified that university presidents have the last word on personnel matters, abrogating the contract's arbitration language.
It followed passage of the "Stop WOKE," or "Individual Freedom," Act in 2022 to restrict conversations about race and gender in schools and workplaces. A federal judge found that law unconstitutional nearly one year ago.
New College is a public, small honors institution located in Sarasota. As the lawsuit points out, "Historically, New College has had a reputation for welcoming LGBTQ+ students and unconventional individuals of every sort. The landing page for the College's website proclaims that it is a 'Community of Free Thinkers, Risk Takers and Trailblazers.'"
The document cites campus organizations including "New College Feral Pigeons;" the "Indigenous Student Union;" and "Queery" — "an organization which 'serves to maintain New College as a safe place for LGBTQ+ identified individuals and their allies to socialize and engage with the larger community.'"
By contrast, DeSantis hopes to convert the Sarasota campus to "a Hillsdale of the South," referring to the private Christian Hillsdale College in Michigan. He got rid of the sitting board members and imposed conservative activists including Christopher Rufo, who was behind the anti-CRT (critical race theory) movement. The governor's board and Corcoran are even promoting intercollegiate athletics as a draw for more conservatively aligned students.
Named as defendants are Manny Diaz Jr., state commissioner of education and a member of the university system's Board of Governors; Brian Lamb, chairman of the Board of Governors; Eric Silagy, vice chairman of the governors; the 11 remaining governors; the New College Board of Trustees and its members; and Richard Corcoran, interim president of New College.
Academic threat
SB 266 threatens academic fields including gender studies, history, art, English, sociology, and more to the extent they inquire into this country's complicated political and social histories, the complaint alleges.
"The elimination or curtailment of many AOCs [areas of concentration] or majors directly affects the rights of current and future faculty and students, including the plaintiffs bringing this action. Faculty and students at colleges and universities throughout Florida face the same censorship and the same injury to their rights of free speech and academic inquiry," the complaint reads.
It adds: "Given its unique status as an honor college, dedicated to the liberal arts and attracting free thinkers from around the nation, New College is uniquely vulnerable to the censorship and pall of orthodoxy imposed by SB 266."
Furthermore, NCFF risks reprisal against itself and its members because of its support for social justice and diversity, the complaint adds.
The document alleges viewpoint-based discrimination against protected speech in violation of the First Amendment; and that the law is unconstitutionally vague under the Due Process Clause of the Fourth Amendment, in that it fails to sufficiently specify what behavior will draw punishment.
'Categorical ban on speech'
Additionally, the law is overbroad in that its "categorical ban on speech … is not sensitive to specific speech in context and is not supported by legislative findings of fact which might serve to either justify or narrow the broad scope of the censorship scheme. SB 266 has a strong likelihood of deterring speech which is not properly subject to the law including discussion of almost all controversial historical, political and social topics, many of which are vital to the unimpeded flow of ideas in a free society."
The complaint also targets new restrictions on tenure protection for faculty, arguing the law will chill free inquiry plus classroom instruction and debate between students in class.
The United Faculty of Florida, which represents university faculty, filed a 35-page complaint on Aug. 4 in state circuit court in Leon County over the tenure restrictions.
**************************************************************************************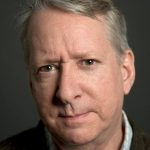 Michael Moline has covered politics and the legal system for more than 30 years. He is a former managing editor of the San Francisco Daily Journal and former assistant managing editor of The National Law Journal.
**************************************************************************************
The preceding article was previously published by the Florida Phoenix and is republished with permission.
The Phoenix is a nonprofit news site that's free of advertising and free to readers. We cover state government and politics with a staff of five journalists located at the Florida Press Center in downtown Tallahassee.