First Out gay active NFL player Carl Nassib announces retirement
The NFL player says his 'Next Chapter' is to focus on his mobile platform- 'I really feel like the luckiest guy on the planet'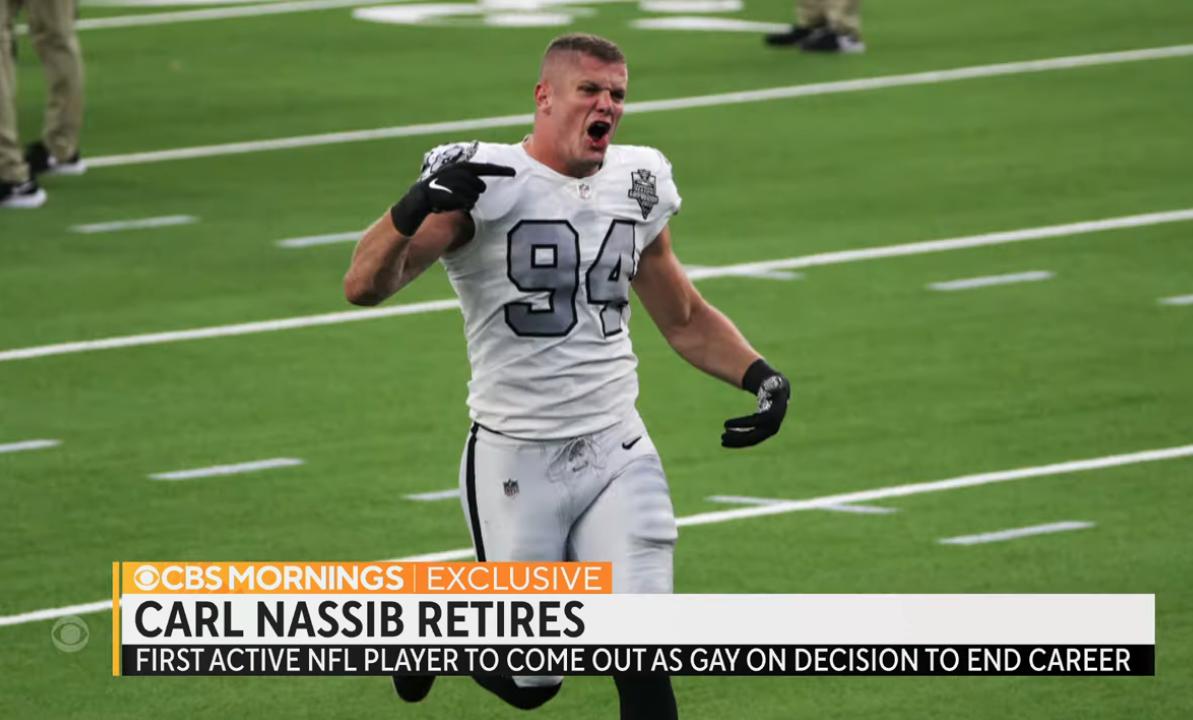 WEST CHESTER, Pa. — Carl Nassib, who made history in 2021 when he became the first active player in the National Football League to come out as gay, announced Wednesday he is retiring at age 30.
"This is a bittersweet moment for me," the free agent wrote in a post on Instagram. "But after seven seasons and just over 100 NFL games I am officially retiring from football to focus on my company Rayze."
Rayze is a mobile platform that connects people willing to give of themselves with those who need it most, born of an experience in Tampa, Fla., where Bucs players volunteered as mentors to kids being held in a nearby juvenile detention center. Rayze's website says the company serves to "shine a light on opportunities that need volunteers, while making nonprofit engagement, volunteer recruitment, and donating as simple and intuitive as possible."
"It really feels like just yesterday starting out as a walk-in at Penn State," Nassib wrote in his post. "Football has given me more than I ever could have imagined. I can truly hang up my helmet for the last time knowing I gave it everything I had." 
Ever since he came out in 2021, the former defensive end for the Tampa Bay Buccaneers has become a philanthropist for the LGBTQ+ community, especially for queer youth, personally donating $100,000 to the Trevor Project. That year, the NFL matched his donation, and in 2022, Nassib himself matched donations dollar for dollar, up to $100,000. 
According to the Bucs, Nassib played in 99 regular-season NFL games with 38 starts, recorded 187 tackles, 25.5 sacks, 45 tackles for loss, 59 quarterback hits, four forced fumbles, three fumble recoveries, one interception and 19 passes defended. In 2016, he the Cleveland Browns drafted him with the second pick in the third round. At Penn State, Nassib was a star player, leading the nation in sacks and forced fumbles during his senior year with the Nittany Lions in 2015.
"It was not an easy decision. It really, really wasn't," Nassib told People magazine in an exclusive interview timed to coincide with his Instagram.
"This would have been my 23rd football season. I've been playing football since I was eight years old, and I'm really excited to move on to the next chapter of my life," he said.
Nassib says he began considering retirement last season before becoming a free agent, when he said he was "staying at the Bucs facility until 9 p.m. every night working on Rayze."
"I feel like it's my calling and it's what I'm meant to do," Nassib says of the app. "I'm really excited to move on to the next chapter of my life and to give Rayze everything that I have."
In July, he posted that he had accepted an appointment to the board of directors of the local United Way chapter in his hometown of West Chester, Pa.
Nassib said he is also going to work with the NFL in a new role, in matters related to the league's philanthropic endeavors and its "diversity, equity, and inclusion."
"I think that I can provide a very rare and specific view of how life is for an out gay player, and I think that there are some amazing opportunities that I can also learn," he told People.
"Maintaining that relationship shows that the NFL is continuing to support me. They've supported me so much over the last two years, and I really couldn't have done it without that support," he said.
Nassib said the NFL's offer to utilize him in this new role "continues to show people that you can be yourself and compete at the highest level."
But what he's most excited to do with his time now, he told People, is to spend the holiday season with his family and his boyfriend, retired Olympian Søren Dahl. 
"I've spent 11 out of 12 Christmases away from my family, many of them alone in my apartment," said Nassib. "I haven't spent Thanksgiving with my family since 2010, so I am really, really looking forward to spending time with my family, my friends, and those special moments. And that's something that I've been looking forward to for years." 
That's one of the many reasons why he wrote on Instagram: "I really feel like the luckiest guy on the planet."
Related:
Out gay tennis stars make LGBTQ+ history at U.S. Open
No. 13 seed Kasatkina is a former Top 10 player and a major semifinalist and will be back Monday night at 7 p.m. EDT to face Aryna Sabalenka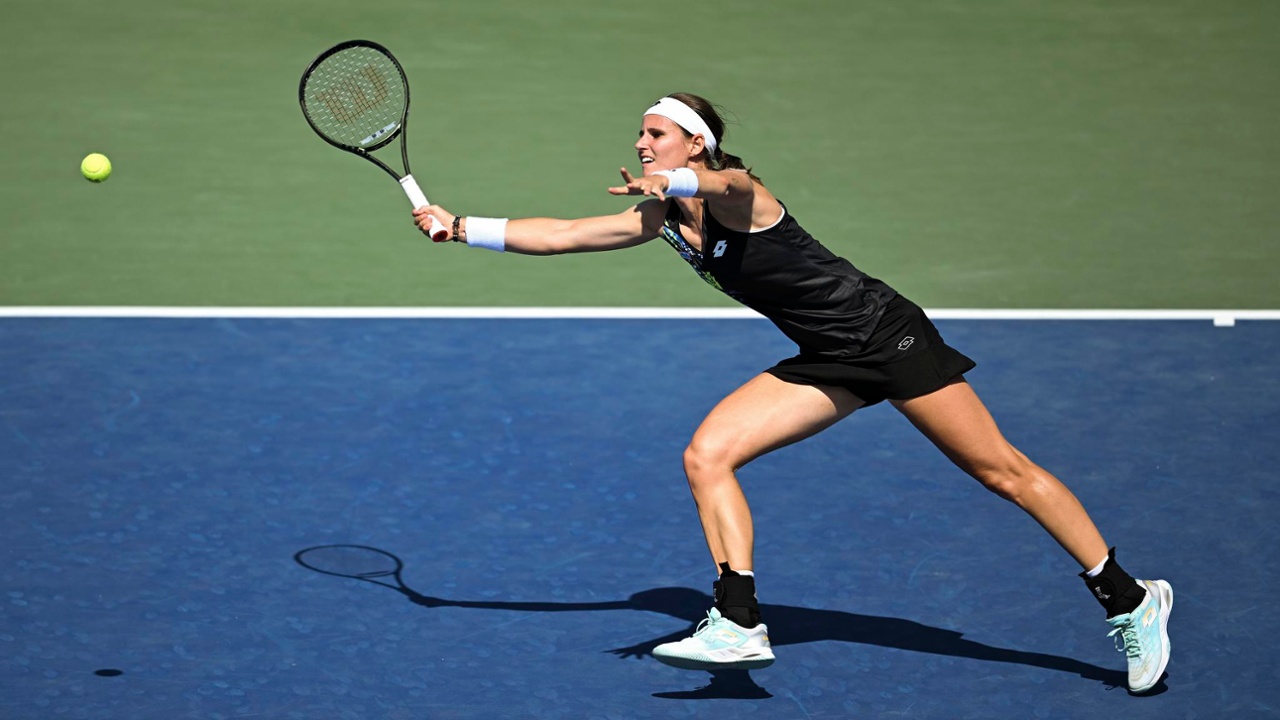 FLUSHING MEADOWS, N.Y. — Following her historic triumph over another out gay tennis player, Daria Kasatkina will try to advance tonight with a victory in Round 4 at the U.S. Open.
Kasatkina, Russia's #1 ranked female tennis player, will return to the last 16 after her dramatic contest on Court 17 Saturday ended with a 6-3, 6-4 win over Belgian qualifier Greet Minnen.
Both Minnen and Kasatkina are 26. It's believed to be the first time two out gay tennis players have clashed in a competitive single match in a Grand Slam main draw.
Although gay tennis icons Billie Jean King and Martina Navratilova and others have gone head-to-head before Saturday, many did not come out until after their matches.
Despite losing to Kasatkina, Minnen walked off the court in high spirits following the match, saying it was a "pleasure" to make history with the Russian tennis star.
Minnen previously made history in the summer of 2019, when she played doubles at Wimbledon alongside her former partner Alison Van Uytvanck. In July that same year, they faced each other for the first time, in a singles match in Germany. 
Belgian star Minnen also made history later in 2019, when she competed against her former partner Alison Van Uytvanck during a World Tennis Association Tour event in Karlsruhe.
That match, which ended with Van Uytvanck's victory over Minnen, concluded with a momentous gesture in support of LGBTQ+ visibility in tennis: They kissed at the net.  
Minnen and Kasatkina have met only once before in competition: at the Granby Championship first round in August of last year in Quebec. Kasatkina won that tournament.  
Minnen matched her best U.S. Open performance at these championships, beating Venus Williams in Round 1 and Sachia Vickery in Round 2. Over the first six games of the match, Minnen stayed even with the former world No. 8, saving a break point in the fourth game, and two more in the sixth.
No. 13 seed Kasatkina is a former Top 10 player and a major semifinalist and will be back Monday night at 7 p.m. EDT to face Aryna Sabalenka.
As PinkNews reported, Kasatkina said she's "felt much better" since coming out in July 2022.
"I put this pressure out of my shoulders because when you have to think about tennis but also to think about some deep things inside your head, it's just not good," she said. "I remember after saying all these things, I just felt much better. That was one of the best decisions of the [past] year and I'm happy with the outcome."