Matt Walsh's anti-LGBTQ YouTube hate speech monetized
After the Daily Wire personality announced the penalty, he repeatedly misgendered Lia Thomas & claimed LGBTQ people & allies were groomers


By Ari Drennen | WASHINGTON – In an April 24 video posted to YouTube, Matt Walsh confirmed that his channel had been stripped of advertiser revenue, a first step to either permanent demonetization or a ban from the platform, claiming that the penalty would cost him more than $100,000 per month. 
Walsh then explained that he could "get back into YouTube's good graces" and restore advertiser revenue to his channel by "simply respecting preferred pronouns and refraining from offering any meaningful critiques of gender ideology."
He didn't do any of that, misgendering Lia Thomas in multiple videos, attacking Bud Light, Disney, and Target with false accusations of "grooming" and "promoting transgenderism," and claiming that LGBTQ activists demand child sacrifice. At least half a dozen videos published after Walsh's demonetization and reviewed by Media Matters appear to violate YouTube's advertiser-friendly guidelines. Three months later, YouTube restored advertiser revenue to his channel anyway.
An August 25 YouTube video titled "Kids Are Now Being Forced To Learn Radical Gender Theory" features organic advertiser content while Walsh declares that LGBTQ activists believe "public schools should groom all kids" and that they demand "you offer your children up to them as sacrifices on their altar." Ad content now also appears on Walsh's videos from before he was demonetized, including one in which he attacks trans TikTok star Dylan Mulvaney, misgenders her multiple times, and calls her "a monster of our own making," as well as on a shorter version of the same rant focused entirely on Mulvaney and the influencer's connection to Bud Light.
During his suspension from advertiser revenue, Walsh stopped posting the full version of his show to YouTube, opting instead to post it to the Daily Wire's own website and X.com (formerly Twitter). But in shorter videos posted to YouTube, Walsh continued attacking Dylan Mulvaney and Bud Light, in defiance of YouTube's disciplinary ruling, with a May 5 video mocking the brand's poor sales, during which the podcaster declared, "It is going to make brands in the future think long and hard about promoting transgenderism."
Walsh's flouting of YouTube guidelines didn't stop there. In a video posted May 22, Walsh blasted former Vice President Mike Pence for siding with "the Disney groomers," whom the Daily Wire personality claimed support "the castration and mutilation of kids" and "pornographic content in elementary schools." The same day, Walsh called for a boycott of Target, saying, "Anyone who is making anything related to Pride, the Pride flag and all that — it's all satanic imagery."
A video posted on June 2 contained some vivid verbal imagery, with Walsh saying, "We take Bud Light and we put its head on a — on a pike, okay, at the entrance of the town, to show the other woke corporations: This is what we can do. We can actually do this to you. We can destroy you." Walsh then pivoted to Target, with a similarly blunt message: "To be seen walking out of Target carrying the Target bag with the Target symbol — it's like you're a groomer too."
Walsh also attacked former University of Pennsylvania swimmer Lia Thomas. Throughout an interview with one of Thomas' former teammates, over a year after her final swim meet, Walsh repeatedly deadnamed and misgendered the swimmer. Walsh himself seemed aware that he was violating YouTube's community guidelines, as he promoted the interview two days later in a separate video, instructing viewers they could find the video on Twitter or YouTube, at least "until YouTube takes it down." Walsh misgendered Thomas in that video as well.
In a video posted June 9, Walsh called me "depraved and insane" for defending the rights of adults to seek gender affirming care.
Without official ad content, Walsh started inserting ads for gold, skin care brand Genucel, and ExpressVPN into his monologues. At the same time, Walsh excoriated YouTube for its guidelines, saying, "Now they decided that if you just use the word 'him' in relation to a man who prefers to be seen as a woman, now that's harassment."
The platform blinked first. The Social Blade previously estimated Walsh's annual advertiser revenue to be as high as $1.6 million per year. Now, following his return from demonetization, he could still be making as much as $1.4 million a year for sharing content that last year earned him the title of Transphobe of the Year. This kind of content fuels dangerous real world actions: a San Bernardino mother of 9 was shot in August defending the Pride flag in front of her store. The shooter had previously shared Walsh's call to boycott Target and had pinned an image of a burning Pride flag to the top of his account on X.
Update (9/8/23): Matt Walsh reacted to this article by sharing it with his audience on X (formerly Twitter), writing simply "lol."
September 8, 2023
In a statement to Media Matters confirming the initial demonetization, a spokesperson for YouTube wrote, "We suspended monetization on Matt Walsh's channel due to repeated violations of our YouTube Partner Program policies, which include our Advertiser-Friendly Guidelines. These policies apply equally to all creators, regardless of political viewpoint, and channels that repeatedly violate these policies are demonetized." YouTube's hate speech policy prohibits content that "promotes violence or hatred against individuals or groups" based on, among other protected categories, "gender identity and expression" and/or "sexual orientation."
Walsh repeatedly violated those policies during his suspension, and YouTube is rewarding him with cash by the truck load.
***************************************************************************************
The preceding article was previously published by Media Matters for America and is republished with permission.
Conservatives find new LGBTQ+ outrage: Paw Patrol
It's hard to keep track of everything conservative's have cancelled for LGBTQ+ representation in recent months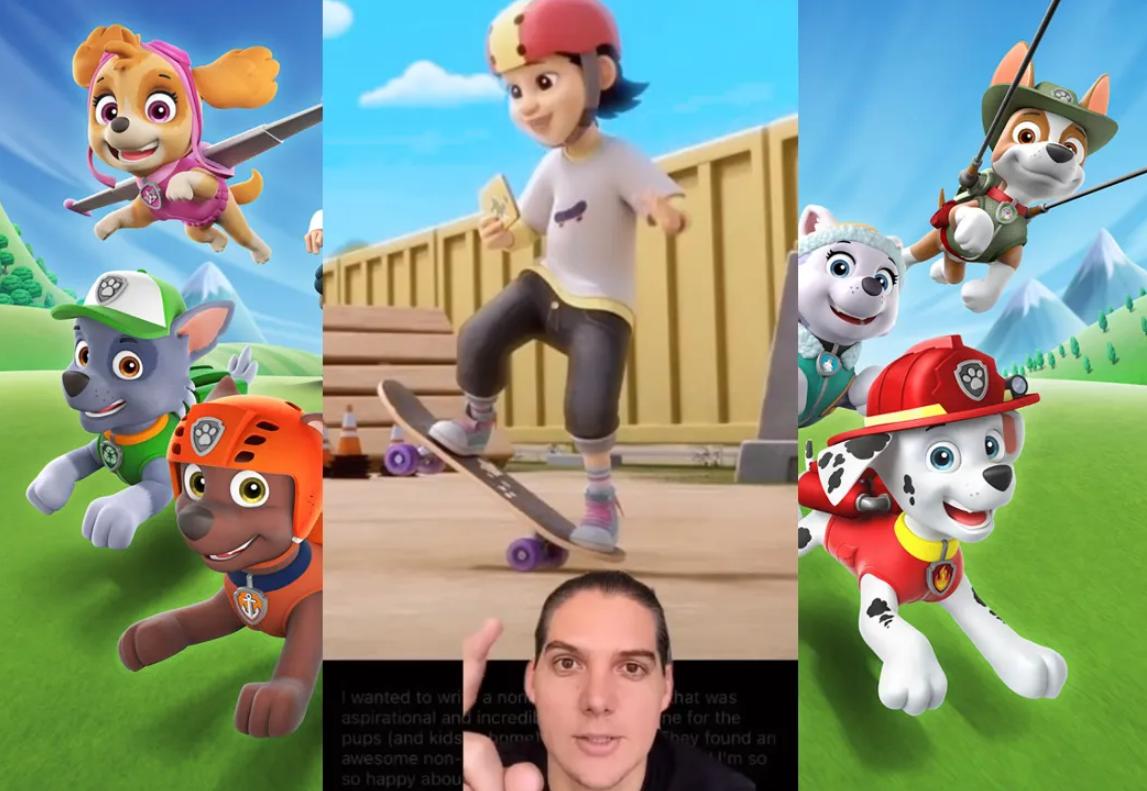 By Erin Reed | WASHINGTON – Bud Light beer. Costa coffee. Target clothing. It's hard to keep track of everything conservative's have cancelled for LGBTQ+ representation in recent months. It seems even the mere mention of a transgender person is enough to get a company targeted these days, and a single rainbow flag could result in harassment and bomb threats.
Now, conservatives have turned their eyes to a new target to be outraged over: Paw Patrol.
Or, to be more accurate, their outrage has turned the Paw Patrol spinoff, Rubble & Crew, a construction-themed spinoff of the original animated series. In a viral video on twitter reaching over 2 million people, conservative influencer and former GOP primary candidate Robby Starbuck opened his video with the ominous statement, "They are coming for your children." The outrageous content in question worthy of such a bold claim? A single nonbinary character wearing trans colored socks, who appears in only a single episode.
You can watch the video here:
I regret to inform you that Paw Patrol has gone woke. Their new spinoff series "Rubble and Crew" added a trans character. They also hired @lindzamer as a writer. Lindz runs the Queer Kids Stuff YouTube channel that indoctrinates kids into the trans ideology. Hollywood is working… pic.twitter.com/d4OGP58FeH

— Robby Starbuck (@robbystarbuck) September 18, 2023
Robby Starbuck video on Paw Patrol
The video quickly gained traction among prominent conservative influencers and elected officials. Libs of TikTok, notorious for fueling viral outrage and inciting violence against LGBTQ+ individuals and their supporters, circulated the video. They then falsely alleged that Paw Patrol was "embedding pornographic links on their candy wrappers," a claim refuted by Twitter's Community Notes feature. The Daily Caller, often criticized for transphobic content, also wrote an article on the matter. Prominent elected officials, like Tennessee House Majority Leader Representative William Lambeth, who penned the state's ban on gender-affirming care for trans youth, also shared the video.
The video identifies queer author Lindz Amer as the creative mind behind the episode. Amer, a distinguished writer and recipient of the GLAAD Rising Stars Grant awarded for initiatives that "champion intersectional LGBTQ+ issues," shared their excitement on Instagram: "I wanted to write a nonbinary character that was aspirational and incredibly cool, someone for the pups (and kids at home) to look up to. They found an awesome non-binary actor to voice River and I'm so so happy about how it turned out."
Representation matters, especially for the LGBTQ+ community. As more individuals embrace their true identities and come out, families are increasingly inclusive of LGBTQ+ members. The Internet and Television Association has observed that over the past two decades, the shift towards greater acceptance of LGBTQ+ individuals can be largely attributed to positive portrayals on TV. Speaking on the matter with the NCTA, GLAAD's Director of Entertainment Research & Analysis emphasized the significance of LGBTQ+ representation in children's programming, noting, "By introducing this level of representation to children's shows, we foster conversations about embracing differences, ensuring that children begin to cultivate a robust sense of self-worth from a young age."
In recent months, though, conservatives have sought out to stamp out representation in all aspects of public life. Sixteen states have enacted restrictions on LGBTQ+ content in educational settings, under the guise of "Don't Say Gay Or Trans" laws. In Florida, an educator was dismissed for as little as showing a Disney film featuring a gay character. GOP attorneys general have penned letters to Target, claiming the sale of LGBTQ+ themed apparel for young people violates obscenity laws. In Georgia, a predetermined mock trial saw a teacher fired for reading the Scholastic Kids book, "My Shadow Is Purple." Virginia witnessed a lawsuit against Barnes & Noble, calling for the removal of LGBTQ+ books from their shelves. Ironically, the same conservatives who once lambasted the notion of "cancel culture" now seem to have fully embraced it.
For those who want to see the episode, it has just been released. The episode is titled, "The Crew Builds An Observatory," where the characters join together to help River, the nonbinary character in question, catch a picture of a shooting star. You can watch it now on Nick Jr.
****************************************************************************
Erin Reed is a transgender woman (she/her pronouns) and researcher who tracks anti-LGBTQ+ legislation around the world and helps people become better advocates for their queer family, friends, colleagues, and community. Reed also is a social media consultant and public speaker.
Follow her on Twitter (Link)
Website here: https://www.erininthemorning.com/
******************************************************************************************
The preceding article was first published at Erin In The Morning and is republished with permission.