A provocative ad, a divided nation: The battle over LGBTQ+ rights in Lebanon
PSA has sparked hope, controversy in Arab world
BEIRUT, Lebanon — A new PSA in Lebanon advocating for the decriminalization of homosexuality in the country is stirring up controversy in the Arab world.
The ad first appeared on MTV Lebanon, a network owned by Lebanese politician and businessman Michel Gabriel El Murr, and was later shared on the network's social media page. The campaign pushes for the repeal of Article 534 in the Lebanese Penal Code, a law first adopted in 1943 that is used to criminalize consensual same-sex sexual relations with up to one year of imprisonment.
In the clip, two men are seen standing side-by-side in an elevator when a third man joins them and pulls a gun from his jacket. The tension is palpable until he leaves. When he does, the first two men grasp each other's hands when words flash across the screen: "There's crime and there's love."
Screams and gunshots are heard from a distance as the scene fades.
"Based on the words of Pope Francis, 'Homosexuality is not a crime,'" the network's X (formerly known as Twitter) caption says, "Yes to the abolition of Article 534 of the Penal Code, which criminalizes homosexuality."
Since premiering on Sept. 2, the powerful ad has generated an array of attacks from anti-gay figures, including from Culture Minister Mohammad Mouratda, who lambasted the network and accused it of incitement and division. He even went so far as to suggest that airing the ad itself was a criminal act.
Meanwhile, a collective called the Muyul Project premiered a PSA of their own that spoofed the original ad with an alternate ending in which a little girl is seen crying and holding her family as opposing words appear on the screen: "There is a crime that kills a human being, and there is a crime that kills society. Yes to maintaining Article 534 and protecting societal and family values."
Despite the outcry, LGBTQ+ Arabs and allies insist the campaign is sparking much-needed dialogue about the law — which they say is long overdue.
"This campaign does a lot to start conversations and challenge the status quo, especially within the context of Lebanese society," Joe Kawly, the first openly gay Arab news anchor, told the Washington Blade. "While the backlash was predictable, the visibility and support that this campaign provides to the LGBTQ+ community are invaluable."
Bertho Makso, the founder and executive director of Proud Lebanon, an LGBTQ+ and intersex rights organization, told the Blade the ad reinforces the work he and his team have been doing "since 2018" to engage various political parties and draft bills that would decriminalize homosexuality.
Nine MPs in July co-sponsored legislation that would have decriminalized homosexuality, but backlash was swift. One MP withdrew their name altogether because of harassment and threats.
While the ad campaign is a bold move, it is not exactly an isolated incident. The country was once considered an oasis of relative tolerance for LGBTQ+ and intersex rights in the Arab World, but has undergone an anti-LGBTQ+ tidal wave in recent years.
Members of the far-right Christian group Soldiers of God on Aug. 23 brutally attacked Madame Om, a popular gay-friendly bar in Beirut's Mar Mikhael neighborhood, during a drag show. Reports indicate the police looked on as patrons were assaulted. This attack comes as Education Minister Abbas Al Halabi opened an investigation into rumors of pro-LGBTQ+ messaging in materials used in schools. And Hezbollah leader Hassan Nasrallah in July declared consensual same-sex sexual relations should be punishable by death. 
To further complicate matters, Article 534 doesn't explicitly address homosexuality. Rather, it only points to sexual acts that are "contrary to the order of nature."
Even though several courts have tried to affirm consensual same-sex acts don't qualify as being "against nature," it hasn't stopped multiple arrests continuing to persist, according to a recent Proud Lebanon report. Mouratda and MP Ashraf Rifi have introduced more stringent bills.
Mourtada's measure proposes up to three years' imprisonment and hefty fines for promoting or engaging in "deviant sexual relations" and Rifi's bill sought the explicit criminalization of homosexuality with heightened penalties.
As Lebanon continues its attacks against LGBTQ+ and intersex people, some suggest it's all a ploy to distract from the country's crumbling economy. Even more notably: Lebanon has lacked a president since October 2022, a clear reflection of its turbulent political landscape.
Helem, the first LGBTQ+ and intersex organization in the Arab world established in 2001, said in a recent statement "the decision to suddenly and systematically target LGBTQ individuals is a very old tactic used by multiple failing autocratic regimes around the world."
As Kawly explains, MTV Lebanon's campaign may herald a turning point for the nation, asserting LGBTQ+ and intersex people's inherent role in Lebanon's value as a whole.
"Social change is often slow and painful, but the very fact that we're seeing more visibility and conversation on LGBTQ+ issues signal a potential shift," he said. "With every campaign, every story told, every law repealed, we're inching closer to a more inclusive and accepting society."
"When it comes to Lebanon, for sure there is a bright future because we are working for it," added Makso. "We believe in it, and we are fighting for it."
Israeli police acknowledge attempted investigation of activist was an 'error'
Hila Peer is leader in protest movement against judicial reforms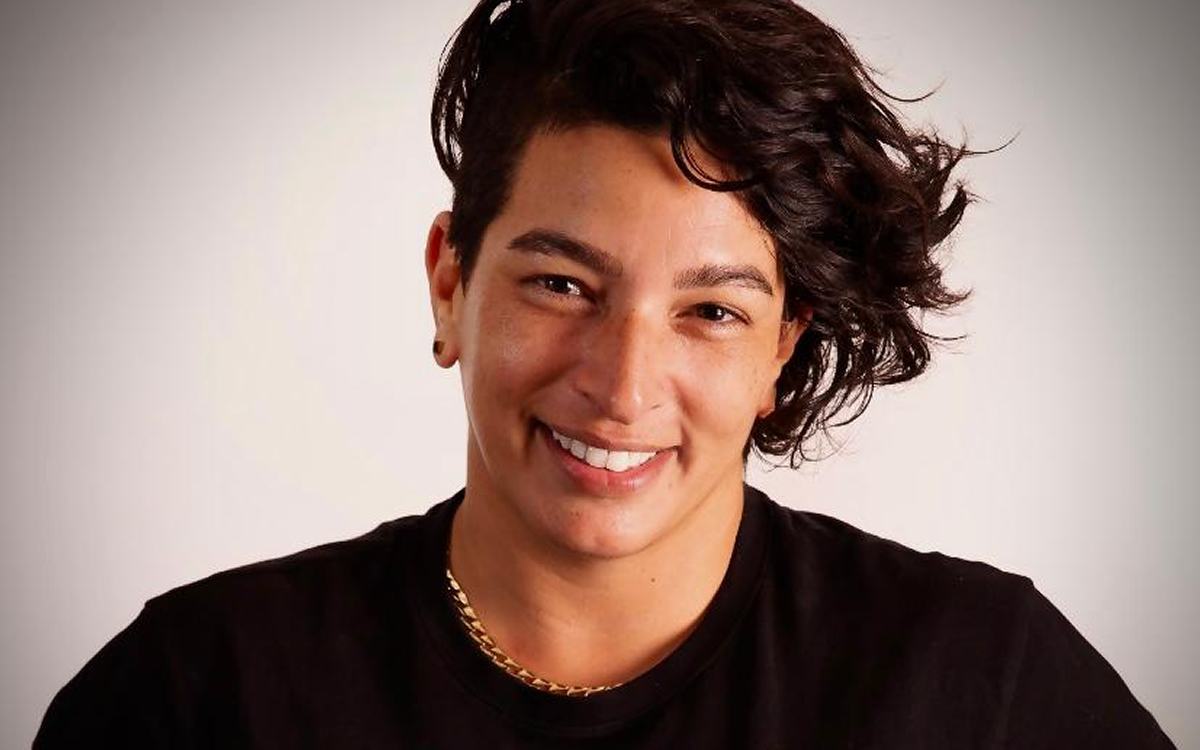 TEL AVIV, Israel — An Israel Police spokesperson has acknowledged an attempted investigation against a prominent LGBTQ+ and intersex rights activist that authorities tried to launch earlier this month was an "error."
Hila Peer, chair of the Aguda, the Association for LGBTQ Equality in Israel, told the Washington Blade last week the police called her on Sept. 3 about "an emergency investigation for my involvement and suspicion of disturbing the peace."
Peer said she was told to report to a police station at 1:30 p.m.
"A few hours after that, with immense public pressure and public attention and articles that came out about it, they called me 10 minutes before the investigation was supposed to take place … they called me at 20 past one to say you know what, never mind, you don't need to show up," she said.
Peer told the Blade that press reports a few hours later "got information from a leak from inside the police that they were trying to calling me in" to interrogate her about "underground" protests that took place in Tel Aviv on Fridays in August.
"It's a very lame excuse," Peer told the Blade. "Throughout the month of August schools are on break and I was home every Friday with my babies, meaning I was not even present in any of those protests."
The Israel Police spokesperson in an emailed statement to the Blade said "the initial summons for questioning of this individual (Peer) was issued due to an error."
"As soon as this error was detected, the police promptly took corrective action," said the spokesperson. "As the summons had been scheduled erroneously, consequently, the individual in question was informed that the appointment was canceled."
The Aguda is among the myriad groups that have participated in protests against Prime Minister Benjamin Netanyahu's coalition government's efforts to reform the Israeli judicial system.
Netanyahu in March postponed them after a nationwide strike paralyzed the country. The Knesset in July approved a bill that would, among other things, increase the government's control over judicial appointments and diminish the Supreme Court's ability to strike down laws.
Peer told the Blade the government over the last two months has tried "to threaten the heads of the protests, randomly calling people in for no apparent reason for investigations."
"What happened in this specific case is that their attempt backfired and they were really caught by just bothering the public, just randomly calling people in," she said. "It's basically a practice that's reserved for dark regimes and that's what we're dealing with here now, so now it feels like we save not only ourselves, but the police themselves from this government. It's simply insane."