Olivia Hill is elected as first Out trans official in Tennessee
A Nashville native, Hill graduated from Hillwood High School in 1983. She served in the U.S. Navy and saw combat overseas during Desert Storm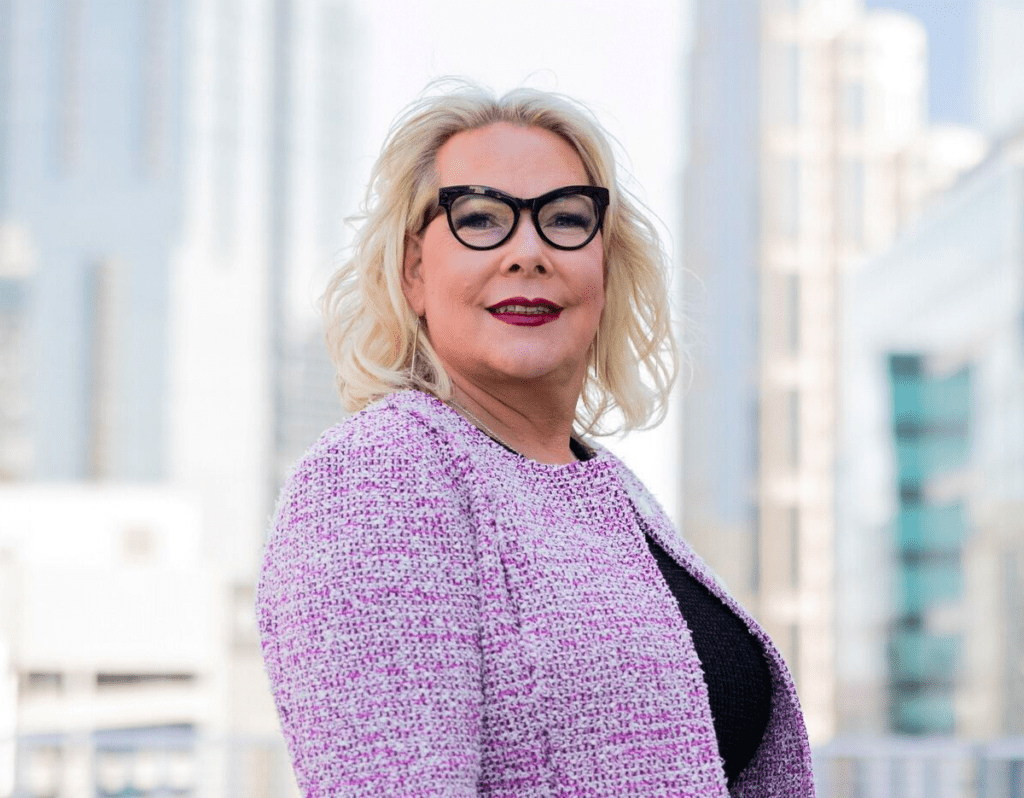 NASHVILLE, Tenn. – Voters in the City of Nashville and surrounding Davidson County made history Thursday as Olivia Hill won an at-large seat on the Metro Council, making her the first openly transgender official elected to public office in "the Volunteer State."
The Tennessean reported that Hill secured one of the Council's five at-large seats in Thursday's runoff election with 12.9% of the vote, as of 10 p.m. Thursday night. She joins a historic number of women elected to the Council. All five at-large members will be women, as well as 17 district councilmembers. That adds up to 22 women — a majority of the 40-member council.
"I want to say that I am elated," Hill told The Tennessean after the historic win. A Nashville native, Hill graduated from Hillwood High School in 1983. She then served in the U.S. Navy from 1986-1995 and saw combat overseas during Desert Storm.
Mayor Annise Parker, President & CEO of LGBTQ+ Victory Fund, released the following statement after Hill was elected:
"Nashville voters clearly reject the hateful rhetoric that has grown louder in Tennessee politics lately. Olivia's victory proves that transgender people belong everywhere decisions about them are being made, including local office. I know Olivia is well-prepared to take her seat on the Metro Council and work to make Nashville and Davidson County a more welcoming place for all."
The Metropolitan Council (officially the Metropolitan Council of Nashville and Davidson County) is the legislative body of the consolidated city-county government of Nashville, Tennessee and Davidson County.
Vanderbilt turns over trans youth patient records to Tennessee AG
"They're terrified- They don't know what's next, they don't know how this will be used or whether they will be targeted in some way"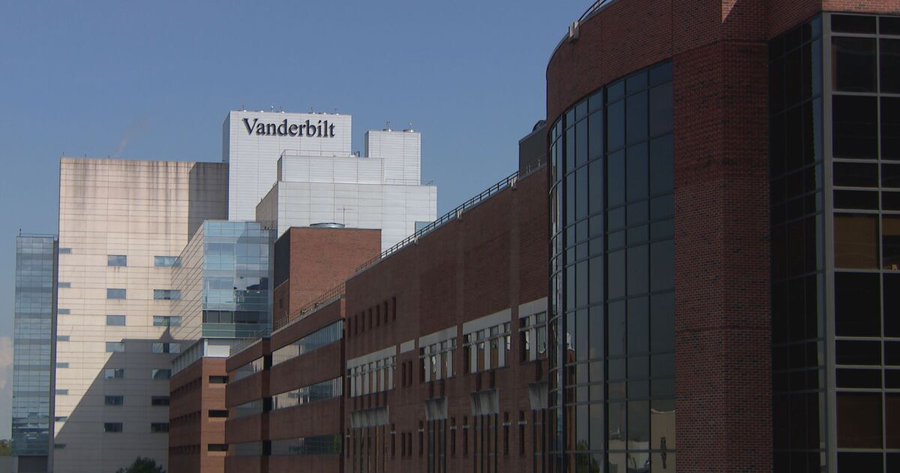 NASHVILLE – Hundreds of private medical records of transgender adults and youth treated for gender-affirming care at Vanderbilt University Medical Center, (VUMC) were released to the Tennessee Attorney General as part of an investigation into billing practices for TennCare payments for trans health care services a spokesperson for VUMC confirmed Tuesday.
"VUMC received requests from the Office of the Tennessee Attorney General as part of its investigation seeking information about transgender care at VUMC. The Tennessee Attorney General has legal authority in an investigation to require that VUMC provide complete copies of patient medical records that are relevant to its investigation. VUMC was obligated to comply and did so," John Howser, VUMC's chief communications officer, said in a statement.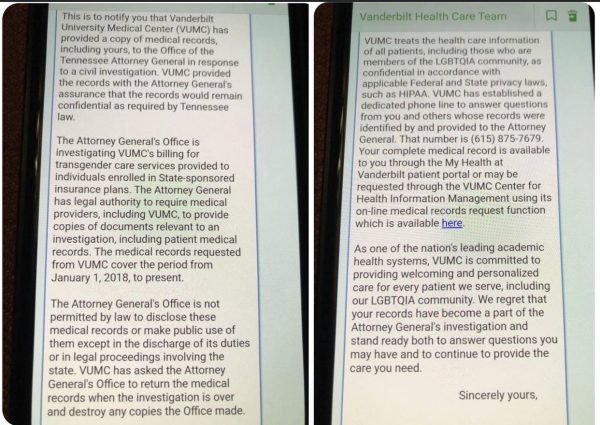 The Tennessean reported that it had reviewed a VUMC notice informing patients of the move, which the facility said was the result of an investigation into "billing for transgender care services provided to individuals enrolled in State-sponsored insurance plans." The state requested medical records from Jan. 1, 2018 to the present.
As the news broke of VUMC's actions, the Chief of Staff for Attorney General Jonathan Skrmetti's office, Brandon Smith, responded:
"We are surprised that VUMC has deliberately chosen to frighten its patients like this."
Smith said that the office had been investigating potential medical billing fraud by VUMC since September 2022, and the VUMC started providing patient records in December 2022.
"The Office does not publicize fraud investigations to preserve the integrity of the investigative process. The Office maintains patient records in the strictest confidence, as required by law. The investigation is focused solely on VUMC and certain related providers, not patients, as VUMC is well aware."
Chris Sanders, executive director of the Tennessee Equality Project, an LGBTQ advocacy organization, told The Tennessean three different parents of transgender children called him in a panic since Monday after they were told by Vanderbilt that their child's medical records were released to the attorney general as "part of an investigation." Sanders said the parents had no other details.
"They're terrified," he said. "They don't know what's next, they don't know how this will be used or whether they will be targeted in some way. They feel like their privacy has been violated."
Speaking with The Blade Tuesday evening, Lance Preston, the founder and executive director of the Indianapolis-based Rainbow Youth Project said that today, June 20, 2023, between 10:45AM and 8:30PM EST, RYP crisis team members responded to 376 acute mental health crises involving LGBTQ+ young people, between the ages of 14-19, residing in Tennessee and Kentucky.
Based on self-reports from those youth and their parents, the common denominator was clear the fact that Vanderbilt University Medical Center had been forced to release transgender patient records to the Republican Tennessee Attorney General's Office badly frightened them.
Preston told the Blade that his team of counselors relayed that all of these young people presented with varying degrees of mental health crises including a rapid increase of intense fear, agitation, hopelessness, isolation, and sense of worthlessness. Many were already experiencing depression and were withdrawn from friends and family due to the recent political climate regarding transgender health care for minors.
More worrisome according to Preston was a majority demonstrated a level of mental health crisis that included suicidal ideation or, at minimum, put them in jeopardy of harming themselves.
He told the Blade that 98 of the young people were referred for immediate mental health counseling – although he noted that 77 of those expressed concern about speaking to a therapist in their state [Tennessee] due to fear of investigations.
"They prefer to speak with a therapist in a state other than their own which will be tricky," he said but noted that RYP does have resources to accomplish those requests.
Information provided by RYP to the Blade revealed that the organization responded to an average of 112 crisis calls monthly from LGBTQ+ young people in Tennessee between May 1, 2022 – March 1, 2023.
However, the crisis contacts began a steady increase in March 2023 after Republican Governor Bill Lee signed legislation prohibiting gender-affirming care for minors. However, the highest volume of calls from Tennessee recorded in a single day since March 2, 2023 was 67.
Rainbow Youth project staff noted that conversely similar increases were documented from young people in Texas in March of 2022 when Republican Texas Governor Greg Abbott ordered the Department of Family & Protective Services to investigate parents of trans youth for potential child abuse. A second increase from Texas followed in December 2022 when it was publicly disclosed that Texas Attorney General Ken Paxton had sought data on Texans who had changed their gender identity on their driver licenses.
The law banning trans youth healthcare is currently being challenged in U.S. District Court in Nashville by the U.S. Department of Justice, Lambda Legal, the American Civil Liberties Union, the ACLU of Tennessee, and Akin Gump Strauss Hauer & Feld LLP.
The state's new ban on gender-affirming care for trans youth is set take effect in less than two weeks on July 1 barring action by the federal court.
The law prohibits doctors from providing gender-affirming care to anyone under the age of 18, including prescribing puberty blockers and hormones.
It allows doctors to perform these medical services if the patient's care had begun prior to July 1. However, that care must end by March 31, 2024.
Last October, VUMC announced that it was pausing all gender-affirming surgeries. This following Republican Governor Bill Lee's call for an investigation into the clinic at the Monroe Carell Jr. Children's Hospital at Vanderbilt in a statement after reporting by transphobic and homophobic far-right pundit Matt Walsh on his Daily Wire show.
"The 'pediatric transgender clinic' at Vanderbilt University Medical Center raises serious moral, ethical and legal concerns," Governor Lee said in his statement. "We should not allow permanent, life-altering decisions that hurt children or policies that suppress religious liberties, all for the purpose of financial gain. We have to protect Tennessee children, and this warrants a thorough investigation."