LeVar Burton will lead this year's Banned Books Week
Burton is the first actor to serve as honorary chair of Banned Books Week which takes place October 1–7, 2023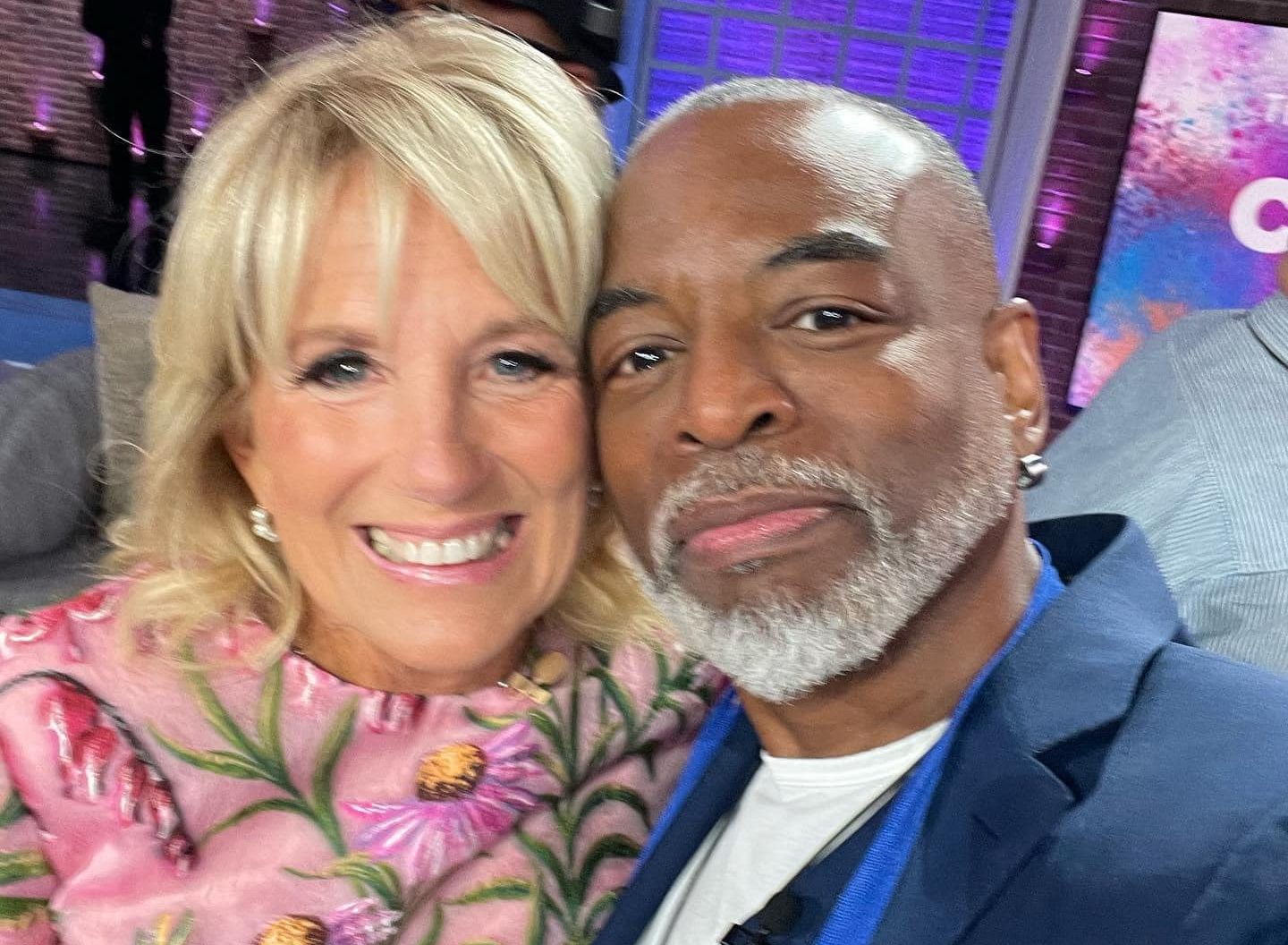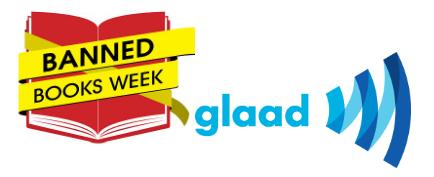 NEW YORK – Beloved reading advocate, writer, and television and film star LeVar Burton will lead this year's Banned Books Week, which takes place October 1–7, 2023. Burton is the first actor to serve as honorary chair of Banned Books Week, an annual weeklong event that highlights the value of free and open access to information and brings together the entire book community in shared support of the freedom to seek and to express ideas.
Recognizable for his groundbreaking roles in the landmark television series Roots and the Star Trek franchise, Burton's work as a literacy advocate has inspired generations. Many in the book community can trace their love of reading and advocacy for the right to read to Burton's treasured PBS children's series Reading Rainbow. Burton has continued to inspire readers with the enormously popular LeVar Burton Reads podcast. A long-time champion for reading and access to books, Burton executive produced The Right to Read, an award-winning 2023 documentary film that positions the literacy crisis in America as a civil rights issue.
"Books bring us together. They teach us about the world and each other. The ability to read and access books is a fundamental right, and a necessity for life-long success," says Burton. "But books are under attack. They're being removed from libraries and schools. Shelves have been emptied because of a small number of people and their misguided efforts toward censorship. Public advocacy campaigns like Banned Books Week are essential to helping people understand the scope of book censorship and what they can do to fight it. I'm honored to lead Banned Books Week 2023."
GLAAD is a Banned Books Week Coalition contributor. The majority of recent book bans and challenges have targeted books by and about LGBTQ people, and all people of color. This morning the American Library Association reported a 20% increase in attempts to censor library materials from the previous year, with nearly 700 challenges in the first eight months of 2023.
"LeVar Burton's longstanding commitment to literacy and to elevating all readers make him a fantastic choice to lead Banned Books Week," says GLAAD President and CEO, Sarah Kate Ellis. "As LGBTQ books and people come under unprecedented attack, who better than the host of the beloved Reading Rainbow to remind us how books strengthen us, connect us, and make the world a more expansive and beautiful place. We need every voice to speak up for all parents, youth and families and the fundamental freedom to read and belong."
Burton will headline a live virtual conversation with Banned Books Week Youth Honorary Chair Da'Taeveyon Daniels about censorship and advocacy at 8:00 p.m. ET on Wednesday, October 4. The event will stream live on Instagram (@banned_books_week).
Visit BannedBooksWeek.org for more details.
The American Library Association's (ALA) Office for Intellectual Freedom documented an unparalleled increase in attempts to remove books and other materials from libraries and schools in 2022: 1,269 demands to censor library books and resources, the highest number of attempted book bans since ALA began compiling censorship data more than 20 years ago. These demands targeted 2,571 unique titles, a 38% increase over the previous year.
Since it was founded in 1982, Banned Books Week has drawn attention to the attempts to remove books and other materials from libraries, schools, and bookstores. The 2023 Banned Books Week theme "Let Freedom Read" is a call to action about the urgent need to defend the right to read and to support the community of readers, library staff, educators, authors, publishers, and booksellers.
Saturday, October 7, will mark Let Freedom Read Day, a day of action against censorship. From calling decision-makers to checking out or buying banned books, to writing letters and more, everyone is encouraged to do at least one thing to defend the right to read and to speak on behalf of those who ensure access to information.
For information about ways to participate and resources, visit bannedbooksweek.org/let-freedom-read-day/.
Visit BannedBooksWeek.org for information about Burton's event and other programs, ways to participate, and promotional materials. Follow Banned Books Week on social media (@BannedBooksWeek on X and Facebook, @banned_books_week on Instagram) for the latest updates.
About LeVar Burton
LeVar Burton is an actor, director, producer, and podcaster whose decades-long work includes Roots, Star Trek: The Next Generation, and Reading Rainbow. He is the honored recipient of seven NAACP Awards, a Peabody, a Grammy, and 15 Emmys, including a Lifetime Achievement Award at the Inaugural Children's & Family Emmys.
As a lifelong literacy advocate, Burton has dedicated decades to encouraging children to read. In 2023, Burton premiered his first documentary, The Right to Read, a film that positions the literacy crisis in America as a civil rights issue. The Right to Read was officially selected at the Santa Barbara International Film Festival and SXSW Edu.
Burton continues to exercise his passion for storytelling as the award-winning author of Aftermath, The Rhino Who Swallowed a Storm, and A Kids Book About Imagination. He launched his first book club with Fable, a digital book club community, and partnered with Masterclass to share the power of storytelling.
His production company, LeVar Burton Entertainment (LBE), develops projects in the film, television, podcasting, and publishing space to share stories that foster empathy, champion diversity, and build community.
Now in its 12th season, the enormously popular LeVar Burton Reads podcast has over 175 episodes in its catalog, boasting 25 million downloads. LBE's first Kids & Family podcast, Sound Detectives, will debut on Stitcher in November 2023.
As a pop culture icon, Burton has the unique ability to reach all ages, ethnicities, and socioeconomic groups, communicating to a large fan base that is highly engaged and motivated to embrace his message.
About the Banned Books Week Coalition
The Banned Books Week Coalition is an international alliance of diverse organizations joined by a commitment to increase awareness of the annual celebration of the freedom to read. The Coalition seeks to engage various communities and inspire participation in Banned Books Week through education, advocacy, and the creation of programming about the problem of book censorship.
The Banned Books Week Coalition includes American Booksellers for Free Expression, American Library Association, Amnesty International USA, Association of University Presses, Banned Books Week Sweden (a collaboration between Sweden PEN and the Dawit Isaak Library), Children's Book Council, Comic Book Legal Defense Fund, Foundation for Individual Rights and Expression, Freedom to Read Foundation, Little Free Library, National Book Foundation, National Coalition Against Censorship, National Council of Teachers of English, PEN America, People for the American Way Foundation, and PFLAG. Contributors include American Society of Journalists and Authors, Authors Guild, Index on Censorship, GLAAD, and Project Censored. Banned Books Week is endorsed by the Center for the Book in the Library of Congress and receives generous support from HarperCollins and Penguin Random House.
GLAAD
For more information, please visit www.glaad.org or connect with GLAAD on Facebook and Twitter.
Ohio Trans ban proponents also push conversion therapy
Ohio proponents of a ban on gender affirming care testified "alternate treatments" such as witch doctors & conversion therapy were acceptable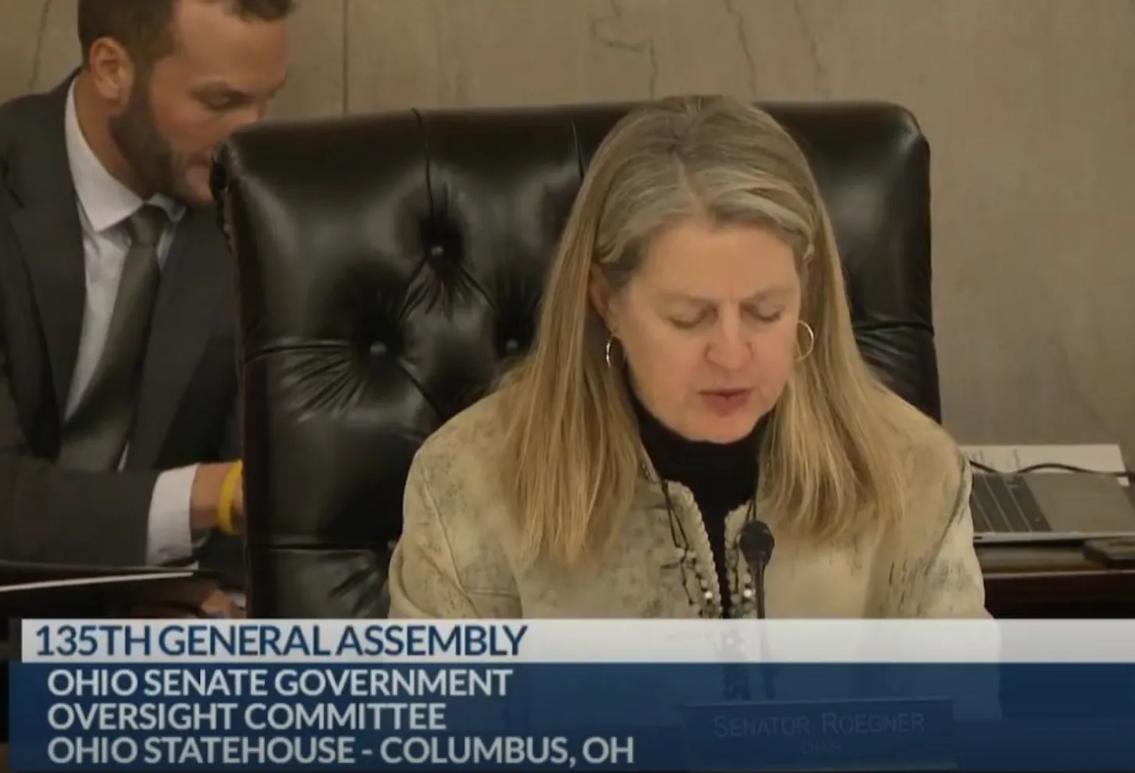 By Erin Reed | COLUMBUS, Ohio – On Tuesday, the Ohio Senate Government Oversight Committee convened to hear House Bill 68, a bill that would ban gender-affirming care for transgender youth, force them into medical detransition, and ban trans women from women's sports.
Representative Gary Click, a right-wing pastor known for practicing conversion therapy, is behind this latest effort in a series of attempts to enact transgender restrictions in Ohio. The hearing, designated "proponents only," featured testimonies only from those supporting it. The proponents who spoke testified that family rejection, addiction counseling, and even conversion therapy may be the right options to treat transgender people, while also relying on retired pharmacists and fringe doctors to justify the bans.
The bill, which has already passed the Ohio House of Representatives, was proposed by Representative Gary Click. It is one of several bills targeting transgender and LGBTQ+ people in the state, including a public drag ban and a ban on transgender students in college bathrooms.
It comes after Republicans running on transgender issues lost in several school board races across the state. It combines two contentious anti-trans bills: a ban on gender affirming care up to the age of 18 years old and a ban on transgender people playing in sports of their gender identity.
Importantly, there are no exceptions for the gender affirming care ban for severe dysphoria, no alternate treatments presented in the bill, and it even would pull transgender youth who are already on medication off of their medication, forcing them to medically detransition.
The hearing included testimonies from several members of the small group of political detransitioners and social media influencers who frequently travel between state hearings to oppose gender-affirming care, paralleling the ex-gay movement of the 1990s and early 2000s. A recent article states that prominent figures in this group, like Chloe Cole, may be paid for their appearances.
Detransitioners and "trans regretters," including Chloe Cole, Prisha Mosely, and Corinna Cohn — all recent participants in a controversial Genspect conference where trans women were said to transition due to thinking they are "failed boys" — spoke at the hearing. Riley Gaines, famous for tying for 5th place against transgender swimmer Lia Thomas, also made an appearance.
It's crucial to acknowledge that, according to a Cornell University review, detransition rates are estimated to be between 1-3%. Moreover, the reasons for detransitioning most commonly do not stem from a lack of transgender identity but rather from parental pressure, employment challenges, or societal stigma.
One of the detransitioners who testified to ban gender affirming care seemed to make this point without realizing it. Richard Anumene, who is suing Kaiser Permanente for providing him gender affirming care as an adult, testified that he faced immense family pressure after transitioning at the age of 20.
Though he states that he experienced a wonderful transition early on, he was "convinced to return to presenting as a man" due to rejection by his father and economic difficulties, in line with recent studies showing transgender people experience heightened rates of poverty. Numerous other witnesses would suggest family rejection and non-affirmation could be a way to stop trans people from being trans.
Another detransitioner, Morgan Keller, testified for the first time that she detransitioned due to being "seduced" by "gender ideology" and a belief that her gender identity was a "delusion." She left out an important part of her own detransition journey, however; Keller, when posting online about her detransition, stated that the actual reason she detransitioned was because she had a religious experience that resulted in an intense dream where God told her she was on the wrong path. Religious experiences like this are common in both the ex-gay and the religious detransitioner communities, which often teach that being LGBTQ+ goes against God's will.

Perhaps one of the most extreme testimonies came from Jeanette Cooper, who rejected her own child's transgender identity and who lost custody to the child's father after the he testified that Cooper's actions led to mental and emotional harm. Cooper revealed that she leads a group of "thousands of parents" who do not affirm their transgender children's gender identities, promoting this form of rejection as a way to deter being transgender. Later, when asked how people with gender dysphoria should be treated, she stated that it must be treated "like an addiction." There is no evidence that treating being transgender "like an addiction" helps health outcomes for them, but plenty of evidence that rejection has profound negative impacts. Transgender youth with parental support was reported in one study to show a 63% lower suicidality rate.
You can see an excerpt from her submitted testimony here:
One group that sent a representative to testify was the Alliance Defending Freedom, the organization behind writing most of the anti-trans laws in the United States and the organization being paid large sums of money to defend them in court.
Matt Sharp from the Alliance Defending Freedom testified that banning trans care does not violate the organization's "parental rights" stance, and that the ban "only targeted puberty blockers, hormone therapy, and surgery" for trans youth. When asked what was left for these youth, he claimed that "therapy" was the best way to treat them.
It is important to note that organizations that often ally with the Alliance Defending Freedom push a variety of forms of conversion therapy. The Alliance Defending Freedom itself once allied with Exodus International, the ex-gay movement of the 1990s and early 2000s, and continues to defend conversion therapy for both gay and transgender people. Interestingly, the recently elected speaker of the US House, Mike Johnson, was part of that partnership.
There is no evidence that conversion therapy is a good treatment for transgender people, and plenty of evidence that it does harm. Meanwhile, gender affirming care has extremely strong evidence behind it. A recent journal article in the esteemed medical journal, The Lancet, judged that gender affirming care is a form of preventative healthcare. It leads to an improved quality of life and plays a major role in the well-being of transgender people.
Several studies have shown that it leads to positive mental health outcomes and heavily reduces suicides—some studies report a remarkable 73% decrease in suicide rates. The endorsement of gender affirming care is supported by a collection of over 50 journal articles compiled by Cornell University, all of which underscore its beneficial effects.
Several other proponents were brought in to testify. These proponents included fringe medical practitioners, such as Ohio pharmacist Kent Zellner, who resigned as a pharmacist after refusing to fill Plan B prescriptions in Yellow Springs, Ohio. Cynthia Millen, a woman often presented as a "USA Swimming official" who has stated that "predators love Planned Parenthood" and that gay people should "practice chastity," testified as well.
Riley Gaines, a major conservative influencer, also showed up to testify in favor of the sports ban portion of the bill. Following the hearing, she announced to her followers that she played a major role in banning transgender women from women's chess.
Despite anti-trans policies not being politically popular in Ohio—70% of of school board candidates running on transgender issues and Moms For Liberty platforms lost—sources indicate that Republicans intend to push this bill through. Should it pass into law, Ohio will be one of the last conservative states to pass a gender affirming care ban and sports ban for trans youth. The harm these bills will do is immense if passed into law.
The next hearing will be an opponent hearing, which will be announced at a later date.
****************************************************************************
Erin Reed is a transgender woman (she/her pronouns) and researcher who tracks anti-LGBTQ+ legislation around the world and helps people become better advocates for their queer family, friends, colleagues, and community. Reed also is a social media consultant and public speaker.
Follow her on Twitter (Link)
Website here: https://www.erininthemorning.com/
******************************************************************************************
The preceding article was first published at Erin In The Morning and is republished with permission.