New on the LA County Channel
You can watch on Channel 92 or 94 on most cable systems, or anytime here. Catch up on LA County Close-Up here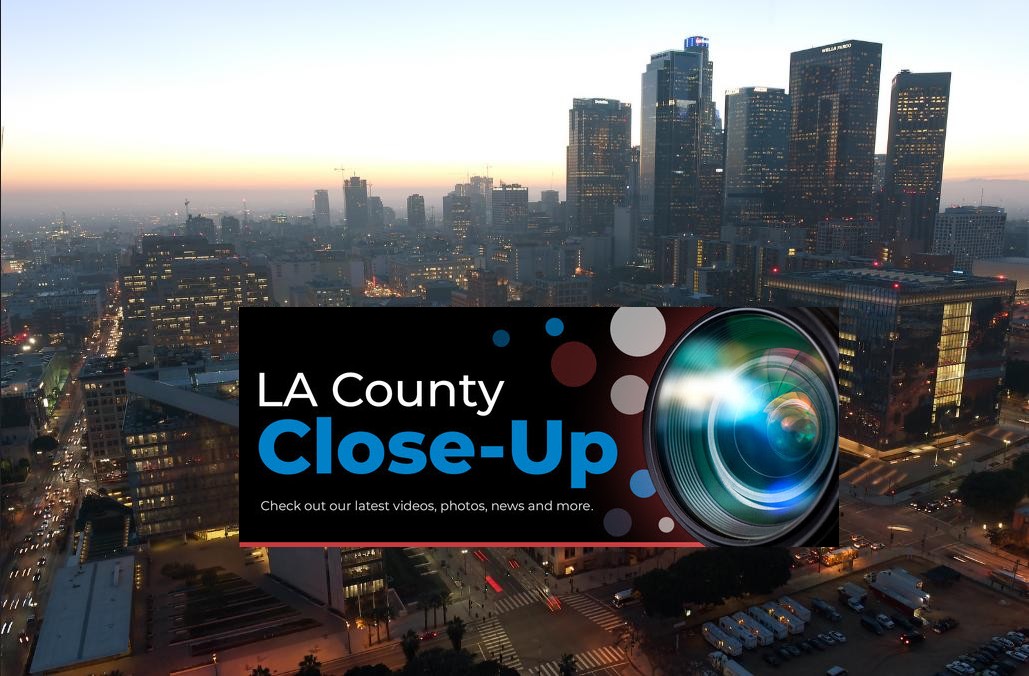 New on the County Channel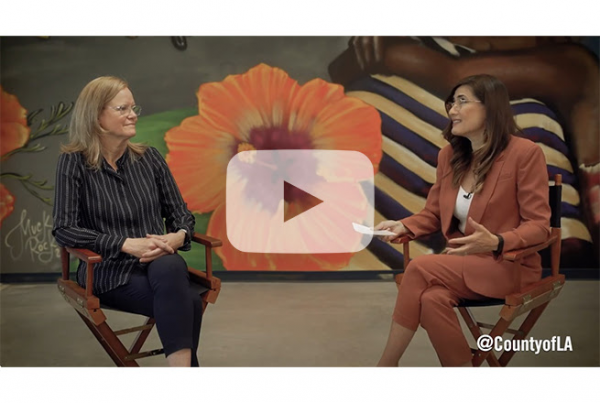 In this first episode of the County's new show "One on One," we delve deeper into the issue of homelessness and talk with Cheri Todoroff, director of the Homeless Initiative. From encampment resolutions to new housing, she breaks down what's driving the crisis and what County leaders are doing to address it.
You can watch more stories like this on Channel 92 or 94 on most cable systems, or anytime here. Catch up on LA County Close-Up here.
In Case You Missed It
Register to Vote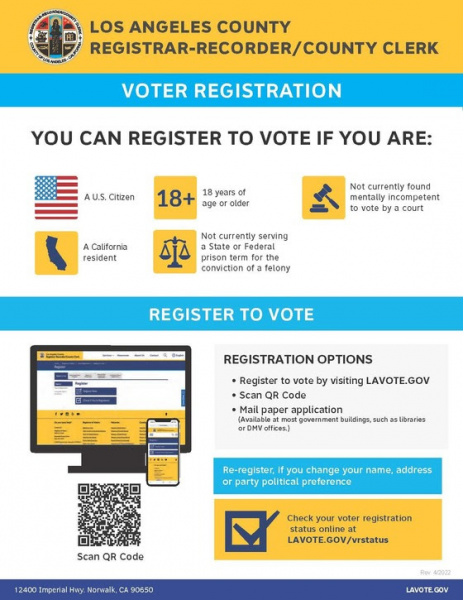 Los Angeles County Registrar-Recorder reminds you to register to vote by visiting LAVOTE.GOV.
Be sure to re-register if you change your name, address, or political preference. Check your voter registration online at LAVOTE.GOV/VRSTATUS.
For additional information:
Voter registration for people experiencing homelessness
Voters with a criminal history
Pre-registration for voters under 18
At Your Service
Hiring Fair for Youth!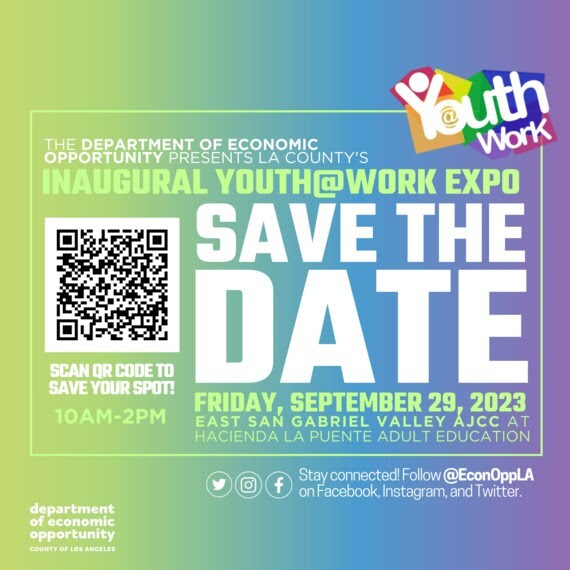 Looking for a job? Interested in exploring career options? Come to the first-ever Youth Expo for youth and learn about different careers and job opportunities that are available. Companies will be on-site to offer resources, discuss job opportunities, and provide feedback and valuable information on how to get hired! Don't forget to bring several copies of your resume and right to work documents.
Date: Friday, September 29, 2023
Time: 10 am – 2 pm
Location: East San Gabriel Valley AJCC at Hacienda La Puente Adult School, 14101 E. Nelson Ave. La Puente, CA 91746
Out and About
Beach Clean Up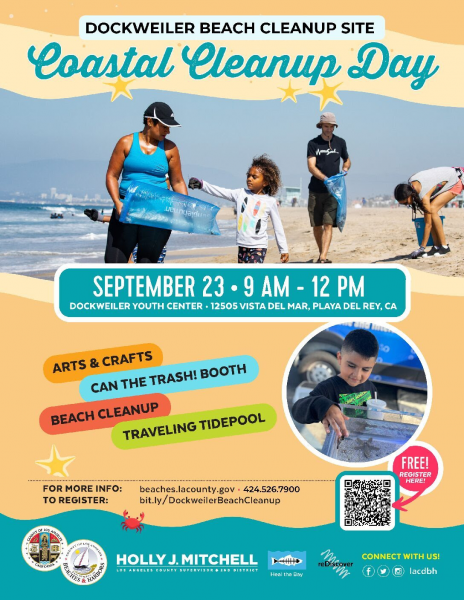 In celebration of Coastal Cleanup Day, LA County Beaches and Harbors is partnering with Supervisor Holly J. Mitchell and Heal the Bay to host a Beach Cleanup event at Dockweiler Beach. Our goal is to inspire and educate a new generation on how to create a more sustainable future!
Coastal Cleanup Day will also feature the following activities:
Can the Trash! booth
Traveling tidepool
Arts & crafts station with reDiscover Center featuring crafts made with recycled materials
EVENT DETAILS:
Date: Saturday, September 23, 2023
Time: 9 AM – 12 PM
Location: Dockweiler Youth Center, 12505 Vista del Mar, Playa del Rey, CA 90293
Parking: Free during event hours
RSVP: Click here to register
SAFETY: Be safe! Be sure to bring a hat, sunscreen, water, & refillable water bottle.
Beach Cleanup Rules/Guidelines:
All cleanup volunteers must print, complete, and submit a signed beach cleanup waiver form in order to join the cleanup.
Volunteers under 18 years old must have a waiver signed by parent or guardian.
Volunteers ages 12 & younger must be accompanied by an adult.
Gloves, buckets and trash pickers will be provided (while supplies last), but we encourage you to bring your own reusable cleanup supplies so we can reduce our environmental footprint.
Photo Finish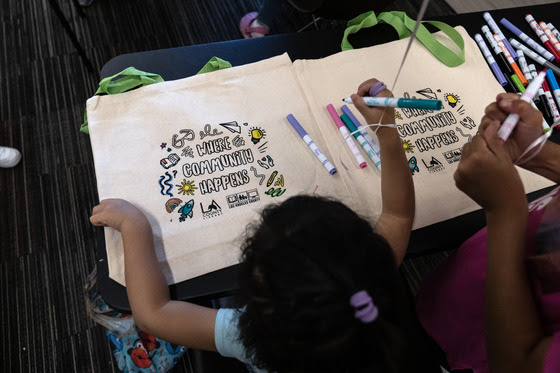 Library Fest at the Rowland Heights Library. There's so much more to do at Library Fest! Check out all our events, locations, and info on this page.

Click here to access more photos of LA County in action.
El Segundo News – December Edition
Watch El Segundo Media "on demand" providing replays of a City Council meeting, and original programming including cultural events

Citywide News
Holiday Festival and Tree Lighting, Thursday, December 7th
The Recreation, Parks, and Library Department proudly presents our annual Joy Around the World: Festival of Holidays and Tree Lighting event on Thursday, December 7th, 2023, from 3:00 p.m.-7:00 p.m. The event takes place at City Hall Plaza and the 300 block of Main Street. This free, family-friendly outdoor event combines El Segundo's Christmas Tree Lighting tradition with the celebration of winter holidays from around the world, including Christmas, Diwali, Hanukkah, Kwanzaa, Nochebuena, and Ōmisoka.

Guests attending the event will enjoy live music and cultural dance performances, Christmas tree lighting, a visit with Santa Claus and gift giveaway, kids' train ride, food trucks offering multicultural cuisines, craft-making stations, handmade jewelry and crafts for purchase, and more! This event is free to the public. For more information, please click here or call 310-524-2700.
Virtual Town Hall with AQMD, Wednesday, December 6th  at 6:00 p.m.
On Wednesday, December 6th, 2023 at 6:00 p.m. the City of El Segundo is hosting a virtual town hall with representatives from South Coast Air Quality Management District (AQMD) and elected officials representing El Segundo and L.A. County with the goal of addressing community concerns regarding the air quality and odor issues related to the Hyperion Water Reclamation Plant.
The meeting will feature:
Status of Hyperion's compliance with AQMD's Orders of Abatement
Information about AB 1216 requiring testing for pollutants of concern at Hyperion
Opportunity for the public to ask questions of AQMD and elected officials
For more information about the meeting and the zoom link to attend, please click here
Candy Cane Lane, Saturday, December 9th – December 23rd
Candy Cane Lane is back in El Segundo! Celebrated every year since 1949, except for 2020 due to the pandemic, Santa Claus will kick off this highly anticipated event on December 9th at 7:00 p.m. He will bring his magic down the 1200 block of East Acacia Avenue, lighting up decked-out houses and festive holiday displays as he goes!  Santa will then head back up to the North Pole but the light show continues nightly from 7:00 p.m. – 11:00 p.m. until December 23rd. Please note, there will be nightly street closures at Center Street and East Acacia Avenue and at East Walnut Avenue and California Street to allow for safety precautions.
Santa's Mailbox through December 9th
Children are invited to write letters to Santa! Santa's Mailbox is open through Saturday, December 9th during library hours. Please be sure to include a return address so that Santa can send you his reply! The mailbox is located in the Youth Library downstairs. This program is in partnership with the El Segundo Woman's Club.
Santa's Sleigh Ride Starts Monday, December 11th
Santa is coming to town, and he wants to meet you!  As always, the Police Officers Association is partnering with the Kiwanis Club to bring Santa to the streets of El Segundo. The dates for the sleigh will be December 11th through December 14th, and again on the following week, December 18th. The Head Elf will be tracking Santa at approximately 5:00 p.m. – 8::30 p.m. each day. Be sure to listen for the sirens, when you hear them, come visit Santa Claus and get a candy cane!
Menorah Lighting – Thursday, December 14th
El Segundo's annual menorah lighting ceremony will take place on Thursday, December 14th at 5:30 p.m. in City Hall Plaza. All are welcome to celebrate the festival of lights with potato latkes, jelly donuts, gifts for kids, and Hanukkah music and dancing.
Community Christmas Eve Dinner – December 24th
Enjoy a free and delicious holiday meal at the Recreation, Parks, and Library Department's annual community Christmas Eve dinner on December 24th, from 12:00 p.m. to 3:00 p.m. at the Joslyn Center. This event is open to the public and is available by free delivery. Please RSVP before December 20th in-person or by calling the Joslyn Center at (310) 524-2705.
Toys for Tots Toy Drive through December 10th
This holiday season the El Segundo Police Department is partnering with the United States Marine Corps to collect new, unwrapped toys and distribute those toys to less fortunate children at Christmas.
The Marine Toys for Tots Program was started by the U.S. Marine Corps Reserve to help bring the joy of Christmas and to send a message of hope through the gift of a new toy. Starting today, November 21st until Sunday, December 10th we will have 3 locations where you can donate in person. For details about the drive and donation locations, click here.
Spark of Love Toy Drive through December 14th
The Spark of Love toy drive, the largest community toy drive in the nation, returns to El Segundo. This special community campaign collects new, unwrapped toys and sports equipment for under-served children. Donations are being accepted now through Thursday, December 14th at Fire Station #1 or you can donate online. More details and info available here.
El Segundo News – December Edition
El Segundo News is a monthly news show that can be watched on the City's website, Channel 3, and the City's social media channels. The show focuses on city-related issues and events.
Check out the December episode with all the latest happenings, news, and business spotlights HERE!
City Council Recap for November 7th Meeting
The City Council Recap provides highlights and a quick overview of business discussed during the Tuesday, November 7th City Council meeting. To watch the full City Council meeting, click here.
Winter 2024 Recreation Activity Guide
The Winter Recreation Activity Guide is now available! Click here to view the guide and see all the classes, activities, and events we have coming up in the new year!
Registration for El Segundo residents opens on Monday, December 4th at 9:00 a.m. and non-resident registration opens on Monday, December 11th at 9:00 a.m. To register for these classes and activities, visit www.esrec.org and click on the "Winter 2024" tab. In-person registration is also available at the Checkout Building, Clubhouse, Joslyn Center, and Aquatics Center.
Please call 310-524-2362 or email [email protected] if you have any questions.
Housing Element Implementation Community Meeting
Thursday, December 14th at 5:30 p.m.
On December 14, 2023, at 5:30 p.m., the City will hold a community meeting regarding the implementation of the City's 2021-2029 Housing Element. The community meeting will take place during the regularly scheduled Planning Commission meeting. During the meeting, staff will provide an update on the 2021-2029 Housing Element implementation, answer questions, and receive input on housing-related topics.
For more information on the Housing Element and to get the latest updates, please visit the Housing Element webpage at www.elsegundo.org/housing-element.
The public is invited to attend the meeting in person at City Hall Council Chambers – 350 Main Street, El Segundo.
Sign Up for the Community Police Academy
The El Segundo Police Department is now accepting applications for our FREE January 2024 Community Police Academy. Classes start Wednesday, January 10th!

The course is intended for those interested in learning more about how the El Segundo Police Department functions and operates. The goal of the program is to open the lines of communication and encourage interaction between our officers and the community.

The FREE 10 week course is held on Wednesdays from 6:00 p.m.-9:00 p.m. Dinner is provided and topics include K9, School Resource, Motors, SWAT, Dispatch, Investigations, DUI and more.
To register click the link: Community Police Academy Application or email Officer Josh Gilberts at [email protected] to secure your seat and we'll see you in January!
Construction Activity Around Town
Brett Field Restroom Improvements Project construction will begin on Monday, December 4, 2023. GEM Construction will begin an interior renovation of the George Brett Field Restroom Building within Recreation Park to improve building accessibility. These restrooms will be closed during the estimated 1 ½ month duration of the project. Work hours will be Monday through Friday, from 7:00 a.m. to 4:00 p.m. For more information about the project, please click here.
El Segundo Boulevard Improvement Project construction is underway and is expected to continue through early 2024.
The project rehabilitates existing pavement along El Segundo Boulevard (between Illinois Street and Isis Avenue) and Nash Street (between El Segundo Boulevard and Imperial Highway). Additional improvements include installation of curb ramps and bike lanes, traffic signal modifications, drainage modifications, and landscaping.
More information and the project location map can be found here.
Funding provided by Metro, a partner in our community.
Hyperion Update
Below are the most recent updates on the situation with the Hyperion Water Reclamation Plant, which is owned and operated by the City of Los Angeles:On December 6th, at 6:00 p.m., the City is hosting a virtual town hall with AQMD via Zoom. Click here for full event details and the zoom link.
Hyperion has agreed to host the next Hyperion Citizens forum in person on January 18th at the El Segundo Public Library. Information about the event will be shared on the City's website once all of the details are finalized.Hyperion continues the replacement of tank covers for Batteries C and B which is expected to be completed in December of 2023.Additional details and documents continue to be shared on elsegundo.org/hyperion and at future City Council meetings. 
Sign up to receive the latest Hyperion news and updates from the City of El Segundo directly to your inbox.
December 2023 City Hall Closure Dates
El Segundo City Hall will be closed in December for:
Christmas – Monday, December 25th & Tuesday, December 26th
New Year – Monday, January 1st & Tuesday, January 2nd
City Hall's regular operating hours are
Monday – Thursday, 7:00 a.m. – 5:00 p.m. and Friday, 7:00 a.m. – 4:00 p.m.
Holiday Parade
Sunday, December 10, 2023
The El Segundo Chamber of Commerce's 59th Annual Holiday Parade will take place on Main Street on Sunday, December 10th from 1:00 p.m. – 3:00 p.m. This year's theme is "A Home Run for the Holiday" and will feature our hometown Little League champions, marching bands, performers, floats, antique cars, and a visit from Ol' Saint Nick himself to delight spectators from all over the South Bay! To learn more about the event go to El Segundo's Chamber of Commerce website.
Missed a meeting or event? Check out El Segundo Media…
Watch El Segundo Media "on demand" providing original local programming since 2009. Check out replays of a City Council meeting, and original programming including cultural events, community awareness issues, spotlights on local businesses, healthy living, local sports highlights and more!
City of El Segundo
350 Main Street, El Segundo, CA 90245
310-524-2300 | Website