NHL bans 'Pride Tape' use by all 32 teams for 2023-2024 season
The use of 'Pride Tape' was promulgated by NHL and NHLPA in an effort to eradicate homophobia under the NHL's Hockey Is For Everyone banner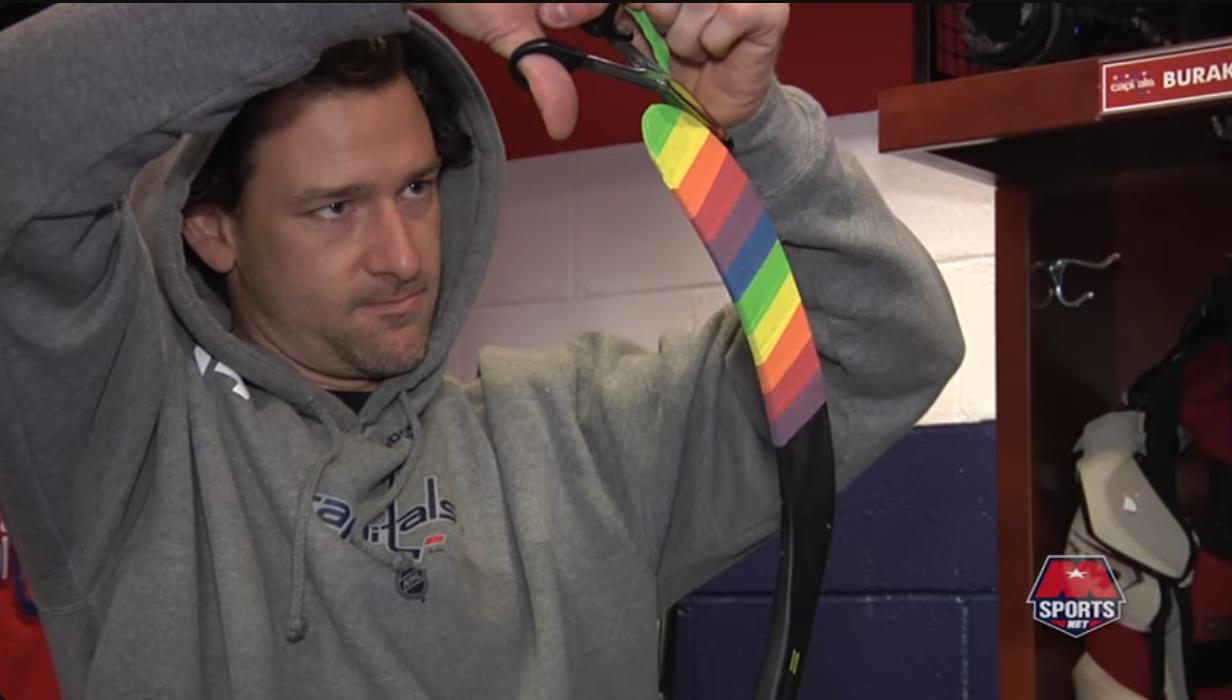 NEW YORK, NY. – In a move first reported by LGBTQ sports blog Outsports, the National Hockey League has banned the use of 'Pride Tape' across all 32 teams in the league. This comes a week after ESPN reported the league clarified in a memo, sent out to all team franchises, regarding 'special initiatives' teams could participate in including LGBTQ+ 'Pride Nights.'
ESPN's Ryan Clark reported that one section of the memo stated: "Players shall not be put in the position of having to demonstrate (or where they may be appearing to demonstrate) personal support for any Special Initiatives. A factor that may be considered in this regard includes, for example, whether a Player (or Players) is required to be in close proximity to any groups or individuals visibly or otherwise clearly associated with such Special Initiative(s)."'
This past June, the NHL's Board of Governors agreed that players will no longer wear special rainbow-colored Pride-themed jerseys during warm-ups next season.
The specially-designed jerseys will continue to be manufactured and sold, and players will still have the option to autograph or even model them. The autographed Pride jerseys are typically auctioned off to raise money for LGBTQ+ charities in each team's hometown.
But from now on, no pro hockey player will be wearing those rainbow jerseys during warm-ups.
The change was prompted by NHL Commissioner Gary Bettman's recommendation, which he signaled was coming in a March interview with CTV News: "This is one issue where players for a variety of reasons may not feel comfortable wearing the uniform as a form of endorsement," said Bettman.
A grand total of seven NHL players, out of 1,123, decided to skip pregame warmups on Pride Nights when their teammates wore the special rainbow-themed jerseys before games, starting with Ivan Provorov, as the Los Angeles Blade reported in January.
At that time, the Russian defenseman played for the Philadelphia Flyers, and claimed a religious exemption based on his Russian Orthodox faith. Provorov's decision was defended by coach John Tortorella.
He was followed by James Reimer, a goaltender for the San Jose Sharks, and Canadian brothers Eric and Marc Staal of the Florida Panthers, who also cited their religious beliefs for not participating. Canada is home to the vast majority of NHL players, followed by American, Swedish and Russian athletes.
Commissioner Bettman's recommendation was criticized by many players – including two-time Stanley Cup Tampa Bay Lightning's Steven Stamkos who told reporters at the time: "It was 98 percent or 99 percent of other players that wore the jersey and enjoyed wearing it and were proud wearing it, whatever jersey it was, whether it was the Pride, the military night, the cancer nights.
In its story, categorizing the NHL banning Pride Tape, as the league creating its own 'Don't Say Gay' policy, Outsports noted that the action taken is, as far as Outsports is aware, "the most stifling, anti-LGBTQ policy any pro sports league in North America has ever issued."
The message the NHL is sending: Hockey is not for everyone.
The use of 'Pride Tape' was promulgated by NHL and NHLPA in an effort to eradicate homophobia under the NHL's Hockey Is For Everyone banner, and has been a program that has proven to be widely performative under the supervision of NHL's executive vice-president Kim Davis.
One person noted on background to Arun Srinivasan, a contributing writer for Yahoo Sports Canada, that use of 'Pride Tape' is a small but important act of solidarity with LGBTQ+ communities, allowing NHL players to show their support in a visible way on the ice.
The NHL, the NHLPA and their partner You Can Play have yet to comment on Outsports' original report.
Thank you for all the kindness and support from all over the world over the last 24 hours. pic.twitter.com/ArtXrPiLZa

— Pride Tape (@PrideTape) October 10, 2023
NFL's Kirk Cousins: Anti-LGBTQ group's 'Ambassador for Christ'
The Vikings proudly boast they were the first in the NFL to host a summit and fundraiser focused exclusively on LGBTQ inclusion in sports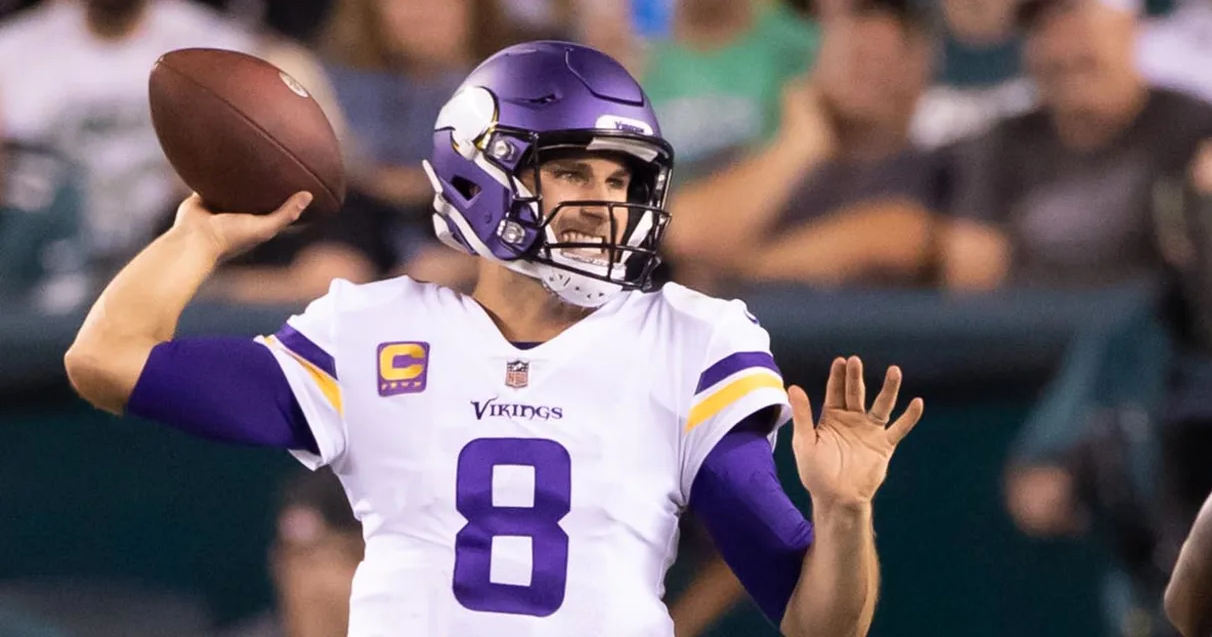 ORLANDO, FL. — Vikings quarterback Kirk Cousins has made no secret of his Christian faith; just the opposite. But his recently recorded sit-down interview with the chief operating officer of the rabidly anti-LGBTQ group, Focus on the Family, has caused a massive backlash by fans.
Even though their chat did not include references to what the group's website calls the gay and lesbian "lifestyle" or the "threat" of "transgenderism," Cousins used coded language that reinforced the group's dogma that "same-sex attractions" are a "choice."
"There are consequences to the choices you make in life, good or bad," Cousins told Focus on the Family COO Ken Windebank in the Nov. 3rd Focus on the Family Broadcast on YouTube. "And if you sow good things you'll reap good things. But if you sow poor decisions, you'll reap poor decisions."
Related:
Their conversation was recorded before a packed house at the Sand Lake campus of his father's mega church in Orlando. Don Cousins is lead pastor at Discovery Church.  The church also has two other campuses in the Central Florida city that ranks fourth highest in the nation for gay and lesbian couples and was ranked the most LGBTQ+ friendly travel destination in the U.S.
In fact, Cousins and Windebank sat in front of a large projection of Lake Eola, site of Come Out with Pride's annual celebration of the city's thriving LGBTQ+ population, held Oct. 21, just two weeks before their talk.
Reports revealing their conversation followed complaints by an anonymous fan of the Minnesota Vikings, who alerted LGBTQ sports journalists about the video.
"It doesn't matter how innocuous the content in the video is," said the fan. "Focus on the Family has consistently pushed for abhorrent policies and to enshrine their views into American law. For the Vikings' franchise quarterback to partner with them is shocking, disappointing, and runs counter to the image the Vikings have tried to project."
The Vikings proudly boast on the team's website that they were the first in the NFL to host a summit and fundraiser focused exclusively on LGBTQ inclusion in sports, back in 2018, and that a front office employee who's in her 8th season with the team is an out lesbian.
The fan also noted what they saw as the hypocrisy of the four-time Pro Bowl player, who Focus on the Family calls an "Ambassador for Christ" and whose Instagram bio describes him as "Believer. Husband. Father."
"It also runs counter to Cousins' public image, that of 'all are welcome'. Focus on the Family has built their political arm on trying to drive people they don't approve of out of American society."
It's easy to see what Focus on the Family says about homosexuality, since it's right on the group's website:
"Focus on the Family is committed to upholding God's design for the expression of human sexuality: a husband and wife in a marriage relationship. We also hold to the scriptural truth that a relationship with God through Jesus Christ brings transformation and power over sin. We reach out with compassion and respect to individuals, families, and churches affected by homosexuality."
Focus on the Family has been headquarted in Colorado Springs since 1977. In the 1990s, the group's anti-LGBTQ leaders led the fundamentalist charge in support of Amendment 2, a Colorado ballot measure that banned municipalities from including LGBTQ people in their anti-discrimination policies. Although the initiative passed in 1992, in 1995 the Supreme Court found that it violated the 14th Amendment to the U.S. Constitution.
Almost a decade ago, Cousins himself called homosexuality a sin, saying he'd still welcome a gay teammate because "nobody's perfect" and he would try to teach him to "follow Jesus."
"Now, there are a lot of teammates in my locker room right now who may not have a homosexual lifestyle, but they have sins, too," he told MLive in 2014. "They're not perfect. So, I don't say they can't help us win. Nobody's perfect. To that degree, we'd welcome him into our locker room and say come help us win, and hopefully I can love him like Jesus and hopefully show him what it means to follow Jesus."
Fans expressed their anger at Cousins in social media posts:
kirk cousins supports an anti-LGBTQ group that openly advocates for conversion therapy and rebanning gay marriage https://t.co/KixzDy4DOp

— jordan (@notbubbawallace) November 27, 2023
Focus On the Family is awful. Boooooo Kirk Cousins. https://t.co/bRBDjivfgq

— amityf (@amityf) November 27, 2023
Is it asking too much for there to be more Taijuan Walker, Adam Jones, Sean Doolittle, Connor McDavids in the world and less Kirk Cousins, Phillip Rivers, Drew Brees, Lance Berkmans, etc.

— Adam Seth Moss (@LFNJSinner) November 27, 2023
i guess a hypothetically gay teammate is secretly a threat to your focus on the straight, white, cis, married, republican, evangelical american family fantasies, huh https://t.co/FiHg9QJfgt

— Marissa 🦅🦑⛈️ (@Nats_n_Cats) November 28, 2023
Neither Cousins nor the Vikings responded to a request for comment.