'Dicks: The Musical' is as trashy as you think
Film sets out to be gloriously stupid and achieves that goal deliciously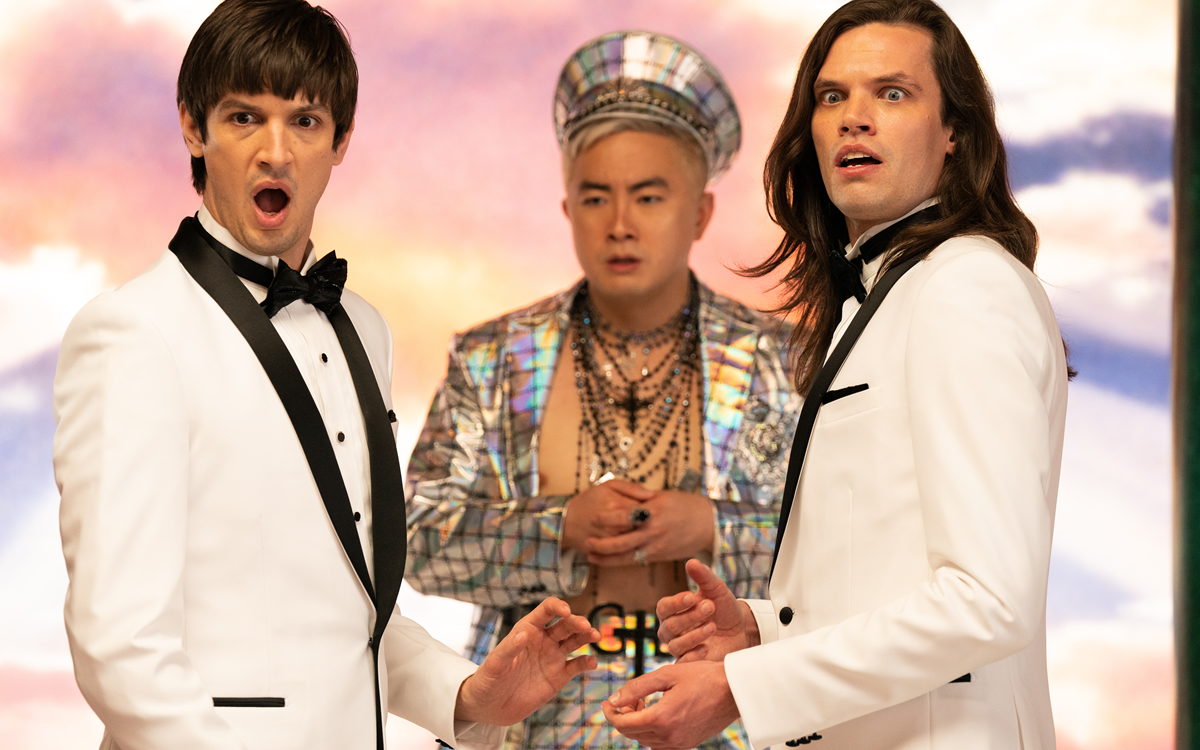 If you think "Dicks: The Musical" is a tasteless title, just be thankful they didn't stick with the original name.
Of course, if you think the title is in poor taste, you likely won't think much of the film itself, in limited release since Oct. 6 and expanding wide on Oct. 20. Directed by comedy icon Larry Charles (who rose to prominence writing for "Seinfeld" and "Curb Your Enthusiasm" before helming buzzy hit movies like "Borat," Religulous," and the controversial "The Dictator") and adapted from their original stage production by its stars, Aaron Jackson and Josh Sharp, it's the kind of movie that seems to put extra effort into making sure no line is left uncrossed.
Jackson and Sharp – who, aside from a general similarity of build and stature, look nothing alike – respectively play identical separated-at-birth twins Trevor and Craig, two hyper-driven and self-absorbed aggressively heterosexual businessmen (the "dicks" of the title) who meet and become very fond of each other when hired at the same company. It doesn't take long for them to figure out their true relationship – twin siblings raised separately by divorced parents (Megan Mullally and Nathan Lane) – and decide to "Parent Trap" their mom and dad into reuniting. Unfortunately, both parents possess some decidedly not normal personality traits; their inexplicably wheelchair-bound mom has a seemingly tentative grasp not only on objective reality but on her own vagina, and their flamboyantly gay dad has a secret obsession with a pair of grotesque-but-oddly-adorable caged mutants he keeps in his home and refers to as his "sewer boys", presenting greater challenges to their scheme than originally anticipated.
It's all very over-the-top, played purely for laughs with full awareness of its own lack of substance or subtlety; there is nothing in it that could be described as believable, at least in any straightforward sense, and even our cursory synopsis above likely reveals the deeply imbedded queerness in both its storyline and its intent. Either of these factors would likely alienate a significant chunk of potential audience, and both together must surely eliminate the appeal for all but the most deviant of viewers. It's utterly ridiculous, appallingly dysfunctional, and shamelessly perverted, all at the same time, and when it draws to a close, it offers up an unrepentantly transgressive finale presided over by none other than a very gay God Himself (Bowen Yang), who has served as narrator to the whole twisted tale from the beginning. Spoiler alert: it involves even deeper socio-sexual taboos than homosexuality.
By now, most of our savviest readers will have easily deduced that "Dicks: The Musical" is an intentional exercise in "camp" – and not just the kind that lampoons stodgy cultural tropes but the kind that does so in such a deliberately exaggerated style as to be a lampoon of the lampoon itself. That's a thin line to walk; as a general rule, trying too hard to be campy all but ensures that the joke will end up getting lost in its own obviousness.
Whether or not that's true of "Dicks" will depend on individual thresholds of "taste" (there's that word again) more than any supposed ideal of how such things "should" be handled in a Hollywood movie, but what's certain is that it takes its self-proclaimed aspiration (in publicity materials) to become a "future midnight movie classic" much more seriously than it takes any of the ostensibly "shocking" outrages within its content. Jackson and Sharp – who first created the project as a 30-minute comedy sketch for the Upright Citizen's Brigade, the popular improv comedy troupe of which they are both proud alumni – have crafted a conceit and a script so committed to stylized artifice, so centered in a "meta" perspective which drives home the absurdity of sanitized "niceties" in the face of sheer human depravity, that it cannot possibly be taken seriously. In other words, anyone driven to outrage by the messaging it pushes under guise of irony can only be stymied by the obvious fact of its gleefully-embraced stupidity.
For the record, using words like "stupidity" in reviewing a movie should normally be avoided, since it ultimately says more about the reviewer than the film itself. For a film like this one, however, it gets straight to the point and does not imply any negative judgment; "Dicks: The Musical" sets out to be gloriously, giddily stupid, and it achieves that goal in delicious spades. From the first, it attempts no disguise; its leads are obviously gay men playing toxic straight male stereotypes, its irony-steeped central theme of "family" is clearly intended to turn conventional ideas of that construct on their ear, and the deeply dysfunctional personalities of its pathologically un-self-aware characters leave no doubt about its ambition toward tongue-in-cheek social commentary. Indeed, it seems to consider the points it makes so obvious as to be moot, and largely focuses instead on simply providing a good, old-fashioned, seriously filthy time.
Much of what makes it work – if it does, which, once again, is contingent on how sympatico one is to the whole idea of it – is the sheer talent of the performers. Jackson and Sharp, both of whom make their big screen debuts as leading men, manage to capture that delicate balance between self-conscious caricature and endearingly goofy sincerity that keeps us from hating them from the start, something they no doubt perfected through countless performances of their stage piece – which, just to answer the question we begged in our opening line, was originally titled "Fucking Identical Twins." Even more valuable are the chops brought into the mix by Lane and Mullally, whose background in outrageous theatrical performance and finely wrought screen characterization turn what might otherwise be nonsensical clowns into human-ish figures with whom one might empathize. In an unlikely but inspired film debut, rapper Megan Thee Stallion steals all her scenes as a boss lady who has learned to "out-alpha the alpha," and rounding things out is the always-game Yang's saucily sex-and-sin-positive version of the Almighty Himself.
Also offering major support in the "pro" column are the contributions of costume designer Valerie Klarich, a delightful blend of the garish and the subtle, and the cinematography by Michelle Lawler, which evokes the stylistic flourishes of both old-Hollywood glam and bargain-basement grunge; the surprisingly catchy and devilishly clever song score, composed by Karl Saint Lucy and Marius de Vries to the lyrics by Jackson and Sharp; and, of course, director Charles' sharp countercultural sensibilities help bring out the meat of Jackson and Sharp's script while asserting his own iconoclastic voice in the process.
Of course, if the overtly raunchy humor that permeates "Dicks" is not to your "taste," then none of that will keep you from finding it tiresome. If, however, you're a fan of the unapologetic "filth" propagated in the films of John Waters, the straight-panic-spoofing sci-fi sensibilities of "The Rocky Horror Picture Show," or the arch satire of shows like "Strangers With Candy" – all cited as influences by the movie's creators – you might just think it's the best thing you've seen in a long time.
Gnarly 'Saltburn' takes us on a sexy, savage ride
Buzzed-about film manages to shock even when we expect the jolt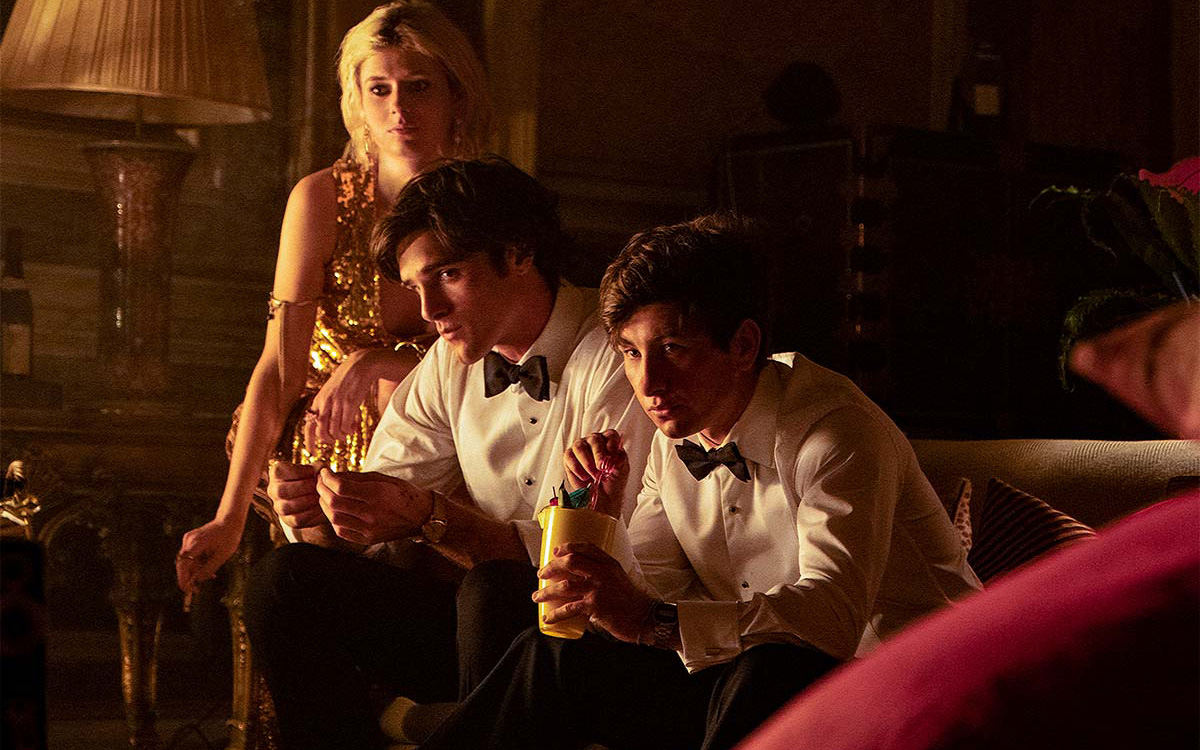 When a movie comes with as much buzz behind it as "Saltburn," one can't help but have expectations.
This is especially true when the buzz is fueled by rising talent, both in front of the camera (in this case, Oscar-nominee Barry Keoghan in his first leading role, alongside "Euphoria" sensation Jacob Elordi) and behind it (Oscar-winning writer/director Emerald Fennell, following up her debut feature, "Promising Young Woman"). When you add a deliberately vague, shamelessly provocative publicity campaign, which offers little more than a suggestion of the film's premise while luring us in with imagery that implies a dark but sexy wild ride through the world of the decadent upper class, it's almost impossible not to walk into the theater without feeling like you're in for a thrill.
That, of course, is exactly what Fennell and company want you to feel. "Saltburn," which opened in wide release the day before Thanksgiving, is a movie that counts on both your expectations and your ignorance; it needs you to be prepared for anything while knowing next to nothing, and it relies on your imagination to make assumptions and draw conclusions as you go. It's the story of Oliver Quick (Keoghan), a first-year student attending Oxford University on scholarship in the mid-2000s. Relegated at first to outsider status among his privileged peers, he becomes infatuated with wealthy Felix Catton (Elordi), a handsome and popular classmate, and gains his attention through a chance encounter. The two become close companions, and when the school term ends he is invited to spend the summer with Felix at Saltburn – his family's sprawling country estate.
It's there the movie begins to follow a more gnarly path. Immersed in the idyllic, dilapidated luxury of Saltburn, Oliver finds himself entangled in the dysfunctional dynamic of the household; he easily wins the approval of Felix's father and mother, Sir James and Lady Elspeth (Richard E. Grant, Rosamund Pike), but jealous sister Venetia (Alison Oliver), and scheming cousin Farleigh (Archie Madekwe), a "poor relation" who sees him as a threat to his own tenuous position in the family, are a different matter, and he must learn to navigate the behind-the-scenes politics required to keep them at bay.
It's impossible, really, to say much more about the events that unfold beyond that point, other than to say that it's a far cry from the nostalgic, semi-sweet gay coming-of-age story it might seem to be in the beginning, if the occasional ominous chord in the soundtrack and the glimpses of ugly human behavior on the screen didn't suggest otherwise. "Saltburn" is one of those movies that demands to be seen knowing as little as possible about its plot if one is to get the full experience, and we won't be revealing anything here that would ruin that – not even whether the "will-they-or-won't-they?" steaminess of Oliver and Felix's bromance ever comes to fruition.
What we will tell you is that Fennell – whose first film electrified audiences with a devastating twist ending – knows how to play an audience. She sets up "Saltburn" as a flashback; we know from the beginning that something big and presumably bad has happened, and its protagonist is a likable misfit who proceeds to narrate how it came to pass. From the film's first moments, we are anticipating the twist – which begs the question of how a twist can be a twist if we already know it's coming.
"Saltburn" addresses that question, though some viewers might not like the answer, by playing not just on our expectations, but on our hopes. While we may expect to be shocked, we also hope for a certain outcome; more than that, we become so attached to that hope that it can blind us to reality, so that when it finally hits us, it feels like we never saw it coming even though it was in plain view all along. That's the best we can do in explaining how Fennell's wickedly subversive, deeply disturbing mindfuck of a movie manages to shock us even when we expect the jolt.
Of course, it also delivers plenty of other shocks — drugs, sex, homoeroticism, lots of full-frontal nudity — before it gets there, and quite a few more disquieting, transgressive moments in which we see things that jar our understanding of what we are seeing or simply can't believe what we're seeing. When the gravesite scene comes up, you'll know that's one of the moments we're talking about.
Still, it takes more than shock value to make a movie worth watching, and "Saltburn" doesn't rest its laurels on a bag of manipulative tricks, no matter how skillfully they're executed. Fennell's movie delves deep into the economic class divide – a worldwide phenomenon epitomized by the genteel squalor of its upper-crust English setting – through its microcosmic portrait of the Catton family, whose benign and polite demeanor barely conceal the casual cruelty and shallow banality of their lifestyle. Even Felix – who, as superbly played by Elordi, seems genuinely kind and much more grounded than the rest of his clan – is ultimately a spoiled "golden child" used to getting what he wants and not above using his considerable charms to do make it happen. More than that, it plays with the uncomfortable notion that there's a part in all of us, no matter how much we may deplore the perceived excesses of the one percent, that would be willing to do anything to live in that world. Indeed, it's this conflicted idea that gives Fennell's movie its teeth, made even sharper by the fact that, no matter how ridiculous or downright awful her characters may be, she makes us feel for – and even like – all of them.
Of course, she's also an extremely literate Englishwoman, and she peppers her movie with references and themes from Shakespeare to Dickens to Agatha Christie, while paying ironic homage to the entire "country house" genre of British fiction. Her film craft is bold and distinctive, delivering (with the help of cinematographer Linus Sandgren) pastoral pleasures and Fellini-esque Bacchanales with equally arresting style. She deploys the talent of composer Anthony Willis to provide a stately-yet-gothic musical score that thrums with a low warning of menace, keeping us on edge throughout. And she has the good sense to assemble a superb cast – with the dryly hilarious Pike and the quietly heartbreaking Oliver as standouts, alongside Elordi – to make it all work.
It's Keoghan, though, who is ultimately the glue holding "Saltburn" together. His Oliver Quick is a character destined to become iconic, a one-of-a-kind portrait of enigmatic humanity that bestows movie star status upon the young Irish actor after a steadily impressive roster of high-profile supporting roles. When the film is over, you will either love him or hate him, but you will never forget him.
In fact, the same can be said about "Saltburn" itself, which has had its share of negative reviews from critics put off by its over-the-top style and manipulatively orchestrated storytelling. We'd have to respectfully disagree; it's an outrageous movie, to be sure, but purposefully so – and as for the storytelling, it is through its unapologetic manipulation that a movie which might easily otherwise have been just another mindless, lurid thriller into a savage piece of cinema that you'll want to see again and again.