New sound 'Rising' echoes past yet escapes predictable genres
While Rising's style resonates with various generations in diverse ways, his purpose is simple: "Preach love through music"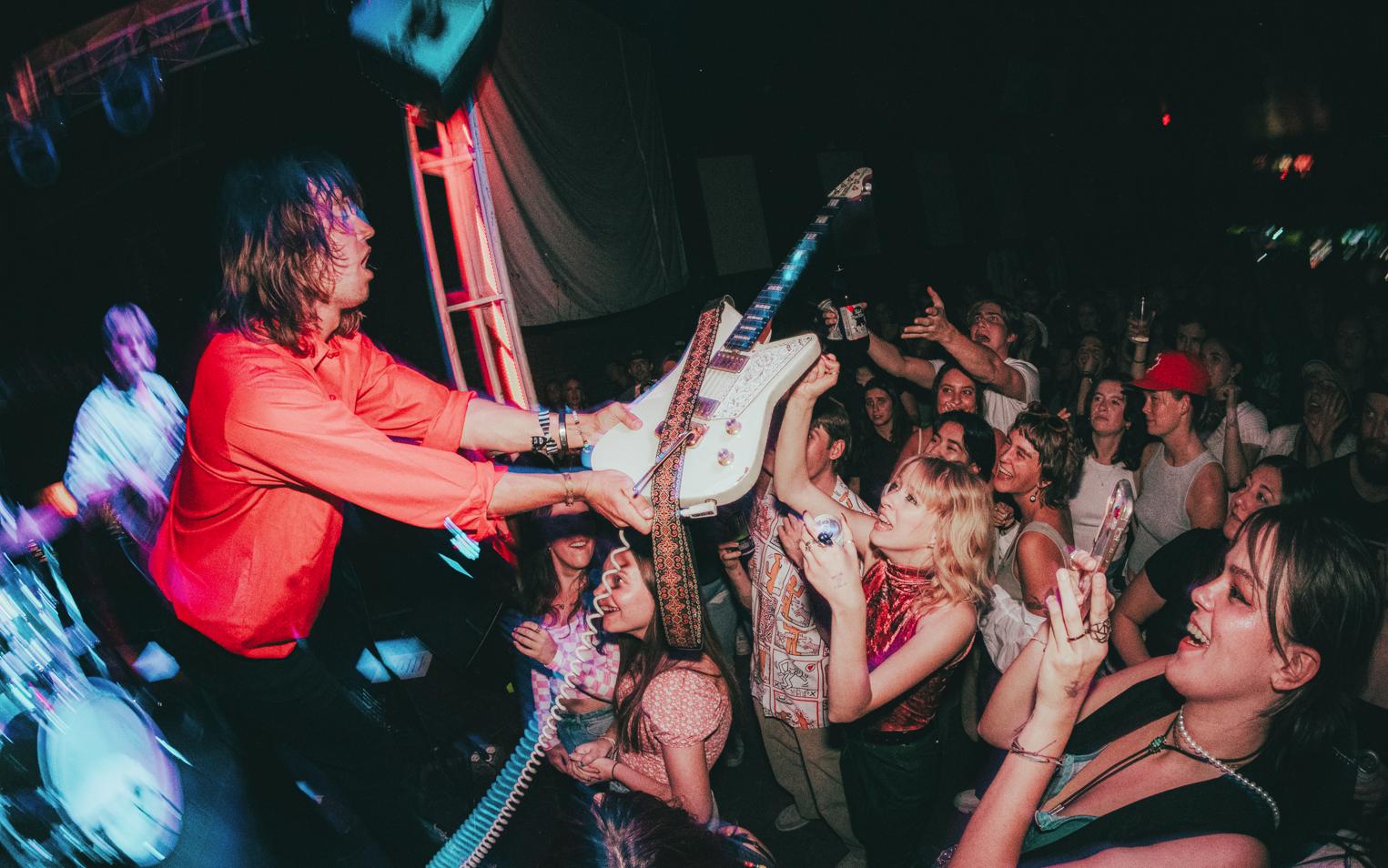 PORT HUENEME, Calif. – In the late evening, Kyle Rising took to the stage at a sold-out concert on September 30th, his attire embodying the spirit of a bygone era: a striking red leather jacket, a black low buttoned dress shirt, and flared black pants adorned with a captivating floral design. Rising's not-so-subtle display of a late 60s- early 70s motif is not merely a predilection of personal taste; it embodies this 27 year-old's way of life.
For this very reason, Rising's performance at Port Hueneme's Oceanview Pavilion, a Ventura County venue adjacent to the southern California coastal shore, held special significance as he opened for American guitarist Robby Krieger, a surviving founding member of legendary rock band The Doors.
Rising stands out — he's not your typical person with a predictable routine. In fact, he's quite the opposite – an eccentric nomad. His entire essence exudes a carefree eclectic persona that can be likened to one's driving along the Pacific Coast Highway, windows down, music blaring. Combining the mystique of Jim Morrison, the kinetic dynamism of Elvis, the raw energy of Mick Jagger, and the versatility of Gram Parsons, Rising is a mesmerizing force inspired by those music legends of the past while presenting something entirely new. The 60s and 70s free-spirited paradigm, emblematic of authenticity, love, and psychedelia, defines his allure.
During previous tours Rising performed with Sensi Trails, a band he described as a "reggae rock project" stemming from a 'high school phase'. Nevertheless, it came as no surprise that, under his first-ever solo name appearance, he opened for Krieger, thanks to his outstanding cover of The Doors' classic "People are Strange."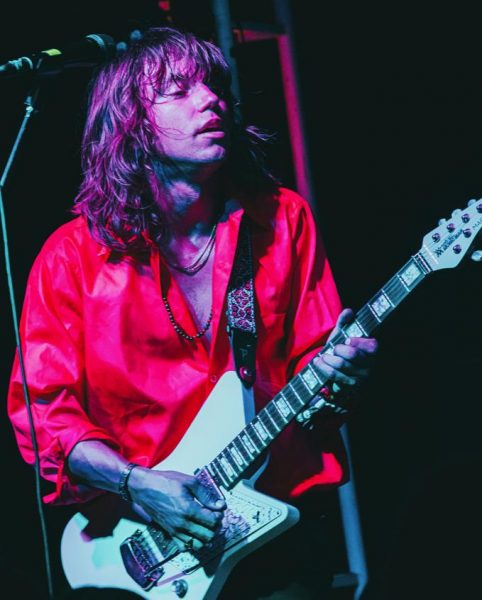 While this cover opened a lot of doors for Rising (his pun), he refuses to be confined to a specific genre. "My taste in music is constantly evolving because I am a sponge when it comes to musical influence," he explains, "so to pick one genre to be stuck with is difficult." Yet, he admits to having some significant influences such as 'rock and roll' and 'Americana,' evident in one of his most recent singles "She Freaks Me Out".
Much of this versatility in Rising's musical preference stems from both familial influences and his nomadic lifestyle. Currently residing in San Diego, Rising told the Blade of how his travels influenced his music. "I picked up influences from all over the place," Kyle elucidates, "I lived in West Virginia and got into bluegrass music…I started playing banjo and got really into the Appalachian style."
As a result of his penchant for diversification, Rising's musical performances evoke a range of reactions from audiences, with some saying: "That sounds like classic psychedelic rock! Is that Caribbean music? I hear a reggae influence. Wait, is that country? Does that mean I like country music now?"
The musical versatility, resulting in a mix of emotions, works perfectly as Rising seems to intend. He explains: "Depending on which [genre] you listen to, it's going to affect how you feel."
With each new sound and emotion, Rising pulsated in rhythm with his every move during his Port Hueneme performance. Throughout his set, he held the microphone with an almost spiritual connection, swaying with each verse, as if channeling the spirit of The Doors frontman himself.
Seemingly, before anyone has the time to shout, "That's Jim Morrison!" Rising almost imperceptibly transitions into another style. One memorable moment was when Rising – in the middle of a song – set his guitar on the stage floor and seductively took off his red leather jacket. With a provocative twist, Rising made slight thrusts at the crowd during a particularly raucous moment, a move that made concert goers feel as though they were immersed in something taboo.
He left the audience spell-bound, evoking a sense of nostalgia in those who witnessed it – a rebellious gesture through the music, a siren call for the audience to shed their inhibitions and join him on this sonic adventure. These bold statements were conveyed through his music, his movements, and his display choice of colorful, psychedelic visuals in the background, serving as reminders that Rising was not merely on stage to perform; he was on stage to evoke, provoke, and challenge any authority that dictates restraints on the body.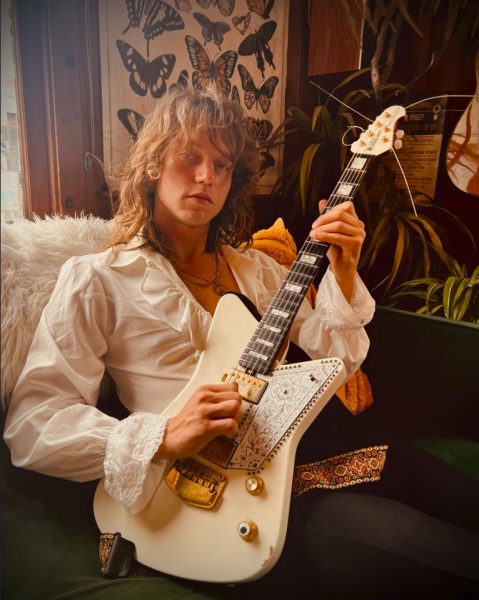 In a reflection, he does this while expecting his performance to be flawed or imperfect in some way. "I think that the human element has been lost in music," Rising acknowledges, "When I go to a live show, I want to see the human error. I want to witness some flaws, and I don't want to listen to a bunch of backing tracks; because if that's what I want to hear, I'll go home and put the album on."
All of this culminates in a set of questions: What are the risks taken in today's music landscape by the contemporary counterculture? Where is the authenticity of those claiming to believe in the spirit of the 60s and 70s revolutionary moment while refusing to bend the rules or test the limits of power? And finally, why did Rising's performance stand out as one of those rare moments where audience members sensed they were at the heart of something about to erupt, a plateau about to be reached, or a never-ending intensity composed of artistic expression and uncharted musical territory?
Evidently, Rising understands the necessity for something new – or at least something that bridges the gap between the previous generations and the current one.
"For the older generation, the performance is nostalgic; and for the younger generation, it's something new and exciting," he said. However, this "new and exciting" prospect is not predicated off a short-lived career fueled by immaturity. "I've gone through phases where I've wanted to do the whole rock and roll party thing," Rising explains, "but it's not sustainable – that will make a career very short." Rising noted that tour life does come with surprises, but "the main thing is providing music to the people."
While Rising's style resonates with various generations in diverse ways, his purpose is simple: "Preach love through music."
An elegantly simple, yet profoundly effective means by which Rising imparts this message of love through music is through his dedications to his family, a practice he upheld during this particular concert where his family was present in the audience.
In a poignant gesture, he chose to dedicate "Hickory Wind," a country song originally recorded by The Byrds in the late 60s, to his younger brother. This dedication was imbued with a nostalgia of growing up in the southeastern United States exemplifying "that feeling of being back home again," and reminiscing about that time in their lives.
Rising not only preaches a message of love through his music but also refrains from prescribing a rigid definition of what love should entail. He avoids confining himself to any particular religious doctrine, as he elaborated in his interview with the Blade: "I do believe in spirituality," he says, clarifying that his spirituality is "centered on love and compassion for one another."
When discussing his diverse fan base which spans various ages, genders, sexualities, and other characteristics, Rising states, "I love all people. As long as we can get together, enjoy the music, and love each other then that's amazing."
Whether on tour or off, Rising endeavors to convey a message of love. His open-minded, bohemian embracement of love may also be attributed to his deep affection for surfing where he finds the ocean to be a profound source of inspiration. As he explains, "There is so much to learn from the ocean; it offers a lot of metaphors about life." Additionally, his passion for fashion plays a part, as he ardently believes in people expressing and loving themselves through style.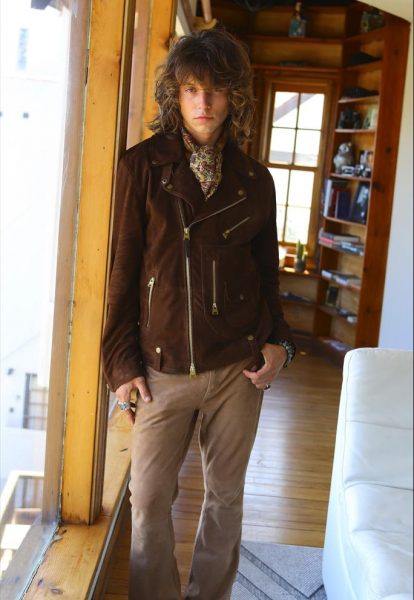 In fact, Rising offered that touring has afforded him the opportunity to explore thrift stores for clothing gems: "The best thrifting I've found is in the middle of nowhere." Furthermore, his love for humanity is exemplified by his belief in the importance of passing things onto others. Particularly when it comes to clothing, he criticizes fast-fashion by asserting, "There is already an abundance of clothes in the world; there's no need to keep making more. We can pass what we have on to others."
Kyle Rising is a breath of fresh air, a welcome change in the music scene, which would make any manager lucky to have him as a client. Surprisingly, Rising has been doing his musicianship without management, and believes that "someone who knows the industry and relates to his message" could drastically benefit his musical journey.
The current music landscape seems to lack the audacious spirit of pushing boundaries, the fearless experimentation with the body expressed through wild movements and daring fashion choices infused with innovations. It's missing the genre-defying music and inclusive acceptance of all individuals. Perhaps it's even missing sneaking a concert-goer into a venue every once in a while. Kyle Rising is a provocateur who bends the rules, reminding us of the essence of real music: rock 'n' roll is alive and well in the 21st century.
While he insisted on an in-person interview in the Hollywood Hills, his gratitude for an interview with the Blade nearly matched his feelings of opening for Robbie Krieger: "It was a real honor," Rising told the Blade, "I never could have expected this."
As a music journalist eager to write about an artist with fresh style, I had the privilege of witnessing such a performance, complete with its daring risks and imperfections. It was an experience that embodied the Rising spirit by the fact that I had been discretely admitted to the concert, armed only with a flimsy, maybe not-so-official wristband provided by his friends accompanying him.
******************************************************************************************
You can follow Kyle Rising here:
Social Media:
Instagram; TikTok; Spotify & YouTube
Website:
Seeding a gay community in LA, the gay liberation revolution
1970 was an incredible year of achievement for GLF in LA.  Marches, protests, & a broad range of other militant, highly visible actions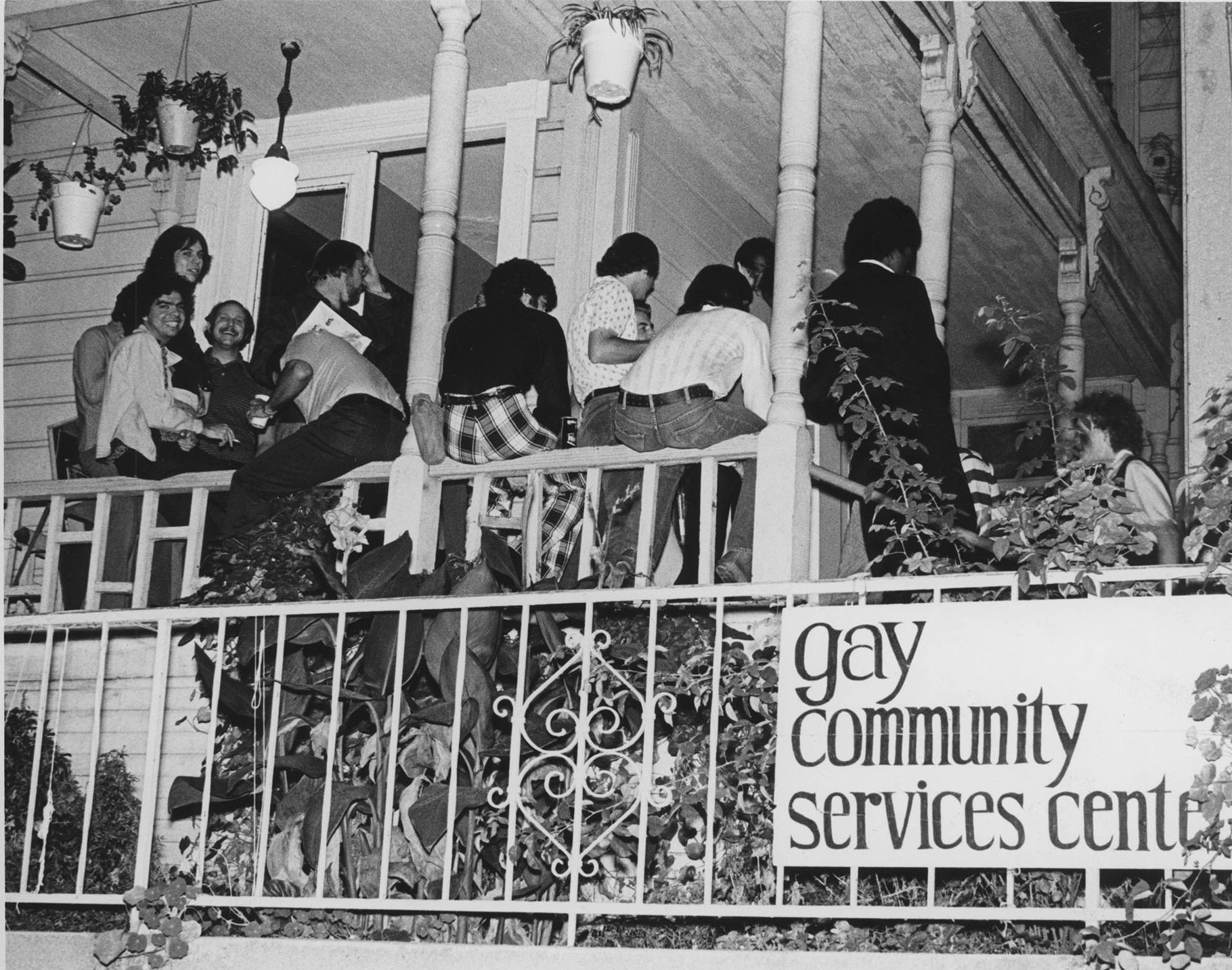 By Don Kilhefner | LOS ANGELES – There is a big difference in magnitude between a liberation movement and a civil rights movement. Often, the terms "Gay Liberation" and "Gay Civil Rights" are used synonymously. Those terms, however, are very different in meaning.
A liberation movement involves an oppressed group seizing power by its own militant efforts and includes a change in consciousness by an oppressed people about its alleged inferiority, restructures economic and educational systems, and claims or reclaims the group's history and culture. The central organizing principle of a civil rights movement is lobbying the dominant power structure over time to grant new laws—like voting rights—which gives more equal rights to a minority or majority historically discriminated against without any fundamental changes or threats to the power, economic, or educational systems in place.
Power structures try to destroy liberation movements, as in South Africa in 1961 when Nelson Mandela and others created the paramilitary Spear of the Nation, turning the African National Congress from a civil rights movement into a liberation movement. On the other hand, civil rights movements are easily pacified by political posturing and pretending and assimilated by elite capture without posing much of a threat to the basic power structures of society. Liberation movements are also susceptible to elite capture.
Author's Note You are advised to remember as you read the following article that all of the Gay Liberation organizing being described was done within a context of 1,000 years or more of hetero supremacy in the West in which all religions declared lesbians and particularly gay men to be subhuman and an abomination in the eyes of God; all national and local laws declared them to be illegal and a crime against nature, with police and vigilante groups hunting them down and killing such deviants, often burning them alive at the stake; and in the 20th century the new science of psychology declared them a severe psychopathology and a threat to society. Gay men and lesbians internalized that hetero supremacist, genocidal ideology, turning it into self-hate, and turning that debasement into fear of being found out, some in fear for their very lives. And so, in 1969, still being officially labeled sick, sinful, and against the law and against the laws of nature, a new, revolutionary narrative unfolded in Los Angeles.
Central to the development of a radical, militant Gay Liberation revolution in Los Angeles was the L.A. Gay Liberation Front, which was called into being in August 1969 by Morris Kight, an anti-Vietnam War activist. GLFs were also organized in other major U.S. cities in the aftermath of the 1969 Stonewall Rebellion, a single spark that caused a prairie fire. A gay revolution ensued—a revolution defined as "sudden, radical, complete change."
For months, GLF meetings were held every Sunday afternoon in random, obscure locations, until, on January 1, 1970, I secured a GLF office at 577 ½ North Vermont Ave. in East Hollywood, formerly occupied by the Hollywood contingent of the Peace and Freedom Party. Using basic organizing skills learned as a volunteer at the Peace and Freedom Party office in Venice while a UCLA doctoral student in history, I became GLF's around-the-clock, sleep-in office manager, creating a GLF infrastructure for the first time, including a telephone number, mailing address, bank account, and a stable meeting and organizing space.
The office was located on the second floor of a graceful dowager of a fourplex next to the Hollywood Freeway. Soon after GLF left the space, the building was demolished and replaced by a series of gas stations (southwest corner of Vermont and Clinton). [If anyone out there has a photo of the building, please contact me.]
The GLF office became a beehive of gay political organizing that propelled the Gay Liberation movement in Southern California forward rapidly (more about all that activity in the future). In a recent event at USC-ONE Archives, Dr. Craig Loftin, Lecturer in gay history at California State University (Fullerton), described that year as follows, "…1970 was an incredible year of achievement for GLF in Los Angeles. They staged marches, protests, 'zaps,' interventions, and a broad range of other militant, highly visible actions. They fought back. They led the march out of the shadows, out of the closets."
On 9/18/1970, GLF staged a "Touch-In" in a popular WeHo bar, The Farm; at 10 p.m. gay men reached out and hugged each other; L.A. Sheriffs arrived and were warned by GLF: if you arrest one of us, you'll have to arrest all of us; men continued to show affection for each other; chanting began: "Ho-Ho, Ho Chi Minh, GLF is going to win;" Sheriffs retreated; the beginning of the end of police raids of gay bars in L.A. was upon us.
While Kight and I played a leadership role in those developments, let me make this clear: a handful, then scores, then hundreds of gay and lesbian people—all voluntarily engaged activists—collectively and constructively made it happen, a record of accomplishment probably unmatched by any other GLF in the country.
In this essay, I will focus on one of those 1970 activities, the GLF Gay Survival Committee and the subsequent Hoover Street Commune because there is a clear path, through thick and thin, from that Committee to the Commune to the October 1971 opening of the Gay Community Services Center in Los Angeles (now called the L.A. LGBT Center), the first and, then as now, the largest in the world. GCSC also seeded what grew into a world class gay community in Los Angeles.
The Gay Survival Committee, the name tells you where gay people were at that time, was created in the Spring of 1970 when I proposed the idea to GLF which approved it unanimously. The Committee's primary purpose was to begin exploring the possibility of offering—out of the GLF office and by referral—services specifically designed for gay and lesbian people suffering from oppression sickness (peer counseling, consciousness raising groups, Vietnam War draft and military resistance counseling, and medical and legal referrals). A Los Angeles Free Press article in August 1970 caught the zeitgeist of that GLF effort.
By the end of 1970, L.A. GLF was beset by a mostly friendly, fundamental debate as to which direction to go in 1971, either in an evolving liberation direction or a more social direction by opening a Gay Coffee House with entertainment. After much internal discussion and to resolve the tension, I made a proposal in December 1970 that the GLF office be closed and that GLF financial resources, totaling about $900, be turned over to the Gay Coffee House project. GLF members agreed.
Early in 1971, a Gay Coffee House was opened by GLF stalwarts John Platania, Jim Kepner, and others in a storefront on Melrose Ave., a site where the Continental Baths subsequently stood (western corner of Melrose and Kenmore). After several months it devolved into a crash pad, could not pay its rent, and closed.
During 1970, my thinking had also evolved considerably from the Gay Survival Committee's idea of providing limited services out of the GLF office to contemplating a more substantial, comprehensive, freestanding operation providing direct services and infused with the radical spirit and methodology of Gay Liberation. Also, during that year, I grew by leaps and bounds, transforming from a somewhat quiet, introverted academic type into an articulate, assertive community organizer because of GLF's one-after-the-other successes.
The more I read, dialogued with others, and self-reflected, it was gradually becoming clearer to me that if we were going to succeed as a liberation movement, it was critical that we enlarge our GLF agenda from merely a reactive strategy of fighting back against hetero supremacy into an enlarged, transforming proactive strategy of building a visible, organized, self-accepting, and defiant gay community where none had ever existed.
This new way of thinking began a first level of envisioning that a gay center might be the vehicle around which such a gay community could coalesce. I did not know exactly how GLF could make that happen. As it turned out, I became the vision carrier for such a project, although at that time I did not know that term nor understand what it meant. I just did what I did from a deep well of caring and intense gay liberation motivation. I did know, however, from my many learning experiences as I matured during my 20s, that the path forward reveals itself as we walk the path not as we think about it or discuss it. And it worked.
[I want to acknowledge the important work done by Rev. Troy Perry, whom I admire, in founding in 1968 in Los Angeles the Metropolitan Community Church
which became an important part of the gay community in L.A. and elsewhere. The roots of MCC were in evangelical Christianity and the Society for Individual Rights, a conservative homophile organization started in 1964 in San Francisco. The roots of the Gay Liberation movement, however, were in the 1969 Stonewall Rebellion.]
On January 1, 1971, a year after opening the GLF office on North Vermont Ave., a contingent from GLF consisting of Randy Schrader, Steve Beckwith, Stan Williams, Rod Gibson and me, members of GLF's Gay Survival Committee, moved into the newly created Hoover Street Commune which became the relocated activist center for Gay Liberation militancy in L.A. Morris Kight and others became an essential part of the organizing activities taking place there.
Thus, began the second phase of the pioneering work of the L.A. Gay Liberation Front.
Hoover Street Commune (1971-1973): GLF Implements a Strategic Plan for a Gay Community Center
One of the important gay historical sites in Los Angeles is located at 1500 North Hoover Street (at Sunset Dr.), right behind the then KCET public television studios (now the Scientology Media Production Studios) on Sunset Blvd. in Silverlake. It was the home of the Hoover Street Commune, which existed from 1971 until 1973—the place from which the building of the gay community center and, by extension, a gay community in Los Angeles emerged.
[Community organizers today have many exquisite organizing tools that we did not have in the 1960s and 1970s; however, missing today is the communal living that focused and magnified our effectiveness. When I dialogue with young activists today, the absence of such an essential tool in their organizing efforts is glaring.]
The house, built as a duplex, had been turned into one large house with five bedrooms, two bathrooms, a small kitchen, a dining room, and a living room. The original communards included very creative Stan Williams, a former Sonja Henie and Ice Capades skater; Steve Beckwith, a suit-and-tie businessman; Randy Schrader, a recent UCLA Law School graduate studying for the California Bar exam; Rod Gibson, a young GLFer; and me. Occupancy was a bit fluid at first, but then stabilized. Gibson soon moved out and was replaced by Ray Powers, a Hollywood actors' agent, and Beckwith and his lover, Van Brown, a student at UC Santa Barbara, needed more privacy and moved elsewhere, replaced by John Platania.
GLF members Llee Heflin, Dexter Price, and Bruce Cristoff lived right next door at 1502 N. Hoover St. In and out on a regular basis were Morris Kight, Tony DeRosa, June Herrle, Howard Fox, David Backstrom, John Coffland, Justin Dangerfield, John Murphy, my beloved Luke Johnson, and many more. The door was always open.
For me, living there was like being in an always-in-session Graduate School for Advanced Gay Studies, intellectually and spiritually stimulating like nothing I had known before. I was being introduced to gay-centered films, books, art and artists, poetry, ideas, music, personages, spiritual lineages, inventive gay Kama Sutra positions, and much more that were all new to me.
Williams had created a large, low dining table and we sat on the floor to eat; once a week each member prepared supper. Virtually every evening there would be eight to ten people sitting around our large communal table for supper—visiting gay liberationists, soon-to-be-famous filmmakers, writers, and poets, grifters, lovers du jour, the Marlboro Man, mystics, future judges—a gay Noah's Ark—engaged in animated and liberating discussions.
Sometimes Lucy would come down from the sky with her diamonds to visit. Williams and Platania would put their long hippie hair up into elegant beehive hairdos to go shopping at the local Safeway grocery store, an aspect of Gay Liberation's political fight against rigid hetero gender norms. GLF called it "Gender Fuck," a militant precursor of "Gender Fluid." Williams created a High Tea which was poured many afternoons at 4 p.m. with rolled joints on a silver platter. Spirited political discussions would go into the night. And so it went.
In this exhilarating and creative gay-centered vortex at the Commune, sight was never lost as to why I was there—transforming the work of GLFs Gay Survival Committee into a gay community center. At both the GLF office and the Commune, the Committee's composition was fluid with people coming and going. However, a more or less stable core group formed over time consisting of Beckwith, Kight, Platania, Williams, Schrader, Herrle, and Howard Fox among others. My role as the Committee's founding chairman was to provide the leadership and glue to hold things together and guarantee there was forward movement by calling and chairing meetings every two weeks, preparing agendas, facilitating discussion, and ensuring continuity and follow through between meetings.
A revolutionary opening of historic proportions was being created by GLF in L.A. and we collectively leapt through that opening with the most serious intentions and joyful exuberance. Among the critically important developments that grew out of the Hoover Street Commune during those years were the following:
Development of Content Architecture of a Gay Community Center: Every two weeks, I called a working meeting of the Committee at the Commune where contours and content of the groundbreaking gay center were collectively discussed and agreed to.
After each meeting, Platania and I would meet for an extra hour writing down what we had heard and agreed to in the meeting. Platania had worked as a grant writer for the City of Los Angeles' Community Development Department and TELACU (The East Los Angeles Community Union). I typed up our writings, and by May 1971, an impressive looking, forty-page, bound proposal emerged from the Committee's collective work that delineated the reasons for such a gay center, described the comprehensive human services to be provided in a community-based context, and laid out a timetable for implementing each component.
That document became an invaluable organizing tool because it clearly described what we planned to do and how we planned to do it. The proposal clearly sent a powerful message that these gay liberationists were very serious about their intentions, with a blueprint and hammer and nails in their hands, and ready to go to work. The name: "Gay Community Services Center." Words never seen before anywhere.
"Gay" because we were totally in your face about who we were, not hiding behind camouflage words as was done prior to Gay Liberation. "Community" because of the core values implied in that word: (1) a community is a unified body whose members assumes responsibility for each other, meaning everyone, and (2) a community was what we were trying to call into being. "Services" because we were planning to deliver services specifically designed to meet the needs of gay, lesbian, and trans people, mending the deep woundings caused by hetero supremacy and invoking the new possibilities of gay empowerment. "Center" because of our intention that it be a center around which a gay community would coalesce.
Creation of a Non-Profit, Tax-Exempt Organization: This idea was particularly advocated for by me and resulted in several people leaving the Committee, feeling that GLF was changing into an establishment organization, which was a foolish thought given how outcast and vilified gay people were at the time. No establishment would touch us, even most so-called homosexuals at that time avoided us and were afraid that GLF's radical ideology and fighting back through direct action would get us all in more trouble.
My position was that we were attempting to create a gay community center and a gay community, both ideas revolutionary developments for our people at that time. GLF was building something that would hopefully outlive all of us and a community called for solid community institutions serving the people.
Moreover, one of the successful tactics of the Gay Liberation movement was keeping the hetero supremacists off balance. They never could conceive of gay and lesbian people developing self-respect after the centuries of violent intimidation and instilling of fear. They never expected the audacity of gay liberationists in L.A. creating a community center and envisioning an actual gay community that was real, substantial, and angry, that fought back and thumbed its nose at their supremacist proclivities and actions.
Beginning in April 1971, attorney Allen Gross and I began the grunt work of incorporating the proposed community center in California. Gross, an important hetero ally and lifelong friend, had founded the Legal Aid program in Oregon and served as legal counsel for L.A. GLF. He would serve for 25 years as legal counsel to the Center. We prepared Articles of Incorporation and By-Laws to submit to the State of California and could not read how the documents would be dealt with by the newly elected California Secretary of State, a young fellow named Jerry Brown. The documents were returned approved in two weeks and Brown became a dependable ally of gay people in California.
The same could not be said for the federal IRS tax exemption process, which routinely should have taken a few months, but in our case took five years. Gross prepared the IRS application with great care and attention to all possible traps that could be used to deny us. Decades later, I was informed privately that the Nixon White House had instructed the Secretary of the Treasury to put our application in his desk drawer and not act on it.
In 1972, I was summoned to Washington, D.C., for a special interrogation by Frank Cerny, head of the exempt branch of IRS, in a bizarre scene that unfolded in a majestic hall that was truly a surreal experience. With Gross on one side of me and attorney Ed Dilkes of L.A. Legal Aid on the other side, and me resembling a hippie Hasidic rabbi, I recited calmly over and over again what Gross had skillfully written in our application—we would serve anyone who asked for our philanthropic services and we would turn no one away, which were the exclusivity grounds on which IRS planned to trap and deny us tax-exemption. In 1976, our relentless perseverance and political pressure finally forced the White House and IRS to approve our tax-exemption application. GCSC was the first openly gay organization to secure IRS non-profit, tax-exempt approval—a singular achievement then.
Opening First Liberation House. By mid-1971, the search began in earnest to find a location to open the Center, but initially nothing suitable could be found. That did not stop us. In August, Platania found a house on North Edgemont Ave. in East Hollywood, just south of Sunset Blvd., where the newly formed Center opened a Liberation House, the first of many in its Liberation House program over the years. Ralph Schaefer, a core GLF member, became its resident manager.
The Edgemont Liberation House provided free housing primarily to young gay men, often runaways who were homeless. From 9 a.m. until 4 p.m. residents were out of the house looking for employment, getting back into school, or whatever. When the residents returned to the house at 4 p.m., under Schaefer's supervision, they collectively made supper for the house.
The key words for living in a Liberation House, as in organizing the Center
itself, were "mutuality" and "cooperation." Evening activities at the Edgemont house included a group discussion led by Schaefer or another GLF member that amounted to a gay consciousness-raising group, something the residents had never experienced before—gay and lesbian people viewed in a positive, constructive light. The residents blossomed. After breakfast in the morning, residents headed out to lean into their goals for the day.
Opening of the L.A. Gay Community Services Center
In September 1971, Platania found a possible site for the Center in an old Queen Anne style home at 1614 Wilshire Blvd. at Union Ave., just east of MacArthur Park. Committee members looked at the house and all agreed—yes, let's do it. I was the full-time+ founding executive director and Kight, Herrle, and Platania became members of the first Board of Directors.
After a bit of cosmetic fix-up, the installation of telephones, and a big sign in front emblazoned with the words "Gay Community Services Center," the year and a half of relentless organizing work by GLF members led to fruition. The story of that Center and the gay community it facilitated in Los Angeles, including the role of the Highland Park Collective, will be told later, but this was how GLF got that far.
To give you an idea how revolutionary this community organizing was in the lives of gay people, after the sign was hung on Wilshire Blvd., a call was received at the Center from an important gay figure telling us, "You must take that sign down immediately! You people are going to get all of us arrested!" Then, most gay people rightfully lived in fear.
The Gaywill Funky Shoppe: The story of the Hoover Street Commune would not be complete without mentioning the Gaywill Funky Shoppe, a thrift store the Center opened in 1972 in Silverlake.
Amazingly, all the organizing and sustaining of the Center was accomplished with little money or no money at all. The organizers were fueled by something much larger than money. What little funds the early Center did operate on came from three primary sources: (1) Friday night Gay Funky Dances in Hollywood, open to all ages, which were started in 1970 by GLF, went on hiatus when the GLF office closed, and were started up again in August 1971 sponsored by the Center. After expenses, the dances generated about $150 a week; (2) donations at the Center raised about $150 weekly; and (3) after expenses, the Gaywill Funky Shoppe brought in about $200 weekly.
Central to the Shoppe was Commune member Stan Williams assisted by young GLF members Dexter Price and Bruce Cristoff. Using a gift possessed by many gay men of being able to transform ordinary junk into objets d'art, the thrift shoppe thrived. It was located at 1531 Griffith Park Blvd., where that street meets Sunset Blvd. in Silverlake, occupied today by the Pine and Crane Restaurant. When Williams left for San Francisco, Ralph Schaefer took over as manager.
One day early in 1973, after not hearing from Schaefer for several days and hearing that the Shoppe seemed closed, Kight and I went to check it out. We found Schaefer dead in the bathroom with a bullet hole in the back of his head. He had been executed. Robbery was not a motive since a visible cash box was untouched. The murder of gay men occurred often then with assailants rarely looked for or apprehended by the LAPD. One less fag was a blessing for hetero supremacists.
The LAPD Rampart Division called Kight and me in for questioning and tried to pin the murder on us, demanding that we take polygraph tests.
We gave the LAPD the middle finger, telling the investigators to arrest us if they wanted to, but we refused to play their disrespectful game regarding someone we valued so dearly, and walked out. The LAPD was not heard from again regarding Schaefer's murder, even after numerous requests for information.
The Gaywill Funky Shoppe was permanently closed immediately as a show of respect for Schaefer.
At the beginning of this article, you were advised to remember that all this GLF organizing was being done under the most difficult community organizing conditions imaginable. Even under those horrendous conditions, however, you can clearly see that something historically significant had occurred in Los Angeles that took place nowhere else in the same way in the lives of gay and lesbian people, facilitated by a vanguard of young gay liberationists.
By October 1971, with the opening of the Gay Community Services Center, with much more revolutionary struggle ahead, a whole new realm of possibilities and ways forward began opening up for gay and lesbian people in Los Angeles. The GLF Gay Survival Committee and Hoover Street Commune had done their early community organizing work impeccably.
A unique revolution in consciousness and liberation unfolded in Los Angeles, radically changing the quality of gay people's lives and welfare, instilling a new, life enhancing identity and birthing an exciting, emerging community where we learned to value and take care of each other. The ripples of that Gay Liberation revolution wash over us still today.
******************************************************************************************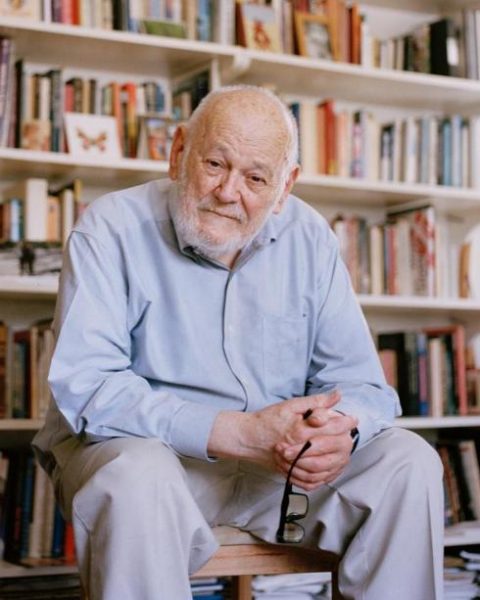 Don Kilhefner, Ph.D., played a pioneering role in the creation of the Gay Liberation movement and is co-founder of the L.A. LGBT Center, Van Ness Recovery House, Radical Faeries, and has been a gay community organizer for 55 years in Los Angeles and nationally. [email protected]