Historic grand marshal, 200K+ at Orlando's "Come Out With Pride"
Saturday's "Come Out With Pride" parade turned downtown Orlando into the epicenter of unconditional love and respect, and it was loud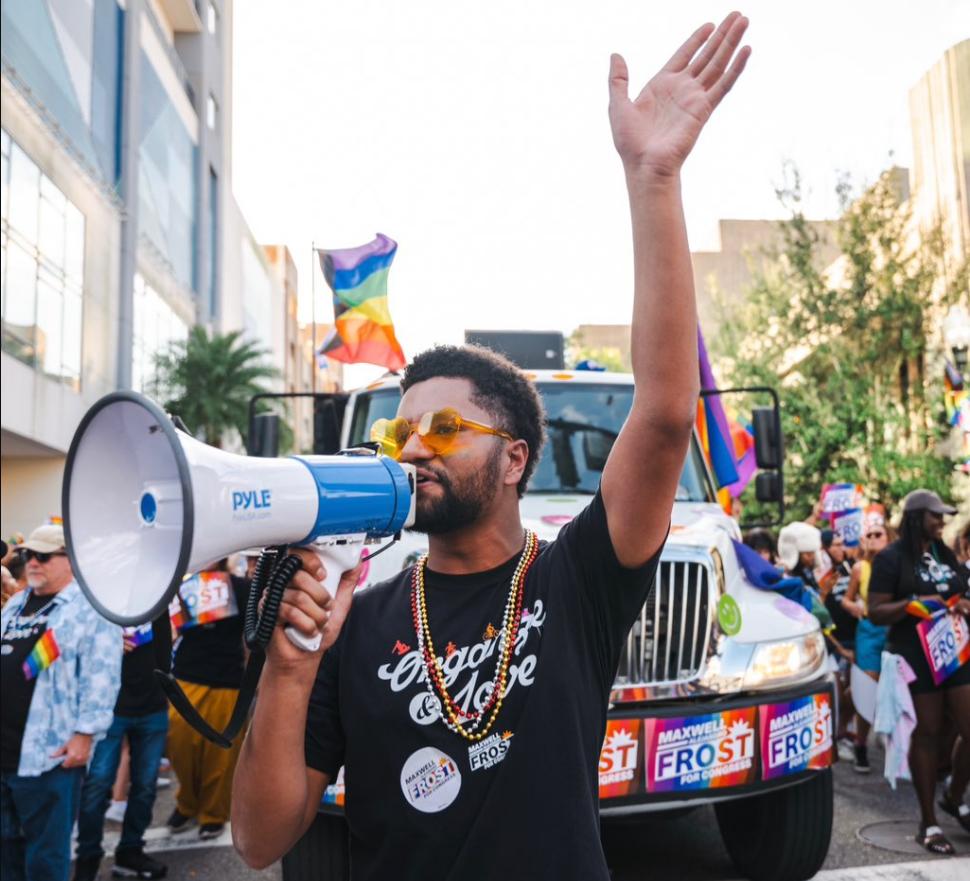 ORLANDO, Fla. – Downtown Orlando Saturday was thronged with over 200 thousand revelers for the 2023 "Come Out With Pride" festival and parade. Gathering at the festival grounds at Lake Eola, record numbers of LGBTQ+ Central Floridians celebrated Pride.
Openly gay former Democratic Florida House of Representatives member Carlos Guillermo Smith who had represented a portion of Orlando in Tallahassee told multiple media outlets: "Despite Ron DeSantis' efforts to censor and erase our community, LGBTQ Orlandans are celebrating pride in record numbers. We marched for the freedom and equality of all Floridians, not just some."
"It's so important for people to celebrate who they are. We're seeing so many attacks against the LGBTQ community, but we've seen record turnout at Pride in Orlando and across Florida."

"They want us to be fearful, but our message is one of hope and love + LOVE always wins." 🏳️‍🌈 pic.twitter.com/tnvYOrJlQF

— Carlos Guillermo Smith (@CarlosGSmith) October 22, 2023
Democratic Rep. Maxwell Alejandro Frost, serving as the U.S. representative for Florida's 10th congressional district and the first member of Generation Z to be elected to Congress, led a contingent of supporters in the parade later tweeting: "ORLANDO PRIDE WAS AMAZING!"
ORLANDO PRIDE WAS AMAZING! pic.twitter.com/M2pGr4Sz3u

— Maxwell Alejandro Frost (@MaxwellFrostFL) October 22, 2023
This year's Orlando Pride saw a series of firsts in addition to record attendance. For the first time ever NBC News local affiliate WESH 2- CW18 WKCF TV covered the Orlando Pride Parade.
WESH NBC 2 reported: Saturday's "Come Out With Pride" parade turned Orange Avenue and Central Boulevard in downtown Orlando into the epicenter of unconditional love and respect, and it was loud.
Just one example was Democratic Orlando Congressman Maxwell Frost, singing and dancing on a float with a full band that was heavy on drums.
He was just one of the politicians making it clear they wanted conservative Florida, especially Republican lawmakers, to hear them.
"This event is important because right now across the state there is a lot of hate but today is about love in the 'City Beautiful' Orlando, where we love each other no matter what, with music and everything," Frost said.
Others pushed back on Republican-backed laws aimed at restricting transgender health, drag shows and workplace diversity training.
Former state representative Carlos Guillermo-Smith is running for the Florida Senate, and told WESH NBC 2 News, "Right now we're seeing so many attacks on our community from Tallahassee, which is why you are seeing record turnout. They want us to be fearful, but our message is one of hope and one of love because love always wins."
The youngest grand marshal in the Pride event's 18-year history this year was 11-year-old Dempsey Jara, who told reporters that she would continue "standing tall" in her identity, despite the recent wave of anti-LGBTQ+ laws plaguing her state and the ongoing anti-LGBTQ+ rhetoric from hate groups like Moms for Liberty.
The young trans-activist trailblazer told the gathered press corps that "Being transgender is not about a choice. It's about being true to myself. It's about embracing who I am even when the world tries to tell me otherwise. It's about standing tall in my identity even when it's really hard."
Demsey's schoolteacher mother Jaime Jara, 45, told the Orlando Sentinel:
"She's been on this journey since she was five and she's living her best life.
"She's just always gravitated toward girl things, girls' toys. She'd say, 'I'm a girl in my heart and my brain'."
Dempsey Jara, posting about the parade on the Instagram account that her parents run, shared footage from Saturday's Pride with the caption: "Yesterday was the best day of my life!
"It's not easy to be a constant target of hate, but I remain visible because I want other Trans kids to know there is such #joy in being your authentic self. Thank you, #Orlando, for showering me with so much love! #bewhoyouare"
Orlando's Mayor Buddy Dyer, a longtime supporter and ally of the LGBTQ+ community noted on X (formerly Twitter): "What an incredible display of Orlando's commitment to inclusion and vibrancy. During @OrlandoPride we show our support to our city's LGBTQ+ community and showcase to the rest of the state and country that in Orlando, love will always be stronger than hate."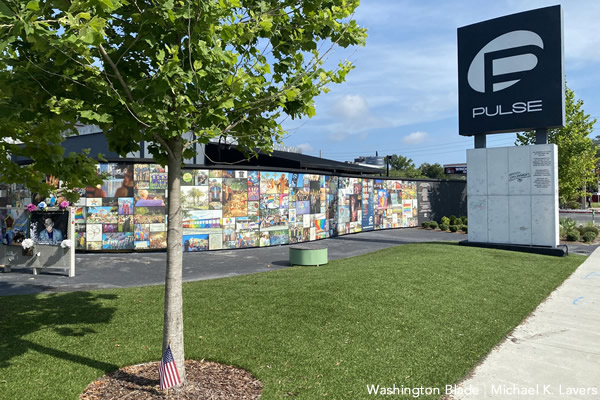 Earlier this week it was learned that Pulse nightclub, where 49 people were massacred in an anti-LGBTQ+ shooting spree in 2016, has been sold.
WESH NBC 2 has confirmed with multiple sources that the city of Orlando is purchasing the property from owners Barbara and Rosario Poma and Mike Panaggio. The deal was struck about two weeks ago and will go before the Orlando City Council on Monday, Oct. 23 for approval. WESH 2 has confirmed the property is being purchased for $2 million, and that there is no opposition to the deal according to city sources.
Moms for Liberty distances itself from co-founder Bridget Ziegler
In its annual Year in Hate & Extremism report for 2022, the SPLC says Moms for Liberty advances an anti-student inclusion extremist agenda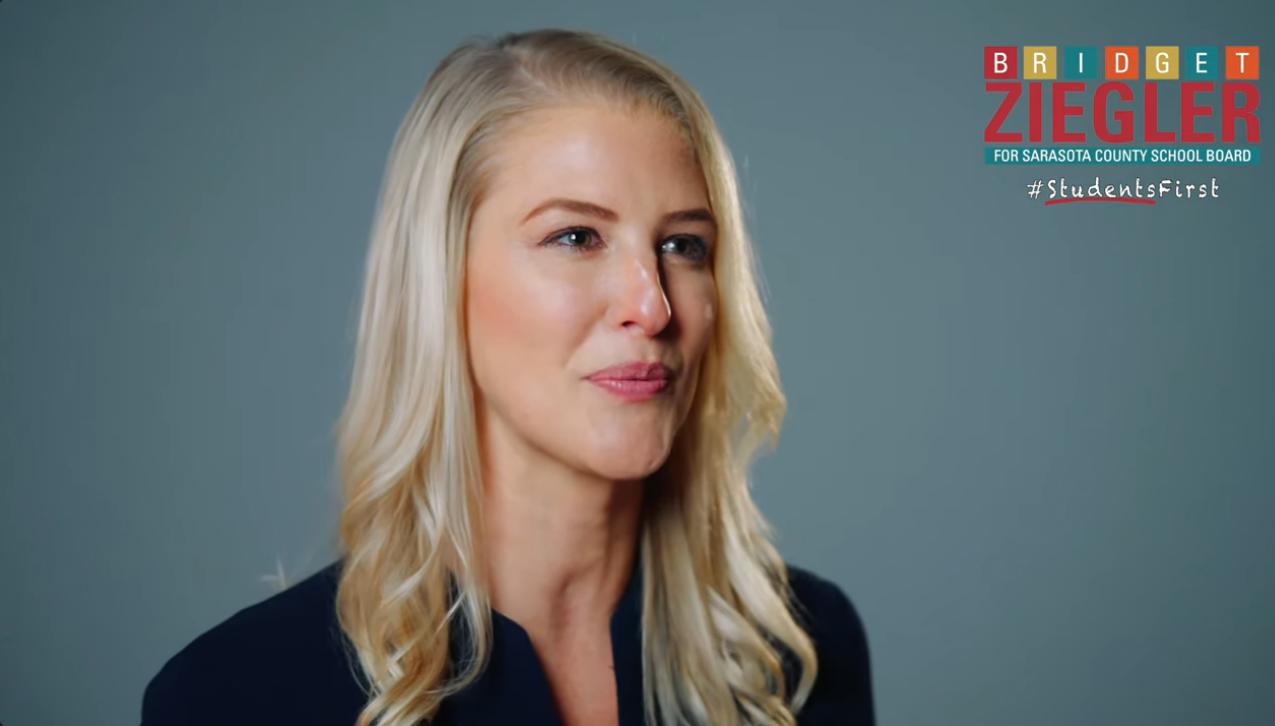 ORLANDO, Fla. – As outrage continues to build over the sexual battery allegations of Florida GOP chairman Christian Ziegler, accused of raping a woman he had known for 20 years according to a law enforcement affidavit, calls for his resignation and that of his wife, Moms for Liberty co-founder Bridget Ziegler grows.
In a report by the Florida Center for Government Accountability journalist Bob Norman Tuesday, in an email sent to top Republican officials in Florida, embattled state GOP chairman Christian Ziegler characterizes himself as the victim of an ongoing rape investigation being conducted by the Sarasota Police Department.
The 40-year-old Ziegler calls it an "attack," not on the victim in the case, but himself. He claims he's being "targeted," and notes that "anyone" can file a rape complaint. Ziegler promises to later reveal information about the "motive" and who was behind his ordeal.
"We have a country to save and I am not going to let false allegations of a crime put that mission on the bench as I wait for this process to wrap up," wrote Ziegler. "Thank you to all who have reached out in support."
Despite his denials and obfuscation of the report filed against him by Sarasota Police detectives, Ziegler refuses to step down which has Florida Republican Governor Ron DeSantis leading the chorus demanding Ziegler's resignation.
"I said the other night when it came out, it's, look, you're innocent until proven guilty. There's clearly things that are lodged against people that aren't necessarily true. But I think when you have an investigation of crimes of this magnitude, I think that the mission has to come first," the governor said Tuesday.
"It is not helpful to the mission to have this hanging over his head. I've said he should step aside. Paul Renner, the Speaker. Kathleen (Passidomo), Senate President. I think most people acknowledge that it's just an untenable situation when you have things like that there," he added.
"And so we'll see what ends up happening. But I don't know that you have any real standing with that hanging over you," the governor acknowledged. DeSantis has been joined in his demands by Florida Republican U.S. Sen. Rick Scott, who told the Associated Press Ziegler should step down rather than be a distraction during an important election year.
Ziegler and his wife are also being called out for the hypocrisy of admitting a sexual relationship with another woman even though they very publicly oppose and campaign against LGBTQ+ rights.
Cameron Driggers, the Executive Director of the Gainesville, Florida-based Youth Action Fund alongside Jack Petocz, the non-profit's Vice-Chair, in a joint statement to the Blade on Tuesday said:
"The revelations regarding the abusive behavior of Moms for Liberty Co-Founder Bridget Zieglar and her Husband, Christian Ziegler, Chair of the Florida GOP, comes as no surprise to the young people who have faced their reign of terror over the last few years.
The fanatically anti-queer culture war raging in Florida is in large part thanks to the Zieglers, who have put young LGBTQ+ Floridians within the crosshairs of bigotry and targeted legislation. At the same time, they were engaging in a non-traditional lifestyle of their own. The shameful hypocrisy of the Zieglers knows no bounds.
If they possess even one ounce of decency, Christian and Bridget Zielger should resign from their positions of power immediately."
Petocz and Driggers organized a statewide walk-out in protest of Florida's infamous Parental Rights in Education bill colloquially known as the 'Don't Say Gay' law signed by DeSantis in March of 2022 and also led a successful effort to oust a far-right incumbent school board member in deep red Flagler County where they were attending secondary school.
Beyond the efforts of activists like Driggers and Petocz, other LGBTQ+ advocates are also calling out the Zielgers who have long backed the Florida governor's efforts.
In May of this year, Melanie Willingham-Jaggers, the executive director of GLSEN, which advocates for LGBTQ students, said in a statement that DeSantis "is trying to turn back the clock on progress and erase LGBTQ+ people from existence."
"He's using vulnerable communities as political pawns in an attempt to gain power and further his own career," Willingham-Jaggers said. "We know that inclusive curriculum and LGBTQ+ representation benefits all students, and every single major medical association in the U.S. supports gender-affirming care for youth. As Floridians continue to face attacks on their education, health care and bodily autonomy, we're calling on legislators, advocates and allies to rise up with us and support LGBTQ+ youth."
Moms for Liberty as a group has factored into these attacks on the LGBTQ+ community and LGBTQ+ youth in general both in Florida and across the United States, leading the civil rights watchdog group, the Southern Poverty Law Center, to label the so-called "parental rights" group extremist.
In its annual Year in Hate & Extremism report for 2022, the SPLC says that Moms for Liberty advances an anti-student inclusion extremist agenda.
Bridget Ziegler is a sitting member of the Sarasota School Board and has been unabashed in her anti-LGBTQ+ agenda calling for removal of LGBTQ+ books from the libraries in the system and curtailing affirmation of the system's LGBTQ+ minority student population.
The efforts by Ziegler and Moms For Liberty has had a chilling effect says Lance Preston, the Executive Director and founding CEO of Indianapolis, Indiana-based Rainbow Youth Project (RYP). The RYP offers no cost access to meaningful mental health and suicide prevention counseling, as well as reduced or no cost non-surgical healthcare assistance to trans and queer youth.
According to Preston, "Moms for Liberty claims to promote "traditional family values" and fights against what they label as "indoctrination." Unfortunately, their actions have had severe consequences for countless young individuals struggling with their sexual orientation or gender identity."
Rainbow Youth Project has recorded over 23,000 crisis calls and live chats since April 2022, with approximately 4,361 of the callers specifically mentioning Moms for Liberty activities in their schools and communities as at least a major reason for their depression, isolation, anxiety, self-harming behaviors, and even suicidal ideation, Preston noted.
"The hypocrisy would be laughable if it weren't so dangerous. For instance, they profess to stand for "liberty" while attacking school children for sending the organization colorful cards begging the group to stop bullying LGBTQ+ kids. The group immediately condemned those youth, calling their cards "hate mail," and sought to deny those kids their liberties under the First Amendment," Preston said.
"Every LGBTQ+ youth deserves love, acceptance, and support during their difficult journey. It is heartbreaking to witness the harm caused by Moms for Liberty, who spread misinformation and stigma, perpetuating intolerance and prejudice. We will continue to call upon communities to stand against discrimination and work alongside us to create a world where LGBTQ+ youths can thrive, free from the fear of rejection or harm caused by anti-LGBTQ+ groups like Moms for Liberty," Preston told the Blade.
"These allegations are incredibly serious and deserve a full investigation. Whether through elected office, GOP party leadership, or Moms For Liberty, the Zieglers have spent years telling people how to live and who to be. They've been the tip of the spear for right wing extremism in a state being hijacked by the anti-LGBTQ+ agenda. Their desperation for power and complete disregard for people has been and will continue to be a stain on Florida's history," Brandon J. Wolf, National Press Secretary & Senior Director, Political Comms, for the Human Right Campaign said in an emailed statement to the Blade.
The Zieglers, amid accusations that Christian raped their sexual partner, are being abandoned because their right wing pals fear that people might figure out the truth: their "movement" is built on hypocrisy, lies, and inflicting harm on others to amass power, wealth, and fame. https://t.co/BDzQRdwxBi

— Brandon Wolf (@bjoewolf) December 6, 2023
In addition to the political leadership calls for Ziegler's stepping down, his wife now faces similar calls in Sarasota. According to the Sarasota Herald-Tribune, Sarasota County School Board member Tom Edwards called for his colleague Bridget Ziegler to resign from the board amid accusations that her husband sexually assaulted a woman who had been part of a three-way relationship with him and Bridget.
Edwards told the newspaper that last year's School Board chairwoman has become too much of a distraction for the district.
"She is nothing but a distraction from before and only getting worse, and it will never go away as long as she sits there," he said. "As a School Board member, my focus is on our students, their academic achievement and educational outcomes. It is not on the Zieglers' escapades."
Edwards added that the Zieglers, both Christian and Bridget, "cannot any longer be near children or public policy" because of their advocacy against critical race theory and the discussion of LGBTQ+ topics in schools, which he said has caused damage to students' mental health.
Edwards, the only openly gay member of the board, had been attacked publicly by a woman at a board meeting who referred to him as a 'groomer,' a homophobic and offensive slur during a public comments section of a board meeting. Bridget Ziegler, then Chair, refused to eject or silence the woman saying only that personal attacks in public comment happen to elected officials on all sides and that stopping the speaker would have only escalated tensions.
In an emailed statement received Tuesday morning by the Blade and other media outlets, current executives of Moms For Liberty and co-founders Tina Descovich and Tiffany Justice said:
"We have been truly shaken to read of the serious, criminal allegations against Christian Ziegler. We believe any allegation of sexual assault should be taken seriously and fully investigated.
"Bridget Ziegler resigned from her role as co-founder with Moms for Liberty within a month of our launch in January of 2021, nearly three years ago. She has remained an avid warrior for parental rights across the country.
"To our opponents who have spewed hateful vitriol over the last several days: We reject your attacks. We will continue to empower ALL parents to build relationships that ensure the survival of our nation and a thriving education system. We are laser-focused on fundamental parental rights, and that mission is and always will be bigger than any one person."
The fallout from the scandal over the Ziegler's hypocrisy and allegations of rape and misconduct have also affected Moms for Liberty chapters in other states. According to Moms for Liberty the group has 300 plus chapters in 47 states.
The News-Item newspaper in Shamokin, Pennsylvania, reported that The Northumberland County chapter of Moms for Liberty is on pause as it breaks from the national organization, according to its chapter chair Clarissa Paige.
Paige said she formed the Northumberland County Chapter of Moms for Liberty in April 2022 out of concern for a lack of accountability and representation in county schools.
She said, "We hit significant milestones by ensuring school board members were accountable and supporting the elections of responsible community leaders."
Paige, who has three children attending Warrior Run schools, has been outspoken against the curriculum she alleges to contain aspects of social-emotional learning or critical race theory, and threatened legal action against the school for reenacting a mask mandate.
Paige refuted claims by the Southern Poverty Law Center that Moms for Liberty spreads hateful imagery and rhetoric against the LGBTQ community.
Paige is seeking nonprofit status for Northumberland County Academic Alliance, which she told The News-Item will continue to focus on parental rights in schools.
"The journey has always been the strength of our local community and we found all the support we need among us," Paige said Monday. "We are going to continue to champion parental rights with dignity and integrity."
Bridget Ziegler, and her husband Christian did not respond to requests for comment by the Blade Tuesday.