Anti-LGBTQ+ Michigan salon owner faces discrimination charges 
Studio 8 and Geiger could have state licensing certifications revoked based on violation of Michigan's Elliott-Larsen Civil Rights Act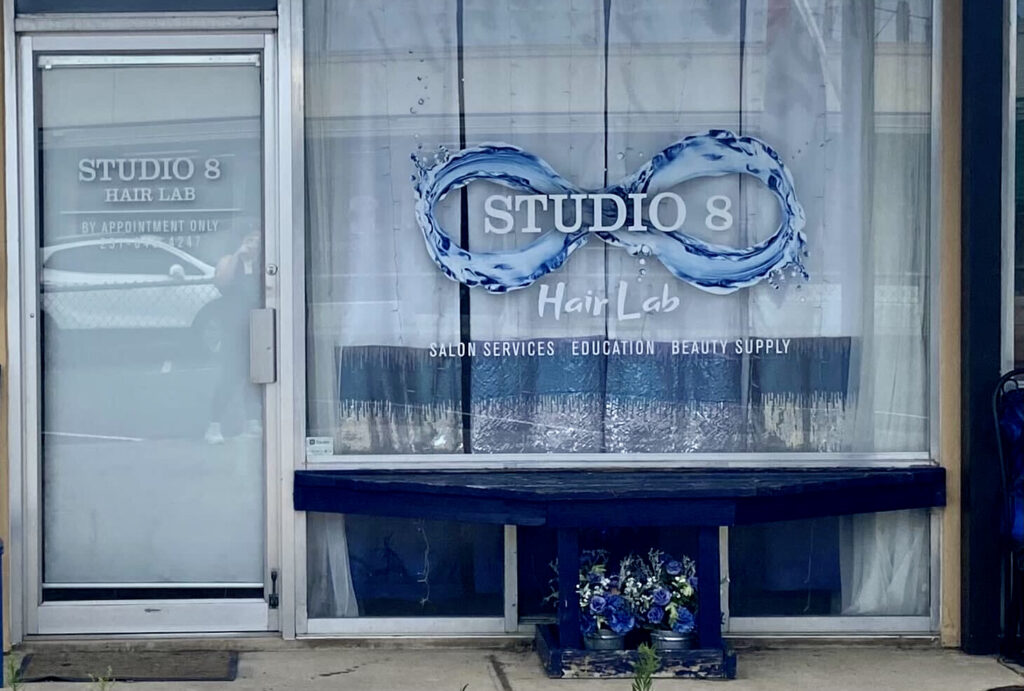 By Lily Guiney | LANSING, Mich. – The Michigan Department of Civil Rights (MDCR) has issued a charge of discrimination against Studio 8 Hair Lab, the Traverse City salon that drew national attention in July for anti-trans online posts made by its owner, Christine Geiger.
Geiger declared in an initial Facebook post in July that her salon would deny service to transgender and nonbinary people and said that she was protected by "free speech."
"If a human identifies as anything other than a man/woman please seek services at a local pet groomer," Geiger wrote in the post. "You are not welcome at this salon."
The charge reasoned that Michigan law "makes it is unlawful for Studio 8 to print, circulate, post, mail, or otherwise cause to be published" a statement which indicates that the "full and equal enjoyment" of goods or services will be refused because of sex, or that an individual's patronage is "objectionable, unwelcome, unacceptable, or undesirable" for the same reason.
In a Wednesday morning press conference, MDCR Director John Johnson said that Geiger's post, and subsequent doubling down on her stances, were in violation of Michigan's Elliott-Larsen Civil Rights Act (ELCRA).
"This is not a complicated case," Johnson said. "It is not a case that relies on complex legal concepts or that requires expensive or convoluted arguments to explain. Christine Geiger has responsibilities under law as the owner of a business offering services to the public in the state of Michigan."
The Advance called Geiger for comment at the salon, but the voicemail was full.
MDCR officials said that the charge is one of unlawful advertisement, not free speech. According to the charge, even though Geiger didn't physically remove someone from her salon based on their gender identity, the posts she made still negatively impacted LGBTQ+ members of the community.
"As a direct and proximate result of Respondent's unlawful discrimination, Claimants L.M., H.S. and M.H. have suffered the loss of full and equal enjoyment of a public accommodation due to Respondent's published statements," the charge read.
MDCR Director of Enforcement Marcellina Trevino said that the department's investigative process was followed to determine whether there was cause for a charge of discrimination, including trying to facilitate a conciliatory meeting with Geiger.
"Our staff attorney attempted to set up a meeting with [Geiger] to address the issues in the complaint and to go over the sufficient evidence that we found," Trevino said. "To our dismay, the respondent refused to participate in conciliation, and therefore our staff attorney drafted a charge which was filed this morning with the Michigan Office of Administrative Hearings and Rules."
Geiger filed her own lawsuit on Oct. 25 against the city of Traverse City and the three individuals who submitted complaints to the MDCR, citing her business's right to "use its talents and the expressive platform they have to celebrate and promote God's design for male and female."
While MDCR officials were unable to comment on Geiger's ongoing lawsuit, Trevino said that the three complainants, two of whom are nonbinary, are protected from certain forms of retaliation under ELCRA.
"Under the Elliott Larsen Civil Rights Act, there are protections against retaliation for participating in a protected activity, such as filing an unlawful discrimination complaint with our department," Trevino said.
The next step for the Studio 8 case will be awaiting a hearing before an administrative law judge. The MDCR's charge requests that Geiger pay the claimants for emotional distress and "mental anguish" her posts caused. If decided after a hearing, Studio 8 and Geiger could have state licensing certifications revoked based on violation of ELCRA.
MDCR Director of Legal Affairs Bryant Osikowicz said that the charge shouldn't be misconstrued as an issue of religion or freedom of speech.
"I will just say that free speech is not absolute," Osikowicz said. "The classic example from law school is you can't yell fire in a crowded theater, that type of thing, and we were very specific in this charge. This is not a free speech case. This is a discriminatory advertisement case."
******************************************************************************************
Lily is a contributor to the Michigan Advance and a former reporting intern. Her coverage areas included state government and politics, including abortion rights and gun violence prevention issues.
*************************************************************************************
The preceding story was previously published by the Michigan Advance and is republished with permission.
Corporate media aren't cutting it. The Michigan Advance is a nonprofit outlet featuring hard-hitting reporting on politics and policy and the best progressive commentary in the state.
Related:
Federal lawsuit: Hamtramck's Pride flag ban is unconstitutional
When the council voted to ban Pride flags in June, conservative Muslims clashed with LGBTQ+ residents with some shouting homophobic slurs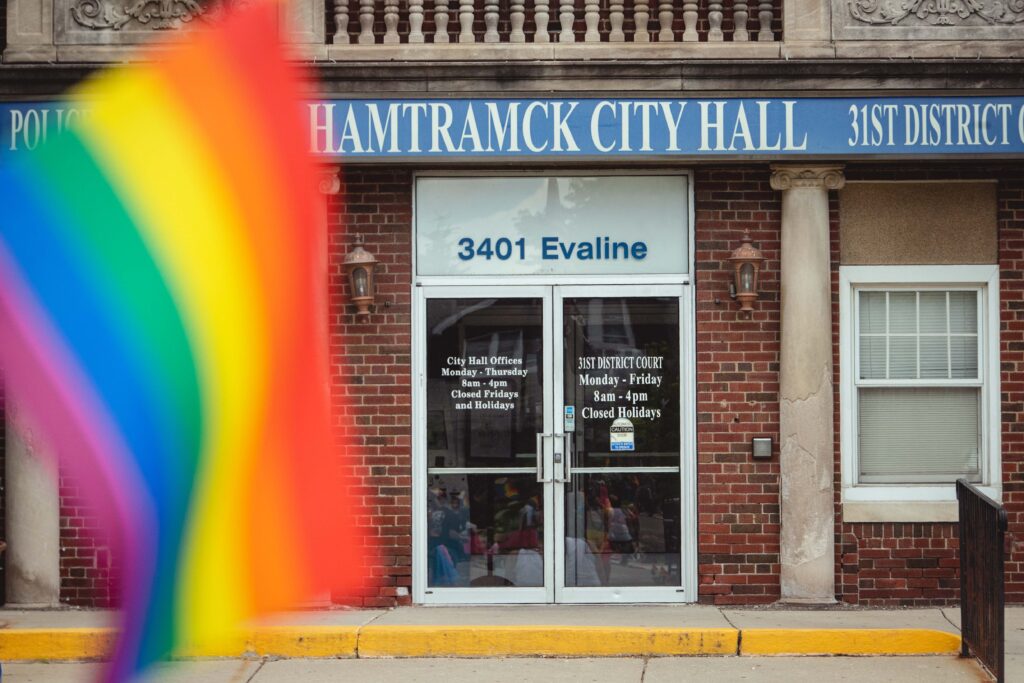 By Steve Neavling | HAMTRAMCK, Mich. – A federal lawsuit filed Monday alleges the city of Hamtramck's Pride flag ban violates free speech rights and numerous other state and federal laws.
The lawsuit in the U.S. District Court in Detroit was filed on behalf of former Hamtramck Human Relations Commission members Russ Gordon and Cathy Stackpoole. The Hamtramck residents were fired from the commission in July, a month after the all-Muslim city council unanimously approved a flag "neutrality" ordinance in July.
Although the ban also prohibits religious, ethnic, racial, and political flags, the impetus was the LGBTQ+ Pride flag, which many local Muslims complained was an affront to their religion.
The lawsuit, filed by attorney Marc M. Susselman, argues the ban violates the First Amendment right to free speech and the equal protection clause of the 14th Amendment.
"It is unconstitutional for government to select what speech will be permitted, and what speech will be prohibited, based on the content or viewpoint of the message conveyed by the speech," the lawsuit states.
Susselman argues that the ban is not neutral because it allows the display of the Prisoners of War flag and other countries' flags.
The lawsuit seeks to overturn the flag ban and reinstate Gordon and Stackpoole.
In an act of defiance, Gordon and Stackpoole displayed a Pride flag on public property on Joseph Campau Avenue on July 9. Police removed the flag after a councilman complained.
Two days later, the city council unanimously approved a resolution removing Gordon and Stackpoole from the Human Relations Commission.
The lawsuit argues that Gordon and Stackpoole did nothing wrong when they displayed the Pride flag.
"In so doing, Gordon was not violating the law," the lawsuit states. "An unconstitutional Resolution is itself a violation of law, and a citizen who violates an unconstitutional, and therefore unlawful, Resolution cannot be violating the law. Rather, the Councilmen who voted in favor of the unconstitutional Resolution violated the law by violating the Constitution."
Since the ban, dozens of Pride flags on private property have been vandalized, and residents in the diverse city say they feel alienated and maligned by conservative Muslims who view homosexuality as a sin and peddle false narratives about children being indoctrinated in schools.
More than half of Hamtramck's residents are believed to be Muslim. In January 2022, Hamtramck became the first city in the U.S. to have an all-Muslim City Council. The mayor, Amer Ghalib, is also Muslim.
Tensions between conservative Muslims and progressive began to simmer in the summer of 2021, when then-Mayor Karen Majewski broke a 3-3 City Council tie to fly a Pride flag outside of City Hall.
A backlash ensued as conservative Muslims began to complain, saying the flag was an affront to their religion. Ghalib, a health care worker and Muslim immigrant from Yemen, made the flag a campaign issue and handily defeated Majewski, a four-term mayor, in November 2021.
When the council voted to ban Pride flags in June, conservative Muslims clashed with LGBTQ+ residents and their allies, with some shouting homophobic slurs. Since then local Muslims have joined forces with conservative Republicans, pledging to create an alliance to oppose LGBTQ+ rights. The coalition is propelled by crackpot ideas that public schools are "grooming" and indoctrinating impressionable children.
This story first ran in the Detroit Metro Times. Follow them: Google News | NewsBreak | Reddit | Instagram | Facebook | Twitter
******************************************************************************************
Steve Neavling is an award-winning investigative journalist with the Detroit Metro Times. He operated Motor City Muckraker, an online news site devoted to exposing abuses of power and holding public officials accountable.
Neavling also hosted Muckraker Report on 910AM from September 2017 to July 2018. Before launching Motor City Muckraker, Neavling was a five-year veteran of the Detroit Free Press, covering Detroit's city hall.
*************************************************************************************
The preceding story was published by the Michigan Advance and is republished with permission.
Corporate media aren't cutting it. The Michigan Advance is a nonprofit outlet featuring hard-hitting reporting on politics and policy and the best progressive commentary in the state.