'Nyad' stays afloat thanks to stellar performances
An engaging story that provides visibility for strong, authentic queer characters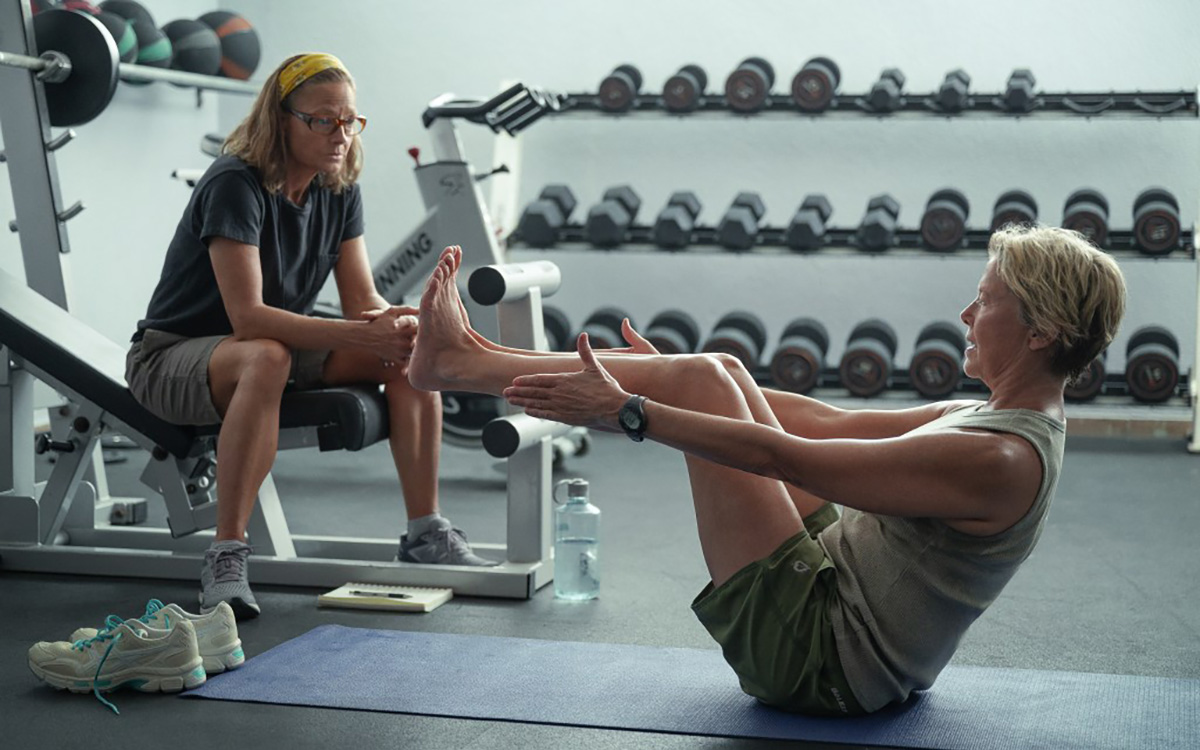 Biopics are the thing this year, it seems.
So far, 2023 has brought us big-and-buzzy movies about a world-changing scientist ("Oppenheimer"), a pop culture princess ("Priscilla"), and an unsung hero of the Civil Rights movement ("Rustin"), with the much-anticipated "Napoleon" from Ridley Scott, starring Joaquin Phoenix in the title role, soon to come. All of these have centered on more-or-less well-known real-world figures. Even Rustin, whose long-obscured historical contributions have been amplified since the Obama era, can safely be said to have a more famous name than the woman whose story (or, at least, part of it) is told in "Nyad."
That film, produced by Netflix and released on its platform Nov. 3, relates the saga of marathon swimmer – also author, journalist, and motivational speaker – Diana Nyad, who in 1978, at age 28, attempted and failed to become the first person to complete the swim from Cuba to Florida. Someone else (equipped with a shark cage) would go on to claim that record, but the movie picks up the saga when Nyad (Annette Bening), now 60, decides to try the swim again. To make her unlikely dream come true she enlists the aid of her best friend and former coach Bonnie Stoll (Jodie Foster), who reluctantly agrees to the challenges.
Bolstered by confidence, drive, and a determination to complete what she started long ago – not to mention a seasoned sea captain (Rhys Ifans) to guide her course and a team of experts brought in to help protect her from the dangers of the deep – Nyad embarks on a late-life quest to accomplish her seemingly impossible goal, refusing to give up the effort despite failure, fate, and the uncontrollable forces of nature itself.
As written by Julia Cox and co-directed by husband-and-wife team Jimmy Chin and Elizabeth Chai Vasarhelyi ("Free Solo"), "Nyad" fully embraces all the conventions of the sports-bio subgenre, from training montages to heartbreaking disappointments to adrenalin-pumping suspense, and – to its credit – manages to do so without feeling like a cookie-cutter repetition of formula. Part of this, of course, can be attributed to the "edginess" points it earns by focusing on an athletic hero that is not only female, but a 60-something gay female at that.
Another key factor is its adventurous environment and setting, which puts us into a world that most of us will never visit and forces us to imagine a feat almost none of us could hope to achieve. The thrill of the ride is more than enough reason to take the journey, and it's easy to be sucked into the vicarious experience as we root the movie's eponymous real-life heroine on toward a hoped-for triumph.
Still, it's impossible not to observe a certain rote quality to the film's approach. Even for those who go into "Nyad" without knowing her story (which, with the exception of those with an interest in the world of competitive long-distance swimming, is likely to describe most of us), it seems unthinkable that Diana Nyad won't accomplish what she sets out to do – after all, why would a movie about her exist had she not done so? Presumably recognizing the same point, Chin and Vasarhelyi angle their movie toward the visceral, attempting to immerse us in a first-person experience instead of keeping us hanging on the eventual outcome. This is a story about a personal journey, about the friendship and teamwork that make it possible, and not a "will she make it or not?" nail-biter.
To that end, "Nyad" benefits most from the two stars who anchor it. As Nyad, Bening is an indomitable – sometimes imperious – spirit, driven to the point of obsession, and might well come off as something less than likable were it not for the perfectly balanced counterweight provided by Foster's breezy, down-to-earth Stoll. There's an easy chemistry between them, a symbiotic alignment that works to both their benefits. We like Nyad better because Stoll likes her, and we respect the easy-going Stoll more because Nyad does. These two film veterans allow us to see their characters reflected through each other's eyes, heightening the emotional connection we feel toward both and giving the movie a loving heart – albeit a platonic one, since "Nyad" refreshingly focuses on a story of female friendship without imposing a perfunctory and unnecessary "Hollywood" love story into the middle of it – with which we can all relate even if we can't wrap our heads around the intense physical and psychological pressure of being a long-distance open sea swimmer.
Yet even with two superb performances leading the charge, there's still an air of disingenuousness to "Nyad," a showy, exaggerated sense of drama that feels designed to keep things exciting. After all, no matter how intense a real-life marathon swim might be for the person in the water, watching it from the perspective of an observer would mostly be a monotonous affair, and the film tries hard to keep itself moving briskly, leaning heavily into edgy cutting and a rapid-fire narrative style as it elides its way over the routine stuff between the obstacles and setbacks. It's an understandable approach, but one that fails to generate real suspense, because (as noted above), Nyad's eventual success feels like a foregone conclusion from the beginning, even when things lean hard into the stakes-raising drama of swimming with hungry sharks and poisonous jellyfish. As a result, when these things happen, they feel manufactured.
Indeed, some of the events in the narrative are manufactured, and while such examples of artistic license have always been standard practice in "fictionalizing" true stories on the screen, there have been criticisms leveled at the film's representation of events – particularly its depiction of Nyad's final swim, some details of which were poorly logged and subject to conflicting accounts from members of her support team. Those controversies are omitted or glossed over here, which can't help but tarnish the movie's clear intent to celebrate a queer hero.
Nevertheless, as a piece of old-fashioned, inspirational Hollywood entertainment, it works well enough, thanks largely to Bening and Foster, who elevate it to awards-worthy status in spite of itself. And if, in the long run, it doesn't rise to the level of their performances, it's still an engaging story that provides all-too-rare visibility not just for strong and authentic queer characters, but for strong and authentic older ones, too.
In Hollywood, that's got to be almost as remarkable a feat as swimming 100 miles in the open ocean.
Gnarly 'Saltburn' takes us on a sexy, savage ride
Buzzed-about film manages to shock even when we expect the jolt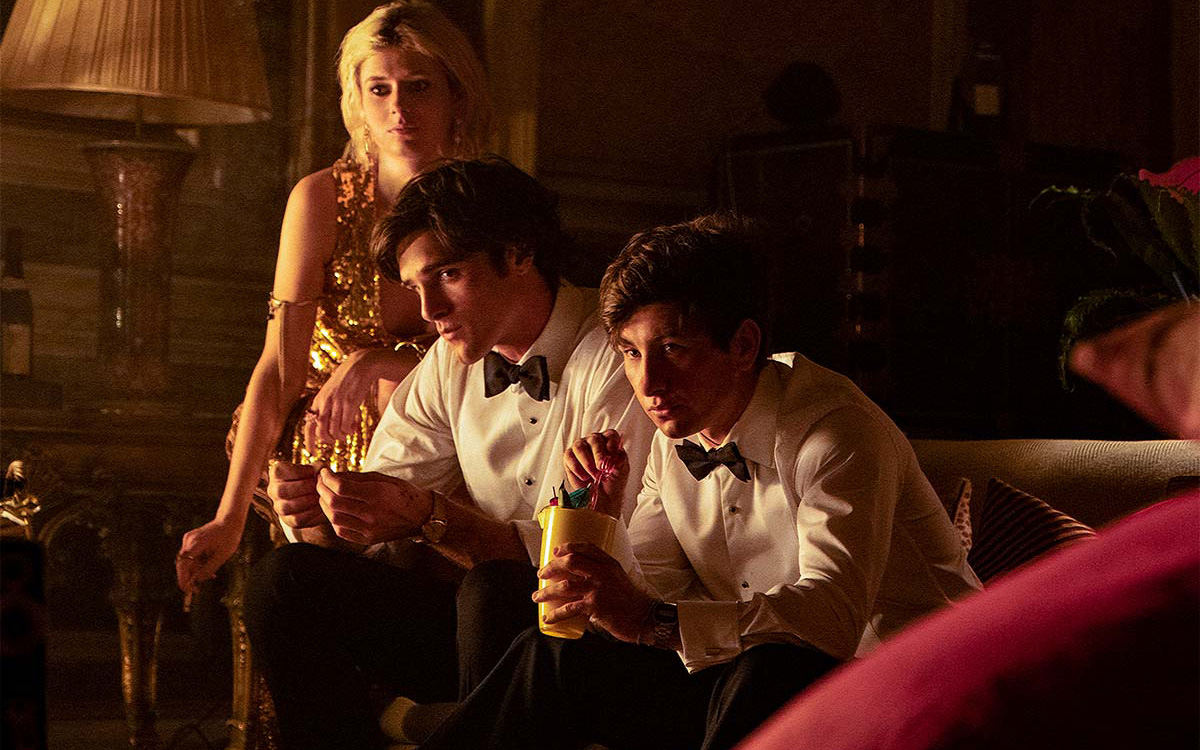 When a movie comes with as much buzz behind it as "Saltburn," one can't help but have expectations.
This is especially true when the buzz is fueled by rising talent, both in front of the camera (in this case, Oscar-nominee Barry Keoghan in his first leading role, alongside "Euphoria" sensation Jacob Elordi) and behind it (Oscar-winning writer/director Emerald Fennell, following up her debut feature, "Promising Young Woman"). When you add a deliberately vague, shamelessly provocative publicity campaign, which offers little more than a suggestion of the film's premise while luring us in with imagery that implies a dark but sexy wild ride through the world of the decadent upper class, it's almost impossible not to walk into the theater without feeling like you're in for a thrill.
That, of course, is exactly what Fennell and company want you to feel. "Saltburn," which opened in wide release the day before Thanksgiving, is a movie that counts on both your expectations and your ignorance; it needs you to be prepared for anything while knowing next to nothing, and it relies on your imagination to make assumptions and draw conclusions as you go. It's the story of Oliver Quick (Keoghan), a first-year student attending Oxford University on scholarship in the mid-2000s. Relegated at first to outsider status among his privileged peers, he becomes infatuated with wealthy Felix Catton (Elordi), a handsome and popular classmate, and gains his attention through a chance encounter. The two become close companions, and when the school term ends he is invited to spend the summer with Felix at Saltburn – his family's sprawling country estate.
It's there the movie begins to follow a more gnarly path. Immersed in the idyllic, dilapidated luxury of Saltburn, Oliver finds himself entangled in the dysfunctional dynamic of the household; he easily wins the approval of Felix's father and mother, Sir James and Lady Elspeth (Richard E. Grant, Rosamund Pike), but jealous sister Venetia (Alison Oliver), and scheming cousin Farleigh (Archie Madekwe), a "poor relation" who sees him as a threat to his own tenuous position in the family, are a different matter, and he must learn to navigate the behind-the-scenes politics required to keep them at bay.
It's impossible, really, to say much more about the events that unfold beyond that point, other than to say that it's a far cry from the nostalgic, semi-sweet gay coming-of-age story it might seem to be in the beginning, if the occasional ominous chord in the soundtrack and the glimpses of ugly human behavior on the screen didn't suggest otherwise. "Saltburn" is one of those movies that demands to be seen knowing as little as possible about its plot if one is to get the full experience, and we won't be revealing anything here that would ruin that – not even whether the "will-they-or-won't-they?" steaminess of Oliver and Felix's bromance ever comes to fruition.
What we will tell you is that Fennell – whose first film electrified audiences with a devastating twist ending – knows how to play an audience. She sets up "Saltburn" as a flashback; we know from the beginning that something big and presumably bad has happened, and its protagonist is a likable misfit who proceeds to narrate how it came to pass. From the film's first moments, we are anticipating the twist – which begs the question of how a twist can be a twist if we already know it's coming.
"Saltburn" addresses that question, though some viewers might not like the answer, by playing not just on our expectations, but on our hopes. While we may expect to be shocked, we also hope for a certain outcome; more than that, we become so attached to that hope that it can blind us to reality, so that when it finally hits us, it feels like we never saw it coming even though it was in plain view all along. That's the best we can do in explaining how Fennell's wickedly subversive, deeply disturbing mindfuck of a movie manages to shock us even when we expect the jolt.
Of course, it also delivers plenty of other shocks — drugs, sex, homoeroticism, lots of full-frontal nudity — before it gets there, and quite a few more disquieting, transgressive moments in which we see things that jar our understanding of what we are seeing or simply can't believe what we're seeing. When the gravesite scene comes up, you'll know that's one of the moments we're talking about.
Still, it takes more than shock value to make a movie worth watching, and "Saltburn" doesn't rest its laurels on a bag of manipulative tricks, no matter how skillfully they're executed. Fennell's movie delves deep into the economic class divide – a worldwide phenomenon epitomized by the genteel squalor of its upper-crust English setting – through its microcosmic portrait of the Catton family, whose benign and polite demeanor barely conceal the casual cruelty and shallow banality of their lifestyle. Even Felix – who, as superbly played by Elordi, seems genuinely kind and much more grounded than the rest of his clan – is ultimately a spoiled "golden child" used to getting what he wants and not above using his considerable charms to do make it happen. More than that, it plays with the uncomfortable notion that there's a part in all of us, no matter how much we may deplore the perceived excesses of the one percent, that would be willing to do anything to live in that world. Indeed, it's this conflicted idea that gives Fennell's movie its teeth, made even sharper by the fact that, no matter how ridiculous or downright awful her characters may be, she makes us feel for – and even like – all of them.
Of course, she's also an extremely literate Englishwoman, and she peppers her movie with references and themes from Shakespeare to Dickens to Agatha Christie, while paying ironic homage to the entire "country house" genre of British fiction. Her film craft is bold and distinctive, delivering (with the help of cinematographer Linus Sandgren) pastoral pleasures and Fellini-esque Bacchanales with equally arresting style. She deploys the talent of composer Anthony Willis to provide a stately-yet-gothic musical score that thrums with a low warning of menace, keeping us on edge throughout. And she has the good sense to assemble a superb cast – with the dryly hilarious Pike and the quietly heartbreaking Oliver as standouts, alongside Elordi – to make it all work.
It's Keoghan, though, who is ultimately the glue holding "Saltburn" together. His Oliver Quick is a character destined to become iconic, a one-of-a-kind portrait of enigmatic humanity that bestows movie star status upon the young Irish actor after a steadily impressive roster of high-profile supporting roles. When the film is over, you will either love him or hate him, but you will never forget him.
In fact, the same can be said about "Saltburn" itself, which has had its share of negative reviews from critics put off by its over-the-top style and manipulatively orchestrated storytelling. We'd have to respectfully disagree; it's an outrageous movie, to be sure, but purposefully so – and as for the storytelling, it is through its unapologetic manipulation that a movie which might easily otherwise have been just another mindless, lurid thriller into a savage piece of cinema that you'll want to see again and again.