September 18, 2017 at 12:12 pm PDT | by Karen Ocamb
Pelosi shouted down at DREAMers news conference 
Democratic House Leader Nancy Pelosi presumably expected to share with her hometown press the hint of progress she and Senate Minority leader Chuck Schumer had made with President Donald Trump last week  to protect thousands of undocumented young immigrants known as DREAMers from possible deportation by not scrapping the Deferred Action for Childhood Arrivals (DACA)
Pelosi's advisory said she was joining Reps. Barbara Lee and Jared Huffman in San Francisco, as well as Bay Area DREAMers and Immigration Rights advocates to call for the immediate passage of the DREAM Act.  However, soon after her press conference began, a troops of protesters who identified themselves as undocumented youth and their supporters crashed the room and started shouting Pelosi down.
The protesters chanted "We undocumented youth demand a clean bill … We undocumented youth demand that you do not sell out our community and our values …We undocumented youth will not be a bargaining chip for Trump," according to coverage by Doug Sovern of KCBS News.
Some protesters carried signs saying: "Democrats are Deporters"—suggesting this is just the beginning of more protests against Democrats to come.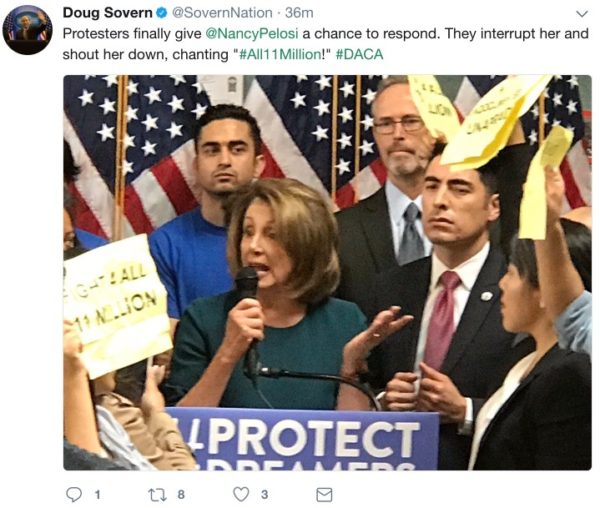 Pelosi was visibly shaken and tried unsuccessfully to calm the demonstrators down so she could give them the answers they were asking for.
"You've had your say, and it's beautiful music to our ears," Sovern reports Pelosi as saying. "But when they interrupt again, she says 'Just stop it now!'"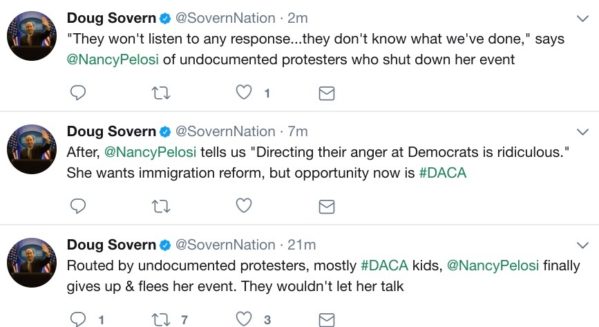 But Pelosi eventually gave up and left.
Some commentators, such as Jonathan Capehart on MSNBC, while sympathetic, wondered what good the demonstrators might have accomplished since the DREAMers need Pelosi and the Democrats to negotiate on their behalf.