December 27, 2017 at 11:37 am PDT | by Karen Ocamb
Prince Harry chats with Barack Obama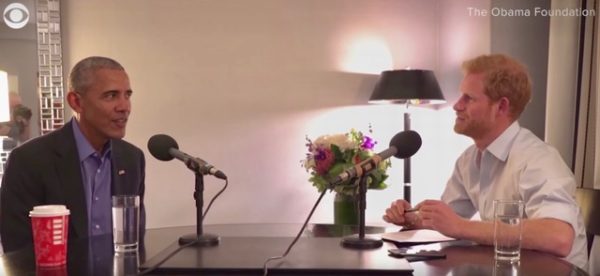 Let the longing begin. This little interview conducted last September by Prince Harry with his bromance buddy, former President Barack Hussein Obama, is a keen reminder that just over one year ago, America was led by a smart, decent, funny human being. Contrast that with Wednesday's tweet about autocrat-wannabe Donald Trump from California Rep. Jackie Speier: "I am concerned that the President is trying to shut down every branch of the federal government except for the presidency."
The interview aired on BBC Wednesday morning as Harry served as a guest host for BBC Radio 4's flagship program, "Today," recorded after the two met in Toronto for the Invictus Games, a sporting competition for injured military servicemembers and veterans. Though Trump's name was never explicitly mentioned, his presence seemed to hang over the interview like a fading stink bomb.
"I still care about making sure that the United States and the world is a place where kids get a decent education," Obama said. "Where people who are willing to work hard are able to find a job that pays a living wage. That we're conserving the amazing resources of our planet so that future generations can enjoy the beauty of this place. Like we did."
Obama—who was famously addicted to his Blackberry and has two savvy daughters—expressed concern about the way social media can be used to intentionally promote misinformation.
"This generation is the most sophisticated, the most tolerant in many ways, the most embracing of diversity, the most tech-savvy, the most entrepreneurial, but they do not have much faith in existing institutions," Obama, a former constitutional law professor, said. He's concerned that their energy is being curtailed by "the bias of those who are comfortable with power the way it is currently exercised."
"All of us in leadership have to find ways to recreate a common space on the internet. One of the dangers of the Internet is that people can have entirely different realities. They can be cocooned in information that reinforces their current biases," Obama said. "The question has to do with how do we harness this technology in a way that allows a multiplicity of voices, allows a diversity of views, but doesn't lead to a Balkanization of society and allows ways of finding common ground."
"The truth is, on the internet everything is simplified, but when you meet people face to face, it turns out it is complicated," he said. "It is harder to be as obnoxious and cruel in person as people can be anonymously on the Internet."
Obama's reply to how he endured the presidential inauguration on Jan. 20 is considerably more serene than the millions of people who marched in the #ResistMarch the next day.
"The first thing that went through my mind was sitting across from Michelle, how thankful I was that she had been my partner through that whole process," he said. There was a "satisfying feeling that was mixed with all the work that was still undone." But "overall there was serenity there, more than I would have expected,"
Perhaps unintentionally, Obama also evoked a sharp contrast with how the current occupant of the White House behaves in public with his First Lady. "For us to be able to come out of that intact – our marriage strong, we are still each other's best friends, our daughters turning into amazing young women – there was a sense of completion, and that we had done the work in a way that maintained our integrity and left us whole and fundamentally unchanged."
Ah, integrity.
Though Obama and Prince Harry are buddies, there is still a question about whether the former president will be invited to Harry's May 19 wedding to actress Megan Markle. One outlet noted that British tabloids, citing unidentified sources, reported this week that senior government officials were putting pressure on Prince Harry not invite the Obamas for fear Trump would become outraged. Harry told BBC radio on Wednesday that the couple has not yet put the list together and he didn't want to "ruin that surprise." Markle was critical of Trump on social media after the election and the UK is embroiled in a controversy over the prospect of an official Trump visit given the tensions with Prime Minister Theresa May and the inconceivable image of the Access Hollywood pussy grabber shaking hands with Queen Elizabeth.
Sign Up for Blade eBlasts