VIDEO: HRC honors Katy Perry, America Ferrera
Gala embraces humble appreciation for the work ahead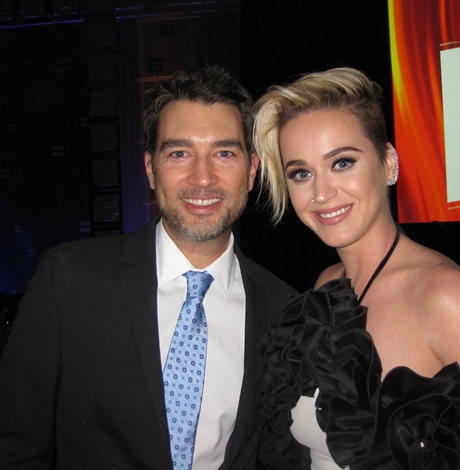 Sometimes a turning point must be forced, a crowbar jammed into the stuck gears of history to get progress going again. At other times, a change may be underway with no discernible clues to pinpoint the transformation, except perhaps a subtle shared feeling. That was the sensation during the Human Rights Campaign's March 18 gala in Los Angeles, at which singer/activist Katy Perry and actress/activist America Ferrera were honored as LGBT allies.
The main ballroom at JW Marriott L.A. Live was filled to capacity. But the setting was decidedly no-frills and instead of the usual A-Gay air kisses and preening competition, the atmosphere was warm with appreciative camaraderie and a kind of pervasive humility, a knowing community gathering before an ugly storm. The still shell-shocked LGBT checkbook activists and allies are terrified that Donald J. Trump will strip away hard-won rights in the blink of a right-winger's eye. It's happened before, when Prop 8 repealed the constitutional right to marry for same-sex couples in 2008. Everyone wanted to "do something" to stop the madness.
Former vice presidential candidate Sen. Tim Kaine roused the crowd, as did HRC President Chad Griffin, former L.A. Mayor and gubernatorial candidate Antonio Villaraigosa and L.A. Mayor Eric Garcetti. The transgender community was visible, starting with HRC LA Dinner Co-chair Jessica Bair, born in Utah to a Mormon family, who now holds a senior management position in cybersecurity at Cisco. HRC Board member Ashley Thomas, who'd flown in from Austin, Texas, said she felt "physically sick with fear" after the election. "Everything we've achieved—everything is in jeopardy," she said. "Their hate is historic and very real. To be honest, this is bullshit."
The audience felt that, too, flexing their checkbook activist muscle for the HRC Super Pac, which is targeting six Republicans who had been reelected by slim margins in districts won by Hillary Clinton, including anti-LGBT Rep. Darrell Issa. $102,477 was raised in under five minutes.
Then came another almost imperceptible moment: gay men fully embraced the power of women, something HRC has quietly done for ages, says longtime HRC board member Gwen Baba.
"We're a little bit of everybody. We reflect the LGBT community," says Baba. "But Chad is surrounded by strong women at HRC."
Lena Dunham, actor, writer, director, creator and star of HBO's groundbreaking feminist series "Girls," was heartily cheered when she came onstage to introduce her best friend, "Ugly Betty" and "Superstore" star America Ferrera. "It feels nice to hear the initials HRC," Dunham joked, referencing Hillary Rodham Clinton. HRC had been a big and early backer of HRC.
Dunham shared how the two spent election night together until Dunham went home. "America stayed. She was determined to be a part of history." The next morning, "through tears, she told me and she told our friends that we could not stop fighting. And America's friends would do anything for her and so we won't."
It felt as if Dunham was talking about America her friend and America her country.
Ferrera didn't bounce out like a cheerleader. She seemed vulnerable as she accepted HRC's Ally for Equality Award. She noted how "Superstore" "celebrates and values humor in the lives of black, brown, Asian and white people, undocumented, gay, disabled, born-again Christian and struggling teen mothers" and that such representation matters.
"I didn't grow up seeing a lot of examples of short, brown, chubby, poor daughters of immigrant parents [who] grow up to be successful actresses and loud activists," said Ferrera. But, "unlearning what culture has taught us about who we are or ought to be" can be changed "by claiming and living in our own power."
Ferrera revealed she had been a lonely outsider, saved by her lesbian high school drama teacher, Sue Freitag, who was in the audience.
"In my senior year of high school, when I struggled with feelings of depression and isolation, she created a safe space for me," the 32-year-old said. "I will never forget the first time she invited me to eat my cold pad Thai with her in the drama theater room. It was the first time that entire year I felt like I was gonna make it through high school. "
She still gets depressed. "Some days I feel tired and inadequate, incapable of making a dent," Ferrera said. "There are days I would rather crawl under my bed with a box of Captain Crunch and all six seasons of Dawson's Creek."
But she reaches out. "It's difficult to persist in light of attacks on our rights, in light of attacks on our communities' physical safety, and in light of attacks on our spiritual well being," Ferrera said, embracing the historic moment. "We are all being called to rise up to a level of consciousness and a level of action that we never imagined we would be called to. We are being called to stand together, to fight together, breathe together, rejuvenate together."
Ferrera beamed. "Anything I've ever done on behalf of the LGBTQ community, I did in service to myself," she said. "Anything I ever did for the rights of this community I did because I believe—with every fiber of my being—that my liberation is bound up in the liberation of my LGBTQ brothers and sisters, and in the liberation of my black brothers and sisters, and in the liberation of immigrants, and refugees, and Muslims, and sikhs, and women all over the world, and the incarcerated, and the criminalized, and the uneducated, and the poor, and the hungry, and, and, and, and, and."
The room erupted in cheers. But the night was not done. Singer/activist Katy Perry was also revealing, suggesting she had been bi-curious growing up.
"I'm just a singer-songwriter, honestly. I speak my truths and I paint my fantasies into these little bite-size pop songs. For instance, 'I Kissed a Girl and I Liked It.' Truth be told, I did more than that," she said. "But how was I going to reconcile that with the gospel singing girl raised in youth groups that were pro-conversion camps? What I did know is that I was curious, and even then, I knew that sexuality wasn't as black and white as this dress."
Perry acknowledged that she hasn't "always gotten it right," but she also knew that her 2008 hit "started a conversation and a lot of the world seemed curious enough to sing along to."
Perry grew up on anti-gay Orange County-based televangelists. "My first words were 'mama' and 'dada,' 'God' and 'Satan,'" Perry said. "Right and wrong were taught to me on felt boards and, of course, through the glamorous Jan Crouch crying diamond teardrops every night on that Vaseline-TBN television screen. When I was growing up, homosexuality was synonymous with the word 'abomination' and hell—a place of gnashing of teeth, continual burning of skin and probably Mike Pence's ultimate guest list for a barbecue. No way! No way! I wanted the pearly gates and unlimited fro-yo toppings."
The Crouches preached prayer. "Most of my unconscious adolescence, I prayed the gay away at my Jesus camps," Perry revealed. "But then in the middle of it all, in a twist of events, I found my gift, and my gift introduced me to people outside of my bubble. My bubble started to burst."
Perry befriended LGBT people, including her manager, Bradford Cobb, to whom she dedicated her award. "These people were nothing like I had been taught to fear," Perry said. "They were the most free, strong, kind and inclusive people I have ever met. They stimulated my mind and they filled my heart with joy, and they freaking danced all the while doing it. These people are actually magic, and they are magic because they are living their truth. Oh, my goodness, what a revelation! And not the last chapter of the Bible!"
Perry choked up talking about Cobb, "one of the greatest champions of my life" for almost 15 years. "My life is rich in every capacity because of [LGBT people]. They are trusted allies that provide a safe space to fall, to not know it all and to make mistakes," she said. "I hope I stand here as evidence for all that it doesn't matter where you come from, it is about where you are going. Real change, real evolution and real perception shift can happen if we open our minds and soften our hearts. People can change — believe me."
The LGBT community may need to believe and work on that to win over Trump voters before the 2018 elections.
Federal Jury convicts Ed Buck in the drug deaths of two Black men
Also convicted on charges of maintaining a drug den, distributing methamphetamine & enticement to cross state lines to engage in prostitution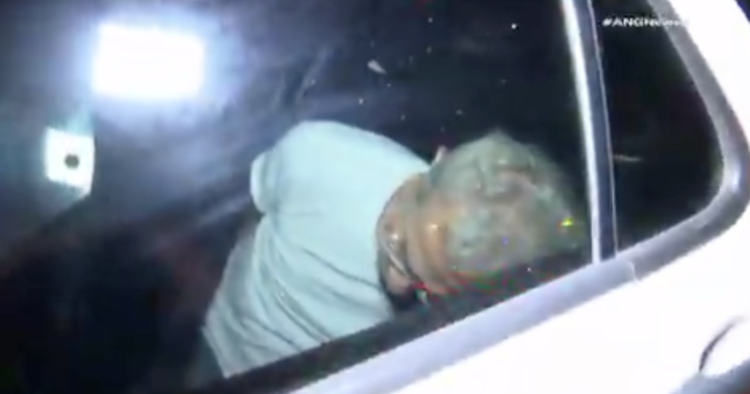 LOS ANGELES – Barely four and a half hours after being handed his case for deliberations, a federal grand jury convicted the former West Hollywood resident and Democratic political activist/donor Ed Buck on the nine-count indictment of charges he supplied the methamphetamine that killed two Black men during 'party-and-play' encounters at his flat.
Buck was also convicted on charges of maintaining a drug den, distributing methamphetamine and enticement to cross state lines to engage in prostitution.
The conviction could mean that Buck, 66, will be facing a sentence where he could spend the rest of his life in prison for his actions that killed Gemmel Moore, 26, in July 2017, and Timothy Dean, 55, in January 2019. The convictions for supplying the meth that resulted in death each carry a minimum sentence of 20 years in prison.
The verdict concluded a two-week trial that featured harrowing testimony of Buck's accusers and victims which was shocking. Prosecutor's use of Buck's seized videos offered jurors a disturbingly graphic look at the chilling indifference displayed by Buck as he victimized those unfortunate to enter his flat.
Buck would solicit his victims on social media platforms, including Grinder, and on Adam4Adam, a gay hook-up site. Buck's profile solicited men who shared his underwear fetish and wanted to "party and play." His profile also contained a 'Rose' emoji which symbolized that he was generous or in plain terms, willing to pay cash for his "party and play."
Jurors heard testimony from several of the Black men victimized that Buck's preference was to personally inject victims, and he pressured or incentivized victims to let him do so, sometimes offering large cash bonuses to coerce a victim to agree to an injection or additional injections. At other times, Buck simply injected victims while they were unconscious.
"I know this has been an arduous, lengthy and difficult process," U.S. District Judge Christine A. Snyder told jurors after she read the verdict shortly after 2 p.m. Pacific.
Christopher Darden, a lawyer for Buck, told the jury his client was on trial "for conduct that millions of people engage in." He dismissed the witnesses against Buck as manipulative escorts and drug abusers who used Buck for his money, the Los Angeles Times reported.
"The evidence is going to show that these grown men made a conscious decision to go to Ed Buck's apartment for whatever reason," Darden said in his opening statement.
Ludlow Creary II, another of Buck's attorneys, argued that his client did nothing more than enjoy party-and-play sessions involving drugs and sex with men he met online. Buck could not be held responsible for the serious medical conditions that caused the deaths of the two men at his apartment 18 months apart, Creary argued in court.
"This is a subculture, a lifestyle that may be shocking to some of us," Creary said during his summation. "Everyone involved was there voluntarily."
The Times noted that Assistant U.S. attorney Chelsea Norell called the defense's strategy "despicable victim shaming."
Buck showed no emotion as he heard the verdicts.
U.S. District Judge Christina Snyder did not set a sentencing date, but scheduled post-trial motions on Aug. 9.
"It was a tremendous honor to vindicate the rights of the victims," Norell told reporters after the verdict was read.
Arrest made in a kidnapping in West Hollywood bar & nightclub district
Detectives seek to speak with any additional witnesses or anyone who has had contact with Diaz on the night of the incident or in the past.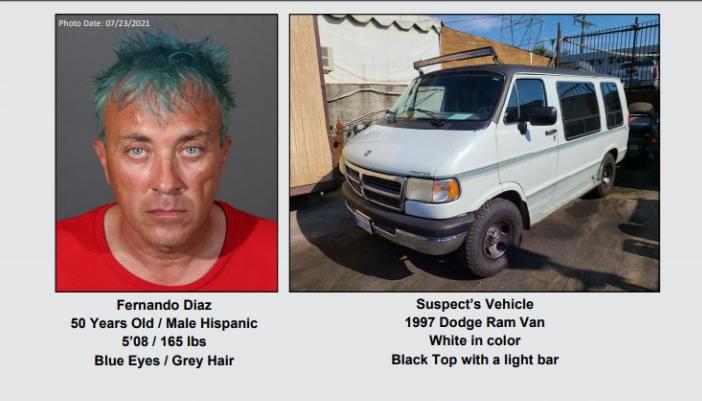 WEST HOLLYWOOD – The Los Angeles County Sheriff's department announced in a tweet that deputies had arrested Fernando Diaz, 50, at 3 a.m. Friday morning after he was seen allegedly carrying an unconscious woman to a van and then driving off. Diaz was released on bond a day later, officials confirmed Sunday.
Diaz's bail amount was set at $100,000 and he was released on Saturday after posting bond, according to the Sheriff's Department's inmate locator.
Detectives seek to speak with any additional witnesses or anyone who has had contact with Diaz on the night of the incident or in the past.
Anyone with information is asked to contact Detective Cynthia Mejia at the West Hollywood Sheriff's Station Detective Bureau by calling 310-358-4028 or [email protected]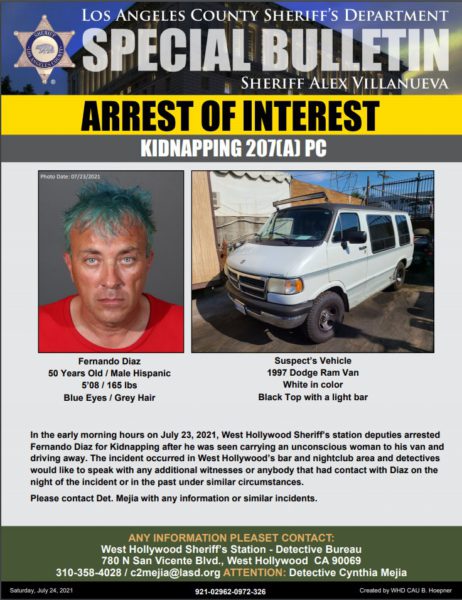 California voters give Newsom thumbs down on homelessness response
"I don't think homelessness can be solved – I know homelessness can be solved," said Newsom. "We are going all-in with innovative solutions"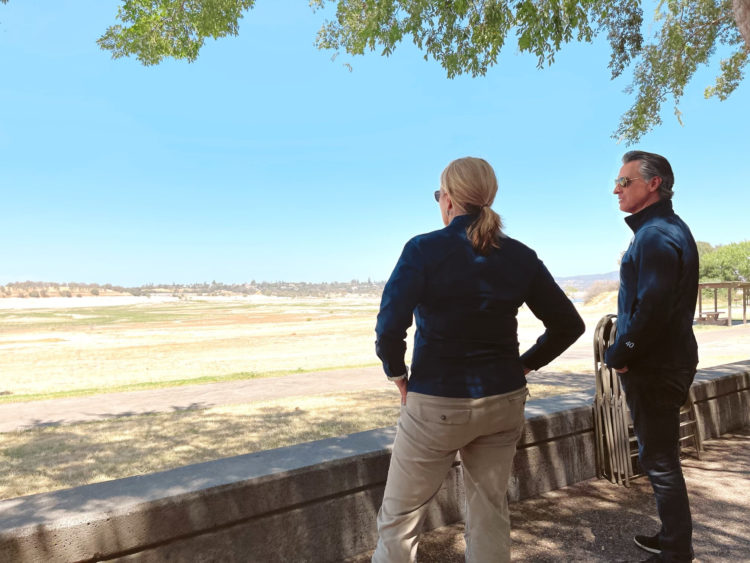 BOSTON – In a new poll released Friday conducted by Inside California Politics and Emerson College of more than 1,000 registered voters, half rated Governor Gavin Newsom's response to the homelessness crisis in California as 'poor.'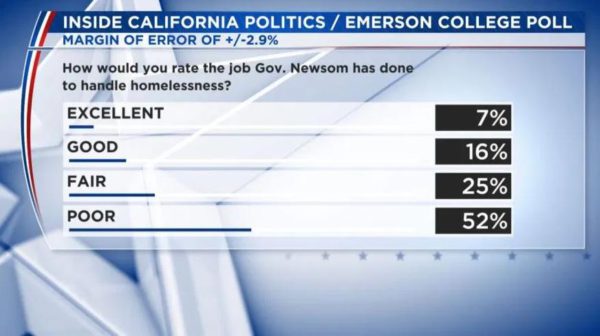 Newsom's low marks comes after an announcement earlier this week at a Project Homekey site located in Sebastopol, West of Santa Rosa, where he signed the largest funding and reform package for housing and homelessness in California history as part of the $100 billion California Comeback Plan. The package includes $10.3 billion for affordable housing and $12 billion over two years towards tackling the homelessness crisis head-on – helping tens of thousands of people off the streets while also demanding greater accountability and more urgency from local governments.
The new homelessness funding includes $5.8 billion to add 42,000 new housing units through Homekey – a national model for homeless housing. $3 billion of this investment is dedicated to housing for people with the most acute behavioral and physical health needs. This investment is the biggest expansion in decades in terms of clinically enhanced behavioral health housing in California.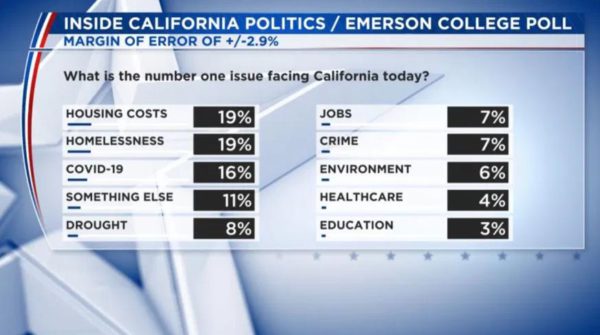 "I don't think homelessness can be solved – I know homelessness can be solved," said Newsom. "We are going all-in with innovative solutions that we know work – with a focus on creating housing to support people with severe mental health challenges, and with more money than ever to move people out of encampments and into safer situations."
California is home to more than a quarter of the nation's homeless people with an estimated 161,000 people are experiencing homelessness, according to federal government data, and it has reached crisis proportions in many cities, especially in Los Angeles.
Los Angeles Mayor Eric Garcetti announced in his annual State of the City address on April 19, 2021 that he will seek to spend nearly $1 billion on initiatives for addressing homelessness, as well as allocate $235 million for the city's Emergency Rental Assistance program, intended to help up to 100,000 households and other critical needs.
There are deep disagreements in how to solve a problem that goes beyond economics, advocates claim they can't house people quickly enough with a shortage of housing units and high rents. The issue is also further exacerbated by the complications of mental illness and addiction issues that require treatment and can make people resistant to accepting shelter.