LA Pride embraces call for protest march
Inspired by Women's March, LA Pride organizers embrace protest movement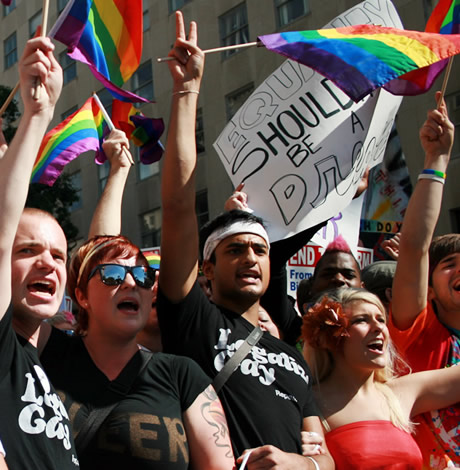 Resistance is the stuff LGBT Pride was once made of.
Los Angeles in the late 1960s, like much of America, was a hotbed of resistance of every kind: the women's movement, the hippie movement, the antiwar movement and, yes, even a nascent movement for LGBT rights, all combined here to fuel the winds of change. The LGBT community in Los Angeles, as in New York and around the country, lived under constant threat of official violence and the oppression of pervasive hostility.
In 1966 Los Angeles, affection between men was officially condemned as a mental illness and viewed as a moral disorder. Sexual relations between people of the same sex — even hand holding — was a crime. Careers were destroyed by whisper or innuendo and extortion was rampant. There were precious few safe social spaces for LGBT people other than a dozen or so nightclubs in close proximity to one another near Silver Lake — Black Cat, Ram's Head and Stage Door — and a couple, like The Patch near Long Beach.
And so when routine police raids on these establishments escalated and turned violent, the community was deeply traumatized. Finally, a breaking point came on New Year's Eve 1967 when a celebration at Black Cat turned into a bloodbath; at five minutes past midnight, plainclothes police officers began tackling patrons, swinging billy clubs and pool sticks, dragging people into the streets, pulling bartenders facedown over broken glass across the bar, chasing patrons down the streets, breaking bones and doing severe bodily injury to some, arresting 16 people who were charged with lewd conduct for simply kissing, according to witnesses of the time and published accounts.
A community that had long hidden in the shadows suddenly found itself seeking intersectional allies. Police violence against civilians was attracting more attention than ever and activist groups, like Personal Rights in Defense and Education (PRIDE) distributed fliers that read, "PRIDE DEMONSTRATION: join Negroes, Mexicans, hippies" and demonstrate against "the Establishment war on minorities." The Southern California Council on Religion and the Homophile urged action by activating a phone-tree with the message that "Homosexuals, who have always been dependably meek, are fighting back."
An unprecedented number of people turned out — one of the first mass gatherings in the United States protesting police harassment of LGBT people — protesting at the corner of Sunset and Hyperion.
Until recently, the action, groundbreaking though it was, has rarely been hailed as such. It has been almost buried in LA's psyche. Even Troy Perry, one of the founders of Christopher Street West, says he "never viewed the Black Cat as a demonstration for LGBTQ rights but as an action against police brutality at that time in LA."
Two and a half years later, in June 1969, a police raid on New York's Stonewall Inn captured the attention of the world, however.
Six powerful days of resistance in 1969 between young gay, lesbian, and transgender people and the New York Police Department continue to define who we are as a people, a movement and a community. After an intense escalation of brutal police raids on gay bars in New York City, patrons of the Stonewall Inn, a Christopher Street bar in Manhattan's West Village, fought back and won.
Though police turned fire hoses on the crowd, it swelled to thousands; chorus lines of drag queens and lesbian and gay youth overtook barricades, taunting police with campy chants and performing a Rockette-like show for the jaw-dropped police. "Occupy — take over, take over" they shouted. "Fag power!" "Liberate the bar! We're the pink panthers!" They pulled cobblestones from the streets, smashed windows, threw bottles, even uprooting parking meters and cornering terrified policemen while singing a campy version of "We Shall Overcome."
While news of the riots spread quickly around the world, Angelenos Rev. Troy Perry, Rev. Bob Humphries and Morris Kight, formed Christopher Street West (CSW) to honor the uprising in New York and to tap into a burgeoning sense of "gay power" by launching the world's first Gay Pride Parade.
On June 28, 1970, thousands of jubilant people celebrated and danced their way west along Hollywood Boulevard, some chanting "two, four, six, eight, gay is just as good as straight" and hoisting placards calling for equality and justice.
"At the time we had no idea what we were creating, we just wanted to acknowledge a courageous group that stood up to being bullied by police. It was a microcosm of what was taking place throughout the country and we thought, what better way to make noise, get attention and excite our community than by dressing up and putting on a parade," said Perry.
Over the years the event evolved along with the community.
It moved to West Hollywood and became a fee-based, three-day festival to help pay the growing expense of the event. It was never without controversy, but fast-forward to 2016 and both the festival and the parade had nearly collapsed in the heat of withering criticism over the direction of the event and whether history or LGBT identity even matters.
From its founding in 1970 to 2016, the parade reflected the concerns of a community fighting for basic dignity, political rights, against violence and for government recognition of a health crisis that killed hundreds of thousands of gay men. In recent years, as the community enjoyed civil rights victories and gained social, cultural and political power, the Parade's identity began to blur.
Last year, when CSW attempted to rebrand the three-day festival into a Music Festival, critics derided the group for attempting to turn LA Pride into "Gay Coachella." CSW, they said, was hell-bent on ignoring the event's legacy and on edging out more senior members of the community. CSW President Chris Classen, perhaps unintentionally, reinforced that notion while addressing the controversy to the West Hollywood City Council, saying that by "adding the word 'music' to the title of L.A. Pride is a subtle welcome to a younger generation who does not inherently understand the historical context of the event."
Indeed, his plan, by rearranging or removing sacred elements of the festival, seemed to minimize the visibility of lesbians, transgender, Latino and leather community members and paid no homage to seniors or to history. Even country-western people felt they'd been given the boot in favor of a post-gay Music Festival.
Groups formed to protest CSW and critics blasted the organization at the group's open board meetings and City Council meetings. Ivy Bottini, a 90-year-old lesbian resident of West Hollywood demanded change: "I consider the board a lame duck board…It doesn't feel like CSW understands what Pride is."
CSW corrected most of its mistakes and issued a mea culpa. Last May, CSW issued a statement saying it had "made a few missteps along the way that have left valued members of our community feeling left out or underappreciated. This was never our intention. We've heard your concerns and objections and we sincerely apologize." It seemed to work.
But events conspired to remind everyone about the historical context of the event — a response to violent oppression — that gave rise to Christopher Street West's existence.
Mourning for Orlando
Los Angeles, like everyone in America, was stunned to wake up on the morning of June 12, 2016, to the news that a madman had opened fire on the dance floor of a gay nightclub in Orlando, killing 49 people and wounding dozens more. That morning, Santa Monica Police Department arrested 20-year-old James Wessley Howell, an Indiana man, who was found with an arsenal of assault rifles, ammunition and explosives in his car; he told police he 'wanted to harm' people at the Los Angeles Pride festival.
A pall was cast over the annual LA Pride Parade but in a defiant move, Christopher Street West chose to continue with the Parade and it quickly became a march honoring of the victims in Orlando.
But questions about CSW just wouldn't go away.
In late 2016, it was revealed the organization had lost several hundred thousand dollars, renewing outrage and provoking allegations of mismanagement. West Hollywood Mayor Lauren Meister, concerned about city involvement with potentially troubled non-profit organizations, required financial disclosure from subsidized organizers. LA Pride has for years been partially subsidized by West Hollywood because it is estimated to generate more than $5,000,000 in tax revenues.
Complicating matters for CSW, in January 2017, several senior board members resigned and complained publicly that the top-down management style of the board resulted in making their service useless. Chief among their complaints was the requirement of non-disclosure agreements that prevented board members from discussing organizational matters outside the board. The board members who resigned were representative of the issues that sparked the most concern in 2016; a prominent transgender woman, a senior man, a documentarian of LGBT history, a legacy CSW president and a Latino man and chairman of LA Leather Pride Week.
The resignations resurrected community frustrations about CSW's direction yet the organization appeared to be singularly focused on the impact the closure of West Hollywood Park had on its Music Festival plans. But the election of Donald Trump and his anti-LGBT vice president, along with the installation of an almost uniformly anti-LGBT cabinet was top of mind for the community at large.
#resistmarch
Enter LA-based philanthropist, activist and entrepreneur Brian Pendleton, inspired by the women's march (which attracted several hundred thousand people to downtown LA) seized on what he saw as pent-up demand for action that he, perhaps incidentally, felt could give LA Pride revitalized mission. He posted a frustrated comment on Facebook, "before my first cup of coffee," declaring that the parade should be turned into a protest march.
A Facebook page and other social media using #resistmarch was created along with a website and the idea went viral. More than 33,000 people have joined.
Pendleton found himself on the board of CSW.
"There was a hesitation to have me join the board," he said. "CSW has policies and procedures about how to add board members and in order for me to join, I understand, the board had to waive those procedures. But once the groundswell of grassroots support became so strong it was clear that it made the most sense for CSW to add me as an exception."
He refused to sign the controversial non-disclosure agreement.
The idea has been adopted by Christopher Street West, sending the parade off into a whole new direction that more closely resembles the intentions of its founders.
The march will even begin at the 1970 founding location at Hollywood Boulevard and Highland to La Brea before continuing onto Santa Monica Boulevard and into West Hollywood.
Over the past 40 years, local merchants have grown to rely on the event's ability to attract more than 100,000 people and generate millions of dollars in income, according to studies by the City of West Hollywood. Organizers are hoping to at least double the participation this year.
Significantly, the Resist March idea requires outreach to allied communities and that work is in full swing. Among the growing number of signees: Equality California, Los Angeles LGBT Center, APLA Health, Human Rights Campaign, The Trevor Project, Family Equality Council, Asian Pacific AIDS Intervention Team, City of West Hollywood, Women Against Gun Violence, IBEW Local 11, UNITE HERE! Local 11,  CA NOW, National Council of Jewish Women NARAL Pro-Choice California, Hollywood N.O.W., California Women's Law Center, Victory Institute, The Next Family, LASC, Project Angel Food, Tegan and Sara Foundation, Trans Can Work, West Hollywood City Council members Heilman, Duran and Horvath, Christopher Street West, Los Angeles County Board of Supervisors, Los Angeles County Office of the Assessor, Los Angeles City Attorney, and Gina Belafonte.
Pendleton told City Watch, "This year, because of the political winds and forces, we're sort of wrapping the iconic rainbow flag of LGBTQ around women fighting for reproductive rights, the dreamers who want to stay in this country and recent immigrants who want to come here, anyone who feels impacted by the forces against human rights.
"We've been fighting for our rights for decades now but the last eight years, we've had wind in our sails and seen tremendous progress. Not wanting to have any of our rights rolled back, we stand up with our trans brothers and sisters whose fates are being decided by state governments. In South Dakota, LGBTQ people can no longer adopt. We want our rights restored."
The idea has spread around the country.
In New York City, Matt Foreman, the former executive director of the National Gay & Lesbian Task Force, has also been advocating for a Resistance March there. On Facebook he wrote: "WTF Heritage of Pride?! Why do people have to plead with you for the Resistance to be front and center in this year's pride march?! YOU should be taking the lead and embracing the legacy of Stonewall. Aren't you humiliated that LA Pride is ahead of HOP on this? Why court controversy and retreat into the dank well of "process"? Come on folks, you're better than this!"
Meanwhile, in Washington, D.C., a National March is taking shape, planned for Sunday, June 11, that was instigated by a New York activist who also took to social media to call for a march.
David Bruinooge, 42, a Brooklyn, N.Y., resident, said he was inspired to create a Facebook page announcing the march on Jan. 21 while he was watching the Women's March on Washington at home on television.
"I was watching the events unfold on TV and I was very proud and inspired by all the women, the strong women in our country who were kind of taking this to the street and getting their voices heard," he told the Blade. "And in the back of my mind as an openly gay man I thought the gay community should be doing something like this to follow up on the momentum," he said.
He said he intentionally chose June 11 for the march because it's the same day that D.C.'s Capital Pride Festival is scheduled to be held on Pennsylvania Avenue, N.W. near the U.S. Capitol. Bruinooge said his thought was the march would start in the morning and end at the site of the Pride festival.
Rev. Perry said in a statement to the Los Angeles Blade, "As the co-founder of Christopher Street West, I am thrilled to see them change the 2017 pride parade to a human rights march. For me it's always been about humanizing our community, standing up for those who need us most, and giving a voice to those who are sometimes invisible.  Marching for human rights fits squarely within the principles of CSW's founding. I'll see you all on June 11th!"
Lou Chibbaro Jr. contributed to this report.
West Hollywood's new mayor & mayor pro tempore take office
In their speeches after they took their oaths, both women laid out their visions looking towards the future of the City

WEST HOLLYWOOD – In a ceremony conducted virtually due to the ongoing coronavirus pandemic in the greater Southland, just prior to the nitty gritty of the city's business being conducted, the city council installed its new mayor and mayor pro tempore this past Monday.
Swearing in WeHo's new Mayor Lauren Meister, was former West Hollywood City Councilmember John Heilman, and administering the oath of office to newly designated Mayor pro tempore Sepi Shyne, was Melahat Rafiei the principal and founder of Progressive Solutions Consulting, a premier political consulting and fundraising firm based in Long Beach, California and also the Secretary of the California Democratic Party.
Meister, was first elected to the City Council on March 3, 2015 and re-elected for her second term on March 5, 2019.
Shyne, elected to her first term on the City Council November 2020, also managed to set a mark in history as the first openly lesbian Iranian woman to serve and with her election giving the city Council a female-led majority.
In their speeches after they took their oaths, both women laid out their visions looking towards the future of the City.
Mayor Meister in her remarks noted;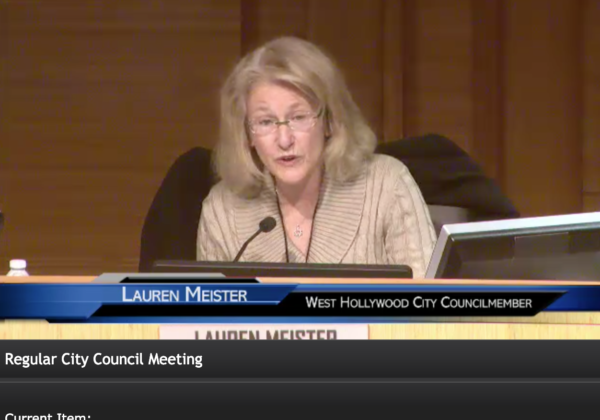 Today is kind of bittersweet. It is the second anniversary of Spike's passing but it is also the beginning of the Jewish holiday, Sukkot, the season of rejoicing. According to Chabad, "it's a festival — laden with unique mitzvahs, quality time with our community and family, all with an extra-large serving of joy." I'm hopeful that my swearing in on this festive day is a good omen!
I want to thank everyone for their well wishes and support. I want to thank my family for their love, encouragement, and unlimited patience. Thank you to my colleagues for your vote of confidence as I take on the role of Mayor for the second time.
I also want to thank my former Council colleague, John Heilman, for swearing me in as your mayor tonight. It means a lot to me.
When I was installed as Mayor back in April 2016, I spoke about renewing the community spirit that helped form this great city nearly 37 years ago, which John and others were a big part of.
As a community, we gathered as one after 9/11, we mourned the tragedy of the Pulse Nightclub mass murder, we celebrated marriage equality, and we marched, stood up to, and survived a challenging national political climate.
I have lived in this city over 30 years, and over the years, I have witnessed many stages in our city's maturity – I have seen issues divide our city. I have seen the east side pitted against the west side, businesses pitted against residents, tenants pitted against landlords.
But I have to say, that after being elected to Council, the drama that seemed to plague every Council meeting with a controversial topic… the theatre – and a lot of it was theatre – seemed to dissipate.
Now, however, we're seeing a divisiveness that I haven't seen in a while, and it's disturbing. It's disturbing because we are still one small city and one community – a community comprised of people from all walks of life, a community with young people and older people; a community with businesses and workers. All must be valued; none should be discounted. A rainbow flag is not just six colors or 10 colors – if it truly represents our community, then it is an infinite number of colors. Putting people into categories, labeling them, disparaging them, does not serve this community.
I'd like to say, today, that my goal as Mayor is to solve our three biggest issues: homelessness, housing affordability, and making our city safer.
As Mayor, I'd like to strengthen our neighborhoods, encourage economic diversity, and further initiatives to protect our renters and our small businesses. I'd like to make West Hollywood a premier green city by increasing our urban forest and embracing biodiversity. I'd like to find a companion care center close to home for our lost, found, and abandoned animals.
And, importantly, I'd like for West Hollywood to be the most prepared and resilient city in the country – for whatever emergency or disaster strikes – whether it be earthquake, drought, pandemic, or recession.
But none of this can happen if we don't work together and focus on the city's recovery from this pandemic. None of this can happen, if we don't focus on keeping people healthy and getting people vaccinated. And none of this can happen if we, as a council, don't make recovery our number one priority.
So, in the coming weeks, I will be bringing forward a proposal requesting that the city manager arrange several team-building workshops for council, designed to help foster communications among council members, to clarify council's role, and to identify priorities and common goals. The objective of the workshops will be to transform our new council and our new city manager into an effective, problem-solving team.
Now, I come full circle to why I asked my former colleague, John Heilman, to swear me in today as Mayor. As many of you know, John and I did not agree on every issue, and in fact, before I was on Council, I was probably one of Council's most vocal critics. But, once we were colleagues, we learned to work together, respect each other, and most importantly, acknowledge that we both cared about the best interests of the city, even when we didn't agree.
So, I appreciate that John was a part of my swearing in today because, to me, it symbolizes hope… that there's hope that people with different perspectives can work together effectively for the city they love. And, as your mayor, I'm confident this is something that we – Council, residents, businesses, and other community members – can achieve in the months to come
Then mayor pro tempore Shyne spoke;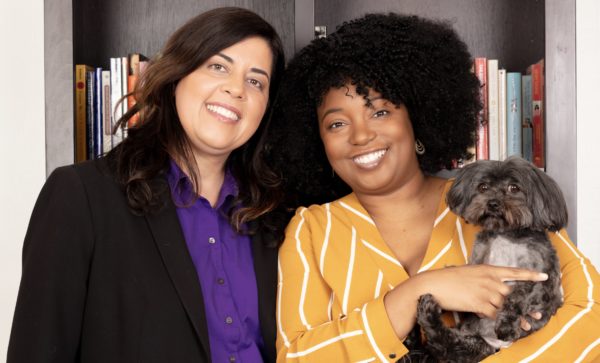 Thank you to my colleagues for electing me to serve as Mayor Pro Tem. Thank you to all of our residents, community members, colleagues and staff and my wife, family and friends who have been so supportive over the past 9 months that I have served in office. Thank you to my dear friend Melahat Rafiei for swearing me in and for your support. Thank you to outgoing Mayor Horvath for your leadership and taking up the reigns when we asked you to serve a much longer term during the pandemic as Mayor and thank you to our new Mayor Meister for your leadership. I am honored to serve in this new leadership position with you.
Serving on this Council these past 9 months has been the honor of my life and serving as your Mayor Pro Tem is a responsibility I take very seriously. West Hollywood has always been on the forefront of making history and we did it once again this evening.
When my parents and I fled Iran when I was 5 to escape the oppressive Islamic regime and the war between Iran and Iraq, I never imagined that one day I would be sworn in as the first Iranian, first woman of color and first Lesbian to serve as Mayor Pro Tem of West Hollywood.
When kids in kindergarten bullied me throwing things and using anti-middle eastern slurs, I never ever imagined that one day, I would be sworn in as Mayor Pro tem of West Hollywood.
When fellow high school students verbally gay bashed and stalked me for being a lesbian, I never imagined that one day, I would be sworn in as Mayor Pro Tem of West Hollywood.
In college, when my girlfriend and I were thrown out of a coffee shop by a police officer and the coffee shop manager for holding hands, I made up my mind to go to law school, learn the law and stop that from ever happening to others and that is what I did. But, even then, I never imagined that one day, I would be sworn in as Mayor Pro Tem of West Hollywood.
The reason I never imagined serving in elected office is because growing up, I truly did not see anyone that looked like me, grew up like me and loved like me in elected office. But since November 2020 and especially now, I know that another little Middle Eastern, Brown, immigrant girl who may be queer can now imagine herself in elected office because now she does see herself. And that is one of the most powerful reasons why representation truly matters.
I wanted to serve on the City Council to represent the people of our amazing city and to bring your voices and more equity to City Hall. The people wanted progressive change.
In the past 9 months, I have delivered on that mandate. I have had countless conversations and virtual and in person meetings with residents, workers and stakeholders to discuss how we can make West Hollywood better. I have had the honor to serve on our Laurel House, Homelessness, Event and Pride Subcommittees with my colleagues as well as now representing West Hollywood as the Chair on the Westside Cities Council of Governments.
I have initiated, co-sponsored and passed 34 council items which I am so proud to say have nearly all had unanimous council support. Some of the ones I want to highlight tonight are:
The creation of the Social Justice Task Force that is now successfully appointed and working on policy recommendation for us to help address systemic racism;
The creation of business roundtables, grants for the most vulnerable small businesses, and the creation of the Business Recovery Task Force;
Incentives for LGBTQ people, BIPOC, women and local residents to start small businesses in our city;
An ordinance strengthening our Tenant Harassment Ordinance and providing further protections for our renters;
The Multi Stall Gender Neutral Bathroom Ordinance which will ensure our Transgender and Non-Binary family, same sex parents of opposite sex children and people with disabilities that have an opposite sex caretaker have equal and safe access to bathrooms;
The development of a Citywide Behavioral Health Crisis Response Unit that will reduce law enforcement response to homelessness and in other areas the unit serves in order to provide solutions from experts that work;
Several items that direct staff to study or update our zoning code related to affordable housing and capacity, bring our codes up to date with newer type housing developments being proposed so there are standards in place rather than loopholes;
An Initiative to highlight Pet-Friendly businesses and develop "Pet Week" in West Hollywood, which includes a special day dedicated to our beloved Felines; and
Making sure that Recovery includes Everyone by expanding Protections and Wage Equity for Hotel Workers, including panic buttons, the Right of Recall and Retention, overtime consent, Public Housekeeping training and excessive workload compensation.
For the next year and four months, I look forward to working with Mayor Meister to ensure efficiency and continued good leadership. I look forward to continue being accessible to constituents. I am excited about the Business Recovery Task Force, which will soon be formed to ensure we have a 5 year blueprint for business success, recovery and diversification. I look forward to continuing to pass items that help our residents, small businesses and workers. Items that create more affordable housing, bring more equity to all, bring more transparency and ethics to our government, create a more healthy environment to combat our climate crisis, have more community-based solutions to strengthen our community safety, help get our unhoused neighbors the housing and services they need as well as focusing on our City's recovery.
West Hollywood is truly one of the best cities to live, work and play in and I am so grateful to be your new Mayor Pro Tem.
LGBTQ+ ally City Councilman Kevin de León announces run for mayor
De León currently represents Council District 14 that takes in the predominantly Latino neighborhoods of Boyle Heights and El Sereno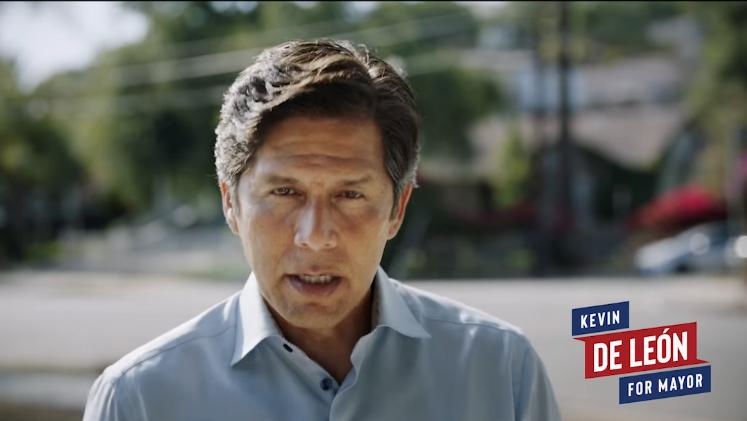 LOS ANGELES – Standing in front of a group of enthusiastic supporters Tuesday at the El Pueblo de Los Angeles Historical Monument, Los Angeles City Councilman Kevin de León announced that he was joining the mayor's race for next year's city elections.
Councilman de León, a Democrat, is the third city elected official to announce his intention to seek the mayor's chair after current Mayor Eric Garcetti, who was elected for a four-year term in 2013 and again in 2017- who's limited to serving no more than two terms, was picked by President Joe Biden to serve as the U.S. ambassador to India on July 9, 2021.
Born in Los Angeles of Guatemalan and Mexican descent, raised by a loving, hard-working single mother, de León, 51, got an education and spent 12 years in Sacramento, rising to become the President Pro Tem of the California Senate, authoring and passing legislation and making history. It was his bill that then Governor jerry Brown signed into law making California a "sanctuary state"—a law that was upheld by a federal appeals court.
In an August 2018 interview with former Los Angeles Blade Editor Karen Ocamb, he reflected on his relationship with the LGBTQ+ community.
"I've always been very close to the LGBTQIA (lesbian, gay, bisexual, transgender, queer, intersex, asexual) community even before I even knew all the initials that keep growing," de León says with a laugh during an extensive phone interview with the Los Angeles Blade. "It's always been my core set of values that every human being deserves a real opportunity to succeed, regardless of who they love and regardless of the hue of their skin and regardless of their legal status. That is embedded in my DNA."
De León learned to care about LGBT people as a child from his mother and aunt around the kitchen table.
"My mother got a third grade education and my aunt even less," he says. "I was very young and they were talking about a gay friend, a colleague of theirs. I didn't understand. Obviously, they didn't understand themselves. But they spoke with such affection, such tenderness. And here were two immigrant women with limited formal education and the way they spoke so lovingly, tenderly, beautifully about their gay friend. I could deduce the person they were talking about was gay—they kind of spoke in code around me when I was just sitting there listening to them at the kitchen table. And it transcended ethnicity and legal status and poverty—that we're all human beings and we deserve dignity and respect. That had an 'Ah Ha' impact."
De León's LGBT education continued as he picked his mother up from her work as a housekeeper at convalescent homes. "She had quite a few gay colleagues with her and I just remember they were just so beautifully nice with my mother and my mother with them and that had a huge impression on me of the universal values of treating everybody with dignity and with respect. So when there is a discriminatory blow against anyone in the LGBTQIA community, I feel that blow equally."
De León, 54, is by far the most prominent Latino running. Fluent in Spanish, he represents a district that takes in the predominantly Latino neighborhoods of Boyle Heights and El Sereno, as well as much of downtown, where a development boom has fueled huge growth over the past decade, KTLA reported.
Two other candidates — Councilman Joe Buscaino and City Atty. Mike Feuer — have been campaigning for several months. The race also features two business leaders: Jessica Lall, who heads the downtown-based Central City Assn., and real estate broker Mel Wilson, who has been involved with several San Fernando Valley business groups.
Hermosa Beach Pride Lifeguard Tower is here to stay
"The rainbow tower is beautiful and has become a symbol of this community's love and support for LGBTQ rights," said Supervisor Hahn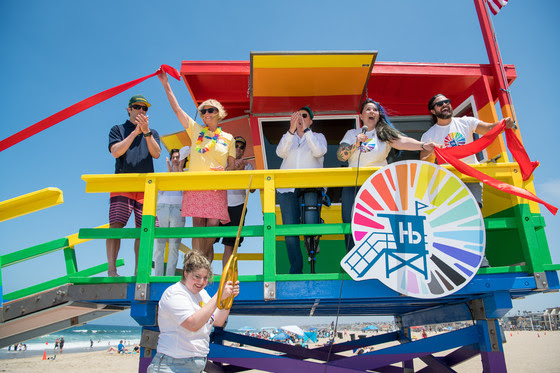 Hermosa Beach — Los Angeles County Supervisor Janice Hahn is announcing that the Pride Tower in Hermosa Beach is here to stay.  The 13th street Los Angeles County Lifeguard Tower, which was painted rainbow in June, was originally meant to be repainted its original blue color at the end of summer.  The rainbow paintjob will now be permanent. 
"The rainbow tower is beautiful and has become a symbol of this community's love and support for LGBTQ rights," said Supervisor Hahn, whose support paved the way for the project. "None of us wanted to see it painted over and I am proud to announce that the Pride Tower is here to stay."
The idea to paint the tower originally came from lzzy Bacallao, a local non-binary teen. Izzy, who uses the pronouns they and them, was responding to the burning of rainbow-painted Pride lifeguard tower in Long Beach in March. The rainbow-painted tower was unveiled at the Hermosa Beach Pride event June 26, 2021.
The new Pride Tower's rainbow paintjob will be maintained by the Los Angeles County Department of Beaches and Harbors which maintains all LA County Lifeguard Towers.   The Department of Beaches and Harbors also maintains another permanent Pride tower in Venice.