LA Pride embraces call for protest march
Inspired by Women's March, LA Pride organizers embrace protest movement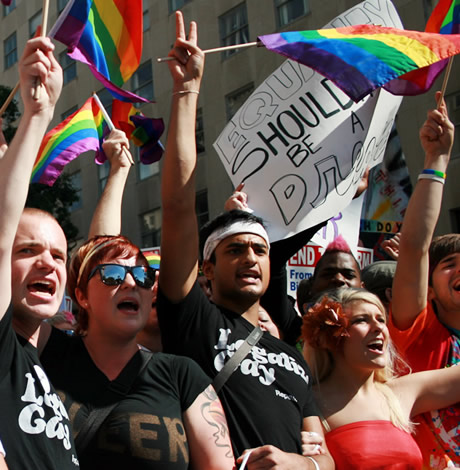 Resistance is the stuff LGBT Pride was once made of.
Los Angeles in the late 1960s, like much of America, was a hotbed of resistance of every kind: the women's movement, the hippie movement, the antiwar movement and, yes, even a nascent movement for LGBT rights, all combined here to fuel the winds of change. The LGBT community in Los Angeles, as in New York and around the country, lived under constant threat of official violence and the oppression of pervasive hostility.
In 1966 Los Angeles, affection between men was officially condemned as a mental illness and viewed as a moral disorder. Sexual relations between people of the same sex — even hand holding — was a crime. Careers were destroyed by whisper or innuendo and extortion was rampant. There were precious few safe social spaces for LGBT people other than a dozen or so nightclubs in close proximity to one another near Silver Lake — Black Cat, Ram's Head and Stage Door — and a couple, like The Patch near Long Beach.
And so when routine police raids on these establishments escalated and turned violent, the community was deeply traumatized. Finally, a breaking point came on New Year's Eve 1967 when a celebration at Black Cat turned into a bloodbath; at five minutes past midnight, plainclothes police officers began tackling patrons, swinging billy clubs and pool sticks, dragging people into the streets, pulling bartenders facedown over broken glass across the bar, chasing patrons down the streets, breaking bones and doing severe bodily injury to some, arresting 16 people who were charged with lewd conduct for simply kissing, according to witnesses of the time and published accounts.
A community that had long hidden in the shadows suddenly found itself seeking intersectional allies. Police violence against civilians was attracting more attention than ever and activist groups, like Personal Rights in Defense and Education (PRIDE) distributed fliers that read, "PRIDE DEMONSTRATION: join Negroes, Mexicans, hippies" and demonstrate against "the Establishment war on minorities." The Southern California Council on Religion and the Homophile urged action by activating a phone-tree with the message that "Homosexuals, who have always been dependably meek, are fighting back."
An unprecedented number of people turned out — one of the first mass gatherings in the United States protesting police harassment of LGBT people — protesting at the corner of Sunset and Hyperion.
Until recently, the action, groundbreaking though it was, has rarely been hailed as such. It has been almost buried in LA's psyche. Even Troy Perry, one of the founders of Christopher Street West, says he "never viewed the Black Cat as a demonstration for LGBTQ rights but as an action against police brutality at that time in LA."
Two and a half years later, in June 1969, a police raid on New York's Stonewall Inn captured the attention of the world, however.
Six powerful days of resistance in 1969 between young gay, lesbian, and transgender people and the New York Police Department continue to define who we are as a people, a movement and a community. After an intense escalation of brutal police raids on gay bars in New York City, patrons of the Stonewall Inn, a Christopher Street bar in Manhattan's West Village, fought back and won.
Though police turned fire hoses on the crowd, it swelled to thousands; chorus lines of drag queens and lesbian and gay youth overtook barricades, taunting police with campy chants and performing a Rockette-like show for the jaw-dropped police. "Occupy — take over, take over" they shouted. "Fag power!" "Liberate the bar! We're the pink panthers!" They pulled cobblestones from the streets, smashed windows, threw bottles, even uprooting parking meters and cornering terrified policemen while singing a campy version of "We Shall Overcome."
While news of the riots spread quickly around the world, Angelenos Rev. Troy Perry, Rev. Bob Humphries and Morris Kight, formed Christopher Street West (CSW) to honor the uprising in New York and to tap into a burgeoning sense of "gay power" by launching the world's first Gay Pride Parade.
On June 28, 1970, thousands of jubilant people celebrated and danced their way west along Hollywood Boulevard, some chanting "two, four, six, eight, gay is just as good as straight" and hoisting placards calling for equality and justice.
"At the time we had no idea what we were creating, we just wanted to acknowledge a courageous group that stood up to being bullied by police. It was a microcosm of what was taking place throughout the country and we thought, what better way to make noise, get attention and excite our community than by dressing up and putting on a parade," said Perry.
Over the years the event evolved along with the community.
It moved to West Hollywood and became a fee-based, three-day festival to help pay the growing expense of the event. It was never without controversy, but fast-forward to 2016 and both the festival and the parade had nearly collapsed in the heat of withering criticism over the direction of the event and whether history or LGBT identity even matters.
From its founding in 1970 to 2016, the parade reflected the concerns of a community fighting for basic dignity, political rights, against violence and for government recognition of a health crisis that killed hundreds of thousands of gay men. In recent years, as the community enjoyed civil rights victories and gained social, cultural and political power, the Parade's identity began to blur.
Last year, when CSW attempted to rebrand the three-day festival into a Music Festival, critics derided the group for attempting to turn LA Pride into "Gay Coachella." CSW, they said, was hell-bent on ignoring the event's legacy and on edging out more senior members of the community. CSW President Chris Classen, perhaps unintentionally, reinforced that notion while addressing the controversy to the West Hollywood City Council, saying that by "adding the word 'music' to the title of L.A. Pride is a subtle welcome to a younger generation who does not inherently understand the historical context of the event."
Indeed, his plan, by rearranging or removing sacred elements of the festival, seemed to minimize the visibility of lesbians, transgender, Latino and leather community members and paid no homage to seniors or to history. Even country-western people felt they'd been given the boot in favor of a post-gay Music Festival.
Groups formed to protest CSW and critics blasted the organization at the group's open board meetings and City Council meetings. Ivy Bottini, a 90-year-old lesbian resident of West Hollywood demanded change: "I consider the board a lame duck board…It doesn't feel like CSW understands what Pride is."
CSW corrected most of its mistakes and issued a mea culpa. Last May, CSW issued a statement saying it had "made a few missteps along the way that have left valued members of our community feeling left out or underappreciated. This was never our intention. We've heard your concerns and objections and we sincerely apologize." It seemed to work.
But events conspired to remind everyone about the historical context of the event — a response to violent oppression — that gave rise to Christopher Street West's existence.
Mourning for Orlando
Los Angeles, like everyone in America, was stunned to wake up on the morning of June 12, 2016, to the news that a madman had opened fire on the dance floor of a gay nightclub in Orlando, killing 49 people and wounding dozens more. That morning, Santa Monica Police Department arrested 20-year-old James Wessley Howell, an Indiana man, who was found with an arsenal of assault rifles, ammunition and explosives in his car; he told police he 'wanted to harm' people at the Los Angeles Pride festival.
A pall was cast over the annual LA Pride Parade but in a defiant move, Christopher Street West chose to continue with the Parade and it quickly became a march honoring of the victims in Orlando.
But questions about CSW just wouldn't go away.
In late 2016, it was revealed the organization had lost several hundred thousand dollars, renewing outrage and provoking allegations of mismanagement. West Hollywood Mayor Lauren Meister, concerned about city involvement with potentially troubled non-profit organizations, required financial disclosure from subsidized organizers. LA Pride has for years been partially subsidized by West Hollywood because it is estimated to generate more than $5,000,000 in tax revenues.
Complicating matters for CSW, in January 2017, several senior board members resigned and complained publicly that the top-down management style of the board resulted in making their service useless. Chief among their complaints was the requirement of non-disclosure agreements that prevented board members from discussing organizational matters outside the board. The board members who resigned were representative of the issues that sparked the most concern in 2016; a prominent transgender woman, a senior man, a documentarian of LGBT history, a legacy CSW president and a Latino man and chairman of LA Leather Pride Week.
The resignations resurrected community frustrations about CSW's direction yet the organization appeared to be singularly focused on the impact the closure of West Hollywood Park had on its Music Festival plans. But the election of Donald Trump and his anti-LGBT vice president, along with the installation of an almost uniformly anti-LGBT cabinet was top of mind for the community at large.
#resistmarch
Enter LA-based philanthropist, activist and entrepreneur Brian Pendleton, inspired by the women's march (which attracted several hundred thousand people to downtown LA) seized on what he saw as pent-up demand for action that he, perhaps incidentally, felt could give LA Pride revitalized mission. He posted a frustrated comment on Facebook, "before my first cup of coffee," declaring that the parade should be turned into a protest march.
A Facebook page and other social media using #resistmarch was created along with a website and the idea went viral. More than 33,000 people have joined.
Pendleton found himself on the board of CSW.
"There was a hesitation to have me join the board," he said. "CSW has policies and procedures about how to add board members and in order for me to join, I understand, the board had to waive those procedures. But once the groundswell of grassroots support became so strong it was clear that it made the most sense for CSW to add me as an exception."
He refused to sign the controversial non-disclosure agreement.
The idea has been adopted by Christopher Street West, sending the parade off into a whole new direction that more closely resembles the intentions of its founders.
The march will even begin at the 1970 founding location at Hollywood Boulevard and Highland to La Brea before continuing onto Santa Monica Boulevard and into West Hollywood.
Over the past 40 years, local merchants have grown to rely on the event's ability to attract more than 100,000 people and generate millions of dollars in income, according to studies by the City of West Hollywood. Organizers are hoping to at least double the participation this year.
Significantly, the Resist March idea requires outreach to allied communities and that work is in full swing. Among the growing number of signees: Equality California, Los Angeles LGBT Center, APLA Health, Human Rights Campaign, The Trevor Project, Family Equality Council, Asian Pacific AIDS Intervention Team, City of West Hollywood, Women Against Gun Violence, IBEW Local 11, UNITE HERE! Local 11,  CA NOW, National Council of Jewish Women NARAL Pro-Choice California, Hollywood N.O.W., California Women's Law Center, Victory Institute, The Next Family, LASC, Project Angel Food, Tegan and Sara Foundation, Trans Can Work, West Hollywood City Council members Heilman, Duran and Horvath, Christopher Street West, Los Angeles County Board of Supervisors, Los Angeles County Office of the Assessor, Los Angeles City Attorney, and Gina Belafonte.
Pendleton told City Watch, "This year, because of the political winds and forces, we're sort of wrapping the iconic rainbow flag of LGBTQ around women fighting for reproductive rights, the dreamers who want to stay in this country and recent immigrants who want to come here, anyone who feels impacted by the forces against human rights.
"We've been fighting for our rights for decades now but the last eight years, we've had wind in our sails and seen tremendous progress. Not wanting to have any of our rights rolled back, we stand up with our trans brothers and sisters whose fates are being decided by state governments. In South Dakota, LGBTQ people can no longer adopt. We want our rights restored."
The idea has spread around the country.
In New York City, Matt Foreman, the former executive director of the National Gay & Lesbian Task Force, has also been advocating for a Resistance March there. On Facebook he wrote: "WTF Heritage of Pride?! Why do people have to plead with you for the Resistance to be front and center in this year's pride march?! YOU should be taking the lead and embracing the legacy of Stonewall. Aren't you humiliated that LA Pride is ahead of HOP on this? Why court controversy and retreat into the dank well of "process"? Come on folks, you're better than this!"
Meanwhile, in Washington, D.C., a National March is taking shape, planned for Sunday, June 11, that was instigated by a New York activist who also took to social media to call for a march.
David Bruinooge, 42, a Brooklyn, N.Y., resident, said he was inspired to create a Facebook page announcing the march on Jan. 21 while he was watching the Women's March on Washington at home on television.
"I was watching the events unfold on TV and I was very proud and inspired by all the women, the strong women in our country who were kind of taking this to the street and getting their voices heard," he told the Blade. "And in the back of my mind as an openly gay man I thought the gay community should be doing something like this to follow up on the momentum," he said.
He said he intentionally chose June 11 for the march because it's the same day that D.C.'s Capital Pride Festival is scheduled to be held on Pennsylvania Avenue, N.W. near the U.S. Capitol. Bruinooge said his thought was the march would start in the morning and end at the site of the Pride festival.
Rev. Perry said in a statement to the Los Angeles Blade, "As the co-founder of Christopher Street West, I am thrilled to see them change the 2017 pride parade to a human rights march. For me it's always been about humanizing our community, standing up for those who need us most, and giving a voice to those who are sometimes invisible.  Marching for human rights fits squarely within the principles of CSW's founding. I'll see you all on June 11th!"
Lou Chibbaro Jr. contributed to this report.
Newsom signs orders to roll back coronavirus restrictions next Tuesday
The Governor's Office established a timeline to continue winding down the various provisions of the 58 COVID-related executive orders.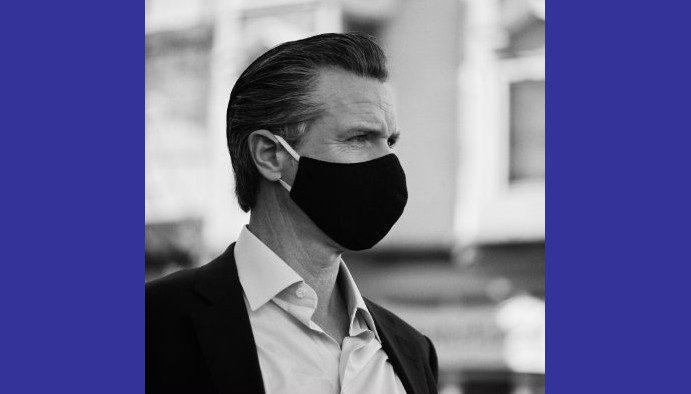 SACRAMENTO – Effective June 15, restrictions such as physical distancing, capacity limits and the county tier system will end as Governor Gavin Newsom signed a series of executive orders Friday marking a return to normalcy after nearly 15 months of the ongoing battle to protect the state's residents from the ravages of the coronavirus pandemic. Additionally, those Californians who are fully vaccinated won't be required to wear a mask — including indoors.
Newsom's actions also include terminating the Stay-at-Home Order that was implemented early in the pandemic to protect Californians and retiring the Blueprint for a Safer Economy.
"California is turning the page on this pandemic, thanks to swift action by the state and the work of Californians who followed public health guidelines and got vaccinated to protect themselves and their communities," said Newsom. "With nearly 40 million vaccines administered and among the lowest case rates in the nation, we are lifting the orders that impact Californians on a day-to-day basis while remaining vigilant to protect public health and safety as the pandemic persists."
The Governor's Office today established a timeline and process to continue winding down the various provisions of the 58 COVID-related executive orders, which suspended statutes and regulations to help the state and businesses continue operations during the pandemic.
To ensure that impacted individuals and entities have time to prepare for the changes, the provisions will sunset in phases, beginning later this month, in July and in September. For example, the suspension of certain licensing requirements for manufacturers to produce hand sanitizer will end on June 30, as shortages are no longer a concern. By the end of September, nearly 90 percent of the executive actions taken since March 2020 will have been lifted.
The California Department of Public Health on Friday released a new state public health officer order that goes into effect on June 15.
Dr. Tomás Aragón, California's public health officer, issued a new order that, among other things, puts in place new requirements for mask wearing that take effect Tuesday. The new rules say fully vaccinated people don't have to wear a mask in most places, either indoors our outdoors. But the state is still requiring people who have not been vaccinated to wear a mask in public places.
"We've met our metrics, we feel prepared," Dr. Mark Ghaly, California's Health and Human Services Agency secretary, told reporters on Friday. "Things in California, from a COVID transmission perspective, are going reasonably well."
These actions supports the full and safe reopening of the state, while maintaining focused public health requirements that address the risk posed by variants as some regions across the nation and world continue to experience high levels of transmission, Ghaly noted.
One City One Pride, LGBTQ Arts Festival Continues through June 30
All festival events are being presented on an online virtual platform to respond to the City's efforts to prioritize health & public safety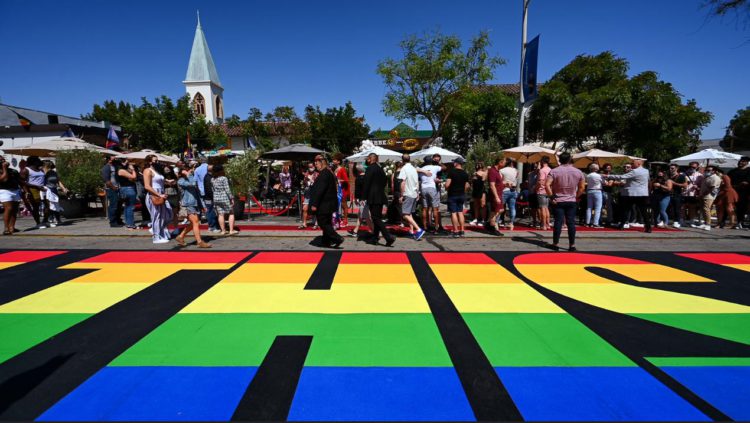 WEST HOLLYWOOD – The 2021 theme for One City One Pride is 'For the Record LGBTQ Stories' of the past that have often been hidden or undocumented. One must read between the lines to find stories hidden behind "beard" marriages, coded language, and erased or destroyed evidence. This year, One City One Pride looks at some of these previously hidden stories.
Due to the coronavirus crisis, all festival events are being presented on an online virtual platform to respond to the City of West Hollywood's efforts to prioritize health and public safety. A select few programs can also be experienced as self-guided solo walking tours or outdoor exhibitions.
More detailed information about the following City of West Hollywood One City One Pride LGBTQ Arts Festival events is available at www.weho.org/pride.
Forthcoming events of the 40-day festival include:
Pride Poets Poetry Hotline presented by West Hollywood City Poet Laureate Brian Sonia-Wallace & the Pride Poets from 10 a.m. to 10 p.m., Friday, June 11, 2021 to Sunday, June 13, 2021. Free. Call in to get a custom poem for you or a loved one based on the topic of your choice, written by one of the team of LGBTQ+ Pride Poets standing by at the remote Poetry Hotline from June 11-13, marathon-style from 10 a.m. to 10 a.m. Poems will be written on-the-spot and callers can choose to have copies of the poems emailed or mailed to them. Poetry hotline: call (202) 998-3510 to speak to a poet.
LGBTQ History in Comics — A virtual panel with readings from creators presented by Prism Comics. Launches Tuesday, June 15, 2021, at 6 p.m. Free. View the panel at: http://www.youtube.com/wehoarts and www.prismcomics.org. Join Prism Comics, moderator Justin Hall (No Straight Lines; Associate Professor of Comics, California College of The Arts) and a diverse, talented group of creators as they explore our queer past through comics. The panel and readings will remain online for viewing after the premiere date. More information is available at www.prismcomics.org.
Secret Lives, stories, music, and original writings by LGBTQ seniors watch party presented by NewStages, a program of Oasis Theater Company at 7 p.m. on the first four Tuesdays in June. Free. RSVP by calling (323) 860-5830 or by email at

[email protected]

. Secret Lives will explore the stories of remarkable seniors as well as many historical figures who had to keep secrets to maintain their careers, their families, and their place in society. Archived events available at www.weho.org/pride.
Additionally, these programs are available to view through June 30, 2021:
Dear Harvey: Stories of Harvey Milk byPatricia Loughrey. Extensively researched and beautifully constructed, this documentary-style ensemble play recounts the life and lasting impact of groundbreaking LGBTQ activist and politician Harvey Milk, as told by the people who knew him best … the real-world figures whose lives were forever altered by Milk's too-short career. This performance will be available to watch for the duration of One City One Pride through June 30, 2021 at https://www.youtube.com/watch?v=ShX27kXqwBg and there is a special welcome from Stuart Milk, the nephew of Harvey Milk.
John Elgin Woolf: Master of the Hollywood Regency (Trail and Short Film) presented by Friends of Residential Treasures: LA. Free. Experience online or as a self-guided walking tour. Take this self-guided architectural trail curated by filmmaker and journalist Matt Tyrnauer, or watch a short film exploring the interior of the Seiter House — an important early work that John Elgin Woolf designed for himself and his same-sex partner.
Love Note presented by Rogue Artists Ensemble. Free. No RSVP Needed. Experience online or as a self-guided experience at Plummer Park, located at 7377 Santa Monica Boulevard. Rogue Artists Ensemble's Love Note is a free, interactive, solo audio expedition of your heart, taking place in West Hollywood's Plummer Park, where audience members can activate sonic narrative experiences at eight unique stops throughout the park. Using only a cell phone and headphones, participants will discover and listen to stories about romance, compassion, and connection, leading to a secret phone line, where participants are invited to share their own love story that will become part of the project's archive. The community-contributed stories recorded during the run will be then woven back into the experience to create an ever-evolving tapestry of voices calling out for love and belonging. This experience is free and open to the public during park operating hours. The experience contains some mature themes and is not recommended for children. A travel map is available for download at the Rogue Artists Ensemble website for audience members to use for their story expedition in the park. Can't make it to Plummer Park? Visit the Rogue Artists Ensemble website at www.rogueartists.org/lovenote to create your own experience from the comfort of your home.
Meringue, a public art exhibition. Free. Outdoor exhibition on traffic median at Santa Monica Boulevard and N. Doheny Drive. Meringue is a temporary public art exhibition by LGBTQ artist Kim Kiduck. The translucency of Meringue lets sunlight in to glow naturally during the daytime, and at night transforms Meringue into a mixing chamber of various light combinations. The exhibition will be lit up in rainbow colors for the duration of the City's One City One Pride LGBTQ Arts Festival.
The City of West Hollywood's Human Rights Speakers Series presents: Breaking Fast. Free.
The City of West Hollywood's Human Rights Speaker Series and One City One Pride LBGTQ Arts Festival present Breaking Fast: Exploring the Intersection of Faith and Sexual Identity, an open panel discussion of the feature film, Breaking Fast, and its themes related to navigating the difficult conversations and real-life impacts of faith, sexual identity, and community. Archived event video available to view at https://www.youtube.com/watch?v=NmSvpTBPzkI.
Walking Amongst the Rubble: Undocuqueer Pride Queer Poetry Reading Series presented by Influx Collectiv. Free. More information and the online podcast is available at https://www.influxcollectiv.org/podcast.
Pride Publics: Words and Actions presented by ONE Archives Foundation. Free. ONE Archives Foundation presents "Pride Publics: Words and Actions," a multi-site outdoor exhibition that examines the intersection between pride and publicness and examines themes central to queer public life while highlighting trailblazers and their visions. With free and accessible outdoor installations plus a digital guide, this exhibition aims to give visibility to LGBTQ life in the public through the lens of history, community, and activism. More information is available at https://www.onearchives.org/pridepublics. This exhibition is organized by ONE Archives Foundation.
Montclair issues 1st Pride proclamation- LGBTQ residents say no thanks
Mayor Dutrey said that he felt that the council "was sabotaged" by those who refused to accept the proclamation was made in good faith.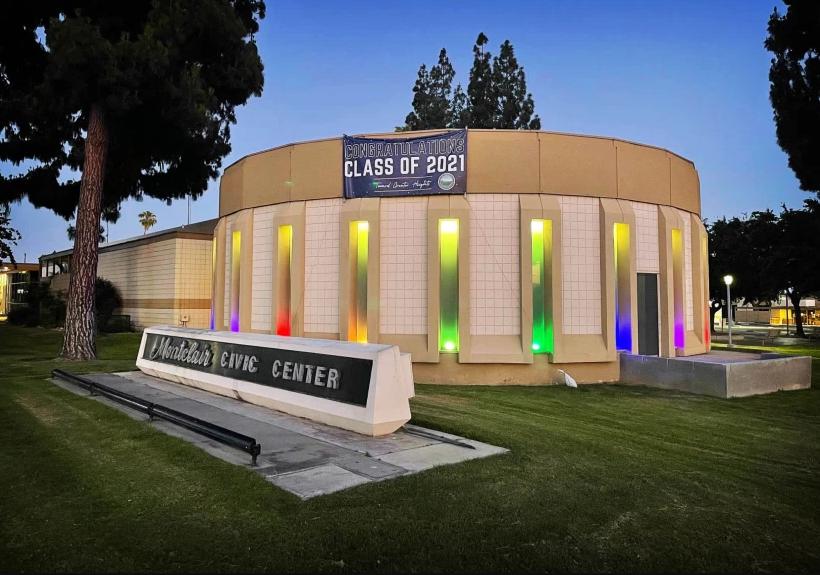 MONTCLAIR, CA. – For the first time ever the city council of this mid-size city in southwestern San Bernardino County declared June as Pride Month issuing a proclamation recognizing its LTBTQ+ community.
Along with the proclamation, the city lit up the outside of the building at the Civic Centre that houses the Council Chambers in rainbow-colored LED lights as part of its "celebration of diversity and support for the LGBTQ+ community."
Montclair's Mayor John Dutrey presented the proclamation to the Rev. Maggie Burbank of the Monte Vista Unitarian Universalist Congregation, a LGBTQ-affirming denomination and congregation. According to the San Gabriel Valley Tribune's journalist Steve Scauzillo, Burbank was a last minute substitute after gay, lesbian, bisexual, transgender and non-binary members from LGBTQ+ groups from in and around the city refused to accept it.
In the public comments portion of the proceeding, several residents spoke up about the issue.
At the center of the refusal is Montclair' City Councilman Benjamin Lopez, who had a long association and deep ties with the former Traditional Values Coalition, an Anaheim based conservative 'family values' group founded by the late Rev. Louis P. Sheldon- the group is listed by the Southern Poverty Law Center as an anti-LGBTQ hate group. Sheldon contended that there was a "homosexual agenda" to not only promote acceptance of gay rights, but to recruit children into homosexuality, as was also described in his obituary published May 29, 2020.
Scauzillo reported that Lopez, elected in November 2020, spoke on numerous occasions from 2003 to 2013 before the state Legislature and in media reports against gay rights, same-sex marriage, the teaching of contributions from gay, lesbian, bisexual and transgender Americans in California public schools, and protections for transgender individuals.
Thuan Nguyen, a long-time Montclair resident and doctoral student in sociology at USC who had asked for the city to recognize and celebrate LGBTQ Pride recognition at a previous meeting, said he struggled with the decision not to accept it. He asked Lopez to apologize for past statements and positions he took while working for the now defunct Traditional Values Coalition.
Mayor Dutrey told Scauzillo that he felt that the council "was sabotaged" by those who refused to accept the proclamation was made in good faith. "The whole purpose was not to be political but to recognize the LGBTQ community in Montclair. I was disappointed in the remarks that were made," he said.
Audio of the City Council session: