LA Pride embraces call for protest march
Inspired by Women's March, LA Pride organizers embrace protest movement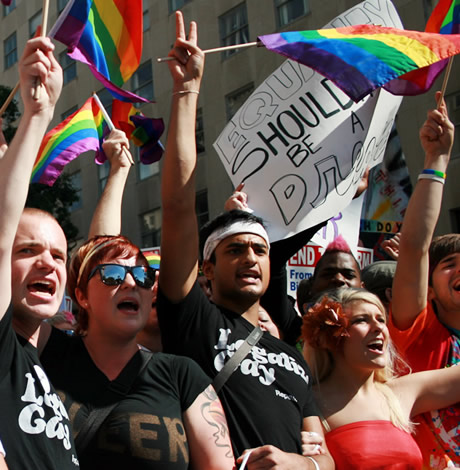 Resistance is the stuff LGBT Pride was once made of.
Los Angeles in the late 1960s, like much of America, was a hotbed of resistance of every kind: the women's movement, the hippie movement, the antiwar movement and, yes, even a nascent movement for LGBT rights, all combined here to fuel the winds of change. The LGBT community in Los Angeles, as in New York and around the country, lived under constant threat of official violence and the oppression of pervasive hostility.
In 1966 Los Angeles, affection between men was officially condemned as a mental illness and viewed as a moral disorder. Sexual relations between people of the same sex — even hand holding — was a crime. Careers were destroyed by whisper or innuendo and extortion was rampant. There were precious few safe social spaces for LGBT people other than a dozen or so nightclubs in close proximity to one another near Silver Lake — Black Cat, Ram's Head and Stage Door — and a couple, like The Patch near Long Beach.
And so when routine police raids on these establishments escalated and turned violent, the community was deeply traumatized. Finally, a breaking point came on New Year's Eve 1967 when a celebration at Black Cat turned into a bloodbath; at five minutes past midnight, plainclothes police officers began tackling patrons, swinging billy clubs and pool sticks, dragging people into the streets, pulling bartenders facedown over broken glass across the bar, chasing patrons down the streets, breaking bones and doing severe bodily injury to some, arresting 16 people who were charged with lewd conduct for simply kissing, according to witnesses of the time and published accounts.
A community that had long hidden in the shadows suddenly found itself seeking intersectional allies. Police violence against civilians was attracting more attention than ever and activist groups, like Personal Rights in Defense and Education (PRIDE) distributed fliers that read, "PRIDE DEMONSTRATION: join Negroes, Mexicans, hippies" and demonstrate against "the Establishment war on minorities." The Southern California Council on Religion and the Homophile urged action by activating a phone-tree with the message that "Homosexuals, who have always been dependably meek, are fighting back."
An unprecedented number of people turned out — one of the first mass gatherings in the United States protesting police harassment of LGBT people — protesting at the corner of Sunset and Hyperion.
Until recently, the action, groundbreaking though it was, has rarely been hailed as such. It has been almost buried in LA's psyche. Even Troy Perry, one of the founders of Christopher Street West, says he "never viewed the Black Cat as a demonstration for LGBTQ rights but as an action against police brutality at that time in LA."
Two and a half years later, in June 1969, a police raid on New York's Stonewall Inn captured the attention of the world, however.
Six powerful days of resistance in 1969 between young gay, lesbian, and transgender people and the New York Police Department continue to define who we are as a people, a movement and a community. After an intense escalation of brutal police raids on gay bars in New York City, patrons of the Stonewall Inn, a Christopher Street bar in Manhattan's West Village, fought back and won.
Though police turned fire hoses on the crowd, it swelled to thousands; chorus lines of drag queens and lesbian and gay youth overtook barricades, taunting police with campy chants and performing a Rockette-like show for the jaw-dropped police. "Occupy — take over, take over" they shouted. "Fag power!" "Liberate the bar! We're the pink panthers!" They pulled cobblestones from the streets, smashed windows, threw bottles, even uprooting parking meters and cornering terrified policemen while singing a campy version of "We Shall Overcome."
While news of the riots spread quickly around the world, Angelenos Rev. Troy Perry, Rev. Bob Humphries and Morris Kight, formed Christopher Street West (CSW) to honor the uprising in New York and to tap into a burgeoning sense of "gay power" by launching the world's first Gay Pride Parade.
On June 28, 1970, thousands of jubilant people celebrated and danced their way west along Hollywood Boulevard, some chanting "two, four, six, eight, gay is just as good as straight" and hoisting placards calling for equality and justice.
"At the time we had no idea what we were creating, we just wanted to acknowledge a courageous group that stood up to being bullied by police. It was a microcosm of what was taking place throughout the country and we thought, what better way to make noise, get attention and excite our community than by dressing up and putting on a parade," said Perry.
Over the years the event evolved along with the community.
It moved to West Hollywood and became a fee-based, three-day festival to help pay the growing expense of the event. It was never without controversy, but fast-forward to 2016 and both the festival and the parade had nearly collapsed in the heat of withering criticism over the direction of the event and whether history or LGBT identity even matters.
From its founding in 1970 to 2016, the parade reflected the concerns of a community fighting for basic dignity, political rights, against violence and for government recognition of a health crisis that killed hundreds of thousands of gay men. In recent years, as the community enjoyed civil rights victories and gained social, cultural and political power, the Parade's identity began to blur.
Last year, when CSW attempted to rebrand the three-day festival into a Music Festival, critics derided the group for attempting to turn LA Pride into "Gay Coachella." CSW, they said, was hell-bent on ignoring the event's legacy and on edging out more senior members of the community. CSW President Chris Classen, perhaps unintentionally, reinforced that notion while addressing the controversy to the West Hollywood City Council, saying that by "adding the word 'music' to the title of L.A. Pride is a subtle welcome to a younger generation who does not inherently understand the historical context of the event."
Indeed, his plan, by rearranging or removing sacred elements of the festival, seemed to minimize the visibility of lesbians, transgender, Latino and leather community members and paid no homage to seniors or to history. Even country-western people felt they'd been given the boot in favor of a post-gay Music Festival.
Groups formed to protest CSW and critics blasted the organization at the group's open board meetings and City Council meetings. Ivy Bottini, a 90-year-old lesbian resident of West Hollywood demanded change: "I consider the board a lame duck board…It doesn't feel like CSW understands what Pride is."
CSW corrected most of its mistakes and issued a mea culpa. Last May, CSW issued a statement saying it had "made a few missteps along the way that have left valued members of our community feeling left out or underappreciated. This was never our intention. We've heard your concerns and objections and we sincerely apologize." It seemed to work.
But events conspired to remind everyone about the historical context of the event — a response to violent oppression — that gave rise to Christopher Street West's existence.
Mourning for Orlando
Los Angeles, like everyone in America, was stunned to wake up on the morning of June 12, 2016, to the news that a madman had opened fire on the dance floor of a gay nightclub in Orlando, killing 49 people and wounding dozens more. That morning, Santa Monica Police Department arrested 20-year-old James Wessley Howell, an Indiana man, who was found with an arsenal of assault rifles, ammunition and explosives in his car; he told police he 'wanted to harm' people at the Los Angeles Pride festival.
A pall was cast over the annual LA Pride Parade but in a defiant move, Christopher Street West chose to continue with the Parade and it quickly became a march honoring of the victims in Orlando.
But questions about CSW just wouldn't go away.
In late 2016, it was revealed the organization had lost several hundred thousand dollars, renewing outrage and provoking allegations of mismanagement. West Hollywood Mayor Lauren Meister, concerned about city involvement with potentially troubled non-profit organizations, required financial disclosure from subsidized organizers. LA Pride has for years been partially subsidized by West Hollywood because it is estimated to generate more than $5,000,000 in tax revenues.
Complicating matters for CSW, in January 2017, several senior board members resigned and complained publicly that the top-down management style of the board resulted in making their service useless. Chief among their complaints was the requirement of non-disclosure agreements that prevented board members from discussing organizational matters outside the board. The board members who resigned were representative of the issues that sparked the most concern in 2016; a prominent transgender woman, a senior man, a documentarian of LGBT history, a legacy CSW president and a Latino man and chairman of LA Leather Pride Week.
The resignations resurrected community frustrations about CSW's direction yet the organization appeared to be singularly focused on the impact the closure of West Hollywood Park had on its Music Festival plans. But the election of Donald Trump and his anti-LGBT vice president, along with the installation of an almost uniformly anti-LGBT cabinet was top of mind for the community at large.
#resistmarch
Enter LA-based philanthropist, activist and entrepreneur Brian Pendleton, inspired by the women's march (which attracted several hundred thousand people to downtown LA) seized on what he saw as pent-up demand for action that he, perhaps incidentally, felt could give LA Pride revitalized mission. He posted a frustrated comment on Facebook, "before my first cup of coffee," declaring that the parade should be turned into a protest march.
A Facebook page and other social media using #resistmarch was created along with a website and the idea went viral. More than 33,000 people have joined.
Pendleton found himself on the board of CSW.
"There was a hesitation to have me join the board," he said. "CSW has policies and procedures about how to add board members and in order for me to join, I understand, the board had to waive those procedures. But once the groundswell of grassroots support became so strong it was clear that it made the most sense for CSW to add me as an exception."
He refused to sign the controversial non-disclosure agreement.
The idea has been adopted by Christopher Street West, sending the parade off into a whole new direction that more closely resembles the intentions of its founders.
The march will even begin at the 1970 founding location at Hollywood Boulevard and Highland to La Brea before continuing onto Santa Monica Boulevard and into West Hollywood.
Over the past 40 years, local merchants have grown to rely on the event's ability to attract more than 100,000 people and generate millions of dollars in income, according to studies by the City of West Hollywood. Organizers are hoping to at least double the participation this year.
Significantly, the Resist March idea requires outreach to allied communities and that work is in full swing. Among the growing number of signees: Equality California, Los Angeles LGBT Center, APLA Health, Human Rights Campaign, The Trevor Project, Family Equality Council, Asian Pacific AIDS Intervention Team, City of West Hollywood, Women Against Gun Violence, IBEW Local 11, UNITE HERE! Local 11,  CA NOW, National Council of Jewish Women NARAL Pro-Choice California, Hollywood N.O.W., California Women's Law Center, Victory Institute, The Next Family, LASC, Project Angel Food, Tegan and Sara Foundation, Trans Can Work, West Hollywood City Council members Heilman, Duran and Horvath, Christopher Street West, Los Angeles County Board of Supervisors, Los Angeles County Office of the Assessor, Los Angeles City Attorney, and Gina Belafonte.
Pendleton told City Watch, "This year, because of the political winds and forces, we're sort of wrapping the iconic rainbow flag of LGBTQ around women fighting for reproductive rights, the dreamers who want to stay in this country and recent immigrants who want to come here, anyone who feels impacted by the forces against human rights.
"We've been fighting for our rights for decades now but the last eight years, we've had wind in our sails and seen tremendous progress. Not wanting to have any of our rights rolled back, we stand up with our trans brothers and sisters whose fates are being decided by state governments. In South Dakota, LGBTQ people can no longer adopt. We want our rights restored."
The idea has spread around the country.
In New York City, Matt Foreman, the former executive director of the National Gay & Lesbian Task Force, has also been advocating for a Resistance March there. On Facebook he wrote: "WTF Heritage of Pride?! Why do people have to plead with you for the Resistance to be front and center in this year's pride march?! YOU should be taking the lead and embracing the legacy of Stonewall. Aren't you humiliated that LA Pride is ahead of HOP on this? Why court controversy and retreat into the dank well of "process"? Come on folks, you're better than this!"
Meanwhile, in Washington, D.C., a National March is taking shape, planned for Sunday, June 11, that was instigated by a New York activist who also took to social media to call for a march.
David Bruinooge, 42, a Brooklyn, N.Y., resident, said he was inspired to create a Facebook page announcing the march on Jan. 21 while he was watching the Women's March on Washington at home on television.
"I was watching the events unfold on TV and I was very proud and inspired by all the women, the strong women in our country who were kind of taking this to the street and getting their voices heard," he told the Blade. "And in the back of my mind as an openly gay man I thought the gay community should be doing something like this to follow up on the momentum," he said.
He said he intentionally chose June 11 for the march because it's the same day that D.C.'s Capital Pride Festival is scheduled to be held on Pennsylvania Avenue, N.W. near the U.S. Capitol. Bruinooge said his thought was the march would start in the morning and end at the site of the Pride festival.
Rev. Perry said in a statement to the Los Angeles Blade, "As the co-founder of Christopher Street West, I am thrilled to see them change the 2017 pride parade to a human rights march. For me it's always been about humanizing our community, standing up for those who need us most, and giving a voice to those who are sometimes invisible.  Marching for human rights fits squarely within the principles of CSW's founding. I'll see you all on June 11th!"
Lou Chibbaro Jr. contributed to this report.
West Hollywood in brief- City government in action this week
Celebrate 38 years of Cityhood on West Hollywood Day, Tuesday, November 29, 2022, West Hollywood Marks World AIDS Day on December 1
City of West Hollywood Marks World AIDS Day on December 1
WEST HOLLYWOOD – Each year, the City of West Hollywood recognizes World AIDS Day. World AIDS Day originated at the 1988 United Nations World Summit of Ministers of Health on Programmes for AIDS Prevention and is held each year on December 1. Every year, United Nations agencies, governments, nonprofit organizations, community groups, and others across the globe join together to campaign around specific themes related to AIDS. World AIDS Day is an opportunity for people worldwide to unite in the fight against HIV/AIDS, to show support for people living with HIV, and to commemorate people who have passed away due to HIV/AIDS. The international theme of this year's #WorldAIDSDay is "Equalize" and the slogan is a call to action for communities to address inequalities that perpetuate the HIV/AIDS pandemic.
"The City's annual recognition of World AIDS Day is an opportunity for us to remember loved ones lost over the last four decades to AIDS, as well as to support those living with HIV," said City of West Hollywood Mayor Lauren Meister. "Too many souls have left us much too soon due to HIV and AIDS. The City will continue to support access to medical and emotional care, prevention, and treatment, and to provide resources and support for those in need as our scientific community continues to work toward the day we can all celebrate the end of suffering and loss caused by AIDS."
This year, the City of West Hollywood will recognize World AIDS Day with special events and programming, including:
The Paul Andrew Starke Warrior Awards presentation, which will take place Thursday, December 1, 2022 at 6:30 p.m. at the West Hollywood Park Aquatics and Recreation Center in the San Vicente and La Cienega Conference Rooms, located at 8750 El Tovar Place, adjacent to West Hollywood Park. The event will feature an update on the City of West Hollywood's HIV Zero Initiative from Aaron Celious, Ph.D. of the Maroon Society. The Warrior Awards are given to outstanding employees or volunteers of local agencies that offer HIV/AIDS and/or substance abuse prevention and care services. This year's honorees are:
Dr. Jesika Babajanian – Being Alive;
Andres Diaz – AIDS Healthcare Foundation;
Ruben Garcia – APLA Health;
Gerardo Mendez – C.I.T.Y. x1 Youth Group;
Francis Ocon – Men's Health Foundation;
Claudia Pacheco – Los Angeles LGBT Center;
Robb Peters – The Tweakers Project;
Sunnie Rose – The Life Group LA;
John Walter – Friends Community Center; and
Warren Wimmer – Alliance for Housing and Healing.
The 24-hour electronic memorial to those lost to HIV, AIDSWatch, will be viewable on www.AIDSWatch.org beginning at 12:01 a.m. on Thursday, December 1, 2022. The AIDSWatch memorial will also be available for viewing from 4 p.m. to 9 p.m. in the West Hollywood Library Community Meeting Room, located at 647 N. San Vicente Boulevard.
In addition to City of West Hollywood programming, the City has co-sponsored two World AIDS Day events. The Foundation for The AIDS Monument (FAM) and the Minority AIDS Project will be co-hosting FAM's second annual STORIES Circle storytelling event LOVE, LIGHT & LEGACY, for World AIDS Day. The STORIES Circle event will take place from 6 p.m. to 7:30 p.m. at the future site of STORIES: The AIDS Monument in West Hollywood Park, located at 647 N. San Vicente Boulevard, next to the West Hollywood Library. It is an opportunity for storytellers – survivors, activists, caregivers, community organizers, political leaders, and those who lost loved ones – to gather in circles and share their personal stories about HIV and AIDS.
The City of West Hollywood is also co-sponsoring amfAR's screening of the film Yes I Am – The Ric Weiland Story at the Harmony Gold Theater, located at 7655 Sunset Boulevard in Los Angeles, from 7 p.m. to 10 p.m. The film tells the story of Ric Weiland, one of the original founders of Microsoft and a somewhat unknown queer philanthropist, who donated more than $200 million during his lifetime to many non-profit organizations and the LGBT community. Proceeds from the screening will be donated to amfAR in Ric Weiland's name. amfAR, The Foundation for AIDS Research, is dedicated to ending the global AIDS epidemic through innovative research. Tickets are available at https://ricweiland.betterworld.org/events/yes-i-am-ric-weiland-story-scree#tickets.
The onset of the HIV/AIDS epidemic had a significant impact in West Hollywood. The disease's elevated infection rate among gay men caused a devastatingly high number of deaths in the City. The City of West Hollywood was one of the first government entities to provide social services grants to local HIV/AIDS organizations. The City of West Hollywood sponsored one of the first AIDS awareness campaigns in the country in October 1985 and the City's response to the AIDS crisis has been recognized as a model for other cities, nationally and globally.
The City of West Hollywood actively participates in the development of programs that can bring awareness about the HIV/AIDS epidemic and services to people living with HIV/AIDS. In January 2015, the City announced its vision to become an 'HIV Zero' city. The City is currently implementing its HIV Zero Strategic Initiative.
For more information, please contact the City of West Hollywood's Social Services Division, at [email protected] or at (323) 848-6510.
For people who are Deaf or hard of hearing, please call TTY (323) 848-6496.
City Celebrates the Holidays with 32nd Annual Toy and Food Drive
The City of West Hollywood and the West Hollywood Sheriff's Station are partnering to help give back to those in need this holiday season. The 32nd Annual West Hollywood Toy and Food Drive will be accepting monetary donations until Friday, December 16, 2022 with the goal of providing as many families as possible with toys and holiday gift cards. Donations may be made online at www.weho.org/holidaydrive. New users must create an account and click on the Donations tab to contribute; existing users may simply login to start the donation process.
"Our generous West Hollywood community has helped provide nearly 10,000 local families who would have gone without with a holiday meal and toys over the last three decades," said City of West Hollywood Mayor Lauren Meister. "I send a huge thank you to the amazing people of the City of West Hollywood for helping to brighten the holidays for families in need through your contributions. I wish you all a happy and safe holiday season."
The cost to help one family is $95; up to 10 families can be helped with $950. New unwrapped toys are also needed and gift cards to retailers such as Pavilions, Ralphs, Trader Joe's, or Target will help families through the holiday season. Toy collection bins are now available at West Hollywood City Hall, located at 8300 Santa Monica Boulevard, and at the West Hollywood Sheriff's Station, located at 780 N. San Vicente Boulevard. The following hotels will also have collection bins: Andaz West Hollywood, Chamberlain West Hollywood, Chateau Marmont, Hotel 850 SVB, Le Parc at Melrose, The London West Hollywood, Montrose at Beverly Hills, Ramada Plaza West Hollywood, and Hotel Ziggy. There will also be a collection bin at the West Hollywood Chamber of Commerce.
For more information, please contact City of West Hollywood Recreation Leaders Cecilia Arvizu at [email protected] or (323) 848-6324 or Natalie Mignon at [email protected] or (323) 848-6321.
For people who are Deaf or hard of hearing, please call TTY (323) 848-6496.
Celebrate 'West Hollywood Day' with a Community Meet & Greet and State of the Community Mixer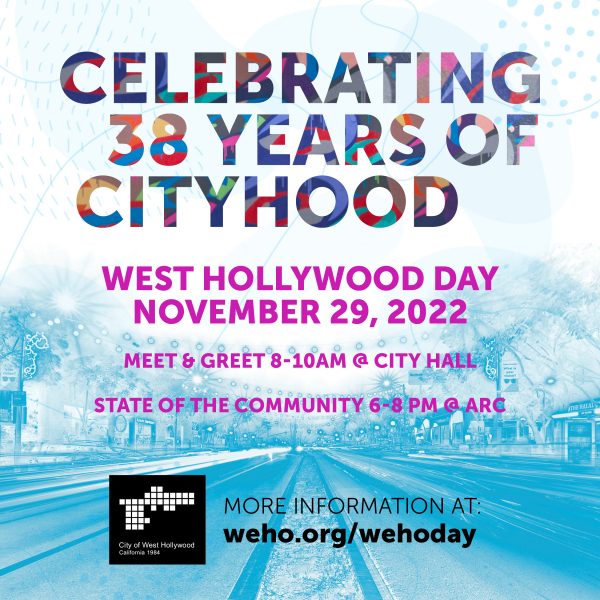 The City of West Hollywood invites the community to celebrate 38 years of Cityhood on West Hollywood Day, Tuesday, November 29, 2022, at two events highlighting West Hollywood's community spirit and civic pride.
West Hollywood Day will kick off bright-and-early with a community meet and greet from 8 a.m. to 10 a.m. at the West Hollywood City Hall Community Plaza, located 8300 Santa Monica Boulevard. Members of the West Hollywood City Council along with City staff will gather in the plaza, which is located between the automated parking garage and the City Hall entrance on N. Sweetzer Avenue, to connect with community members over coffee and snacks. RSVP is not required; community members are encouraged to drop in.
In the evening, the City of West Hollywood will host its annual State of the Community event with a reception and mixer from 6 p.m. to 8 p.m. at the City's West Hollywood Park Aquatic and Recreation Center, located at 8750 El Tovar Place (next to West Hollywood Library). Join the City's executive management team, staff, and officials to celebrate Cityhood and engage in a conversation about new initiatives, upcoming workplans, and major projects in West Hollywood. The festive event will include light appetizers, beverages, live entertainment, and a formal program. RSVPs are required at: Celebrate-WeHo.eventbrite.com.
Nearly forty years ago, West Hollywood's Cityhood was proposed by an unlikely coalition of LGBTQ activists, seniors, and renters — these groups came together to form a City like no other with progressive policies and strong tenants' rights protections. Through tireless determination, the City of West Hollywood was officially incorporated as an independent municipality on November 29, 1984. Previously, West Hollywood had been an unincorporated area of Los Angeles County.
The City of West Hollywood continually sets new standards for other municipalities, not only as a leader in many critical social movements — including: HIV and AIDS advocacy; affordable and inclusionary housing; LGBTQ rights, civil rights, and human rights; women's rights; protection of our environment; and animal rights — but also in: fiscal responsibility; city planning; infrastructure; social services programs; wellness and recreation programs; senior services and aging-in-place programs; public and community arts; and community engagement.
For more information, please contact Paolo Kespradit, City of West Hollywood Management Analyst, at (323) 848-6556 or at [email protected].
For people who are Deaf or hard of hearing, please call TTY (323) 848-6496.
Initial Neighborhood Conversations to Discuss Laurel House and Park Artist Residency Program
The City of West Hollywood invites community members to attend initial Neighborhood Conversations about an Artist Residency Program at Laurel House and Park.
On Friday, December 2, 2022 from 5 p.m. to 6:30 p.m. at the Plummer Park Community Center located at 7377 Santa Monica Boulevard, a consultant team will lead a robust discussion about the site, the creative community in West Hollywood, and how an Artist Residency Program might contribute to the community.
On Saturday, December 3, 2022 from 3 p.m. to 5 p.m. at Laurel House and Park located at 1343 N. Laurel Avenue, the community is invited to drop-in to share thoughts with the consultant team and City staff.
The Neighborhood Conversations will be led by consultant team Kimberli Meyer and Sara Daleiden. Meyer and Daleiden will guide the development of the Artist Residency Program for Laurel House and Park. Meyer is an independent cultural producer, curator, writer, and designer working across the fields of art and architecture. She served as the Director the MAK Center for Art and Architecture at the Schindler House, located at 835 N. Kings Road, from 2002 through 2016. Daleiden is a consultant who specializes in facilitating civic engagement using arts and cultural exchange strategies. She encourages local cultures to value neighborhoods, public space, civic art, and business development, as well as artist residencies, creative placemaking and media culture-making.
The City-owned real property at 1343 N. Laurel Avenue known as Laurel House and Park consists of a 30,000-square-foot lot, a 7,177-square-foot former single-family dwelling, and an unattached accessory structure that is approximately 2,379 square feet and consists of a chauffer's cottage and garages. The original portions of the structures were built in 1917. The conversion of the original single-family residence into four apartment units and the southerly four-car garage addition were completed in 1941. The property was designated as a Local Cultural Resource by the City of West Hollywood in 1994.
In 2010, the West Hollywood City Council directed staff to develop a plan to open the grounds at 1343 N. Laurel Avenue as open space on a temporary/interim basis for public use. From 2013-2014, the City conducted an extensive community visioning process for the Laurel property. The community expressed support for several potential uses during the visioning process and prioritized several factors, including:
Access to more community gathering spaces.
Activation as an Arts and Cultural Center.
Maintenance and/or enhancements of the property's use for peacefulness and beauty.
Preservation of the house and gardens, but activation through new features and programming.
Continued use for dog walking.
In 2018, the West Hollywood City Council received a report forwarded by the Arts and Cultural Affairs Commission focusing on Artist-in-Residence programs, including consideration of the use of 1343 N. Laurel Avenue as a potential Artist-in-Residence site. This recommendation was forwarded to the Council Subcommittee for further review and consideration. In October 2022, in a feasibility study update, the City Council confirmed that the site should be used for arts and culture programs and it directed staff to issue a Request for Proposals (RFP) for a qualified architectural design firm to continue the programming and design process.
For additional information, please contact Rebecca Ehemann, City of West Hollywood Arts Manager, at (323) 848-6846 or at [email protected].
For people who are Deaf or hard of hearing please call TTY (323) 848-6496.
Human Rights Speakers Series Presents a Q&A and Discussion, Roots of Peace, in Partnership with Roots/Shorashim/Judur
The City of West Hollywood's Human Rights Speakers Series, in conjunction with Roots/Shorashim/Judur, will host a free discussion featuring special guest speakers Rabbi Hanan Schlesinger and Noor Awad.
The Roots of Peace event will take place on Wednesday, December 7, 2022 at 6 p.m. at the City of West Hollywood's Council Chambers/Public Meeting Room, located at 625 N. San Vicente Boulevard, next to the West Hollywood Library. The program will include a Q&A period with the attendees. The event is free, but seating is limited. RSVP is requested at bit.ly/HRSSDec2022. Validation for the adjacent five-story parking structure will be available at the event (parking is limited to availability).
Rabbi Hanan Schlesinger is an Orthodox rabbi and teacher who has been profoundly transformed by his encounters with Palestinians and the Palestinian people beginning in late 2013. In early 2014, Rabbi Hanan helped found Roots/Judur/Shorashim together with other Israelis and Palestinians. Noor Awad met Rabbi Hanan Schlesinger in 2016 and joined Roots/Shorashim/Judur. He currently organizes joint Palestinian-Israeli activities and speaks to visiting groups about his personal experiences living through the conflict as a Palestinian who has seen much tragedy, and in such conditions is motivated to work toward a political solution.
Roots/Shorashim/Judur is a Palestinian-Israeli Initiative for understanding, non-violence, and transformation. Roots/Shorashim/Judur has created and operates the only joint Israeli-Palestinian community center in the entire West Bank/Judea & Samaria. This center hosts social, religious, and educational activities for Palestinians and Israelis to come together to build trust and find mutual understanding. Based on mutual recognition of each People's national identity and connection to the Land, Roots/Shorashim/Judur is challenging the assumptions their communities hold about each other, building trust and creating a new discourse around the conflict in their respective societies.
The City of West Hollywood's Human Rights Speakers Series brings together diverse communities to learn about and discuss global, national, and local human rights issues in a supportive environment. The series reflects the City's commitment to human rights and core value of Respect and Support for People.
For additional information about the Human Rights Speakers Series, please visit www.weho.org/hrss.
For more information, please contact Andi Lovano, the City of West Hollywood's Community & Legislative Affairs Division Manager, at (323) 848-6333 or at [email protected].
For people who are Deaf or hard of hearing, please call TTY (323) 848-6496.
City of West Hollywood Announces Launch of a New and Easy-to-Remember Toll-Free Phone Number for Block by Block Security Ambassadors Program: (833) WEHO-BBB (833-934-6222)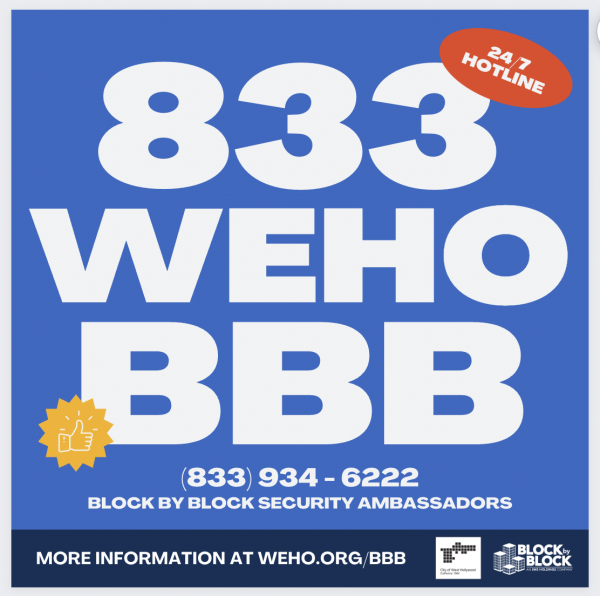 The City of West Hollywood announces the launch of a new and easy-to-remember toll-free phone number for its Block by Block Security Ambassadors Program: (833) WEHO-BBB or (833) 934-6222.
The hotline manages incoming calls 24-hours-a-day, 7-days-a-week. While the phone number is voice-only at launch, a text function will be implemented in the future and will be announced.
The hotline is part of the expansion of the City's Block by Block Security Ambassadors program, which has a direct positive impact on safety and neighborhood livability.
In recent weeks, the City implemented four Block by Block kiosk locations throughout West Hollywood, which are staffed by Security Ambassadors. The Block by Block program has added personnel, as well; there are now approximately 85 Security Ambassadors in the City of West Hollywood. The addition of the new toll-free hotline will assist community members and visitors alike with a convenient way to get support regarding non-emergency and non-violent safety concerns by providing a direct point of contact to Security Ambassadors.
The City's Block by Block Security Ambassadors program is focused on safety, but also offers hospitality with an accessible presence where people shop, socialize, and enjoy recreation. Security Ambassadors at kiosks assist community members and visitors and, in emergencies, work in partnership with law enforcement personnel from the West Hollywood Sheriff's Station.
Security Ambassadors work regularly to:
Maintain uniformed foot and bicycle patrols throughout all City neighborhoods, including a new program expansion into residential neighborhoods;
Provide in-person responses 24/7 to non-emergency and non-violent calls for service; support is available by phone at (833) WEHO-BBB or (833) 934-6222. For community members who prefer to communicate by text, a text-or-voice option is provided at (323) 821-8604;
Conduct safety escorts for residents, businesses, and visitors; and
Offer helpful guidance to community members and visitors about City information, directions, parking, and more.
About | Block by Block Security Ambassador Program – The City of West Hollywood partners with Block by Block on its Security Ambassadors program, which has a direct positive impact on safety and neighborhood livability. First established as a City program in 2013, West Hollywood Block by Block Security Ambassadors provide a highly visible uniformed presence at the street level and leverage the effectiveness of local law enforcement by working in collaboration with personnel from the West Hollywood Sheriff's Station.
In addition to supplemental safety services, Block by Block Security Ambassadors get to know West Hollywood's neighborhoods and assist in providing an extra level of hospitality to businesses, residents, and visitors and help to address and respond to quality-of-life concerns in the community.
Security Ambassadors receive trainings on topics such as active shooters, cultural diversity and sensitivity, administration of Narcan to treat narcotic overdose, mental health first aid, sexual harassment, emergency/disaster preparedness, and more. For additional information, please visit www.weho.org/bbb.
About | Sheriff's, Fire, Code, and Emergencies – The City of West Hollywood contracts with the Los Angeles County Sheriff's Department for law enforcement and the Los Angeles County Fire Department for fire protection. The City's Neighborhood & Business Safety Division oversees code enforcement.
For additional information, please visit www.weho.org/publicsafety. For anyone with public safety concerns, please reach out to the West Hollywood Sheriff's Station 24/7 at (310) 855-8850. In an emergency, always call 911. For concerns about the safety and well-being of community members experiencing homelessness, please call the City's Homeless Concern Line at (323) 848-6590.
For more information, please contact City of West Hollywood Director of Community Safety Danny Rivas at (323) 848-6424 or [email protected].
For people who are Deaf or hard of hearing, please call TTY (323) 848-6496.
For up-to-date information about City of West Hollywood news and events, follow @wehocity on social media, sign-up for news updates at www.weho.org/email, and visit the City's calendar of meetings and events at www.weho.org/calendar.