Elvis is dead, but a star is born
Matthew Lopez brings his latest hit play to Los Angeles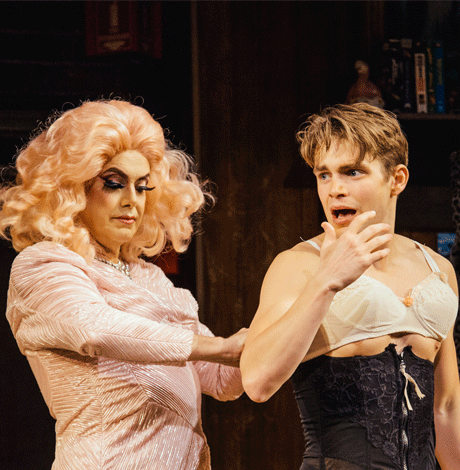 Young Casey's in a bind — his wife is pregnant, rent is due, and he's fired from his gig as an Elvis impersonator in a small-town Florida Panhandle bar. So what's a boy to do? Don a wig and sashay, natch.
And so begins "The Legend of Georgia McBride," opening Wednesday, April 12 at the Geffen Playhouse. It's the hilarious latest from writer Matthew Lopez, whose first hit, the very different "The Whipping Man," has been one of the most widely produced new American plays this decade. We spoke with Lopez last weekend, just as he arrived in Los Angeles for the start of Georgia McBride's previews this week.
LA BLADE: Your first big hit, "The Whipping Man," was a serious play dealing with race relations during the Civil War, and "The Legend of Georgia McBride" seems pretty much on the opposite end of the theatrical spectrum in terms of topic and tone. Is it important to you to cover broad ground in your work?
MATTHEW LOPEZ: Writing is obsessive work. I sometimes compare it to digging wells. Once you've struck water, you move on to another patch of earth and start digging another well.  If I've explored a topic, a genre, or historical period to my satisfaction, I am eager to move on to another, to immerse myself in new world. If I kept repeating the same topic/genre/period over and over, I'd run the risk of writing the same play over and over.
BLADE: What was your inspiration for "The Legend of Georgia McBride?"
LOPEZ: A friend of a friend of my then-boyfriend (now husband) had put together a music playlist for her boyfriend who was experimenting with drag as performance art. He was putting together a persona, and the playlist was filled with female country singers: Dolly, Loretta Lynn, Tammy Wynette, etc. It's a great mix, and it got me thinking: What would it take for a straight man to become a drag queen? Who would he be, and what would that journey look like? I'm fascinated by people who leave their bubble and willingly place themselves in foreign territory.
Then I decided he needed to be someone whose bubble is as far from drag as possible: a straight white redneck Elvis impersonator from the Florida Panhandle, where I was raised. I was eager to watch that guy transform into something new and beautiful.
Personally, I spent much of my teenage years with drag queens. I had a friend who had started doing drag and I would sneak in to the one gay bar in my hometown and watch him perform. I'd hang out in the dressing room with him and all the other queens as they prepared for their shows. That energy backstage was intoxicating (sometimes literally) and I wanted to capture my memories of that time in this play.
BLADE: Are you excited to bring Georgia McBride to Los Angeles?
LOPEZ: Deeply. LA is a town I love and I've always hoped for a production at the Geffen. As a writer working both in features and theater, you can sometimes feel your life is bifurcated and that the great expanse of continent between New York and LA is a kind of geographic metaphor. I'm very happy to get to do this here at this point in my career.  It feels like the fusing of two halves of my life.
BLADE: I know you're bringing along director Mike Donahue, choreographer Paul McGill and actor Matt McGrath for the LA production. Were you involved with the selection of the rest of the cast for the LA production, particularly Andrew Burnap as Casey?
LOPEZ: Yes, I sat in on all the auditions, which I don't often do for productions after New York. I love this cast and am eager for LA audiences to fall in love with them the way we have throughout this process.
Andrew is a really special actor. He has shown me new things about this character, things I never imagined were possible. He brings real heart and warmth to the role and makes you care deeply about Casey and his journey. He brings such dignity to the role—even when waddling around in butt padding and falsies.
Andrew was also the very last guy we auditioned for this production. We saw some amazing actors but Casey is a really tricky part. We had to say no to some truly talented young men. When Andrew walked in for his first audition, we just saw Casey. It would shortchange all the hard work he's put into this to call this role easy for him. But he does make it look effortless.
BLADE: You mentioned in a Playbill interview last year that you're working on a piece about the American gay experience during the last 30 years. Could you tell me a little more about that?
LOPEZ: It's my attempt to piece together a kind of continuum and to place myself and my generation on it. It's about what it means to me to be a gay man. I was a child during the Plague Years. My first understanding of what it meant to be a gay man was informed by what I saw on the news growing up. None of it was encouraging. I came of age sexually in the mid-1990's, just as the Plague Years subsided. I liken it to being part of the second wave on D-Day, watching the men before me decimated and then being told it was my turn to take the beach. Sex was a frightening experience for me for much of my younger life and I largely dealt with that fear by avoiding sex altogether. I regret that that's true. I'm happy that it isn't anymore.
And now I know younger gay men who were not alive back then and who have no experiential understanding of what it was like. As a result, they have an entirely different relationship with their identities and with sex than I did when I was their age. I'm encouraged and heartened by that. And, if I'm being honest, perhaps a little envious.
This play is my way of looking at that 30-year history in the lives of gay men. It's my way of attempting to understand the calamity that befell the generation that came before mine and also to explain myself (as a representative of my generation) to the younger generation just coming up in the world.
Broadway gathers to honor Sondheim in Times Square
They were gathered to pay homage to legendary Tony, Academy Award, and Grammy Award-winning composer and lyricist Stephen Sondheim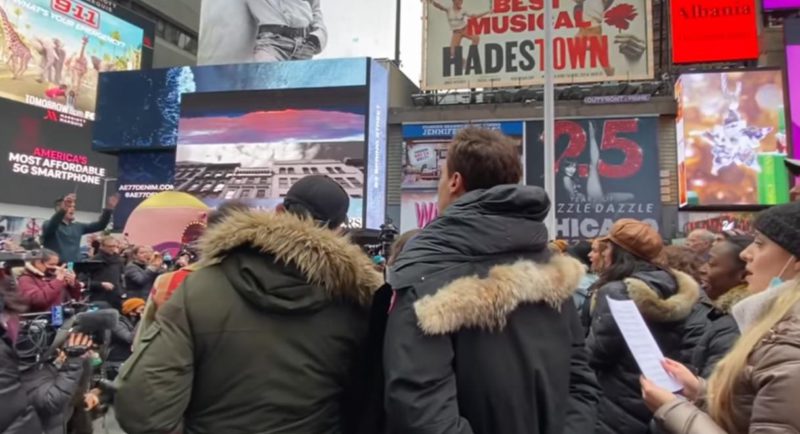 NEW YORK – Light snow flurries swirled around the stars of theatre and stage of New York City's 'Great White Way' as they gathered Sunday in Times Square- members of every Broadway company assembled singing in a powerful chorus "Sunday," the powerfully emotional act one finale to "Sunday in the Park with George."
They were gathered to pay homage to legendary Tony, Academy Award, and Grammy Award-winning composer and lyricist Stephen Sondheim. That piece being performed had garnered Sondheim a Pulitzer Prize for Drama in 1985.
Broadway's best were joined by Lin-Manuel Miranda, Sara Bareilles, Josh Groban, Kathryn Gallagher and Lauren Patton at 'Sunday' Performance in Times Square.
The man who was heralded as Broadway and theater's most revered and influential composer-lyricist of the last half of the 20th century died at 91 Friday at his home in Roxbury, Connecticut.
"This felt like church," Bareilles told Variety after the performance on Sunday. "In his remembrance, we did what theater does best. We sang and raised our voices and came together in community."
Variety also noted that during the celebration, Miranda offered a sermon of sorts. Foregoing a speech, he opened Sondheim's "Look I Made A Hat," an annotated anthology of the composer's lyrics, and read from a few passages before the crowd.
Lin-Manuel Miranda, Josh Groban and Sara Bareilles Honor Stephen Sondheim at 'Sunday' Performance in Times Square https://t.co/LgrYPyMnv0

— Variety (@Variety) November 28, 2021
"Sunday" from Sunday in the Park with George memorial for Stephen Sondheim
Words never fail in MacIvor double bill by Open Fist Theatre
The playwright offers a contemplation of life and death, experience & memory, honesty & deceit, that make up human existence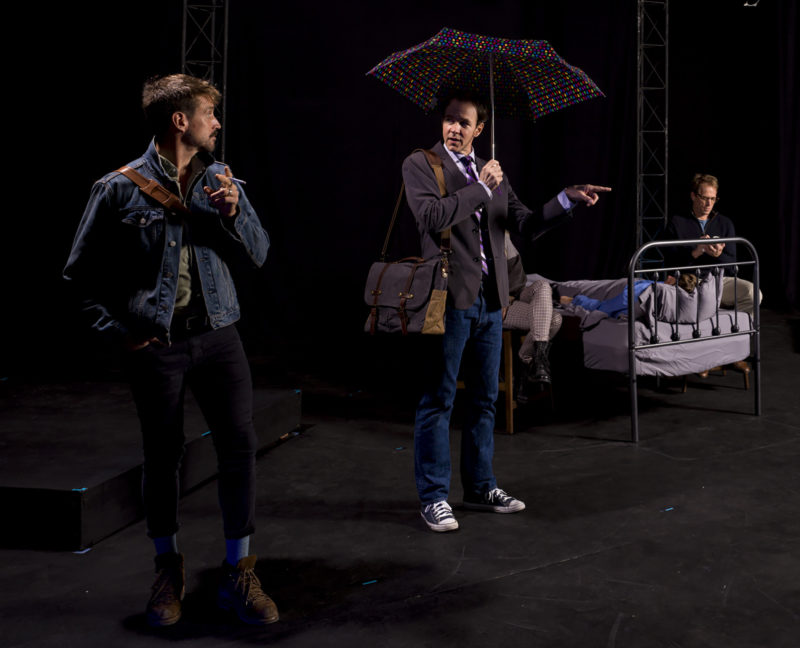 LOS ANGELES – There has long been debate among theatrical scholars about whether going to a play has been traditionally considered an auditory or a visual experience.
The argument goes that, before the advent of modern technology which enabled cinema and other forms of filmed entertainment, the theatre was a place where sound was the primary vehicle by which an audience's imagination could be transported out of the here and now, and that visual elements such as costumes, props, or mechanical stagecraft were secondary factors meant to reinforce and enhance the effect; for evidence of this, many point to Shakespeare, who in "Hamlet" had his lead character say "we'll hear a play" (a phrase which was subsequently long-used preferentially by many theatre-goers in his homeland) and whose works are still renowned five-and-a-half centuries later for their masterful use of language to accomplish… well, pretty much everything required, from setting the scene and telling the story to exploring the deepest nooks and crannies of the human psyche.
Though the whole question might seem a bit pedantic in today's world, it certainly touches on a major difference between the way we experience live theatre and the way we experience a film or television show, one which hinges on the main route these related-but-separate art forms take – through the ears or through the eyes – in transmitting information to the human brain. And if you want a good example of what a difference that difference makes, you couldn't find a much better illustration than the plays of Candadian wordsmith Daniel MacIvor – two of which are currently being performed by the Open Fist Theatre Company at Atwater Village Theatre.
MacIvor, who is known also as a filmmaker and actor, garnered acclaim in the 1980s and 1990s for a series of plays, crafted in a minimalist style and reliant on an intricately constructed tapestry of words to convey situation, narrative, and intent. Standard conceits of theatrical storytelling, such as a linear flow or the assumption of a fourth wall, are often jettisoned in these works, which invite comparisons to absurdists like Beckett and Pinter and challenge audiences to connect the dots as they go in order to decipher meaning. 
Two of these pieces, both directed with a confident hand by Open Fist's associate artistic director Amanda Weir, are paired by Open Fist into a brisk and engrossing double bill which leans hard into the award-winning playwright's unique, meta-theatrical approach to maximum advantage.
The shorter of the two works, "Never Swim Alone," is the more directly abstract. Taking place on stage that is bare save for a lifeguard stand and two chairs, it presents a ruthless competition of one-upmanship between two men, Frank and Bill (Bryan Bertone and Dylan Maddalena), who demonstrate an escalating series of scenarios under the watchful eye of "The Referee" (Emma Bruno) – a young woman with a secret connection to the boys these men used to be. Slyly witty and unexpectedly suspenseful, it examines the competitive machismo hidden beneath the slick and stylish suits of these two "Type A" businessmen with a dark and scathing sense of humor, as it slowly draws a connection between their never-ending battle for supremacy and the deep trauma of a shared childhood experience.
Originally produced in 1991, the roughly 30-minute exercise taps into the rich vein of toxic masculinity in order to make its points about the deep-seated fears and insecurities that drive so much of what our culture has long accepted as "typical" male behavior, with the two men vying for "points" against each other – awarded, of course, by the female referee, who holds absolute and irrefutable power in the game despite the clear lack of regard with which each of the participants reveals themselves to hold women in general.
It's unapologetically clever and disarmingly comedic, reveling in its theatricality and its tactics as it explores the men's rivalry and breaks each confrontation down into the all-too-familiar clichés in which they are mired. The elegant simplicity of its construction, which distills a far-reaching and deep-rooted phenomenon into clear and concise shapshots of social dysfunction, feels as effective today as it surely did over two decades ago.
From a 2021 perspective, however, the subject matter no longer seems as fresh. In the last few years (especially since the "Me Too" movement), the topic of bad male behavior has been rehearsed so frequently, and in so many different and brilliant ways, that many audiences may find themselves getting ahead of the play's revelations before they fully land, and the conceit which ties the whole thing together – which we'll not reveal here – may ultimately strike some viewers as too pat an explanation for what makes these men (and presumably, somehow by extension, all of them) tick.
Nevertheless, MacIvor's wordplay never fails to be crisp and exciting as it trips from the talented tongues of the players (especially the charismatic Bertone and the sublimely expressive Maddalena, who take on the lion's share of the work), and those who enjoy watching skillful actors engaged in an exercise of their craft are bound to find the pleasures of doing so more than enough to make up for the familiarity of the themes being explored.
More satisfying from a narrative standpoint, and more engaging on an emotional level, is "The Soldier Dreams," which MacIvor – who is gay – wrote in 1998 as a response to the AIDS crisis. Again, the setting is sparse, suggesting an empty nightclub with a single bed, occupied by an ailing man, facing upstage in the center.
The man is David (David Shofner), who is in the process of dying as his lover Richard (Conor Lane) and dysfunctional family spar with each other over his comatose form, each clinging to their own perceived special relationship with him and examining their memories to find an answer to the lingering mysteries about his life. Meanwhile, David himself is revisiting a secret memory, from years before, involving a one-night stand with a German student (Schuyler Mastain) that may or may not have led to something more important to him than any of the people standing around his soon-to-be deathbed.
Here, the same linguistic tricks used by MacIvor to form the intellectual exercise of "Swim" are employed to illuminate the web of human relationships at the center of a bittersweet story; as a result, they strike us with deeper resonance and more urgency than in the other piece.
Through the myriad pathways of language, the playwright offers a contemplation of life and death, experience and memory, honesty and deceit, and a host of other dualities that make up human existence. There's sharp humor and cutting observation along the way, along with a fair amount of painful and hard-to-watch bitterness, but it's all tempered with compassion and the three-dimensional layers revealed by each character as we go, and in the end, we are left in a place of hope – or, at least, of acceptance. And making it all come together, a talented cast succeeds in the essential task of breathing life into MacIvor's words, with Shofner, Lane, and Mastain as standouts among a solid and capable ensemble.
The two complementary plays continue their run at Atwater Village Theatre through December 12. Check the Open Fist website for performance dates and times.
L.A.'s most iconic theater legacy & its most intriguing future
It stands not only proud in its contribution to the artistic past, but as a beacon to the magnificence that theater is yet to become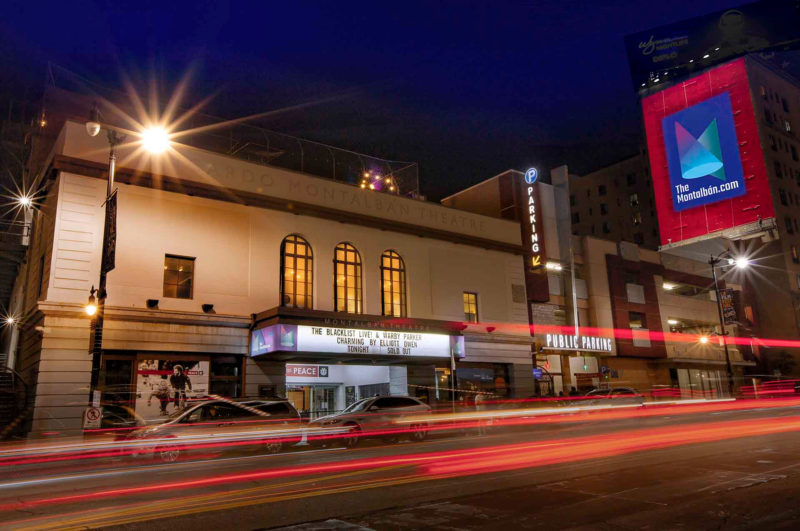 HOLLYWOOD – If one follows the paths of legends of Hollywood, breathing in the air of the greats from the myths and truths of movie industry lore, it is difficult not arriving at the corner of Hollywood and Vine. It is here that the historic pulse seems to emanate beneath the magic.
It is also here that feet away, and part of that pulse, is one of the oldest theaters in Los Angeles. It is one that stands not only proud in its contribution to the artistic past, but as a beacon to the magnificence that theater is yet to become. That theater is The Montalbán.
The Montalbán is the most recent, and likely forever permanent name to a theater that has evolved and fought for its place in the theatrical history books. It was originally envisioned in drawings done in 1925.
As the brainchild of the famous Wilkes Brothers, its beginnings were notorious. The Wilkes Family was the foremost theater family in the United States at the time. The brothers were the grand nephews of the Lincoln assassin John Wilkes Booth who emerged from a play on stage one fateful night, to shoot the president.
The brothers fought with Paramount on the location of their new theater, and while they won that battle, they were to lose a later one when one of the brothers was criminalized for racketeering and money laundering to the tune of 12.5 million dollars.
In any case, theater landscape of Los Angeles was forever affected by the presence of the Wilkes Brothers Vine Street Theater.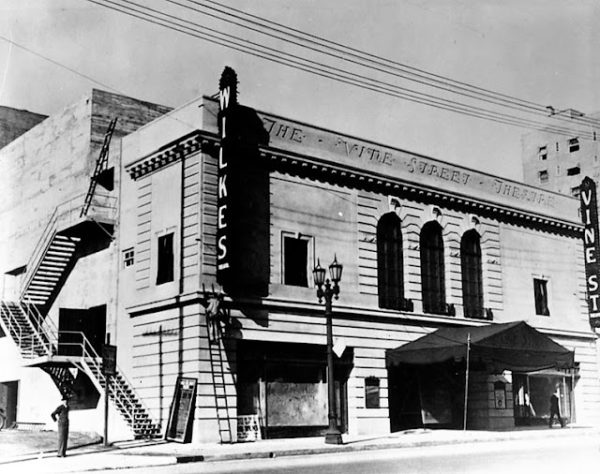 Years later it would become the Huntington Hartford, then the James Doolittle. UCLA bought it then to use as a theatrical annex while its theater department on the Westwood campus was re-tooled. During that timespan, the theater saw many incredible pre- and post-Broadway productions represented for Los Angeles audiences.
Meanwhile, another legacy was being formed in Hollywood. A young debonair Latin actor was making his way through the ranks of Hollywood, at MGM studios and on Broadway. His name was Ricardo Montalbán. Through roles as the fantasy giving Mr. Rourke of Fantasy Island, the wrathful Khan of Start Trek fame and the uber-classy spokesperson for the elegant Chrysler for many years, Ricardo not only broke stereotypes of Latino men, but became ever enshrined as a unique icon himself.
He was dignity and grace, the ideal vision of a "gentleman." Behind the scenes, he was more of a renegade and a cultural hero. He fought Hollywood's cliché depictions of Mexicans. He was told Latinos in movies were to be "colorful characters." He fought back and was black-listed. He retreated to Broadway where he starred on stage with Lena Horne, and down the street from Sammy Davis Jr. They each brought inter-racial relationships to the stage in the various productions—all challenging the status quo and sensibilities of the day.
In 1970, Montalbán would found the organization Nosotros, which today has become the oldest Latino arts advocacy organization. He held a lifelong vision to give Latino artists a path towards success and authentic representative careers in film, theater and television.
Friends with the then Chancellor of UCLA, Ricardo was given the opportunity to take over the former Wilkes Brothers/Huntington Hartford/ Doolittle theater—and he went for it.
Ricardo Montalbán died in 2009. Today, he would be 101.
His legacy is as alive as ever, carried on by two men who each in his own way, embodies the Montalbán heritage. The first of these men is Gilbert Smith, who came to Ricardo through a Hollywood-esque type love story.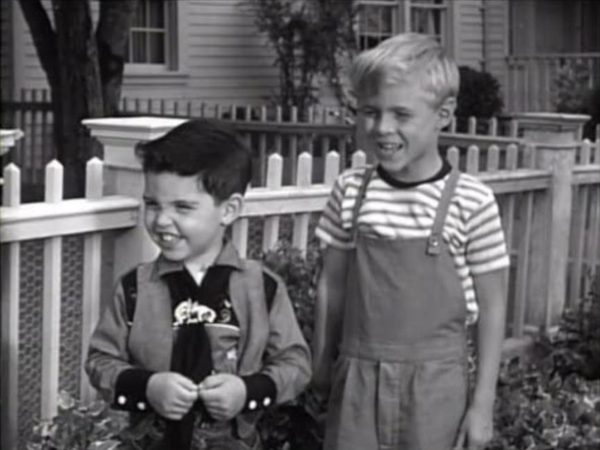 Gilbert had been a child actor and seen on such shows as Dennis the Menace.  Acting was not his thing, however, even though he hung out on the movie lot with the likes of Jay North, Billy Mumy, Ron Howard and others.  He found himself enamored with the magic of visual arts instead.  As a young man he jumped into various image projects looking for opportunities to create. He was doing a shoot with a lovely model named Anita, and together they began brainstorming on a fashion layout for a client.  The photo layout did not work out, but the collaboration sure did. They became inseparable to this day. "She has been my life long partner in business, in love, in passion and in art," Gilbert told me.
Anita, is the daughter of Ricardo Montalbán.
Ricardo became Gilbert's true father figure. Years later, as Ricardo was stepping away from the theater's leadership, the Artistic Director Margarita Martinez-Cannon brought Gilbert on to represent him. She felt the board needed to have the Montalbán family involved.
He is now the theater's CEO.
Margarita also brought on another gentleman, who would soon become her successor to run operations, Ricardo Ortiz-Baretto. Ricardo had been named after Ricardo Montalbán. "My mom named all of us after the biggest Latino celebrities of the day. It was a spiritual kismet that I came to this theater to carry on his legacy," Ricardo says.
Gilbert has been a mastermind of innovation, visual presentation and technique. The theater has been remodeled from bottom to rooftop in a creative and flexible space. The orchestra level of the audience has been built out so that it is level to the stage—giving the opportunity for both Covid-regulated distancing or avantgarde theatrical presentations.
Ricardo, who moved back to Los Angeles after he and his husband raised four sons, has worked to bring in diverse and creative productions to live up to the legacy and vision that Ricardo Montalbán established. Besides Latino and Black theatrical troupes, the theater has been involved in various charities from AIDS to fostercare.
"Gilbert's vision is huge, and a lot of what we are now being able to bring into the theater is because he is willing to take a chance," Ricardo said. "He has the dedication to Ricardo's vision, that it is realized. Theater in LA will bounce back from the pandemic shutdown. There is a lot of good theater in LA. That will never go away—it is why people are here in LA."
The current production, Rooftop Screams, is on the Montalbán's rooftop oasis. The rooftop venue is outfitted with a bar, concession stand, and kitchen, providing an open-air movie theater complete with a large projection screen, state-of-the-art projector, noise-canceling headphones, and fresh popcorn.  
Rooftop Screams includes wickedly scary and horrifically spooky films from the past 50 years.  It started Friday, October 1, 2021 with the 1996 American satirical slasher Scream, directed by Wes Craven. Other fan-favorites this month: The Shining, Friday the 13th, The Exorcist, It, Hocus Pocus, Beetlejuice, and Pan's Labyrinth. There will be a double-feature presented on October 31st with The Nightmare Before Christmas followed by The Rocky Horror Picture Show.  The program includes live interactions with many of the movies' stars and dignitaries appearing on Zoom, and in person.
There will be weekend programs non-stop throughout the holiday season. As the pandemic restrictions continue to fall away, the Montalbán Theater is locked and loaded. "We have a number of productions that are just waiting for us to say 'go'." Ricardo Ortiz-Baretto promises.
In 1993 Ricardo Montalbán won the SAG Lifetime Achievement Award.  In his speech, he teased about about his name.  His son-in-law Gilbert sat in the audience with his daughter Anita and Ricardo remarked,  "I would like to thank my wonderful daughter Anita, to whom I gave a glorious name, Anita Montalbán … but she got married. And now she is … Anita Smith."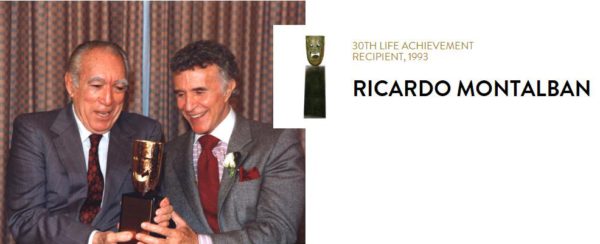 Fear not Ricardo. Your glorious name lives. Fear not to the artists of color seeking to achieve greatness. Your legacy will go on forever, as permanent to Hollywood as the famous sign in the hills, thanks to a man named Ricardo, and a man named Smith.
And the theater forever named The Montalbán.
********************
Listen to the complete interview on Rated LGBT Radio with Rob Watson: