'No history, no equality' VIDEO
Why FBI documents, attic curios and LA's Gay Girls Riding Club matter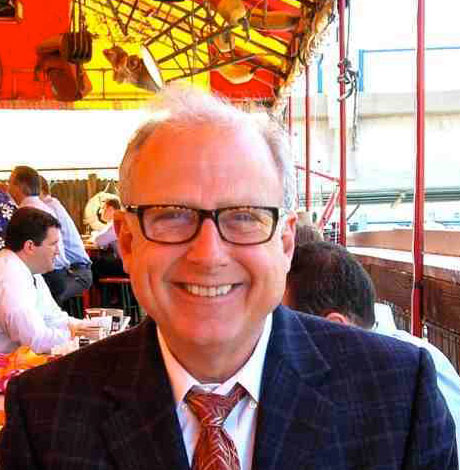 There's a fear afoot in America. LGBT people have made much progress but are still second-class citizens in many respects. Now, under Donald Trump, there appears to be an intentional effort to virtually render LGBT people invisible.
And while political and legal activists are jumping into the chaotic fray, a group of archival activists is working furiously against the clock to collect and preserve LGBT historical documents and memorabilia before time runs out.
The surprise the archives reveal is a creative resistance underneath the pall of stigma and persistent intimidation, juiced with an irreverent humor that invented "camp" and pop art.
In 1961, Frank Kameny and Jack Nichols established a Mattachine Society chapter in Washington, D.C. With others, including courageous out lesbian pioneers such as Lilli Vincenz  and Barbara Gittings, they daringly protested bias, carrying signs reading, "Gay is Good" and "Stop FBI Homophobes." Federal anti-gay witch hunts were commonplace after President Dwight D. Eisenhower authorized anti-gay discrimination in his infamous April 27, 1953 Executive Order 10450. Those signs and other historic LGBT memorabilia are now housed as "American Treasures" in the Smithsonian Institution.
After Kameny died in 2011, gay public relations consultant Charles Francis, Pate Felts and Gay and Lesbian Activists Alliance President Rick Rosendall re-launched the Mattachine Society of Washington with the new mission to be archival activists and find original archival documents demonstrating the government's "malicious persecution," Francis told the Los Angeles Blade.
Documents show a purge of an estimated 7,000 to 10,000 gay and lesbian federal employees in the 1950s alone. And transcripts of closed-door congressional testimony by Central Intelligence Agency director Roscoe H. Hillenkoetter posit gays as national security risks. "[T]he moral pervert is a security risk of so serious a nature that he must be weeded out of government employment wherever he is found," Hillenkoetter said. "Failure to do this can only result in placing a weapon in the hands of our enemies and their intelligence service, and the point of that weapon would probably be aimed right at the heart of our national security."
Gay historian David K. Johnson discredits that myth, pointing to a failed Russian attempt to recruit famed columnist Joseph Alsop. "It's a strong example of a gay person resisting blackmail, of which there were many examples in the '50s. In fact, there are no cases of a gay man or lesbian American citizen succumbing to blackmail by a foreign power – none," Johnson told the Blade.
Francis and the Mattachine Society, with the pro bono assistance from attorneys at McDermott, Will & Emery, have filed a lawsuit in U.S. District Court to force the Justice Department and FBI to comply with longstanding Freedom of Information requests for documents associated with the Eisenhower executive order.
Francis is featured in a Yahoo News documentary entitled "Uniquely Nasty: The U.S. Government's War on Gays," reported by chief investigative correspondent Michael Isikoff. It includes "never-before-seen government memos by legendary FBI director J. Edgar Hoover (read by George Takei) and John Steele, a top lawyer for the U.S. Civil Service Commission (read by Matt Bomer) asserting that gays were 'not suitable' for federal employment" because of their sexual perversion."
The toxic animus "starts out with concerns about gay people being able to be blackmailed, but it grew to revulsion and then morphed into suitability and stretches over seven presidencies from Eisenhower through Reagan and didn't really end until President Clinton put an end to it with an executive order," Francis told NPR in 2015.
"Gay and lesbian history is so often deleted, sealed, destroyed. The letters are burned. So our biggest fear is more destruction of documents and trying to put a stop to it now so that historians will have this record of a time of huge upheaval and transition."
The archival activists are also seeking individual treasures locked away or forgotten in attics or an old uncle or aunt's storage facility—letters, posters, and cultural curios that illustrate the real lives, struggles and fights of LGBT people in the 1950s and 1960s.
"We need this material so historians and others can use them in our fight for LGBT equality," says Francis. "These anti-LGBT laws are not based on anything rational. They're based on bigotry and ignorance—and that's unconstitutional. You can't discriminate just because you hate somebody."
One of their greatest discoveries was uncovered at the Reagan Library in Simi Valley by Francis and Pate Felts. In folders marked "Hospitals" (not "AIDS"), they found documents showing how Nancy Reagan rebuffed her "dear friend" Rock Hudson's pleas for help after the movie star was admitted to a Paris hospital with AIDS in 1985. Buzzfeed reported the story, complete with the telegram from Hudson's gay publicist, Dale Olson. The story was an instant corrective to Hillary Clinton's erroneous comment that Nancy Reagan had been a "very effective, low key" advocate for HIV/AIDS. A fast backlash ensued and Clinton apologized.
But not all discoveries are explosive, vile or vindictive. Recently, the Mattachine team worked with ONE Institute and the UCLA Film Archives to uncover stories that might otherwise remain buried. Stories such as the 1961 22-minute film "A Roman Springs on Mrs. Stone," directed by Connie B. DeMille, aka Ray Harrison of the Los Angeles-based Gay Girls Riding Club (GGRC)—a film preserved by filmmaker Pat Rocco.
With help from Michael Oliviera at ONE Institute, Francis also discovered the GGRC "Aware" newsletters. GGRC was Harrison's "brainchild," starting out as a bunch of guys, sometimes a gal or two, who loved to go horseback riding on top of Beachwood Drive in Hollywood or at Griffith Park. But Harrison got the idea to produce gay drag satires of famous movies to be screened in Hollywood gay bars. "Made on $2 budgets, everyone pitched in and helped, and got drunk, and made love, and were very 'gay.' DOZENS of handsome young gay men made themselves 'available' to be in the films, but it was Warren Fremming ("Frieda") who 'starred' in most of the films. His Bette Davis in 'What REALLY Happened to By (sic, Baby) Jane' is nothing short of miraculous high camp at its most outrageous," reads one document.
"A Roman Springs on Mrs. Stone" premiered on June 6, 1961 at the Grand Prix, 8204 Beverly Boulevard (at N. La Jolla Ave). In addition to the film, the evening featured a buffet dinner and a live show "direct from the Black Cat in San Francisco – starring Jose!" Jose was famous entertainer Jose Sarria who sang "No Camping" (on Velvet Records) – "America's newest party-fun record." Though not noted, at the time Sarria was collecting 6,000 signatures to run for a seat on the San Francisco Board of Supervisors, the first openly gay candidate for U.S. public office.
"A Roman Springs on Mrs. Stone" screened at The Apache and elsewhere, drawing up to 400 people. And though spoofs, Francis says, "you can see these films had movie-makers who understood film. They understood the vocabulary of silent character development. It makes you wonder what studio they worked for back in the day."
Indeed. Oscar-nominated and Emmy-winning cinematographer James Crabe, who died of AIDS in 1989, was a GGRC member.
There were hints of the harsh every day reality outside the campgrounds. The largest advertiser in GGRC's "Aware" newsletter was a 24-hour bail bondsman. "It was a hard life in many ways because they were all criminal – considered criminal by the law – considered insane, mentally ill and damned," says Francis in commentary on a Mattachine-produced video. "So they were creating their own island of self-worth up there in the Hollywood Hills. And we should not forget about it."
GGRC parties were like a giant boa-and-glitter-on-foam middle finger to the cruelty outside the gay bar or private residence. Hollywood insiders knew about the "beefcake" closet-open Hollywood pool parties thrown by actors such as Randolph Scott and Cary Grant, Rock Hudson, and Liberace with guests such as "Perry Mason" actor Raymond Burr, Tab Hunter and Troy Donohue – and everyone's best gal pal, Natalie Wood.
But the subculture of the GGRC parties were camp and "low class" by design, on the cusp of the 60s counter-cultural movement. Actors in "A Roman Springs on Mrs. Stone" did the "Twist" before Chubby Checker appeared on the "Ed Sullivan Show" to popularize the dance craze.
These are the gays about whom intellectual Susan Sontag, a quasi-closeted bisexual, wrote in her famous essay "Notes on Camp" in 1964. "Not all homosexuals have Camp Taste. But homosexuals, by and large, constitute the vanguard – and the most articulate audience – of Camp," she wrote. "Homosexuals have pinned their integration into society on promoting the aesthetic sense. Camp is a solvent of morality. It neutralizes moral indignation, sponsors playfulness."
"Camp provided this marginalized population with a mocking weapon against the defining hierarchies of hegemonic straight culture. It was a subversive code understood by its adherents and practitioners," wrote Joe A. Thomas in his essay "Pop Art and the Forgotten Codes of Camp." "Thus, many critics and views 'in the know,' both straight and gay, were able to discern Pop Art's camp subtext."
This is just a smidgen of what the archival activists are trying to find and preserve.
"The history of lesbians and gays is very important in that it's been invisible in the past," says V. L. Cox, a lesbian artist and activist in the Mattachine video. "They want to take us back, to control us, to put us back in the closet, put us back in the shadows again. And it's very important the people know about the history of gays and lesbians to where that does not happen again. We cannot allow that to happen."
"We need to insist on our own history. We need to discover our history," says Francis. "No history – no equality."
—    For more information, visit the Mattachine Society of Washington D.C.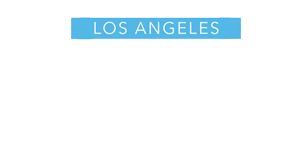 LGBTQ rainbow flag was born in San Francisco, but its history is disputed
On that day in June 1978, it felt as if the rainbow had always been a symbol for the LGBTQ community, it just hadn't revealed itself yet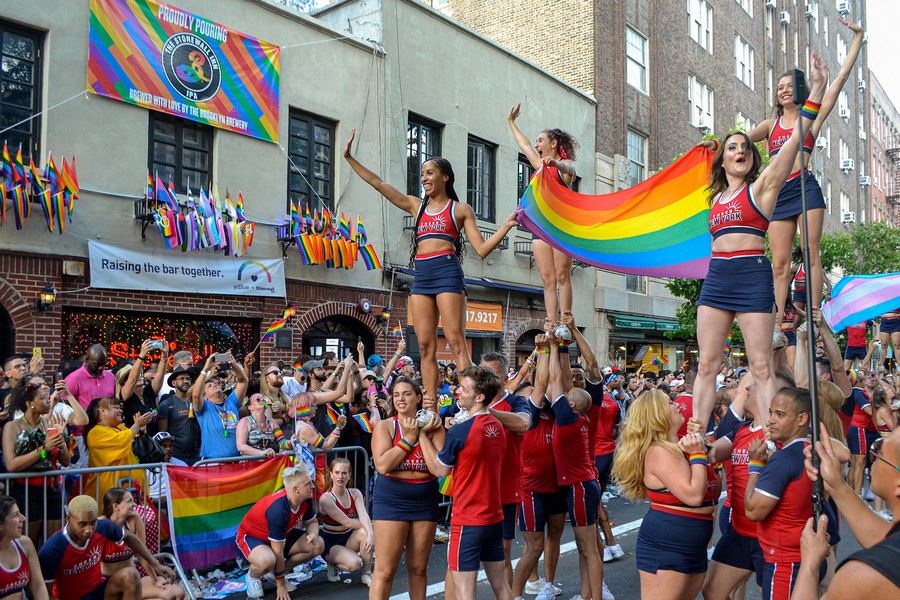 By August Bernadicou (with additional text and research by Chris Coats) | NEW YORK – Many enduring symbols that establish an instant understanding and define a diverse community are intrinsically linked with controversy, confusion, and ill-informed backstories dictated by vested interests and those who told the story loudest. The LGBTQ rainbow flag is no different.
While it was the work of many, the people who deserve credit the most have been minimized if not erased. Gilbert Baker, the self-titled "Creator," screamed the story and now has a powerful estate behind his legacy. Before his death in 2017, Baker established himself as the complete authority on the LGBTQ rainbow flag. It was his story which he lived and became.
While there are disputed accounts on the flag's origins, one thing that is not disputed is that the LGBTQ rainbow flag was born in San Francisco and made for the Gay Freedom Day Parade on June 25, 1978.
For all of human history, rainbows have mystified and inspired. A greeting of light and serenity after the darkness and chaos of a storm. They have symbolized hope, peace, and the mysteries of existence. For a moment, we can see the invisible structure, the "body" of light, made visible. A secret revealed, then hidden again.
Though it may seem like a modern phenomenon, rainbow flags have waved throughout history. Their origin can be traced to at least the 15th Century. The German theologian, Thomas Müntzer, used a rainbow flag for his reformist preachings. In the 18th Century, the English-American revolutionary and author, Thomas Paine, advocated adopting the rainbow flag as a universal symbol for identifying neutral ships at sea.
Rainbow flags were flown by Buddhists in Sri Lanka in the late 19th Century as a unifying emblem of their faith. They also represent the Peruvian city of Cusco, are flown by Indians on January 31st to commemorate the passing of the spiritual leader Meher Baba, and since 1961, have represented members of international peace movements.
Now, the rainbow flag has become the symbol for the LGBTQ community, a community of different colors, backgrounds, and orientations united together, bringing light and joy to the world. A forever symbol of where they started, where they have come, and where they need to go. When many LGBTQ people see a rainbow flag flowing in the wind, they know they are safe and free.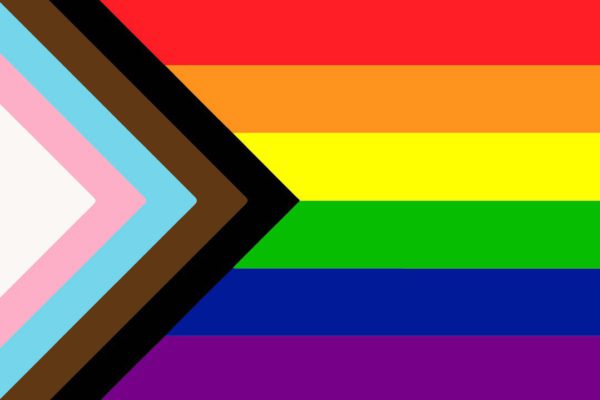 While the upper class and tech interests rule the city now, in the 1960s and 70s, San Francisco was a wonderland for low and no-income artists. The counterculture's mecca. By the mid-1970s, the Haight-Ashbury neighborhood that had once been a psychedelic playground of hippie art, culture, and music had fallen into disarray. Hard, dangerous drugs like heroin had replaced mind-expanding psychedelics. Young queers and artists needed a new home, and they found it in the Castro.
Lee Mentley (1948-2020) arrived in San Francisco in 1972 and quickly fell in with the oddball artist and performers in the Castro neighborhood, donning flamboyant, gender-fucked clothes, performing avant-garde theater, and creating their own clubhouses. He was on the Pride Planning Committee in 1978 and ran the Top Floor Gallery on the top floor of 330 Grove, which served as an early Gay Center in San Francisco.
Lynn Segerblom (Faerie Argyle Rainbow) was originally from the North Shore of Hawaii and moved to San Francisco where she attended art school at the Academy of Art. Her life changed when she found a new passion in tie-dye and rainbows in the early 1970s. Entrenched in the free-loving technicolor world of San Francisco, in 1976, Lynn legally changed her name to Faerie Argyle Rainbow. She joined the Angels of Light, a "free" performance art troupe where the members had to return to an alternative, hippie lifestyle and deny credit for their work.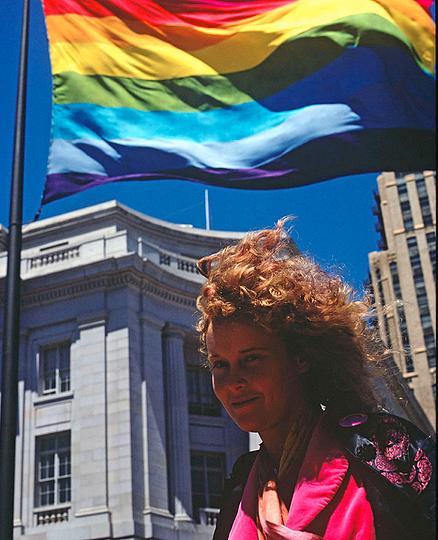 Shortly after the original rainbow flags were flown for the last time, both Lynn and Lee moved out of San Francisco. Lee moved to Hawaii and Lynn moved to Japan. When they returned, they were shocked to see how their contribution to history was becoming a universal symbol. They remain passionate about defending their legacies and giving a voice to the mute.
——–
LEE MENTLEY: "One day in 1978, Lynn came to 330 Grove with a couple of her friends, James McNamara and Robert Guttman, and said we should make rainbow flags for Gay Day to brighten up San Francisco City Hall and Civic Center because it's all gray and cold in June. We thought that it sounded like a great idea."
To get over the first hurdle, money, the young artists went to Harvey Milk, the first openly gay elected official in the history of San Francisco, California, for help.
LEE: "There was no actual funding for it. We contacted Harvey Milk and another supervisor, and they asked the city if we could get a little funding. They found some leftover funds from the previous year's hotel tax, and we got $1,000."
LYNN SEGERBLOM: "I remember having a meeting where I presented the idea of making rainbow flags. I had some sketches. At that meeting, there was just a handful of us there, and I remember, and even my friend assured me, that Gilbert Baker was not at that meeting. I don't know where he was, I didn't keep track of him, but he was not at the meeting where I suggested rainbow flags. We decided, yes, rainbow flags sounded great."
The committee approved the rainbow imagery and made the decision to make two massive 40' x 60' foot rainbow flags to be flown at the Civic Center along with 18 smaller rainbow flags designed by different, local artists, to line the reflecting pool putting rainbows into the grey sky.
For the two large flags, one would be an eight-color rainbow starting with pink and including turquoise and indigo in place of blue, and the other a re-envisioning of the American flag with rainbow stripes which became known as Faerie's flag.
——
Gilbert Baker's name on his memoir, Rainbow Warrior, it says "CREATOR OF THE RAINBOW FLAG," leaving little debate that Gilbert claimed full ownership for the concept and design of the legendary symbol. He never denied Lynn or James MacNamara's involvement in the flags' construction and speaks briefly and fondly of them and their talents in that same book.
LEE: "We didn't need one person saving our ass, and it certainly wouldn't have been Gilbert Baker. He was no Betsy Ross. He was a very good promoter, and I give him all the credit in the world for making the rainbow flag go international. He did a great service, and he was a very talented, creative man, but he could never have done all of the work by himself; no one could have.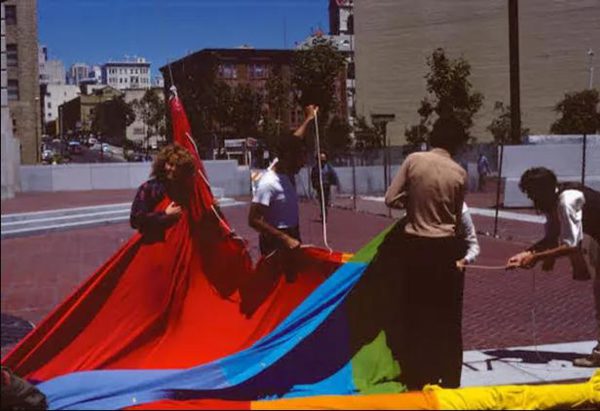 We never considered ownership. There was never this big ownership debate until Gilbert started it. Because AIDS hit us so fast after this, most of our leadership either went into HIV activism or died."
LYNN: "The story is that a white gay man did all of this by himself, but, in fact, that is not true at all. He just promoted it. For that, though, he should be given great love."
————
Making the two original rainbow flags was no easy feat. With a limited budget and limited resources, the group had to improvise and figure it out as they went along. While Lynn had dabbled in flags before, a project of this scope and importance was far beyond her comfort zone.
LEE: "The community donated the sewing machines we used. We asked people at the Center if anyone would like to volunteer. All sorts of people from all over the country helped us with the flags, over 100 people, which, to me, is an amazing story. That's where it came from. It came from regular artists who wanted to have fun and make something pretty for gay people."
LYNN: "The Rainbows Flags were hand-dyed cotton and eight colors. I made two different types. The one with just the stripes and then the American flag one, which I designed myself. There was a group of us that made them, James McNamara, Gilbert Baker, and myself. Originally they were my designs. I was a dyer by trade, and I had a dying studio at the Gay Community Center at 330 Grove Street."
LEE: "People would come and help as long as they could. Then, somebody else would come and help as long as they could. We opened up the second floor of 330 Grove to people who came to be in the Parade and march. People came in and made posters, banners and did art stuff."
LYNN: "We made the flags on the roof because there was a drain up there. There was a wooden ladder that led up to the roof. The hot water had to be carried up to the roof because we didn't have hot water up there. We heated it up on the stove in pots. We put the hot water in trash cans on the roof."
LEE: "We had trash cans and two by fours, and we had to keep agitating the fabrics in the dye. Since they were in hot water, they had to be poked and agitated for hours."
LYNN: "We had to constantly move the fabric in the dye, so the dye penetrated the fibers that weren't clamped tight. We had to make sure there would be blue, and it wouldn't just be white on white or white with a very murky, pale blue.
After they were washed and dyed, they went through the washer and dryer. Then, we ironed them. If the fabric stays out too long, once you take it out of the water, if it sits on itself even for just a few minutes, it starts to make shapes."
—-
LEE: "Lynn's flag, the new American flag, was a similar rainbow, but it had stars in the corner. I have photographs of that flag flying at gay events in San Francisco at City Hall and Oakland."
LYNN: "I always liked the American flag. I thought, oh, wouldn't that be nice? I knew with some luck I could make it."
LEE: "I thought the one with the stars was more interesting because it symbolized a new flag for the United States."
LYNN: "For my American flag, I decided to flip the order of the colors, so pink was at the bottom and purple was at the top in an eight-color spectrum. That was intentional. I wanted them to be different.
​I made the stars with wood blocks and clamps. I got the white fabric and washed it, and folded it a different way. When I was making it, it looked like a big sandwich. The bread would be the woodblocks, and the fabric was in between. We immersed the whole flag in dye and swished it around. I wasn't sure if it would come out right because it was the first time I did that fold. I was lucky. It worked.
I sewed lamé stars into one stripe with leftover stars from my Angels of Light costumes. On one side of the blue stripe, there was a star with silver lamé, and on the other side, there was a star with gold lamé.
I got all these ideas because I worked with these mediums on a daily basis: paint, dye, fabric, and glitter."
—
LEE: "We worked for weeks dying fabric, shrinking fabric, and sewing fabric."
LYNN: "We worked on them for seven weeks. I was worried that we weren't going to finish on time. We worked hard and long hours. Towards the end, we decided we didn't have time to go to the laundromat, so we started rinsing them on the roof and wringing them dry. We also ran out of quarters. We draped them off of the Top Floor Gallery's rafters, and they drip-dried. They looked great. They were beautiful."
Until that day, the pink triangle, used by the Nazis to label homosexuals in their genocidal campaign, was the most commonly used symbol for the LGBTQ movement, a symbol in solidarity with our fallen ancestors. But the triangle came from a place of trauma, it was a reminder of the storm while the rainbow was the hope that came after. The promise of brighter days ahead.
On that day in June 1978, it felt as if the rainbow had always been a symbol for the LGBTQ community, it just hadn't revealed itself yet.
LEE: "We went out, flew the flags, and blew everybody's fucking minds. People were blown away. The flags were so beautiful. They were waving warriors. The biggest ones were 40' by 60' feet. The Parade marched through the flags to get to Civic Center. We instantly proclaimed that this was our symbol. It wasn't planned. It was organic."
LYNN: "It was just what I wanted: a touch of magic, a touch of glitter, and a little bit of Angels of Light."
LEE: "We weren't creating this huge symbol. We were decorating Civic Center. We weren't thinking of marketing our entire futures. It was an art project."
LYNN: "We looked at the rainbow flags as a work of art, and we wanted them to be beautiful and unique. After the Gay Parade, the flags were a big hit. People loved them. Everybody loved them."
—-
In the pre-technology world, people and property could just disappear. There were no surveillance cameras. Lynn didn't even have a phone.
Even though no one could have known the flag would become an eternal symbol for a worldwide community, it was clear even then that they were a piece of history to be coveted.
In his memoir, Baker hypothesizes that the Rainbow American flag was stolen shortly after it was hung up on the front of the Gay Community Center for Gay Freedom Day in 1979. He suggests it might have been a construction crew working on the new symphony across the street and in a homophobic act, stole the flag and buried it in cement.
LEE: "Later in 1979 or 1980, you can find it somewhere in the minutes for a Pride Foundation meeting, Gilbert came to us and asked to borrow the two large flags, and we agreed. We never saw them again."
LYNN: "I went to work one day at 330 Grove, and Gilbert came in and said that the two 40' by 60' flags had been stolen."
Images published in the San Francisco Chronicle, videos of the march, and other widely distributed photographs only add to the mystery. They show both the classic rainbow flag of eight stripes and the American revision flying at the Civic Center on June 24, 1979 and not at the Gay Community Center.
As for the original eight-stripe flag, there are even fewer answers. In his memoir, Baker says that while they were taking down the flags from Civic Center, he was hit on the head on knocked out. "When I came to on the muddy ground," he says "I saw people all around me hitting each other and screaming obscenities. They were fighting over the rainbow flags, pulling on them like a game of tug-of-war, tearing them."
LYNN: "It would have taken more than one person to carry the flags. It took three people to carry one folded-up flag for the Parade, and we needed a van. They weighed a lot, and 330 Grove did not have an elevator. Whoever stole them had help—one person could not do it on their own."
—-
LYNN: "Before the rainbow flag missing, Gilbert came to one of my workshops. He wanted to watch me dying fabric all day and see how I did everything.
I was like, oh yeah, I'll show you, come in.
I said, here, put some gloves on and do it with me.
He was like, oh, no, no, I don't want to get my hands dirty.
​He was only trying to figure out how I did the dying."
—-
LEE: "Gilbert went to these places like MoMa and told them these outrageous stories about how he made the rainbow flag all by himself. He said this about the flag he donated. When you look at it, you can tell that it was bought at a craft fair. It flat out wasn't one of our flags. It was polyester."
​LYNN: "It was polyester, it wasn't the same size, and it wasn't hand-dyed. My flags were different. The rainbow flag at MoMa was a beautiful flag inside a frame, but it wasn't an original, not from 1978, not even a piece from 1978. I was hoping, oh, my God, maybe this is a piece of it."
LEE: "It wasn't even the original colors. MoMa said they were original flags, but they weren't. It was a commercially produced rainbow flag with a primary color rainbow. The plaque cited Gilbert donating it as an original flag."
—-
LYNN: "I read online that Gilbert Baker said he named me "Faerie Argyle Rainbow," a complete lie. Bethany the Princess of Argyle named me. I chose the name Rainbow because I was known as a rainbow artist."
​LEE: "Even Lynn's driver's license said her name was "Faerie Argyle Rainbow.""
LYNN: "In 1976, I filled out a form at the DMV, and my name became Faerie Argyle Rainbow. Back then, they didn't ask you for a birth certificate. The employee just said, "This is your name now," and gave me a driver's license that said Faerie Argyle Rainbow.
​It all sounds crazy now, but back then, it wasn't."
—–
LEE: "I had my arguments and fights with Gilbert Baker because he claims he came up with the rainbow flag. If you go through all of his different interviews, you see that his story changes over and over and over again. He even said Harvey Milk came to him and asked him to create a symbol for the movement. No—I read that, and no such thing happened."
LYNN: "Just look at his interviews. His takes on what the colors in the rainbow flag mean are all in his head. The rainbow represents everyone, no matter what gender or race you are; that's how I looked at it. Rainbows are in nature and beautiful. People love them, and I love them. I knew they would be great color healing.
Gilbert assigning meaning to each color is ridiculous. I think anyone could make up what each color means. If I wanted to, I could do the same. It wasn't what I was thinking. I was thinking that rainbows encompass everybody, the whole group, unity."
LEE: "I have tried to convince people that the rainbow flags were made with tax-payer dollars. We made them as a non-profit.
Not even Gilbert owns them. I have always thought that anyone who sells anything rainbow should give a portion of the profits to homeless gay youth. We need to take care of our own kind because no one does. The whole concept of taking care of gay people has disappeared."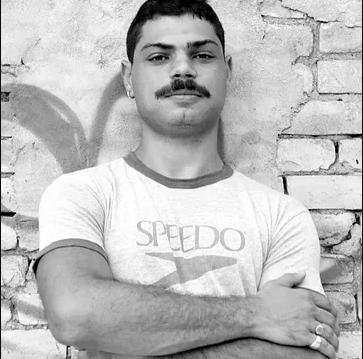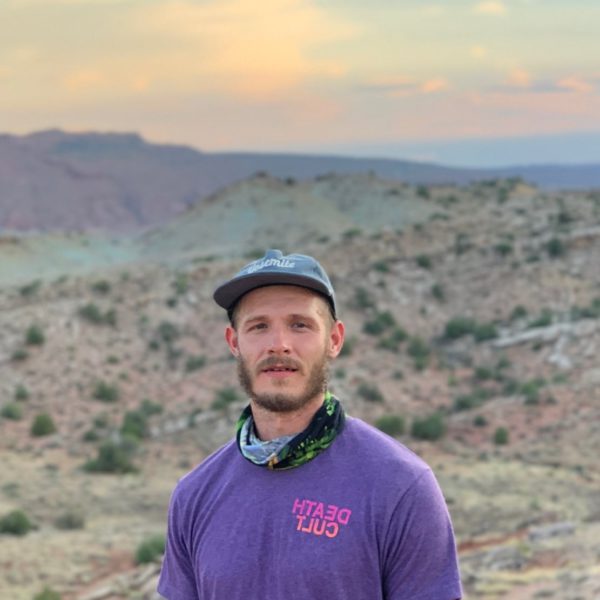 August Bernadicou is a 27-year-old gay historian and the President of the LGBTQ History Project Inc. Chris Coats is an editor and producer.
Together, they produce the QueerCore Podcast and will shortly be releasing an episode that is the definitive story on the rainbow flag featuring Lee Mentley, Lynn Segerblom, and Adrian Brooks.
August Bernadicou is presenting a Pride event in NYC this year that all folks are cordially invited to attend- its virtual;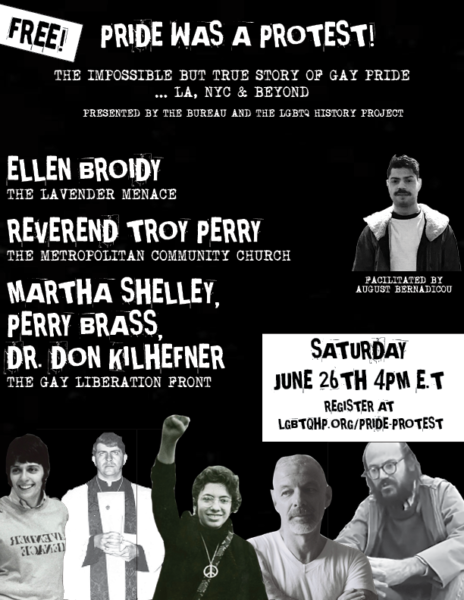 Here is the link for the event: https://www.lgbtqhp.org/pride-protest