Gay men sent to 'concentration camps' in Chechnya
State Department declines to comment on report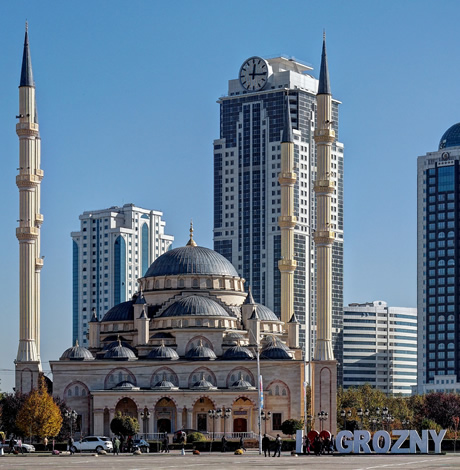 A Russian LGBT advocacy group on Monday confirmed a report that gay men in Chechnya have been sent to secret prisons.
Novaya Gazeta, a Russian newspaper, on April 4 reported gay men have been sent to the prisons — which reports have described as "concentration camps" — in the semi-autonomous Russian republic. It said one of them is located near Argun, a town that is roughly 12 miles east of the Chechen capital of Grozny.
Novaya Gazeta said authorities beat the men and tortured them with electric shocks.
The newspaper published pictures of two men who had bruises on their knees and buttocks. Novaya Gazeta said at least three men died inside the prisons.
The newspaper reported the family of one of the men who was arrested "had to urgently" sell their apartment and property to "saved their loved ones." Gay men were also reportedly forced to leave Chechnya.
"Unfortunately, we can confirm that there is kind of a prison next to one Chechen city where homosexual men are detained," Svetlana Zakharova of the Russian LGBT Network told the Los Angeles Blade on Monday in response to the Novaya Gazeta article.
Novaya Gazeta on April 1 reported Chechen authorities have arrested more than 100 men in "connection with their non-traditional sexual orientation, or suspicion of such." The Russian newspaper said at least three of the men who were arrested were later killed.
The Russian LGBT Network has established a hotline that Chechens who feel threatened by the arrests can call anonymously. Zakharova told the Blade her organization has received more than 20 requests "for help."
"The number of requests is growing," she said. "We have already evacuated some people."
Rex Tillerson urged to 'speak out forcefully' against arrests
The State Department last week described the arrests as "troubling" in a statement it sent to the Blade. It also urged the Russian government to investigate them.
A spokesperson for the Russian government has said the arrests are "a question of law enforcement agencies." Ali Karimov, a spokesperson for Chechnya's leader, Ramzan Kadyrov, told a Russian government news agency in a statement that it is "impossible to prosecute those who are not in the republic."
Secretary of State Rex Tillerson is scheduled to travel to Moscow on Tuesday.
Human Rights First and the Human Rights Campaign have both urged him to publicly condemn the arrests while in the Russian capital. OutRight Action International has also called upon international institutions and foreign governments "to pressure Russian authorities to intervene to immediately stop the abuse."
"The Kremlin has dismissed these reports, saying that those who were suffering could 'file official complaints and go to court,' avenues that are highly unlikely to yield positive results in a region without a strong track record in the rule of law," said HRC President Chad Griffin in a letter he sent to Tillerson on April 4. "I therefore write to urge you to make clear to your Russian counterparts that such lawless detentions, arrests, torture and murders are unacceptable and will not be tolerated."
Human Rights First has launched a petition that urges Tillerson to "speak out forcibly against these horrific human rights abuses during his upcoming visit."
"The State Department has called on Russia to investigate these abuses, but Secretary of State Tillerson can do more," wrote Human Rights First in an email it sent to supporters on Monday. "As he travels to Russia this week, he should publicly demand that the Russian government bring the perpetrators of these horrific acts to justice."
"The United States must remain a beacon of hope and freedom — but it cannot do so if our leaders are silent in the face of gross human rights violations," it added.
A State Department spokesperson on Monday declined to comment on the Novaya Gazeta report that Chechen authorities have sent gay men to "concentration camps." The spokesperson instead referred the Blade to a statement that Acting Spokesperson Mark Toner released on April 7.
"We are increasingly concerned about the situation in the Republic of Chechnya, where there have been numerous credible reports indicating the detention of at least 100 men on the basis of their sexual orientation," said Toner. "Some reports indicate many of those arrested have been tortured, in some cases leading to death. We categorically condemn the persecution of individuals based on their sexual orientation or any other basis."
"We are deeply disturbed by recent public statements by Chechen authorities that condone and incite violence against LGBTI persons," he added. "We urge Russian federal authorities to speak out against such practices, take steps to ensure the release of anyone wrongfully detained, conduct an independent and credible investigation into these, reports and hold any perpetrators responsible."
Critics attack LA DA over complicated case involving Trans woman
The crime would sit unsolved until 2019 when her DNA was entered into a database after she was arrested in Idaho on suspicion of battery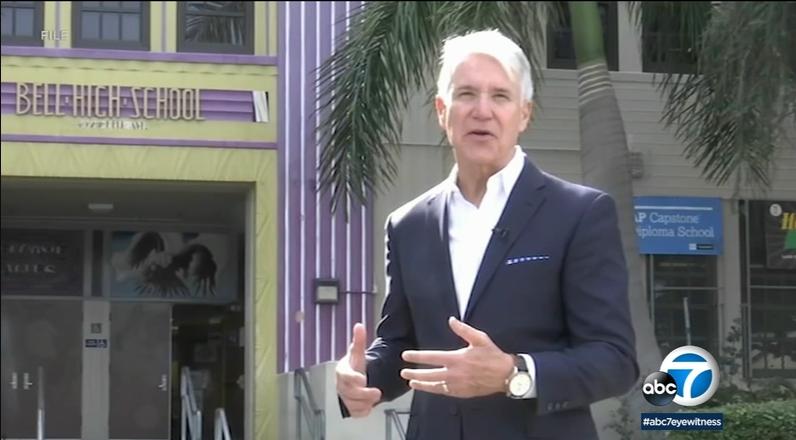 LOS ANGELES – Los Angeles County District Attorney George Gascón is facing sharp criticism over his policy to never prosecute children as adults after a 26-year-old Trans woman pleaded guilty to sexually assaulting a 10-year-old girl when she was 17. But, according to Gascón, the nature of the case is complicated.
Hannah Tubbs was weeks shy of her 18th birthday when she walked into a Denny's bathroom in Palmdale, grabbed a 10-year-old girl by the throat and sexually assaulted her, according to prosecutors.
The crime would sit unsolved until 2019 when her DNA was entered into a database after she was arrested in Idaho on suspicion of battery, reported the Los Angeles Times. Prosecutors filed charges in 2020, shortly after Gascón took office.
According to the paper, Tubbs, who pleaded guilty, might be sentenced to a short stay in juvenile hall or probation later this month.
"I would ask the public to reach out to Mr. Gascon and express their concerns and their outrage on a matter such as this involving a sexual predator."

Lt. Richard Ruiz of the LA County Sheriff's Department's Special Victims Bureau
Critics of Gascón are expressing their frustration with the district attorney, saying Tubbs' case highlights the problems with a blanket ban on not trying juveniles as adults.
"It's useless to catch criminals like [Tubbs] if we don't follow through and seek justice for victims such as the 10-year-old girl [she] sexually assaulted. She bears the burden of a lifetime of trauma," L.A. County Supervisor Kathryn Barger, whose district includes Palmdale, told the Times. "[She] will be offered therapeutic interventions under the auspices of 'restorative justice'… and possibly granted only probation or parole. Where is the justice for [her] young victim and her family?"
Some critics are using the case as ammunition to fuel another recall effort of Gascón. The earlier attempt to recall the district attorney didn't make it to a vote as proponents couldn't collect enough signatures.
However, Gascón has said that the case is complicated due to the years between the crime and Tubbs' capture, as well as her criminal record and the impact on the victim.
Tubbs has also been arrested for battery, drug possession and probation violations in Idaho and Washington, according to the paper.
The victim, who did not want to testify on trial, has since moved from California and is still in therapy, said an impact statement read in court last month.
Gascón has also raised concerns about Tubbs' becoming a victim herself if she was held in an adult facility because of her trans identity. A probation report recommended she be sentenced to home confinement, according to Gascón.
An email reviewed by the Times said Tubbs is diagnosed with multiple mental illnesses and might also qualify as "developmentally disabled." These factors lead to legal questions about whether she can even be found responsible for the crime.
In addition, at 26, Tubbs is too old to be legally held in a county juvenile detention facility, leading to more questions over Tubbs' sentencing.
Christian pastors launch flood of vituperation against Canadian law
Some 4,000 U.S. pastors spoke about it from their pulpits in a show of concern about similar laws coming into effect here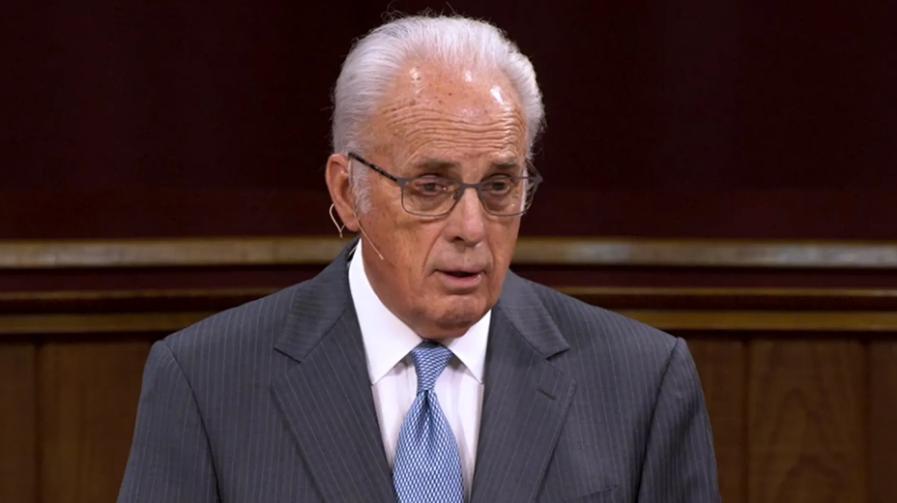 LOS ANGELES – A campaign launched by Liberty Coalition Canada and promulgated in the United States by Pastor John MacArthur of Los Angeles, who has a lengthy record of hateful & extremist public attacks on the LGBTQ+ community, against the Canadian Parliament's recently passed legislation banning conversion therapy for LGBTQ+ people culminated in over 4,000 clergy in both countries protesting the new law Sunday, January 16.
In an editorial posted to his Facebook page, influential evangelical leader Franklin Graham, who has decades long actions of spreading misinformation and deceptive lies against the LGBTQ+ community decried the law writing:
"The Canadian Parliament passed legislation banning what they refer to as "conversion therapy" for LGBTQ, and the law describes as a "myth" the belief that heterosexuality is preferable. They added a stiff penalty that can carry up to a 5-year jail sentence, and Canadian pastors feel they have been stripped of their religious freedoms. Critics of Bill C-4 say it is broadly worded and could even encompass private conversations about the topic, such as when a pastor or any Christian shares what the Bible teaches about sexuality.
One Canadian pastor said, "All socialistic and communistic movements hate the authority and law of God…Much of the church in Canada believes that compliance and compromise will promote peace and freedom, but this attitude only feeds the beast and will increase persecution and eliminate freedom."
Today, some 4,000 U.S. pastors spoke about it from their pulpits in a show of concern about similar laws coming into effect here. Pray for pastors in Canada as this legal oppression continues to grow, and pray that all of us as Christians will have the boldness to continue to proclaim the life-changing truth of the Word of God—the only hope for this world."
Pastor John MacArthur, the 82-year-old leader of the Grace Community Church in Los Angeles, in an interview with FOX News, said that he believes widespread sexual immorality is evidence of divine judgment on a culture and predicted increased efforts to silence those who speak out against it.
"Ultimately, the dissenters, the ones who will not cave in, are going to be those who are faithful to the Bible," he said. "And that's what's already leading to laws made against doing what we are commanded to do in Scripture, which is to confront that sin. And that's just going to escalate," MacArthur said.
"The fact that they identified it as a criminal conduct that could give you as much as five years in prison takes it to a completely different level, because Canadian pastors have been put in jail for just having church services," he continued.
Legislation banning conversion therapy passed in the states of California, New York, New Jersey and Nevada, among other U.S. jurisdictions. Alarmed by this, MacArthur sees Canada as a portent for the potential of a national ban in the U.S. telling Fox; "I think it's reached a level there in Canada that it hasn't yet reached here, but it's coming," he said. "It's coming fast."
Thousands of churches raise alarm about scope of new Canadian 'conversion therapy' ban https://t.co/2IE4w4Em0w

— Fox News (@FoxNews) January 16, 2022
The American Medical Association, the American Psychological Association and a host of therapeutic professional organizations oppose the use of conversion therapy, stating it is ineffective, harmful and not evidence-based.
Currently, 20 states and numerous localities, including D.C., ban the use of this discredited practice.
In two recently issued reports from the Global Project Against Hate and Extremism (GPAHE), anti-LGBTQ groups "easily" spread dangerous disinformation online about the so-called conversion therapy as tech companies fail to de-platform such content, especially in non-English languages.
The reports detail that even though conversion therapy is a widely condemned practice, content related it is "distressingly easy" to find through simple searches on various platforms.
Both Graham and MacArthur's anti-LGBTQ+ animus has been well documented. New York City-based journalist, editor, and blogger Joe Jervis who publishes the widely popular 'Joe My God' website has a partial tabulation of MacArthur's egregious vitriolic statements.
"John MacArthur says God gave humanity a "disposable planet." MacArthur declares that the response to COVID is setting the stage for the Anti-Christ. MacArthur says lockdowns are "Hitler false science." MacArthur says gay people do not exist. MacArthur signs petition condemning churches that advocate for social justice. MacArthur declares that Christianity which isn't "offensive" about homosexuality isn't really Christianity at all. MacArthur signs statement declaring that Jesus hates people who don't hate LGBTs. MacArthur tells parents that if their child comes out, "turn him over to Satan."
The GLAAD Accountability Project has cataloged anti-LGBTQ rhetoric and discriminatory actions by Graham including:
—Said celebrating LGBTQ+ Pride is like celebrating "lying, adultery, or murder." Graham's comment came in a Facebook post marking the end of Pride Month. "This is an entire month set aside to celebrate a lifestyle that God defines as sin."
—Claimed that public schools have no right to "teach our children something that is an affront to God" in his support for Alfonso Cirulli, the mayor of Barnegat Township, New Jersey, who was fighting a state law requiring schools to teach about LGBTQ history.
—Called out Taylor Swift "for using her platform to try to push the socialist left's so-called Equality Act, which has nothing to do with equality, but is about pushing the LGBTQ agenda down the throats of the American people."
—Said: "LGBT agenda wants to force everyone to accept & condone their lifestyle which God's Word defines as sin."
—Said: "LGBT activists are trying to hook their caboose to the 'freedom train' & drag an immoral agenda into our communities."
—When HB2 was rolled back in North Carolina, tweeted: "Thanks to the gov, people of NC will be exposed to pedophiles & sexually perverted men in women's public restrooms."
—In Facebook post since deleted, claimed Satan is behind LGBTQ rights and advocacy: "This is a full-scale assault against Christianity and the followers of Christ. When prayer is banned from the public square, when our President fails to defend biblically defined marriage, and he openly and zealously advocates for gay rights; when legislators rush to overrule existing laws to promote gay marriage; when schools and courts consistently suppress religious freedoms; we know we are locked in a war against the Christian faith, not culture. The architect behind this offensive is none other than Satan himself. The Scripture says that the devil, our archenemy, is bent on as much destruction as possible."
—Insists that gay and lesbian people cannot have families: "[Same-sex marriage] takes the family away and there is no way you can have a family with two females or two males, if you just think biologically how God made us our plumbing is completely different."
Una 'besada' inesperada en La Habana: El activismo LGBTQ+ independiente sale en defensa del Código de las Familias
Proyecto de ley debe garantizar igualdad matrimonial en Cuba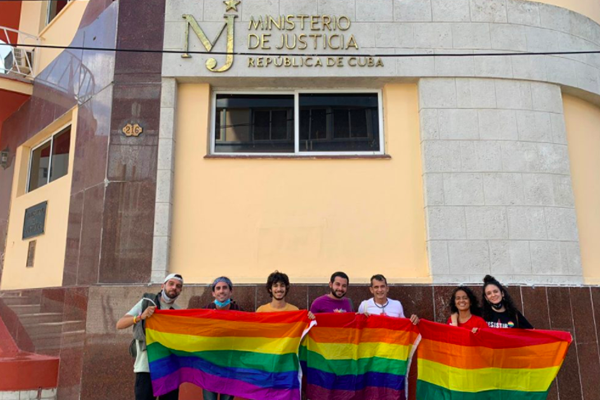 Tremenda Nota es el socio mediático del Washington Blade en Cuba. Esta nota salió en su sitio web el 15 de enero.
LA HABANA — Activistas independientes de la comunidad LGBTIQ+ salieron a las calles del Vedado, en el centro moderno de La Habana, para realizar en una besada pública en respaldo al Código de las Familias, el proyecto de ley que debe legalizar las uniones entre personas del mismo sexo en Cuba, además de otros derechos.
El recorrido de los activistas comenzó en 23 y Malecón y tuvo escalas en el Hotel Nacional, el cine Yara y el Ministerio de Justicia.
La abogada Lidia Romero Moreno, el influencer Jancel Moreno y el pastor Adiel González Maimó estuvieron entre los participantes.
Romero Moreno, activista de la plataforma 11M, comentó a Tremenda Nota que se sumaba a la iniciativa porque "es una acción para comenzar a mover los activismos, y decir que estamos aquí y queremos todos los derechos para todas las personas".
Por su parte, Adiel González Maimó explicó que "es importante todo lo que en materia de activismo se logre hacer con vistas al debate popular del Código de las Familias, para visibilizar las realidades y derechos de la comunidad LGBTIQ+".
El proyecto de ley del Código de las Familias fue publicado en la Gaceta Oficial este 12 de enero y se someterá a consulta popular en el período comprendido entre el 1 de febrero y el 30 de abril del año 2022.
De ser aprobada finalmente en un referendo, la nueva ley resolverá muchas de las demandas de la sociedad civil cubana, entre ellas el matrimonio igualitario, la posibilidad de adopción sin que importe el género de los progenitores y la prohibición del matrimonio infantil.
Las besadas públicas han sido una opción del activismo LGBTIQ+ para visibilizarse. Cuba no es la excepción.
En 2012 tuvo lugar la "Primera besada por la diversidad e igualdad" convocada por el Proyecto Arcoíris, una organización que se definía como "anticapitalista", en un sitio cercano a la Plaza de la Revolución, en La Habana.
Dos años después, se repitió esta iniciativa en La Habana Vieja. Ambas ocurrieron el 28 de junio, Día del Orgullo LGBTIQ+ en recuerdo de los disturbios del bar Stonewall, en Nueva York, incidente que ha sido considerado un hito del activismo estadounidense y mundial.
Otra besada LGBTIQ+ fue convocada el 29 de septiembre de 2015 por el Proyecto Arcoíris y la Red Observatorio Crítico.
En 2020, durante la epidemia de covid-19, el activismo realizó también un evento denominado #BesadaOnLineCuba2020 en la víspera el Día del Orgullo LGBTIQ+. La iniciativa abogaba por un Código de las Familias inclusivo y logró sumar colectivos y activistas de todo el país.