Rep. Lieu revels in trolling Trump
Insists president a 'danger to the Republic,' asks for special prosecutor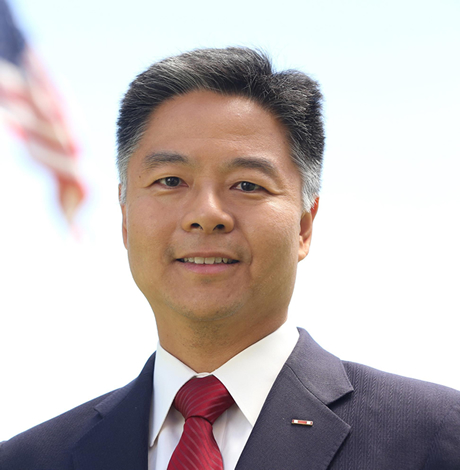 "Anger can cause all sorts of changes," Rep. Ted Lieu told the Los Angeles Blade on April 4 when asked why the usually staid lawyer, Air Force Reserve Colonel and computer science geek has let loose trolling President Trump on Twitter.
It's an anger rooted in a profound sense of betrayal. After the election, Lieu, a longtime LGBT ally who represents LA's Westside, embraced America's greatness as demonstrated through a "peaceful transfer of power" and urged supporters to give Trump "a chance to govern." By the beginning of January, he changed his mind.
"I concluded I was wrong," Lieu said. "I concluded that Donald Trump is so different that he is a danger to the Republic because he is attacking institutions of our democracy such as the First Amendment and the press—calling it 'fake news.' He's going after our judiciary, calling them 'so-called judges.' He is suppressing internal dissent. His main adviser is Steve Bannon, who wants to deconstruct the administrative state. And Donald Trump lies pathologically – and then the public can't tell the difference between what is truth and what is fiction. That leads us down the road to authoritarianism. And I decided that the most patriotic thing I could do is to resist our president."
"President" @realDonaldTrump: You truly are an evil man. Your job is to help Americans. Not intentionally try to destroy their lives. https://t.co/2M94E1g39b

— Ted Lieu (@tedlieu) March 25, 2017
@realDonaldTrump: You truly are an evil man. Your job is to help Americans. Not intentionally try to destroy their lives," @tedlieu tweeted March 25 in response to Trump's tweet about the GOP's failure to repeal the Affordable Care Act.
Lieu's prolific tweets trolling Trump have made him a political star. But behind the well-crafted words is a shaken belief that America really is in danger with the administration's responses to Russian intervention, the use of chemical weapons in Syria and North Korea saber-rattling. Additionally, he is concerned about the erosion of democratic principles throughout government—impacting real people's lives, including those in the LGBT community.
Lieu signed onto a letter organized by Rep. Adam Schiff with Arizona Rep Raúl M. Grijalva and out Wisconsin Sen. Tammy Baldwin sent to U.S. Census Bureau Director John Thompson and Office of Management and Budget Director Mick Mulvaney demanding to know why the federal government finds "no federal data need" to include LGBT questions on the next Census survey.
"It really highlights what this administration is doing in terms of trying to take out of public discourse what we know to be true: there are gay people!" Lieu said. "They're trying to simply effect how the public views reality. And it's very troubling that this administration wants to erase what makes America great, which is our incredible diversity."
Will that attitude promoting LGBT erasure become policy and bleed into reporting hate crimes? The Center for the Study of Hate and Extremism at Cal State San Bernardino reported that hate crimes in the city of Los Angeles went up 15 percent in 2016, with a "significant spike" (25 percent) in attacks against the LGBT community, according to the Daily News April 5. Additionally, "hate crimes against transgender persons jumped from 2 in 2015 to 8 in 2016," according to the LAPD data."
"Perhaps most disturbing is the surge in the most violent type of attacks, which are aggravated assaults," said Brian Levin, the center's director. "Whether it's the increase in aggravated assaults or criminal threats, it appears that assailants are emboldened."
Lieu said he is "concerned" that the FBI may also slough off on collecting and reporting LGBT hate crime data.
Lieu's "resistance" is not limited to Twitter. If the House and Senate investigations show "there was collusion with Russia and Donald Trump knew about it—that would be an impeachable offense," said Lieu. On March 5, he sent a letter to acting Deputy Attorney General Dana Boente requesting the appointment of a Special Prosecutor to investigate any Trump campaign collusion with Russia.

"Because you serve at the pleasure of the President, it is our belief that you have a conflict of interest and cannot exercise true independence into an investigation that may implicate the President. That is one of several reasons we request that you appoint a Special Counsel to investigate any collusion with Russia," the letter reads. "At stake is the legitimacy of the Presidency and whether high crimes occurred."
Lieu's concerns extend to the core American principle of upholding human rights, especially in the face of reports of a roundup of gay men and murder of at least three gays in Chechnya.

"What's happening at the State Department is very alarming," Lieu said. "The State Department is really the first line of making sure that America does not engage in unnecessary conflicts and wars…. And by making drastic cuts to the State Department while advocating for huge increases in the military, it shows that President Trump has a warmonger mentality where he wants to solve every problem with military force. And that is exactly the wrong way to approach our changing world order."   

Nor is it logical. "I'm very troubled by Donald Trump's stance on human rights," said Lieu. "He recently green-lighted a sale of weapons to Bahrain that the Obama administration did not do because they were concerned about Bahrain's human rights record—which is also very anti-LGBT. The Trump administration is sending a message that they are going to de-couple human rights from weapon sales. I think that's a very grave mistake."

Asked about the irony of candidate Trump campaigning for LGBT votes by referencing "radical Islamic terrorists" beheading gays under Sharia Law—and the fact that Bahrain is governed under Sharia Law—Lieu said: "You're asking me to state that what this administration does is logical and I can't say that."

There are many ways to resist. Attending protests rallies "is significant," he said, noting how the Jan. 21 women's marches showed that "the populist movement opposing Donald Trump was larger than his relatively small populist movement."
Lieu will hold Town Hall meetings in Santa Monica on April 20 and Redondo Beach on April 24. Check his website for updates.
Pulse nightclub survivor 'at a loss' over Texas elementary school massacre
Brandon Wolf is Equality Florida's press secretary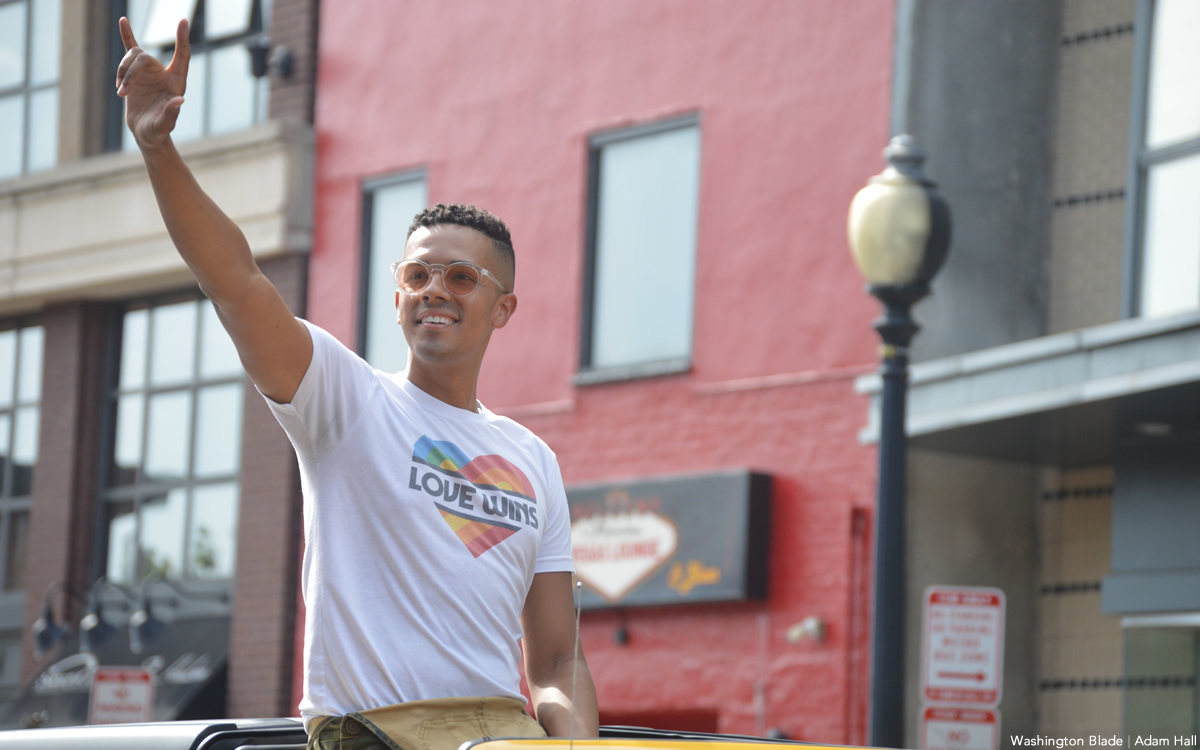 ORLANDO, Fla. — A survivor of the Pulse nightclub massacre on Wednesday said he is "at a loss" over the massacre at a Texas elementary school that left 21 people dead.
"Twenty-one people were murdered," said Equality Florida Press Secretary Brandon Wolf in a statement he sent to the Washington Blade a day after a gunman killed 21 people inside Robb Elementary School in Uvalde, Texas. "Nineteen of them were children — babies. That means 19 families sent their elementary age kids off to school only to get the worst news: That their babies would be leaving class in body bags."
Wolf was inside the Pulse nightclub in Orlando, Fla., on June 12, 2016, when a gunman opened fire and killed 49 people. His two close friends — Christopher "Drew" Leinonen and his fiancé, Juan Guerrero — were among those killed.
Wolf in his statement noted "right wing politicians have spent the past year insisting that the greatest threats our children face are the potential they'll learn that this nation was built on the backs of enslaved Black people or that their teacher uses they/them pronouns."
"They've banned books, censored curriculum and bastardized history lessons," said Wolf. "All the while, they haven't lifted a finger to protect kids from what is killing them."
Equality Florida echoed Wolf's sentiments.
We have an entire faction of extremists laser focused on banning books, propagandizing history, and bastardizing curriculum while the nightmare of gun violence ravages our kids without end.

Heartbroken for those shattered by gun violence today. https://t.co/ED7ItnNR2T

— Equality Florida (@equalityfl) May 24, 2022
"I am heartbroken for the shattered families," added Wolf. "Grief-stricken for these stolen lives. And enraged at the power-hungry leaders who have chosen time and again to serve up this country's most vulnerable as sacrifices in exchange for a boost up the ladder of their own ambitions."
Axel Rodríguez's friend, Xavier Serrano Rosado, died inside the Pulse nightclub.
Rodríguez told the Blade that Tuesday was "such a dad day for us here" in Orlando.
"It is like going through the same emotions we had when the attack at Pulse happened, but it's even worse because we are talking about children," he said. "When will our government stop thinking about money and stop this madness? Everyone now can obtain a gun anywhere. I just cannot comprehend that at all."
The Pulse nightclub massacre was the deadliest mass shooting in modern U.S. history until a gunman on Oct. 1, 2017, killed 60 people at a concert in Las Vegas.
A gunman on Feb. 14, 2018, killed 17 people at Marjory Stoneman Douglas High School in Parkland, Fla. Twenty children and six adults died in the massacre at the Sandy Hook Elementary School massacre in Newtown, Conn., on Dec. 14, 2012.
The Robb Elementary School massacre took place less than three years after a gunman killed 22 people at a Walmart in El Paso, Texas.
"There are no words," tweeted Pride Center San Antonio, which is roughly 90 minutes east of Robb Elementary School, on Wednesday.
There are no words… #uvaldetx #texasstrong #prayforuvalde pic.twitter.com/O9QhjDre3M

— The Center – Pride Center San Antonio (@PrideCenterSA) May 25, 2022
"Our hearts are with the Uvalde community," said Equality Texas on Tuesday. "Every child deserves to free safe at school."
Every child deserves to feel safe at school

— Equality Texas (@EqualityTexas) May 24, 2022
Montana Dept. of Health & Human Services defies court on Trans order
The State is willfully refusing to comply & in doing so is showing their true colors- these regulations are about harming trans Montanans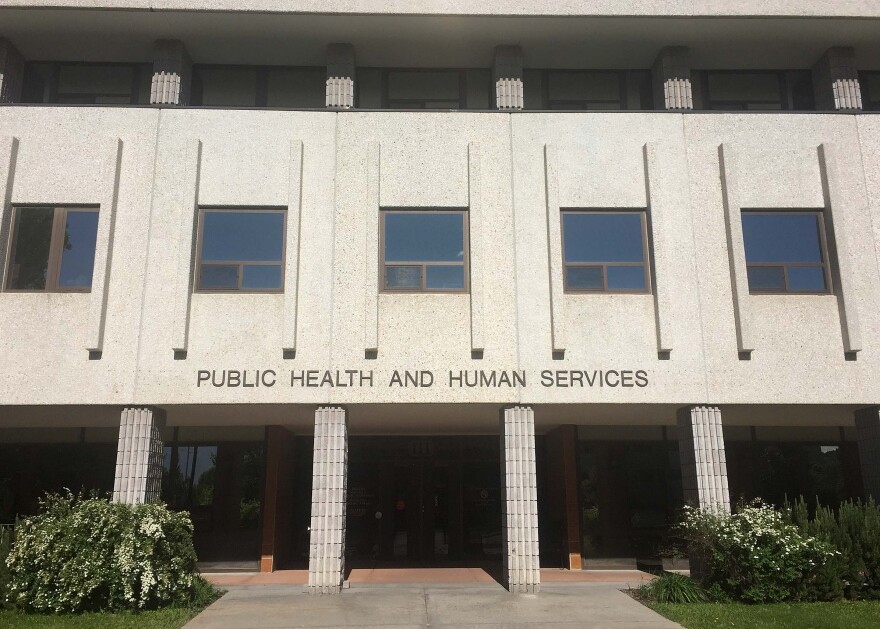 BILLINGS, Mt. – The state of Montana Department of Public Health and Human Services (DPHHS) is openly defying an order by a state district court which had granted a preliminary injunction requiring the agency to comply with the Court's order to return to the 2017 standard for changing the gender marker on birth certificates.
Nearly one month after a state district court granted a preliminary injunction in Marquez v. State of Montana, the State is still refusing to comply.
On April 21, 2022, a Yellowstone County District Court ordered the state to stop enforcing SB 280, a law passed last year that restricts how and when the gender marker on a Montana birth certificate can be changed, and to revert to the previous procedure in place for updating the gender marker on a birth certificate. That procedure allowed for transgender Montanans to update the gender marker on their birth certificate through various means, including completion of a simple attestation form.
The department issued an emergency order Monday claiming that the agency is unable to comply saying said the court's decision leaves them in "an ambiguous and uncertain situation," which officials are blaming saying they cannot return to the "status quo" as requested by the court order, because that system no longer exists, since SB 280 required the department eliminate the 2017 rule.
"The court did not issue a mandatory injunction directing the department to re-implement the 2017 rule," the emergency rule read. "Accordingly, there is currently no non-enjoined regulatory mechanism by which the department can accept and process birth certificate sex identification amendment applications."
"Sex is different from gender and is an immutable genetic fact, which is not changeable, even by surgery," the DPHHS emergency rule continued.
The ACLU of Montana, the ACLU Foundation LGBTQ & HIV Project, and Nixon Peabody LLP who represented the two transgender plaintiffs who sought to change the gender marker on their birth certificates, and challenged Senate bill SB 280 passed by the 2021 Montana Legislature that changed the gender marker rule on birth certificates, issued a statement:
"The Court order could not be more clear. The Court ordered the State to preserve the status quo by providing our clients and all transgender Montanans the ability to amend the gender marker on their birth certificates—as was the law prior to the passage of SB 280. The State is willfully refusing to comply, and in doing so is showing their true colors – these laws and regulations are about harming transgender Montanans. We intend to take this up in Court."
In an email, DPHHS spokesman Jon Ebelt wrote, "The Department of Public Health and Human Services believes that all individuals should be treated with dignity and respect, and that they should be provided all of the rights and protections to which they are entitled under the Constitutions and laws of the State of Montana and of the United States. As noted in the emergency rule, the Department has an obligation to ensure the accuracy of vital records. The rule obeys the court's order, addresses a critical regulatory gap, and remains consistent with current law, as well as the science."
"In the state's non-compliance with the order, they showed their true colors," said Akilah Lane, staff attorney for the Montana ACLU. "These laws and this emergency rule are intended to harm transgender Montanans, and that's what it has done."
Lane said the ACLU intends to take up this matter in court and they've been in communication with opposing counsel on the case.
Florida gulf coast high schooler Outs himself proudly at graduation
'You can't really acknowledge your achievements if you're not acknowledging your true self," Harless said about coming Out.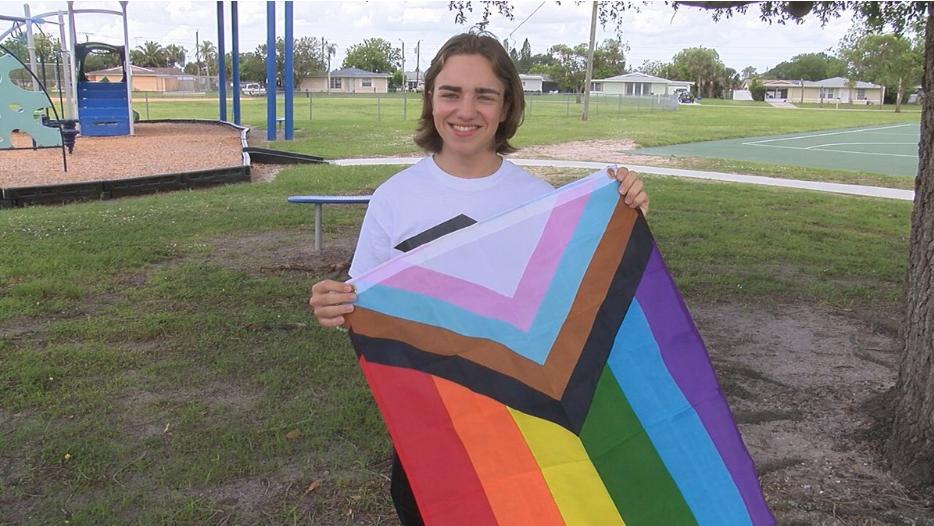 VENICE, Fl. – In an era of YouTube coming out, Instagram posts, or even dramatic Tik-Tok reels, one graduating senior at Venice High School found a dramatic way to Out himself to the world as gay in a novel way.
William Harless walked across the stage this past week to receive his diploma and as he crossed, he carried an unfurled Progress Pride Flag.
In an interview with Sarasota television station WWSB ABC7, Harless says this is something he was looking to do since his seventh grade days in West Virginia. Five years later he says this felt like it was the right moment.
"The reason I chose graduation to come out is because I really wanted to stay true to myself, because graduation is all about your achievements," said Harless. "And you can't really acknowledge your achievements if you're not acknowledging your true self."
"It feels amazing, like a weight has been taken off my shoulders," said Harless. "I have really been able to stay true to myself because I no longer feel like I don't need to hide a part of myself. I feel genuinely free."
Referencing another graduating Florida high school senior who had his graduation address censored by school authorities; "With all the issues and topics of coming out, I don't want people who are in the LGBTQ+ community to feel they are censored," said Harless.
He told WWSB that his family and friends have been very supportive.