Rep. Lieu revels in trolling Trump
Insists president a 'danger to the Republic,' asks for special prosecutor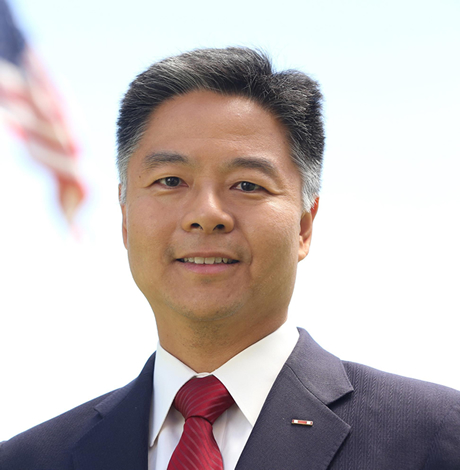 "Anger can cause all sorts of changes," Rep. Ted Lieu told the Los Angeles Blade on April 4 when asked why the usually staid lawyer, Air Force Reserve Colonel and computer science geek has let loose trolling President Trump on Twitter.
It's an anger rooted in a profound sense of betrayal. After the election, Lieu, a longtime LGBT ally who represents LA's Westside, embraced America's greatness as demonstrated through a "peaceful transfer of power" and urged supporters to give Trump "a chance to govern." By the beginning of January, he changed his mind.
"I concluded I was wrong," Lieu said. "I concluded that Donald Trump is so different that he is a danger to the Republic because he is attacking institutions of our democracy such as the First Amendment and the press—calling it 'fake news.' He's going after our judiciary, calling them 'so-called judges.' He is suppressing internal dissent. His main adviser is Steve Bannon, who wants to deconstruct the administrative state. And Donald Trump lies pathologically – and then the public can't tell the difference between what is truth and what is fiction. That leads us down the road to authoritarianism. And I decided that the most patriotic thing I could do is to resist our president."
"President" @realDonaldTrump: You truly are an evil man. Your job is to help Americans. Not intentionally try to destroy their lives. https://t.co/2M94E1g39b

— Ted Lieu (@tedlieu) March 25, 2017
@realDonaldTrump: You truly are an evil man. Your job is to help Americans. Not intentionally try to destroy their lives," @tedlieu tweeted March 25 in response to Trump's tweet about the GOP's failure to repeal the Affordable Care Act.
Lieu's prolific tweets trolling Trump have made him a political star. But behind the well-crafted words is a shaken belief that America really is in danger with the administration's responses to Russian intervention, the use of chemical weapons in Syria and North Korea saber-rattling. Additionally, he is concerned about the erosion of democratic principles throughout government—impacting real people's lives, including those in the LGBT community.
Lieu signed onto a letter organized by Rep. Adam Schiff with Arizona Rep Raúl M. Grijalva and out Wisconsin Sen. Tammy Baldwin sent to U.S. Census Bureau Director John Thompson and Office of Management and Budget Director Mick Mulvaney demanding to know why the federal government finds "no federal data need" to include LGBT questions on the next Census survey.
"It really highlights what this administration is doing in terms of trying to take out of public discourse what we know to be true: there are gay people!" Lieu said. "They're trying to simply effect how the public views reality. And it's very troubling that this administration wants to erase what makes America great, which is our incredible diversity."
Will that attitude promoting LGBT erasure become policy and bleed into reporting hate crimes? The Center for the Study of Hate and Extremism at Cal State San Bernardino reported that hate crimes in the city of Los Angeles went up 15 percent in 2016, with a "significant spike" (25 percent) in attacks against the LGBT community, according to the Daily News April 5. Additionally, "hate crimes against transgender persons jumped from 2 in 2015 to 8 in 2016," according to the LAPD data."
"Perhaps most disturbing is the surge in the most violent type of attacks, which are aggravated assaults," said Brian Levin, the center's director. "Whether it's the increase in aggravated assaults or criminal threats, it appears that assailants are emboldened."
Lieu said he is "concerned" that the FBI may also slough off on collecting and reporting LGBT hate crime data.
Lieu's "resistance" is not limited to Twitter. If the House and Senate investigations show "there was collusion with Russia and Donald Trump knew about it—that would be an impeachable offense," said Lieu. On March 5, he sent a letter to acting Deputy Attorney General Dana Boente requesting the appointment of a Special Prosecutor to investigate any Trump campaign collusion with Russia.

"Because you serve at the pleasure of the President, it is our belief that you have a conflict of interest and cannot exercise true independence into an investigation that may implicate the President. That is one of several reasons we request that you appoint a Special Counsel to investigate any collusion with Russia," the letter reads. "At stake is the legitimacy of the Presidency and whether high crimes occurred."
Lieu's concerns extend to the core American principle of upholding human rights, especially in the face of reports of a roundup of gay men and murder of at least three gays in Chechnya.

"What's happening at the State Department is very alarming," Lieu said. "The State Department is really the first line of making sure that America does not engage in unnecessary conflicts and wars…. And by making drastic cuts to the State Department while advocating for huge increases in the military, it shows that President Trump has a warmonger mentality where he wants to solve every problem with military force. And that is exactly the wrong way to approach our changing world order."   

Nor is it logical. "I'm very troubled by Donald Trump's stance on human rights," said Lieu. "He recently green-lighted a sale of weapons to Bahrain that the Obama administration did not do because they were concerned about Bahrain's human rights record—which is also very anti-LGBT. The Trump administration is sending a message that they are going to de-couple human rights from weapon sales. I think that's a very grave mistake."

Asked about the irony of candidate Trump campaigning for LGBT votes by referencing "radical Islamic terrorists" beheading gays under Sharia Law—and the fact that Bahrain is governed under Sharia Law—Lieu said: "You're asking me to state that what this administration does is logical and I can't say that."

There are many ways to resist. Attending protests rallies "is significant," he said, noting how the Jan. 21 women's marches showed that "the populist movement opposing Donald Trump was larger than his relatively small populist movement."
Lieu will hold Town Hall meetings in Santa Monica on April 20 and Redondo Beach on April 24. Check his website for updates.
Nebraska to force "non-affirming therapy" on trans kids
In guidelines released by the state, trans youth will have many requirements to start care, including one likened to conversion therapy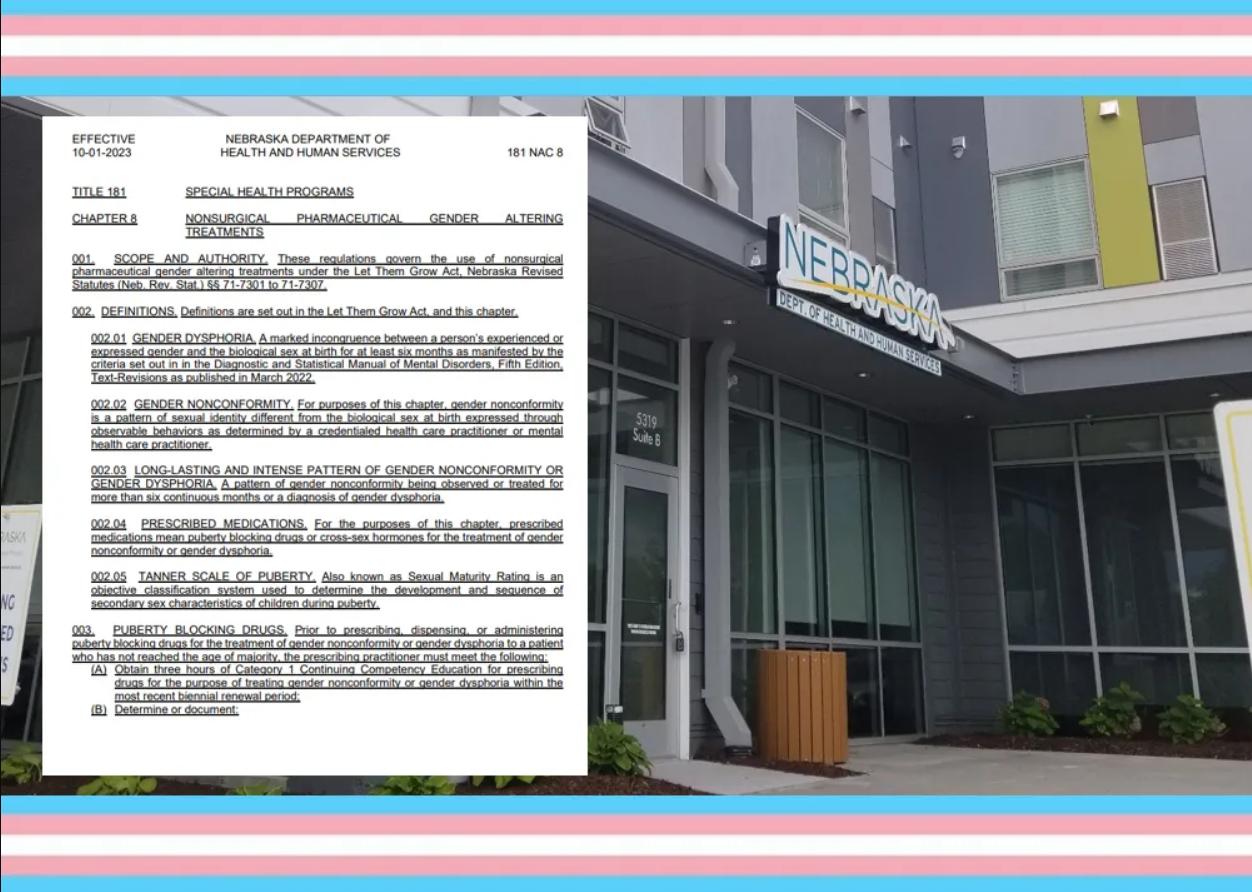 Editor's note: Important update- The regulations have been removed from the website but can be found in an archive here.
By Erin Reed | LINCOLN, Neb. – A new set of regulations released on Monday morning by the Nebraska Department of Health and Human Services spells out several new restriction on transgender youth in the state.
The restrictions, allowed under a new law passed by the Nebraska legislature this year, would curtail gender affirming care for those under the age of 19, the age of majority in the state. While several restrictions are poised to create hurdles for those seeking care, one in particular stands out as especially troubling: a mandate that all trans youth seeking treatment undergo five months of therapy that is "not in a gender affirming context," a nod to a novel form of conversion therapy championed by those opposed to gender-affirming care.
The new regulations delineate a series of hurdles that transgender youth must navigate to access care. One rule, for instance, mandates that trans youth must have been fully out and living as their gender identity for six months prior to treatment, a throwback to an archaic and decades-old standard of care. This standard was discarded following criticisms that requiring transgender individuals to present as their gender identity, before hormones could facilitate such presentation, was psychologically painful and not linked to improved outcomes. Another stipulation demands that only a trans youth's parents may collect their prescription, which must be labeled for gender dysphoria. Additionally, these youth must be handed obligatory medical misinformation forms, proclaiming the medication to be risky and promoting "alternatives" to care.
Most troublesome, however, is a particular regulation on the mental healthcare of transgender youth. The document states that transgender youth must obtain 40 hours of therapy, with a maximum of two such hours per week, that is "not in a gender affirming context." Read literally, this could involve forcing transgender youth to be misgendered and their old names used for months before obtaining care. Such a regulation may put therapists and providers in legal jeopardy merely for practicing the basic respect and dignity of their patients. The guidelines also state that the therapy has to probe for other "mental and physical health conditions" that the guidelines claim may be "driving the patients distress."
You can see the guidelines around therapy here:
Collectively, these guidelines champion a new form of conversion therapy dubbed "Gender Exploratory Therapy." Despite its innocuous name, this therapy seeks to explore all possible causes for a transgender person to experience gender dysphoria other than genuine transness.
It's important to highlight that the patient being transgender is never deemed an acceptable conclusion. Treatments are perpetually dangled just beyond reach until the trans youth believes they are not actually transgender, that too much time has elapsed and puberty has induced too many changes for a successful transition, or they turn 18 and age out of care.
Mirroring crisis pregnancy centers, these tactics are deployed under the pretense of "alternative care" and "neutral treatment," despite the deception inherent in the care provided. The duplicity surrounding gender exploratory therapy is evident in its founders, its practitioners, and on the Gender Exploratory Therapy Association's (GETA) own website.
One of GETA's co-founders, Lisa Marchiano, was implicated in leaked emails of a working group seeking to ban gender-affirming care nationwide. In these correspondences, she employs the far-right doxxing website Kiwifarms to relay information about a transgender activist to Fox News.
Although the GETA website presents the practice as "care without pushing a political agenda," it conspicuously displays a brief aimed at blocking Title IX anti-discrimination protections for transgender youth. Evidently, "value neutral, non-ideological care" is a misnomer for this form of therapy.
Many accounts of patients going through gender exploratory therapy can be found in a widely-viewed thread soliciting patients experiences, and the practice of delaying transition through the associated practice of "watchful waiting" is is explicitly condemned by the American Academy of Pediatrics. Because of widespread harm caused by this kind of therapy, the practice has been recognized as unethical in medical ethics journals.
Collectively, these new guidelines were put in place after the passage of LB547, the "Let Them grow Act." Fittingly with the comparisons to the way these kinds of practices are levied at those seeking abortions, the bill was a combination bill banning abortion up to 12 weeks as well while also containing the provisions allowing for these kinds of restrictions on trans youth. It passed the Nebraska legislature by a narrow supermajority after Democrats filibustered the law for three months.
These new policies were developed under the guidance of the state chief medical officer, Dr. Timothy Tesmer, an appointee by Governor Jim Pillen, who called gender affirming care "Lucifer at its finest." These policies were released on an emergency basis pending the adoption of permanent regulations and will go into effect immediately. A hearing is planned on November 28th on the permanent rules for gender affirming care under the new law.
****************************************************************************
Erin Reed is a transgender woman (she/her pronouns) and researcher who tracks anti-LGBTQ+ legislation around the world and helps people become better advocates for their queer family, friends, colleagues, and community. Reed also is a social media consultant and public speaker.
Follow her on Twitter (Link)
Website here: https://www.erininthemorning.com/
******************************************************************************************
The preceding article was first published at Erin In The Morning and is republished with permission.