April 21, 2017 at 2:22 pm PDT | by Wenzel Jones
Final curtain for S.T.A.G.E.
The 33rd and final edition of the Southland Theatre Artists Goodwill Event (S.T.A.G.E.) fundraiser, benefiting multiple AIDS service organizations, among them AIDS Project Los Angeles, takes place May 13 at the Saban Theatre, in Beverly Hills.
This year's theme is Idols & Icons, in which the stars of today pay tribute to the stars of yore. American Idol finalist Melinda Doolittle will be showing her love for Ray Charles, Star Search Champion Jake Simpson will be giving it up for George Michael, and the legendary Carole Cook will pay homage to the iconic Ethel Merman.
Other glittering jewels in the diadem include Vicki Lewis (News Radio, Broadway's Damn Yankees), Christine Pedi (SIRIUS Radio, Forbidden Broadway), and the powerhouse Sam Harris, whose resume extends from the Ed McMahon version of Star Search to his recent book and one-man show, "Ham: Slices Of a Life." This year's outing will include film elements, so there will be both an introduction by a two-dimensional John Travolta, as well as Dale Kristien, the original Christine Daae in the L.A. production of Phantom Of the Opera, singing a duet with the flickering version of her Phantom, Michael Crawford.
Alas, director and instigator David Galligan informs us this will be the last one. Due to the popular misperception that AIDS has been cured, and the general aging of the core audience, he will no longer be mounting this showcase that has been a cornerstone of the cultural life in this city. He finds that audiences are looking for a different kind of music and he's at a loss when, during a rehearsal, he references George and Ira Gershwin to a stage of spirited young dancers only to receive blank stares.
So get out there and witness something the likes of which we'll not see again. Tickets at sabantheatre.com; info at stagela.com.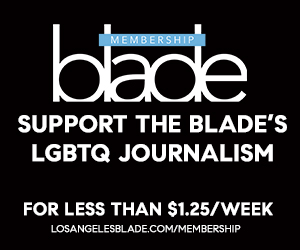 Sign Up for Blade eBlasts