Abbey Air gets you to Palm Springs, pronto
The White Party is moments away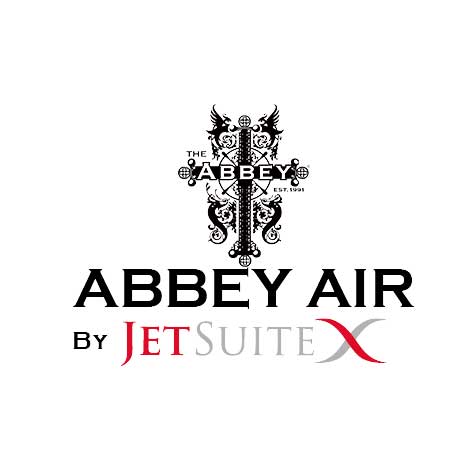 David Cooley is determined to collect your coins whether you are grounded or flying high in the skies. His famous coffee shop/bar/restaurant/dance club/Elizabeth Taylor watering hole known as The Abbey is partnering with JetSuiteX to bring what we love about The Abbey to the skies en route to Jeffrey Sanker's White Party, the world's biggest gay dance festival weekend.
For those who want door-to-door service and to get the party started before leaving Los Angeles, JetSuiteX and The Abbey are launching "Abbey Air," which departs from a private terminal at Burbank airport on Friday, May 5 and returns from Palm Springs on Monday, May 8.
With fares starting at $199 each way, travelers will be able to skip the traffic and fly the quick 35-minute flight in a 30-seat "luxurious" Embraer 135 aircraft, while enjoying The Abbey's signature cocktails and beats by The Abbey's resident DJ Dawna Montell. There is even an optional David Cooley-hosted party at the hanger featuring the soon-to-be even more famous Abbey bartenders.
This is the perfect flight for those fearful of seeing family/work people normys, aka non-White Party attendees, in their post-White Party state en route back to Los Angeles. The return flight promises mellow beats and mimosas.
"I flew JetSuiteX to Las Vegas and instantly fell in love with the company because of their remarkable customer service and the luxurious experience for nearly the same price as a commercial ticket," Cooley said.
JetSuiteX says it offers travelers the benefits of private travel in well-appointed regional jets at commercial fares. Its parent company, JetSuite, Inc., recently announced an investment from JetBlue.
David Cooley has expanded The Abbey with his purchase of Here Bar and opened The Chapel at The Abbey last year, which has become among other things the go to Sunday Funday destination. His reality show What Happens at the Abbey premieres Sunday, May 14 at 10 pm, on the E! network. He is both executive producer and cast member of the series.
Flights can be purchased by visiting jetsuitex.com, or by downloading the JetSuiteX app on iOS.
West Hollywood's 'Out On Robertson' official launch
The Robertson program is having its official ribbon-cutting ceremony, Saturday, May 1, 2020, at 7 p.m.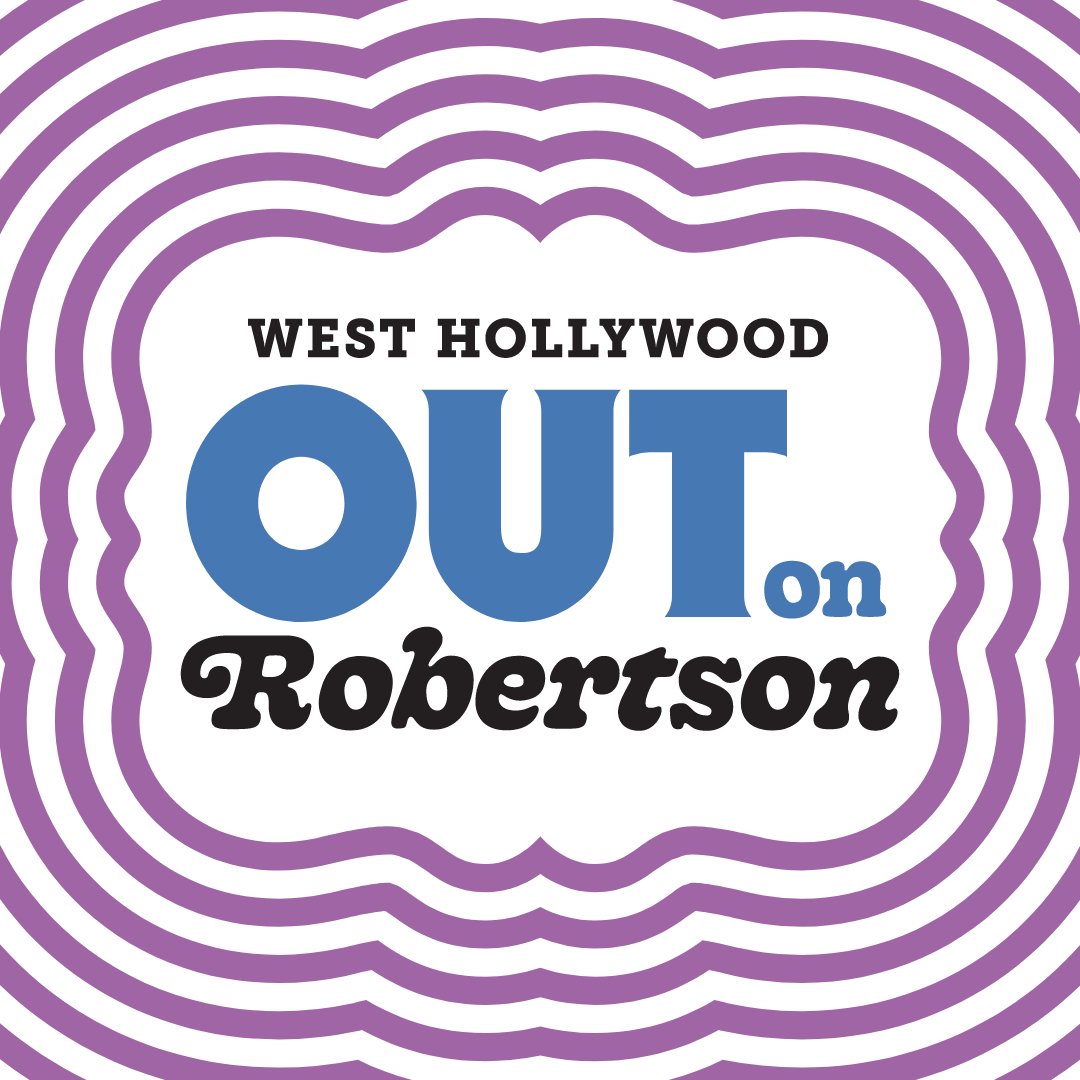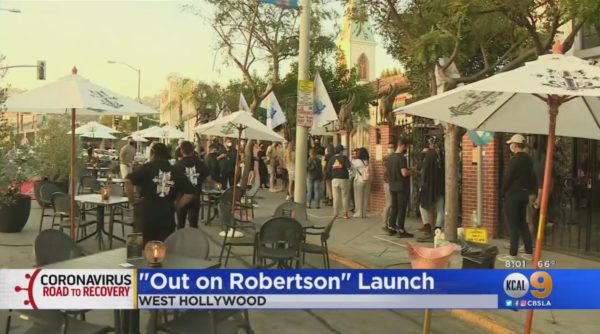 WEST HOLLYWOOD – Mayor Lindsey P. Horvath, Mayor Pro Tempore Lauren Meister, and city council members John D'Amico, John M. Erickson, and Sepi Shyne are set to celebrate the official launch and ribbon cutting of WeHo's OUT on Robertson program May 1.
Because of the impact of the coronavirus pandemic on local businesses, especially restaurants, in August 2020, the City began its Temporary Outdoor Expansion Permit program, known as OUT Zones, by offering streamlined approval for businesses to use sidewalks, on-street parking spaces, and private parking lots as areas to expand operations.
Starting Saturday, April 17, the City expanded that program with a 'soft launch' of OUT on Robertson, a pilot program that closes N. Robertson Boulevard south of Santa Monica Boulevard and north of Melrose Avenue to vehicular traffic each Saturday and Sunday, between 6 p.m. on Saturday and late-night on Sunday, in order to transform the restaurant/retail area into a pedestrian zone with COVID-19 safety protocols.
"Closing this highly trafficked and bustling stretch of Robertson will provide a pedestrian-safe space that allows for appropriate social distancing as the Public Health Department eases capacity restrictions while still monitoring the spread of the virus," said City of West Hollywood Councilmember John M. Erickson. "COVID is not over and we all must remain vigilant about protecting our own health, and the health of others. I'm looking forward to safely seeing you — at a distance and with your most fabulous masks on — OUT on Robertson!"
The Robertson program is having its official ribbon-cutting ceremony, Saturday, May 1, 2020, at 7 p.m.
OUT on Robertson will embrace, on weekends, what compact OUT Zones throughout the City have been offering for months: a place to enjoy sunny days and balmy nights while maintaining social distance, aligning with the Los Angeles County Department of Public Health's health and safety protocols, and supporting community businesses.
People exploring West Hollywood's OUT on Robertson are reminded that the City of West Hollywood has a mandatory face-covering requirement and people are urged to be mindful of maintaining six feet of social distancing for dining, shopping, and personal care under the sun and stars
Plentiful parking is available in the five-story West Hollywood Park structure located at 625 N. San Vicente Boulevard, adjacent to the West Hollywood Library. Additional parking is also available at 650 N. La Peer Drive. For those using rideshare services, the City has established Drop Zones at the corner of Melrose Avenue and N. Robertson Boulevard.
33 Taps Owner Ryan Floyd has Big Plans
33 Taps will now be a part of the official Silverlake gay bar crawl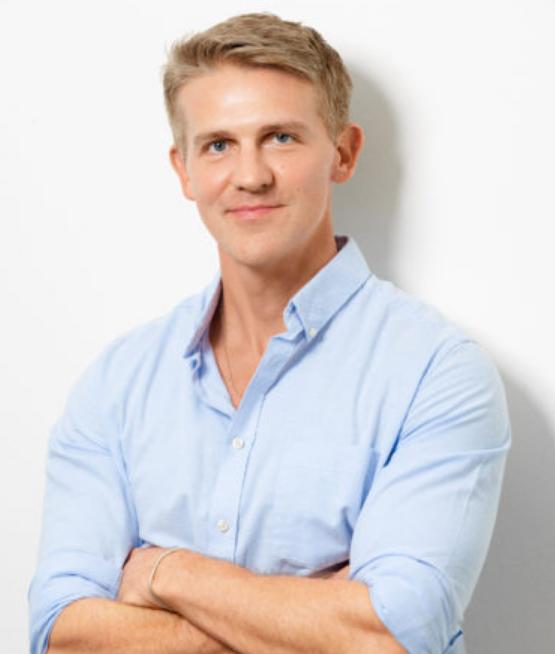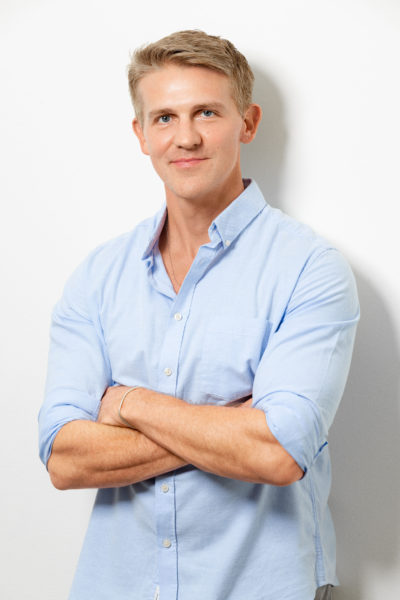 WEST HOLLYWOOD Ryan Floyd signed the contract for his first restaurant after working for 10 years in LA as a finance guy. He said he hit the decade mark and realized, "I want to do something on my own." He liked the industry, and knew the business side after working as CFO for a successful restaurant development and management firm. Now, after more than a year in lockdown, he's got big things planned for his spot 33 Taps, and his next venture, Stache in West Hollywood.
In 2016, Floyd bought a storied beer bar and country diner once known as The Crest on Sunset, making him the third consecutive gay owner of the location. The Crest on Sunset had been running since the late-1980s, with a loyal local clientele – most of the staff was gay, most of the customers were gay. "A friend brought it to me and I thought, this could be a good step for me," Floyd explained, "I bought the assets and license and rebranded it as 33 Taps."
33 Taps formally opened in September 2016, and will celebrate its five-year anniversary in the fall. "The first year was really stressful," Floyd remembers, "we were under capitalized. I lost money for the first six, seven months. It was scary." The former investment banker had sunk all his own cash into the business, and it wasn't until the end of 2017 that 33 Taps began to find its footing, and its niche.
Floyd credits his team for the longevity of the spot, and for helping keep the business open during its first year and all the years that followed. Many of the employees had even been at that location before the sale – the general manager at 33 Taps, Peaches, has been working at the address for more than 30 years.
Before the pandemic hit, business was good. "Seventy-five percent of our patrons are local," Floyd said proudly. "We've really established ourselves as a place where people love to watch LA sports — the Dodgers, the Lakers, the Rams. And we also have a huge Drag Race following." The bar finally returned to its weekly Drag Race viewing parties just in time for the grand finale episode last Friday. According to Floyd, more than a third of the clientele is LGBTQ.
As Los Angeles slowly begins to reopen, and businesses and bars can welcome back customers, 33 Taps is greeting the post-COVID world with some new changes. "During the pandemic I had entered the liquor license lottery." For businesses hoping for a budget break, the State of California holds a yearly liquor license lottery in which restaurants and bars can try their luck at a discounted license. "The state will issue however many licenses they think the market should absorb. You can buy those licenses for $15,000, which is a full liquor license — a type 47. Whereas on the open market, prices go from $100,000-$120,000." It was his fourth year entering the lottery, and his first time winning. It took the state months to process the license, but it finally issued 3725 Sunset Blvd. its first-ever liquor license. It'll be the first time in 40 years that the location will have a full bar.
A numbers man, Floyd explained an added benefit of a liquor license kicking in now. "Beer and spirits go through cycles. Beer had a very long, 10-year run. In 2005, there were 300 breweries in the United States, and now there's over 5,000." Floyd recites these statistics with a sportscaster's excitement, "beer had this huge run, but now spirits have taken the lead again." With the city's reopening looking more and more optimistic, and more and more people wanting to celebrate big after a year in their living rooms – the new liquor license could not be better timed. "We want to program our Friday and Saturday nights. We've never been open beyond 11 o'clock, now we can stay open until 1 a.m. and actually have a bar crowd." He's lining up a slew of parties, bringing some much needed queer nightlife programming to the Silverlake scene.
33 Taps will now be a part of the official Silverlake gay bar crawl, for all those on their way to dance at Akbar or a party at The Eagle. It rounds out the trio, offering its own flare – a modern neighborhood restaurant and sports bar.
Each spot brings something different to the table. Akbar is beloved for its brand of queer punk quirk; the also beloved Eagle offers its loyal leather-clad following the gritty gay bar of years past. 33 Taps is the grad-school jock of the group, a lovable charm and an always here for a good time attitude. Floyd offered the elevator pitch: "You can listen to great music, drink from a full bar and also have some great food." The 33 Taps food menu has always been one of its strongest assets, offering customers a chef-driven menu of craft burgers and fries. A top-notch bite at a gay bar is hard to come by, and the plates at 33 Taps put most bar menus to shame.
He teased a few details of his highly anticipated new venture: Stache. Coming to West Hollywood this summer, Stache is lucratively situated across the street from Beaches and TomTom, and down the block from Weho heavy-hitters, Rocco's and The Abbey. "Stache will also be a full restaurant and full bar, with a nightlife component as well," Floyd shared. While he can't reveal plans just yet, he promises big monthly parties, disco and drag. The new website, stacheweho.com, describes Stache as, "an all-inclusive social house for every form of self-expression." The site also attributes the mustache in the name and logo as a symbol of resilience in the gay community, honoring those lost to the AIDS epidemic.
After the closing of so many iconic LA gay bars during the pandemic, Ryan Floyd's Stache is a welcome addition to the WeHo strip.
Lance Bass set to open WeHo mega nightclub
Rage closed its doors permanently in September of 2020, after a near four decade run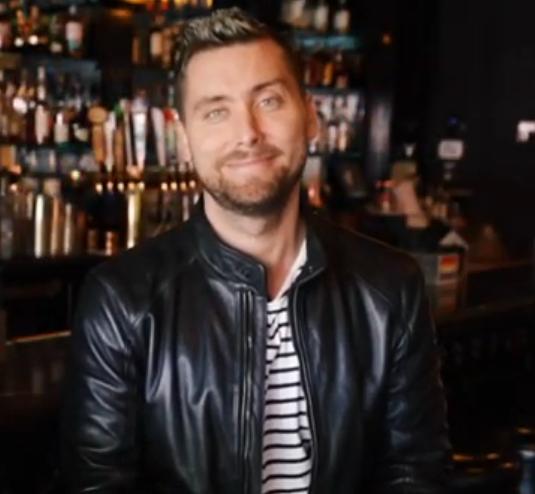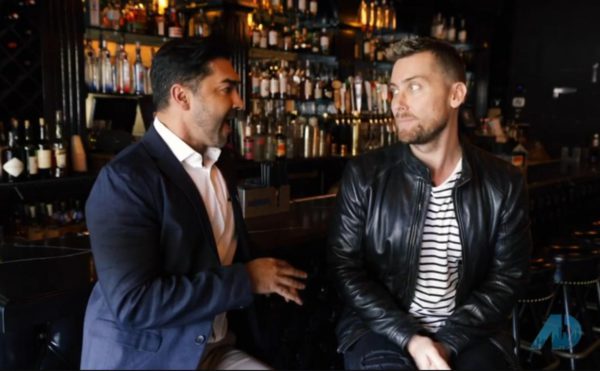 WEST HOLLYWOOD – Former NSYNC boy band member Lance Bass, 41, announced last week his latest venture – opening the biggest gay club in the United States. Bass signed the lease to rent 8911 Santa Monica Blvd, moving in to the space formerly occupied by the 37-year old Rage bar.
Bass's company has yet to release the name, and no official opening date has been announced, however a minimalist website titled WeHoMegaClub.com promises that the new club will be "the biggest gay nightclub in the USA".
Bass's new bar is the most recently announced in an exciting new string of Weho bars. The glittering lineup includes Stache, from the charismatic founder of the Silverlake beer bar 33 Taps, and the rebirth of of Covid-casualty, Gym Bar, which will be neighbors with Bass's new Mega Club.
The news of Bass's new venture comes just two years after the launch of Rocco's Tavern, the successful restaurant and bar he co-owns with three other partners. Complete with a wrap around outdoor patio, enviably large stage and food that's….passable, Rocco's opened to instant popularity in May of 2019, and became a go-to watering hole.
Sitting at 8900 Santa Monica Blvd, replacing a dilapidated Bank of America, and breathing new life into one of most lucrative corners of the 'Boystown' bar crawl. Roccos's became known for its buzzing Sunday afternoons, lively drag performances and raunchy go-go dancers.
Recently re-opened after conducting a full scale makeover of their back lot, you can reserves cabanas and tables online for 'Rocco's Paradise' (aka brunch). Since its opening, Rocco's has operated at maximum capacity, its crowds providing a stark contrast to those across the street. The purchasing of the old Rage bar certainly makes for a convenient commute for Bass. Rocco's and the now-closed Rage sit across the street from one another, two households both alike in dignity.
Rage closed its doors permanently in September of 2020, after a near four decade run. Opened in 1983 by Robert Maghame and Saeed Sattari, neither LGBT identifying, Rage catered to a wide variety of customers and served as the neighborhood's only 18+ club. Yet during the pandemic they stated in a press release that they were unable to negotiate a lease renewal.
In an interview with local tabloid the WeHo Times, the longtime general manager at Rage, Ron Madril, said "I knew it was happening with us being closed for so long, not having any income and the rent being very high. The building is owned by West Hollywood's 'Ebenezer Scrooge', notoriously unforgiving landlord Monte Overstreet."
The inflexible Overstreet is the man behind the closing of many of gay LA's mainstay. In the past year, he has shut down three decade old favorites. In August of 2020, Faming Saddles, the wildly popular cowboy themed dance bar, was the first to close up shop. In the following months
Overstreet closed Gold Coast, a 40 year old classic with a loyal clientele, and Oil Can Harry's, a 52 year old Studio City institution, were also forced to shut their doors by Overstreet. Each of the bars cited issues with the landlord and pricey rental renegotiations, rumors even floated of Overstreet raising prices during the pandemic.
Yet the closing of Rage surprised little. In the past several years Rage fluctuated in popularity, failing to draw any sort of a crowd most nights. Though they kept a consistent following on some theme nights, Rage mostly sat as if it were a showroom of chairs and tables.
But Rage bar's 37-year run is nothing to be scoffed at, it was founded when its location's new owner [Bass] was 4 years old.