LA's May Day march includes LGBT visibility
Focus on immigration rights, equality and Trump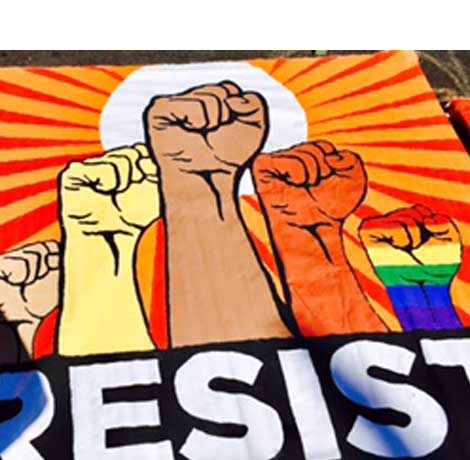 Organizers from a massive coalition that included LGBT groups estimated that about 30,000 people turned out for the May Day march on Monday, May 1, in downtown Los Angeles, though 100,000 people had been expected. The alt-right site Breitbart headlined that 85 percent shortfall, with no consideration of why there might have been fewer demonstrators, no mention of the rampant fear gripping the immigrant communities that for so long have bolstered the ranks of those commemorating International Workers Day.
The fear is not just the election of Donald Trump as president. After all, President Barack Obama deported 2.5 million people, earning him the nickname "deporter-in-chief." The fear is that Obama-era restrictions have been lifted or loosened so even designated DREAMers are being detained and deported, with ICE routinely sweeping up more people than their intended target. Additionally, as happened to Romulo Avelica-Gonzalez, the father of four who was arrested last February after dropping off his 12- year old daughter at her Lincoln Heights school, ICE officers wear jackets emblazed with the word "POLICE," instilling confusion and fear of the LAPD, which has publicly stressed it will not comply with ICE, unless necessary.
ICE says it is going after criminals, raising the specter of the Mexican rapists, drug dealers, and murderers Trump talked about when announcing his campaign. But the two criminal convictions for which Avelica-Gonzalez, who has lived in the U.S. for 25 years, was arrested and now faces deportation and the breakup of his family were misdemeanor DUI and driving without a license in 2008 and buying a stolen non-DMV-issued vehicle registration tag in 1998, also a misdemeanor. He ended up with a deportation order in 2013 for trusting a fake lawyer who ran off with his money and paperwork.
Undocumented immigrants in California have been able to get driver's licenses since 2015.
It is no wonder, then, that thousands of undocumented workers and their families who might have proudly marched in the May Day celebrations of the past were too afraid to march this year, especially with such a strong police presence.
But despite the numbers, there may have been a turning point in the call for unity in defiance of the Trump administration's efforts to take away basic civil rights.
This year, the May Day Coalition of Los Angeles, a network of more than 115 organizations led by Coalition for Humane Immigrant Rights (CHIRLA) and the Los Angeles County Federation of Labor, was intentionally inclusive. Rainbow flags dotted the march from MacArthur Park to L.A. City Hall with transgender communications spokesperson Rachael Rose Luckey of Stonewall Democrats speaking before the march and trans activist Bamby Salcedo of [email protected] Coalition speaking at City Hall. Among the LGBT groups represented were: Equality California, Human Rights Campaign, Lambda Legal, Latino Equality Alliance, Los Angeles LGBT Center, Stonewall Democratic Club, and St John's Well Child & Family Center, which has a significant trans program.
"On May Day, when WE resist together, we honor the intersection of our identity as immigrants and descendants of immigrants and we honor the diversity of our communities," says Ari Gutiérrez, Co-Founder and Advisory Board President of the Latino Equality Alliance. "The Lesbian, Gay, Bisexual, Transgender and Queer identified community includes immigrants, survivors, dreamers, college students, professionals and entrepreneurs. The LGBTQ community supports labor, immigrant and racial justice because those issues affect us too!" The safety and dignity of our LGBTQ community in our advocacy for immigration, employment and other policies must be a priority in our common struggle for equality, equity and justice. We must RESIST together and ALL of us for each other!"   
It is a point CHIRLA Executive Director Angelica Salas underscored in an interview with the Los Angeles Blade. "It is not just the responsibility for the immigrant community to stand up for Africa American and LGBTQ rights. It is our responsibility to change the country," she said at Stonewall Democratic Club's Stoney Awards on Sunday, where CHIRLA was honored.
Salas also noted that CHIRLA's efforts at unity and coalition-building required some intense internal struggle and preparation. In 2008, for instance, the leadership recognized that the anti-gay marriage Prop 8 was the equivalent in the gay community to the horrific anti-immigrant Prop 187 was in the Latino community. Though they were in the middle of the grant process with the LA Catholic Archdioceses, CHIRLA decided to return the money to the church—which caused considerable internal consternation, rather than bow to church pressure over their opposition to Prop 8. Of more importance was not equivocating on their principles of fairness and equality, she said.
CHIRLA is also extremely aware of the issues and challenges faced by LGBT immigrants and worked hard on behalf of DREAMer Yordi Cancino, a gay youth leader for his high school's Gay-Straight Alliance, who wound up in an ICE detention facility facing deportation. CHIRLA is also advocating for LGBT asylum seekers.
LGBT people having been marching in the May Day march for years, starting with six brave staffers and volunteers from Bienestar. When gays were eventually acknowledged and included, the representative was often the last speaker on stage. This year, with so much at stake, the need for diversity in unity itself became a message for #ResistLA—even in the logo for the May Day flier.
Historic LA gay bathhouse for sale- looks to be end of an era
Midtowne Spa owned three properties in Southern California- The Los Angeles location is the last Midtowne Spa standing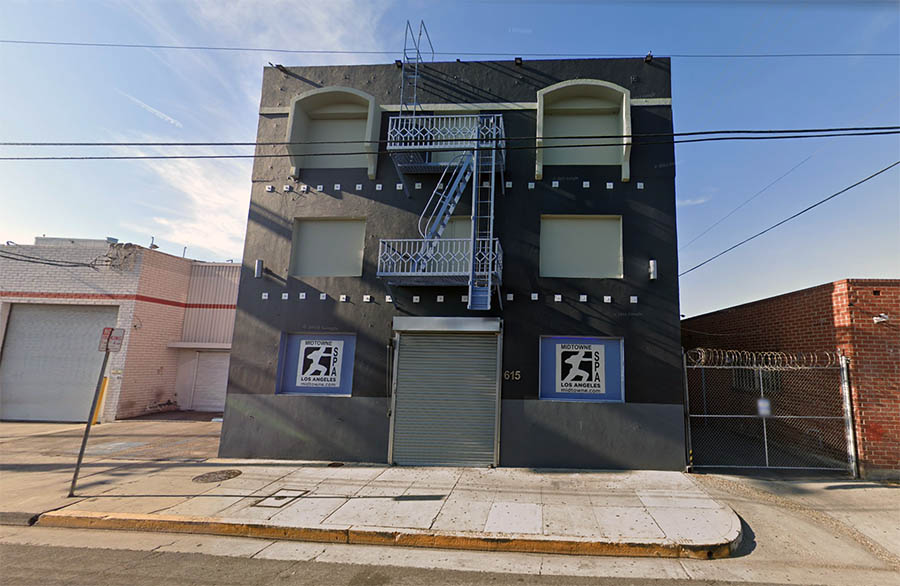 By Paulo Murillo | LOS ANGELES – The Midtowne Spa Los Angeles property, home to the historic sex bathhouse catering to gay, bisexual, and men who have sex with men (MSM) went up for sale earlier this month.
Insiders say this is the end of the last Midtowne Spa standing in Southern California and across the nation. Located at 615 Kohler Street in Los Angeles, the bathhouse was founded in 1972, marking a good 50 years of providing a safe space for men to meet men.
According to sources, Midtowne Spa Los Angeles could be closing as early as some time in October. Vendors who provide towel and linen services allege they have been told their services will not be needed past October. The cleaning crew was told the same according to rumors.
An employee who wishes to remain nameless, said that they are very aware of the sale of the property and that workers sense the end is near although management isn't saying much about what the sale means to their employment. Workers are being told that the owners hope to save the mens spa and transfer the business to a party that is interested in continuing the business name and hopefully save their jobs, but the listing suggests the property will most likely be redeveloped and they may soon be out of a job.
Attempts to reach management have been unsuccessful.
Midtowne Spa owned three properties in Southern California, The Melrose Spa, at 7269 Melrose Ave in Los Angeles, which closed in May 2017, and the 1350 Club at 510 W Anaheim St, in Wilmington, which closed some time in May, 2022 shortly after being shut down by the COVID-19 pandemic.
The Los Angeles location is the last Midtowne Spa standing. The Austin, Texas Location closed in July, 2016. Dallas closed the following year. Midtowne Denver also closed earlier this year. Most of these locations closed with little to no fanfare, upsetting some of their most loyal customers.
Midtowne Spa Los Angeles currently offers private rooms as well a lockers. The facility has an indoor swimming pool, whirlpool, Sauna, Steam room, Sundeck and a TV Lounge. They have adult movie channels, two gay and one Straight/Bisexual and 24 hour secured parking garage right next door to the club. We offer free HIV & STD testing, please check our website for days and times.
A recent guest tells WEHO TIMES that the spa was busy this past Saturday. "The rooms were completely sold out by 7pm, but I went early in the afternoon," he said. "They have raised prices significantly, but they do sell out of rooms, and and they still have plenty of customers."
The customer also credits Midtowne for promoting a clean (as possible) environment and also providing std testing and free counseling, "It's not just about STD/AIDS, but the counselors also will talk to people, like gay people just coming out, which is so important for some people who may be reluctant to go to other places," he said. "This is a safe place for queer expression that will be a loss to the community and also has historic value. The original owner, Marty, really wanted Midtowne to stay open long after his demise as an outlet for the queer community."
The property is listed as a prime Downtown Los Angeles Development site by Major Properties. Built in 1914, the land area is listed at 30,160 sq ft with a property size of 22,419 sq ft. The asking price is a reduced $6,500,000. The portfolio would be delivered empty, which is another sign of Midtowne Spa will not survive the sale of the property.
Major Properties describes the development site as:
• Major price reduction!
• Prime DTLA purchase opportunity
• Mixed-use/residential development site
• 13,380± SF 3-story building is occupied by Midtown Spa; 9,039± SF 1-story building is used for interior parking; additional 3 parcels are parking lots (one is noncontiguous).
• Located at the southwest corner of East 6th St and Kohler St
• Situated 2 blocks west of the DTLA Arts District, and adjacent to the Flower and Fashion Districts
• There is a potential alley vacation that would add 2,340± SF of land to the portfolio. If Seller obtains the alley, the sale price would be increased by $571,000.
• TOC: Tier 3
• Located in State Enterprise Zone; Greater Downtown Housing Incentive Area; and Los Angeles Redevelopment Project Area • Located in Designated Qualified Opportunity Zone (tax benefits)
• Proposed DTLA 2040 Community Plan: Markets
906-910-920 E 6th St, 615 Kohler St and the noncontiguous parking lot will benefit from the proposed DTLA 2040 Community Plan, which will will allow for long-term upside due to a significant emphasis on community growth and development. The proposed DTLA 2040 Plan will increase jobs, housing, transportation, open space, and amenities, adding 125,000 new residents, 70,000 new housing units, and 55,000 new jobs.
• Portfolio will be delivered vacant.
To read the full listing visit: https://www.majorproperties.com/property/prime-dtla-development-site/.
*********************
The preceding article was previously published by the WeHo Times and is republished by permission.
LAT: Arrests made in gun theft burglary at Karen Bass's home
The case has yet to be presented to the Los Angeles County District Attorney's Office for the filing of charges
LOS ANGELES – Two men have been arrested in the burglary and theft of guns from the home of U.S. Rep. Karen Bass according to the Los Angeles Times. Bass told the Times that she met with the Los Angeles Police Department Wednesday and officials confirmed the arrests.
Bass, a mayoral candidate running against local businessman and real estate developer Rick Caruso, returned home last Friday after an event to find that her home in LA's Baldwin Vista neighborhood had been burglarized.
"Last night, I came home and discovered that my house had been broken into and burglarized. LAPD was called, and I appreciate their assistance. At this time, it appears that only two firearms, despite being safely and securely stored, were stolen. Cash, electronics and other valuables were not. It's unnerving and, unfortunately, it's something that far too many Angelenos have faced," the Congresswoman wrote in a statement issued Saturday morning.
Later Wednesday, in a release whose details align with the burglary at Bass's home, the LAPD said the two men were arrested Tuesday evening after officers matched their vehicle to one that was at the scene of the theft Friday the Times reported.
Police identified the burglars as 42-year-old Patricio Munoz, who is being held in lieu of $600,000 bail, and 24-year-old Juan Espinoza, who is being held without bail. Both face a residential burglary charge.
The Times also reported that Munoz provided police an alias of Matias Milito, and Espinoza identified himself as Baltazar Rodriguez, police said.
They were booked into jail under those names, and they are being held at the LAPD's Valley Jail in Van Nuys.
No information was released as to whether the guns were returned to Bass or if they remain outstanding.
The case has yet to be presented to the Los Angeles County District Attorney's Office for the filing of charges.
Home of mayoral candidate Karen Bass burglarized; firearms stolen
"It appears that only two firearms were stolen. It's unnerving and, unfortunately, it's something that far too many Angelenos have faced"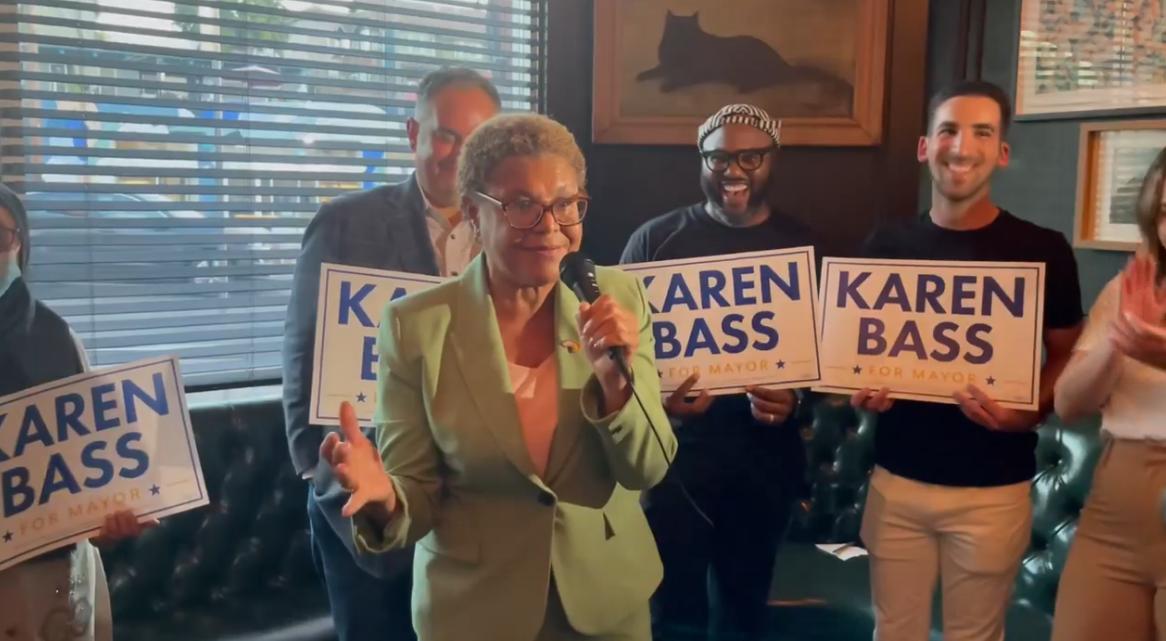 LOS ANGELES – U.S. Rep. Karen Bass, D-Calif. a candidate running in the race to become the next mayor of Los Angeles released a statement Saturday indicating that her home had been burglarized and that two firearms were taken.
"Last night, I came home and discovered that my house had been broken into and burglarized. LAPD was called, and I appreciate their assistance. At this time, it appears that only two firearms, despite being safely and securely stored, were stolen. Cash, electronics and other valuables were not. It's unnerving and, unfortunately, it's something that far too many Angelenos have faced," the Congresswoman wrote.
Bass said she has been in contact with the Los Angeles Police Department. A LAPD spokesperson said that the police were unable to release any specific details about the investigation.
Bass, a Democratic congresswoman who represents an area west and southwest of downtown Los Angeles, is facing developer Rick Caruso in the upcoming November General Election for the city's mayoral seat.
UPDATED Sunday Sept. 11, 2022:
The LAPD released this photo of the suspect in a Sept. 9, 2022, burglary of two guns in Baldwin Vista.
Police described the suspect as a man who is about 5 feet, 9 inches tall, weighs about 200 pounds, and was wearing dark clothing, a surgical mask, a blue baseball cap with a white logo, and black Asics sneakers.
Anyone with information about the LAPD press release is asked to call Detective Colleen Stout-Ryder at 213-485-7522.
During non-business hours or on weekends, calls should be directed to 1-877-LAPD-24-7 (1-877-527-3247).
To report information anonymously, call Crime Stoppers at 1-800-222-TIPS (8477) or go directly to lacrimestoppers.org