Schiff to Stonewall Dems: 'We Are Proudly Out of Control'
Honoring allies and advocates at the annual Stoney Awards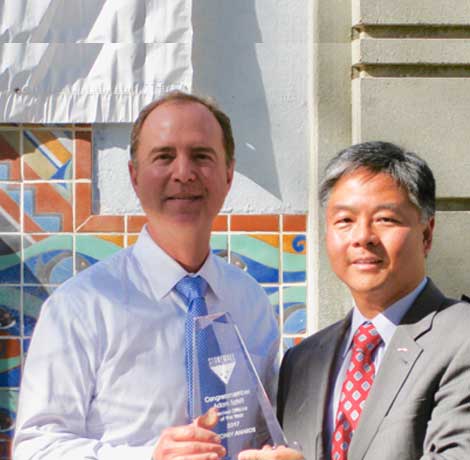 #ResistTrump heroes Reps. Adam Schiff and Ted Lieu marked the 100th day of Donald Trump's presidency celebrating LGBT rights and progressive values at Stonewall Democratic Club's Stoney Awards on April 29. Lieu presented Schiff the Elected Official of the Year Award, with both men underscoring the importance of this moment in democratic history.
Schiff, ranking member of the House Permanent Select Committee on Intelligence, "is everything Chair David Nunes is not," Lieu said to LGBT Democratic party activists and allies in the courtyard of Traxx Restaurant at Union Station in downtown Los Angeles. Nunes recused himself from the committee's investigation into the Trump campaign's possible collusion with Russian officials to interfere with the 2016 elections after it was revealed that he colluded with White House officials to allegedly launder classified information. "At stake is the legitimacy of the Trump administration. No pressure, Adam."
Schiff thanked Lieu, top Trump troll on Twitter, "for the great job you are doing to put real constraints on the unconstitutional impulses of this administration."
"In Washington and around the world, what we are up against is not one man or one party," said Schiff. "What we are up against is the idea that we are stronger when we are divided, when we turn against each other, when we focus on our differences rather than our common humanity. This is the root of the challenge we face at home, and the challenge of nativism and bigotry around the world. The very idea of liberal democracy is under assault, and along with it, that we were all created equal, regardless of how we look, where we are from, who we worship, or who we love."
The House investigation into Russian interference is not about re-litigating the election but "how we protect our democracy and that of our allies for generations to come," Schiff said. "We cannot turn a blind eye to outside interference just because it helps us politically." America "must vigorously oppose the rise of autocracy around the world."   
Schiff called Stonewall Democrats his "family" and said there wasn't enough time to list all anti-LGBT actions the Trump administration took in the first 100 days. But he cited a few, including being silent on the atrocities in Chechnya and on "the murder of members of our trans community at home."
After congratulating fellow honorees, Schiff said he was "truly thankful to stand shoulder-to-shoulder with you in this fight for the values that we hold dear — for equality, respect and dignity. To our friends and adversaries in the administration who so often condemn California and our judges, let me just say – we are proudly out of control. Now, back to work!"
During his introduction, Lieu noted that Schiff is a signatory on his recently introduced Therapeutic Fraud Prevention Act of 2017, a bill that would put a federal ban on so-called "conversion therapy" by allowing the Federal Trade Commission to classify the practice as fraudulent. Lieu first lead the charge against "ex-gay therapy" in the California Legislature, passing a law in 2012.
"The bill is very simple," Lieu told The Washington Post. "It says it is fraud if you treat someone for a condition that doesn't exist and there's no medical condition known as being gay. LGBTQ people were born perfect; there is nothing to treat them for. And by calling this what it should be, which is fraud, it would effectively shut down most of the organizations."
On May 1, the U.S. Supreme Court refused to hear a second challenge to the California law. Vice President Pence and Education Secretary Betsy DeVos have previously expressed support for the practice.
Lieu says the bill has 70 co-sponsors. "Our hope is that it becomes law but in the meantime, the Federal Trade Commission can just do it," Lieu told the Los Angeles Blade. Since Trump has not yet named a new chair, "I urge them to take action now."
Also honored was transgender activist Michaela Irivi Mendelsohn, CEO of Pollo West Corp., one of the largest franchisees for El Pollo Loco restaurants in the Western Region. She also founded TransCanWork, with the mission of making trans inclusion in the workplace the "new normal."
Eric Bauman, who helped build Stonewall Democratic Club into a political grassroots powerhouse years ago and has transformed the L.A. County Democratic Party into the largest local Democratic Party organization in the country, was honored with the Public Official of the Year Award. He is expected to win election to become chair of the California Democratic Party later this month, becoming the party's first out gay chair.
Sean Kolodji, Stonewall's young membership recruiter, was honored with the Member of Year Award, with his mother in the audience looking on.
Out California State Sen. Ricardo Lara, who is expected to run for Insurance Commissioner, made a heartfelt presentation of the Organization of the Year Award to CHIRLA (Coalition for Humane Immigration Rights), personally praising and thanking Executive Director Angelica Salas for embracing LGBT Latinos. On May Day, CHIRLA lead a large LGBT-inclusive coalition and a march of thousands in a demonstration for social justice and immigrant rights. "It is our responsibility to change the country," she told the Blade.
Also receiving love from Stonewall Democrats was LA City Council member Gil Cedillo, a longtime LGBT ally who is running for reelection in Council District 1. He faces controversial candidate Joe Bray-Ali, whose comments on explicitly racist and alt-right websites included criticizing gender-reassignment surgery for transgender individuals as "a shameful excess."
Out LAUSD Board President Steve Zimmer got a special shout out from Bauman and Stonewall President Stephen David Simon to bolster his grassroots-coalition backed reelection campaign against well-financed, private charter school booster Nick Melvoin. "We have to speak truth to this money and not allow this take over to take place,"
Zimmer told The Blade. "I'm very proud to carry this flag." The run-off is May 16.
The White House celebrates "A night when hope & history rhyme"
"On his final tour in Washington, Jill and I invited Elton to the White House to thank him on behalf of the American people"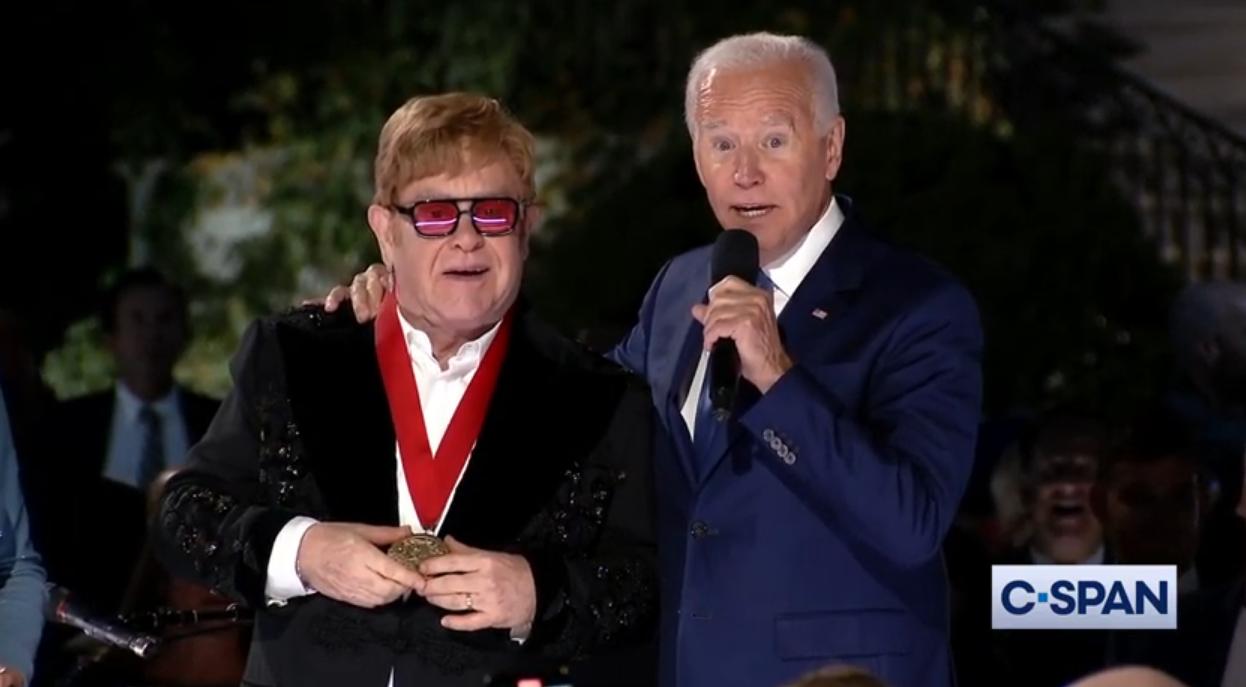 WASHINGTON – After a performance from a repertoire of the best known hits from his songbook in a special musical concert at the White House Friday evening, Sir Elton John was called to the podium where, accompanied by the First Lady Dr. Jill Biden, President Joe Biden surprised the iconic British singer-songwriter with an award.
The president presented John with the National Humanities Medal for his advocacy work in recognition of LGBTQ+ rights and tireless activism against the global HIV/AIDS crisis disease through his contributions in music and the arts.
The National Humanities Medal, inaugurated in 1997, honors individuals or groups whose work has deepened the nation's understanding of the humanities and broadened its citizens' engagement with history, literature, languages, philosophy, and other humanities subjects.
A stunned John was moved to tears. After the president had the citation read by a military aide and hung the medal around the singer's neck, Biden told the audience gathered, "I think we surprised him" to which they cheered and applauded.
The medal's citation read in part that it was honoring John "for moving our souls with his powerful voice and one of the defining song books of all time. An enduring icon and advocate with absolute courage, who found purpose to challenge convention, shatter stigma and advance the simple truth — that everyone deserves to be treated with dignity and respect."
Visibly moved, the iconic musician and performer said: "I just said to the First Lady, I'm never flabbergasted- but I'm flabbergasted and humbled and honoured by this incredible award from the United States of America. I will treasure this so much- I will make me double my efforts to make sure this disease goes away. Your kindness- America's kindness to me as a musician is second to none, but in the war against AIDS and HIV it's even bigger and I can't thank you enough…. I'm really emotional about this- thank you."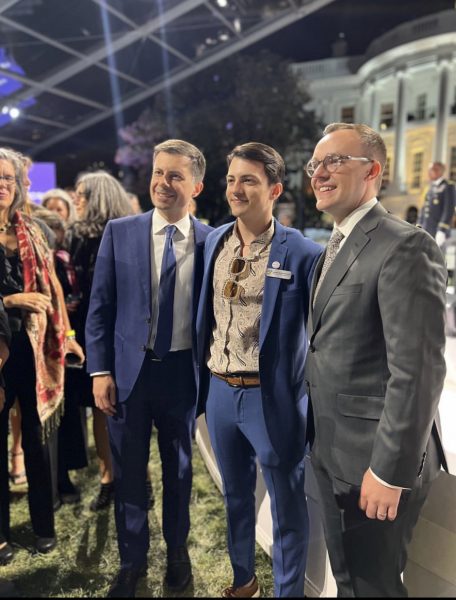 The special gathering held under a vaulted glass and aluminum 'tent' on the South Lawn of the White House was attended by 2,000 guests including former first lady Laura Bush, U.S. House Speaker Nancy Pelosi and U.S. Transportation Secretary Pete Buttigieg, his husband Chasten, as well as teachers, nurses, LGBTQ advocates and military families, who the White House had dubbed "everyday history-makers."
During a pause in his performance earlier, the singer addressed former first lady Laura Bush, praising her husband, former President George W. Bush's ongoing work on the Presidential Emergency Plan for AIDS Relief, which President Bush had initiated while in office and is credited with saving millions of lives across the African continent and helping to change the trajectory of the HIV/AIDS crisis globally.
"I want to say to the first lady, President Bush accelerated the whole thing with his PEPFAR bill. It was the most incredible thing," he said to Mrs. Bush.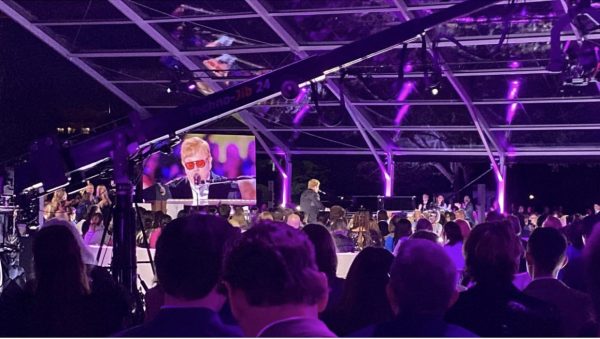 President Biden Awards Elton John with National Humanities Medal:
Full Text of the President and the First Lady's remarks:
THE FIRST LADY: Hello! Good evening. Thank you, Athen. It's leaders like you, those helping the next generation live authentically and find their voice, who make me so hopeful for our future.

And thank you to Paul Buccieri and A&E for helping us put this event together.

Isn't this incredible?

First Lady Laura Bush is with us tonight. And, Laura, it's such an honor to welcome you and your family back to the White House.

And finally, I want to say what a joy it is to be here with the man who has inspired, supported, and loved Sir Elton John for so many years: his husband, David.

Few things have the power to bring us together like music. It can compel us to move as one on the dance floor, to sing along with strangers when we hear that familiar tune. It's a voice for the feelings we can't always define.

When the piano plays, the strings swell, the drums beat in time with our hearts, we find joy or a balm for our sorrows or the harmonies that tell us we aren't alone.

And in that spirit, as we celebrate Elton John's music, we also celebrate you — everyday history-makers.

Many of you are my colleagues — fellow teachers, like Leah Michael Dillard. (Applause.) Love the teachers! So, Leah has taught 7th grade English for 20 years. And, Leah, your students are better thinkers and more engaged citizens because of you.

We also have first responders and healthcare heroes like — like Dr. Amber Pearson. Amber was the first person in her family to go to college. And it wasn't easy. She worked multiple jobs, took out loan, and when she finally reached her dream, she gave back to others, as an audiologist for veterans and their families, serving the women and men who serve us so well.

And in this crowd are leaders of the beautiful, bold, and diverse future we are building together, like Javier Gomez, a student from Miami. When his governor passed a law targeting the LGBTQ community, he didn't sit back.

Javier, you remind us of the power of one person who is willing to speak up for what is right, and that's what this night is all about. Coming together, using our voices, celebrating that, here in America, our differences are precious and our similarities infinite.

Elton once said, "Music has healing power. It has the ability to take people out of themselves for just a few hours."

We're here tonight to once again lose ourselves and be brought together — perhaps even healed — by the power of music.

And now, I get to introduce another huge fan, who also happens to be the President of the United States and my husband, Joe Biden.

THE PRESIDENT: You had to stand for Jill, but you can sit for me. Please, all have a seat. Please, have a seat.
Thank you, Jill. Thank you all for being here on such a special evening.

And, Athen, leaders like you are helping the next generation live an authentic voice. And I want to thank you very much for introducing me.
Look, I — as my colleagues — many of whom from the Senate are still here, came tonight — they always used to kid me because I — I was quoting Irish poets on the floor of the Senate.
The think I did it because I'm Irish. That's not the reason; I did it because they're the best poets in the world.
One who we lost not too long ago, Seamus Heaney, once wrote, and I quote, "Once in a lifetime, the longed-for tidal wave of justice rises up, and hope and history rhyme."

Throughout this incre- — his incredible career, Sir Elton John has been that tidal wave — a tidal wave to help people rise up and make hope and history rhyme. Three hundred million records sold. Seventy-one billboard hits, nearly half in the top ten. Six Grammy Awards. Two Oscars. One Tony, among the multiple, multiple nominations across the board. Four thousand performances around the world. A singer, songwriter of our time, for all time.

On his final tour in Washington, Jill and I invited Elton to the White House to thank him on behalf of the American people.

So, like so many Americans, our family loves his music. His songs take us — take us back to a time, a place, a memory. Songs that make every day exceptional, help us connect and come alive. And songs that reflect the artist's gift, that sixth sense to imagine what no one else can, and then sing and play and dream until he sets that feeling free.

As Jill just mentioned, we're joined by so many people that it's — he's set free to be themselves, to be treated with the dignity and respect they deserve.
Families and advocates in the fight against HIV/AIDS — a fight — a fight that he has led with sheer will, and fight for those lives lost and those lives that we can save.
Leaders standing up for equality of all people, no matter who you are or who you love.

Every day — every day Americans of every generation, of every background who know that life can be cruel and full of struggle, but it can also be full of joy and purpose.

And we're joined tonight by the UK Ambassador to the United States, Karen Pierce, during a difficult time. Karen, thank you. Thank you for being here, Karen.

Jill and I travelled to London to pay our respects to the Royal Family on the Queen's passing.

Our hopes tonight — our hope is that Sir Elton John's music heals the sorrow, as it often has in the past.
Throughout his career, Elton found his voice — not only his voice, but his voice to help others and help them find their voice.

With his hope, he made history rhyme for countless people in our nation. That's what tonight is all about.

Elton often talked about how American music changed his life and how the different genres and sounds influenced his own music and imagination. It's clear Elton John's music has changed our lives.

To David and the boys, thank you for sharing your husband and dad with us tonight. (Applause.) And to Elton, on behalf of the American people, thank you — and I sincerely mean this — thank you for moving the soul of our nation.
School board candidate uses Pride flag as a hated Nazi symbol
"Like my new Pride flag?" candidate Craig Ladyman captioned the now-deleted post on Trump's Truth Social platform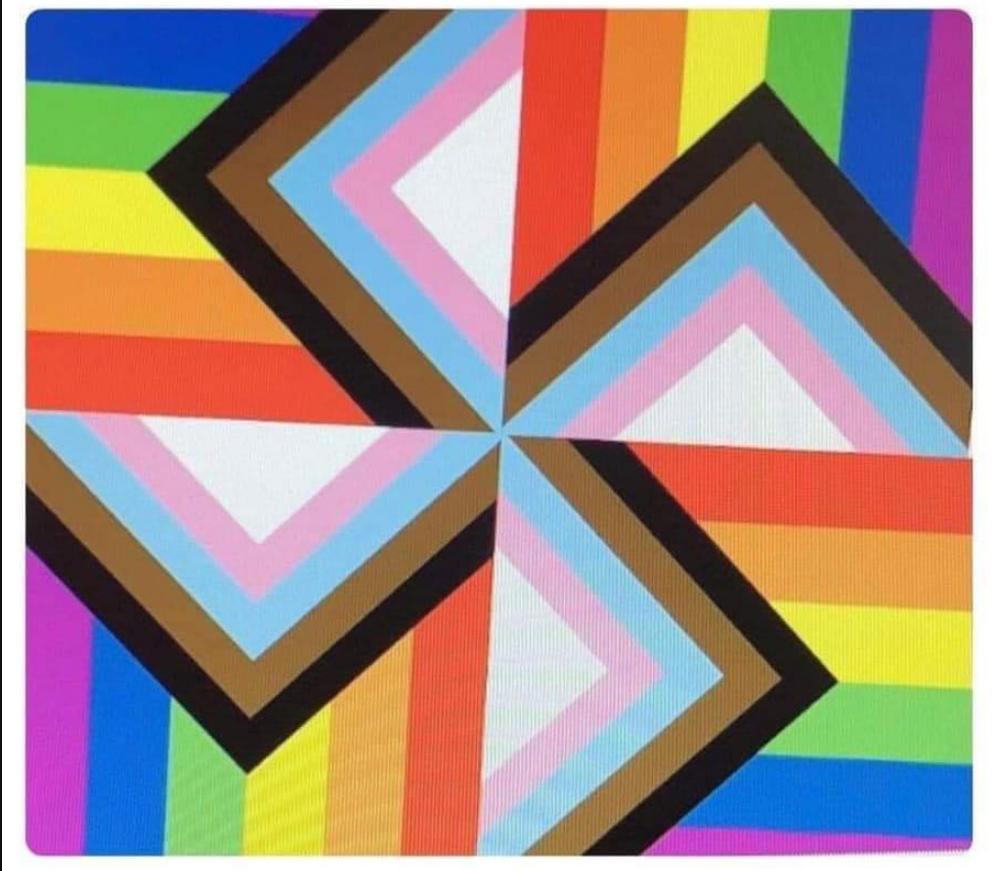 ROCKFORD, Mi. – A candidate for a seat on the Rockford, Michigan school board in this town of approximately 6,000, located ten miles north of Grand Rapids, went onto far-right social media platform Truth Social founded by former President Trump and shared a graphic collage of the Progress Pride flag converted into a Nazi-style swastika.
"Like my new Pride flag?" candidate Craig Ladyman captioned the now-deleted post.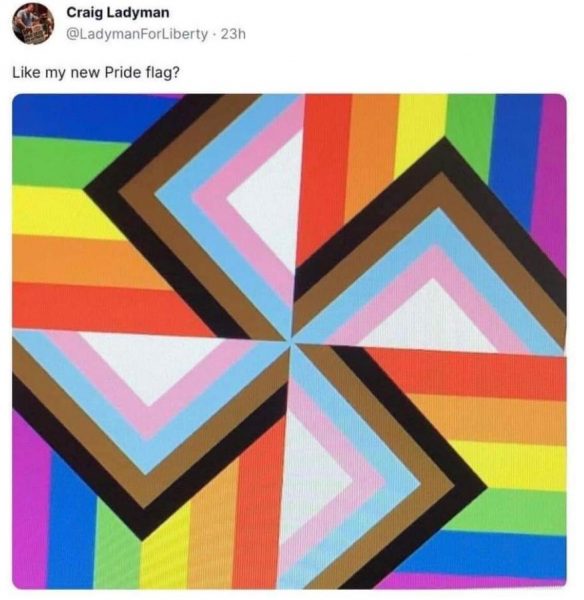 Ladyman has a long and documented social media history of denigrating the LGBTQ+ community. In one post he depicted himself carrying an assault style rifle with the caption; " I like exercising my Liberty like a drag queen exercises their sexuality."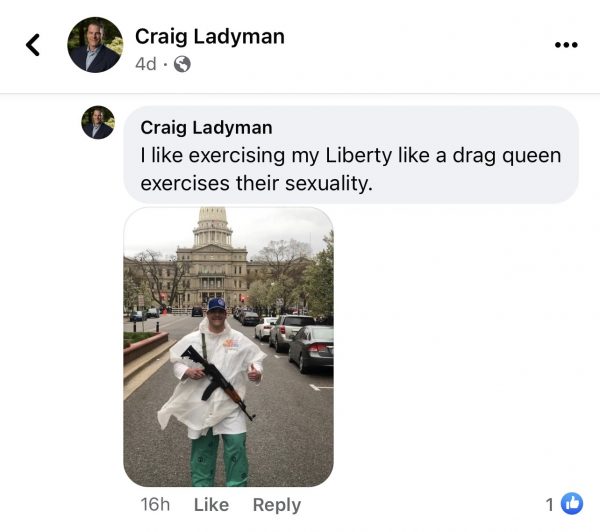 Ladyman, who has a business executive profile on LinkedIn as an account executive for ArjoHuntleigh, a global medical technology company, lists himself as an 'America First' adherent and opposed emergency measures taken by Michigan Governor Gretchen Whitmer, shown in a social media post open carrying an assault-style rifle standing with anti-Whitmer protestors in May of 2020.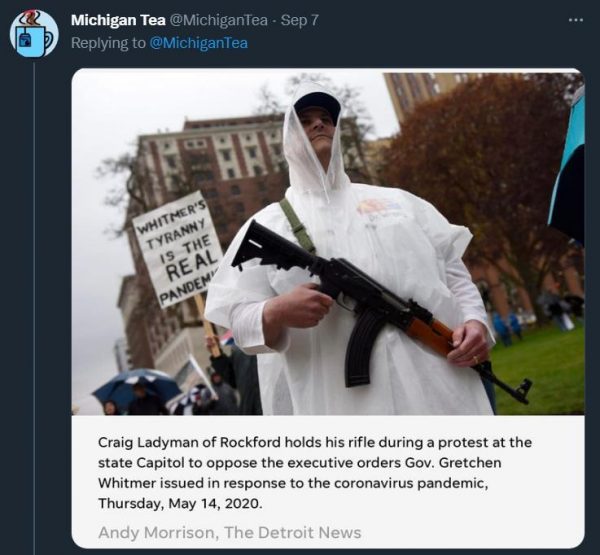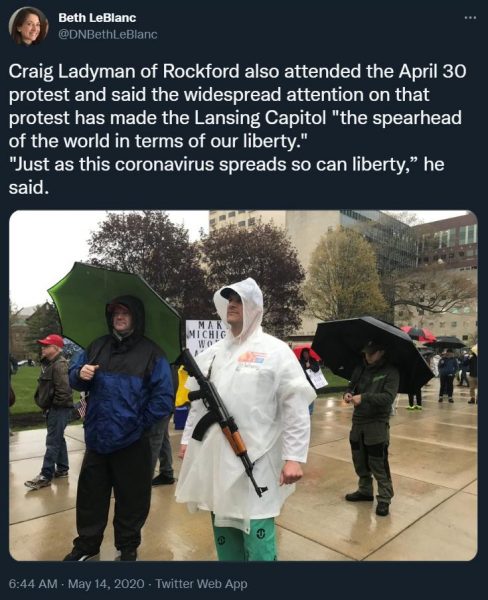 In another recent post Ladyman referred to LGBTQ equality rights and community history as "grooming:"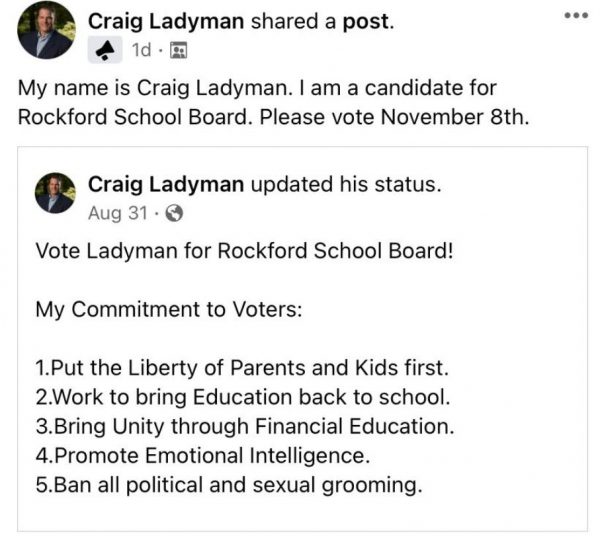 WXMI-TV FOX 17 in Grand Rapids noted that the Nazi Progress Pride Flag image was sharply criticized by members of the Jewish community, LGBTQ people, as well as local leaders, including Rockford Public Schools Superintendent Steven Matthews, who said that the image made him feel "angry."
"It's a symbol that I don't think represents who we are as a community and anybody who would use it I don't think represents who we are as a community," Matthews told Fox 17.
Ladyman, whose political ad states that he "will never go along with unconstitutional mandates, medical tyranny or the woke agenda," didn't back down when asked to comment on the backlash.
"While I was hoping the outrage would encourage people to do their research into this flag, I would like to state for the record that this image was not created by me," he said in a written statement to WXMI-TV, after declining to appear on an on-camera interview.
Ladyman — a self-described "pro-God, pro-country and pro-Constitution school board candidate [who] will continue to fight for excellent education in schools without this sexual indoctrination" — credited the image to the British actor and far-right activist Laurence Fox, who first tweeted the altered flag in June 2022.
Opponents of LGBTQ resolution pack Ohio school board meeting
"I'm not a divisive concept. I'm a teenage girl who wants to graduate from high school, go to college, get a job and live my life"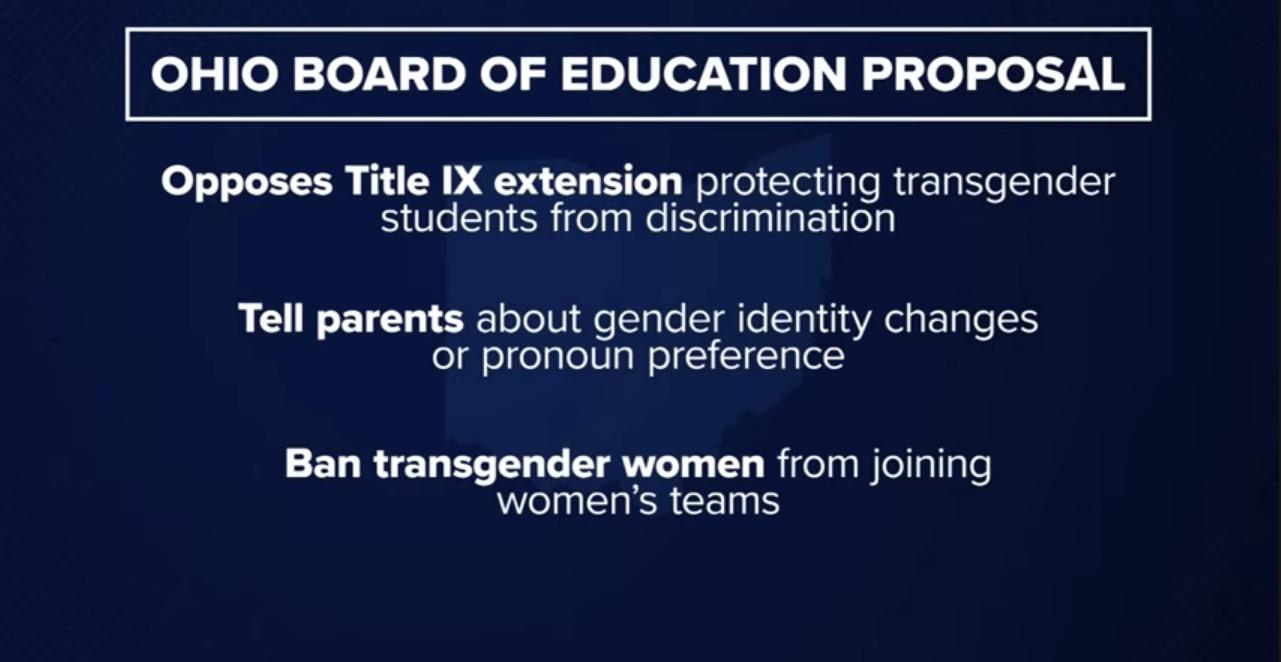 COLUMBUS, Ohio – People packed an Ohio State Board of Education meeting Tuesday, many protesting a controversial resolution that opponents say will discriminate against LGBTQ students.
The resolution, introduced by board member Brandon Shea, expresses the board's opposition to a federal law requiring schools to investigate claims of discrimination based on sexual orientation or gender identity or risk losing school breakfast and lunch funding. Those investigations could include, according to the U.S. Department of Education, denying transgender students to use gendered facilities that correspond with their gender identity, keeping transgender kids from playing sports and allowing incorrect pronouns.
It states that sex is "an unchangeable fact," adding that "[d]enying the reality of biological sex destroys foundational truths upon which education rests and irreparably damages children."
The resolution claimed the Department of Education's new Title IX regulations "would require that K-12 schools socially transition minor children to a different gender without requiring parental notification or involvement," calling it harmful.
Tuesday's meeting was packed with 61 people, according to the Statehouse News Bureau, most of whom opposed the board's resolution.
Ada Wood, a 24-year-old transgender woman, was one of them. She spoke to the board about the disproportionally high rates of poor mental health and suicide amongst transgender youth, "which, quite frankly, you would already know if you knew anything about the topics of which you are attempting change laws."
"If you pass this resolution, children will die," Wood said.
Dawn Riggs, an educator of 30-plus years from Logan, Ohio, also spoke against the resolution. She said she had experiences with LGBTQ kids in her career, adding they "knew they would be safe for at least a little while each day" in her class.
"It is no burden to use a name that we are asked to use," she said. "It is no burden to use the pronouns that are shared with us."
Conner McLaren, a transgender student, told the board: "I'm not a divisive concept. I'm a teenage girl who wants to graduate from high school, go to college, get a job and live my life. Please don't make things harder for the community I am here to represent. Don't let our school become one more bully we have to deal with."
Though many speakers spoke against the resolution, some supported it. One supporter, Allison Lindsey, worried her daughter with Down syndrome could be harmed by gender-affirming bathroom policies. According to a Williams Institute at UCLA School of Law study, there is no link between trans-inclusive policies and bathroom safety.
"Often female students with disabilities need assistance when they get older and have begun their menstrual cycles," Lindsey said. "Will I be accused of sex-based discrimination if I request that transgender women who are staff not help my daughter with her menstrual cycle at school?"
Shea did not respond to the Los Angeles Blade's request for comment. But he did respond to the criticism at the meeting.
"It's awfully burdensome and heavy handed for the federal government to force every school in the nation to adopt radical gender identity policies to continue to receive federal funds and for the record," Shea said. "It's the regulations I'm saying are burdensome, not students who trans identify." 
According to Cleveland.com, the board will vote on the resolution during its next meeting on Oct. 11-12.