Astraea Lesbian Foundation for Justice honors frontline activism
Intersectionality is key to the mission of Astraea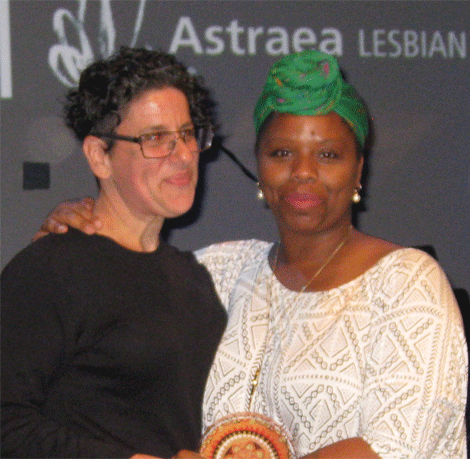 "How many people here have been tear gassed?" out ESPN/CNN contributor LZ Granderson asked the audience at the Astraea Lesbian Foundation for Justice's fourth annual Fueling the Frontlines Awards. The question might have seemed jarring at any other LGBT fundraiser. But this May 25 event at the NeueHouse in Hollywood was filled with frontline activists who instantly knew he was describing the demonstrations in Ferguson, Missouri after a white cop shot unarmed black 18-year old Michael Brown in August 2014.
Granderson noted that many asked 'what happens next?' The audience knew that, too: a movement propelled by activists such as performance artist, freedom fighter and Fulbright scholar Patrisse Cullors, co-founder of Black Lives Matter, "one of the most important organizations in the past 25-30 years," Granderson said.
#BlackLivesMatter was founded as a social media call to action by queer Black women Cullors, Alicia Garza and Opal Tometi in July 2013 after George Zimmerman was acquitted of killing 17-year old Trayvon Martin in Florida. BLM helped organize the protests in Ferguson.
Cullors accepted her Astraea award with a call-and-response by the late African American poet Lucille Clifton, ending with: "Come celebrate with me that every day something has tried to kill me and has failed."
An Angelino, Cullors called out the LAPD and the L.A. Sheriff's Department for "destroying black and brown families" and then brought up five Immigrant Youth Coalition activists to issue an immediate call to action. Jonathan Perez choked up talking about how ICE came after their friend Claudia Rueda's mother, who they got out of detention. Then in retaliation, ICE came for Claudia, a beloved DACA-eligible college student. Nudged by Cullors and TransLatina Coalition founder Bamby Salcedo, the youth asked everyone to call 619-557-6117 and ask ICE San Diego field director Gregory Archambeault to grant Claudia Sarahi Rueda (A# 213-081-680) prosecutorial discretion and immediately release her to her family.
"Astraea has always understood that the fight for LGBTQI equality is intersectional – it requires fighting for black and brown rights, for migrant rights, economic rights and more," said Cullors. "I'm proud to be part of the resistance and ready to continue the fight."
Astraea also honored transgender activist/organizer Jennicet Gutierrez, co-founder of Familia: Trans Queer Liberation Movement; critically acclaimed Univision News anchor and journalist Jorge Ramos and his queer daughter Paola Ramos, former Deputy Director of Hispanic Media for Hillary for America; and out Oscar-winning producer Bruce Cohen, a major marriage equality advocate and Executive Producer of ABC's historical LGBT series When We Rise.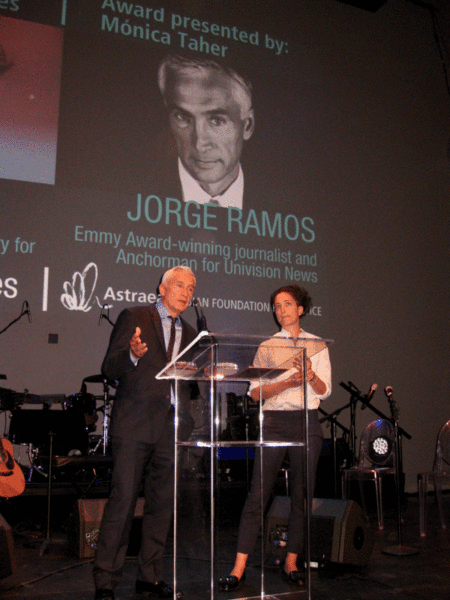 "As a journalist fighting for LGBTQI equality, immigrant rights and human rights, it is not enough to just report on what is happening, we need to inform the public about what's happening and present reality as it is and not the way we want it to be," said Jorge Ramos, who came to the attention of non-Latino America when he stood up to presidential candidate Donald Trump and was forcefully removed from a news conference (he was eventually allowed back in).
"And the reality is that discrimination is still very present in this country," Ramos continued. "As individuals we must take an aggressive stand against those violating the rights of others and we need organizations like Astraea to ensure that the rights of everyone are being protected. Neutrality only helps the oppressor."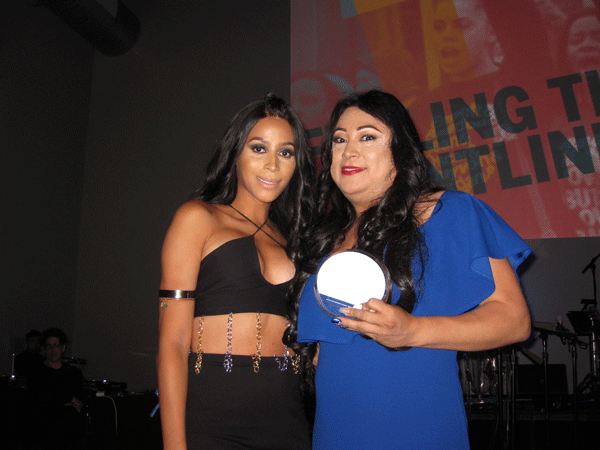 Introduced by famous trans model Isis King, Gutierrez talked about the violence faced by her trans sisters, reading off the names of ten trans women who have died since January. "Rest in Power," she said, adding, "even if you don't invest (in the trans community), trust the trans leadership of trans women of color."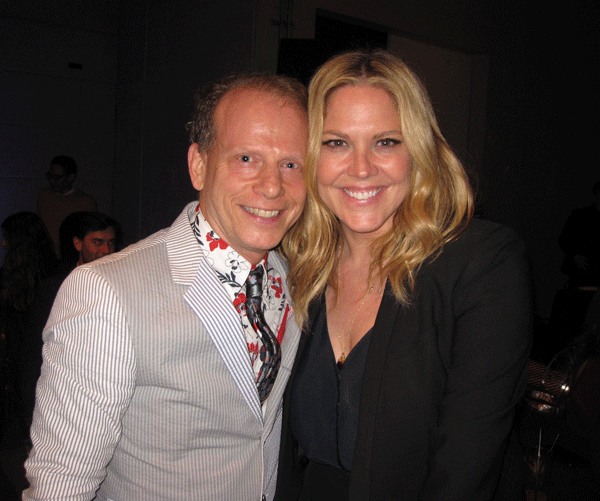 Actress Mary McCormack introduced her best friend Bruce Cohen, a fellow Probe disco dancer, saying he is "wholly unafraid to challenge oppression." Cohen noted that he co-founded the Uprising of Love coalition with Oscar-winning writer Dustin Lance Black and Grammy-winning singer Melissa Etheridge to stop the oppression of gays before the Winter Olympics in Sochi, Russia. Cohen, Black and director Gus Van Sant had already experienced the courage of LGBT Russians when they appeared at a screening of "Milk" as part of the LGBT Side by Side Film festival in St. Petersburg. They failed to stop the persecution instigated by the new anti-homosexual propaganda law. But they brought a film crew to Sochi and captured the moment when a young gay man named Vladimir ran yelling to President Obama's lesbian emissary Billie Jean King that his life was in danger, begging for asylum. They found a way to get him to safety in America—and the gay Russian is now happily married in Fairfield, Iowa. "We're sad we didn't bring (Russian President Vladimir) Putin to his knees," Cohen said. "We failed at that. But we saved Vladimir's life." Echoing the night's theme, Cohen concluded: "All that you touch, you change. All that you change, changes you."
"The Fueling the Frontlines Awards is an amazing opportunity to celebrate our radical community – our successes and our fight," said J. Bob Alotta, Executive Director, of the Astraea Lesbian Foundation for Justice. "If we want to maintain and build on the resistance in this current moment then we need to celebrate and support the activists at the forefront of the movement. By utilizing their experience as artists and journalists, our honorees Patrisse, Jorge, Jennicet, Paola and Bruce illustrate, there is a place for everyone to contribute their talents, utilize their platforms and lift their voices to help support the resistance."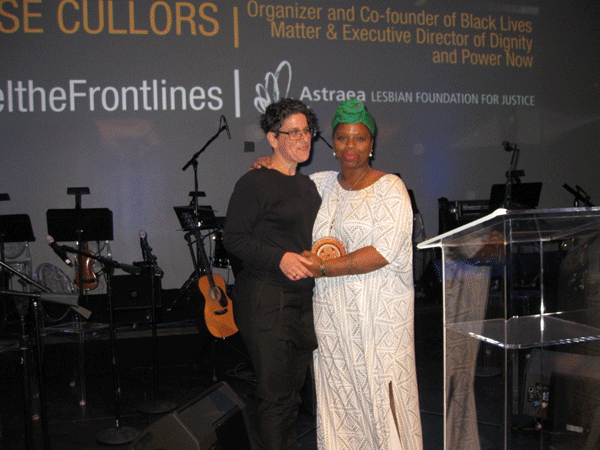 From the young activists of color to the older feminists supporting Astraea since its "radical philanthropy" started funding marginalized groups in 1977, the NeueHouse space felt filled with family. Helping create that sense of fellowship was a mini-concert by the brilliant, dynamic ToshiReagon and the cast of Octavia E. Butler's Parable of the Sower: The Opera—a fusion of inspiring art and activism that had everyone eager to dance to the frontlines wearing a rainbow badge of courage and joy in their hearts.
Historic LA gay bathhouse for sale- looks to be end of an era
Midtowne Spa owned three properties in Southern California- The Los Angeles location is the last Midtowne Spa standing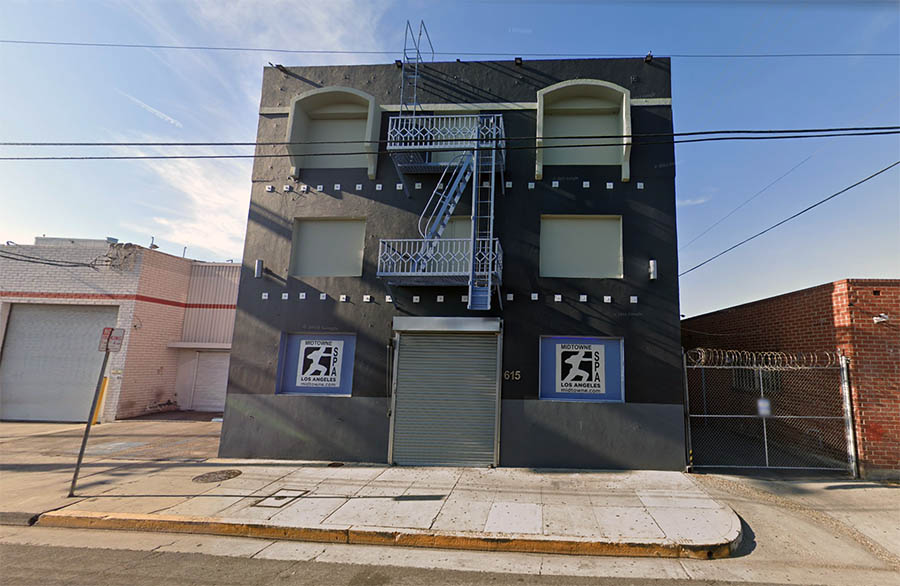 By Paulo Murillo | LOS ANGELES – The Midtowne Spa Los Angeles property, home to the historic sex bathhouse catering to gay, bisexual, and men who have sex with men (MSM) went up for sale earlier this month.
Insiders say this is the end of the last Midtowne Spa standing in Southern California and across the nation. Located at 615 Kohler Street in Los Angeles, the bathhouse was founded in 1972, marking a good 50 years of providing a safe space for men to meet men.
According to sources, Midtowne Spa Los Angeles could be closing as early as some time in October. Vendors who provide towel and linen services allege they have been told their services will not be needed past October. The cleaning crew was told the same according to rumors.
An employee who wishes to remain nameless, said that they are very aware of the sale of the property and that workers sense the end is near although management isn't saying much about what the sale means to their employment. Workers are being told that the owners hope to save the mens spa and transfer the business to a party that is interested in continuing the business name and hopefully save their jobs, but the listing suggests the property will most likely be redeveloped and they may soon be out of a job.
Attempts to reach management have been unsuccessful.
Midtowne Spa owned three properties in Southern California, The Melrose Spa, at 7269 Melrose Ave in Los Angeles, which closed in May 2017, and the 1350 Club at 510 W Anaheim St, in Wilmington, which closed some time in May, 2022 shortly after being shut down by the COVID-19 pandemic.
The Los Angeles location is the last Midtowne Spa standing. The Austin, Texas Location closed in July, 2016. Dallas closed the following year. Midtowne Denver also closed earlier this year. Most of these locations closed with little to no fanfare, upsetting some of their most loyal customers.
Midtowne Spa Los Angeles currently offers private rooms as well a lockers. The facility has an indoor swimming pool, whirlpool, Sauna, Steam room, Sundeck and a TV Lounge. They have adult movie channels, two gay and one Straight/Bisexual and 24 hour secured parking garage right next door to the club. We offer free HIV & STD testing, please check our website for days and times.
A recent guest tells WEHO TIMES that the spa was busy this past Saturday. "The rooms were completely sold out by 7pm, but I went early in the afternoon," he said. "They have raised prices significantly, but they do sell out of rooms, and and they still have plenty of customers."
The customer also credits Midtowne for promoting a clean (as possible) environment and also providing std testing and free counseling, "It's not just about STD/AIDS, but the counselors also will talk to people, like gay people just coming out, which is so important for some people who may be reluctant to go to other places," he said. "This is a safe place for queer expression that will be a loss to the community and also has historic value. The original owner, Marty, really wanted Midtowne to stay open long after his demise as an outlet for the queer community."
The property is listed as a prime Downtown Los Angeles Development site by Major Properties. Built in 1914, the land area is listed at 30,160 sq ft with a property size of 22,419 sq ft. The asking price is a reduced $6,500,000. The portfolio would be delivered empty, which is another sign of Midtowne Spa will not survive the sale of the property.
Major Properties describes the development site as:
• Major price reduction!
• Prime DTLA purchase opportunity
• Mixed-use/residential development site
• 13,380± SF 3-story building is occupied by Midtown Spa; 9,039± SF 1-story building is used for interior parking; additional 3 parcels are parking lots (one is noncontiguous).
• Located at the southwest corner of East 6th St and Kohler St
• Situated 2 blocks west of the DTLA Arts District, and adjacent to the Flower and Fashion Districts
• There is a potential alley vacation that would add 2,340± SF of land to the portfolio. If Seller obtains the alley, the sale price would be increased by $571,000.
• TOC: Tier 3
• Located in State Enterprise Zone; Greater Downtown Housing Incentive Area; and Los Angeles Redevelopment Project Area • Located in Designated Qualified Opportunity Zone (tax benefits)
• Proposed DTLA 2040 Community Plan: Markets
906-910-920 E 6th St, 615 Kohler St and the noncontiguous parking lot will benefit from the proposed DTLA 2040 Community Plan, which will will allow for long-term upside due to a significant emphasis on community growth and development. The proposed DTLA 2040 Plan will increase jobs, housing, transportation, open space, and amenities, adding 125,000 new residents, 70,000 new housing units, and 55,000 new jobs.
• Portfolio will be delivered vacant.
To read the full listing visit: https://www.majorproperties.com/property/prime-dtla-development-site/.
*********************
The preceding article was previously published by the WeHo Times and is republished by permission.
LAT: Arrests made in gun theft burglary at Karen Bass's home
The case has yet to be presented to the Los Angeles County District Attorney's Office for the filing of charges
LOS ANGELES – Two men have been arrested in the burglary and theft of guns from the home of U.S. Rep. Karen Bass according to the Los Angeles Times. Bass told the Times that she met with the Los Angeles Police Department Wednesday and officials confirmed the arrests.
Bass, a mayoral candidate running against local businessman and real estate developer Rick Caruso, returned home last Friday after an event to find that her home in LA's Baldwin Vista neighborhood had been burglarized.
"Last night, I came home and discovered that my house had been broken into and burglarized. LAPD was called, and I appreciate their assistance. At this time, it appears that only two firearms, despite being safely and securely stored, were stolen. Cash, electronics and other valuables were not. It's unnerving and, unfortunately, it's something that far too many Angelenos have faced," the Congresswoman wrote in a statement issued Saturday morning.
Later Wednesday, in a release whose details align with the burglary at Bass's home, the LAPD said the two men were arrested Tuesday evening after officers matched their vehicle to one that was at the scene of the theft Friday the Times reported.
Police identified the burglars as 42-year-old Patricio Munoz, who is being held in lieu of $600,000 bail, and 24-year-old Juan Espinoza, who is being held without bail. Both face a residential burglary charge.
The Times also reported that Munoz provided police an alias of Matias Milito, and Espinoza identified himself as Baltazar Rodriguez, police said.
They were booked into jail under those names, and they are being held at the LAPD's Valley Jail in Van Nuys.
No information was released as to whether the guns were returned to Bass or if they remain outstanding.
The case has yet to be presented to the Los Angeles County District Attorney's Office for the filing of charges.
Home of mayoral candidate Karen Bass burglarized; firearms stolen
"It appears that only two firearms were stolen. It's unnerving and, unfortunately, it's something that far too many Angelenos have faced"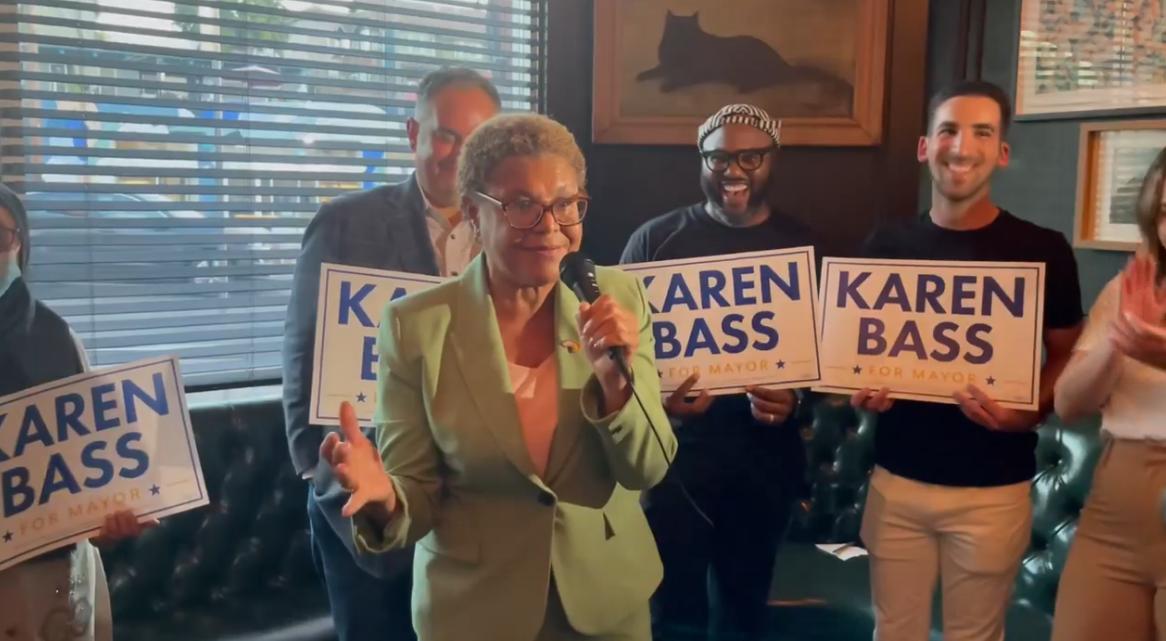 LOS ANGELES – U.S. Rep. Karen Bass, D-Calif. a candidate running in the race to become the next mayor of Los Angeles released a statement Saturday indicating that her home had been burglarized and that two firearms were taken.
"Last night, I came home and discovered that my house had been broken into and burglarized. LAPD was called, and I appreciate their assistance. At this time, it appears that only two firearms, despite being safely and securely stored, were stolen. Cash, electronics and other valuables were not. It's unnerving and, unfortunately, it's something that far too many Angelenos have faced," the Congresswoman wrote.
Bass said she has been in contact with the Los Angeles Police Department. A LAPD spokesperson said that the police were unable to release any specific details about the investigation.
Bass, a Democratic congresswoman who represents an area west and southwest of downtown Los Angeles, is facing developer Rick Caruso in the upcoming November General Election for the city's mayoral seat.
UPDATED Sunday Sept. 11, 2022:
The LAPD released this photo of the suspect in a Sept. 9, 2022, burglary of two guns in Baldwin Vista.
Police described the suspect as a man who is about 5 feet, 9 inches tall, weighs about 200 pounds, and was wearing dark clothing, a surgical mask, a blue baseball cap with a white logo, and black Asics sneakers.
Anyone with information about the LAPD press release is asked to call Detective Colleen Stout-Ryder at 213-485-7522.
During non-business hours or on weekends, calls should be directed to 1-877-LAPD-24-7 (1-877-527-3247).
To report information anonymously, call Crime Stoppers at 1-800-222-TIPS (8477) or go directly to lacrimestoppers.org