May 28, 2017 at 10:22 pm PDT | by Karen Ocamb
Astraea Lesbian Foundation for Justice honors frontline activism
"How many people here have been tear gassed?" out ESPN/CNN contributor LZ Granderson asked the audience at the Astraea Lesbian Foundation for Justice's fourth annual Fueling the Frontlines Awards. The question might have seemed jarring at any other LGBT fundraiser. But this May 25 event at the NeueHouse in Hollywood was filled with frontline activists who instantly knew he was describing the demonstrations in Ferguson, Missouri after a white cop shot unarmed black 18-year old Michael Brown in August 2014.
Granderson noted that many asked 'what happens next?' The audience knew that, too: a movement propelled by activists such as performance artist, freedom fighter and Fulbright scholar Patrisse Cullors, co-founder of Black Lives Matter, "one of the most important organizations in the past 25-30 years," Granderson said.
#BlackLivesMatter was founded as a social media call to action by queer Black women Cullors, Alicia Garza and Opal Tometi in July 2013 after George Zimmerman was acquitted of killing 17-year old Trayvon Martin in Florida. BLM helped organize the protests in Ferguson.
Cullors accepted her Astraea award with a call-and-response by the late African American poet Lucille Clifton, ending with: "Come celebrate with me that every day something has tried to kill me and has failed."
An Angelino, Cullors called out the LAPD and the L.A. Sheriff's Department for "destroying black and brown families" and then brought up five Immigrant Youth Coalition activists to issue an immediate call to action. Jonathan Perez choked up talking about how ICE came after their friend Claudia Rueda's mother, who they got out of detention. Then in retaliation, ICE came for Claudia, a beloved DACA-eligible college student. Nudged by Cullors and TransLatina Coalition founder Bamby Salcedo, the youth asked everyone to call 619-557-6117 and ask ICE San Diego field director Gregory Archambeault to grant Claudia Sarahi Rueda (A# 213-081-680) prosecutorial discretion and immediately release her to her family.
"Astraea has always understood that the fight for LGBTQI equality is intersectional – it requires fighting for black and brown rights, for migrant rights, economic rights and more," said Cullors. "I'm proud to be part of the resistance and ready to continue the fight."
Astraea also honored transgender activist/organizer Jennicet Gutierrez, co-founder of Familia: Trans Queer Liberation Movement; critically acclaimed Univision News anchor and journalist Jorge Ramos and his queer daughter Paola Ramos, former Deputy Director of Hispanic Media for Hillary for America; and out Oscar-winning producer Bruce Cohen, a major marriage equality advocate and Executive Producer of ABC's historical LGBT series When We Rise.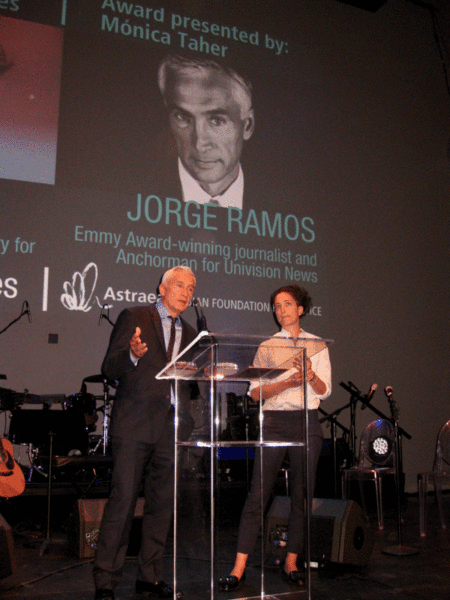 "As a journalist fighting for LGBTQI equality, immigrant rights and human rights, it is not enough to just report on what is happening, we need to inform the public about what's happening and present reality as it is and not the way we want it to be," said Jorge Ramos, who came to the attention of non-Latino America when he stood up to presidential candidate Donald Trump and was forcefully removed from a news conference (he was eventually allowed back in).
"And the reality is that discrimination is still very present in this country," Ramos continued. "As individuals we must take an aggressive stand against those violating the rights of others and we need organizations like Astraea to ensure that the rights of everyone are being protected. Neutrality only helps the oppressor."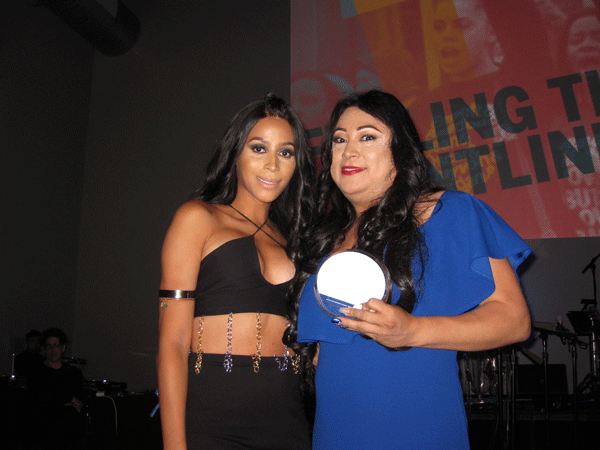 Introduced by famous trans model Isis King, Gutierrez talked about the violence faced by her trans sisters, reading off the names of ten trans women who have died since January. "Rest in Power," she said, adding, "even if you don't invest (in the trans community), trust the trans leadership of trans women of color."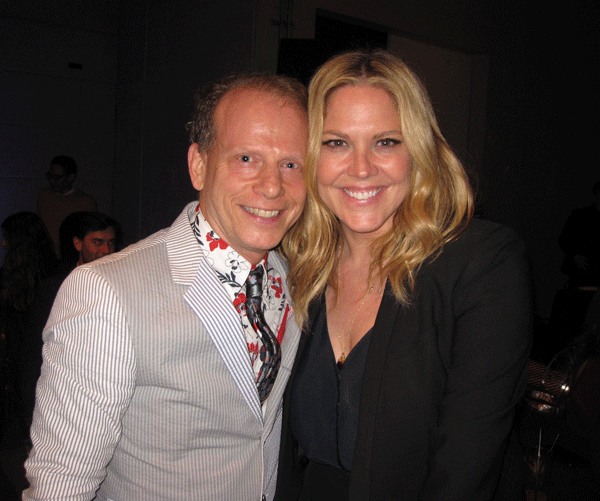 Actress Mary McCormack introduced her best friend Bruce Cohen, a fellow Probe disco dancer, saying he is "wholly unafraid to challenge oppression." Cohen noted that he co-founded the Uprising of Love coalition with Oscar-winning writer Dustin Lance Black and Grammy-winning singer Melissa Etheridge to stop the oppression of gays before the Winter Olympics in Sochi, Russia. Cohen, Black and director Gus Van Sant had already experienced the courage of LGBT Russians when they appeared at a screening of "Milk" as part of the LGBT Side by Side Film festival in St. Petersburg. They failed to stop the persecution instigated by the new anti-homosexual propaganda law. But they brought a film crew to Sochi and captured the moment when a young gay man named Vladimir ran yelling to President Obama's lesbian emissary Billie Jean King that his life was in danger, begging for asylum. They found a way to get him to safety in America—and the gay Russian is now happily married in Fairfield, Iowa. "We're sad we didn't bring (Russian President Vladimir) Putin to his knees," Cohen said. "We failed at that. But we saved Vladimir's life." Echoing the night's theme, Cohen concluded: "All that you touch, you change. All that you change, changes you."
"The Fueling the Frontlines Awards is an amazing opportunity to celebrate our radical community – our successes and our fight," said J. Bob Alotta, Executive Director, of the Astraea Lesbian Foundation for Justice. "If we want to maintain and build on the resistance in this current moment then we need to celebrate and support the activists at the forefront of the movement. By utilizing their experience as artists and journalists, our honorees Patrisse, Jorge, Jennicet, Paola and Bruce illustrate, there is a place for everyone to contribute their talents, utilize their platforms and lift their voices to help support the resistance."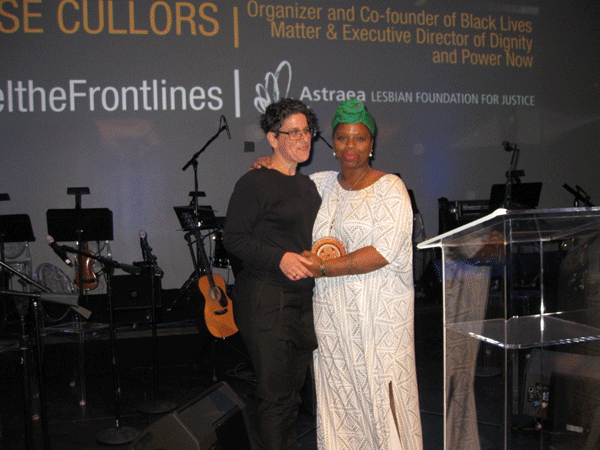 From the young activists of color to the older feminists supporting Astraea since its "radical philanthropy" started funding marginalized groups in 1977, the NeueHouse space felt filled with family. Helping create that sense of fellowship was a mini-concert by the brilliant, dynamic ToshiReagon and the cast of Octavia E. Butler's Parable of the Sower: The Opera—a fusion of inspiring art and activism that had everyone eager to dance to the frontlines wearing a rainbow badge of courage and joy in their hearts.