Astraea Lesbian Foundation for Justice honors frontline activism
Intersectionality is key to the mission of Astraea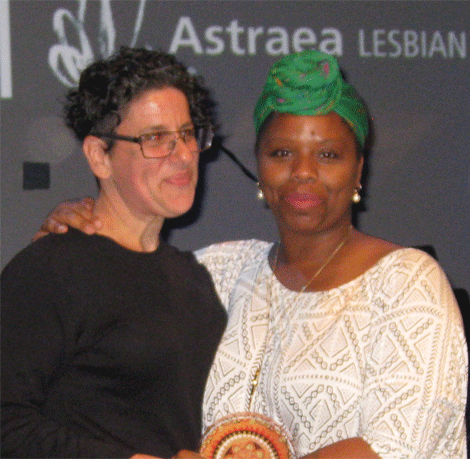 "How many people here have been tear gassed?" out ESPN/CNN contributor LZ Granderson asked the audience at the Astraea Lesbian Foundation for Justice's fourth annual Fueling the Frontlines Awards. The question might have seemed jarring at any other LGBT fundraiser. But this May 25 event at the NeueHouse in Hollywood was filled with frontline activists who instantly knew he was describing the demonstrations in Ferguson, Missouri after a white cop shot unarmed black 18-year old Michael Brown in August 2014.
Granderson noted that many asked 'what happens next?' The audience knew that, too: a movement propelled by activists such as performance artist, freedom fighter and Fulbright scholar Patrisse Cullors, co-founder of Black Lives Matter, "one of the most important organizations in the past 25-30 years," Granderson said.
#BlackLivesMatter was founded as a social media call to action by queer Black women Cullors, Alicia Garza and Opal Tometi in July 2013 after George Zimmerman was acquitted of killing 17-year old Trayvon Martin in Florida. BLM helped organize the protests in Ferguson.
Cullors accepted her Astraea award with a call-and-response by the late African American poet Lucille Clifton, ending with: "Come celebrate with me that every day something has tried to kill me and has failed."
An Angelino, Cullors called out the LAPD and the L.A. Sheriff's Department for "destroying black and brown families" and then brought up five Immigrant Youth Coalition activists to issue an immediate call to action. Jonathan Perez choked up talking about how ICE came after their friend Claudia Rueda's mother, who they got out of detention. Then in retaliation, ICE came for Claudia, a beloved DACA-eligible college student. Nudged by Cullors and TransLatina Coalition founder Bamby Salcedo, the youth asked everyone to call 619-557-6117 and ask ICE San Diego field director Gregory Archambeault to grant Claudia Sarahi Rueda (A# 213-081-680) prosecutorial discretion and immediately release her to her family.
"Astraea has always understood that the fight for LGBTQI equality is intersectional – it requires fighting for black and brown rights, for migrant rights, economic rights and more," said Cullors. "I'm proud to be part of the resistance and ready to continue the fight."
Astraea also honored transgender activist/organizer Jennicet Gutierrez, co-founder of Familia: Trans Queer Liberation Movement; critically acclaimed Univision News anchor and journalist Jorge Ramos and his queer daughter Paola Ramos, former Deputy Director of Hispanic Media for Hillary for America; and out Oscar-winning producer Bruce Cohen, a major marriage equality advocate and Executive Producer of ABC's historical LGBT series When We Rise.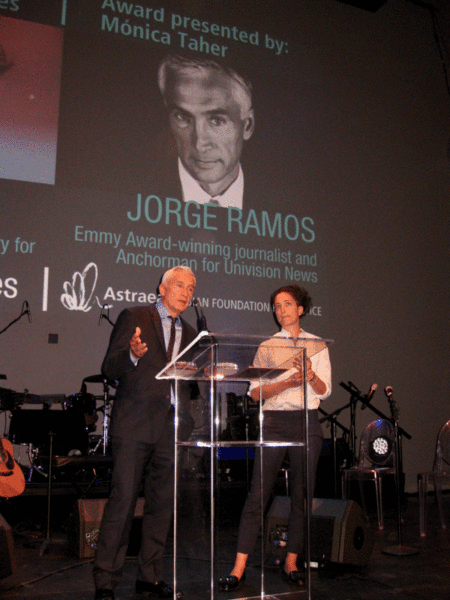 "As a journalist fighting for LGBTQI equality, immigrant rights and human rights, it is not enough to just report on what is happening, we need to inform the public about what's happening and present reality as it is and not the way we want it to be," said Jorge Ramos, who came to the attention of non-Latino America when he stood up to presidential candidate Donald Trump and was forcefully removed from a news conference (he was eventually allowed back in).
"And the reality is that discrimination is still very present in this country," Ramos continued. "As individuals we must take an aggressive stand against those violating the rights of others and we need organizations like Astraea to ensure that the rights of everyone are being protected. Neutrality only helps the oppressor."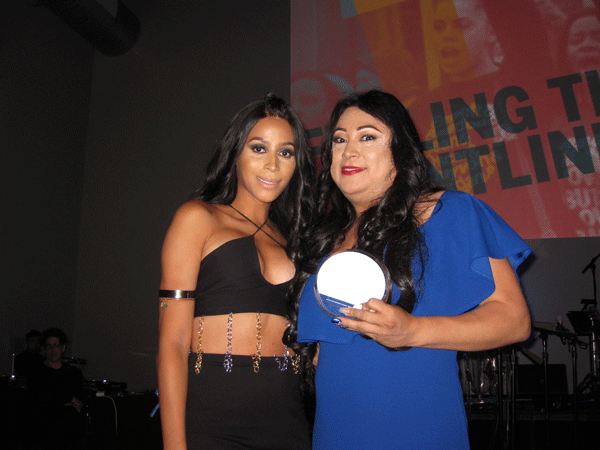 Introduced by famous trans model Isis King, Gutierrez talked about the violence faced by her trans sisters, reading off the names of ten trans women who have died since January. "Rest in Power," she said, adding, "even if you don't invest (in the trans community), trust the trans leadership of trans women of color."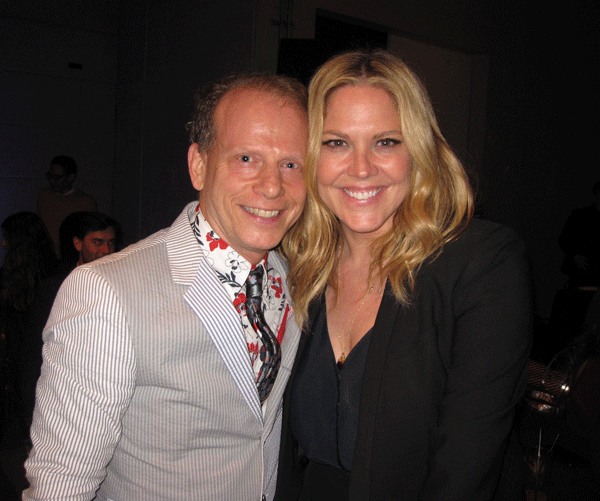 Actress Mary McCormack introduced her best friend Bruce Cohen, a fellow Probe disco dancer, saying he is "wholly unafraid to challenge oppression." Cohen noted that he co-founded the Uprising of Love coalition with Oscar-winning writer Dustin Lance Black and Grammy-winning singer Melissa Etheridge to stop the oppression of gays before the Winter Olympics in Sochi, Russia. Cohen, Black and director Gus Van Sant had already experienced the courage of LGBT Russians when they appeared at a screening of "Milk" as part of the LGBT Side by Side Film festival in St. Petersburg. They failed to stop the persecution instigated by the new anti-homosexual propaganda law. But they brought a film crew to Sochi and captured the moment when a young gay man named Vladimir ran yelling to President Obama's lesbian emissary Billie Jean King that his life was in danger, begging for asylum. They found a way to get him to safety in America—and the gay Russian is now happily married in Fairfield, Iowa. "We're sad we didn't bring (Russian President Vladimir) Putin to his knees," Cohen said. "We failed at that. But we saved Vladimir's life." Echoing the night's theme, Cohen concluded: "All that you touch, you change. All that you change, changes you."
"The Fueling the Frontlines Awards is an amazing opportunity to celebrate our radical community – our successes and our fight," said J. Bob Alotta, Executive Director, of the Astraea Lesbian Foundation for Justice. "If we want to maintain and build on the resistance in this current moment then we need to celebrate and support the activists at the forefront of the movement. By utilizing their experience as artists and journalists, our honorees Patrisse, Jorge, Jennicet, Paola and Bruce illustrate, there is a place for everyone to contribute their talents, utilize their platforms and lift their voices to help support the resistance."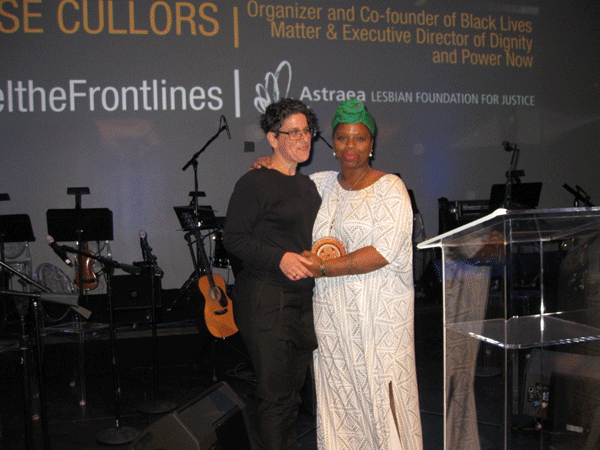 From the young activists of color to the older feminists supporting Astraea since its "radical philanthropy" started funding marginalized groups in 1977, the NeueHouse space felt filled with family. Helping create that sense of fellowship was a mini-concert by the brilliant, dynamic ToshiReagon and the cast of Octavia E. Butler's Parable of the Sower: The Opera—a fusion of inspiring art and activism that had everyone eager to dance to the frontlines wearing a rainbow badge of courage and joy in their hearts.
Reminder: 101 closed through DTLA until 10pm Sunday
The closure began at 10 p.m. Saturday and will be completed by 10 p.m. Sunday, the Los Angeles Bureau of Engineering announced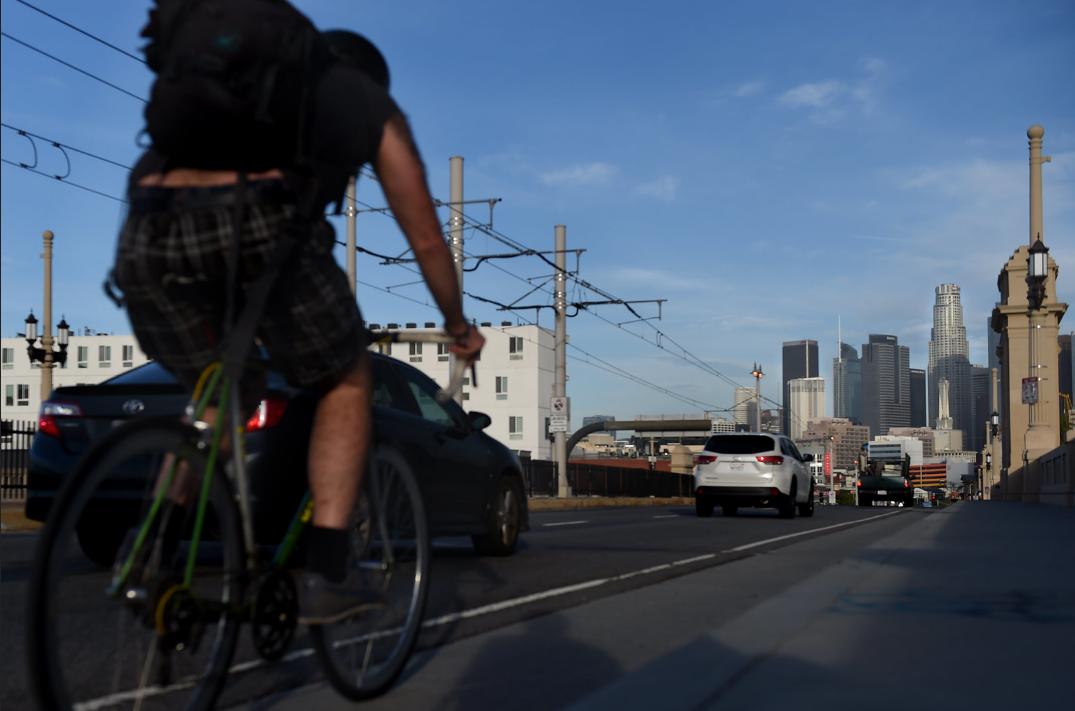 LOS ANGELES – (KTLA) Motorists are being reminded that the stretch of 101 through the downtown area of Los Angeles is shut down for road restoration and reconstruction work.
KTLA reported the closure began at 10 p.m. Saturday and will be completed by 10 p.m. Sunday, the Los Angeles Bureau of Engineering announced.
The 24-hour closure between State Route 60 and the 10 Freeway interchange is needed for the Sixth Street Viaduct Replacement Project, which aims to replace the original, seismically-deficient structure built in 1932, authorities said.
During the closure, the California Department of Transportation will also be doing slab replacement work along the same stretch of the 101 Freeway.
The closure will center around the east side of the viaduct construction site in Boyle Heights. While the stretch is closed, drivers headed west on State Route 60 from the Pomona area will not be able to access the 101, officials said.
Off-ramps and on-ramps in the area will also be closed during as road work gets underway.
Drivers who reach the closure will see signs directing them to a detour.
The new $588 million viaduct is expected to be completed in Summer of 2022, stretching between Boyle Heights and the Arts District.
Officials say it is the largest bridge project in the history of Los Angeles.
LA-DWP & Mayor Garcetti announce new outdoor watering restrictions
Sprinkler watering will be allowed Monday & Friday at odd-numbered addresses in the city, and even-numbered addresses on Thursday & Sunday

LOS ANGELES – In a press conference Tuesday Los Angeles Mayor Eric Garcetti and officials from the Los Angeles Department of Water and Power (LADWP) announced that outdoor watering in the city will be restricted to two days a week starting June 1.
The announcement comes as the Metropolitan Water District of Southern California declared an unprecedented water shortage emergency two weeks ago, imposing restrictions after MWD's board voted to adopt the emergency measures to "reduce non-essential water use" in certain areas. Cities and smaller water suppliers that get water from MWD are required to start restricting outdoor watering to one day a week, or to find other ways to cut usage to a new monthly allocation limit.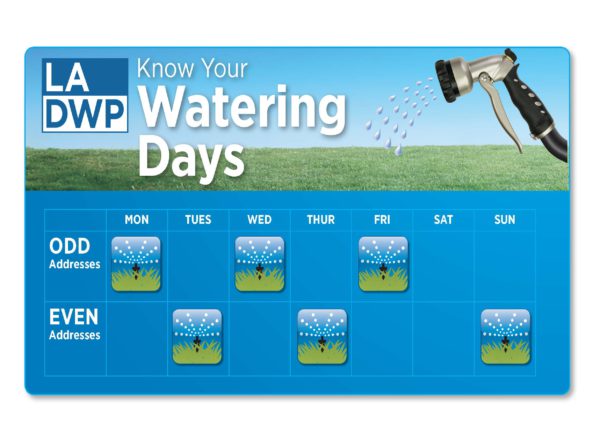 In Tuesday's press conference Mayor Garcetti said L.A.'s two-day limit was still more lenient than the one imposed by the Metropolitan Water District of Southern California, which has ordered many of its member agencies to restrict outdoor watering to once a week.
Sprinkler watering will be allowed on Monday and Friday at odd-numbered addresses in the city, and even-numbered addresses on Thursday and Sunday.
Hollywood residents angered over Sunset Blvd. homeless encampment
Many residents are frustrated over the increasing daily criminal activity that has plagued the area, including vehicle break-ins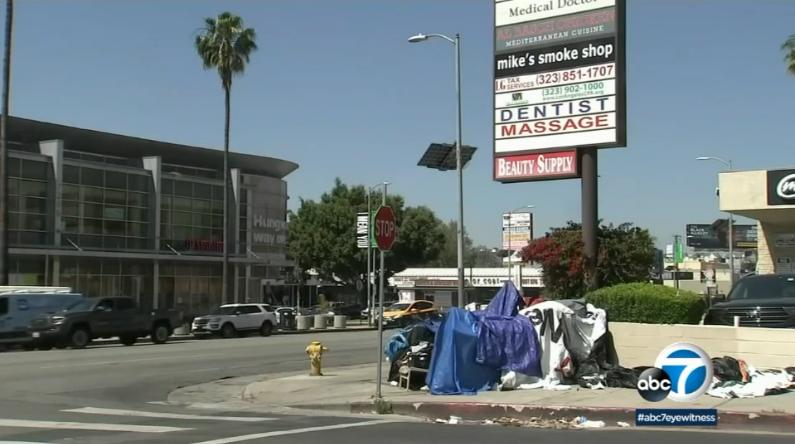 HOLLYWOOD – For those who live in the Hollywood neighborhood that surrounds the homeless encampment on Sunset Boulevard at Martel Avenue, the last seventeen months have been aggravating.
Many residents are frustrated over the increasing daily criminal activity that has plagued the area, including vehicle break-ins which at times has resulted in multiple break-ins on the same vehicles.
"We've had tons of break-ins. Our garage has been broken into five times. Cars are vandalized. Mail is stolen," local resident Lawrence S., who lives near the encampment, told KABC 7. "Our building, the building across the street, the building across the street that way — there's just rampant crime.
"I actually had my sister in-law come to visit for the first time and she parked across the street in broad daylight and within 30 seconds, someone from the homeless encampment was down swinging a club at her. The violence is escalating and we keep asking the City Council, what is it going to take? Do we need to wait till someone's murdered?"
The encampment is located at 7323 Sunset Blvd. and surrounds an AT&T building. It's located in L.A. City Councilwoman Nithya Raman's district who toured the encampment in 2021, joined by residents, including Terry S.
"She promised. She said that she would be adamantly enforcing ADA compliance. That she's looking into setting up a safe camping location for the campers. Never happened," Terry S. told KABC 7.
"In August, 41.18, an ordinance, passed and we were very hopeful because finally we thought that they would have some tools at their disposal," Lawrence S. said. "But the city councilwoman is only enforcing a part of that ordinance, which is the Care Plus Cleanup program. However, she's only doing it when she feels like enforcing it, which is three times in 17 months."
Residents say that the city's efforts to clean up and clear out the encampment only results in the homeless displaced for a couple of days sometimes less and then they return to reestablish the encampment. This past Thursday the city again clean and cleared the encampment.
While an KABC 7 camera and reporter Josh Haskell were working on the story homeless people were in the background reestablishing their presence across the street.
KABC 7 reached out to Councilwoman Nithya Raman whose office responded with a media statement:
"This encampment is a priority for our office, and our Homelessness Team has been consistently bringing services and working with the individuals living at this location. LAHSA outreach teams most recently identified seven people living here and together we worked to move three of them into shelter just yesterday as part of our Encampment-to-Home project, which has already moved 43 people in Hollywood indoors. Additionally, a cleanup took place at this location yesterday and we are working to move the remaining individuals into shelter as soon as beds become available. We are in continued communication with the residents in the neighborhood regarding the status of our progress as we move forward."
Residents upset with LA City Councilwoman Nithya Raman over Sunset Boulevard homeless encampment: