Trump scraps tradition, declines to issue Pride proclamation
Silence discontinues tradition under Clinton, Obama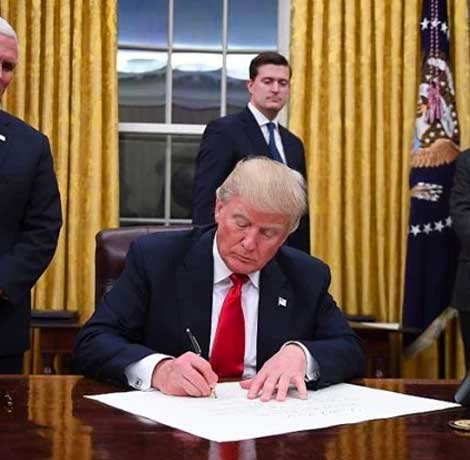 President Trump has declined to issue at the start of June a proclamation designating the month as a time for celebration of Pride, breaking with a tradition started under the Obama administration.
By the end of the last weekday in May, President Obama each year during his time at the White House issued a proclamation recognizing Pride. Trump, on the other hand, had thus far issued no such proclamation — or even recognized June as Pride from his often-used Twitter account.
Trump on the last day of May issued five separate proclamations recognizing June as National Caribbean-American Heritage Month, African-American Music Appreciation Month, National Homeownership Month, Great Outdoors Month and National Ocean Month. Absent from the list was anything related to Pride.
The White House last month hadn't ruled out the possibility that Trump would recognize Pride, telling the Washington Blade the decision would be announced at the time of the June proclamations. But after the White House omitted any Pride proclamations from its series of proclamations on Wednesday, the White House didn't respond to a request on whether a recognition of Pride would be forthcoming.
The tradition of presidential Pride proclamations started under President Clinton, although President George W. Bush discontinued that practice during his time in office. Obama renewed that tradition for each of his eight years at the White House, recognizing not only Pride in his proclamations but also achievements in LGBT rights, such as "Don't Ask, Don't Tell" repeal and the U.S. Supreme Court ruling for same-sex marriage nationwide.
Obama also started a tradition of hosting annual receptions at the White House recognizing June as Pride month. It seems unlikely Trump would continue that practice and hold a similar reception after declining to issue a Pride proclamation, not to mention his unpopularity with LGBT community after policies such as revoking Obama-era guidance assuring transgender kids have access to school bathrooms consistent with their gender identity.
Instead, a group of former LGBT Obama administration officials, led by former White House LGBT liaison Gautam Raghavan and Aditi Hardikar, are planning a "NOT the White House Pride Party," taking would cue from Samantha Bee's "Not the White House Correspondents Dinner" event.
The event is scheduled to take place June 10 to coincide with Capital Pride and the 2017 Equality March. Set to attend are Valerie Jarrett, former senior advisor to President Obama, and former Army Secretary Eric Fanning. Proceeds will go to Casa Ruby, a D.C. based shelter and center for trans women of color and immigrants.
Meanwhile, LGBT affinity groups for federal agencies are continuing their traditions of holding events to observe Pride. Agencies known to the Blade that are hosting events are the Pentagon, the Small Business Administration, the Department of Housing & Urban Development and the Justice Department.
A representative of HUD GLOVE told the Blade HUD Secretary Carson was invited to speak at the HUD event. It remains to be seen whether he'll take that opportunity given an anti-LGBT record that includes comparing homosexuality to bestiality and calling transgender people.
For the Pentagon event on June 12, DOD Pride invited Defense Secretary James Mattis to speak. A DOD spokesperson said the department's leadership instead will send a lower level official, Tony Kurta, acting under secretary of defense for personnel and readiness.
Blinken: PEPFAR shows 'what American diplomacy can do'
Secretary of state spoke at World AIDS Day event in D.C. on Friday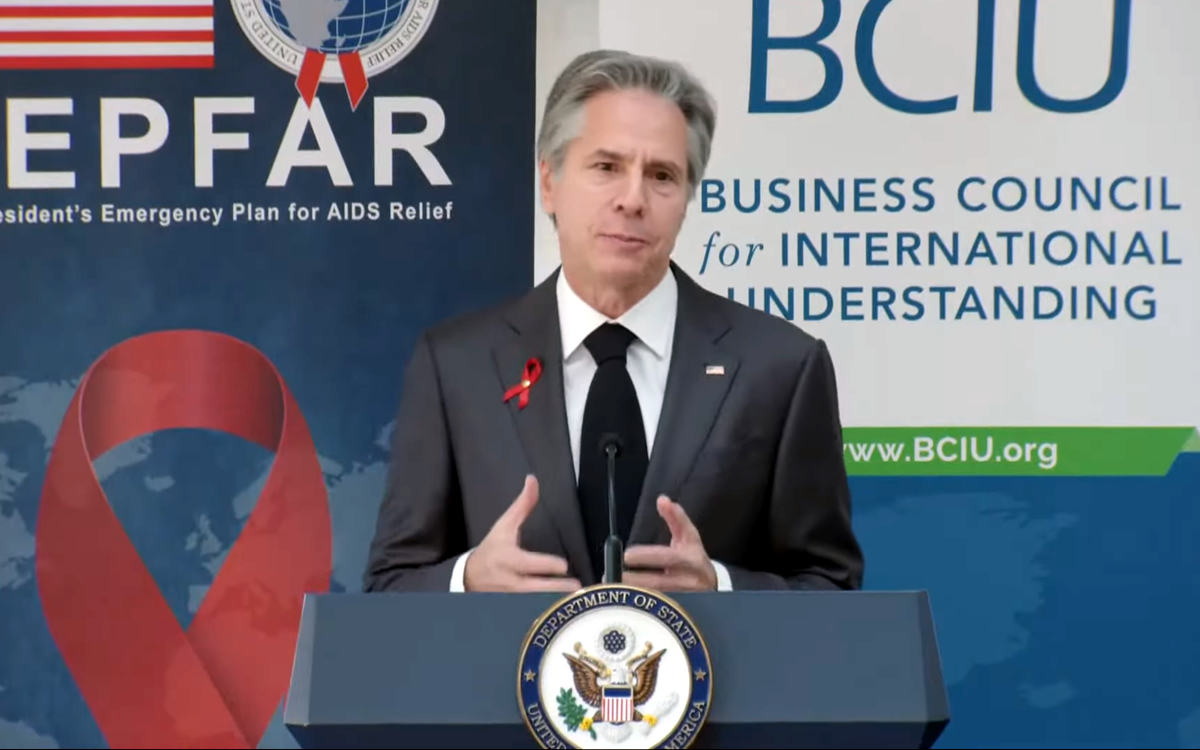 WASHINGTON — Secretary of State Antony Blinken on Friday noted the President's Emergency Plan for AIDS Relief has saved more than 25 million lives since its launch in 2003.
Blinken, who spoke at the Business Council for International Understanding's World AIDS Day event at the Hay-Adams Hotel in D.C., said the more than $100 billion the U.S. has earmarked for PEPFAR over the last two decades has funded 70,000 new community health clinics, 3,000 new laboratories and the hiring of 340,000 health care workers.
"Entire public health systems formed, with over a dozen countries which have either reached their HIV-treatment goals or managed control of the virus altogether," said Blinken.
Then-President George W. Bush in 2003 signed legislation that created PEPFAR. California Democrat Barbara Lee, members of the Congressional Black Caucus and Dr. Anthony Fauci, the director of the National Institute of Allergy and Infectious Diseases and chief White House medical advisor who is retiring at the end of this month, are among those who played a key role in PEPFAR's creation.
"PEPFAR has benefitted from bipartisan support, as we've heard, across four presidencies, across ten Congresses," said Blinken. "It's resulted in an investment of more than $100 billion to the global HIV/AIDS response. This is the largest commitment by one country ever to address a single disease."
Lee and Fauci were among those who attended the event alongside U.S. Global AIDS Coordinator John Nkengasong; Assistant Health Secretary Rachel Levine; Dr. Deborah Birx, the former White House Coronavirus Response Director, and HIV and Hepatitis Policy Institute Executive Director Carl Schmid.
Blinken in his speech noted "the systems put in place by PEPFAR have become an integral part of the health security architecture of countries around the world."
Blinken also said PEPFAR has bolstered responses to COVID-19, Ebola and the avian flu.
"We are continuing to build on PEPFAR's many successes to create a stronger global health security architecture to prevent, to detect, to respond to future health emergencies. Doctor Fauci, you once said that PEPFAR 'shows what the goodwill of a nation can do,' and you were right," said Blinken. "PEPFAR also shows us what American diplomacy can do: Bring together governments, bring together the public and private sectors, communities to tackle challenges that none of us can actually effectively deal with alone and that creates and has created a healthier, safer and ultimately more secure world."
Five-year PEPFAR strategy to target LGBTQ+ people
Blinken acknowledged there is still "very serious work still required for us to end the global HIV health epidemic by 2030," noting HIV/AIDS continues to disproportionately impact LGBTQ+ and intersex people and other marginalized groups.
"Too many countries still have fragile and insufficiently resourced public health systems, which makes it difficult to offer services beyond HIV/AIDS treatments, and that undercuts our capacity to respond to emerging threats," he said.
Blinken noted the U.S. on Thursday announced a new PEPFAR strategy that will help "fill those gaps" over the next five years. It includes the following:
• Targeted programming to help reduce inequalities among LGBTQ+ and intersex people, women and girls and other marginalized groups
• Partnerships with local organizations to help reach "hard-to-reach" communities.
• Economic development and increased access to financial markets to allow countries to manufacture their own antiretroviral drugs, tests and personal protective gear to give them "the capacity to meet their own challenges so that they're not dependent on anyone else."
"This latest PEPFAR strategy will keep making advancements like that possible so that millions more people can live healthy lives and live lives to their full potential," said Blinken.